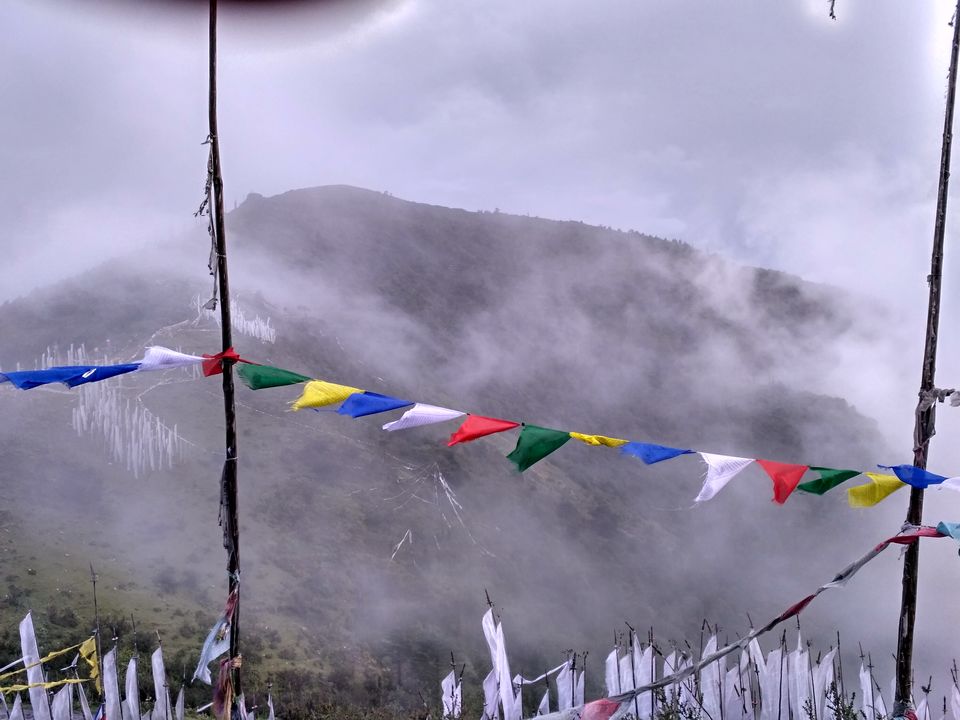 The question everybody asked me was,"But, why Bhutan?" and I replied "Because happiness matters!" .Bhutan continues to be a mysterious nation landlocked by mountains, and like many here in south India, my knowledge of this Himalayan Kingdom was limited to the minuscule space Bhutan owned in the geography maps, that remained unnoticed. And then one day I read about Bhutan as the only country with GNH( Gross National Happiness) index, the country that believes not in GDP but in GNH. Alas!, who in this world doesn't long for happiness, and it was time for me to unravel the mysteries behind this Himalayan Kingdom, and I didn't expect Bhutan would make me fall in love with its loving people and culture.
Bhutan has a total population of less than 8 lakh people, predominantly Budhists and this country has never been colonized in human history. So they obviously take pride in their culture though they never lag behind in adopting latest technologies. They own western lifestyles but do not allow themselves to be owned by the western 'notion' of life.
Again, Bhutan is the only country with a negative carbon rating, yeah you heard it right and this is the link of TED talk where Bhutanese Prime Minister talks about the same. In Bhutan, it is mandatory to have 72 percent of land area under forest cover. You can experience the nearly ideal dream of every man, ironically who drains his entire energy to accrue wealth and build material luxuries, the dream of listening to the music of flowing river, breathing pristine air and looking inside ourselves to understand that each one of us is, by default, beautiful creation of God, like the breeze and the rivers and the mist in the mountains.
Bhutan is where people live a slow life, a happy life. It seems they have already understood the fact that life is not about the future, it's about the present. Traffic flows slowly, but uninterrupted because Bhutan has no traffic signals, for they believe life has to flow freely though slowly.
One person I acquainted in the Bhutanese village of Punakha told me: "Sir, We Bhutanese people are happier not because we have huge bank accounts, in reality we are a poor country and you would be knowing how much assistance we get from India. But we are happy because we keep our cities clean, we care for others, we can let our old age people out of our homes because we are sure they will be taken care of by others and we respect women, women can roam anywhere anytime and she never feels insecure". And I was sure these words were so true for I have seen women in every spheres of life in Bhutan, because it really is not a male dominated society. And women are respected, not in the way they are respected in our country, ironically, the country which taught us to respect them as goddesses. I smiled at him and he wished 'Tashi Delek', the tibetan way of greeting.
The entire days I spent in Bhutan taught me not how to be happy, but taught me how to become selfless, how to take care of others, how to take care of our earth, how not to make our lives complicate, how to simply smile. On my final day in Bhutan, while boarding my flight from Paro Airport, the picture of Bhutanese Royals smiled at me. As the Bhutanese Prime Minister said, democracy was imposed on Bhutanese people, they never demanded it. As I was walking towards the flight, I was smiling, because I was happy. Bhutan has taught me that every one of us wants everybody to be happy, but more important is to stop longing for happiness and just be happy, and make others happy. Tashi delek!
I really wish from my heart that every reader out here must visit this beautiful country, because this will imbibe in you a feel of goodness, love, selflessness and this country will make you aware of the mortality of our lives, which in a way, makes our life beautiful:). And for the very same purpose, I wish my itinerary of the trip would be a little helpful and inspiring and if at least one soul breaks the chains of inertia imposed by circumstances to travel, I am humbled. I am sharing the detailed itinerary here.