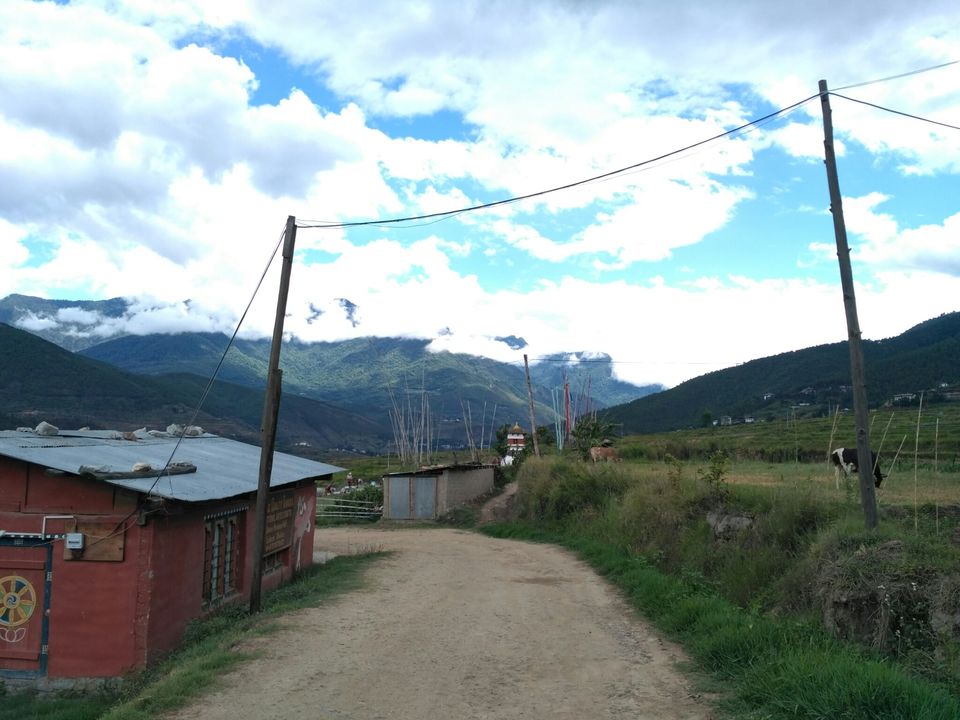 This tiny nation which can very well be missed when overlooking a map, is a hidden treasure of the Himalayas. In case, you do find it and visit it once, you will definitely what to come back.
Below are some reasons why it is unique compared to most Asian nations –
1) Progress of the nation is measured as Gross National Happiness – While most nations measure their progress in GDP, here happiness is given higher importance than productivity. This does not mean people in Bhutan have a luxurious life, they top have their struggles of daily livelihood needs but happiness is valued here. They give more importance to Development with Values. It's not surprising to know, though they are some small of an economy, the education and medical facilities is free for its citizen.
2) The Himalayan vibes – The minute one has stepped into Bhutan the surrounding feels surreal. There is a positive vibe in the atmosphere. It is a Buddhist nation and one can locate Buddhist monument or temples everywhere with the equally meditative atmosphere in its surroundings. Prayer bells in all sizes, prayer flags all around, instills a feeling of faith and as though every corner of the country is wishing you good luck. To experience all of this you need not really be very spiritual, only try to be present in the moment.
3) The kingdom that values nature more than latest technology – While one will notice Bhutan is trying to be at par with the changing world technology demands, they are also working hard to maintain their forest lands. Around 70% of the total available land in Bhutan is forests. They are the only country which produces oxygen in surplus thus even absorbing carbon emission from the neighboring nations. They are exporters of hydro electricity which are generated by their rivers. Sadly, even with such measures they are facing the harmful effects of global warming caused by the neighboring nations.
Though you get to see modern Korean cars on the road here, one will be surprised to know that to possess a car one has to pay 100% road tax which I believe is fair enough to save the nature from pollution.
4) Women in business – One will definitely notice; women are involved in most businesses here. They are out and about everywhere throughout the day. You can spot them in stores, restaurants, major hotels or hospitality chains, some even driving swanky cars, taking their kids around. It was indeed very cute to watch the toddlers tied on their backs while they walked through not so easy roads in the hills to go for work. This gives a feeling of safety to the women travelers as well.
5) Respect for the Royal Family – Bhutan is not a democracy. In fact, the people had been imposed by democracy by the then king, but instead they still chose to be with their King and Queen. They have the youngest king who took over the throne at the age of 26 as their constituency compels the king to retire at 65 years of age. Indeed, kings here do not wait until old age to pass the crown thus making sure the nation has youngest progressive thoughts for its progress. The king is known to be very humble and has chosen a very simplistic life thus giving priority to the needs of the people. The locals worship the royal family like gods as the royals have stood with the people in their thick and thins. You can see huge pictures or banners of the king and queen everywhere around Bhutan.
6) Hospitality is a national thing – Though tourism seems to be the major business here, people all around Bhutan are very humble, polite and helpful. People are happy to interact and also language is not a barrier as most of them can communicate in English. If you are the one who craves for Indian food, do not worry, you will easily get Indian and Chinese food here.
One request out of observation, please do not misbehave just because you know India is a major supplier of resources to Bhutan and also gets a lot of tourism business from there. We encountered some such co-tourists who were assuming they should get everything like India in Bhutan.
7) A land of storytellers – Bhutan has lot many stories to tell. Every dzong or temple premises have many painting which depict stories of local deities and demons and how good won over the bad. So if you have an interest in knowing about places and the stories they carry, do not forget to ask a local or a guide about every place you visit here.
8) Bhutanese Architecture – Most buildings in Bhutan follow a traditional architecture a per government rules and these beautiful structures add to the charm of Bhutan. The houses have sloping roofs and the exteriors of the building structures have beautifully craved wooden frames with colourful designs. Not only the exteriors but also many interior wall edges and ceilings have such colourful detailing.
9) Don't miss the Bhutanese Music – Do try to experience the local music flavor. Our hired car driver played many Bhutanese songs. Though language was a barrier but the music was so soul stirring that not once did we feel like asking him to stop it. Infact we hunted for some Bhutanese music CDs on our way back and still cherish them whenever we feel like virtually experiencing solitude. Bhutanese flute and guitar are some unique instruments they use and sounds so different compared to the usually available ones.
10) All roads lead to heaven – The roadways are the only transportation in the country and are really well maintained. You can also witness their maintenance in the hilly regions where they are prone to more wear and tear. Traffic rules are strictly followed here. You can hardly hear any honking. In the towns, pedestrians strictly use the footpaths and zebra crossings. This is much different compared to its neighboring countries where one can observe maximum violation of the traffic rules. Also the roads in the mountains have funny and thoughtful boards with warning of safe driving which are also a fun for the first timers.
11) Because only a week is not enough – Most tour packages include Thimphu, Paro and Punakha for sightseeing. But soon you will know, Bhutan is much more that what you have witnessed in such a short duration. Haa Valley, Bumthang are some which we couldn't cover but would like to see someday.
But this place is such that you will definitely once say that you want to return or stay back here. The charm of this country is that you simply do not want to leave.
Do watch the Ted talks on Bhutan. This definitely inspired me. Check this link - https://www.youtube.com/watch?v=7Lc_dlVrg5M

For more details on my journey in Bhutan, check this - Bhutan: Journey into the land of happiness