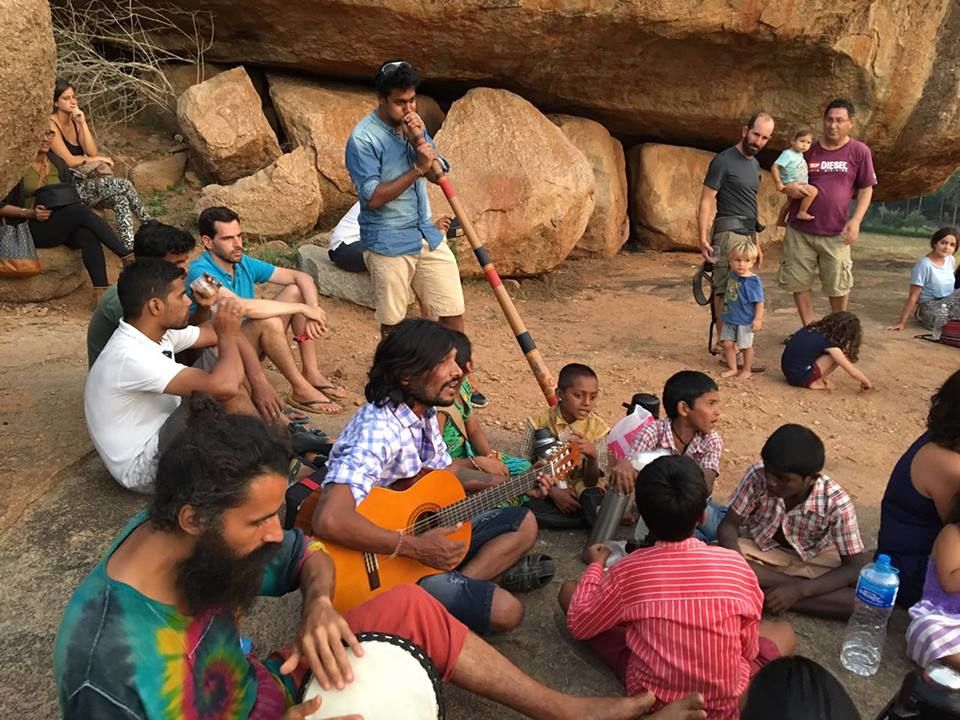 It was high time last year and I had to plan a trip. Some of my last trips were giving me some hints for me to realize that, my persona is much more than going to a place and just visiting it. The hankering to go out and see what the place has to show was the best side of mine that I found out in the recent past. And which is why this trip of mine was surely not going to be a mainstream place like Goa.
Early last October, I got to know about my vacation dates and it took my heart less than a second to tell me that, I am taking it somewhere, in another 5 minutes Hampi struck me as I had heard a lot about it. Soon, I called my friend Ashish, who is as crazy as me because he gave his confirmation for the trip in that moment. It all looked planned by the destiny. 2 days down the lane, Pratik was also going to be a part of the trip. The excitement was way way too much to express. We were to start the journey on the 23rd of October and return on the 28th of the same. Time was passing by but, no further actions were being taken. We had planned to stay in a tent and which is why, I bought one. And, finally it was time to book tickets. We were to meet that evening and we did but, only to listen that, Pratik isn't coming due to his personal commitments. It was only Ashish and I, and to be frank, I was okay with it because of the same psyche we carry. We went ahead booking tickets to which Ashish told me that, we'll inquire and get the tickets book online, I agreed. That night, Ashish called me and I sensed something, he opted out too and I couldn't really take his reasons but could only understand verbally. This took me into a dilemma. I didn't know what to do next and the only thing I knew that, I had to go but, how? With who? Will mom allow? Really, not the time one would want to face.

That night, I thought a lot, there was a thing that I mentioned above, "It all looked planned by the destiny." And, the courage to do this and say this to yourself came from within, "You can do this alone, Vinav." This very feeling is one of the craziest, I tell you. The very next day, without spending any second thoughts, I got my ticket. That whole imagination of your first solo trip was crazy! So many thoughts are in line to visit your mind. How do I tell this at home? Should I do this? Will everything be okay at Hampi? The butterflies were never so quick. But, I was clear about one thing that, if I couldn't collect the courage for this trip then it all looks tough in the future.

Finally, the day had arrived and I still hadn't informed this at home. Everyone thought of this to be a trip with friends. It was 6 in the evening and my train were to arrive at 7 ; finally managed to spit it out in front of mom and dad that, this is going to be a solo trip. It took less than 2 seconds for them to deny, how well did I predict that!
Things weren't for that 10 minutes in particular. They had the cash, all I cared about was getting that cash somehow from their hands. I went ahead and took this risk of playing the emotional card. "It's okay if you don't want to send me ; but, I really want to do this." Some awkward silence and after 5 minutes, I was ready to leave for the station. Not the best of good byes but, my priorities were clear then. Boarded the train carrying huge number of butterflies in my stomach. Every interaction during the transit had that slight fear that you get when you are all alone and conversing with a stranger. Next day, afternoon, I was at Hubli and got an immediate train, thay would take me to Hospet and a local bus from there to Hampi.
Hampi was just picking up then, not entirely commercialized and I was already loving it. Quickly booked a room for Rs.400/day for 3 days, strolled around in the evening. Adventure was just to begin the next day, the temple that I saw in the dimmed lights turned out to be a huge Virupaksha temple. History written all over it with old age (lack of maintenance) clearly visible yet beautiful enough to catch your attraction. The day then followed with giving bath to an Elephant, crossing the river with the help of chapoo, a lot of walking!

Next day, I decided to rent a bicycle, probably the worst decision, should have walked instead. Anyway, it was fun when I look back. I almost rode around 35 kms that day, visited the beautiful Anjaneya temple (said to be the place where Lord Hanuman was born), the aura actually makes you believe that the written might be a fact. Oh yes! It takes around 200 steps to reach the temple, it tests you, it might give you a feel of giving up, don't. This was one of those instances that has brought an internal change, just do not quit. :)
As far as the food was concerned, Mango Tree was my favourite restaurant. Pure veg, reasonable and above all, best in Hampi. I saw various historical places in Hampi, Vijaya vittala temple was one of them, the thought of the architect gives you goosebumps. You actually can sense that a kingdom which believed in fairness as their core identity existed here by a King who could do anything for the praja. People of Hampi are surely carrying the legacy ahead.

My last evening in Hampi and I decided to watch the sunset from the Matanga hills which turned to be my best decision in the entire trip, yes, the sunset was with some localites and explorers with some amazing folk music with it, yes, I was singing with them and played an Alphorn (kind of Alphorn) too for some time, the music teachers with his kids, started to set the aura up and people were are groovy, relaxed, happy!

Wrapped this quick, missing on some instances but wouldn't mind sharing it if you wish to know more about the place.

Also, I have promised Virupaksha to visit Hampi again, till then, "Don't worry, be Hampi! :)