All this while I have been reading stories of bikers travelling to distance places, but what is it like to be a pillion rider. Sitting on back seat, watching trees running at a great speed, helping the rider with directions carrying GPS in hand, a backpack on shoulders and various thoughts which keep travelling in a different world. This is my story. My journey from Delhi to Kasardevi and further till Binsar- the 800+ kms journey as a pillion rider.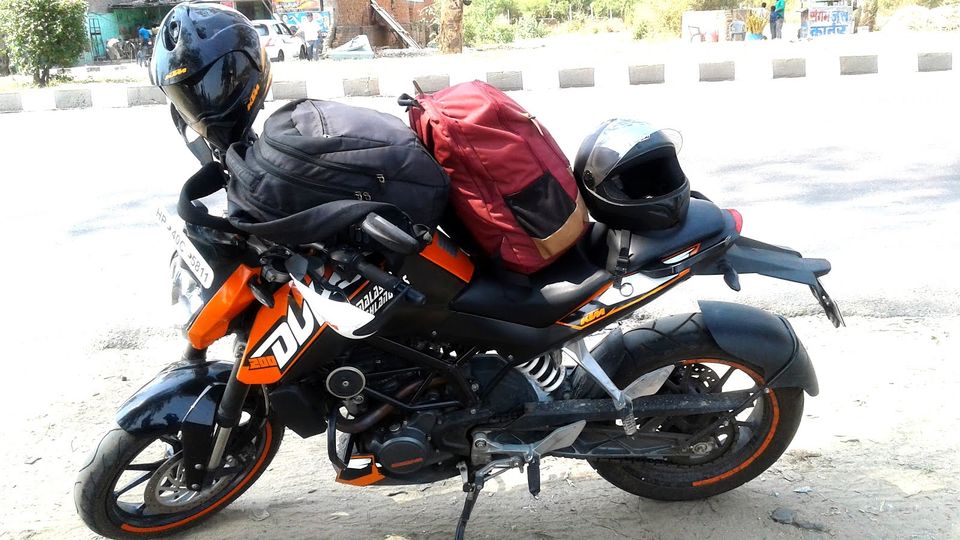 DAY 1

Delhi-Haldwani

After my two trips on bike- Kasauli ( http://nancyagarwal.blogspot.in/2016/03/my-first-trip-in-himalyas-on-bike.html ) and Bharatpur (http://nancyagarwal.blogspot.in/2016/03/bharatpur-rajasthan-day-1-lxxvii.html), my dad warned me that I should not go on bike again (and I could understand his concern and love for me). So while I was leaving for this trip I told him that  I am going by bus. (Though once I came back I told him the truth and he scolded, and frowned and laughed. I know my dad very well.) With Ashish as biker and me as pillion rider we started our journey on Ashish's Duke early in morning. After travelling for more than 100 kms our stomachs started growling. We were looking for some good dhaba or restaurant and suddenly out of intuition I told Ashish to go ahead some few kms for Bikanervala. My guess was right. Well, it was not exactly the guess as I had travelled on that road before while going to Pangot and Jim Corbett, the road till Gajraula. Ashish looked at me in praise and I smiled.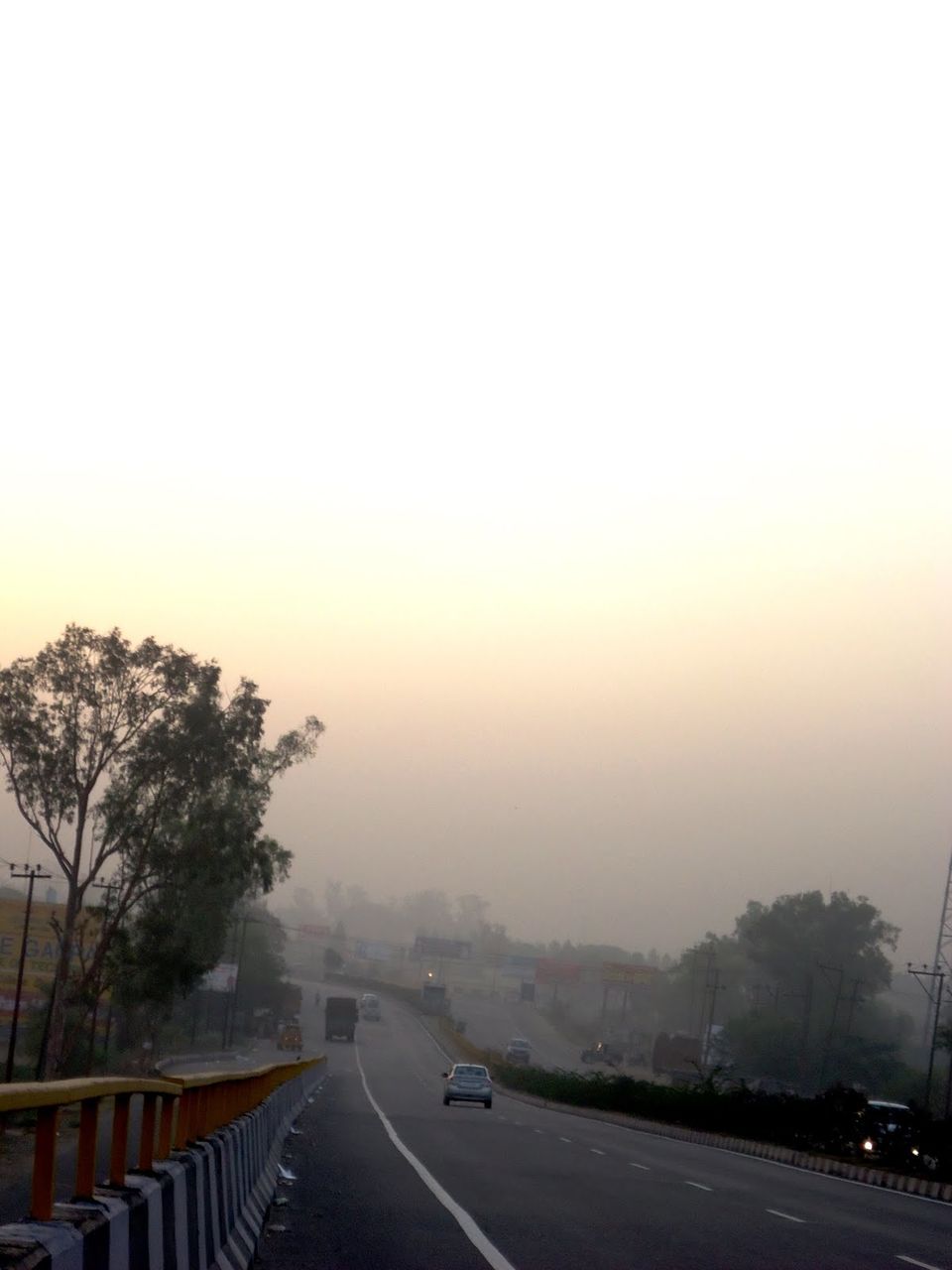 JOURNEY
I saw a family eating, chatting, laughing, sharing jokes and I remembered all the trips I had with my mom.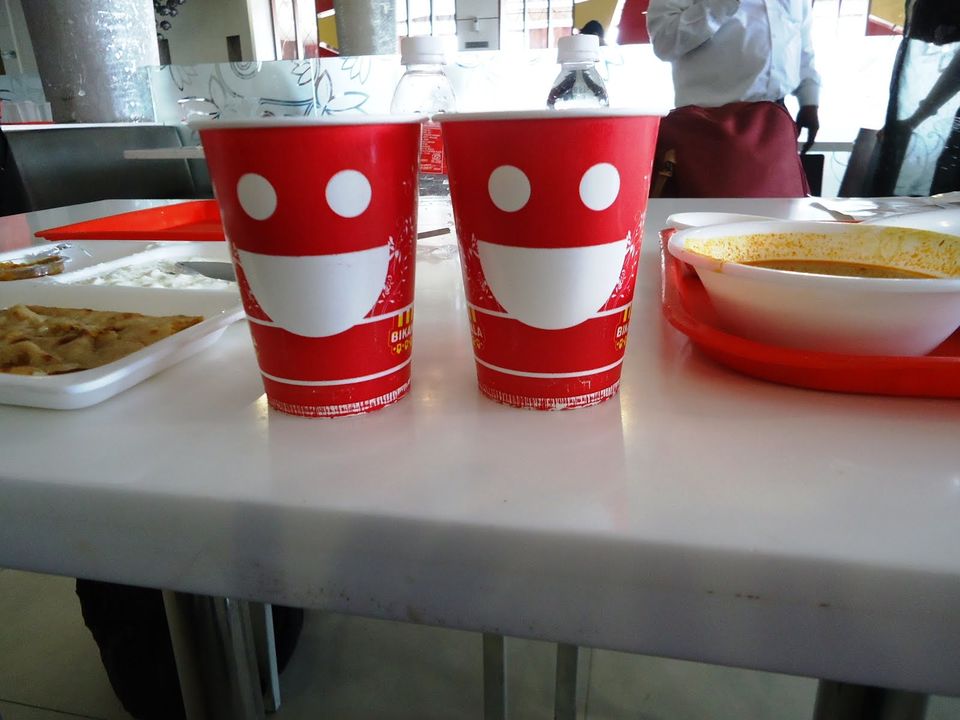 BIKANERVALA
We took halt at Haldwani to get ready for the next day journey till Kasardevi. This trip was going to be my longest trip on bike and I was not sure whether I would be able to do it or not.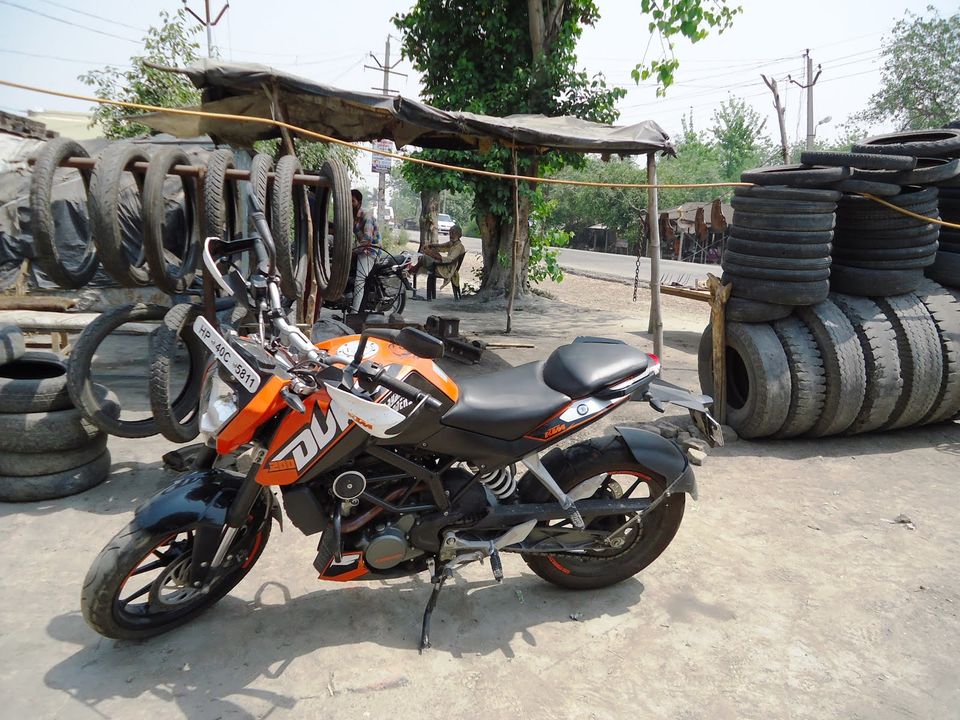 GETTING PUNCTURE DONE
DAY 2

Haldwani-Kasardevi

After travelling for 100+ kms when I saw that first glimpse of mountains, automatically all the tiredness vanished and a natural smile came on my face. Ashish, not sure whether I would be able to travel so much on bike kept asking me if I needed any rest and I kept saying in all excitement to go ahead.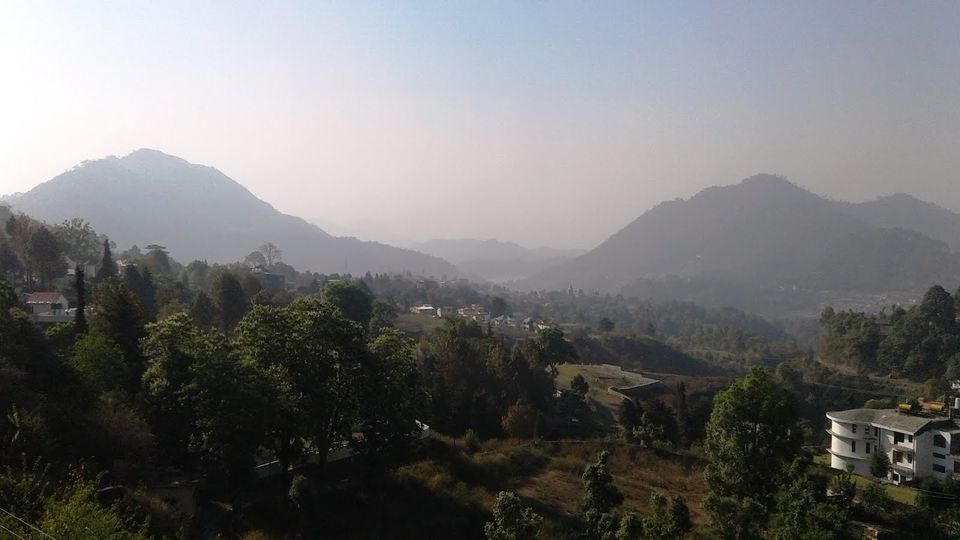 We reached Kasardevi in afternoon. Kasardevi is a small hill town under Almora district and became famous when Swami Vivekanda meditated there. It was indeed beautiful, peaceful and meditative. Our home, New Dolma Guest House offered amazing tea (my style of strong tea) and snacks. Our room was mountain facing with a balcony and offered an amazing view from the window.

Nature is one thing of which with whatever angle, with whatever camera, in whatever light, with whatever pose you take the picture, it will always be good.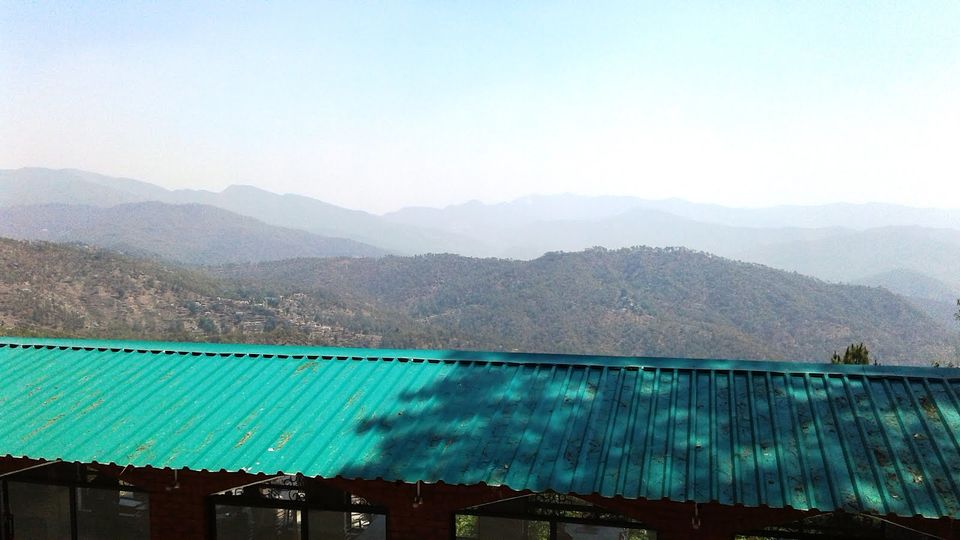 VIEW FROM BALCONY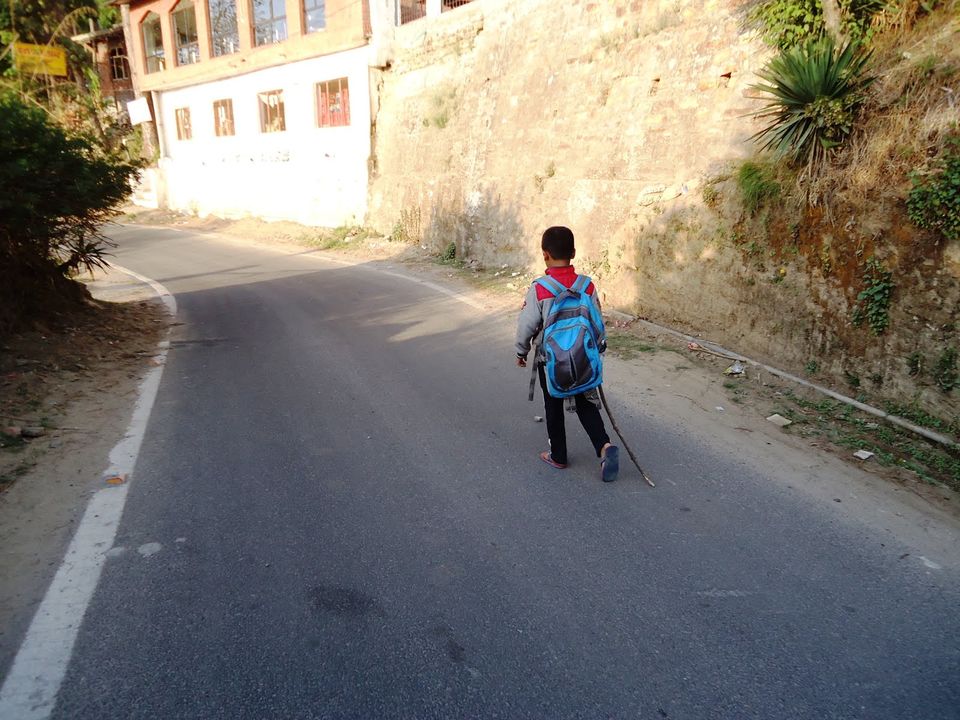 A CUTE WANDERING SOUL
KASARDEVI TEMPLE

It was a 2 kms trek for Kasardevi temple- a temple built on hill top out of natural caves. We thought that we would visit the temple and would come back in half an hour or so. But the view, the temple, the ringing of temple bells, the winds, the sunset and moon-rise kept us so engrossed that we came back at dinner time. I sat at the hill top and I didn't realise when I went into deep meditation. I opened my eyes and saw Ashish clicking pictures. He smiled at me and I felt as if I had woken up after a deep sleep.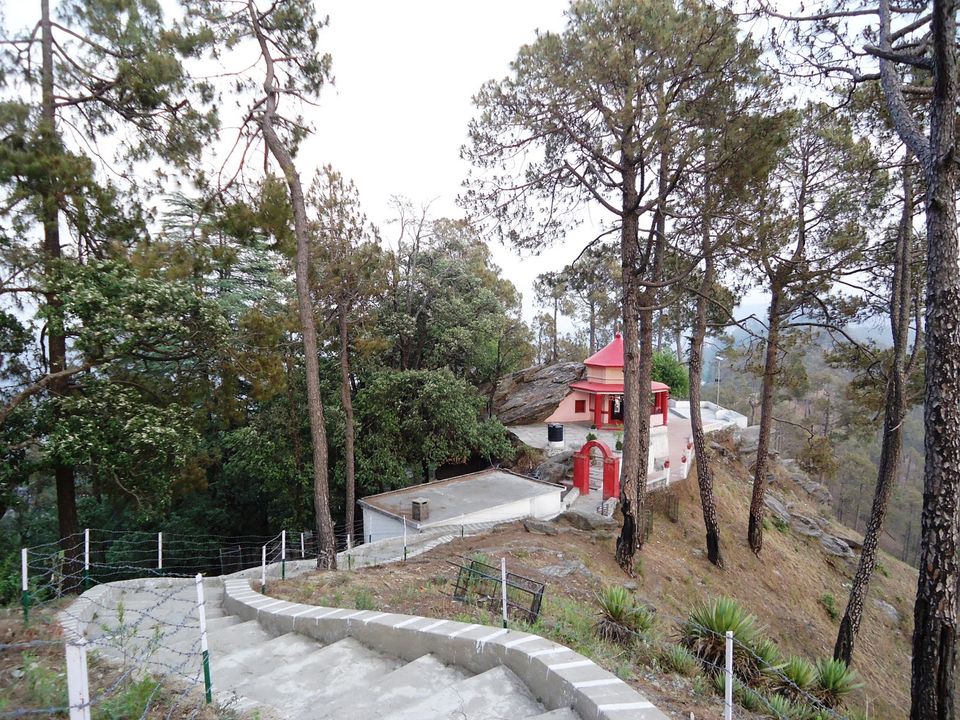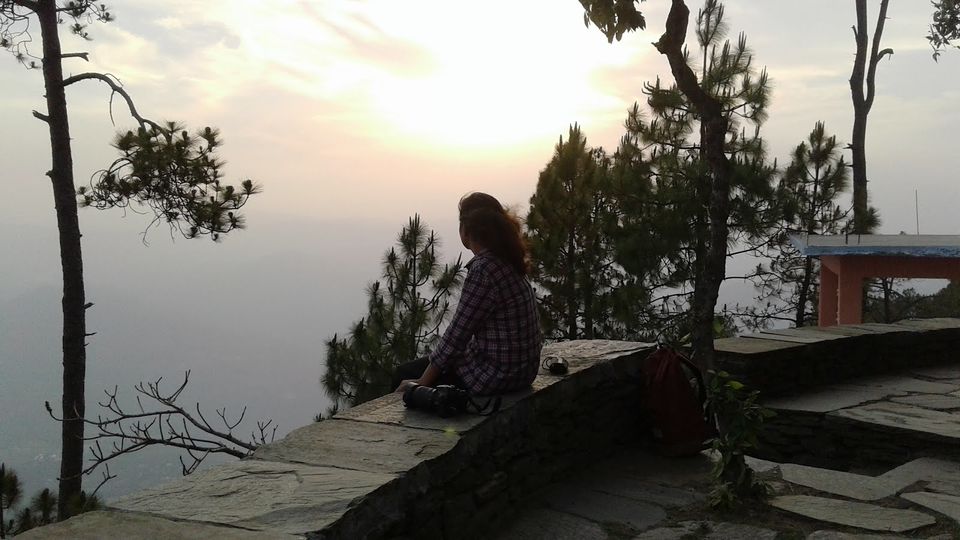 VIEW FROM KASARDEVI TEMPLE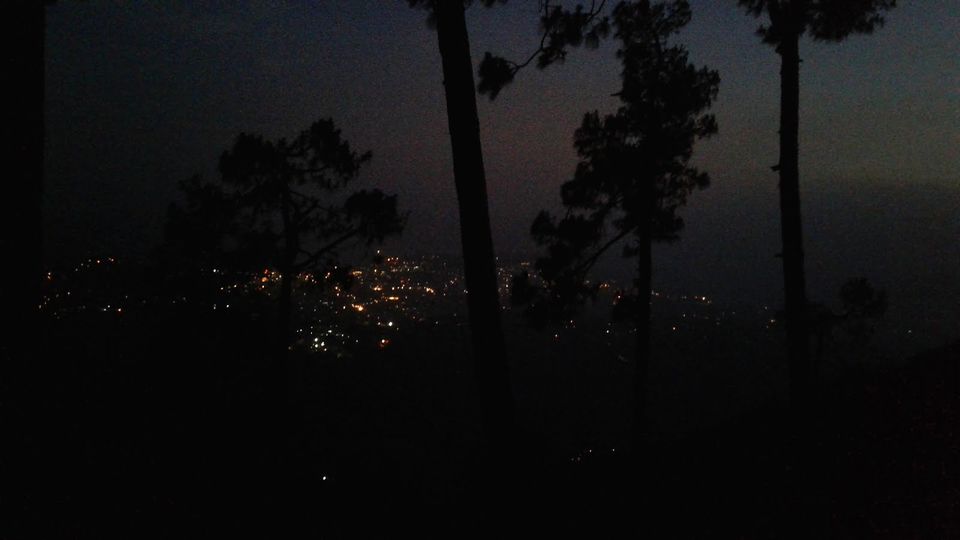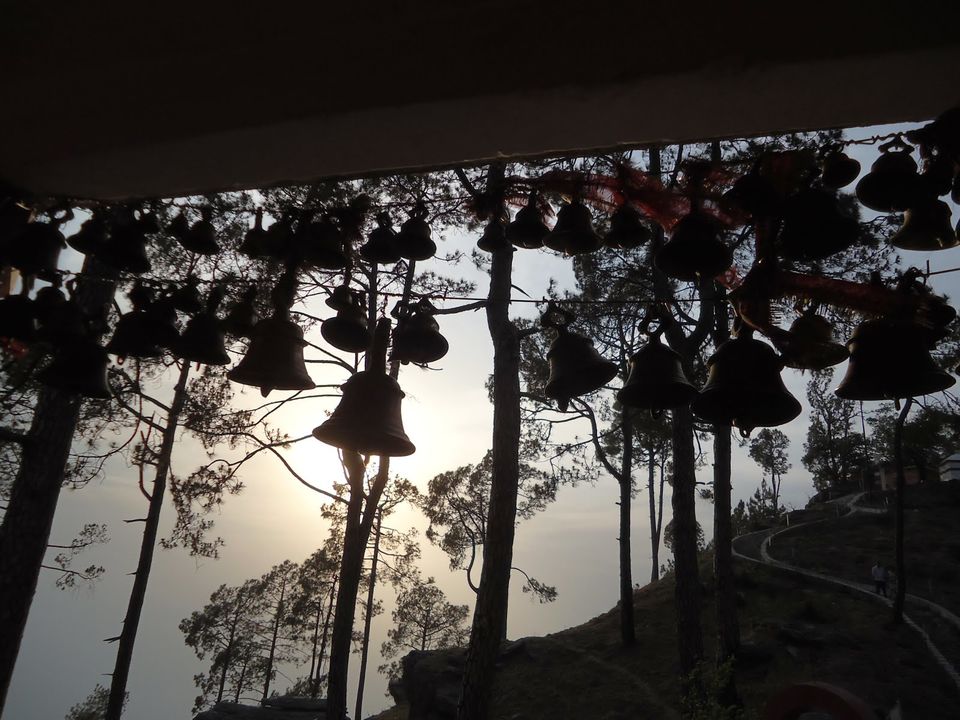 DAY 3

Kasardevi- Binsar
Some 10 kms from Kasardevi, Binsar is a wild life sanctuary and the best way to travel Binsar is through bike.  Covered in dense forest, Binsar offers a picturesque view. Exploring Binsar we reached at a point where the bike could not go any further and a trek of around 2+ kms started till Zero Point. We started our trek and it felt amazing to walk on dry leaves. Sound of dry leaves, birds and the winds was adding music to that silence. Chatting, walking, running, romancing we reached Zero Point. 

I wondered that all throughout life we keep running behind things but in the end everything comes to Zero. And the ultimate peace is in that zero only.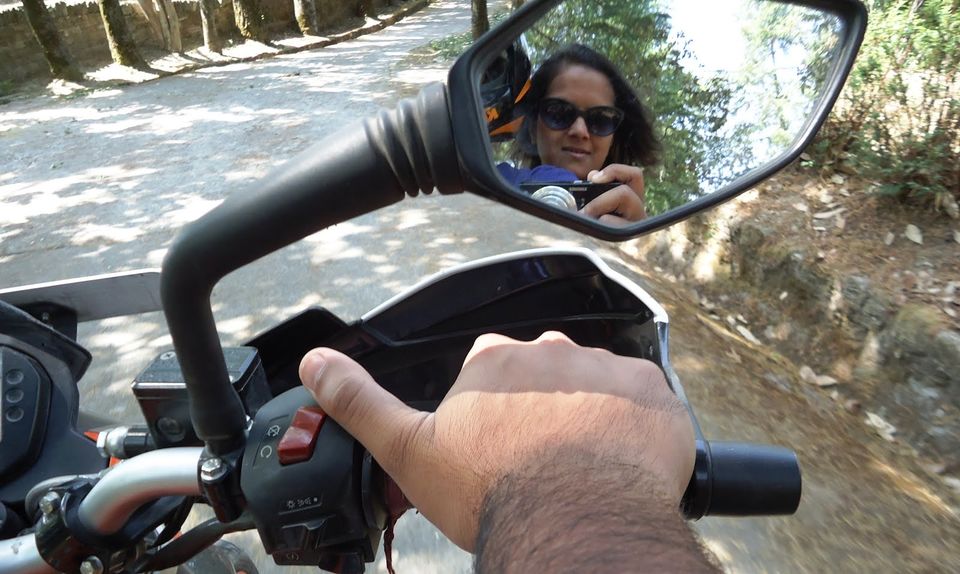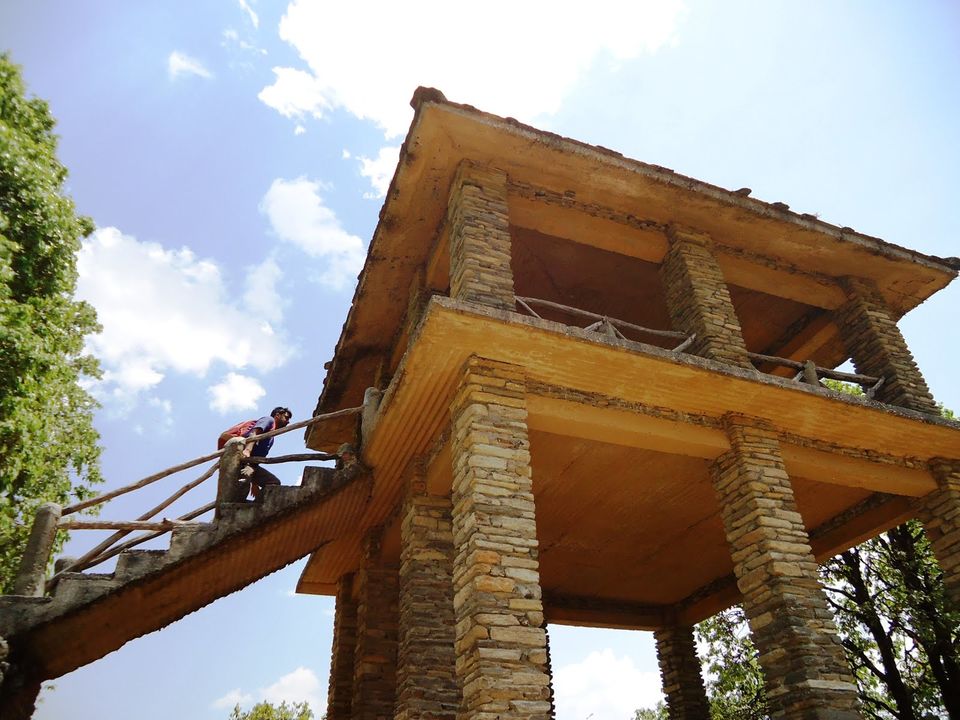 ZERO POINT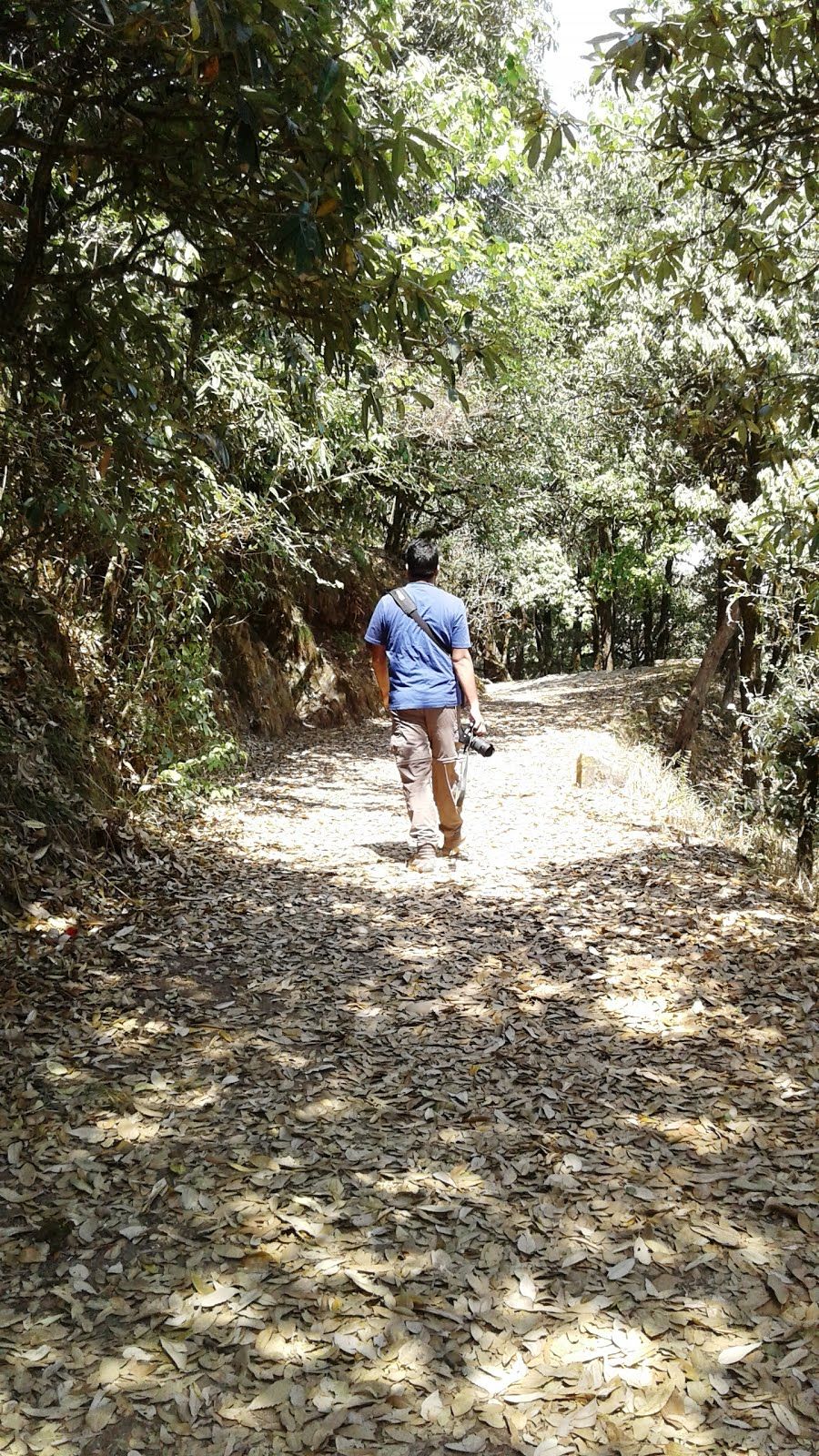 BINSAR
While coming back we experienced forest fire but luckily it was not that widespread. Hungry, we stopped at Simba Cafe. While Ashish was parking the bike, I very confidently went inside the cafe and came back running all afraid. Ashish couldn't control his laugh seeing me and behind me was tiger like dog- Simba. The cafe was named after him. But he was peaceful and later became our good friend too. We hogged on delicious maggie, bread, eggs and tea. On Binsar gate we requested the care-taker to open the museum and he happily brought the keys and showed us the museum around.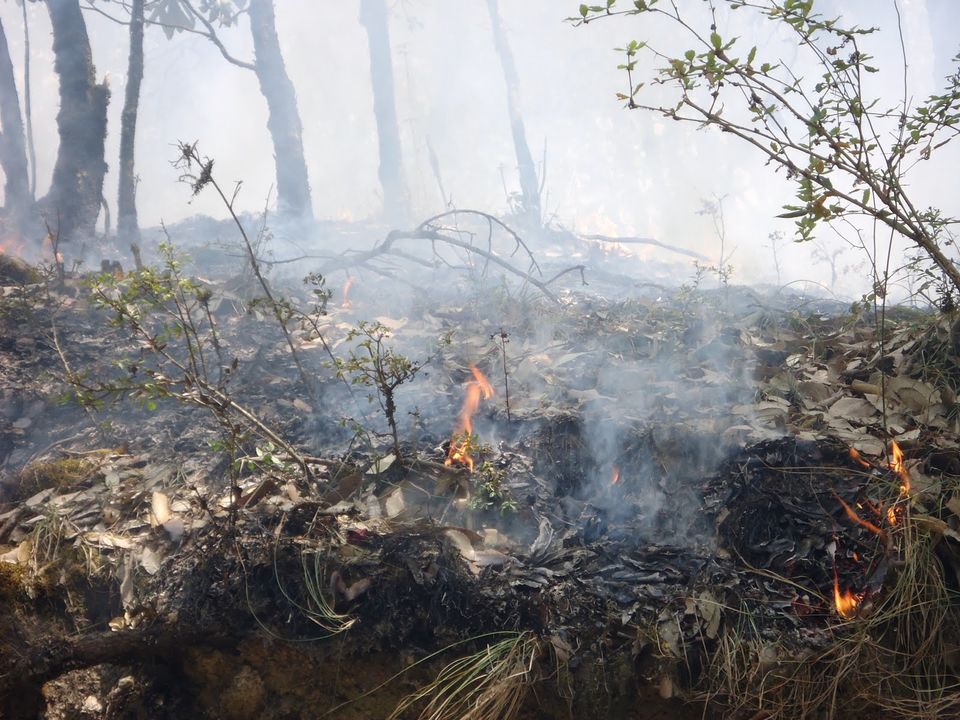 FOREST FIRE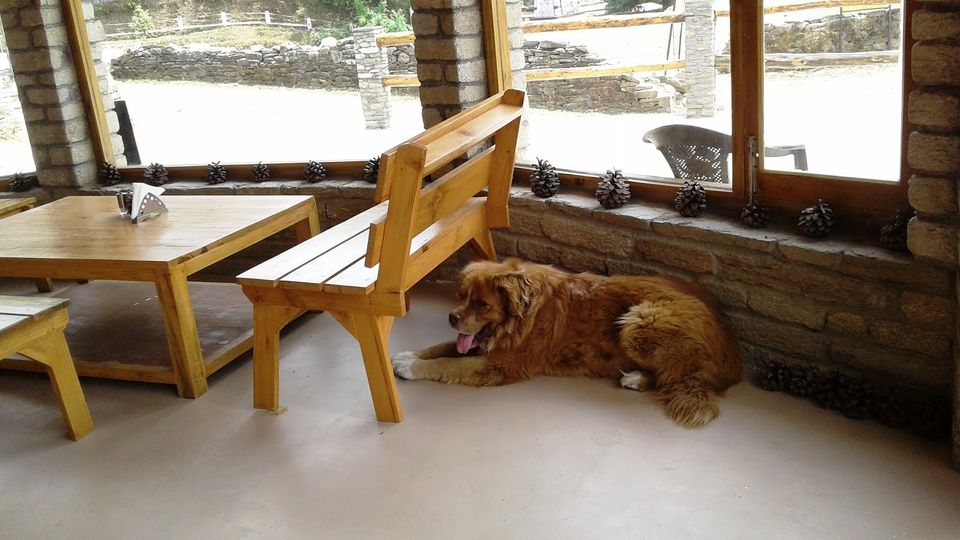 SIMBA
GOLU DEVTA TEMPLE

A temple full of bells, letters having wishes written on them, monkeys all around, Golu Devta Temple is  very colourful and beautiful. I started reading the wishes and after reading some I got tears in my eyes. There was a letter from a sister praying for his brother's job, a letter from a daughter asking good health of his parents, a letter from a student asking for his good marks in exam. The most interesting was a letter with stamp paper and I couldn't control my laughter. 
We came back to our home- The Dolma House. It was cold outside. Sitting in my room I looked outside the window. It was full moon day. The moon was shining brightly. The sky was glittering with stars and far away earth was shimmering with lights. Seeing the moon I thought, "One should be like moon, which shines brightest in the darkest of nights."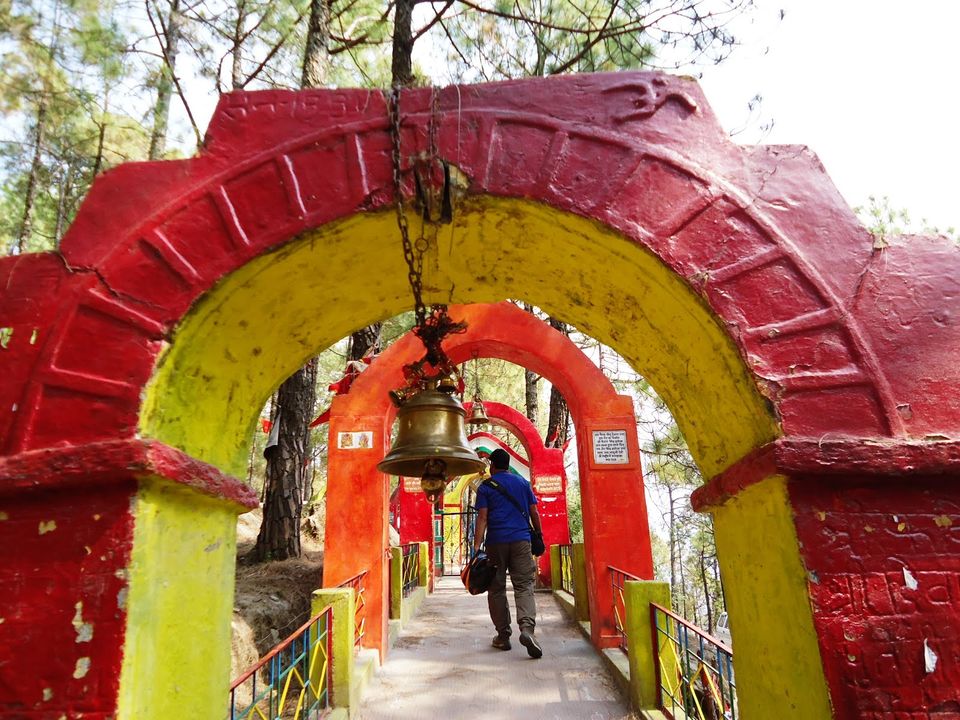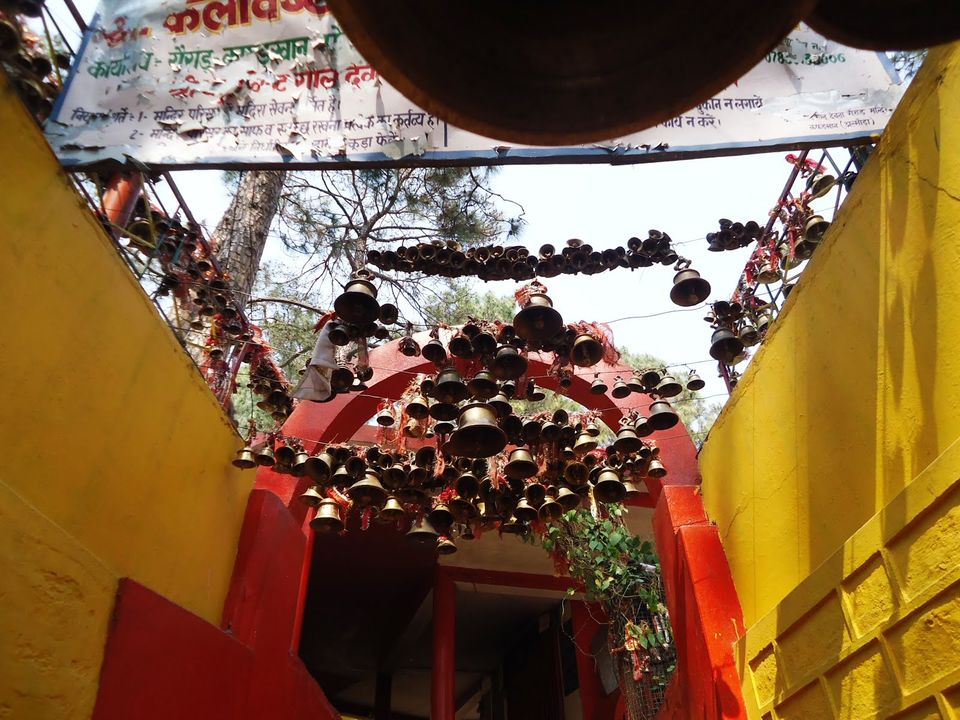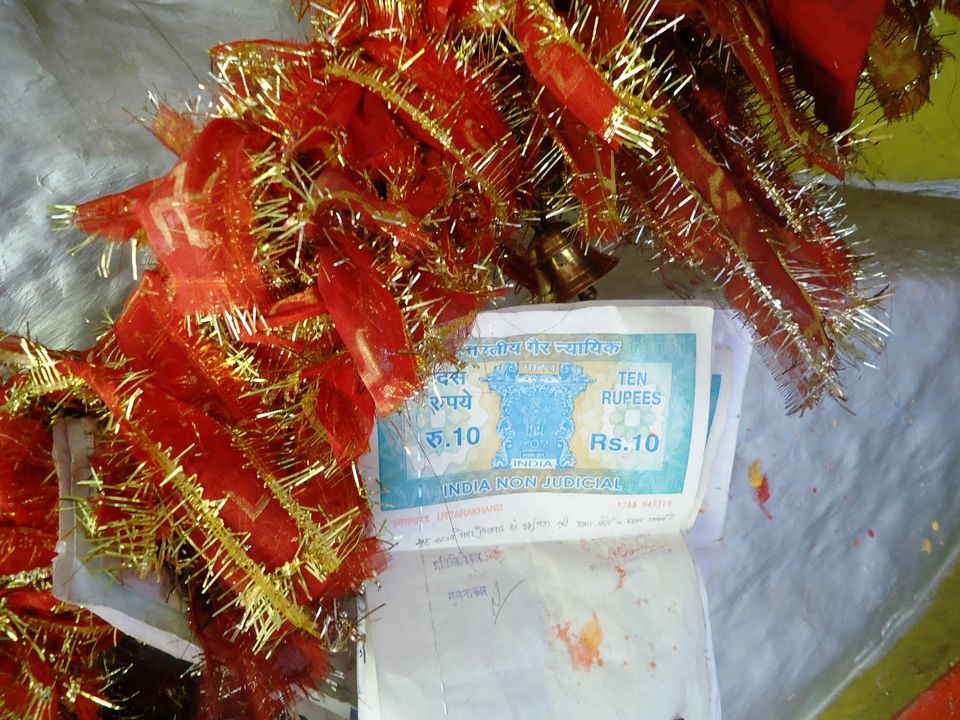 DAY 4

Kasardevi- Rudrapur

Next day we started our journey back to Delhi with Rudrapur as our stoppage. Leaving hills always makes me sad as if I am leaving my home. Having ample time of 2 days in our hands we made maximum out of the return journey- taking longer halts, enjoying view to the fullest, sometimes chatting and sometimes just sitting quietly, clicking pictures, listening music and sometimes driving at a speed on 20km/hr to enjoy the winds.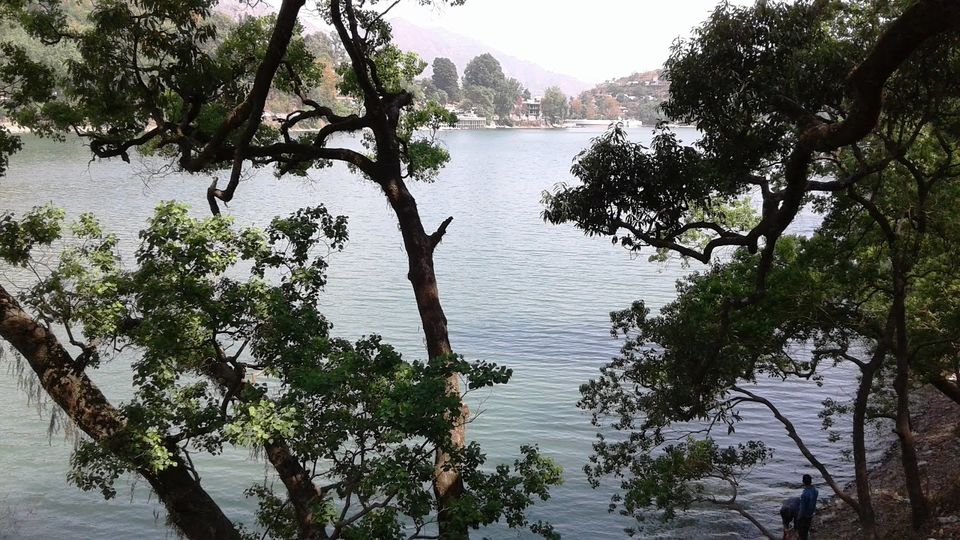 BHIMTAL
DAY 5 

Rudrapur- Delhi

I was back home. The trip still seems like a dream to me. I was proud of myself to complete this 800+ journey without any hassles. For a pillion rider a journey is as adventurous, rather more adventurous than the biker. It is not easy to sit behind and be a support system to the rider, to remain as active as the rider. For me this long journey was full of adventure and fun. Each trip changes something in me. Each trip teaches me something. Travelling let me know the struggles in the world, and the happiness which people find in those struggles.