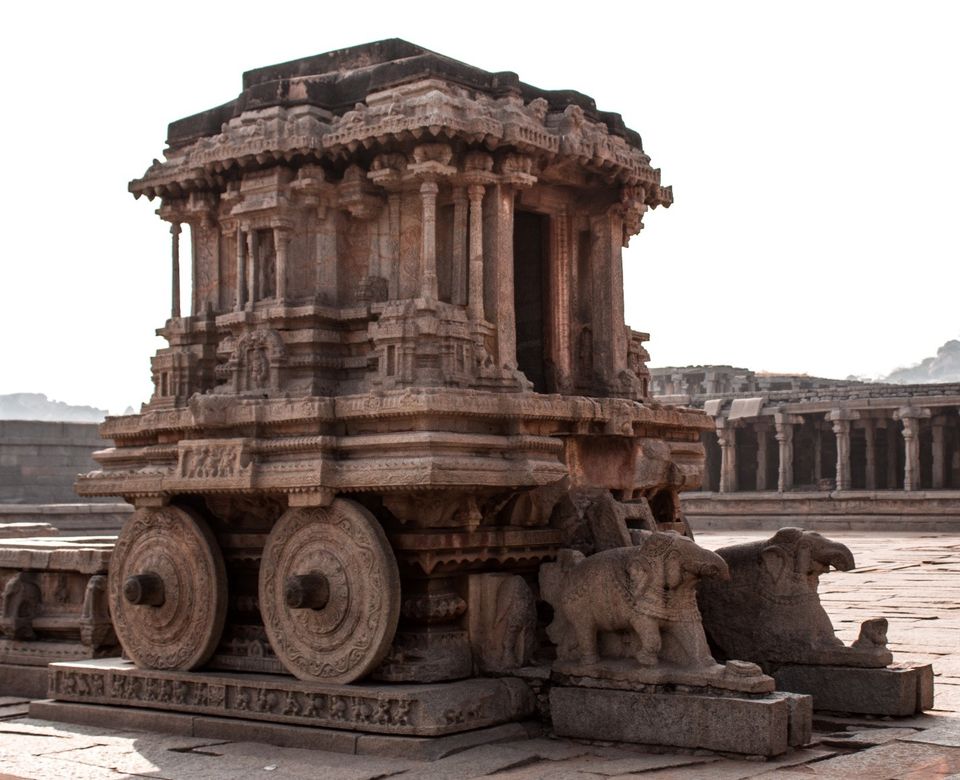 It all started with a WhatsApp status post by my friend Mangesh, "Planning a short trip to Hampi(by Bus) on 26.01.18 to 28.01.18". That was on 20th December. my immediate response was 'count me in'. But somehow, I had misread the date and was wondering, boy how can that be planned so quick!! That doubt was cleared when I re-read it, and noticed the MM YY part of the dates. We had well more than a month to plan for the trip. Which meant we had a lot of time to plan for the trip (Don't you just love this part!)
Initially there were four of us, and after some serious(lol) calculation it was decided that bus travel was way too expensive. And we were better off turning this into a road trip(YAAS!!). I had already started preparing a playlist.
Over next few days our number went up to 6, and then they started dwindling (surprise, surprise), till there were just two. We didn't realise it would be such a blessing in disguise until a lot later. So, after a month of detailed (read, very little) planning, we were off for Hampi on 25th January 2018 at 6 PM. On a journey of 1000 miles. It is that long a round trip in fact, look it up.
There was a little concern raised by some of my friends because of the night conditions we were going to drive in. But then as I always say, "My driving skills are forged in darkness of night." Truth be told I prefer night driving specially for those empty roads you usually get. Being just two of us in a Swift Dzire meant we had just too much of room in our backseat, which doubled as a place to keep all our snacks, camera bags, wallets, change, trash, you get my drift.
After 16 hours of driving, with one 20 minutes break and a few 5-10 minutes breaks we were entering the "Gateway to Hampi" (See pic below).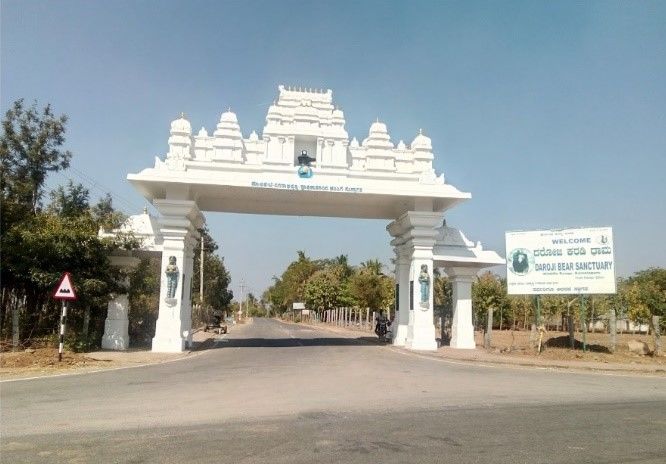 First thing that strikes you about Hampi is availability of main ingredients for all its monuments, boulders. They are everywhere, in all shapes and sizes. There are mountains of boulders. So much so there was a boulder as tall as 15 feet in backyard of house we lived in. See all those boulder pics that follow, you will get the idea.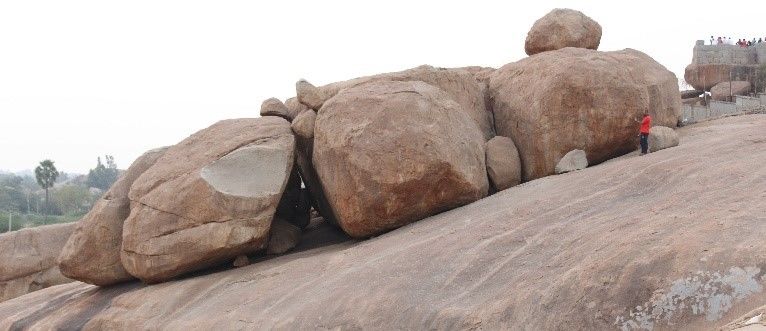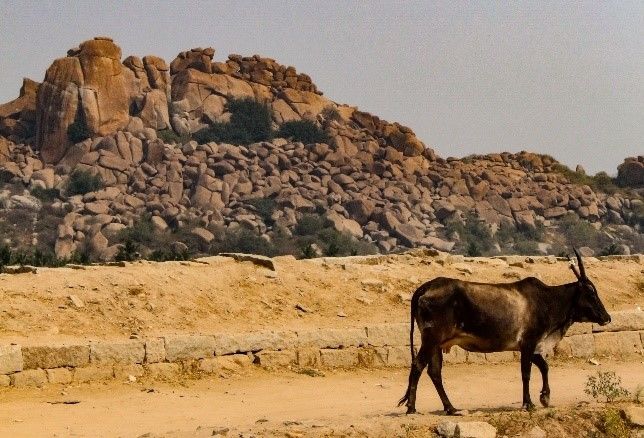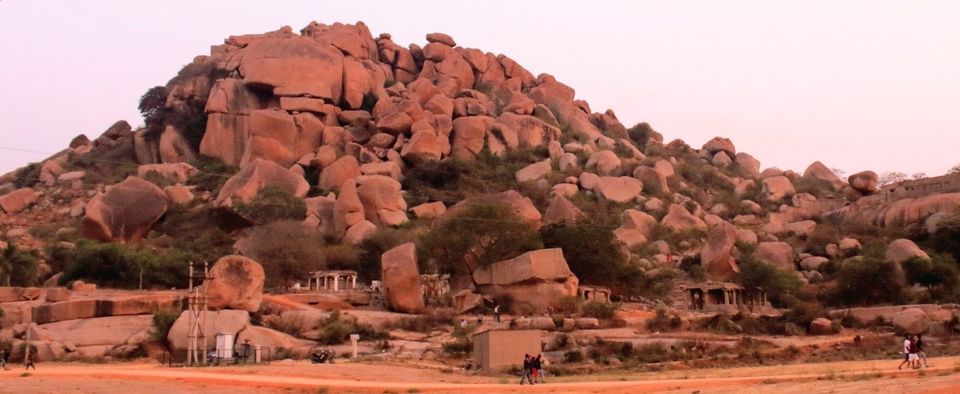 Speaking of stay, we hadn't made any booking for a stay in Hampi. We were going to, as they call it, wing it. So being afraid that we might have to sleep in the car, we started asking around for availability of stays. We knew they had homestays here, but had absolutely no idea where they were (frigging adventurous, ain't it?!). There we came to know they have shifted whole residential area outside Hampi and established a new village 'New Hampi'. One can see a board on left side when you go from Gateway to Hampi to main Hampi. It's not on maps yet (at least till the day I wrote this), be watchful there. Maps will take you directly to the heart of Hampi. So, after securing a nice homestay, which actually was a shed made of woven bamboo sheets see the picture below (Not the best of the photos but that should give you an idea), we dosed off. It was almost 4.30 PM when we woke up. It was time to get clicking!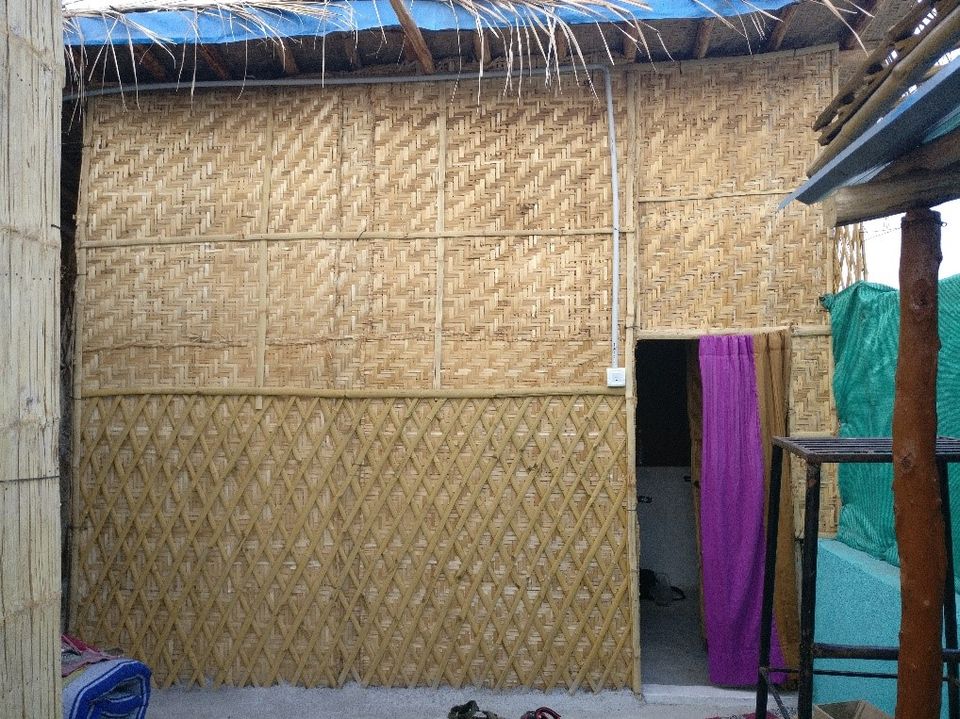 Parking is not a problem in Hampi, it's free and plenty. I would recommend bringing your own vehicle (or rent one), or a fat wad of money (local rickshaws charge a lot); any one will do. We parked in one such place, and the next thing that struck us about Hampi was there were "frames" all around us, so many of them. That place is an absolute paradise for photographers. Hampi essentially is a temple town, which means most of what you will see is temple, old temples, temples with idols, temples without idols. Now you might be worried about your footwear hearing about so many temples, don't be concerned though. There is only one place where they make you take your footwear off. This one, it is biggest single compound in main Hampi, the Virupaksha Temple. There are many small structures on a hill right next to that temple. And that is where we started. Walking around, like a child in a playground! Going all over the places instructing his go pro to take pictures, "Go pro, take a picture" (some people just can't take pics on their own ???? ).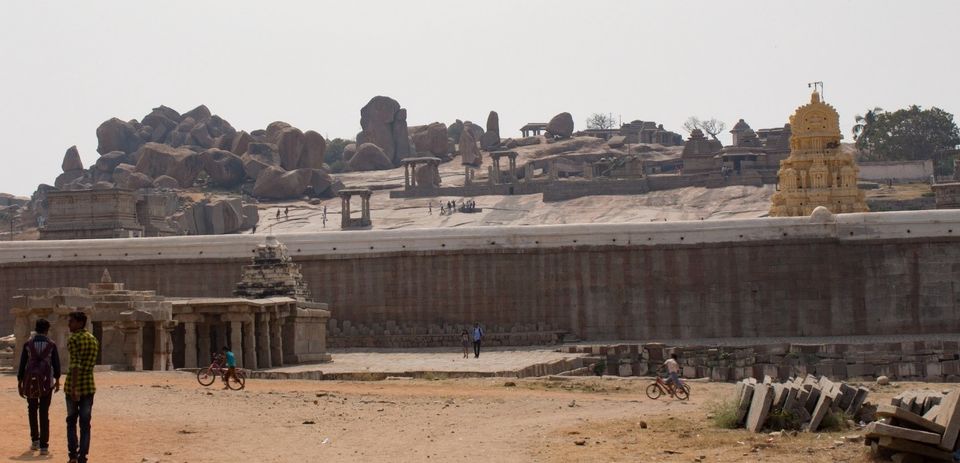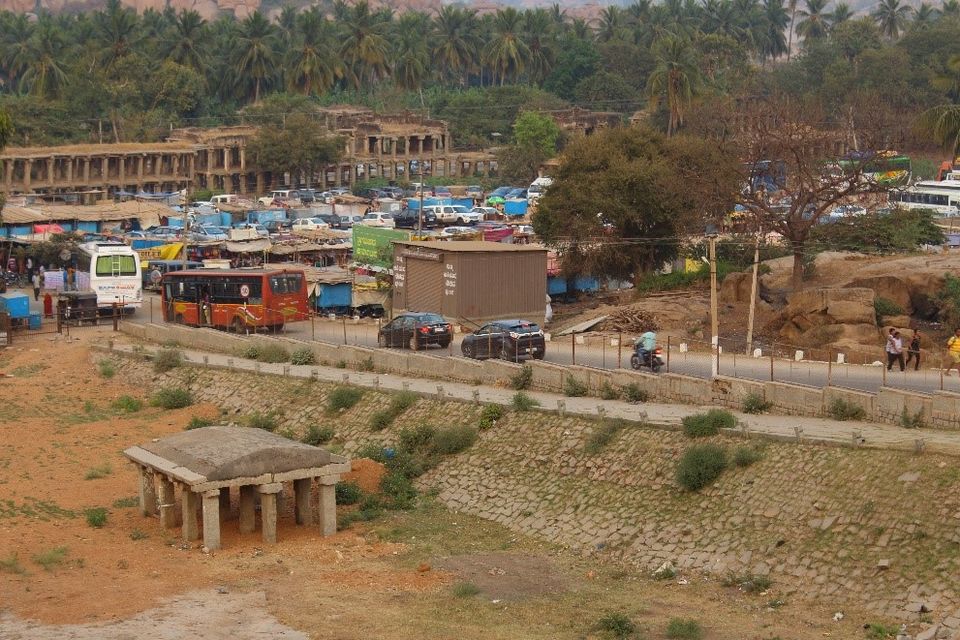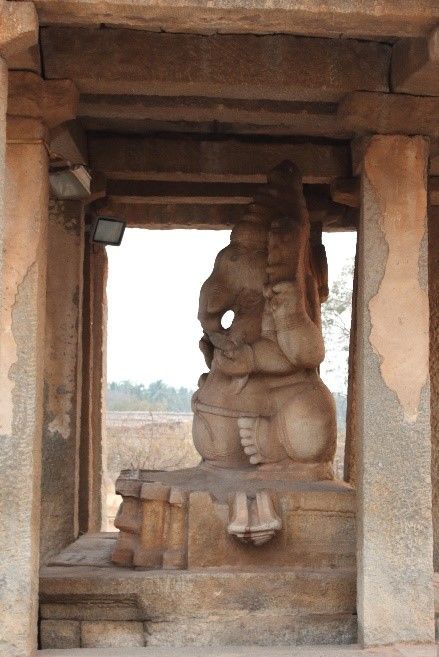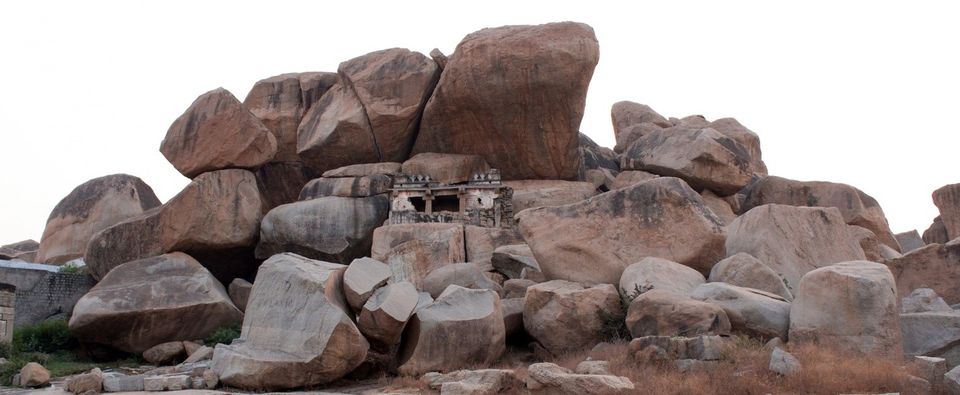 By the time, we were done roaming around on the hill it was dark. And make no mistake, there is no nightlife in Hampi, just go back to your room, plan next day's program, sort the photos (brood over the frames you spoilt) and go to sleep. At least that is what we did.
I missed the part where we had dinner (or our food arrangements, in general). Well, we had it made with the home where we stayed. That lady was good at what she did, we were very well fed during our stay there. Breakfasts, lunches or coffees all we had to do was just holler. And I have to mention it here, I had a killer maggi there. And cutest of cups for coffee.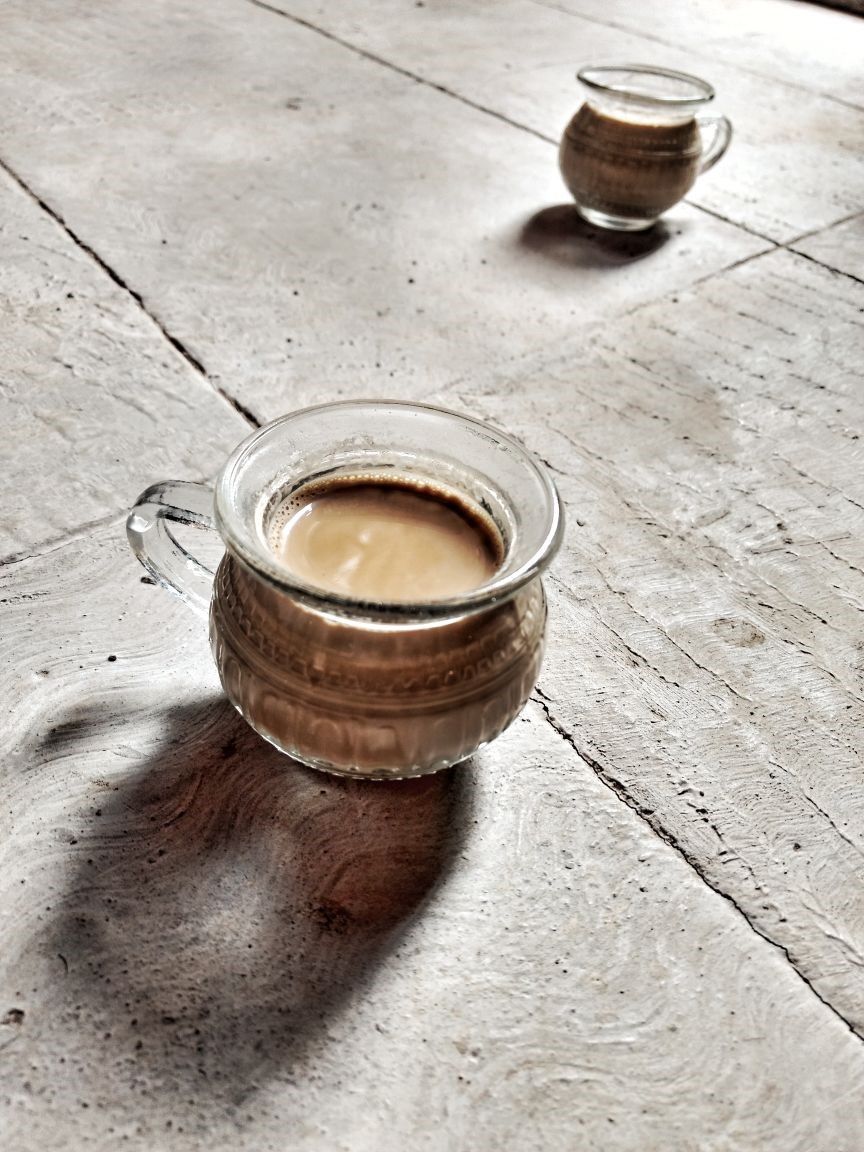 Next day we went around visiting places which names I don't exactly remember. Most of which are clustered around south of Hampi nearby Sahasra Rama Temple. Where you will also find a public stepped bath. One of the most picture worthy spot in Hampi. An if you are a selfie fanatic there is a tall stage you can climb upon.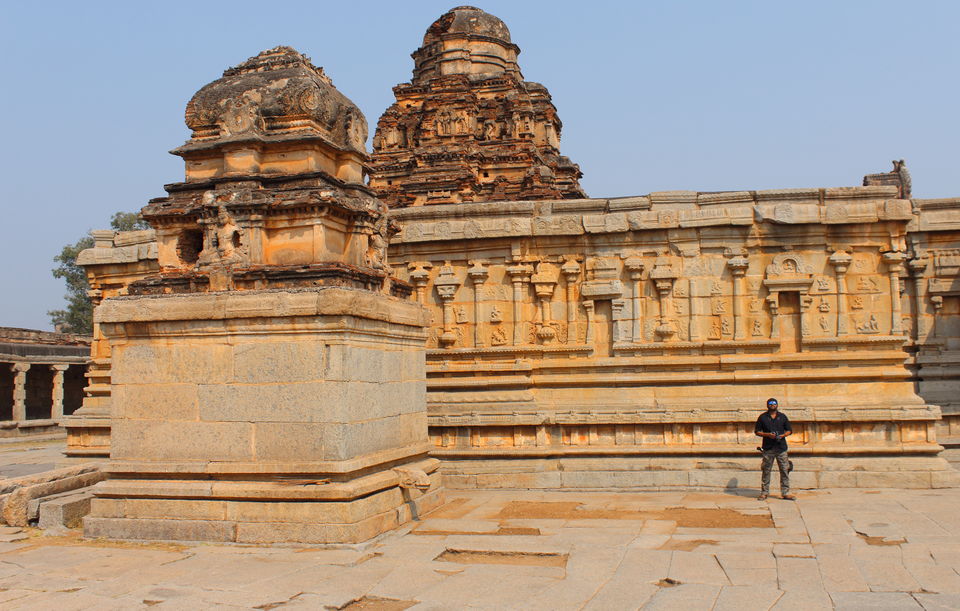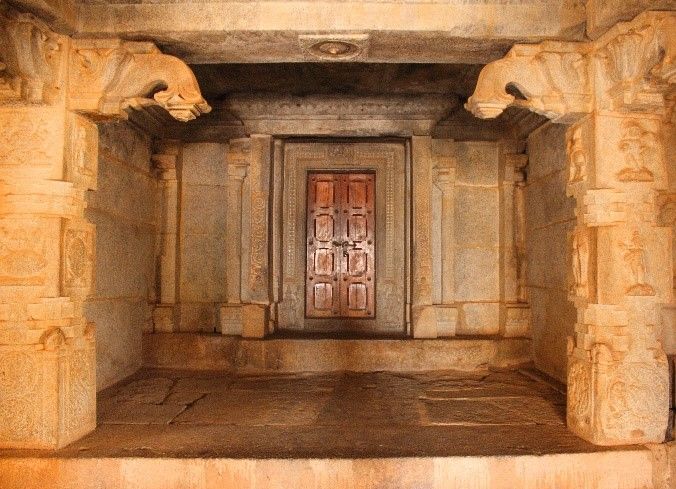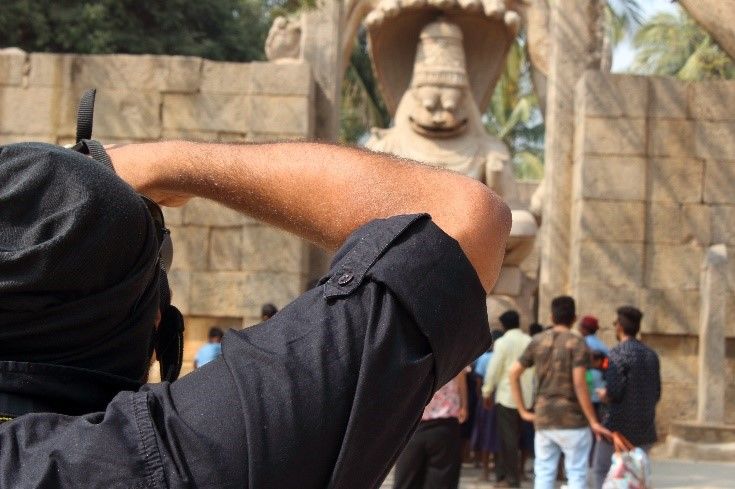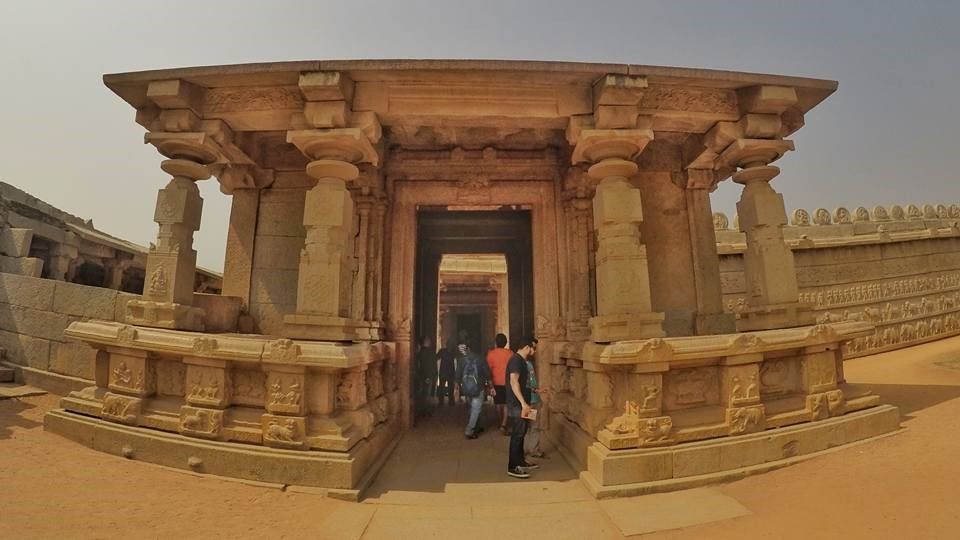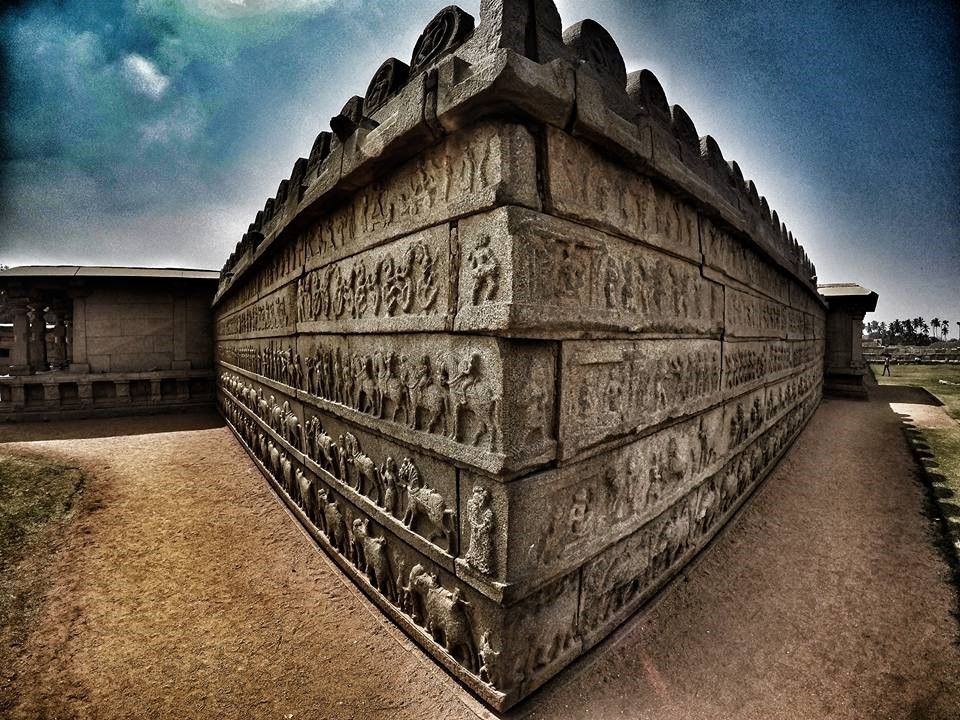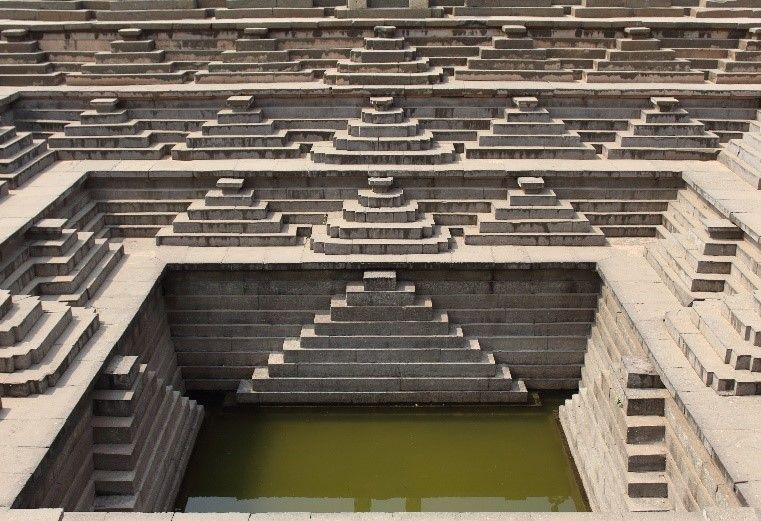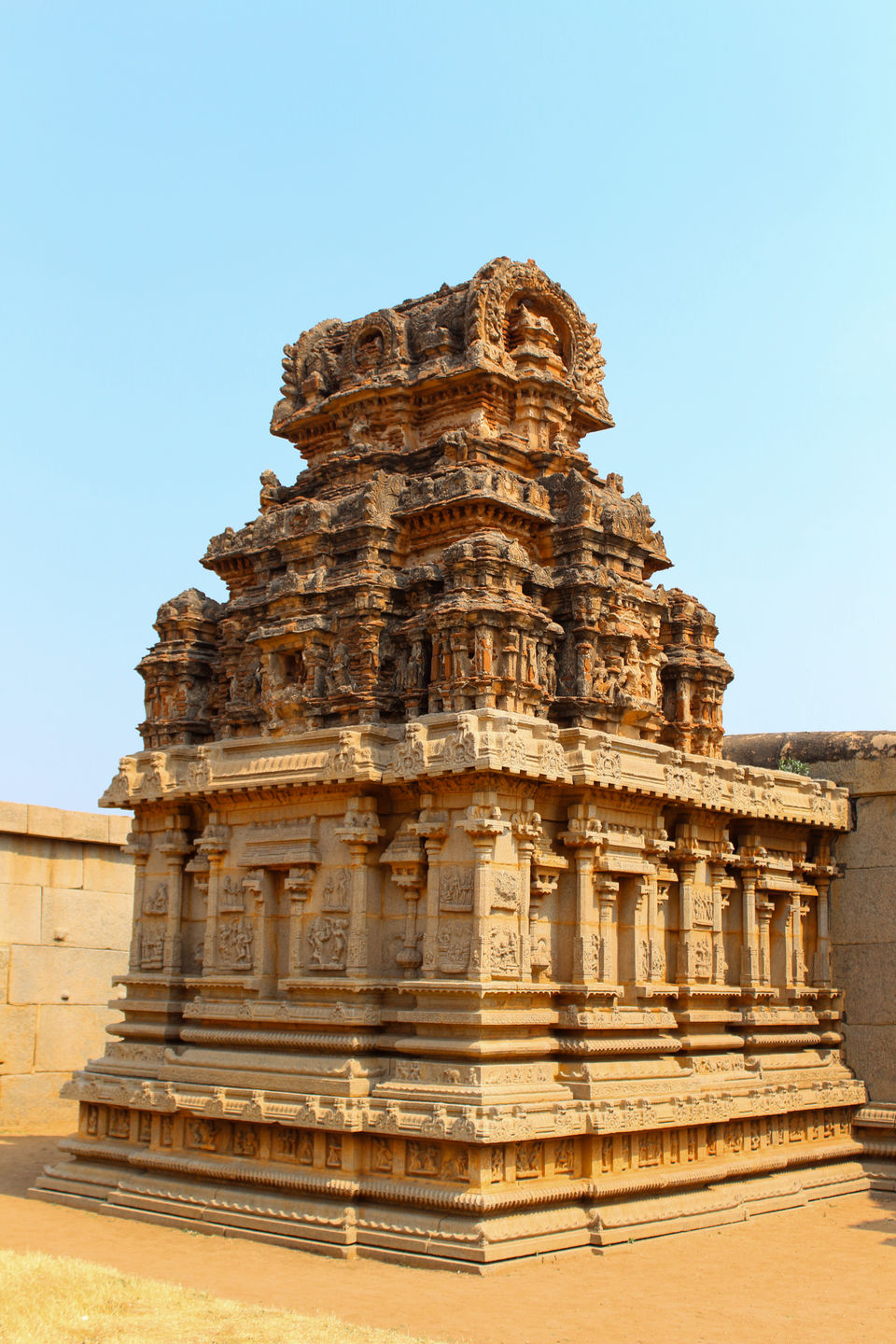 Time flies when you are so engrossed it taking pictures (So many awesome ones in that). And before you know it, it gets dark again. Most of the sites get closed off when darkness falls (because dodgy business, duh!). But we were not to be deterred by dark this time. We soldiered on to only open site there the big temple I told at very beginning (Time for some lowlight photography!).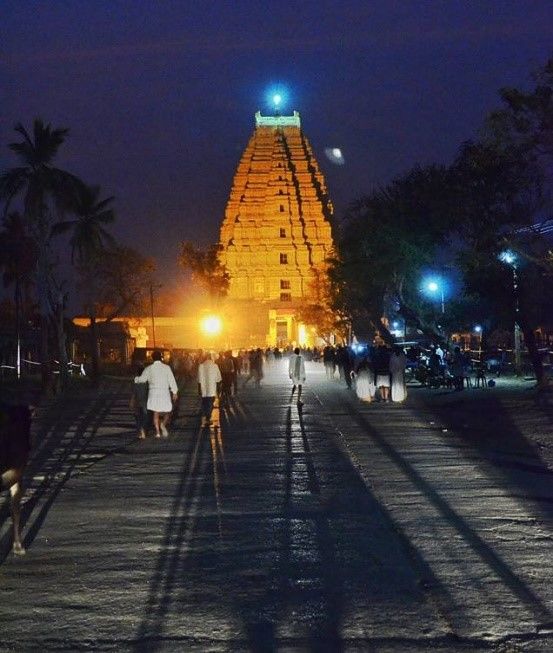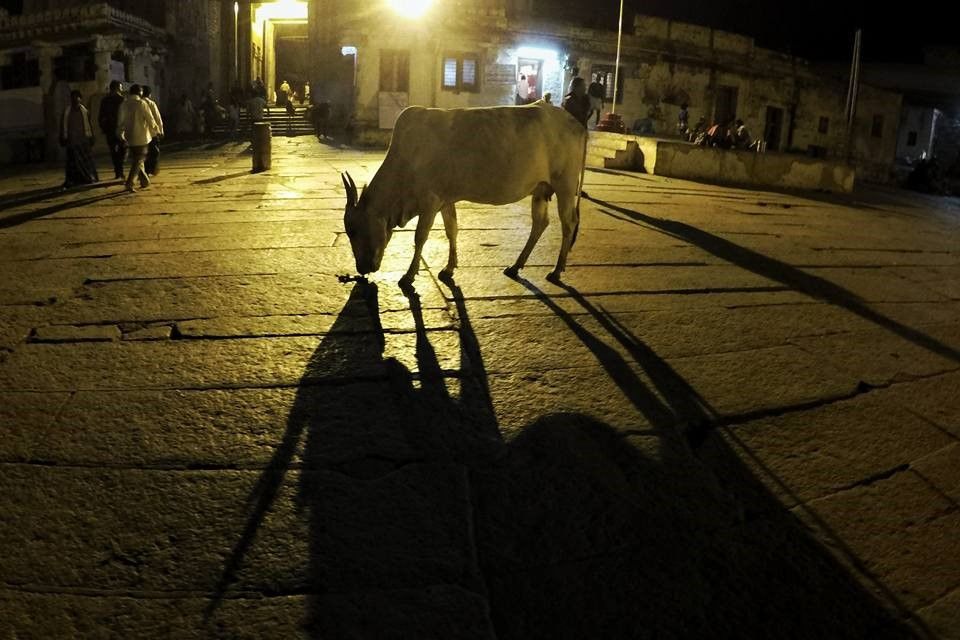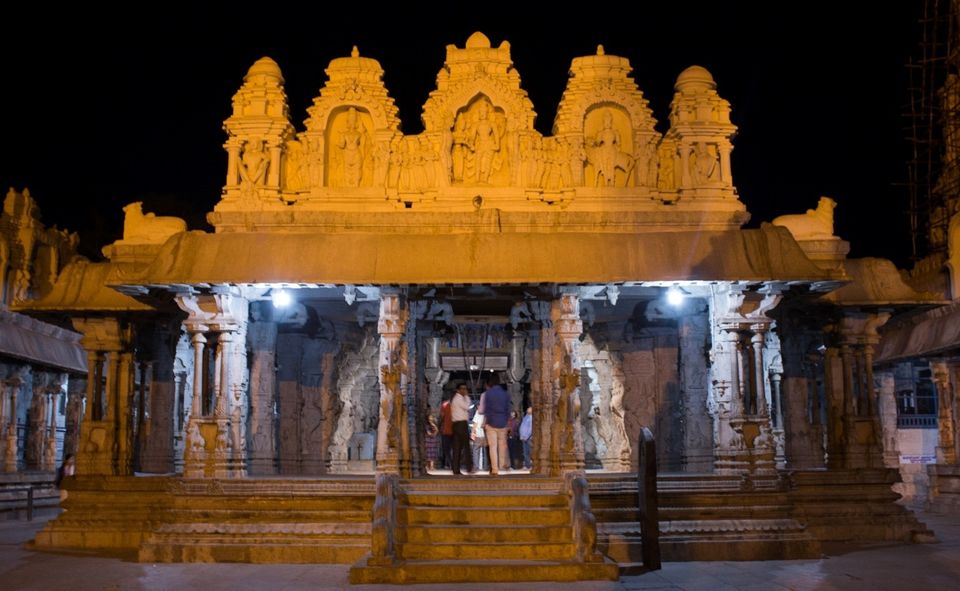 To our surprise, photography was allowed inside this temple as well. Only the innermost sanctum is out of reach for cameras. After we were convinced that we have covered enough of this temple it was time to brood over spoilt frames again.
There we were planning our timeline for returning to Dombivli, when I saw a post which showed the stone chariot. And we realised we were about to miss one must watch site. And then we used our personal vehicle privileges the most, cause you see, that's what you can do when you are not bound to a timeline, you can be free (some serious philosophical stuff right there!).
It was when we actually reached the Vitthala Temple, we realized we were missing out on one hell of a spot. Let the pictures tell you more about the sin that we almost committed. Although, when we left there is felt like there was still a lot to be covered. Until next time. And this will be last text in this article, so… feast your eyes…