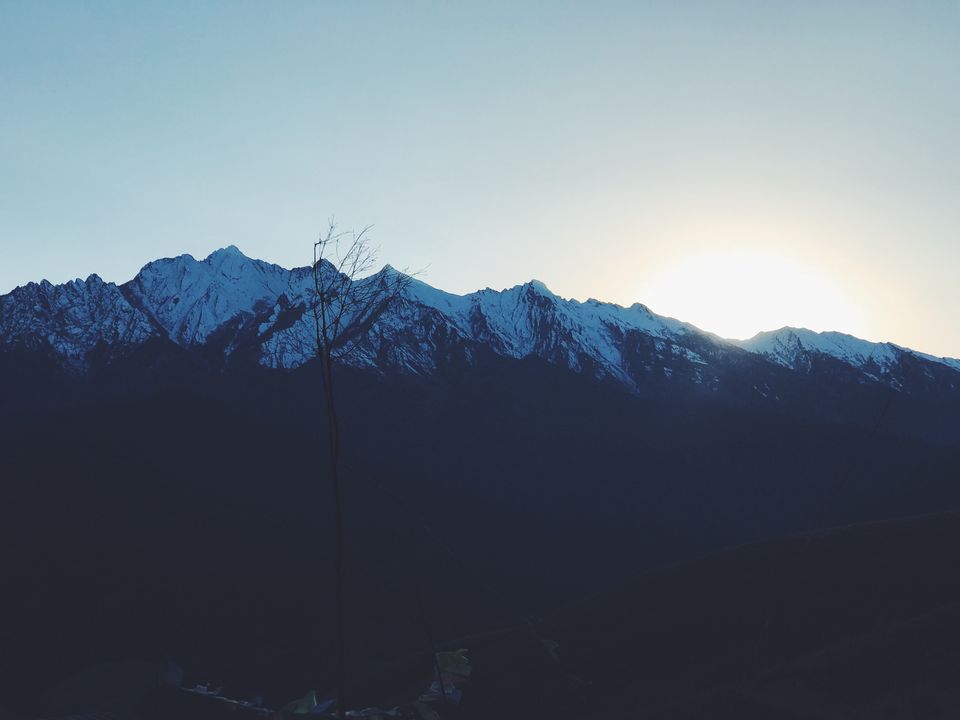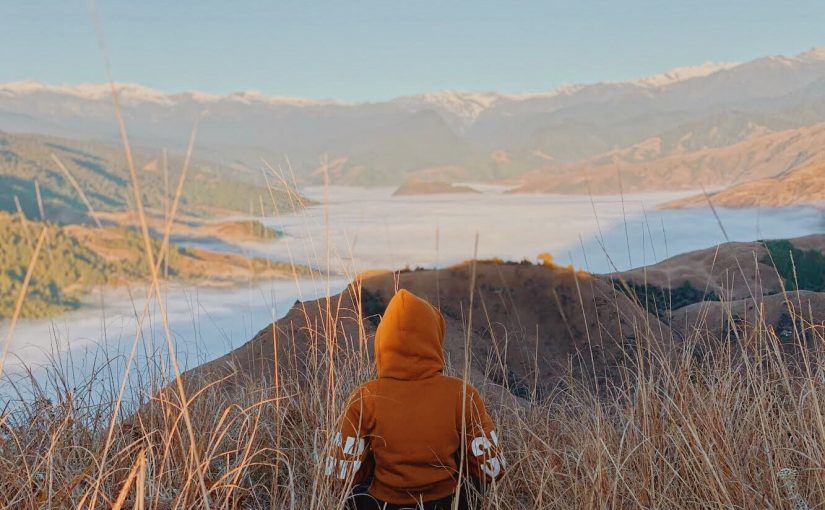 Back in summer of 2018, I went to this remote magical place in Arunachal Pradesh, Mechuka and I have already posted a blog all about it. You can it read it in my previous blog.
In this blog, I will share my trekking experience to the beautiful mountains of Rinjinling which is outside the town and it's one of the best trek I have done, which you will know as I write more.
One fine morning, after the Mechuka Adventure Festival, we finally got ourselves into Gebu's Traditional Lodge again and we asked Mr. Gebu Sona to make arrangements for us to go on treks.
We came back mostly to go on treks. Unfortunately, it is winter and most of the trek routes are closed due to snow in the mountains and the Pasang Sonam Tso Lake Trek is closed due to some security problems, we didn't know the exact reason why it is closed to the tourists.
We were disheartened to know the treks being closed. Mr Gebu helped us so much by arranging a trek to the Rinjinling mountains and we agreed to go.
On 26th of November, we got ready for the trek. A minimum of 6 people is required to go to the trek, a sum of 3500 Rs per person is to be paid for the tents, food and porters.
But we were just two, my then boyfriend and another man from Bombay. We had to pay extra 500 bucks for the trek as we were just three people.
Our journey started from Mr Gebu's Lodge at around 10.30 in the morning. Mr Gebu couldn't come with us but he dropped us to the Dorjeeling Village in his car. We packed everything necessary, even got a football on our way to play in the mountains.
We haven't been to the Dorjeeling Village before and the ride to this village is a beautiful one. One can also trek from Mechuka to the Dorjeeling Village. It takes an hour to complete and most of the locals prefer trekking instead of driving to the village.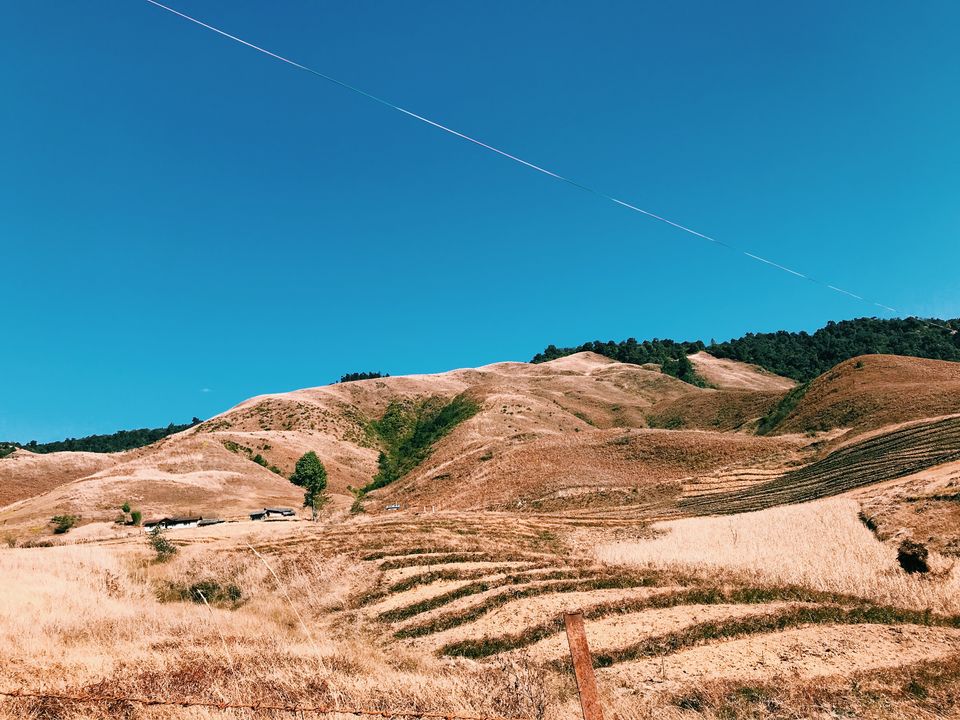 We made a stop at a house, a close friend of Mr. Gebu Sona, they dropped us here and we got our bags, bid good bye to Mr Gebu and started our trek.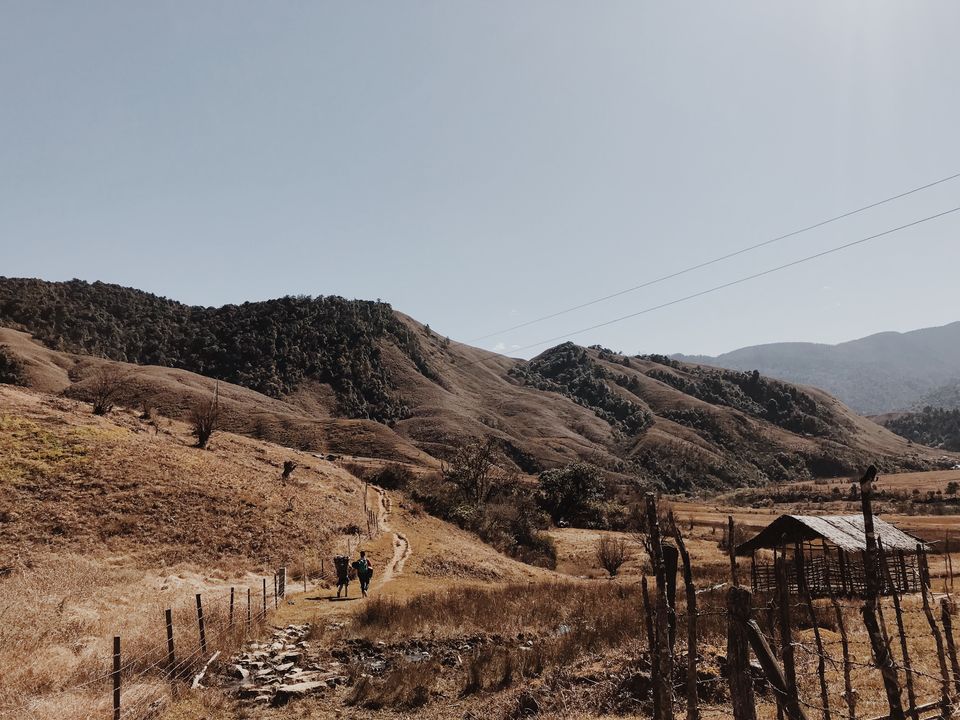 Kiran, our little brother who works at GTL was the main guide, along with Kiran, Dachi and Panden were two other older gentleman who came along with us as guide and helpers, who carried most of the baggage.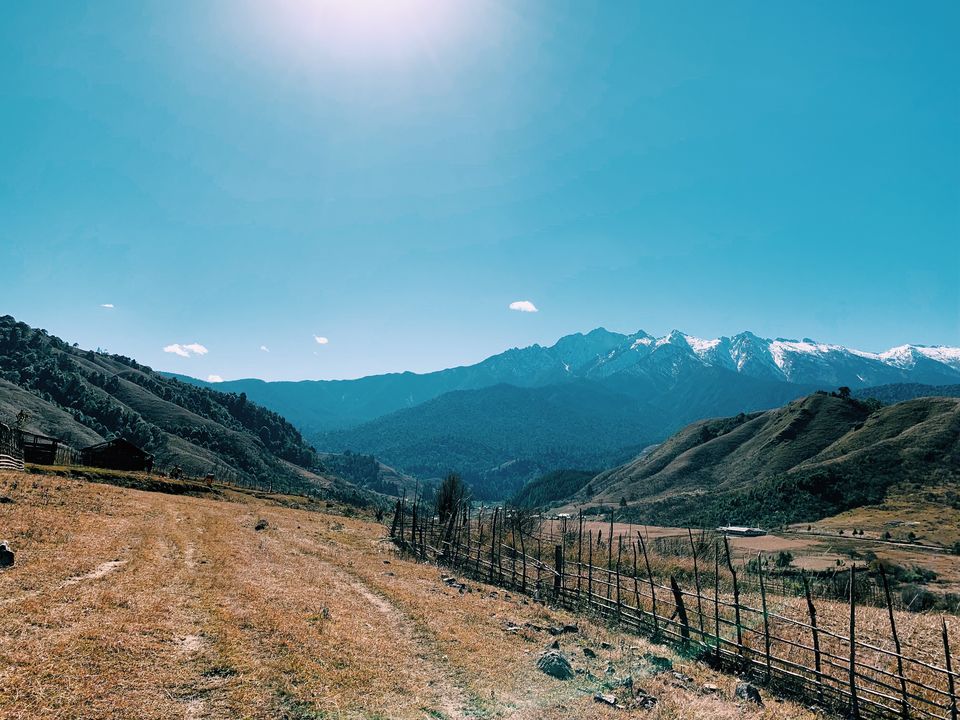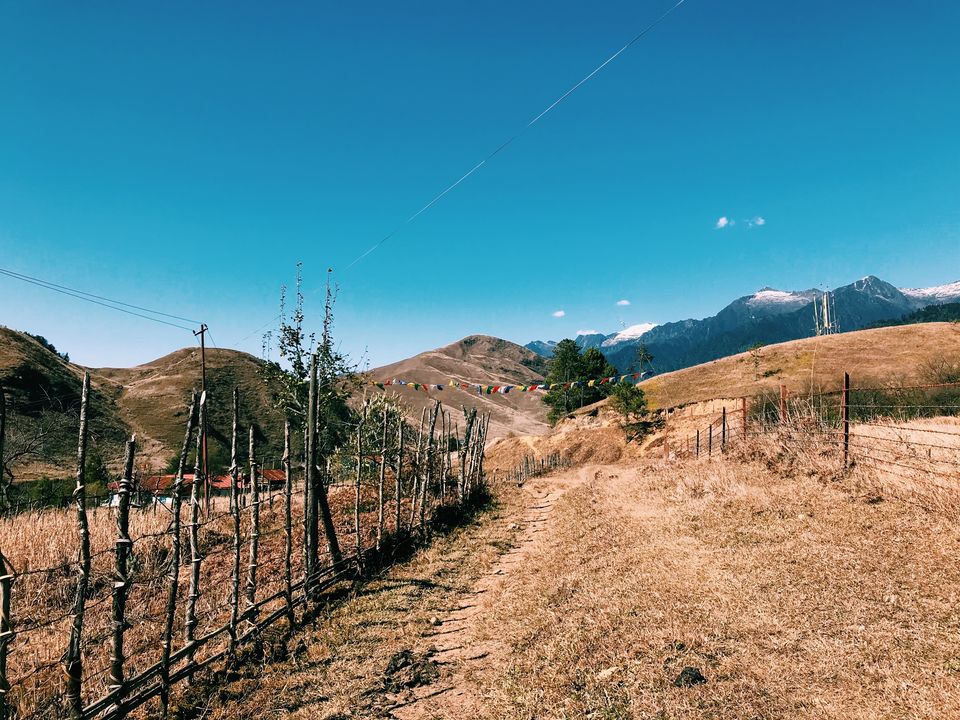 We started our trek by walking along the plains of Dorjeeling village, beautiful morning, pleasantly warm. The mountains in front of us, golden grasses on both sides of our road, little vegetation can be seen too. A good pleasant walk through this countryside and little streams on our way, we finally reached the foothills of the mountains.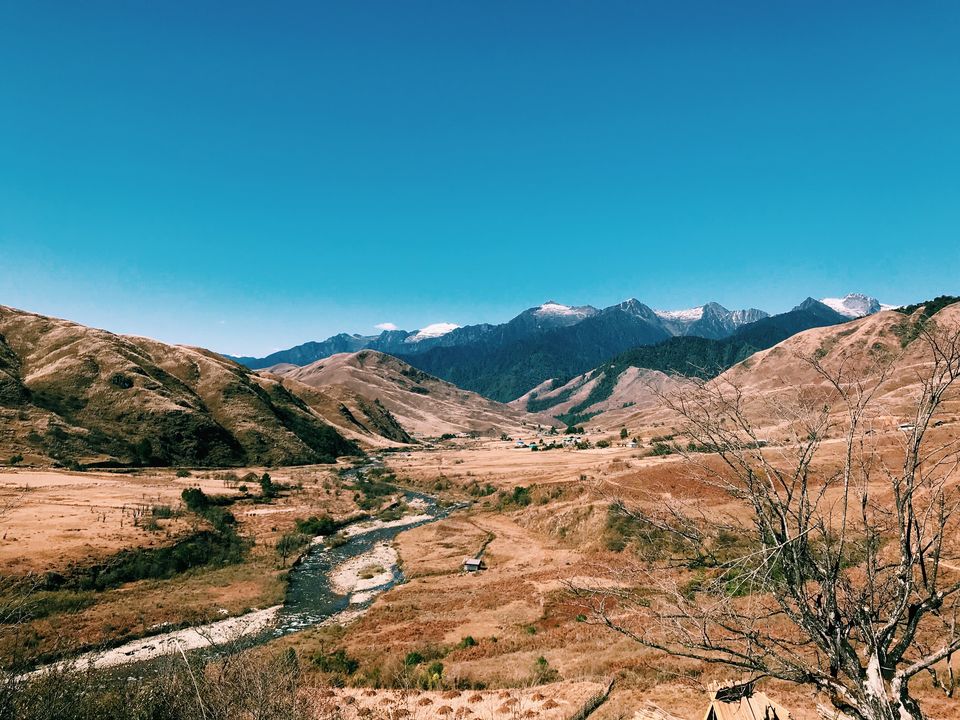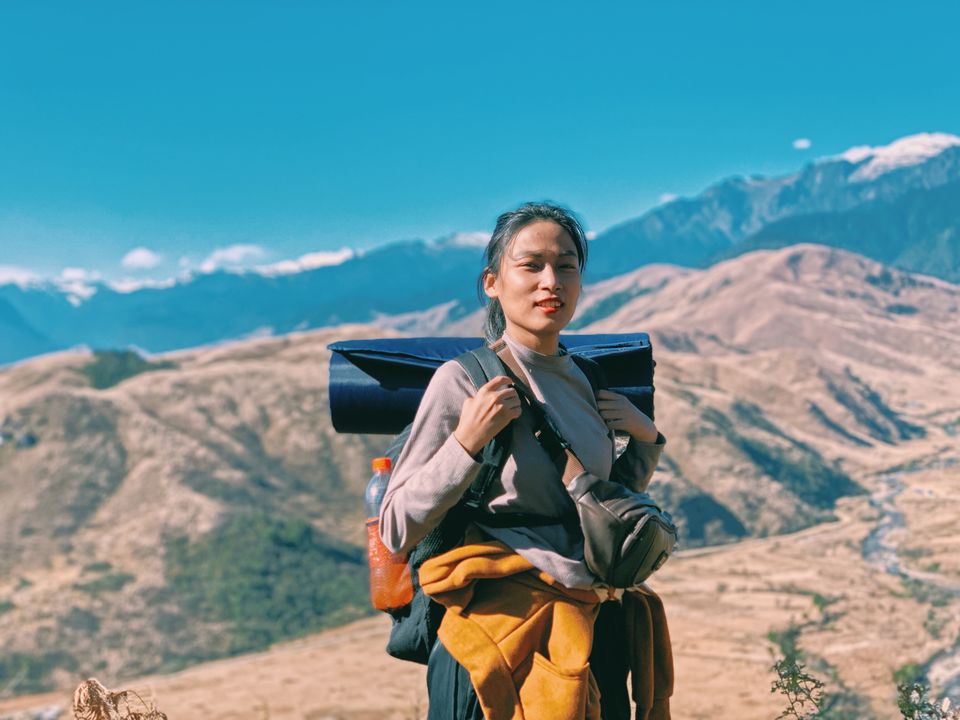 As we were ascending, we could see the entire Dorjeeling Village. We climbed the mountains for two hours taking little breaks, hydrating and eating snacks. We stopped in between to take in the views, the gorgeous mountains, the green forest hiding in between. You can see mountains till your eyes meets the horizon. It's completely isolated and pristine. We really loved it.
As afternoon came by, the winds grew stronger, I was about get to blown away by the winds. After climbing for 2 hours we finally reach the last stretch of our trek, and as we looked back, we could see the Town of Mechuka from the top.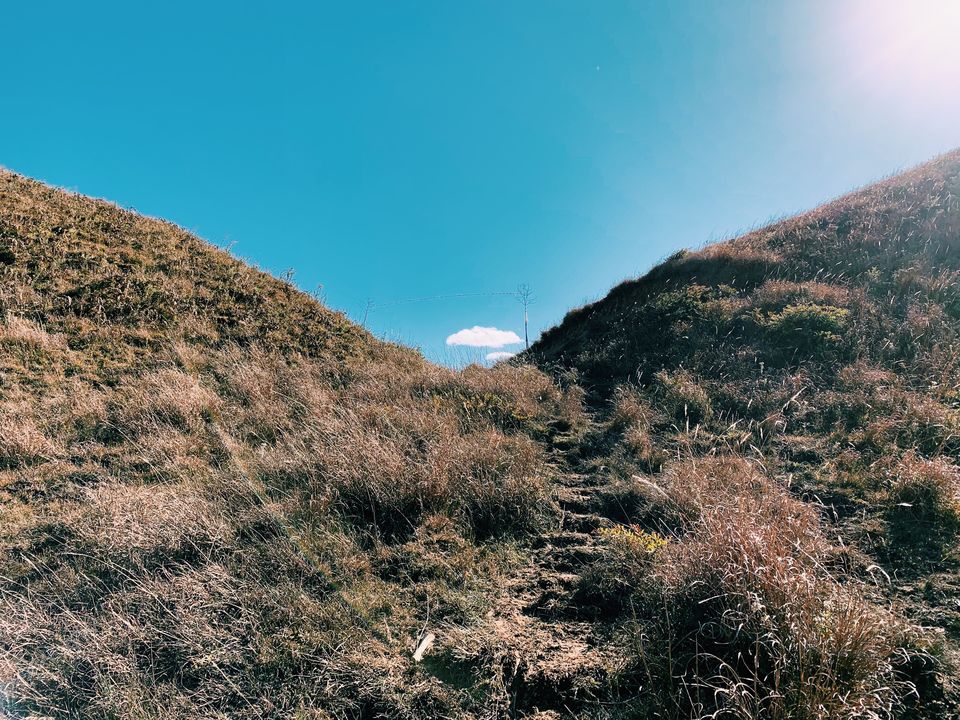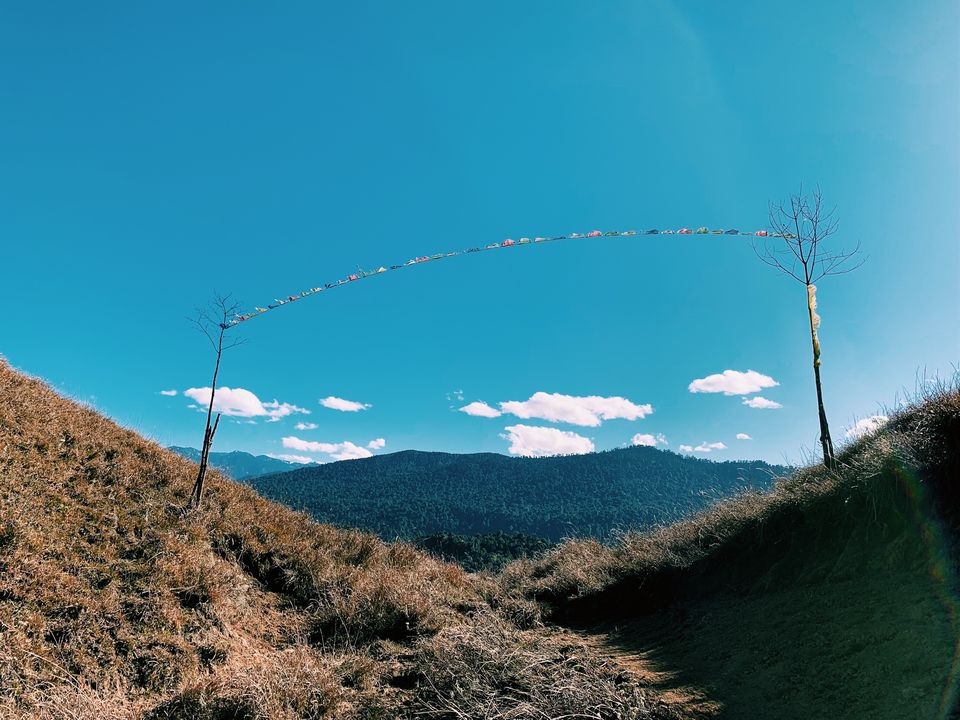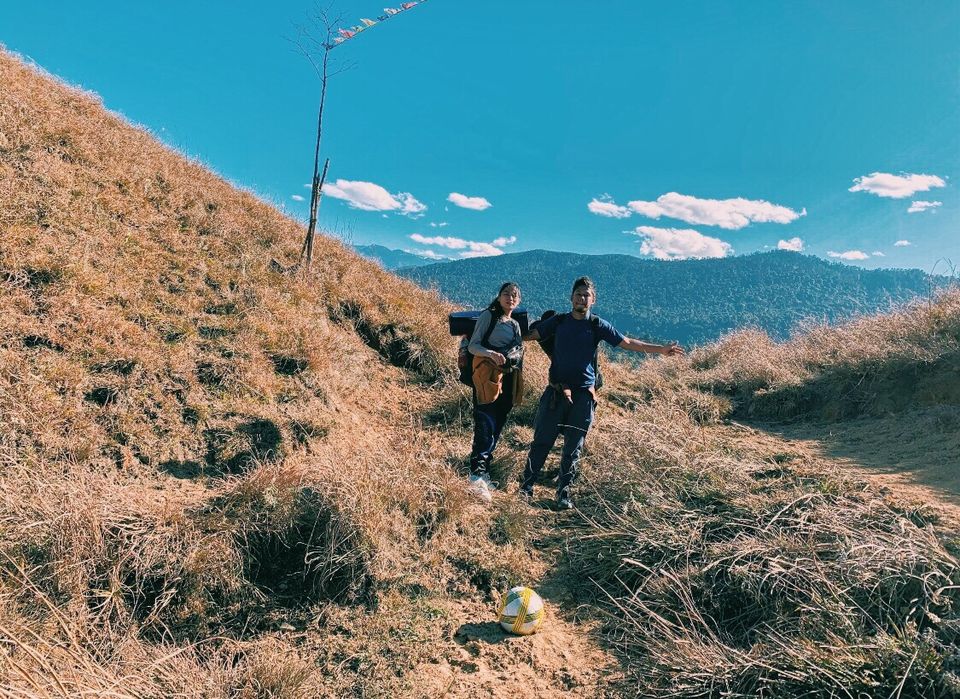 We reached our trek in the afternoon, and it was exhausting but refreshing to be surrounded by such gorgeous views. My eyes couldn't believe what I was seeing. The Mechuka town far away glittering in the sunlight, the Dorjeeling village to the right felt so little compared to Mechuka Town. To the left snow peaked mountains can be seen, and on the back undulating mountains can be seen with only two houses. It was amazing, sitting on the top of a mountain and getting mesmerizing views from all side, I felt immensely blessed.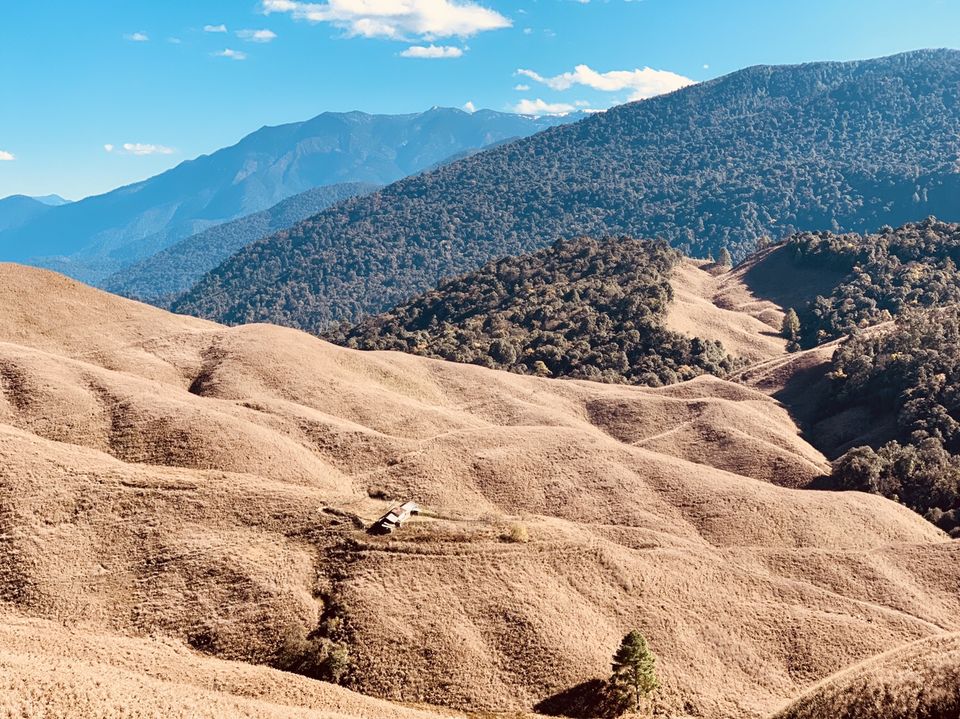 While taking in the gorgeous views, our helpers set up the tent. The person from Bombay was quick to snap photos in his camera. He was stunned just like us.
After setting everything up, we went downhill to one of the Shed House, where our lunch and dinner will be prepared. It is a shed house owned by the old gentleman back in the Dorjeeling village. During summer, he and his family comes to stay here to make local dairy products from the cows and return home in the winter.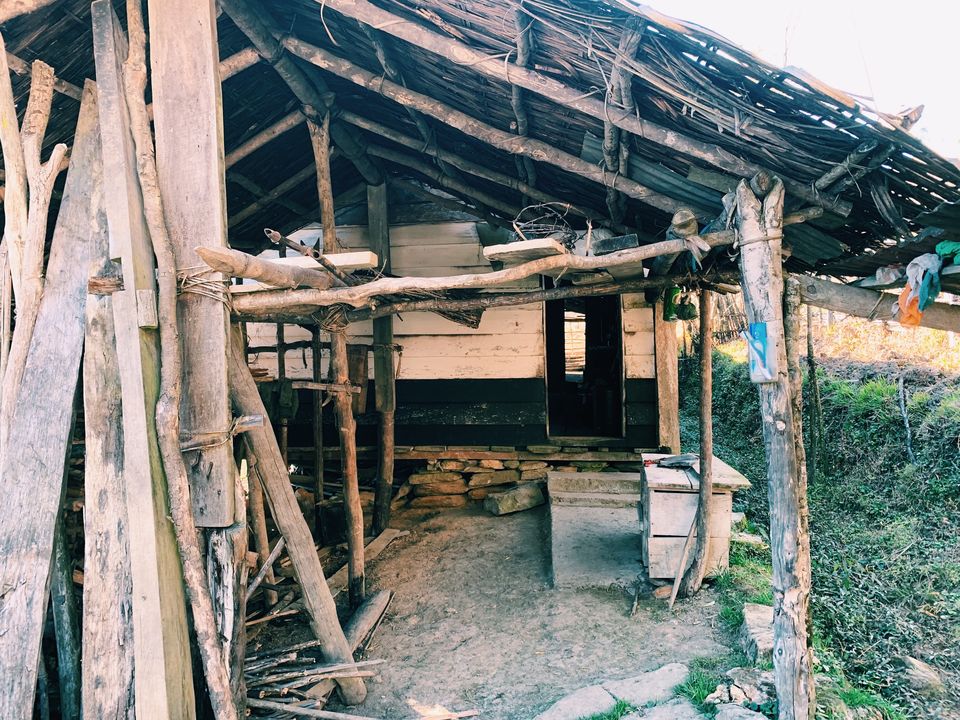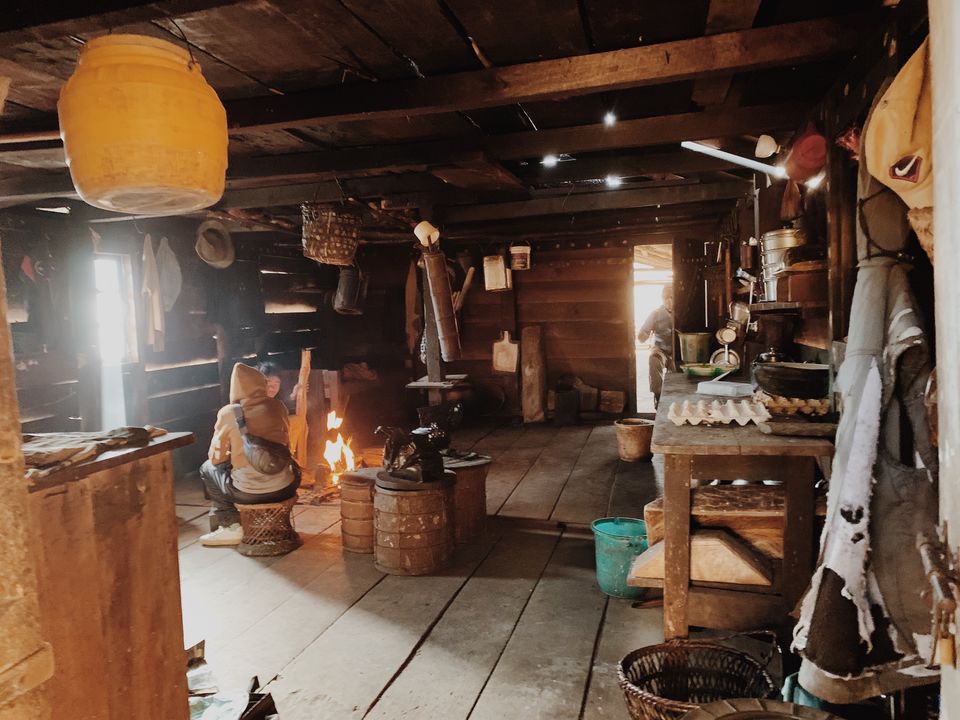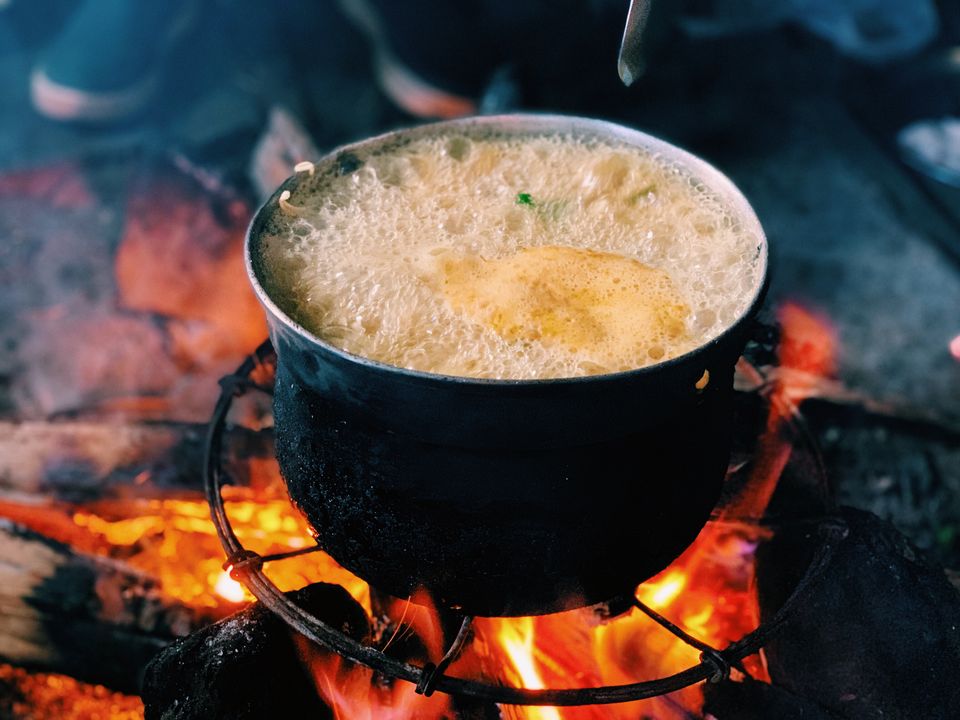 The shed house was all to us, and I felt grateful to be near fire and inside, as the afternoon winds are dry and very chilly. A quick lunch consisted of Maggie, we added chips by ourselves. After lunch our party got divided. My then boyfriend, the Bombay man and Dachi bhaiya went back to the tent to gather woods for the fire. I stayed back with Kiran and Panden bhaiya to help them bring back water from a nearby stream. I carried 5 liters of water uphill and couldn't feel my back for hours. It was worse than the whole trek. Even Kiran and Panden bhaiyya swore they found this more exerting than the whole trek.
Panting and swearing my way up (a lot), we finally reach the shed house and I threw myself in the floor. We took a good 30 minutes rest before heading back to our tents.
In winter, night falls very soon, around 4.30 in the evening. I decided I can't go back to the shed house to eat dinner. It's too risky for me. I don't want to trip and fall after having a full tummy. That would be shame. So, me and my ex-boyfriend just stayed back while the others went back to prepare dinner.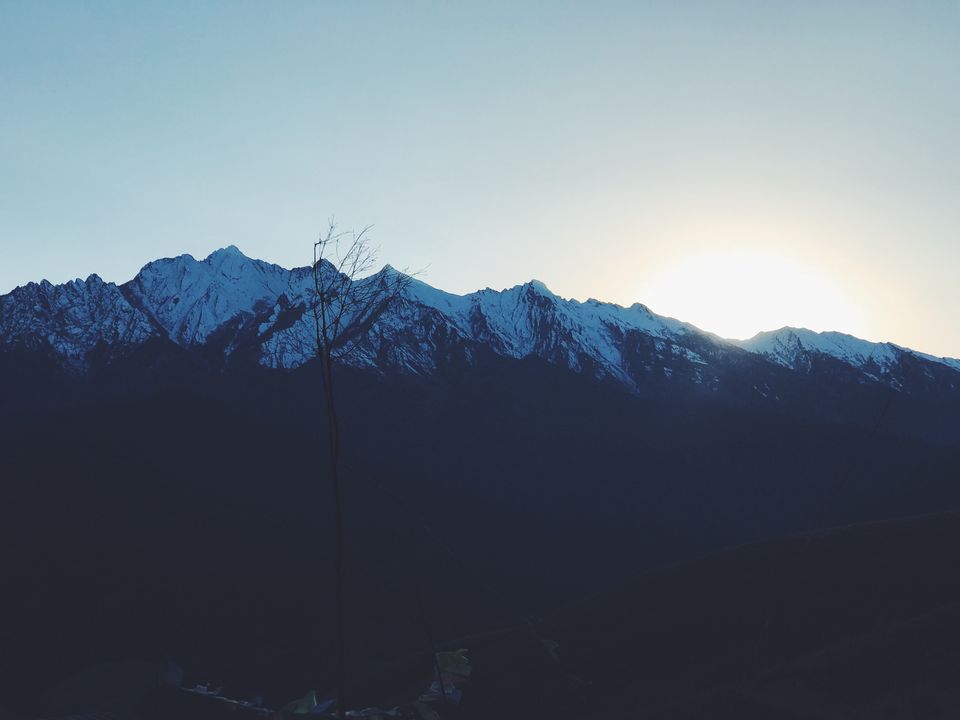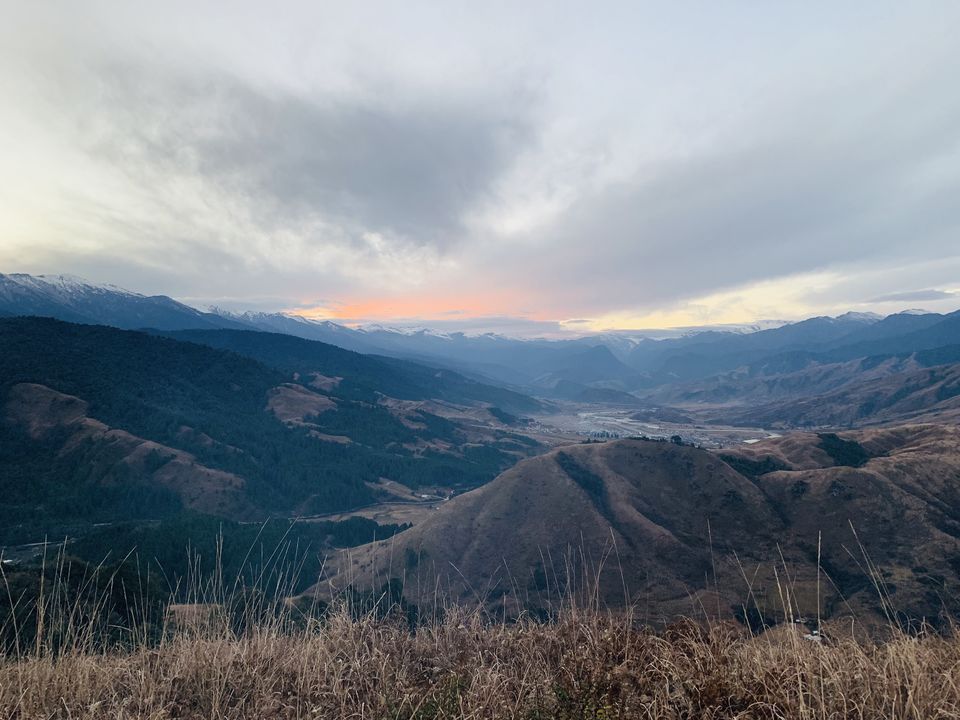 It was one of the most beautiful night I have ever seen. A night full of stars. We stare gazed for hours, we saw a few satellites, we even named a gaint cloud, as it changed it's shape after every 30 minutes. The genie lamp of Aladdin among a few (haha).
It was amazing, there was no scented candles or cute throws and pillows to make it a romantic camping night. We were in the middle of nowhere, with temperatures rapidly going down, but it was very romantic for me to connect with someone who could imagine the same thing as I'm in the exact same moment. The feeling, it was out of the world. The best feeling one can have with their loved ones.
Camping under the stars, counting the stars, the unknown feeling to what lies ahead, it's very raw. I highly recommend couples doing it. It's the best.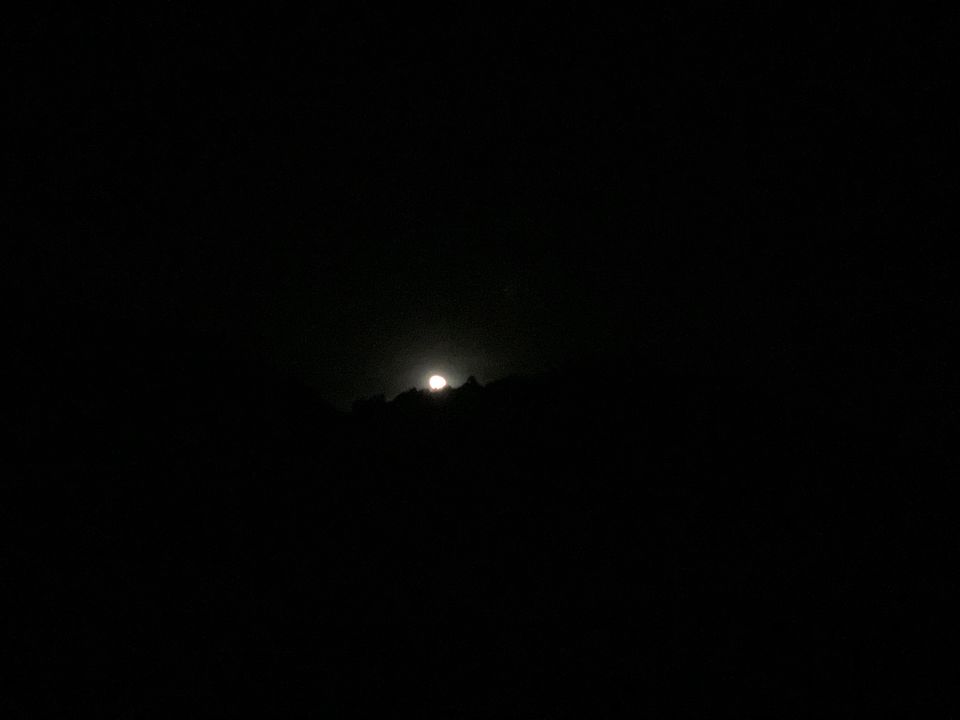 Our friends finally return after a period of two hours. They brought back dinner. We all had tea, little wine. The Bombay person went crazy over the stars. He said he has never seen these amount of stars altogether, it was endless, billions of stars. It was therapeutic for him. He played old Hindi classic songs and we played modern songs, it felt great, the trip was very therapeutic for all of us.
We had dinner around 9, rice with egg curry and veggies. I was not a huge fan of the food as I was craving for chicken, but it was delicious. The moon finally showed up around 9.30 and it was beautiful, another half an hour of chatting and we retired to our tents.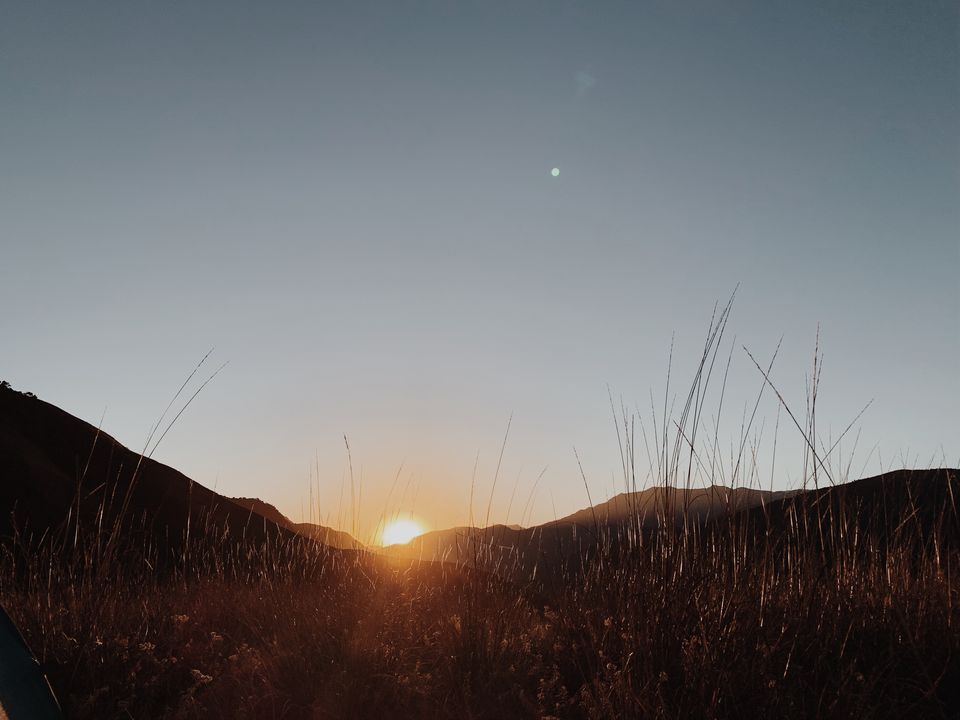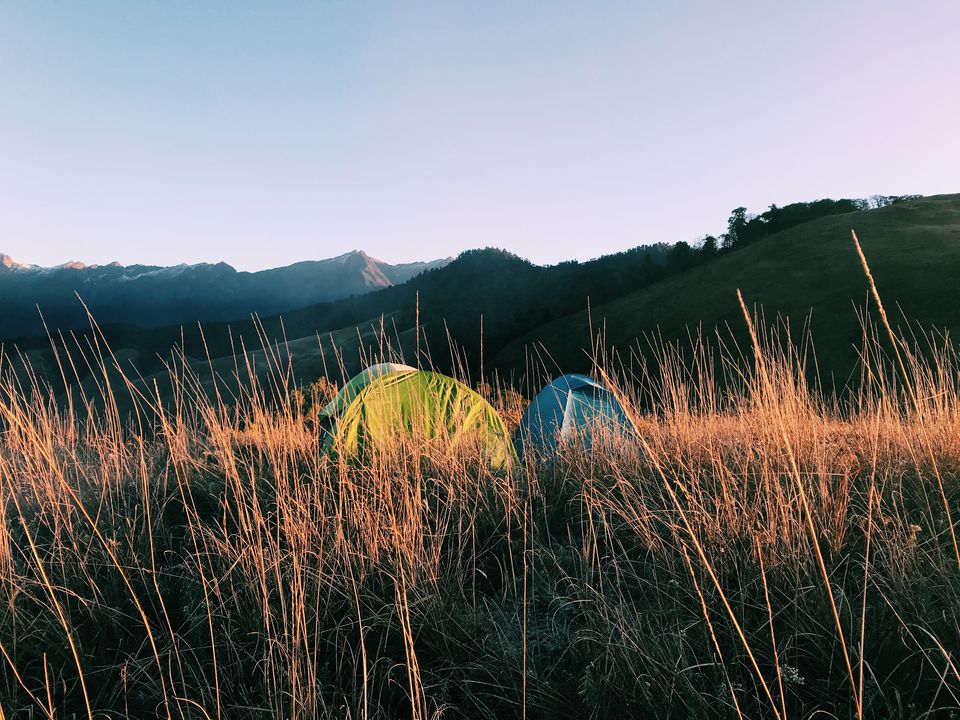 Early morning, I woke up around 5.30, too lazy to get out of my sleeping bag. When I heard the other trekker calling us to see the sunrise. As soon as I unzipped the tent, the sun rays came bursting in, the very first rays touching us. And I looked back and time stopped for me. I was looking in awe what was in front of my eyes. A sea of fog floating above the Town of Mechuka, I couldn't breath for a few seconds. It was such a beautiful sight. I was screaming at my boyfriend to come out and look. I wanted everyone to just witness what I'm looking at.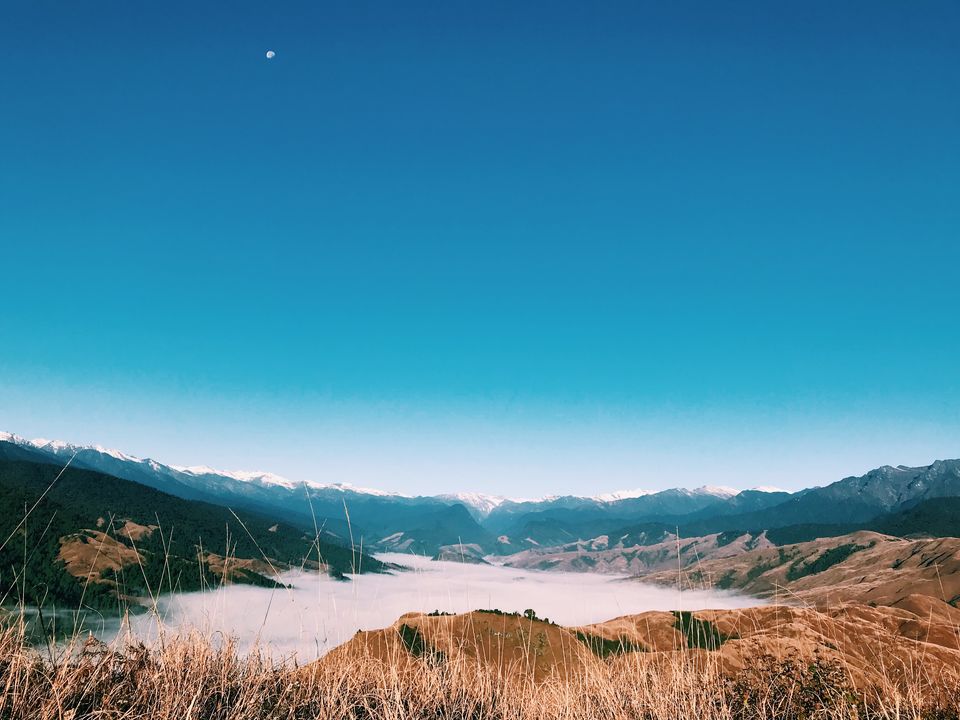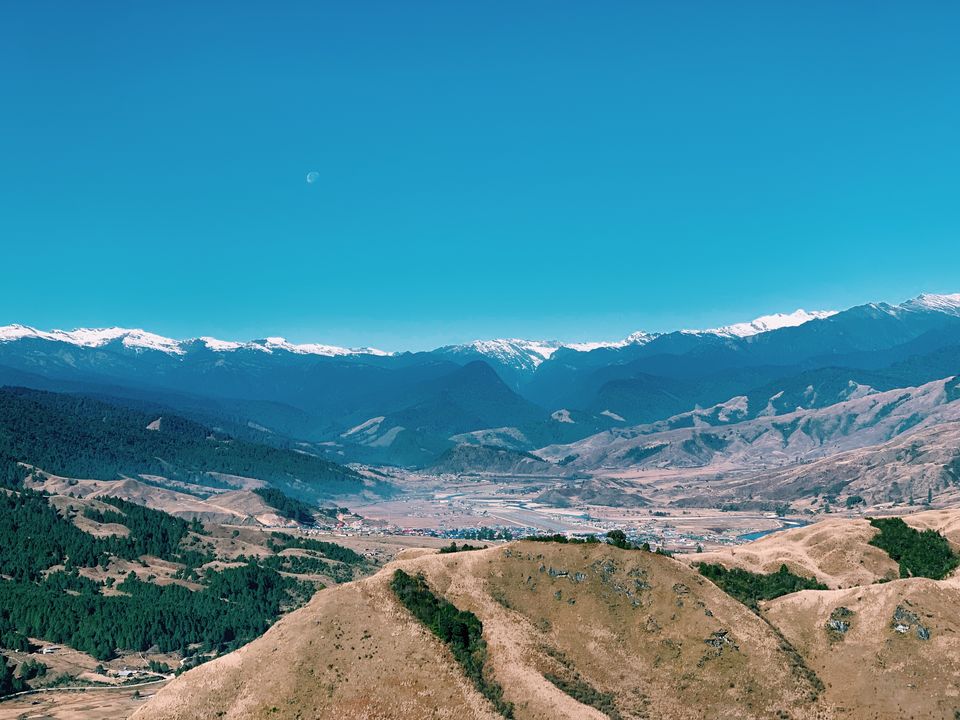 We were the first to see the sun light while the town of Mechuka is still covered with fog. We took many pictures, we saw the fog slowly disappearing while sipping tea on our grand seat on top of the mountain. It felt like a theater, so beautiful.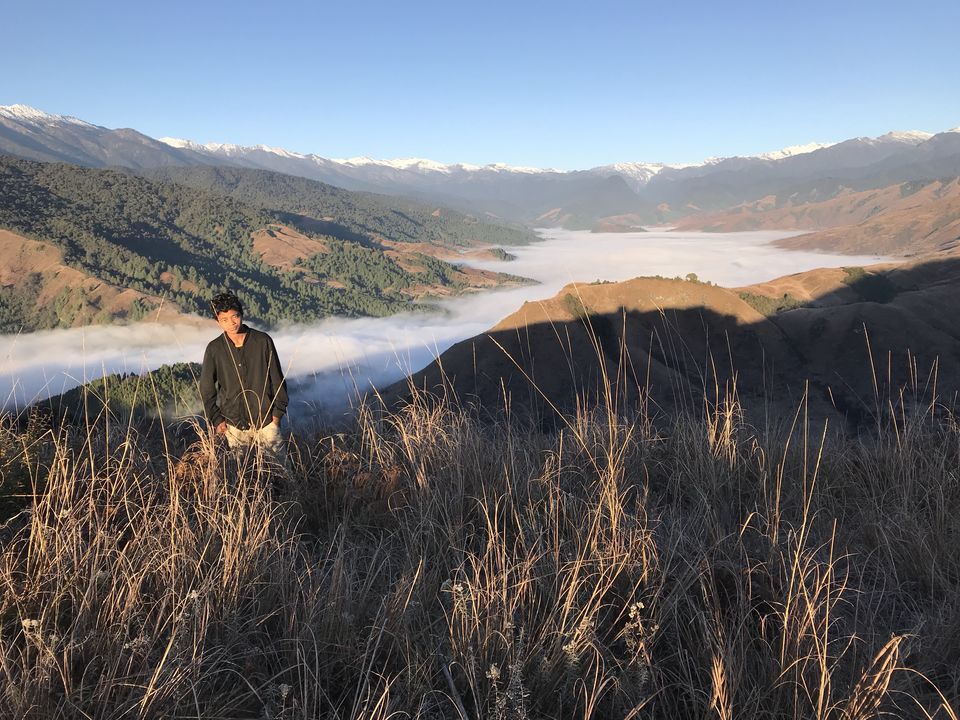 After finishing up our tea, the guys decided to play football nearby. It's not quite plain and they finally lost the ball down the mountain when my ex-boyfriend kicked too hard. It was funny and a sad situation. They tried to search for the ball but couldn't get it.
It was time to head back. We were to have our breakfast in the old gentleman's house. We packed up our tent, took a few minutes to say good bye to this gorgeous place.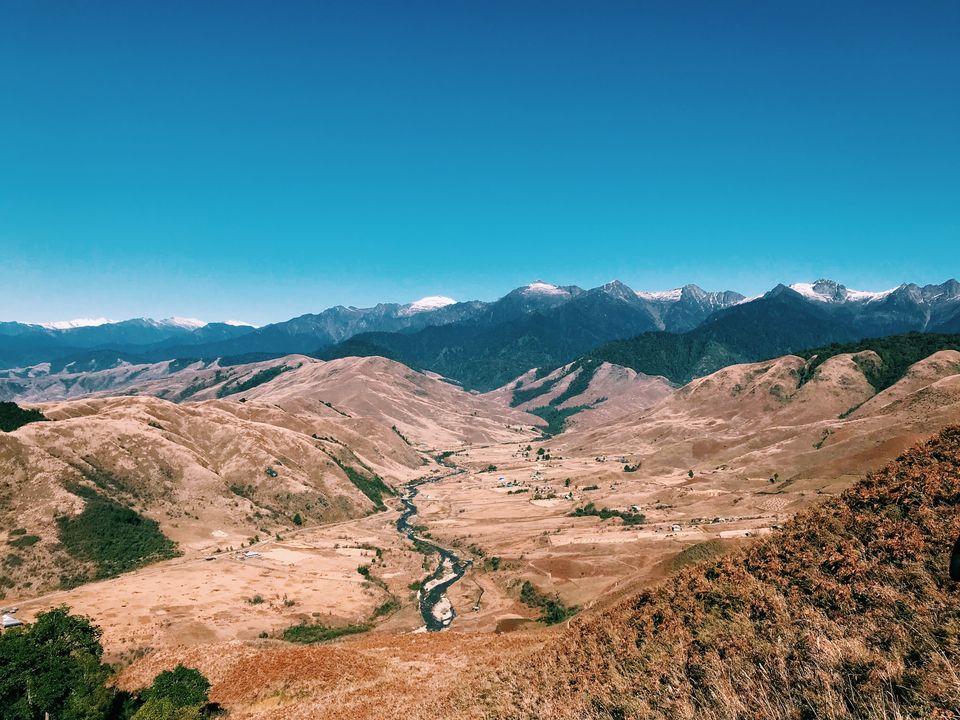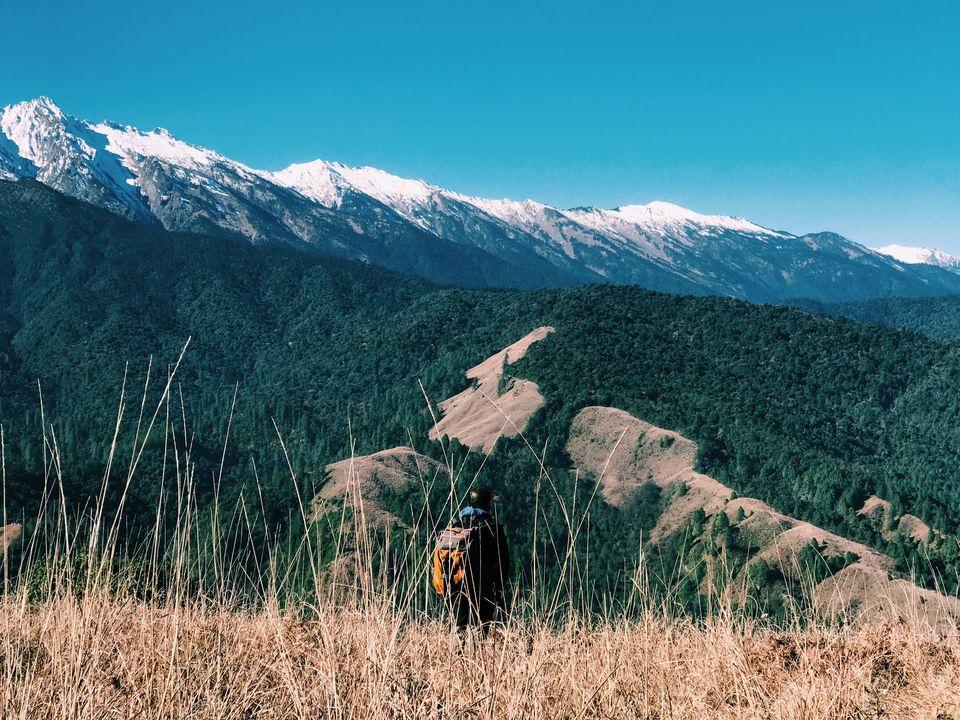 After walking for an hour we finally reached the plains, looking back at the mountain top where we camped, it couldn't be seen from the plains. I wanted to sleep on the grasses, it would be so peaceful to sleep there for a few hours while the sun is still bright and before the strong winds return.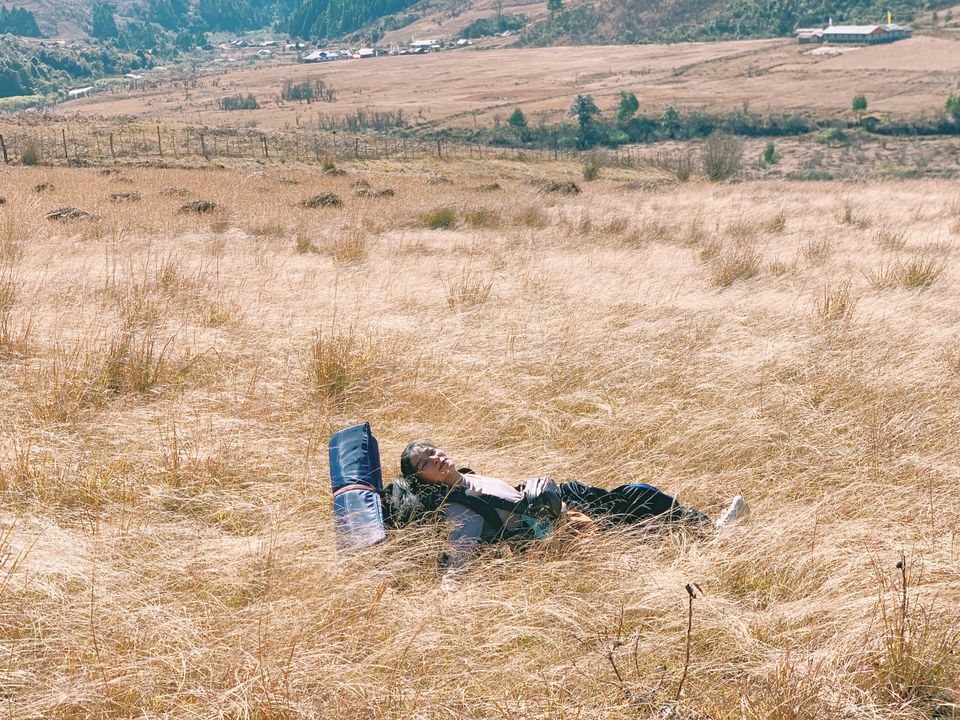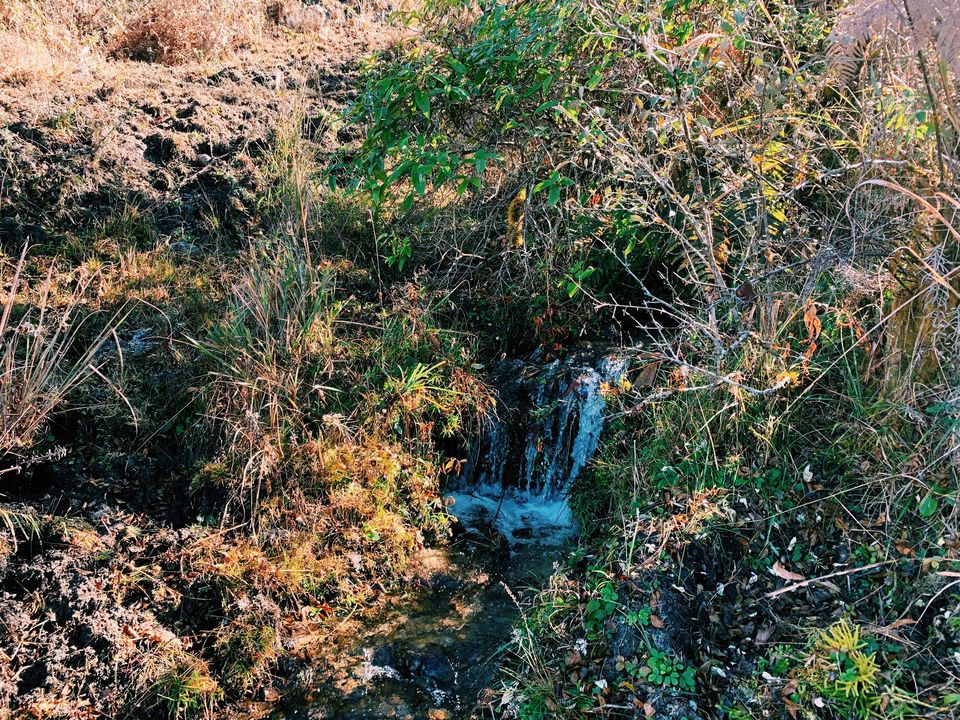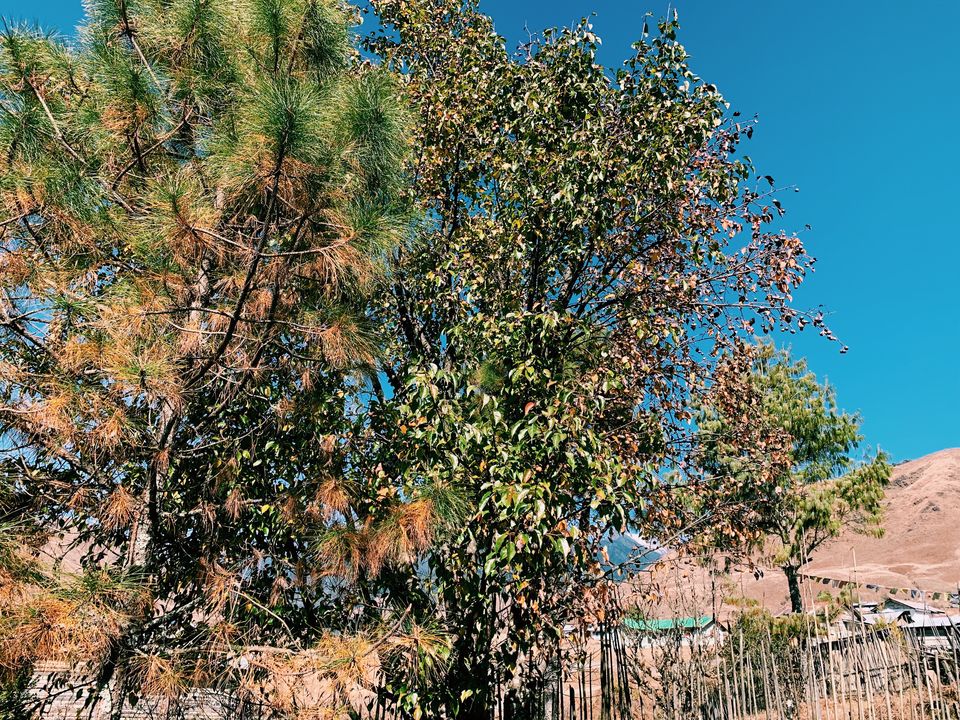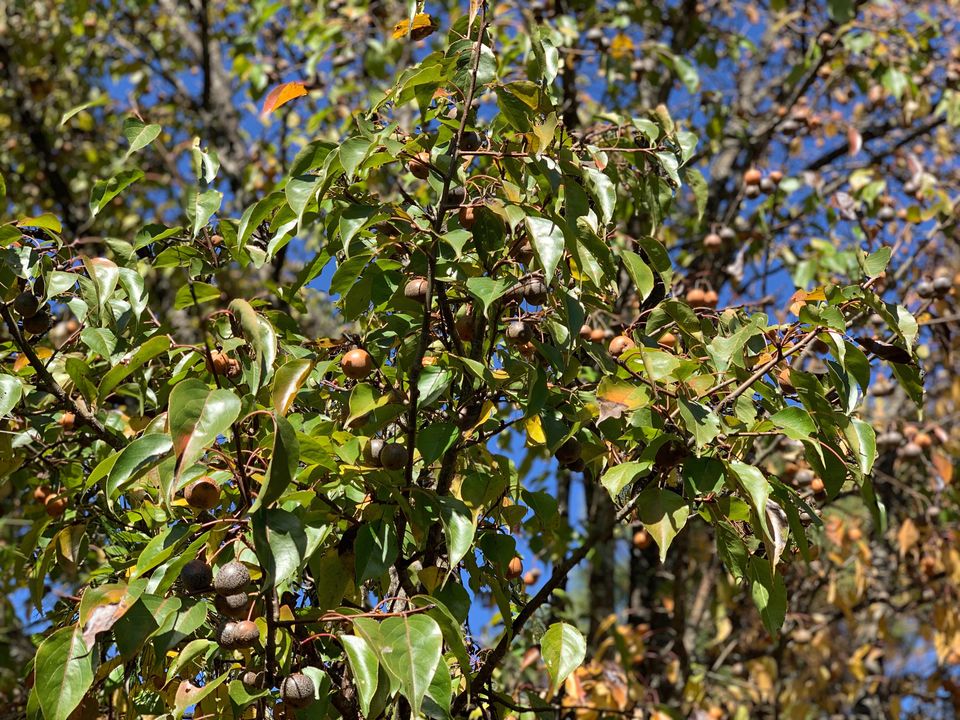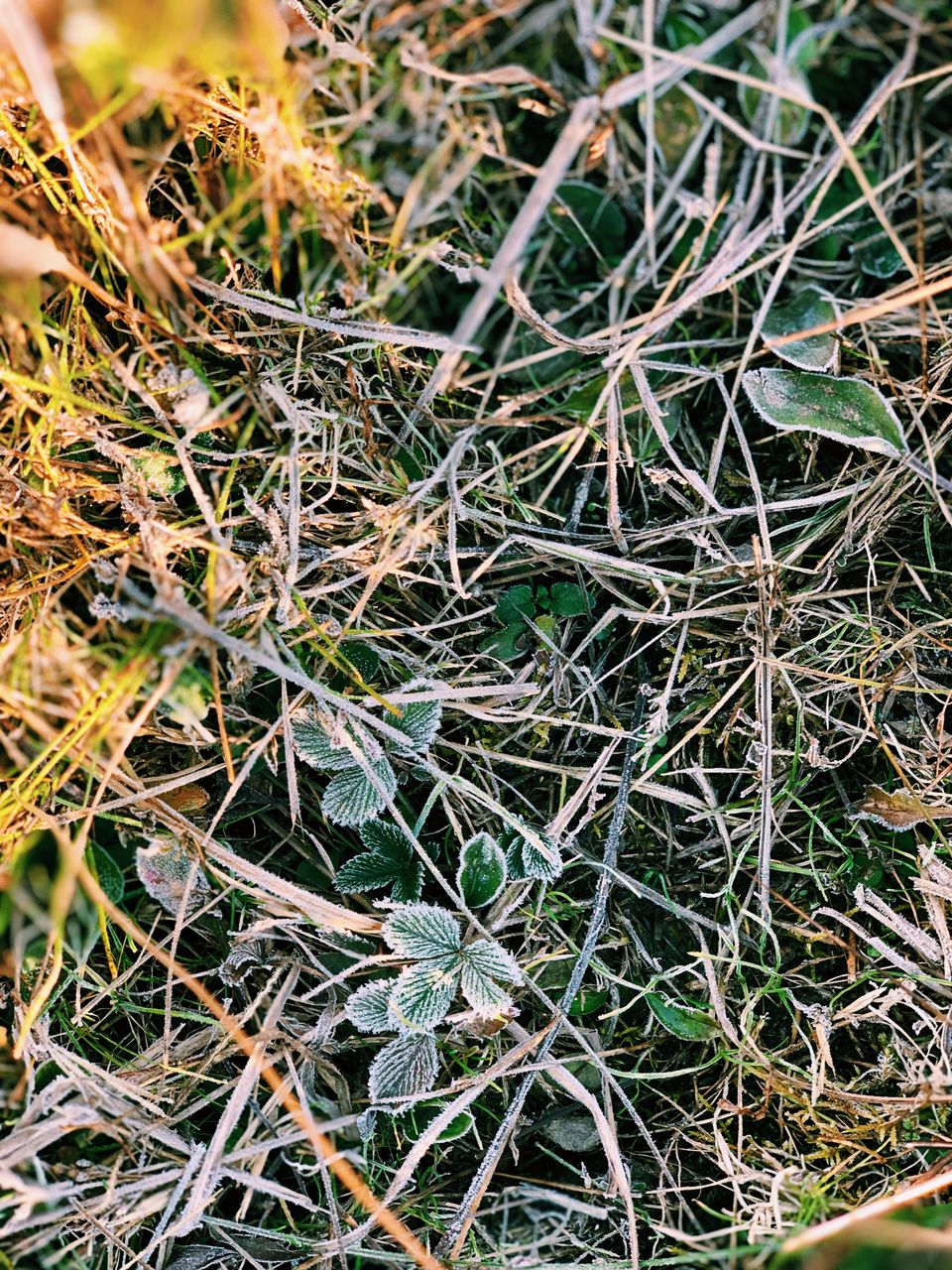 We had Ghee Chai and snacks when we reached back to the house. Dechi bhaiya cooked us Maggie and eggs for our breakfast. We went backyard to the green house and brought back small peaches, they are different from the ones we eat in the plains, sour and quite delicious with a pinch of salt.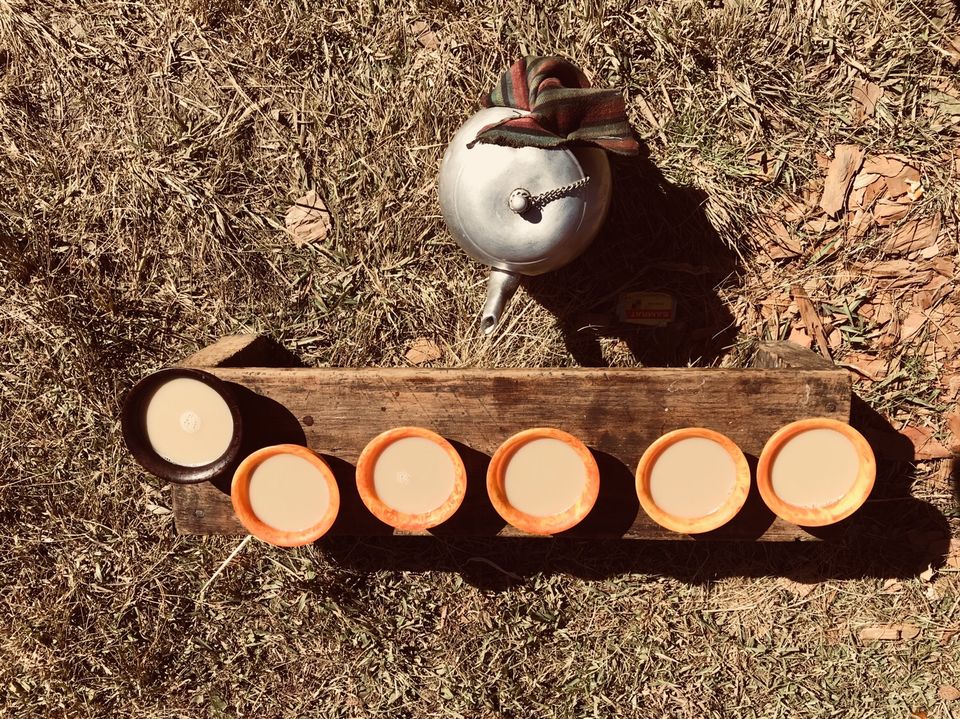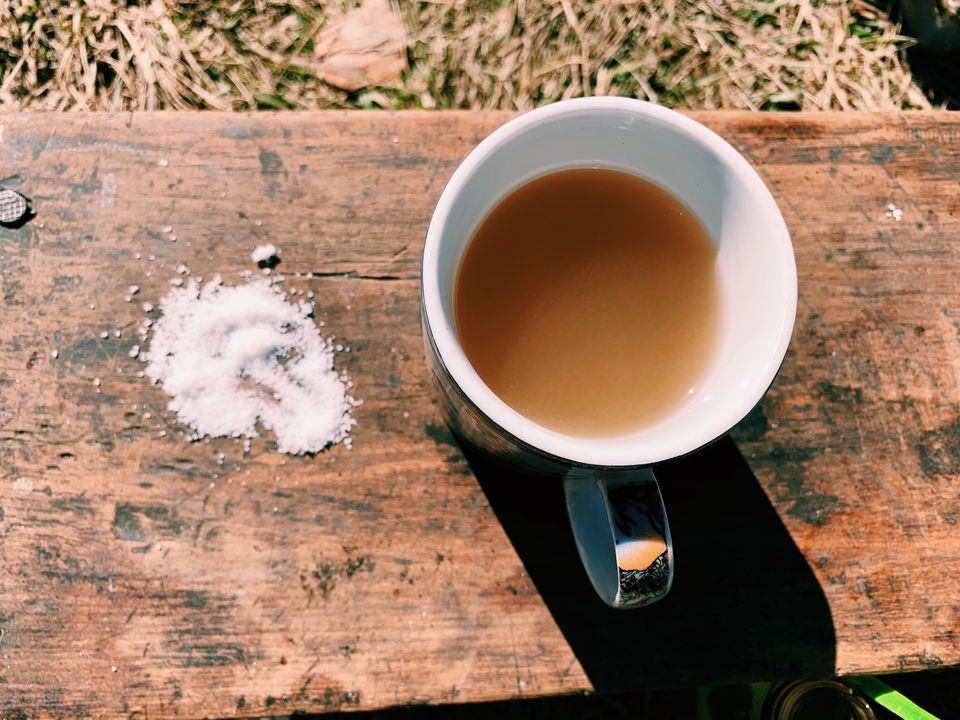 Our conversation with the old gentleman started with Chaang (traditional Millet wine) who is originally from Tibet, he told us about the trades between India and Tibet before the roads happened. They brought back Traditional Tibetan utensils and various other things from Tibet and they would sell various things they grow in their village. Now, it is not possible after the war of Indo-Sino in 1962. The old gentleman now 81, reminisces his childhood days with us.
We wanted to trek to one of the religious caves from the old gentleman's house but later decided to just explore the Dorjeeling Village.
With pocket full of sweet peaches, and a little tipsy after drinking the wine, we bid the old gentleman good bye and headed out to explore the rest of the Dorjeeling.
Requirements for the Trip:
6 people minimum
Price: 3500 per person (includes food, tent and helpers)
Time spent: 2 days and 1 night
Travel Tips:
◦ It's best to carry your own tent and food, and hire a guide otherwise it will be very expensive if you think of going on other treks too.
◦ Carry warm clothes.
◦ Carry a torchlight/portable lamp.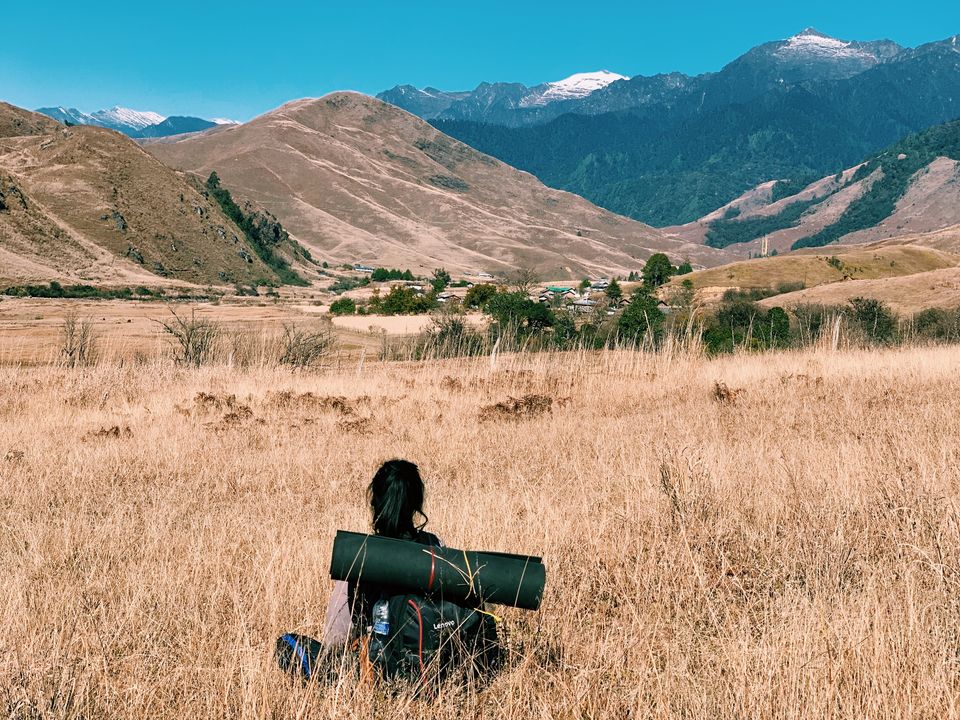 I will write more about Dorjeeling and other places nearby Mechuka in my next blog. Hope you like this post, like and share it with your friends.
Thanks for reading, see you soon!
Love,
Nancy.