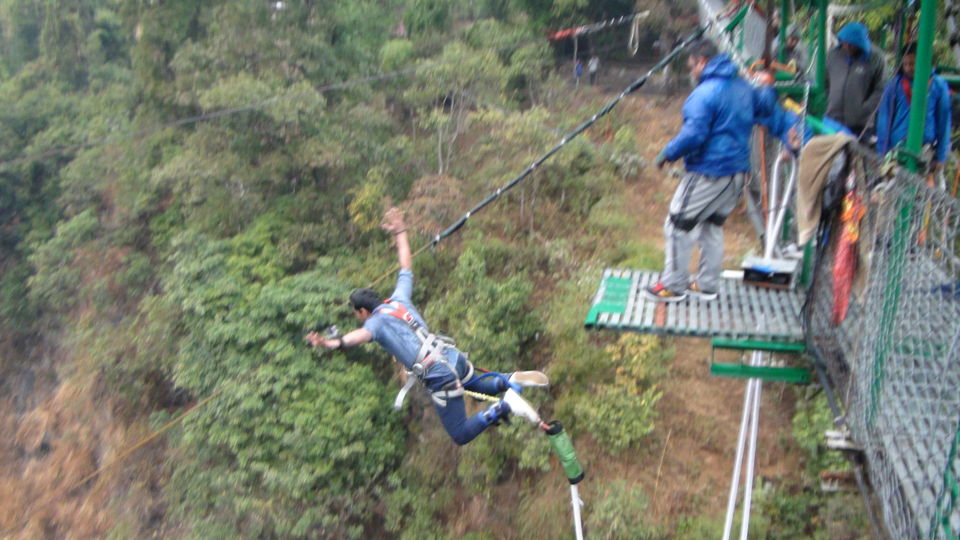 All the mundane life dwellers, this adventure is something to show the kids what mettle their father/mother is made of, in times to come. Yes! Visit Nepal and fly over the narrow river valley and who knows this might become one of the highlights of your life.
Bungee jump at Bhote Kosi river is from the height of 160 Meters. Let me put it to your perspective, a 25-storey building is about 76 m high and statue of unity is 182 m high. Sound ludicrous, right? When in Nepal, Bungee!!
Ticket to Jump:
The Last Resort is the company which does this jump. It offers amazing adventures in spectacular settings, including the world-famous bungee jump, the amazing new and world's highest Canyon Swing, and thrilling White Water Rafting. Their sales office is in the Mandala Street, Thamel, Kathmandu. The place is also known as Sagarmatha Building.
Once you book the trip, you will be informed to be at the sales office by 5:45 AM on the day of the jump, however they won't depart until 6:15 AM. So, no hurry, but soon!
I booked for a day trip bungee package which comprised of transport, lunch and bottle of water.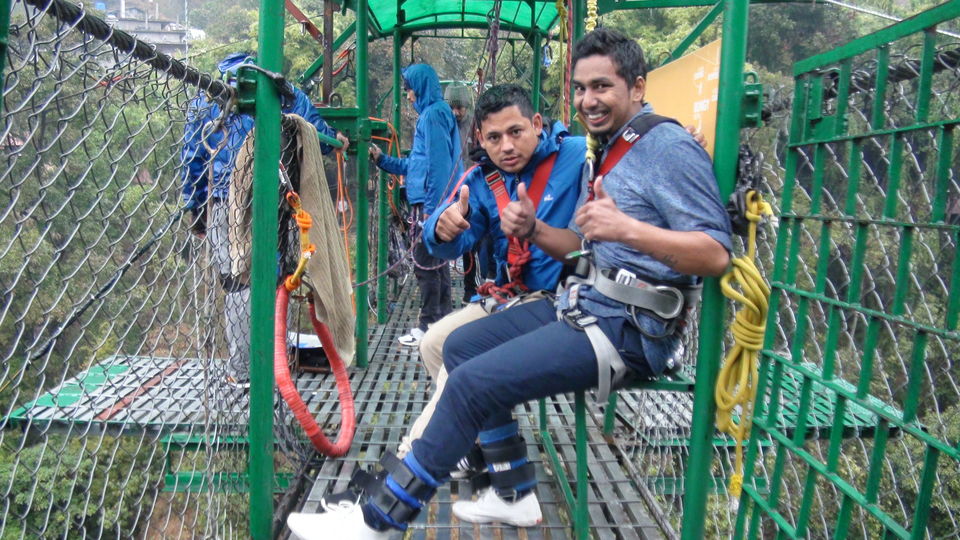 The Jump Arena:
The Last Resort is situated on a ridge and sprawling slopes and is reached by crossing the suspension bridge over the Bhote Kosi River. An added interesting fact is that you'll be only 12 km away from the border with the Autonomous Region of Tibet in China.
With a stopover in the middle, it will take approximate four hours to reach the resort starting from Thamel. The resort is lush green with suspension bridge separating the resort from the main road.
The Jump:
The Temperature in January was chilling cold and to add to that there was rainfall on that day in the city of Kathmandu. After a short safety briefing, we were divided into different groups based on weight. I was in the group with weight ranging from 63 to 80 kilograms.
I was well equipped with two GoPro and a video camera. The videographer was on the bridge with a video camcorder, while in each left and right hand I had a GoPro.
They make film on people as how one feels before the jump. I literally had goosebumps when I was filmed - one, because it was chilling cold and secondly, seeing other people scream in front of me registered a sense of fear.
I learned the rule of bungee, i.e. "Walk Like Penguin & Fly Like Bird". Somehow mustered courage and reached at the tip of the plank, looked down and retreated two baby steps back. The instructor was straightforward, he said he wouldn't push us. We ourselves must jump on their count.
Words still echoes in my ears, 3, 2, 1 and BUNGEEEE!!!
Loud, glaring sound of shriek was heard till I had the first drop and that was the time I realised I am alive, Gosh!!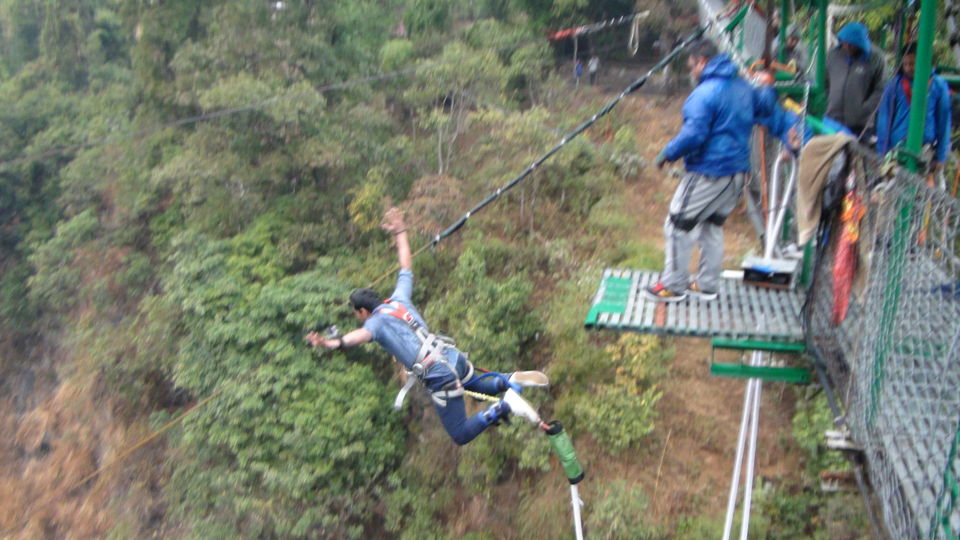 Earlier, people used to walk for 40 minutes upstairs to reach the suspension bridge again. Now, with the help of new age technology they will pull you up. You just have to cling to the rope.
Post Jump:
People can purchase their jump video after watching it on big television screen. I chose to buy my video. Along with the video, they give Last Resort t-shirt and photographs for 1200 NPR extra.
Costing details as on January 2017 are as follows:
Nepal Citizens: 5500 NPR
SAARC Citizens: 8200 NPR (Approx. 5100 INR)
Foreign Citizens: 90 Euros
I had sumptuous meal after the jump and interacted with many people from around the world who had just finished their jump. Bus came calling us for return journey. Onward trip was full of daring moments I just did. I could not even believe I just did that.
Every time I would stand on that plank, I would shiver. The mighty gorge over the swirling rapids of a wild mountain river, the sound of the instructor, fresh chilling air whistling past my ears and a video full of my gutsy performance is what I have with me now.
All said and done, when in Nepal, do take your time and do this daredevil adventure because then you'll be missing out on the opportunity to gauge your full potential and bring out the hero in you.
Watch the video to experience real fear.
Cheers!!
Frequent Searches Leading To This Page:-
Bungee jumping in nepal pokhara, cost of bungee jumping in pokhara Nepal, bungee jumping price in last resort for nepali, bungee jumping package