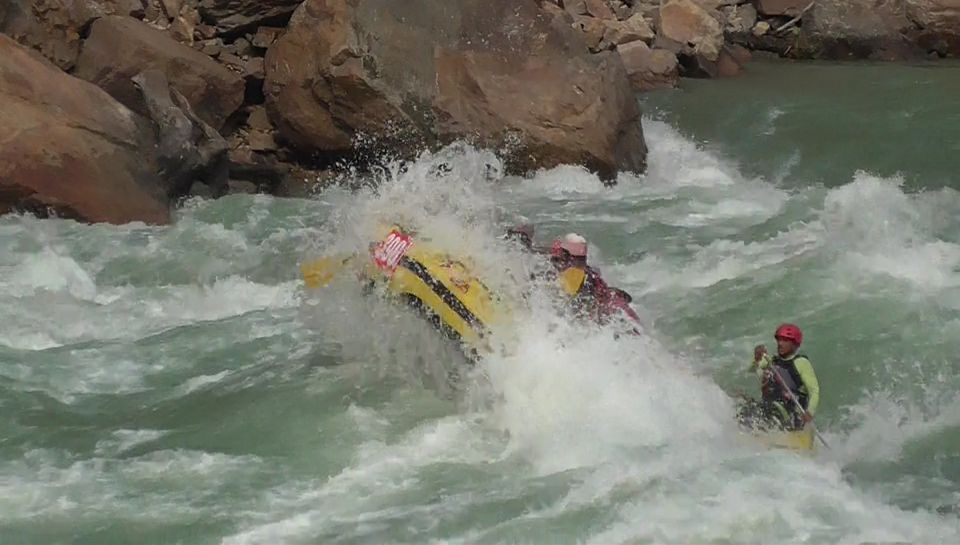 Have you ever felt Adrenaline being rushed through your veins..? Have you ever experienced a free fall? Do you want to feel the  chill and force of River Ganga. Then you must head to Rishikesh, right away.!
How to Reach : Rishikesh is well connected through  road train and air. Nearest Railway station is Rishikesh Railway station, but convenient one will be Haridhwar (Hw). Jolly Grant airport of Dehradun is the nearest airport. You will get enough overnight and day buses to Rishikesh from Delhi ISBT as well.
Bungee Jumping :
Bungee jumping in Rishikesh was in my mind from long time. After some online research I understood that they at Jumpin Height is what I'm looking for.   Jumpin from 83 mtr height will be one crazy thing that I would do in my life. Co incidentally, I had planned for other things in Uttarakhand and found out that I had 2 days to spend at Haridhwar n Rishikesh.
Right opportunity for trying Bungee I thought.
Jumpin heights at Rishikesh also offer Gaint swing and Flying fox along with Bungee Jump.
I wanted to try all 3. It costed me 8000 including taxes.
How to reach Jump Site :
Jump site, is located at around 25 km from Rishikesh town. Jumpin heights have their transport to the jump site for which you have to pay 400 per person. You can also hire cabs to Mohanchatti village, where the Jumpin heights is located, from famous Lakshana Julha of Rishikesh. Just ask them to take you to jumping site.. They will understand. Jumpin heights is famous you see. After some bargain,  Taxi guy agreed for Rs1200 return with 3 to 4 hr waiting. Prices may differ during peak season.. :D
Once you reach their site you have to pay 100 Rupee per head as entry fee. (I don't know why though). After which you will have to wait in the in cafe for your turn. When it's your turn they will show you a video guide and check your weights and perform other formalities.
For Bungee and Gaint swing, the platform is same, which is located around 100 mtr from the office and for flying fox you have to go to another platform which is around 50 mtr. After each activity you will have to walk back to office and collect ticket for next event/Jump.
First we were sent for Gaint swing. Most people here come for only Bungee. Hence the crowd for Other activities will be comparatively less.
The Gaint swing.. Wha.. It was really a mind blowing experience. Especially the first few seconds of Free fall. Really thrilling. I, initially though, the rope and weist grip will hold you frok the beginning. Free fall  was like sudden surprise and chilling experience.
After the Gaint swing, We had to walk back to Office to collect Flying Fox coupons. They say you can experience 150KMPH speed in flying fox. But, personally,I would say, it was not worth the money.
Next on The menu was much anticipated Bungee. We headed to Bungee platform. I had all the plan in the world for a photogenic jump from the platform. I was all calm and composed through out. It was my turn next. Every plan in the mind changed once I stood on the cliff of the platform for jump. It was like the inner me is stopping me from the jump. Used all my courage and did a jump on first count itself.
Whoa.. It was really a life time experience. I could feel the blood being rushed and my heart beats during the free fall. It was really a fantastic experience.
The organising team at Jumpin Height are very friendly and they look technically sound. Though, I should say, the amount they charge should have been reduced. 
They will take videos of your activities. You can watch them in their office or cafe. If you want them, again you will have to pay Rs 500 per video. 
After the activities, we headed back to Rishikesh with un forgettable experience.
River Rafting in Rishikesh :
River rafting was not new to me. But, Rafting in Ganga is surely is. You might have done 100s of Rafting but 101th will always be different.
River rafting in Ganga at Rishikesh is quite famous and you can find so many packages with camping overnight along with river rafting for a reasonable price online. If you have not booked for any camping or Rafting online.., need not to worry. Once to get down in Rishikesh, there will be atleast 10 people asking you if you are here for Rafting. After that it's upto you to bargain and find a reasonable price. Usually, 18km Rafting will cost you around 400 to 500 per person during weekends or peak seasons.
We opted for 18km Rafting. After the payment, they will take you to Shiva Puri Village, from where 18km Rafting starts. They have different starting point according to the distance of Rafting.
All the initial safety instructions will be given to you by the guide. Rafting in cold Ganga water is life time experience. In 18km Rafting, you will get atleast 9 rapids, of which Golf Course being 4+ level. I don't know how they have kept the name for rapids. Even the guide didn't know about that.
In between there will be a break point where you can order Maggi Tea coffee and there is a point for cliff jumping also.
Our guide gave formal instructions to cliff jump. There were already people doing that and hence I thought it will be easy task. But, again, once I stood on the cliff, I felt that fear. It was expected, since I have not jumped from any cliff and most importantly I don't know how to swim. Chilling Ganga water added more fear factor.
I jumped.. I don't know how.. But, I think I didn't jump properly. I could feel the pain in hand and crouch for some time after jump.
Started again from the breakpoint. 3 more rapids were waiting for us. The guide will allow you to jump in to the water whenever the water is calm. You will go below Ram julha lakshana julha during Rafting and the view of setting sun over the Rishikesh city was adding more beauty to our Rafting.
Totally, Rafting in Ganga was one great experience and I decided, that I'll do it whenever I visit Rishikesh.
Advice:Carry water proof or quick dry cloths for Rafting.
For Rafting videos, there will be people from CamOnCliff. They will charge you around 1500 per group. They have their people along the course of River and shoot you beautiful video of the Rafting.
You can book for Bungee at:
http://www.jumpinheights.com/