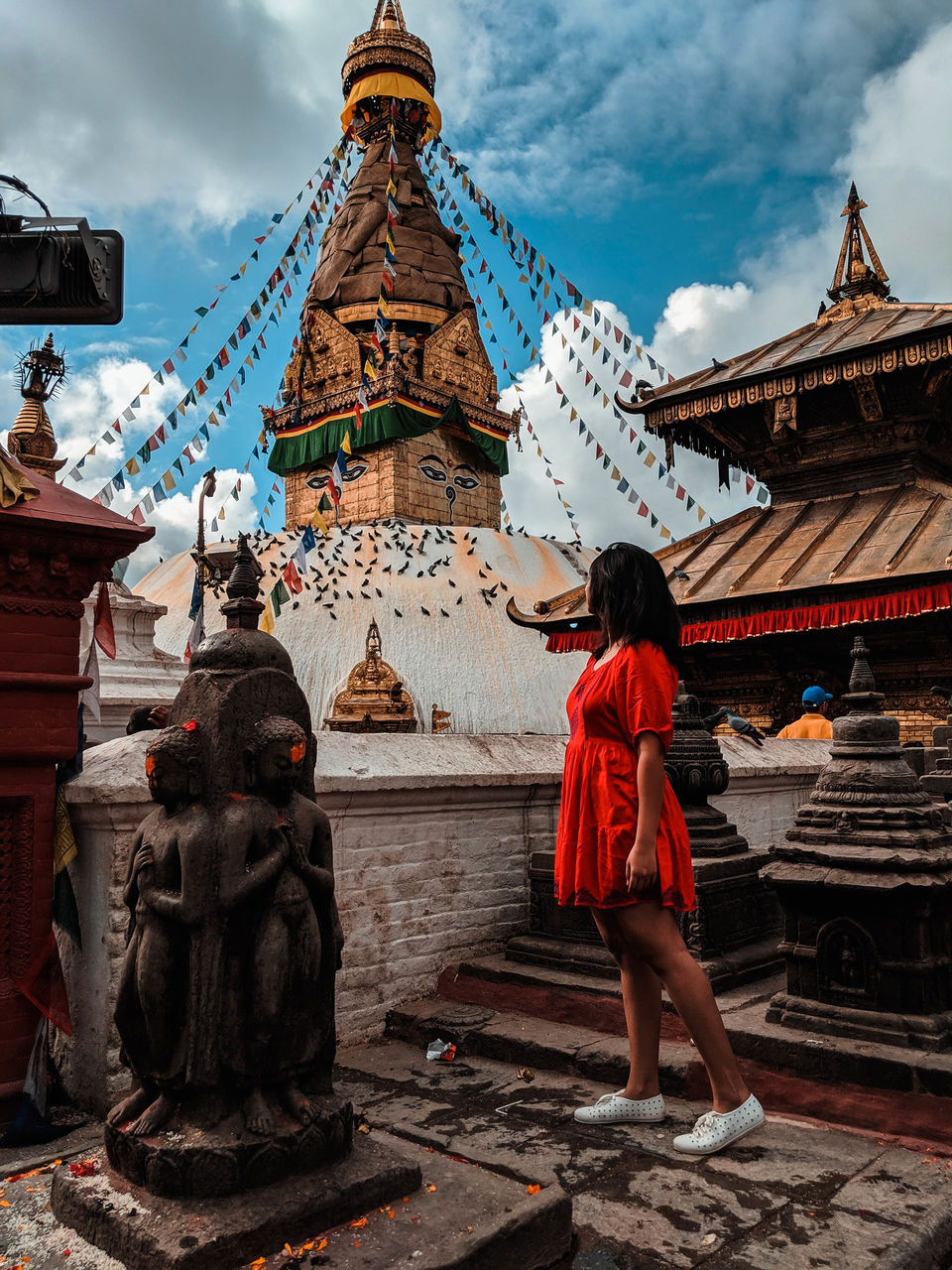 Every year I promise myself to take a solo trip and now it has become like a birthday ritual for me. 2019 was for Nepal. But this time it wasn't solo, I went there with my friend.After a very long time, I was travelling with a friend, as I am used to travelling solo or with my husband. I was travelling with a friend after a long time.
Nepal is a place with more than 1500 years worth of history embedded in the crumpled walls and yet standing heritages. Its economy thrives majorly on tourism so the locals' livelihood depends on this.
Earthquake in 2015 devasted Nepal but it is still standing strong and is restored with most of the heritage sites in the Kathmandu Valley. The 'Visit Nepal 2020' campaign driven by the Nepal Tourism Board is to promote Nepal as a safe place to travel after the 2015 earthquake.
Kathmandu the capital of Nepal is a place with numerous heritage sites, temples, stupas, religious shrines, cultural Newari food to try and budget-friendly stays.It is a place for any individual who seeks to relax or get on an adventure hike or extreme sports. Kathmandu has it all, if you are a person who likes to relax and enjoy some silence or if you are a type who wants to trek or bungee jump then you are at the right place.
Here is a few basic information about Kathmandu, Nepal:
Nepal Currency:
The best way to exchange money in Kathmandu is to do it once you land there. I did a mistake of exchanging it from my home country.
1000 INR = 1587.49000 NPR
Exchange Rate: 1.6 (this is what I got there)
If you have Indian currency, then most of the shops and taxi drivers do accept them, but only 100 Rs. note. (As per the RBI rule the circulation of Indian currency notes of Rs 100 and less is allowed in Nepal)
Tip: Avoid exchanging money is the main bazaar (market) because they will charge you a commission fee, but there are many money exchange shops just at the outskirts of the main market which will have a good exchange rate.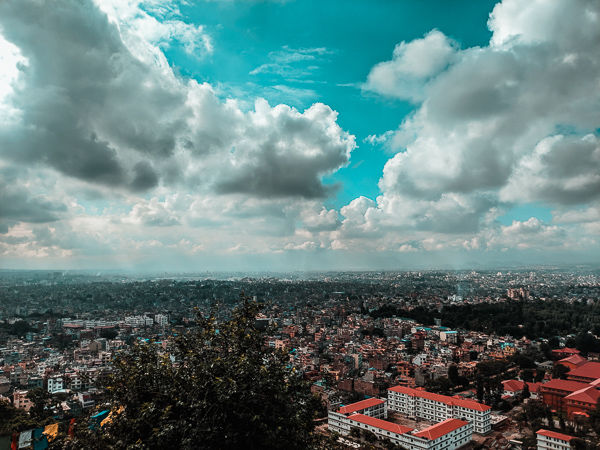 Best season to visit Kathmandu, Nepal:
The best season to visit Kathmandu is from September to November which is the Autumn season where the skies are clear and clearer mountain views. Being the peak season in Kathmandu, most mountaineers plan their trek during this month, it also a season of festivals in Nepal.
If you planning to visit Nepal in winters between December to February then you can expect the weather to be cold and occasional snowfall at the high altitude range. Hiking or Trek to small altitude ranges is safe during this period.
Tip: Check with tour operator and weather before booking trek, as the weather in Nepal is very unpredictable.
During the springtime between March to May, the temperature is mildly warm and moderate on the hilly range. it is also the best time to hike small range mountains covered with Rhododendron a national flower of Nepal.
I picked the shoulder season which is summer/monsoon in Nepal. The weather is hot, humid and occasional showers. It is very pocket-friendly to visit Nepal during this season if you wish to relax and find some peace.
Luckily the rain didn't interfere with our daily outings except for one day when it rained cats and dogs and our trip to Nagarkot failed.
Tip:The best way to travel in the budget is to pick a shoulder-season mostly end of august is a good time as it will be less hot and humid because winter would be arriving.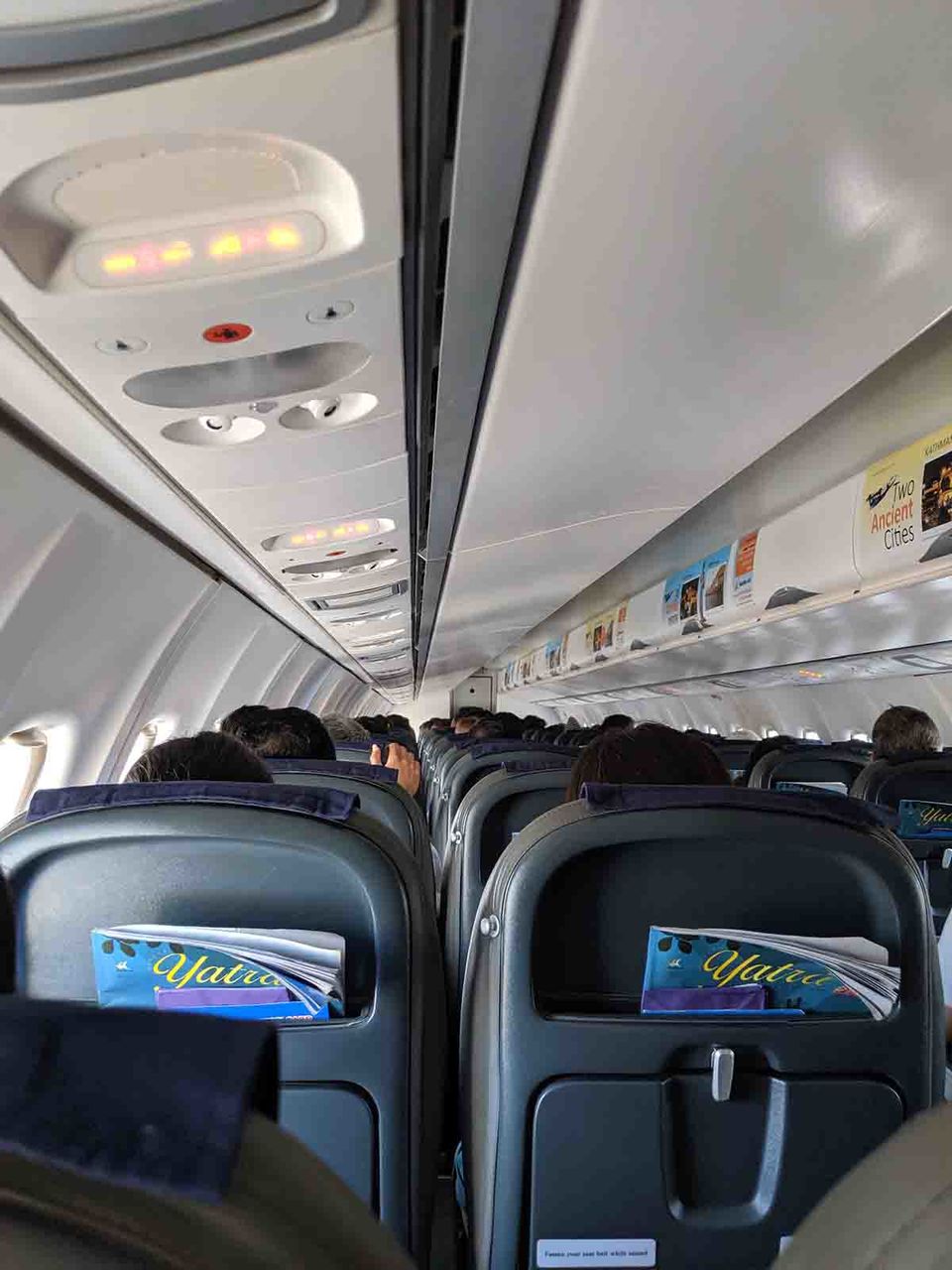 Hotel/Stay in Kathmandu, Nepal:
If you are a backpacker or travelling with friends the best way to save money is by staying in Hostels. There are infinite hostels in and around Kathmandu city for you to pick.I stayed at Zostel, Kathmandu right in the city centre with 10 minutes walking distance to Thamel Bazaar.
As I was accompanied by my friend we decided to have our own space so we booked a private room than a dorm. Which we still found it very cheap. For a day we paid- 1,626 Rs. which was further split into 2.
Our stay in Zostel was for 4 night and 5 days which cost me- 3,252 Rs.
which was a pretty good deal considering there were AC and private washroom. The place was really neat and clean and the staff was also very helpful.
https://www.zostel.com/zostel/kathmandu/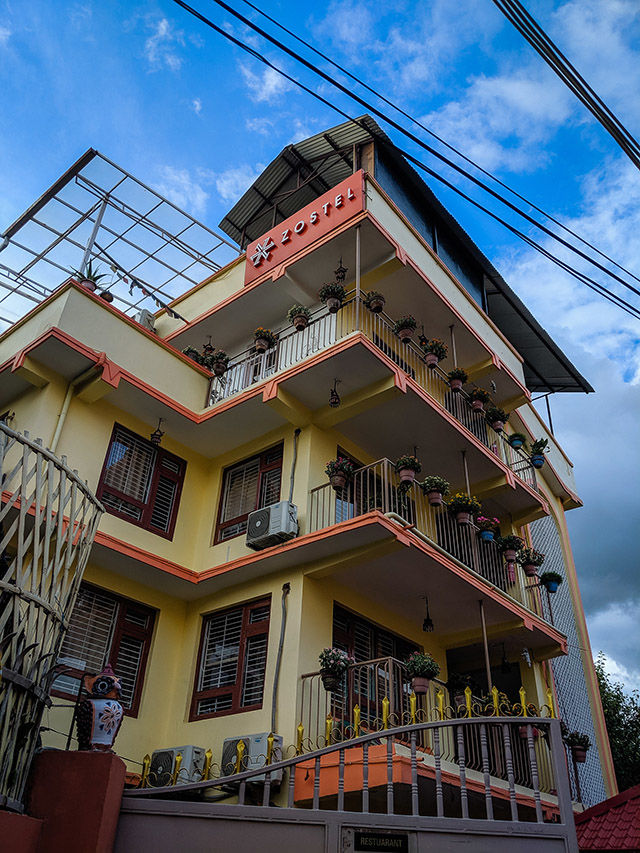 There are many other options which are cheaper than what I got, but it completely depends on how you have planned your budget for the trip.
Tip: Always book a dorm or room with AC if you visit in the shoulder season (Summer) or else the heat will make it difficult to give you a good night sleep.
Daily average spends in Kathmandu:
A dorm bed in a hostel: 500 INR – 1500 INR PER DAY.
Small basic room for two: 1600 INR – 3000 INR PER DAY
10-minute rick ride: 100 – 200 INR
Taxi from Kathmandu Airport – Thamel: 350 – 500 INR
Durbar entrance fees range: 50 – 150 INR PER PERSON
A meal in a budget Thamel restaurant: 500 – 1000 PER PERSON
The expenses completely depend on your budget and can always go over the budget if not planned properly.
Things to do in Pokhara, Nepal
Kathmandu transportation:
You can get the feeling that Katmandu has a lot of traffic if you are from the West but if you are from India and have been in Mumbai/Delhi/Bengaluru. Katmandu is merely a cake-walk for you. Katmandu has narrow lanes, that makes traffic slow- moving.
If you planning a city tour you must pre-plan your itinerary as Kathmandu is the city centre and most of the sites are scattered around the main city. You can plan your itinerary by delegating days with the region in east or west.
Kathmandu is a place which can easily be covered in one or one and a half-day but to enjoy the sites fully you will need at least 3 days to explore the city in and out.
Here is our Itinerary to Katmandu, Nepal
Day 1: Monkey Temple (Swayambhunath Stupa), Chandragiri Cable Car, Patan Durbar Square, Kathmandu Durbar Square (Basantapur Darbar)
Day 2: Nagarkot Hill Station- Sunrise, Bhaktapur Durbar Square, Pashupatinath, Bouddhanath Stupa
We had pre-booked a car for these 2 days and it cost us around Rs. 3,500 per person and the total was for Rs. 7000 for both of us. Which was a good deal but if you have time you can get a little more discount.
You can also look out for Bike tour but they are a little more expensive and also they take you on tour within the city areas and not the outskirts.
The difference with the bike tour and bike rent is that the bike tour is with a tour guide who would ride you along and bike rent is where you self rides to different sites without any guide.
You can also opt for taxi service but it is on the expensive side, and you have to bargain the fare as there is no fixed fare for distance.
Taxi Fare:
Airport to Thamel- 600-800 Nepalese currency (350-500 INR) Thamel to Airport- 400-500 Nepalese currency (250-350 INR)
Local transport is also available like sharing vans, buses etc, but would suggest opting this option only if you have a local with you (who knows the road and areas name) or else just book a cab or rent a car if you have an international driving licence.
Staying near the market area is the best option as you will save a lot on cab fares and other rides. We had picked Zostel as it was right next to Thamel and it was at a walking distance of 10 minutes.
Tip: Would suggest to keep your 1st day in Kathmandu free, stroll around the market area, understand the prices for different things excluding shopping. Always book your sightseeing tour once you reach there because that would be very cost-effective and you will be a better judge as the weather is quite unpredictable.
Things to do in Kathmandu :
Kathmandu is a budget-friendly place to visit. The food, stay and transportation is cheap compared to other international destination. Kathmandu is one of the top five cheapest cities to visit in the world. But it can get expensive in the touristy area like Thamel and surrounding.

It is a paradise for adventurers and spiritual travellers.
Here are a few things that you can do when you visit Kathmandu, Nepal.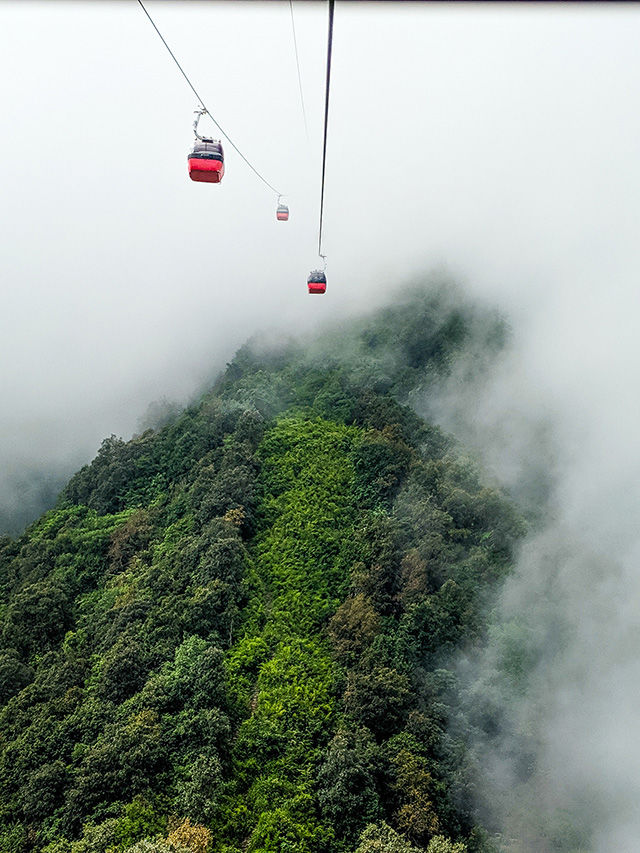 Sightseeing:
There are many places to check out when you visit Kathmandu, Nepal. Starting with Chandragiri Hills, Garden of dreams, the stupas, monasteries, museums, palaces, old towns etc.
Chandragiri Hills:
If you wish to see the Everest than this is a must in your sightseeing list. As the name Chandragiri Hills signifies being a hill range which is easily accessible by cable car. But it completely depends on the weather if the sky is clear you can get a scenic view of the 3-4 mountain range from the hilltop including Mt. Everest. We didn't get the best view as the weather was very cloudy and there was zero visibility around.
The cable ride was quite a thrilling experience first half of the ride covers the steep hilly range with scenic city view and the second half is cloudy with the cold wind gushing onto your face.
Things you can do at the top is worship at the Shiva temple, get the Everest view from observatory lounge, if you have kids along with play in a dedicated kids' park, hog on some momos at the food court and many more.
If you are an adventurer you can do an off-road drive of 11 km to the top or a 3 hours hike on the designated trail.
The cable car fees is: NPR 1120 = 710 INR Mon-Fri: 9:00 AM 7:00 PM
Sat- Sun (HOLIDAYS) : 8:00 AM 7:00 PM
Ride time: 10 minutes
Tip: Do not pick a holiday or weekend to go there as it will be crowded with locals.
Garden of Dreams:
Located amid Kathmandu city, Nepal, it is a historic Neo-Classical garden which is 74,000 sq. ft. with two large sections and also called as Garden of Six Seasons. It is the most sophisticated private gardens of that time. Today it is a hangout place to chill and relax while you in the middle of the bustling city. They also have a small museum, an amphitheatre and a Kaiser Café to sip on some hot or cold beverage or munchies as you prefer.
Tip: We did not go there, as we didn't have time left with us so we skipped it. But if you nearby Thamel you can surely gaze through the garden as it is walking from there.
Nagarkot Hill station:
If you want to get a spectacular sunrise view then this place is not to be missed. Get up early in the morning head to the Nagarkot Hill at 4:00 am and watch the scenic sunrise from the tower.
Located near Kathmandu city, it will take an hour ride for you to reach there. Along with the sunrise you can also capture a panoramic view of the snow-capped Himalayas lying in eastern Nepal.
If you have more days in your hand you can also opt to stay in Nagarkot and enjoy other sights around the hill station. It is best recommended for your honeymoon trips.
Tip: Make sure if the weather is bad or if it is raining please postpone the trip as you will not be able to see anything.
Three Buddha Park (Amideva Buddha Park):
Located on the way to the Swayambhunath temple (monkey temple) Three Buddha Park highlights the massive golden Buddha statues of 20 meters high. You can stop by the park to gaze the beautiful golden Buddha statues located at the bottom of the hill.
UNESCO Heritage Sites in Kathmandu, Nepal:
Nepal is the only country which has the most number of world heritage sites. A total of 10 UNESCO world heritage sites (cultural and natural category) are located in Nepal- seven in Kathamndu, Lumbini and 2 national parks- Chitwan and Sagarmatha.
With a short time in hand, we could manage to see Pashupatinath Temple, Swayambhunath Temple (Monkey Temple), Boudhanath Stupa, Kathmandu Durbar Square, Patan Durbar Square and Bhaktapur Narayan Temple.
If you have more time you can head to Chitwan National Park which is 7-8 hours drive from Kathmandu or also Lumbini which is the birthplace in the western region of Nepal.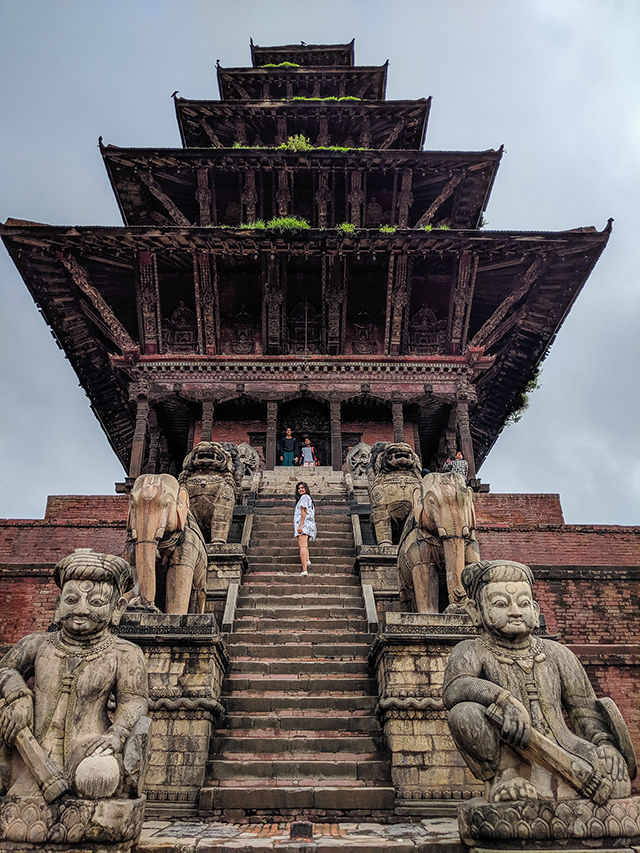 Walking/Vespa Tour:

Many companies provide services like walking/bike tours in Kathmandu. You can check out- http://vespavalley.com/ and customize your Vespa tour basis your preference in terms of places you wish to discover, they have village tours, city tours and many others. The costing starts with 3000-5000 Rs. which is on the expensive side but includes guide, chauffeur, food, drinks and snacks. So you travel freely without any stress.
You can check others here – https://www.kimkim.com/c/vespa- valley-tour-kathmandu
https://www.viator.com/Kathmandu-tours/Vespa-Scooter-and-Moped-Tours/d5109-g12-c120
Learning Classes:
If you like to learn new things and discover the culture of Nepal then you have many options to learn to make momo, Khukuri Making Workshop, Wood Carving Class, Thangka Painting Class and many more.
We were planning to do momo cooking class but due to time constrain we couldn't manage to do so, but if you get free time do try the cooking class it is fun and entertaining.
Check out: https://www.backstreetacademy.com/47923/things-to-do-in-kathmandu for classes.
Trekking in Nepal:
Nepal is known as the heaven for trekkers, surrounded with Himalayan range Nepal has a variety of trekking options starting with the famous Everest Base Camp, Annapurna Basecamp, Ghorepani Trek, Lake Rara Trek and more. These treks can easily take up to 1-2 weeks to complete, so if you a trekking enthusiast than this is the place.
There are easy hikes options available, Chandragiri Hills (3 hours), Southern Ridge (7 hours) (https://www.socialtours.com/ trip/the-southern-ridge-walk), Champadevi Hike (3-4 hrs hike), Shivapuri Hike (2-3 hrs drive and 3-5 hrs hike), Nagarjuna Hill (Half-1 hr drive and 3-4 Hrs Hike), Dhulikhel Hike (1.5 Hrs drive and 2-3 Hrs hike), Sarangkot Day Hike (Half hour drive, 1-3 hour hike) and many more.
Tip: always make sure to have a guide with you when you plan any trek. Do not trek alone.
Extreme sports:
Rafting, Kayaking, Canyoning, Mountain biking, Paragliding (Pokhara), Bungee jumping, Zip-line, Canyon swing and the list is endless. You name it and you get it. Nepal has a lot to offer when it comes to extreme outdoor adventure sports.
Rafting options are available at Trisuli River, Bhote Kosi River, and more. You can choose to either do a white water raft or kayaking or do both. White water rafting can cost up to 2500-4000 INR depending on the distance you wish to cover. It will mostly be a day trip which will cover pick up and drop along with a meal.
Do research more on which company you should pick for rafting you can surely check out reviews before booking.
Mountain Biking is another thrilling sport you can opt for while in Kathmandu. A full-day bike tour eyeing the Himalayas around Kathmandu traversing valleys, villages, trails, forest, temples and more
https://www.getyourguide.com/kathmandu-l101/kathmandu-day-mountain-biking-tour-t25344/
Dhulikhel a real Newari town, less popular among the tourist and located 32 km east of Kathmandu. You can explore the town and visit the Last Resort near Kodari border between Nepal and Tibet, about 4-hour ride from Kathmandu. Here you can opt for Bungee Jumping (160 m in free fall) through Extention bridge built over the wild Bhote Koshi River. The cost for this would range from 7000-8000 INR which will include pick up and drop facility along with the activity and meal. It is again a full-day activity and can take up 12 hours of your day.
They also have other activities like Canyon swing, Tandem Swing, Rafting and Canoeing.
https://www.thelastresort.com.np/
Dhulikhel Zipline is another adventure activity you can choose located 32 kms from Kathmandu and an hour drive to Dhulikhel. The distance they cover is 1100 meters and the cost for SAARC range from 2500-3500 INR per person and you can also opt for couple option which will cost you 3500-4500 INR. You will have to pay additional for video or pictures for any activity you choose.
http://www.holidaynepal.com/adventure-nepal/zip-flyer.html
Tip: Make sure to check the website before booking, as when you book the package online you get an additional discount compared to physical booking.
Best places to shop in Nepal:
Shopping is the favourite part of any trip. Kathmandu is known for its woollen garment, adventure gears, traditional clothes, Pashmina, Thangkas, Singing Bowls, Khukuri, Beads and jewellery, Metal and Wooden Handicrafts etc. Without any doubt, the traditional hand made products are the best in Nepal, I got jute bags, home decor item made of wool, purses etc. They look really attractive and act as the best souvenir for your friends and family. But make sure you bargain hard with them as they can come down to 30-40% of the cost mentioned.
Popular markets in Kathmandu: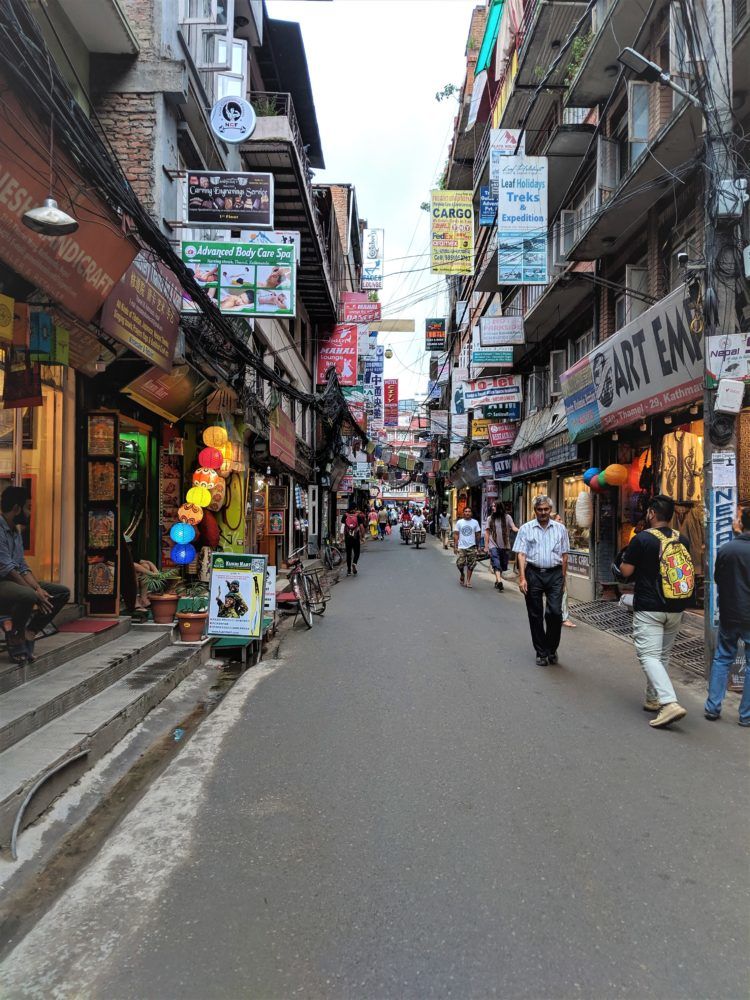 Thamel- this place is overpriced so make sure to check the entire market before purchasing from this area. If you dig in a little more you are sure to find shops which are reasonable and cheap.
New Road- Towards the south tail of Thamel, New Road is another common area for shoppers. Here you can find shops selling many commodities like clothes, shoes, bags, accessories, jewellery, spices, and also Newari snack items like titaura and pushtakari.
The market closes by 7:00 pm.
Indra Chowk and Asan Bazaar- This is a budget-friendly option to shop for. You can find typical Newari garments, shoes, woollens and blankets. Close to Indra Chowk is Asan Bazaar you can find textile, spices, gold items in this market and it is also acknowledged as the oldest in Kathmandu.
The market closes by 7:00 pm.
Malls and Supermarkets- There are malls in the city centre so if you wish to walk around an air-conditioned market you can do it under a single roof. You can find Civil mall, Kathmandu mall, city centre, sherpa mall, times square mall and more. You will find famous brands with typical food courts and multiplexes inside.
Usually opens at 8:30 am and open till 9:00 PM.
Durbar Marg- A sophisticated market for people who are obsessed with brands. Reebok, Zara, Puma, Levi's, UCB etc are few brands which you can find in this market. You will also barge in many expensive pubs, restaurants, cafe, boutiques etc.
Closes by 8:00 PM.
Tip: Never start shopping on the first day of your trip, keep the initial days to check prices in different shops. Just get an idea as to how much are they charging you for a particular item in a tourist area compared to the local market you will surely find a lot of difference. Also, the market shut down at 8:30 or 9:00 pm.
Things to do in Kathmandu NepalFood Tour in Kathmandu, Nepal:
Many people find it difficult to adjust to new food and taste. But if you love to experiment with traditional food, Nepal has a lot to offer.
I booked a street food tour in Kathmandu so I could get the flavour of the typical Newari food.
I booked a Secret Food Tour from Backstreet Academy
https://www.backstreetacademy.com/kathmandu/206/secret-food-tour that included 5-6 different local drinks and dishes with an English speaking guide. The tour includes the cost of all the eateries and you can eat as much as you desire. Along with food tour, you will also get to experience the city stories from the localhost.
We could get our hands on Sel Roti, Yomari, Khaja Set, Momo, Chatamari, Samay Bhaji, Sekuwa, Lassi, Samosa and Dahi Puri.
Kathmandu was an amazing experience for me, I could thoroughly enjoy every moment while I was there. It was truly a hidden gem as they say.