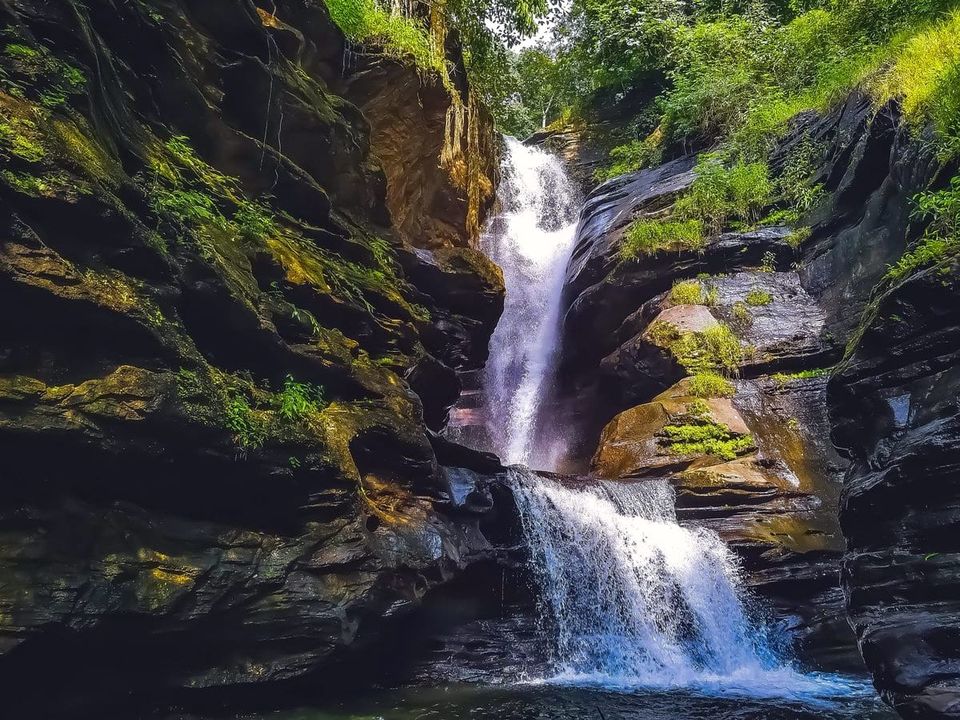 When it comes to the waterfalls near Bangalore I will always recommend you Ermayi falls which is a hidden gem in the foothills of the Western Ghats in Dakshina Kannada it is the most beautiful waterfalls near Bangalore,
Apart from this if you are an adventure freak then this place is must for you, it comes to full glory in the peak monsoon it is a multi-layered waterfall.
Which falls from a height of 75ft and forms a pool at the bottom. The pool is about 5ft deep where you can take a dip and swim after an amazing and adventurous trek up till the falls.
My story of Ermayi Falls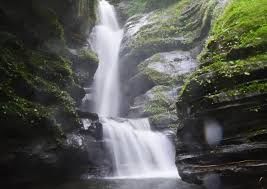 I and my friends were planning to go for a one day trip in and around Bangalore and our preference was to explore some less explored place like waterfalls near Bangalore or a hill station which is hidden from most of the people,
After long research we found a hidden gem, a hidden waterfalls near Bangalore with full of natural beauty and we finalized the place and that place was Ermayi falls.
The next day 4 in the morning we left Bangalore, according to our plan we had to reach our destination by 10 am,
But we were running late despite that we stopped our car a lot of times and enjoyed each and every scenery which we came across the roads,
These sceneries were mind-blowing fully covered with greenery it was summer but we came across some small streams falling over the rocks and making it an eye-catching waterfalls.
After a long drive, we finally made it to the destination we parked our vehicle later we came to know that we have to trek for 3 km or hire a jeep which will take us till 1.5km and again we have to trek for 1.5 km from there.
But I and my friends love to do some adventure activities so we decided to take our car up till 1.5 km and then trek from there,
we started off-roading this was a bumpy ride and we were enjoying it, this off-roading was more adventurous when we surprisingly encountered a water crossing after water crossing we parked our car and trekked towards Ermayi falls.
Finally, we made up to the main falls it was worth for the adventure we did, there is a narrow path between the rocks which allows us to sit in the center of the falls.
It is too risky to go there as it is very slippery but we climbed the rocks with a spirit of an adventurer, this spot in between the falls was very peaceful, we took a natural shower and relaxed there for some time.
We had no plans to return back but forcefully had to fall back because there are no food stalls, shops, or restaurant and we were literally starving.
And moreover no one is allowed to camp in and around Ermayi falls because this fall is located deep in the jungles and as per locals, gentle giants "The Elephants" and other wild animals visit this place at night to drink water.
In one day it was very difficult to cover these falls, from city to getting into the deep jungle from crossing traffic signals to crossing water streams, from breathing polluted air to getting fresh air.
Overall it was a great experience I'm happy that I explored this hidden waterfall near Bangalore.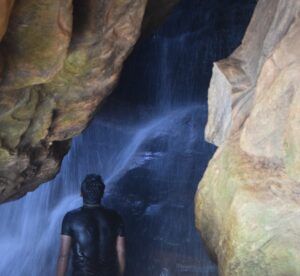 Secret Narrow Path Between Waterfalls
How can you reach Ermayi falls from Bangalore?
Ermayi falls is 300 kilometers drive from Bangalore, to reach Ermayi falls with public transport you have to reach Ujire town near Dharmastala and from Ujire Ermayi falls is just 40 mins ride.
You won't get frequent buses, so it's better to hire a jeep from Ujire, and if you are coming to this place with your own vehicle then you have to take a left turn before Mundaje village.
On the way to Kajoor Darga. after 10 kms just before the Darga you will reach your destination.
Park your vehicle there hire a jeep or hike for about 1.5 km or take the right turn do some adventurous off-roading with your own vehicle.
You can park your vehicle at the top just bit away from actual falls and start trekking for about 1.5 km and that will lead you to the waterfalls.
Information about Ermayi Falls
Timings: 7 Am to 5 Pm
Entry Fee: Rs 20/head
Trek Distance: 1.5 km
Trek Difficulty Level: Easy (trek is easy till the main fall but youcan do some adventure and climb rocks to explore more falls above the main falls)
Camping: Not Allowed
Swimming: Not Allowed in Monsoon and RainySeason.
Food Stalls: Food Stalls and restaurants are not available carry your own food and please do not ruin the beauty of this spot
There are a lot of waterfalls near Bangalore but this secret waterfall near Bangalore is very special and unique, comment and let me know more about these kinds of less explored waterfalls near Bangalore. Visit page & Know more about my blogs here