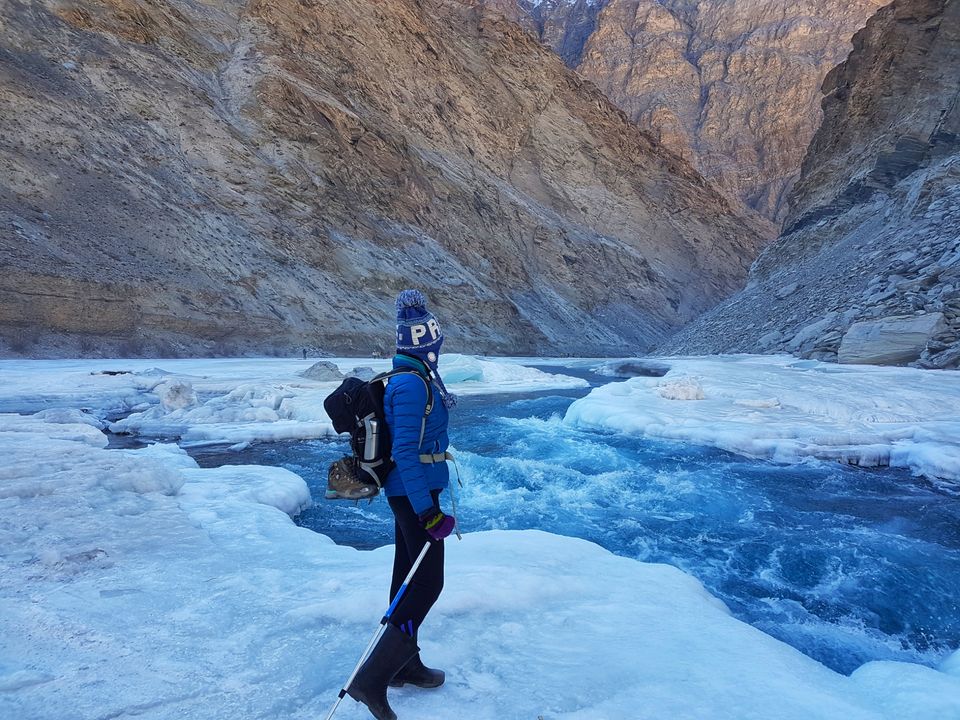 I know, this title may confuse you! However, it is so appropriate in the context that, this is the trek which is known to almost everyone in India, however beyond India, still people don't know about it!
I am new to Tripoto, hence people who still don't know about me - I didn't get much chance to travel until I started working and earning my own bread. Rather, I was busy in my studies and finding a job those days! In my early days of job, I moved to overseas and had recently returned to India. As soon as I moved back, the first thing I started is to explore own motherland, which I couldn't all these years!
So, when I heard about chadar trek for the first time just couple of years back, my friends in India were surprised. They thought, how in the world I have no idea about Chadar trek even though I am a Globetrotter and love trekking!
On the other hand, when I posted few of my pictures from chadar in social media, most of friends from overseas thought that it is somewhere from western part of the world!
That's when I realised, how famous, yet not so famous "Chadar trek" is!!!
So, getting back to how was my experience of Chadar Trek.
From the perspective of uniqueness, beauty, challenge, winter paradise and many more, I would say this should be a must in every travelers list. This is something which I have never seen or heard of in any other part of the world!!! However, when I personally experienced it, I felt sad that how badly it is being treated in terms of people leaving tons of trash on this pristine land, using spikes to navigate it easily even though it is not advisable and no rules and regulations on controlling number of people who can do this trek in a particular season to save it's fragile nature!!!
I know there are lot of people who think that it should be completely closed for trekking to save it. But according to me, it needs a better control, rules and regulations in terms of restricting number of people to be allowed at a given period of time, raising cost of permits so that people take it seriously and responsibly, regulations on what all you can take with you while on this trek, strict rules for guides in terms of keeping a watch on trekkers and if rules not followed their permits being cancelled etc.
Nonetheless, I didn't know about all these issues until I visited Chadar trek, but this was certainly one of the best treks I have done in my lifetime in terms of the uniqueness of the place and experience of walking on a half frozen river for days!!!
It was a 8 day affair, from flying to Leh, staying for a day in Leh for acclimatization, driving to the base of start of the trek, actual trekking for 4 days and back to Leh!
We were 6 of us, who made a plan together and flew to Leh. It was late January and the weather was very chilly. After spending a day in Leh, in a cosy guesthouse, we drove to Tilad do via chilling. It was a long drive of 5 hours on very bad roads. We stayed in Tilad do for that night. Temperatures were freaking low, approx. -10 degree Celsius and I could already sense how chilling this whole experience would be. 2 of our friends already decided not to go ahead with the trek having some breathing issues. For me, they just gave up mentally more than anything else.
Nonetheless, after spending a night in Tilad Do, we started walking towards Shingra Koma, which was our first camp site. I was being very careful and learning how to walk without falling. We were using our gum boots and it was so difficult to walk without lifting our feet to avoid slipping!
In an hour or so we got used to walking on the ice successfully. It was unbelievably serene and beautiful all around. We all were very lucky to witness something like this, pure nature, wonder of the motherland, ultra freezing temperatures, crystal clear ice beneath us with dry and arid landscapes around!
We took approx. 4 hours to reach our first camp site and we're happy that we really made a good progress to reach our first camp site without realising that it would be freaking tough doing nothing at the campsite for the whole evening in inhuman temperatures 😀
One of our friends started playing football with locals on the frozen ice. Now, this is something so risky and one has to be careful. For locals and guides that's what they did whole of their life, playing and enjoying on the ice sheet without falling. They are experts in this and know the act of balancing on the ice bed! But for newbies like us, though it seems so much fun playing or running or skating on the ice sheet, if you loose your control you may end up hurting yourself, and mind it when I say hurting, it's hurting bad, that too in freezing temperatures which compounds the problem further!
And that is what exactly happened, he fell and had a bad cut just a shy of his eyelid. It bled, we were in a panic situation for a while, however than helped him with the first aid to ensure he feels ok. Fortunately he was a tough person, and even though it was quiet a wound he decided to move ahead with the trek.
The nights are really crazy on the chadar, freezing cold!!! Even though we were using 2 sleeping bags each, going out to pee was the biggest issue. Once you get cold, it takes ages to normalise and get into sleeping mode again!
The next day we started walking towards Tibb cave our next stop. We all were getting comfortable and were walking at a faster pace, so instead of taking a break at Tibb cave, we decided to have a quick snack at Tibb cave and walk further upto Nerak and come back to Tibb for the night. That would basically save us a day and moreover none of us wanted to sit ideal at the campsite for a long and freezing evening!
It was a good decision I would say, apart from the last part wherein we had to walk in the dark on our way back as we were a bit late! It was both fun and a bit risky to walk in the night as you have to be very careful in navigating the path ensuring you don't fall in the gushing river!
The last part to Nerak was walking up a hill and down to reach the frozen waterfall but that is must! That waterfall is enormous and out of the world! I was wondering what a paradise it would be for ice climbers!!
Next two days we walked back to the base, enjoying the views around along with walking on the ice sheet. The days were pretty clear with sun shining making the whole experience much better, so we were lucky in that sense
When I was there in Jan 2018, I see they were building a road along with the chadar and heard that the trek is going to be closed in few years time, which is in a way disappointing but guess much needed to get a easier access for the villages on the other side. They still have to walk whole chadar to collect their basic needs in the absence of a road at the moment!
So that's all about my experience of Chadar Trek, again another once in a lifetime experience ☺️.
I haven't talked lot about in words on the beauty of what I saw, as it is goes beyond my imagination. So, please enjoy the pics instead, which will give you a feel of how amazing it was ☺️