The beautiful islands of Maldives surrounded by turquoise waters have been a natural choice for Indian travelers this pandemic. Maldives offers visa on arrival, does not mandate vaccination and since the resorts are spread over an island, it makes physical distancing easier.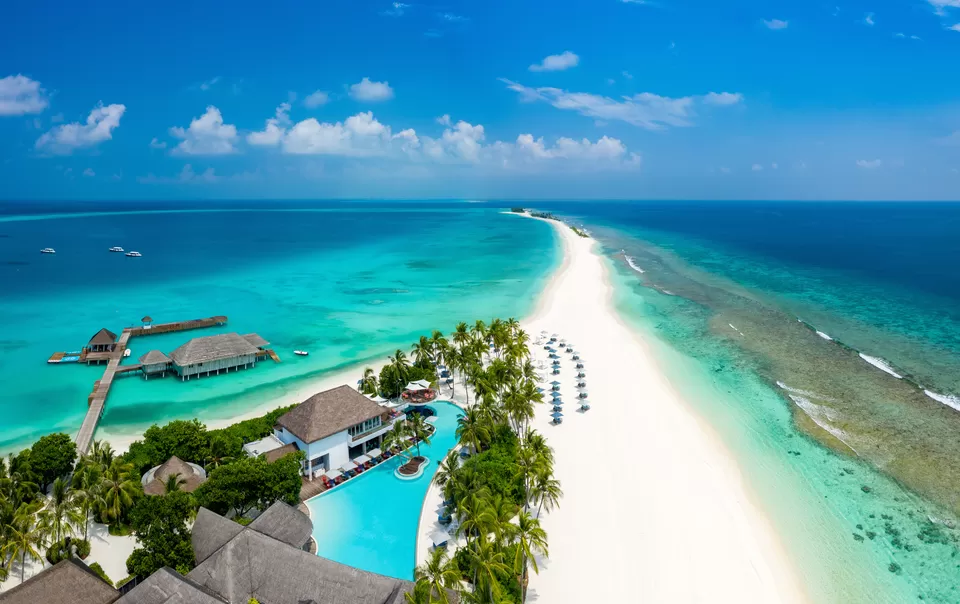 So when the second wave subsided and Maldives reopened for Indians, welcoming them with open arms, I decided to hop on the short four-hour flight to the Maldives.
While I wanted to experience luxury at its best, I also wanted a resort that took as much care of young guests as of adults, didn't have stiff idea about luxury and had ample experiences to keep us engaged on a week-long holiday. Finolhu Baa Atoll, a luxury chic resort, located at the Baa Atoll, checked all these boxes and in fact exceeded our expectations. The location is of course a huge draw as Baa Atoll, for its unique geographical location has been declared a biosphere reserve by UNESCO.
A 30-minute scenic seaplane ride from the Male Airport (Velana International Airport) and we reached our luxurious abode- Finolhu Baa Atoll.
Finolhu offers 125 stylish beachfront and overwater villas. More than half come with a private pool.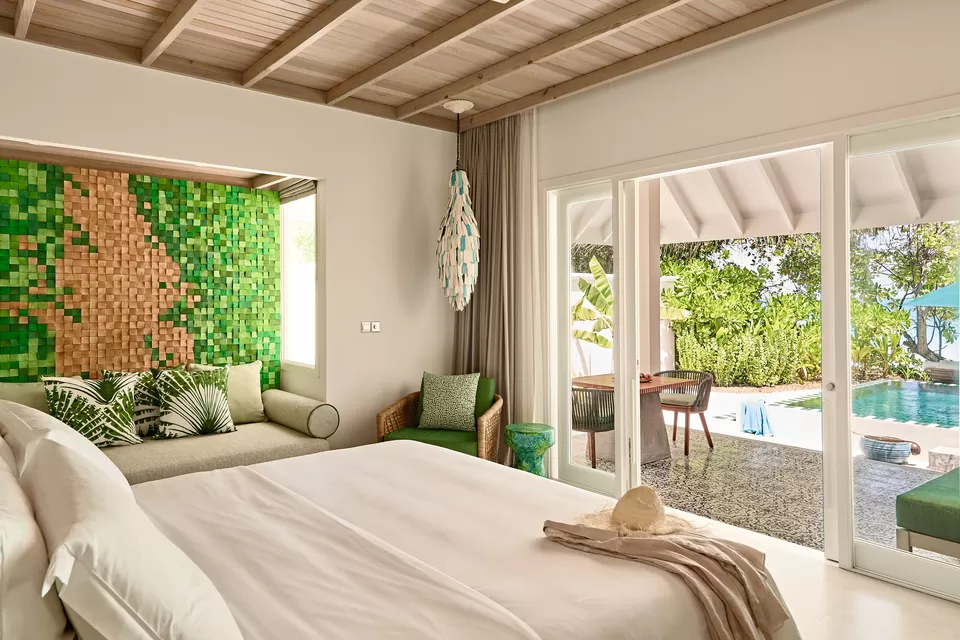 We did a split stay and spent few days at the beach pool villa and later shifted to an expansive water villa with pool. All rooms sport a contemporary design and have thoughtfully done amenities making your stay pleasant and convenient. Finolhu's luxury is understated and the design just naturally blends with the coral landscape of the atoll.
Our beach villa, on one hand, had luxurious furnishings and on the other open outdoor shower, natural light coming in and a private stretch of the beach. It offered all modern amenities and at the same time let us indulge in the natural beauty of the island.
The ocean villa with a huge deck and infinity plunge pool was exactly what holiday dreams are made of.
Besides two-bedroom beach and water villas, Finolhu also features two-bedroom Rockstar Villa that is a hit among celebs. Rockstar Villa is located at the end of the wooden walkaway, has spectacular sunset and sunrise views and if you check into a Rockstar Villa you get a private buggy too. It is one of the most luxurious and stylish ways of doing Maldives.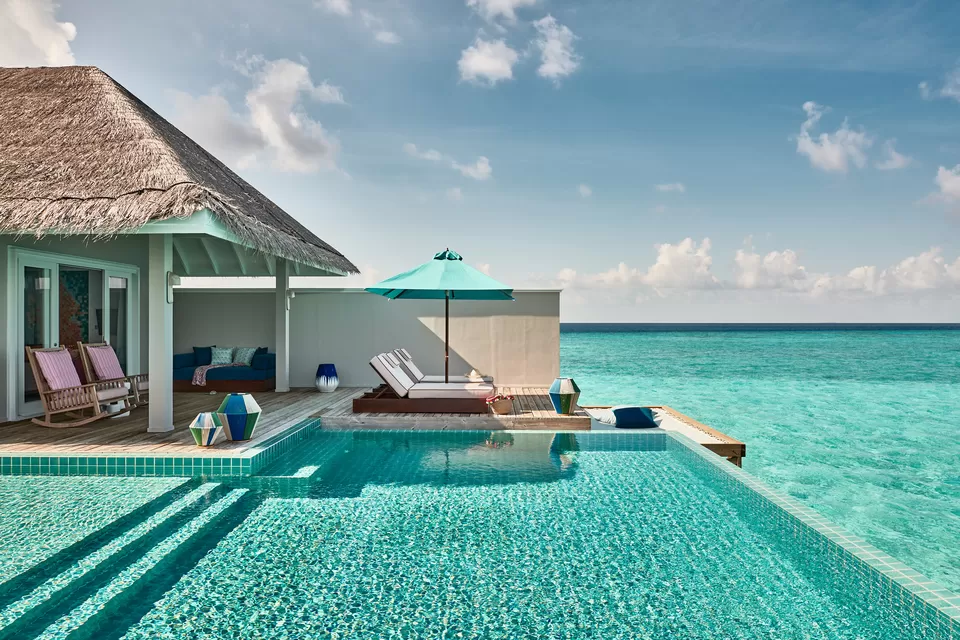 Finolhu Baa Atoll is an epicurean's delight, with three speciality restaurants and all-day dining - Beach Kitchen. Each restaurant, along with scrumptious food, offers a dining setting that would help you create great memories. There is Arabian Grill, which offers the best of Middle Eastern and African cuisine. It has both- a chic looking indoor dining space and an al-fresco area in the sand.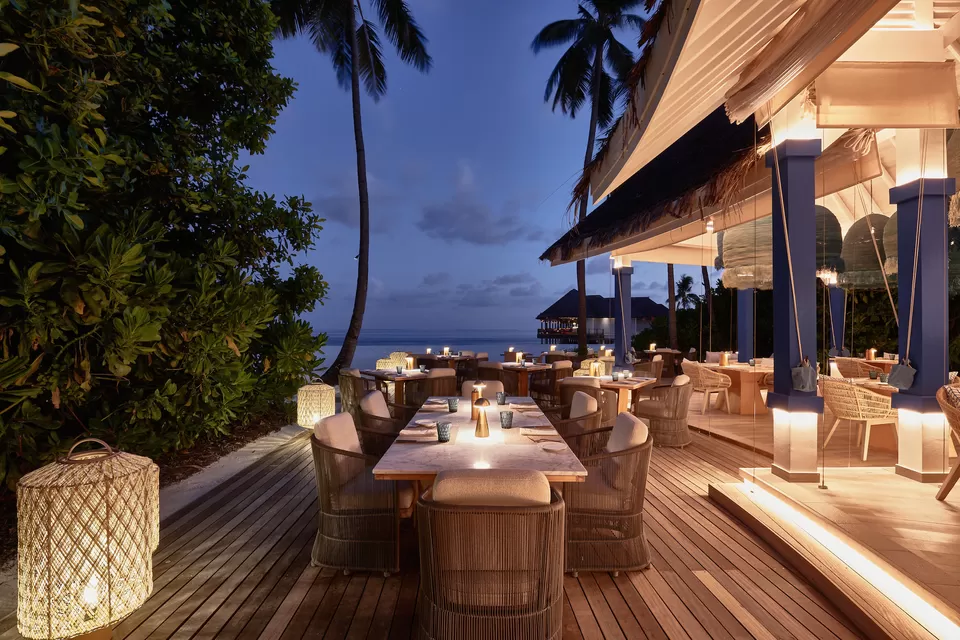 Kanusan, the Japanese restaurant, is a short walk away standing on stilts in the ocean. The sound of the waves makes for a perfect background score as you gobble up perfectly rolled Sushi or pick your lobster for the night.
You are definitely spoiled for choice when it comes to dining experiences at Finolhu Baa Atoll. But you mustn't miss a meal at Crab Shack, one of the best restaurants in Maldives. Located on a sandbank, which is a five-minute boat ride from the island or a twenty-minute leisurely walk, Crab Shack's location is dreamy and food lip-smacking. Once a week Crab Shack also hosts the white party, another experience you shouldn't miss. It is at the White Party I realized how good the Rose Sangria tastes and that the staff at Finolhu really knows how to ensure that their guests are having a good time.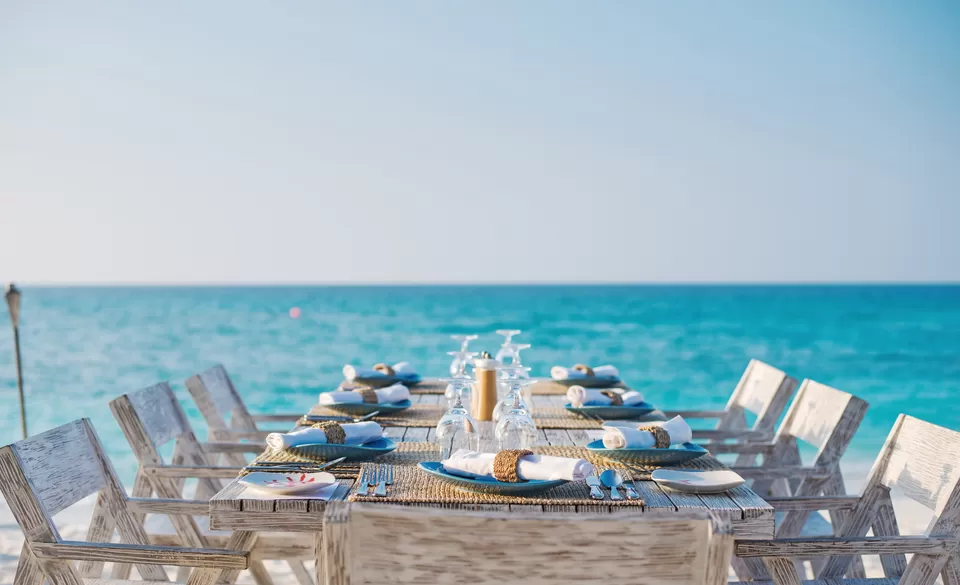 While the service at Finolhu is top-notch, the vibe of the resort is relaxed.
There are ample activities to choose from their offerings of motorized and non-motorized activities. Baa Atoll is one of the best atolls to experience marine life, making Finolhu ideal for diving and snorkelling.
Finolhu features spectacular nights around the pool with fire dancers, DJs, acrobats and other artists. Unlike other resorts, guests don't feel the need to retire after dinner because of fun-filled nights around the pool. Maldives is usually a day vacationer's paradise but Finolhu has changed the order.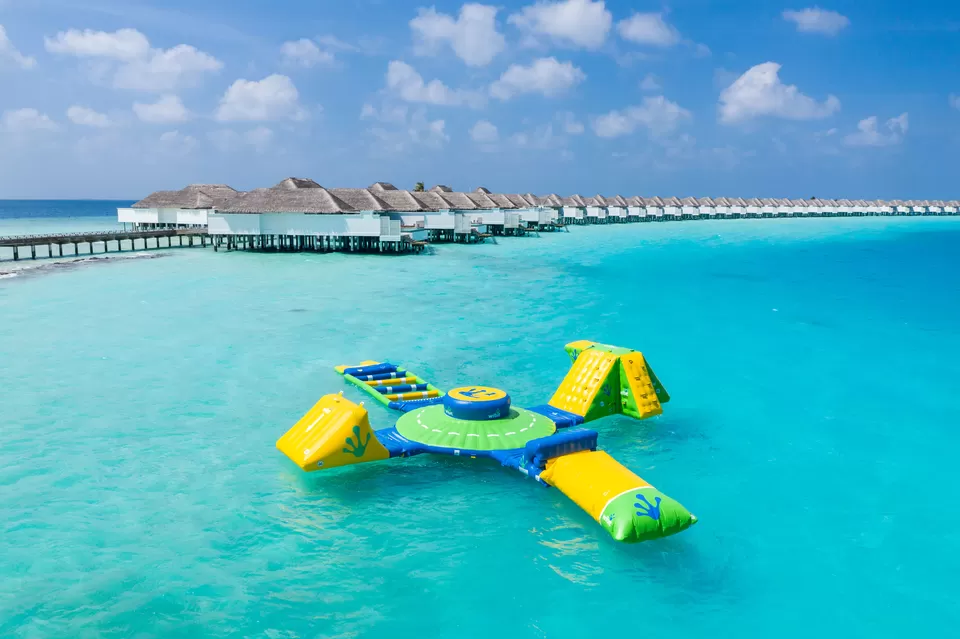 There is something to keep everyone engaged at the resort: an art studio, a concept gym, a beach bar with sheesha and for those seeking rejuvenation a tranquil spa retreat- Felhi Spa. The resort focuses on the wellness of its guests so you have a variety of therapies at the spa, tennis court and a healthy menu to choose from at the breakfast buffet. The smoothie bowls they did for breakfast were so tasty, that you would never want to go back to unhealthy breakfast options back again. Some holidays can change you.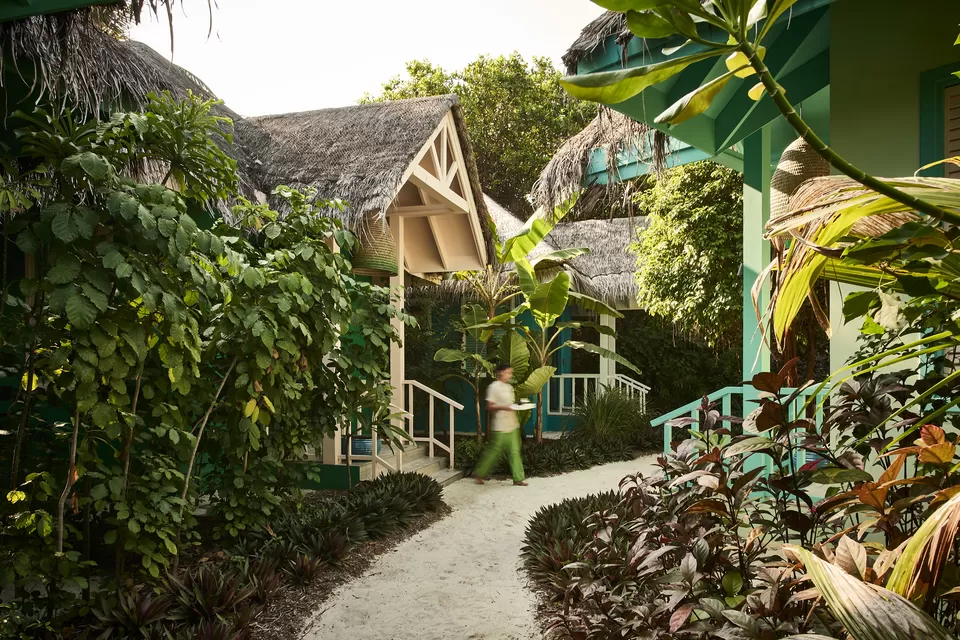 What made my holiday perfect was the kids club- Oceaners Club that not only offered a spacious play area and cool water park to kids, but a thoughtfully curated itinerary to keep little explorers busy. From treasure hunts to kite flying on the beach, from cocktail making to pizza baking, my kid loved his Finolhu experience and had so many memories to take back. Hotels that pay extra attention to kids are my favourite type of hotels.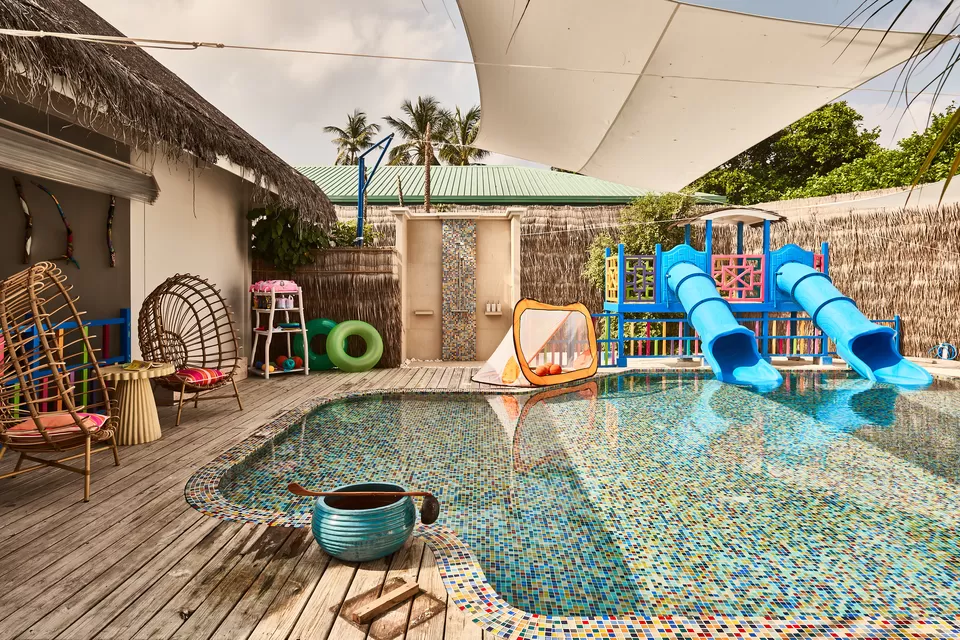 You might want to think, you are already living in a bubble at Finolhu, till you find out about their Beach Bubble- a unique stay concept. Looking like a human-sized snow globe, the Beach Bubble Tent at Finolhu Maldives is a bubble-shaped, transparent, inflatable tent that encloses a luxurious hotel room with a wooden floor and a double bed.As a piece of architecture, it was enough to blow our mind. But there is more to this bubble tent.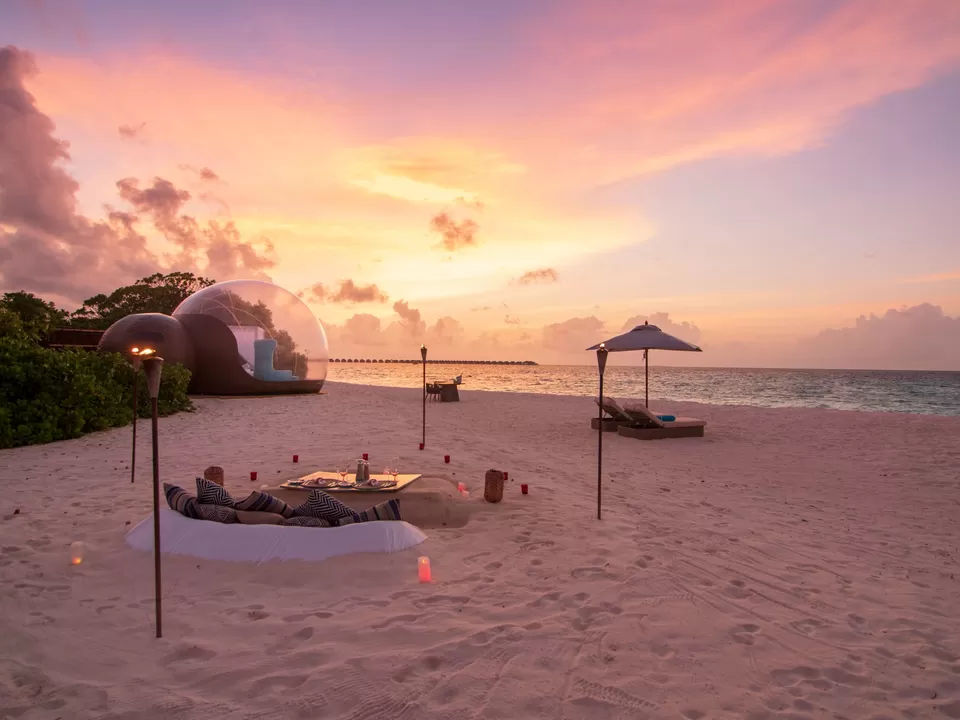 The first of its kind beach bubble is located on a secluded sandbank and is perfect for an incredibly romantic, one-night experience under the stars in Maldives. Private yes, but there is a butler at your beck and call. Enjoy bar be cue on the beach, star gazing and wake up to a sunrise, it is better than any fairy tale!
Finolhu's fresh spin on luxury to lure a new breed of travellers makes it a perfect stay option.