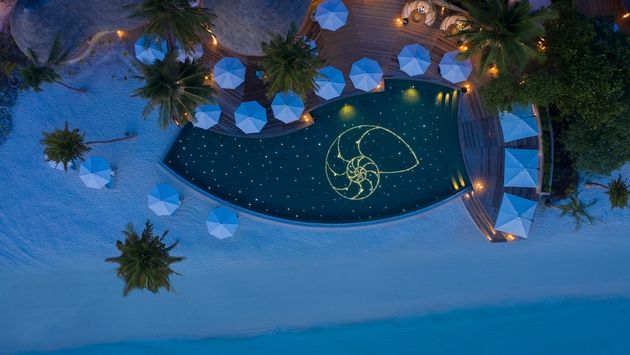 With 1,190 coral islands to its archipelago, Maldives is one of the most sought exotic destinations Worldwide. 202 islands are inhabited, and 87 of them are filled with tourist resorts. Most of the resorts take up their own island, giving you plenty of beach and sand to enjoy. The very new ultra luxurious addition in this group is 'The Nautilas Maldives' which was officially opened mid of this February 2019.
This resort offers 26 beach and ocean houses on the island, each a personal sanctum with its own separate living room and private pool, infusing the comforts of home with a bohemian whimsy that invites you into the barefoot life at one of the top resorts in the Maldives.
Some of the activities available to travelers include trips to world-renowned Hanifaru Bay to swim amongst manta rays; diving on iridescent coral reefs; exploring remote sandbanks and deserted islands; or just cruising the ocean on a custom-built yacht.
Built in Thiladhoo Island in Baa Atoll, The Nautilus Maldives offers modern bohemian style and absolute freedom, including no rules, no dress codes, no set restaurant hours and no fixed menu choices. The island paradise is trying to make travelers forget about time itself and enjoy their stay thoroughly.
The first guests to arrive at the resort complex were greeted with champagne, a traditional Maldivian drumming Bodu Beru and a ribbon cutting ceremony, with the highlight being the first steps on the island by guests.
Varieties of Stays:-
Beach houses:
Nine Elegant beach houses with an oval bedroom and adjoining living room opens up to a wide private sundeck, sheltered by manicured gardens, overlooking the beach. The sundeck extends to a private pool and an outdoor garden shower lets you bathe under tropical skies.
Ocean House:-
Here sundeck reaches out to the horizon, with steps that lead you down to the lagoon, while your own private infinity pool blends with the ocean's blues.
Beach Residencies:-
Every residence here features curved walls and living spaces that recall the organic form of the nautilus shell, with hand-picked décor infusing each space with new bohemian charm. A sparkling private pool and a sun-drenched king bedroom with breath-taking beach and ocean views welcomes guests here.
Two-Bedroom Beach Residence:-
The Nautilus offers two exquisite duplex two-bedroom Beach Residences that are the perfect beach home for family or friends. With one bedroom and living areas downstairs – including living room, dining room and powder room, and a spacious master bedroom upstairs, it ensures indulgent privacy and escape.
The Nautilus Retreat:-
This two-bedroom over water residence is a haven of refined bohemian lifestyle and a destination of true retreat at Hanifaru Bay resort.
The Nautilus Mansion:-
This is a signature feature on this island resort and is located in a spectacular spot on the beach, with custom-made furnishings created with hand-selected materials.
Activities you can indulge in:-
Diving, Snorkelling, Spa, Yoga, and Excursions. You can also have a luxurious wedding here.
Dining:-
Totally there are 4 well maintained Dining places here.
Zeytoun Lounge and Restaurant:
Savour Mediterranean Middle Eastern flavours – pure olive oils from the Aegean, freshly baked crusty breads, aromatic Turkish teas here.
Ocaso Restaurant:
The grill embarks on a nightly journey from Latin America to the reaches of North Asia, specialising in Japanese, Mexican and Peruvian here.
Thyme and Naiboli are other two restaurants to savour food aside beaches here.