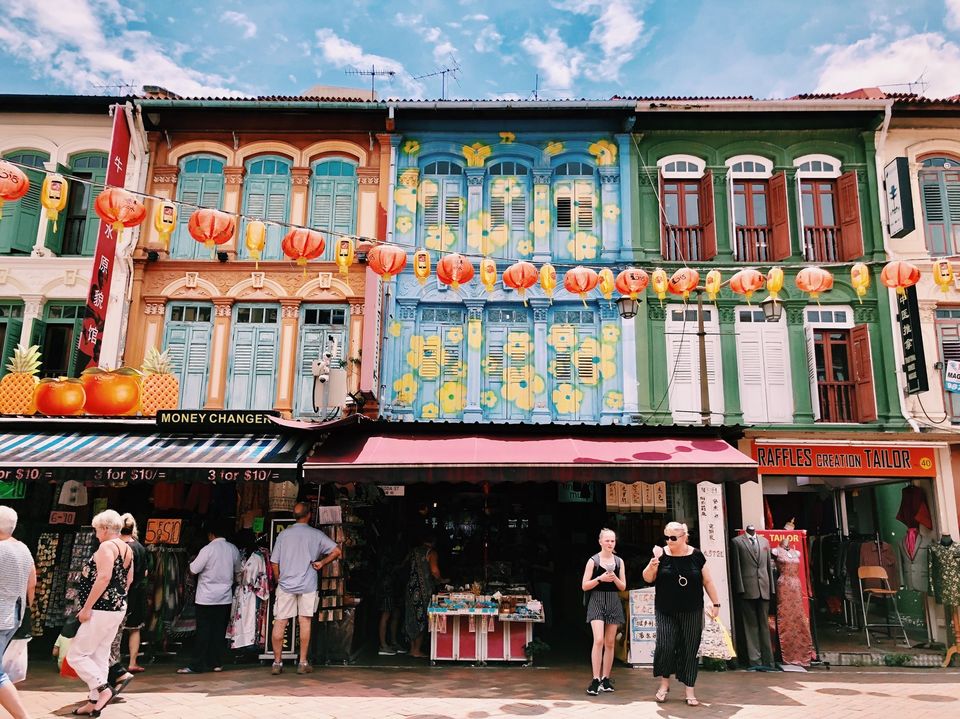 This is not going to be an exhaustive list of all the places to get cheap food in Singapore. But this is going to be a list you'll want to refer to if you're a foodie travelling to Singapore.
The island-country of Singapore in Southeast Asia is heaven for obsessive foodies and is known for gourmet treats available on hawker carts. The food served draws inspiration from Malay, Chinese and Indian food styles and is easily found in major parts of the city-state.
Check out this cool web-series to know more about all unbelievably cheap foods in Singapore:
The culture of street food in Singapore started in the 1800s when people were looking for employment opportunities. By the 1970s, the number of street food peddlers had increased to an extent that the government introduced special markets and complexes with permanent food stalls for them. Today, it works like a food court, where you buy a dish from any stall and sit in a common area to eat it.
But if you are here with limited time, how do you pick from the 6,000 street hawker stalls in Singapore? Luckily, I have done the work for you. Find below some of the best foods in Singapore, each specialising in an item that is amongst the favourites of city dwellers.
This modest street food stall created history in 2016 by becoming one of the two hawker carts in the world to be awarded a Michelin star. Started in the 1930s on Hill Street, the stall moved to Crawford Lane in 2005, where it is now run by Tang Chay Seng. The signature dish is the bak chor mee (minced pork noodles), which is made with quality noodles, fresh pork, vegetables, and a distinctly-flavoured sauce and soup that will leave you with a delicious aftertaste for hours. Be warned though that the queues are long at this stall (almost one to two hours long), but it is well worth waiting for.
Cost for two: Rs 400 to 700
Timings and location: 9.30 am to 9 pm (closed on Monday); Block 466 Crawford Lane, Tai Hwa Eating House, #01-12.
Contact: +65 6292 7477
By the looks of it, Tong Ah Eating House is nothing special. The setup is painstakingly simple, and the cutlery regular. You can choose to sit outside along a five-foot path or inside, where food is served on traditional round tables. But the food is where this eatery shines. Go here for breakfast and have the iconic kaya toast, a unique offering of thin toasted bread with a dense jam concoction made of egg, sugar and coconut. This along with some half-boiled eggs drizzled with black sauce and a cup of kopi (coffee) to wash it all down.
Cost for two: Rs 400 to 600
Timings and location: 7.00 am to 9.30 pm; 35 Keong Saik Road
Contact: +65 6223 5083
First started in 1958, Jian Bo Shui Kueh was a pushcart that served only one dish. Today, there are 16 outlets of this eatery in shopping malls and coffee shops, and they are all Michelin-recommended. The standout dish is still chwee kueh (steamed rice cakes with a topping of preserved radish and chilli), but now they also serve steamed buns, png kueh (rice dumplings) and nyonya dumplings, all of which serve as great vegetarian snacks. To keep up with the new-age of health conscious customers, the owner has tweaked the traditional recipe to use vegetable oil in place of pork lard. The secret sauce, however, still tastes as good as ever.
Cost for two: Rs 200 to 380
Timings and location: 7.00 am to 9.00 pm; Tiong Bahru Market & Food Centre, 30 Seng Poh Road #02-05
This 60-year-old stall in Singapore is a favourite with both tourists and locals. Sungei Road Laksa serves up only one dish, but it does it very well. Get in line for a steaming bowl of laksa, which is a Malay-Chinese food item with thick rice vermicelli, topped with tenderly cooked cockles, fish cakes and bean sprouts in a spicy, coconut broth. Unlike at other restaurants, the laksa here is cooked on charcoal to bring out the depth in the flavours. If you are heading here, be prepared for two things: bold flavours and long queues.
Cost for two: Rs 290
Timings and location: 9.30 am to 5.30 pm (closed on Wednesday); Blk 27 Jalan Berseh #01-100
Put Beancurd City on your breakfast itinerary in Singapore. Why? Because it serves one of the best bean curds (made with soy beans) available in the city, along with a fried dough stick to dip in it and an egg tart to enhance the flavour. If you haven't had bean curd before, you are sure to enjoy its silky, warm texture that goes perfectly with the chewy dough sticks. It makes for a delicious and simple start to the day.
Cost for two: Rs 360
Timings and location: 12.oo pm to 10.oo pm; 133 Jalan Besar
Contact: +65 6296 905
If you're looking for a healthy meal, Supefudo should be your pick. This salad bar offers unique salads that are as tasty as they are nutritious. For the base you can choose from spinach, sweet potato, brown rice or sourdough, and this is topped with sous vide meat, which ranges from beef, chicken prawn, lamb and others along with a choice of vegetables. There are three portion sizes available – Super Balanced, Protein Rich and Petit; you can choose the one that matches your appetite.
Cost for two: Rs 400 to 900
Timings and location: 10.00 am to 10.00 pm; 15 Lorong Liput, Holland Village
Singaporeans love Hainanese chicken rice, and if you are in this city-state then you shouldn't miss it either. For the dish, chicken is poached and the stock from it is used to cook rice, along with ginger and garlic. The resulting rice preparation is oily and flavourful and makes for an excellent meal or snack. There are many many sellers of chicken rice in Singapore, and Tian Tian Hainanese Chicken Rice is one of the best. Gordon Ramsay and Anthony Bourdain are fans, and once you sample it, you will be too.
Cost for two: Rs 340
Timings and location: 11.00 am to 8.00 pm (closed on Monday); Maxwell Food Centre #01-10/11, 1 Kadayanallur Street
Contact: +65 9691 4852
What are your favourite foods in Singapore? Make your own list and give the Tripoto community new fodder to chew on.
Get travel inspiration from us daily! Save our number and send a Whatsapp message on 9599147110 to begin!
Frequent Searches Leading To This Page:-
food in singapore cost, food in singapore for indian, food and drinks in singapore