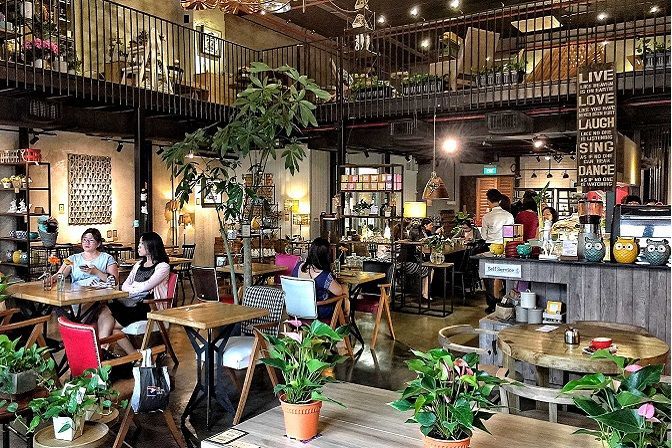 I am a big time foodie and the first thing that excites me about travelling to a new place is their food. When I was first planning a trip to Singapore, naturally this is the area I focused on – and I was delighted by the results. Being a multicultural place, the food at restaurants in Singapore was deliciously diverse and I fell love instantly in love with it.
But since mom had told me to not eat non-vegetarian on Tuesdays and Thursdays, I had to oblige (reluctantly) and look for vegetarian options as well. Surprisingly, I found quite a few and no, they weren't all serving plates of leafy, green veggies.
So whether you want to do this for your health, love for animals, or for religious reasons, you will find a plethora of options here.

I'm listing down some of my favourite restaurants in Singapore:
Original Sin Mediterranean Restaurant
Original Sin is the only place in Singapore serving Mediterranean vegetarian food. It is run by an Italian-Australian chef and is named after a painting in the Sistine Chapel in Rome! Pretty cool, right? The best part about this restaurant is their menu, obviously. Such a unique spread! And they use completely fresh and seasonal ingredients. They also have a great wine collection to boot. The food is so good that I didn't even end up noticing that there was no meat on my plate. I won't mind saying it was my favourite of all restaurants in Singapore.
Cuisine: Mediterranean and Italian
Standout dishes: Mezze platter, tzatziki, bosco mista burger, lasagne, tiramisu
Timings and location: 11.30am-2.15pm, 6.00pm-10pm; Chip Bee Gardens, 43 Jalan Merah Saga
Contact: +65 6475 5605
Real Food
If you're looking for a healthy place to dine at, Real Food is where you should go. Set up by three friends working on the concept of knowing what goes on to your plate and into your food, Real Food has detailed labels for each dish. All the food is made absolutely fresh. How often do you get that in a restaurant? And I loved the ambience as much as I loved the food. It has a very clean and classy look and you can end up sitting here for hours.
Cuisine: Mediterranean and Italian
Standout dishes: Beet millet burger, brown rice set served with different side dishes, steamed dumplings, french beans and chestnuts, cold-pressed juice
Timings and location: 10am to 9pm; 6 Eu Tong Sen Street
Contact: +65 6224 4492
Pollen
Pollen is one of the high-end restaurants in Singapore that offers some of the finest European dishes. While it serves non-vegetarian food as well, it's vegetarian menu is just amazing. They too focus on natural ingredients. The main cuisine is a mix of French and Southeast Asian. Executive chef Steve Allen, who heads the place, focuses on simple dishes. But not for a second did I feel like I wasn't eating something new. Mind blowing, really.
Cuisine: French, European
Standout dishes: Chef Allen's seven-course dinner tasting menu, beetroot risotto, kale salad, Josper baked globe and Jerusalem artichokes with pear, parmesan, and basil
Timings and location: 12pm to 3pm and 6pm to 10pm (closed on Tuesdays); Flower Dome, Gardens by the Bay
Contact: +65 6604 9988
VeganBurg
VeganBurg calls itself the world's first vegan burger joint, only the burgers are nutritious and environmentally-friendly instead of being classified as "junk food". And if nobody had told me I was eating a vegan patty, I would never have known. All patties are GMO-free and pan fried, the bun is full of fibre and the produce is selected fresh everyday. Their vegan bacon tastes better than original bacon (never thought I would say this!). I just loved how they put such an interesting spin on plant-based meals. And while I am not turning vegan anytime soon, I can definitely increase my plant intake if I keep getting food like this.
Cuisine: Burgers
Standout dishes: Smoky BBQ burger, char-grilled satay, cracked mayo, creamy shrooms, tangy tartar, mustang relish and Hawaiian teriyaki, avocado beetroot burger
Timings and location: 11.30am to 10pm (Mon-Sat), and 10.30am to 10pm (Sundays); Jalan Eunos, Kembangan
Contact: +65 68446868
Whole Earth
Whole Earth is the only vegetarian restaurant in Singapore serving Peranakan-Thai cuisine. This Michelin Star restaurant whips up an extensive and interesting menu that is also popular for being free of MSG. They are extremely vegan-friendly too.
Cuisine: Thai and Peranakan
Standout dishes: Sambal king, olive rice, handmade yam treasure ring, XO rice, Assam pedas vegetables, crispy golden oats, Sambal kang kong
Timings and location: 11.30am to 3pm and 5.30pm to 10pm; 76 Peck Seah Street
Contact: +65 6221 6583
Madras New Woodlands Restaurant
You can't have a list of vegetarian restaurants without an Indian eatery making its way on there. Established in 1983, Madras New Woodlands Restaurant is among the oldest and most well-established Indian restaurants in Singapore. I just wanted to know how south Indian food would taste in a restaurant that is not in India! I was so surprised. It was quite authentic and very tasty. Appam, dosa and vada were my favourites. If you're in ever in Singapore and craving the taste of something that reminds you of home, then do come to this place.
Cuisine: South Indian
Standout dishes: Appam, coffee, mango lassi, masala dosa, cheese dosa, masala tea, medu vada
Timings and location: 7.30am to 11pm; 14 Upper Dickson Road
Contact: +65 6221 6583
Brownice Italian Vegan Ice Cream & Kitchen
Pegged primarily as an ice-cream parlour offering the choicest selection of vegan ice-creams in Singapore, Brownice also has some crazy Italian dishes. In fact I thought that their selection was the coolest. A lot of people come here for pizza, pasta and their coffee. If you're looking for hearty Italian meal with a dessert to end things on a sweet note, this is the place to be.
Cuisine: Italian, ice-cream
Standout dishes: Lasagna, bbq 'chicken' pizza, hazelnut shake, earl grey ice-cream
Timings and location: 12pm to 10pm; 53 East Coast Road
Contact: +65 63482295
Cafe Salivation
If you're looking for a quick bite or something to grab while you're on the go, Cafe Salivation is where you can get it. Serving an Indian-Western fusion of fast food such as pastas, mini-pizzas, sandwiches and burgers, it is a great vegetarian alternative to fast-food joints.
Cuisine: Indian-western fusion
Standout dishes: Fettuccine pesto, gratin a la verdure, lasagna with soya mince & spinach, spaghetti soya Bolognese, spinach and ricotta ravioli
Timings and location: 10am to 10.30pm; 75 Syed Alwi Road
Contact: +65 62981412
The Living Cafe
If there's a place that is synonymous with healthy in Singapore, it is The Living Cafe. With carefully selected organic produce and fresh ingredients, raw food is at the heart of their service at this restaurant. And if you want to take it one step further, they also offer health consultations, diet and detox plans.
Cuisine: Multi-cuisine
Standout dishes: Veggie delight pizza, classic Greek wrap, living salad, zucchini pesto pasta
Timings and location: 11am to 7pm (Mon-Thurs), 11am to 10pm (Fri), and 9am to 10pm (Sat-Sun); Bukit Timah Road
Contact: +65 64684482
This list was just the beginning. We've explored Singapore's food scene in depth through some of the most popular restaurants in Singapore. If you want to find out more about all the cool places we went to, stay tuned for an exclusive web series by Tripoto. Here, we will take you on a journey across Singapore, where we've explored not just their cuisine, but also their beautiful attractions, thrilling activities, and hottest hangout spots. It's a 7-part web series with each episode focusing on one aspect of this remarkable country. The one thing we can promise you is that it's unlike anything you've ever seen before. So, stay tuned and watch this space for more!
In association with Visit Singapore
Frequent Searches Leading To This Page:-
Indian restaurants in Singapore, list of restaurants in Singapore, Chinese restaurants in Singapore, where to eat in Singapore 2020, chain restaurants in Singapore