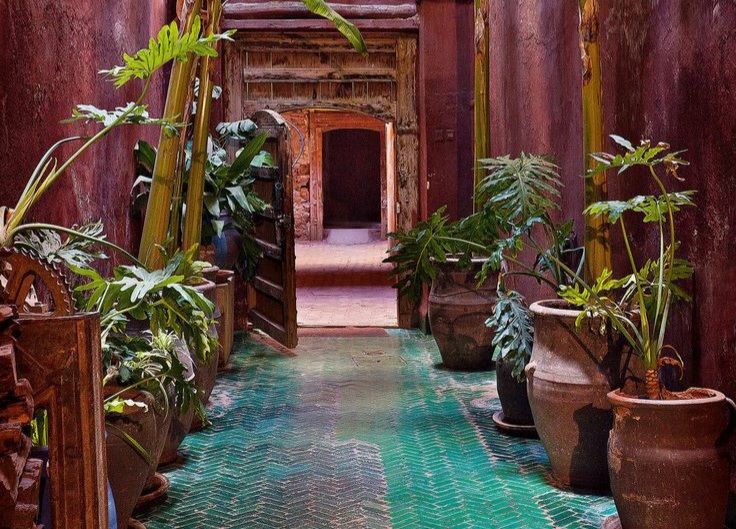 The Garden of Five Senses in Delhi is a paradise for nature lovers, away from the city centre.
It is an amalgamation of natural beauty and man-made art.
It is a park sprawling over 20 acres; built partly on rocky terrain and partly on a plain area.
This spectacular park has trees, flowery bushes and other plants. And you'll also come across water fountains and pools.
Different artworks and sculptures too, are found in the Garden of Five Senses Delhi.
The garden also has a food court and an amphitheatre for cultural programmes.
It hosts various other events; the annual flower show (in February) is worth seeing.
#Where is the Garden of Five Senses?
This 20-acre site is in Said-Ul-Azaib village, opposite Saket. It is close to the historic heritage area of Mehrauli where you can visit the towering world heritage monument Qutub Minar. You'll also find various art galleries, designer boutiques and lavish food joints.
#Why is it called the Garden of Five Senses?
The Garden of Five Senses evokes the five senses of the human body.
The contemporary artworks and rock-carved sculptures invite you to touch. The colours scattered around please the sight. The flowers trigger the sense of smell; the sounds stimulate hearing. And the food court excites the sense of taste.
The garden invites you to interact and explore. And the five senses are balanced to soothe you and help you relax while you're here.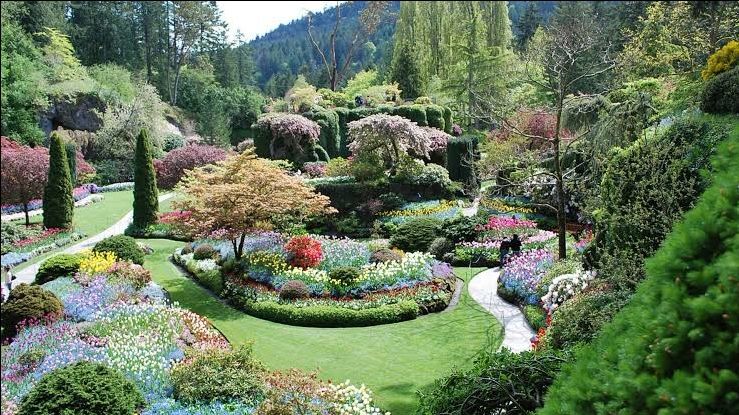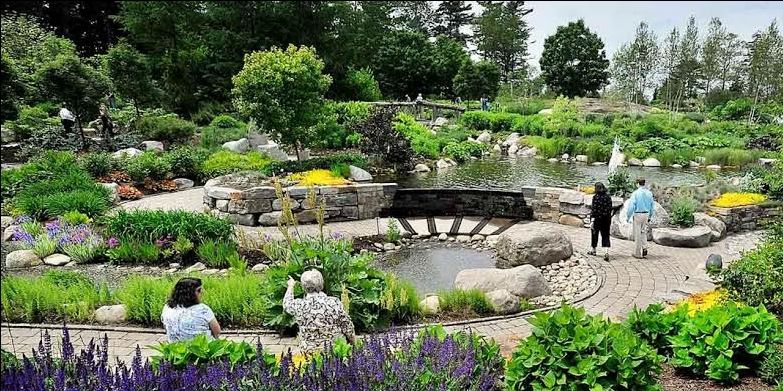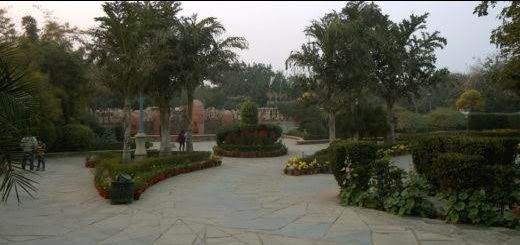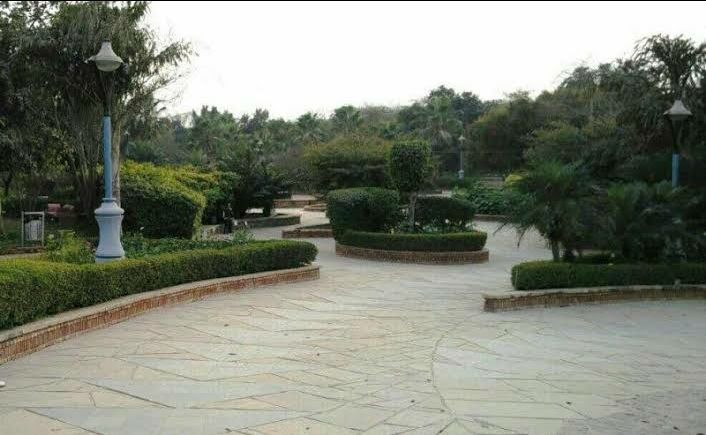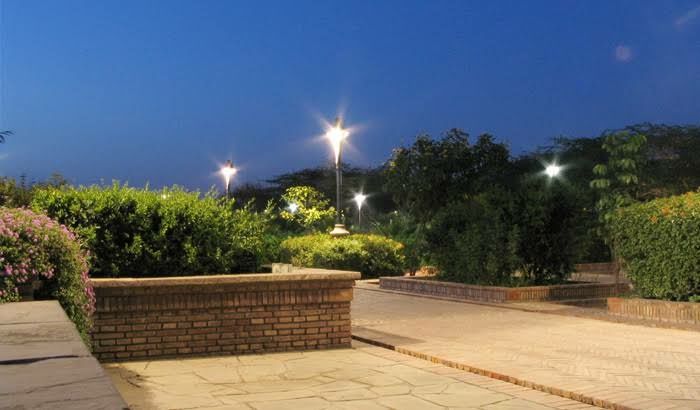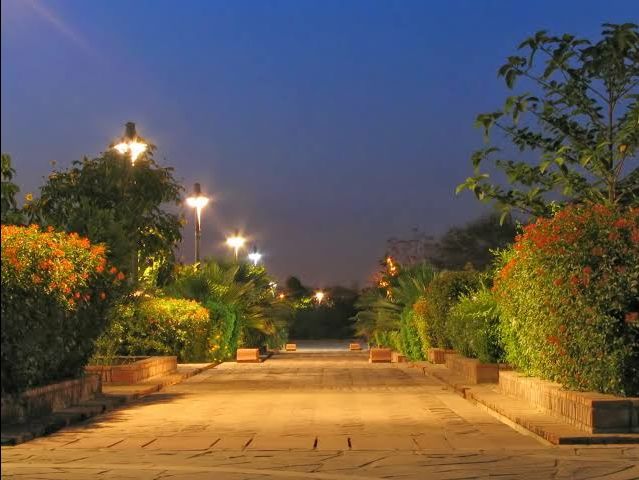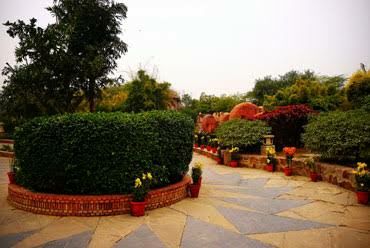 #History of Garden of Five Senses
Garden of Five Senses Mehrauli is designed by Pradeep Sachdeva, an architect from Delhi itself. The idea was to build a leisure space where people can interact and socialise. The park was developed by Delhi Tourism Transportation Development Corporation, and it took over three years to complete. It was opened in February 2003.
#Architecture of Garden of Five Senses
The Garden of Five Senses is divided into several sections.
A plaza with low walls separates this beautiful garden from the main road.
The entry gateway has stainless steel birds installed on slate-clad pillars. And the walls are built with sandstones by craftsmen from Rajasthan, in Mughal architectural style.
These sculptors also carved the huge elephants of stone, which you see as you enter the garden area.
A paved, spiral walkway leads you into the garden. And towards the right, you'll see Khas Bagh.
It is inspired from Mughal Gardens and it has lush green lawns dotted with vibrant flowery shrubs.
Small waterfalls forming a free-flowing stream of water and many water fountains are also here.
And as you move forward, you'll come across the food court and shopping plaza.
Only a few steps ahead you'll find various stone silhouettes, and then Neel Bagh.
It has a variety of colourful and fragrant flowers and a small pool of water lilies.
The Garden of Five Senses also has an open-air amphitheatre to organise shows, cultural events and art workshops.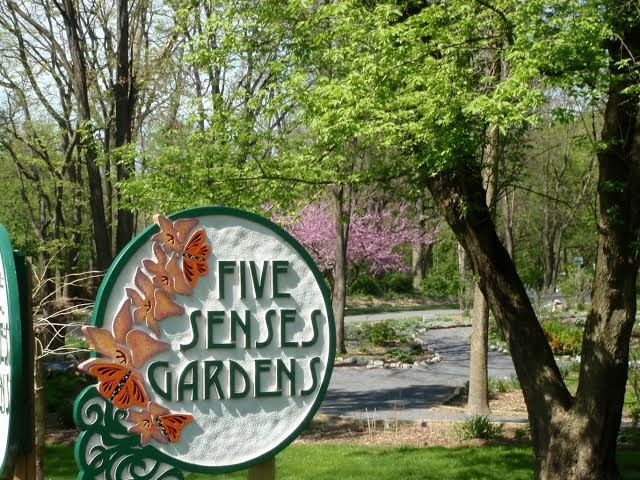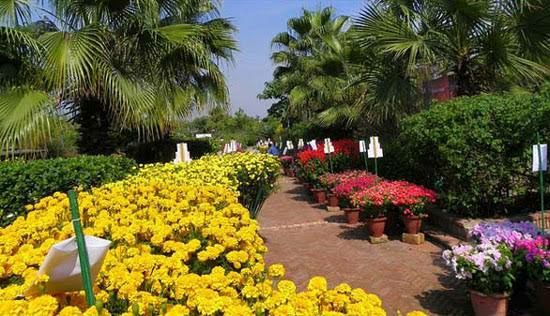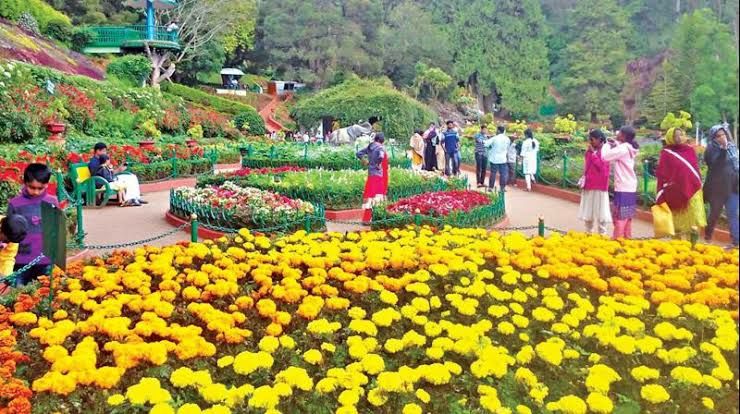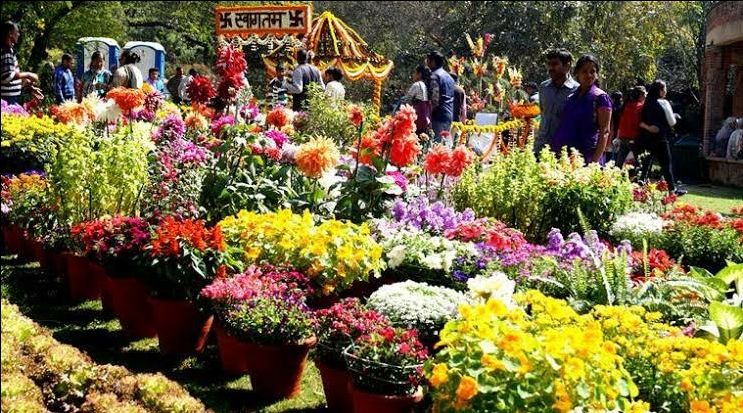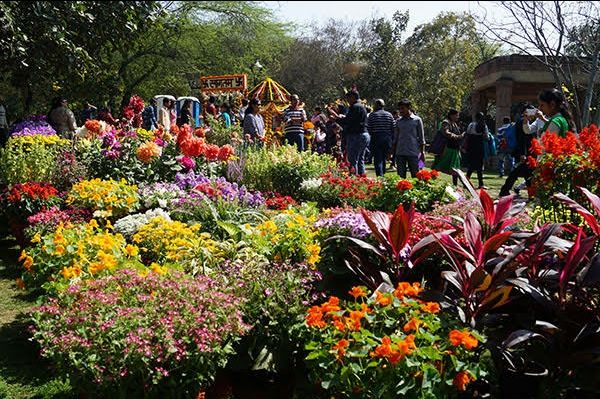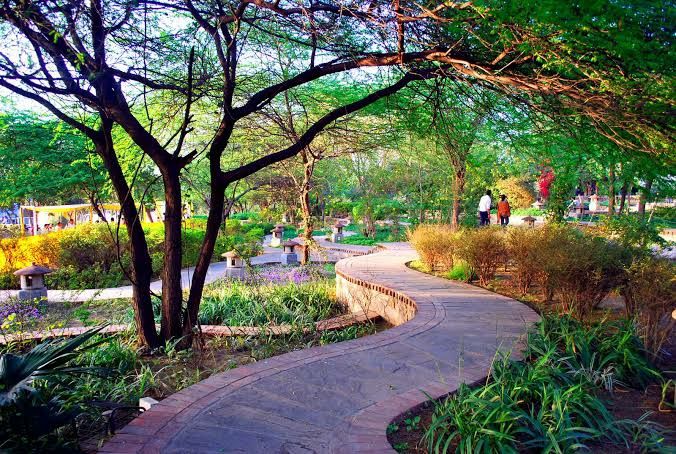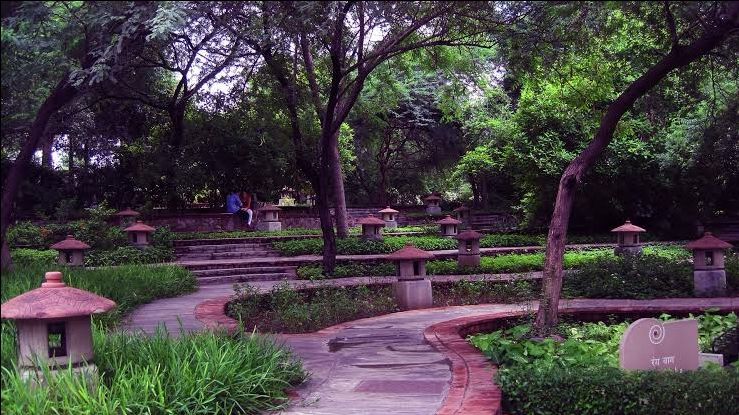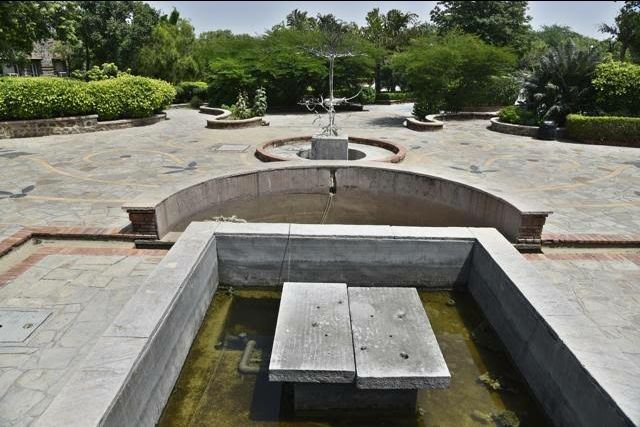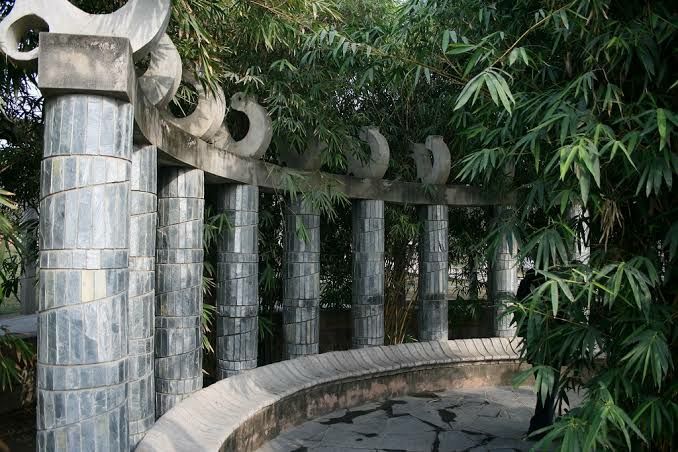 #Things to do at Garden of Five Senses
(1). Going for a nature walk –
The garden is perfect for long walks in the evening.
It has several sections with a variety of floral arrangements, water fountains and fragrant shrubs.
Khas Bagh is a formal garden with lush green lawns.
Water cascades down in the channels along the length, lined with vibrant
shrubs and trees. And then there is a series of fountains.
In Neel Bagh, you'll find climbing plants with varied colours and textures.
This section also has a pool full of water lilies. Garden of Five Senses has a colour garden too, with various flowering plants, and vegetation patches.
Over 200 varieties of medicinal plants, herbs, exotic trees, vegetable plants and other plant varieties are found in the garden.
Other natural attractions include a Court of Bamboo, a Court of Palm and a Court of Cacti.
(2). Exploring the sculptures – Garden of Five Senses has various contemporary artworks, sculptures and stonework on display. Stainless-steel birds on the gateway welcome you to this park. Next, you'll come across the elephants cut out of pink sandstone. You'll also find a fountain tree structure, a towering windchime structure and many terracotta works in the garden.
(3). Arranging a family picnic – The green lawns, shady trees and chirping birds make this garden a charming location for a fun-filled family picnic. You can play around with your kids on the lawns, click photographs and check delicacies available in the food court. You'll find a variety of snacks, fast food and beverages here. The garden also has a shopping plaza, where you can buy souvenirs and hand-made artistic items.
(4). Enjoying cultural events – The Garden of Five Senses is also a preferred spot for cultural events and shows. The gardens, architectural structures and fountains, all serve as a setup for plays and musical events. Apart from the scenic spots, there is a small amphitheatre too. It is an open-air setup, with stepped stone benches for the audience, surrounded by trees and other small plants.
(5). Attending the flower show – The garden hosts an annual flower festival towards the end of winters, around February-March. Various colourful flower designs and structures are present during the show, apart from the regular shrubs. And during this Garden of Five Senses flower show, many stalls, selling plants and seeds, are also there.
(6). Having dinner at Fio – Fio is a countryside-themed restaurant and bar, just near the entrance of the garden. It offers an array of Indian and Italian dishes. And it serves as a cosy spot to spend a satisfying dinner with your loved ones. Fio has indoor, as well as outdoor, seating arrangements. And with live music playing, a dinner here would be the perfect end of a hectic day.