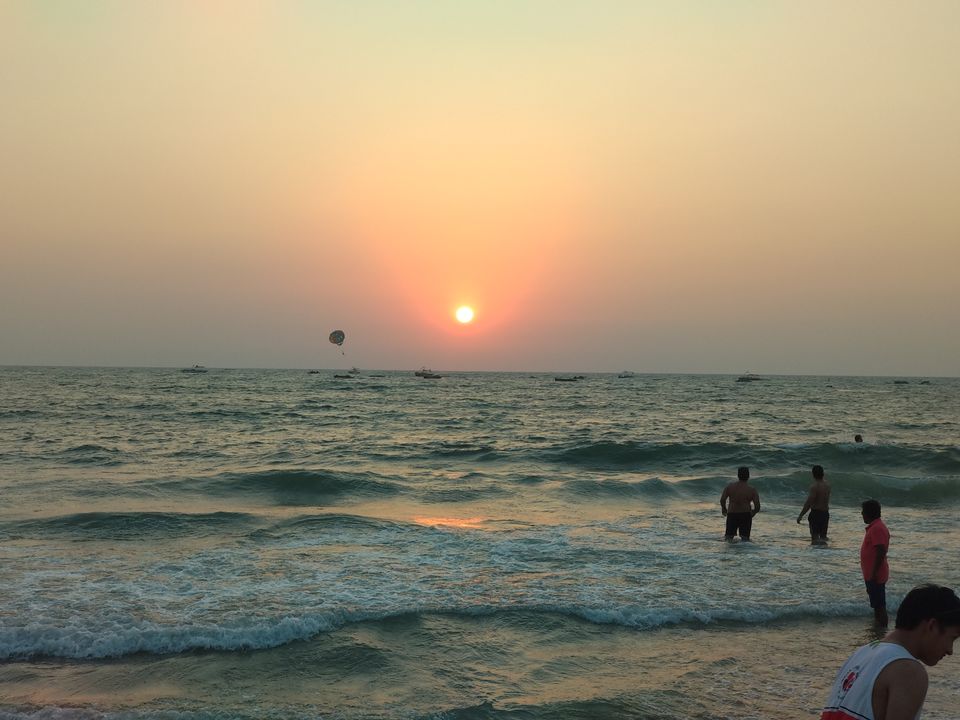 It all starts in college when this destination is all set in everyone's plan - "Paise Save Karlo, Goa Chalengy" (Save the money, we will visit Goa). Well the mentioned statement always ends with two words, "Agle Saal" (Next Year).
For me this Next Year got a full stop in January 2019 when I finally booked the tickets for Goa. Although, there was confusion between Goa and Andaman, but then settled with Goa. Who doesn't want to visit Goa, the era of cancelling the plan is ritual in every friend circle.
I know new places are coming up by most of the wanderers, offbeat places, discoveries and much more and destination like Goa and Manali are going down the lane, although Goa is still in demand but we can't say anything about future. Well, you have to do it anyway, because this place is must visit.
16th March'19, Me & my friend were all excited for Flight to Goa. Landed in Goa and first thing came to our mind was What will be the Temperature outside? And It was fine outside. We waited for my friends's friend, not long. She was having a flight from Bangalore. We all took a Cab from there to North Goa, Hotel.
Note: There are no OLA/UBER in Goa.
Reached there after about 1 hour and rested for a while. Got freshen up and as planned left the hotel in the evening as we were left with only half of the day. Before that we also rented Scooty, which is must and the only and best way to travel in Goa. We rented 2 Scooty's for two days and it costs us about 1400 Rs in total.
So, we started off with igniting our Activa and head on to a place we don't know. Actually we were hungry so, we had to find something to eat first. After we got some energy we head over to Calungute Beach as that was only nearby place to go before Arpora Market. I suggest don't use Google Maps there as sign boards are enough to solve your route.
Reaching Calungute Beach almost at dim light was not a good idea, although the place was lit up with good lights, shops on sides, loud music from restaurants, busy streets and beaches decorated with lights and candles for family's and couples. We parked out Scooty and headed towards the beach, stood there at sea shore for while feeling the water touching and going. Although nothing was visible in dark but light was enough to lit the place.
After Calungute we headed to Arpora Market which was about 15 to 20 min away. We drove till there and when we were inside of the Market we realized that this is not actual market. There was one more Saturday market just like this one 15 mins away. But we stayed there, we were not in energy to go further.
Arpora Market is basically, Goa's famous Saturday Market and its like a normal market where everything is available from clothes to antiques, toys to beauty products, food products also live music was being performed, different food stalls were sided. Well after enjoying there having dinner there itself, we came back to room with a Chilled Beer and slept for next day.
Starting your Day with cup of good tea is a sign of good day. We started riding towards more of north as the place is about 1 hour away and before we reached there my friend met with an accident. Yes, it was not so major but both of them got injections and proper dressing. Thanks to one the family there who helped us to take my friends to near by doctor. After about two 1.5 hours we reached Arambol Beach.
Reaching there I see a beautiful view, it was like I have visited some other country. The beach was totally clean, clear water, not much crowd, not much noise. Mostly you will see more of foreigners enjoying on shacks, bathing in sea water and people are just relaxing there. Beautiful shacks there where yo can sit and eat and the view is just literally relaxing so did we relaxed at one the cafe there and ate something as we were hungry, didn't had breakfast also.
After enjoying in Salt Water we headed towards to Sweet Water Lake walking only by the shore. It was about 15 mins walk from Arambol Beach and man what the lane was that.. beauty that we say. All shops owned by Indians and some by foreigners. Its like side market for all where you can shop as well as eat by the side at restaurants enjoying the beauty of the sea.
Then came the sweet water lake which is actually a fun part. Different from beach water which is salty, this lake was actually good and you know whats the best part, you can go in. Yes, the water level is not to high nor too low, you can just simply stand and enjoy the water. In between the water, my friend challenged me that we both have to put heads in water and collect the sand from our feet and by this we wanted to see who can bring the sand, but most importantly who can hold the breath in water. Well, I failed the first time.
Anyways after having fun there we went back, took our scooty's and head back towards next destination. Our plan was actually to visit Anjuna Beach, but we changed our plan and decided to go Baga Beach. We did this beacuse firstly we didn't have time to cover everything for that day as per plan and secondly, the first's thing the only reason. Well, like all other beaches, this was same but more of a loud one. There were not two or three but more that 5 shacks running music out loud. So we didn't actually danced there but most of it we sat on warm sand and enjoyed the beautiful sunset. While my friends got some urgent few minutes work to do I got some my time so, I v-logged and was just roaming on beach enjoying the view and by the time it was dark we went to TITO's lane.
TITO's Lane was exactly the way where we came to Baga. All Pubs and Restaurants, live music and etc.. are a part of this lane and actually it is the best one as I heard from everyone before coming here. We went to the famous TITO's restaurants ate some food, basically Italian as we were not so hungry and left from there. Also, our day ended with Beer as usual.
NOTE: We also surveyed for Scuba Diving in between the whole day, one person at Arambol we met told us all the schemes and one at TITO's.
Well our third starts with Check Out, no this is not the last day but we were moving to our other hotel in South Goa which was actually a bad decision. Now, we checked out of the north goa hotel and were heading to South Goa, after about 1.5 hours we reached out destination and we were so pissed because of the no man's land. I mean there people, but there was no crowd like north, all natures beauty all around.
Our hotel in South Goa was booked from GoIBIBO and as usual pictures were great but once again the location was silent and no sign of anyone or guard to check - in. We contacted customer care and we got to know that a new procedure is followed here for check-in process. As everything will be on WhatsApp and messages. We sent our ID proofs to the concerned person on the other side and exactly on check - in time we will receive a code which we have to put in on a giant lock hanging outside the door and after the lock is open, collect the keys from inside that giant lock and open the main lock at door. If you still don't understood watch my Day 3 Goa V-Log.
Anyways after everything we finally checked into hotel and got freshen up and then move out to check out for scooty nearby and by walking, we reached Utorda Beach. I am not going to say WOW because it was wonderful view on the other side. Clean blue water and peach sand was giving a perfect beach look. So, we enjoyed and went something to eat at near shack restaurant. We had Fried Rice and Kadhai Paneer with 1 Virgin Mohito, 2 Fruit Punch and all of that was good, not so bad but not worth the Bill.
Anyways after we had our Lunch we went further by walking asking for scooty again to everyone and then after some time we finally got the scooty so we immediately took it for 2 days, submitting the 2000 Rs security and rest of the amount as Rent per day plus 1 ltr Petrol each for both the scooty's.
We then headed to Benaulim Beach and round about 20 mins we reached there, will not talk about the beach now, the only difference was we got shells on this beach and by the time we were enjoying it was sunset, so we moved our asses and went somthing to eat there only. This time we took Chinese item and 1 Pineapple, 1 Banana Shake and 1 Orange Juice.
We left from there in 10 mins we reached Betalbatim Beach. The reason we came to this beach by the end of the day was that we actually saw on internet and also were finding the glowing tides beach. So, we found this was the beach and the whole process of glowing tides is called Bioluminescence. We sat on the enjoying the view and that beautiful evening, but we didn't saw any glowing tide and I don't know why. So, we ate Ice Cream and headed towards home. Had our dinner near to the Hotel only and went to room. Well, after all the tiredness we, had our beer and funny chit chat's. We then had a good sleep as we had to go to North Goa tomorrow.
And the Next Day begins not so energetic as we were not so much excited and still confused, because of previous day not very productive, also with the location as I tried finding tea in the morning but couldn't find any shops open even at 7:30 AM. And at the same time thinking that we have to come again to this place one more time. So my friend came up with a plan, though it was kinda high budget but actually a good plan.
So, the plan is like we will leave this Hotel and move back to North Goa, to our previous hotel. And then I called the owner of Raial Dwelling Place and he suggested to check any room on goibibo or booking.com as the price at which he was giving was high. Anyways we found one and booked immediately and at around 10:15 AM drove to North Goa.
After about 1.5 hours again we reached and oh my it was actually feeling like we have come to our Home. I know I only suggested to live in south goa for two days but actually as per the time limit and places to find, it didn't meet up to my expectations, also maybe because we have already stayed in happening part of the city and then moving to silent part was bit shift of environment. If any one wants peace and calm place to stay, one can stay in south goa.
Well, what now all we did was Check - in and immediately asked for Scooty from the same guy who gave us in the first place. Although we did damage his Scooty when my friend met with an accident but also we paid for the same. As soon as we got the Scooty we directly went to our first place of Day which was not actually a Beach, but an old monumental structure which was Agauda Fort.
Fort Agauda is famous for many Bollywood Movies which includes one of the Hit "Dil Chahta Hai" and which I haven't seen yet. We were moving and moving in that Fort where we see a large open area and when we stood up to the walls, we saw an amazing view which can't be captured in a picture, which can't be recorded. I mean this view can only be felt and captured in your eyes and memory when you are actually standing there. What on the other side you see is just water & Sky meeting nowhere, ships moving from left to right and vice-versa. The Shore was visible from up and back to the shore were trees and greenary but all credit goes to the view we were watching from up there. We clicked pictures in that hot weather and this was the only day where we felt temperature was high, otherwise our trip was going fine.
Well after walking in such hot weather we had some lemon water and moved to next place and I still can't believe this was out last destination in Goa, but not last day. We actually went to Candolim Beach, I know once again a Beach, but believe this is last in Goa actually. And we didn't liked the beach much, nor we went inside the water this time so, we sat in cafe at the beach on shacks and enjoyed the beautiful sunset. We actually sat for a long time chit chatting and I don't we were feeling relaxed this time, we were not even thinking of moving and going to out next destination. And few minutes before a proper sunset we decided to leave.
Finally we then decided to Shop something not much but cashews and fenny. These two things are basically the speciality of Goa. So, I took some of it for home as well as friends and Fenny for me, with extra boxes of Chocomocco Chocolates (if you have seen Tarak Mehta ka Ultaa Chashmaa), haha!
After shop we went back to the room, but before that we had some tea and Vada Pav, which I was craving for. Back to room, we rested for a while and then after some time we again went outside for dinner, our last dinner in Goa.
Frequent Searches Leading To This Page:-
Best Tour Packages for Goa, Goa Tour Package for Couple, Best Travel Packages for Goa, Best Goa Trip Packages, Goa Holiday Tour Packages, Top Goa Packages for Family, Goa Honeymoon Packages from Delhi