Shiv Mandir, Ambernath
Ambarnath is place where I was born and brought up. From childhood I visited this place many time with my friends / family. Temple is only 2 KM away from Ambarnath (East) Railway Station.
The name "AMBARNATH" is because of this Ambreshwar temple only. Temple Famous for Richly carved and decorated out of a single black stone, the intricate carvings are inspired from Hemadpanti style of architecture. The ancient Ambreshwar Shiva Temple dedicated to Lord Shiva, the construction of which dates back to 1060 AD in the 10th century, located by the bank of Vadavan river surrounded by a fenced wall.
There are two popular beliefs of the local peoples here. One belief suggests that the temple was constructed by the Pandava brothers of the epic Mahabharata for taking a night refuge during their period of vanvaas. They could not complete the structure which is reflected even today in the missing roof directly above the main sanctum area (Gabhara) of the temple. There is another belief that this temple was constructed by Shilahara king, Chittaraja and later rebuilt by his son, Mummuni.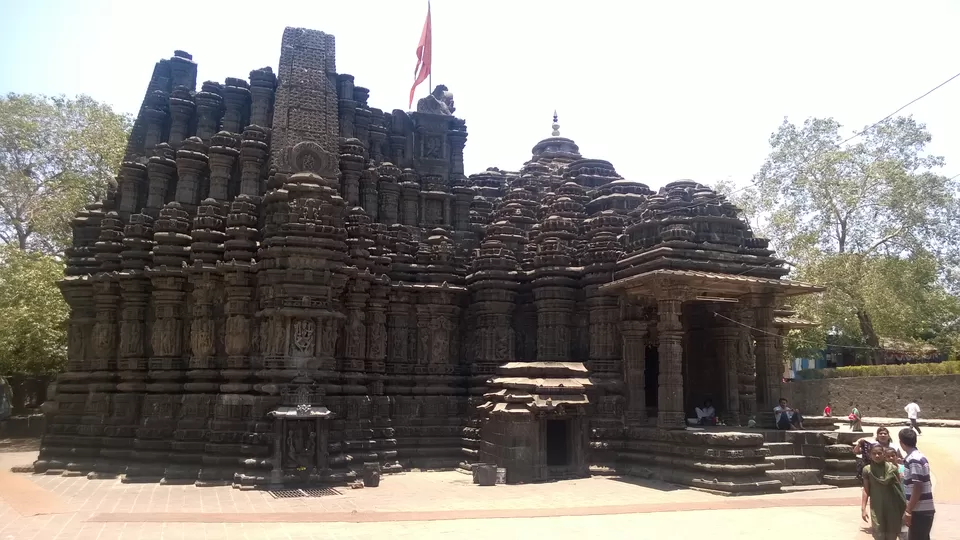 After entering the temple, need to get down a few steps in the main room called Gabhara to have glimpse of the Lord Shiva. There is one Shivalinga at the centre of Gabhara.
The best thing I like about this temple is its never crowded, and not commercialized yet. People get enough time for darshan and get blessings from Bholenath.
Only at Maha Shivratri temple is overcrowded. There is Big Fair on Maha Shivratri. On this day more than 4-5 lakh people visit the temple to seek blessings from lord Shiva. Maha shivratri Fair continues for 3-4 days starting 2 days prior and extending to 1 day after shivratri as well. Temple is additionally crowded on all Mondays of Shravan, Month of Hindu Calendar. Definitely worth a visit and easily accessible by train from Mumbai. Visit this temple if you ever been to Ambarnath.
Getting There and Distance: How to reach Ambarnath
By road, its a one and half hour drive. Temple is located about 2 km from Ambarnath Railway Station (East). From Mumbai, It is better to go to Ambarnath (which is on the central line) by train and then take an auto-rickshaw (share rickshaws which go to Ulhasnagar @10 rupees).