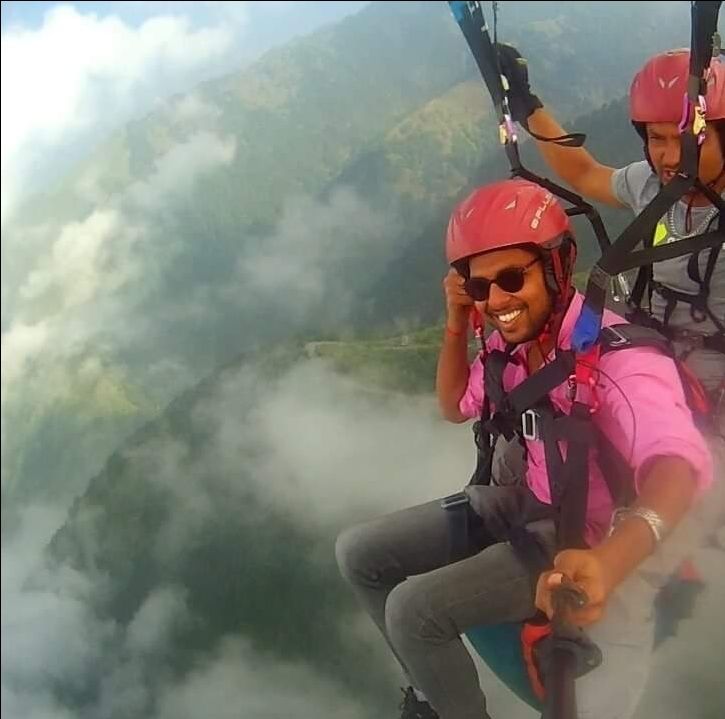 What is happiness? How to be happy?
Our idea of happiness changes with each one of us, it changes according to the perspection of person to person. For me to be happy is to live in the present, live in the moment. In this world with all those endless materialistic connection it would be almost impossible to live in the moment and enjoy all those simple joy you miss by wandering in those silly problems and tensions that created by yourself.
So the simple solution for this is to pack your bag discharge your mobile and go for a trip.
Himachal Pradesh that name itself gives an energy. Energy filled with freshness that you wont find in your office room, energy that shows beauty to your eyes, smell to your nose and chill to your skin.
This is actually a second part of my himachal trip.
After the marvelous experience of Triund trekking. We were ready to fly and the best location in India to fly is Bir-Billing paraglide spot. After searching for a cheap agent we confirmed our paragliding for 6K at McLeod Ganj.
Package includes pickup from McLeod and drop at Bir. Paragliding to Billing from Bir.
Excitement woke us up at 5am we packed our memories and said bye to McLeod. Cab was on time and we reached Bir at 8am.
Paraglide experts will give you all the safety instructions and how to run for the jump and what to do during the landing and you will be provided with a GoPro to capture that marvelous experience.
Whether was awesome, wind drifts through your hair, its the perfect time for the jump.
My instructor carefully spread the parachute on the floor, took the Paracord and waited for the wind. As the flag next to us starts to flutter he shouted run run run!!!. With all my strength I was running dragging all the wait that was stucked up on my shoulder and slowly our parachute got on the air and I just jumped off the cliff. When my foot went off the cliff I was literally out of breath and the adrenaline rush I felt then after was out of the world.
My instructor Gaurav did all the hard work piloting the parachute and I was just enjoying the wind, that panorama of greenery, that aerobic act done by Gaurav and through out the flight I was enjoying with a big smile that I couldn't stop even after my landing. All those memories and feel is something I can't express through writing so it's best not to talk about it rather anyone who wishes to do something different should try it and be a part of that marvelous extraordinary experience.
Life is not always constricted to any four wall house or classy career. Happiness is not always constricted to numbers in your bank account.
You could find happiness in those small moments you miss to yourself because of those busy life thats been entitled to you.
Be wild, open your eyes and see the beauty around you, when you start doing that you would never regret because thats when you start encouraging yourself and your life.
Will continue.