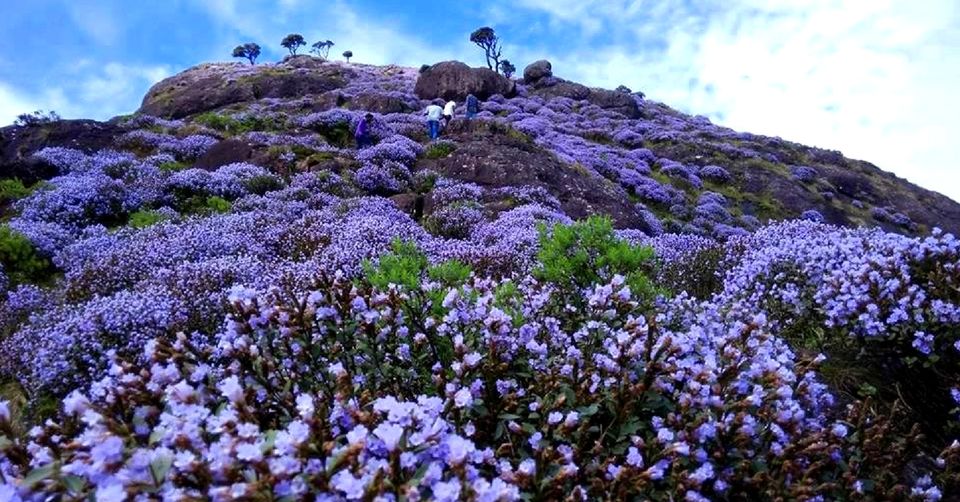 Yeah! The wait is over. Its that time of blue mountains. Neelakurinji, the purplish blue flowers are going to spread on the Shola forest of the Western Ghats in South India. Make yourself available between July 2018 to October 2018, to witness this miraculous natural beauty which happens once in a while. Listen to its story, get drenched in its colors.
Why to visit Neelakurinji at Munnar?
Neelakurinji or Strobilanthes kunthianus is a bluish purple flower which blooms only once in 12 years. It can be mainly seen in Nilgiri hills- which means blue mountains- got its name from the bluish purple flowers of Neelakurinji. It will bloom only once in their lifetime and die. 2006 was the last time it bloomed and the mountains looked like a blue-purple blanket colored with Neelakurinji. Tourism government reports that nearly 10 lakh people visited the Neelakurinji in 2006.
The Neelakurinji blooming season is considered to be the best time to visit Munnar. Nilgiri Tahr, the endangered species of mountain goats- found only on Nilgiri mountains- strawling among these blue mountains is a sight not to be missed. The tribal community called Paliyan tribes of Tamil Nadu used Neelakurinji blooming season as their reference to count their age.
Ideal for
Nature lovers, trekkers, botanists, conservationists, horticulturist and everyone who loves high range destinations will treasure this heaven.
Where to find Neelakurinji?
Devikulam gap, Mattupetty, Eravikulam National park and Kanthalloor at Munnar, in Kerala are the places to see the bloomed Neelakurinji. Eravikulam National Park is the main tourist place to visit the Neelakurinji among all.
Rajamalai at Eravikulam National Park
Eravikulam National Park is spread over an area of 97 km.sq and considered to be one of the national parks in India with the highest biodiversity. It has got the highest population of Nilgiri Tahrs, estimated to be about 750. The entire National park has been divided into core area, buffer area and tourism area. Rajamalai is the tourism area where the visitors are allowed.
Where to get the tickets
Rajamalai has located 15 km away from Munnar. Forest department has arranged online ticket booking for visitors who come to visit Neelakurinji. Ticket booking starts from the month of July. Online ticket costs INR 150 and direct ticket costs INR 110. Entry pass can be taken from, Ancham mile. Tourists will be taken on Forest department vehicle to Rajamali from Ancham mile.
For more details and enquires
Forest Information Centre
Tel: 91-4865-231587
Mob. 91 8301024187, 91 8547603199
E-mail: enpmunnar@gmail.com
Website: https://eravikulam.org/