Confused? How could 'well-known' be a 'secret'? Read on...

Do you remember the stories you heard your childhood that captured your imagination and fascinated you to no end? Stories of the blue-eyed Krishna stealing butter in ingenious ways, or young princes going about their everyday pranks were the source of entertainment in the non-digital era. Obviously, some of the things that they did were flamboyant, often bordering on the incredulous.
One such story that rather perplexed me as a child was that of the monkey-god Hanuman lifting up an entire mountain to save his friend, Laxmana. To the uninitiated, this story begins when, during the battle of Lanka (in Ramayana), Ravana's powerful son, Indrajit, injured Laxman, with one of his deadly weapons. Badly wounded and on the verge of death, only one magical Sanjeevini booti (herb) was deemed to have the potential to save his life.
Hanuman flew thousands of miles to find this magical herb, which was however, native to just one mountain in the far off Himalayas.
Having identified the mountain, Hanuman set about searching for the herb. The exercise turned out to be futile and he failed to identify the herb. Realising the urgency of the situation, Hanuman, in a moment of genius, uprooted, lifted and brought the mountain to Lanka where the herb was identified, a medicine prepared and administered to Laxman, who survived the ordeal.

After the war, Hanuman is said to have replaced the mountain to its original resting place. Well, what if I told you, this fabled mountain lies right in the heart of Uttarakhand, in Nanda Devi National Park, for all to see?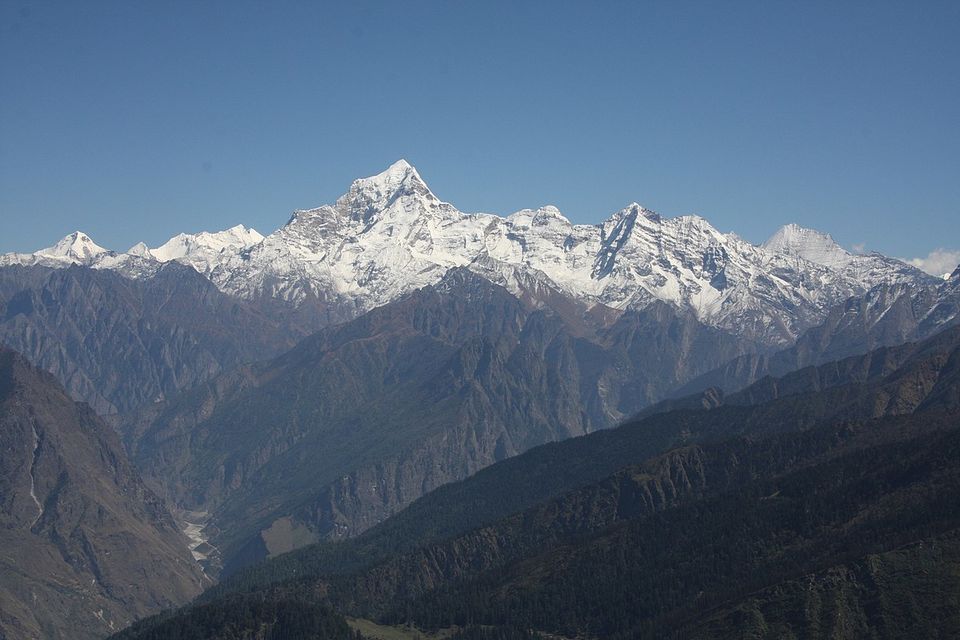 The mountain we're talking about is Mt. Dunagiri or Dronagiri as it is popularly known. Towering up to a massive 7066 metres (23,182 ft.), it is one of the highest peaks in India. Lying on the Sanctuary wall, it is clearly visible on trek routes, including Lord Curzon's trail and from the summit of Pangarchulla Main.
A trek to the Nanda Devi sanctuary is one of your best bets to see this legendary mountain and some of the tallest mountains in India. Here's an article on the big mountains you can see on the Kuari Pass trail.
Interestingly, the legendary Sanjeevini has been searched far and wide for centuries, to no success. All attempts, including one by the Uttarakhand government to discover the herb, have failed.
Perhaps, the secret of the location of this magical herb will forever remain shrouded in mystery.