When anyone thought of making a trip to explore India or visit India, the first thought that came into there mind is to visit Goa or Taj Mahal, But visiting Taj Mahal or Goa should be one of the reason to visit India not the only reason to visit India. India is a vast South Asian country with diverse terrain – from Himalayan peaks to Indian Ocean coastline – and history reaching back 5 millennia. In the north, Mughal Empire landmarks include Delhi's Red Fort complex, massive Jama Masjid mosque and Agra's iconic Taj Mahal mausoleum. Pilgrims bathe in the Ganges in Varanasi, and Rishikesh is a yoga center and base for Himalayan trekking. Not just this The largest democracy in the world offers varied landscapes, distinct vernacular and dialects after every few hundred miles, temples and ruins that date back centuries, buildings and monuments that remind of its colonial past as well as thriving cosmopolitan megacities.
Here is the list of few places you should visit while planning your trip to India-
Nanda Devi
Nanda Devi is the second highest mountain in India. Well I think maybe it's not easy to reach on the peak for us. But Nanda Devi national park is one of the place that you should visit in your life time.
DAL LAKE IN SRINAGAR,
Dal Lake is one of the most romantic holiday destinations in India, offering boathouses and shikara rides and has been the picturesque setting for many Bollywood movies over the decades.
RISHIKESH, UTTARAKHAND
Pic credit-
Rishikesh is known as the Gateway to the Garhwal Himalayas and yoga capital, Rishikesh is popular for white-water rafting. But if that's not your cup of tea, you can opt for hiking, backpacking, rock climbing, rappelling and kayaking.
PONDICHERRY, TAMILNADU
Away from the madness of metropolitan cities, Pondicherry is a small town on the southern coast of India with well-preserved French colonial heritage that reflects in its architecture and cuisines. Its scenic beauty and unspoiled beaches attract tourists from all across the world.
MARKHA VALLEY, LADAKH
Offering one of the most diverse and beautiful treks in the Western Himalayas, Markha Valley also features primitive villages, canyons and high snow peaks. The trek goes through Hemis National Park, giving you a peek into the lives of nomadic families.
SPITI VALLEY IN HIMACHAL PRADESH
The valley, located between Tibet and India, has a predominant Buddhist culture similar to Tibet. One of the least populated regions of India, Spiti Valley houses the Dalai Lama's favorite Tabo Monastery, one of the oldest monasteries in the world.
Tea garden hill of Munnar
Munnar is a town that's situated in the southwestern region of Kerala. It's practically covered fully with Tea plantations, some as high as 7000 feet above sea level.
Mizoram
Mizoram is a land of rolling hills, valleys, rivers and lakes. As many as 21 major hill ranges or peaks of different heights run through the length and breadth of the state, with plains scattered here and there.
Hoggenakal Falls
This waterfall in South India on the river Kaveri is sometimes also referred to as the "Niagara Falls" of India.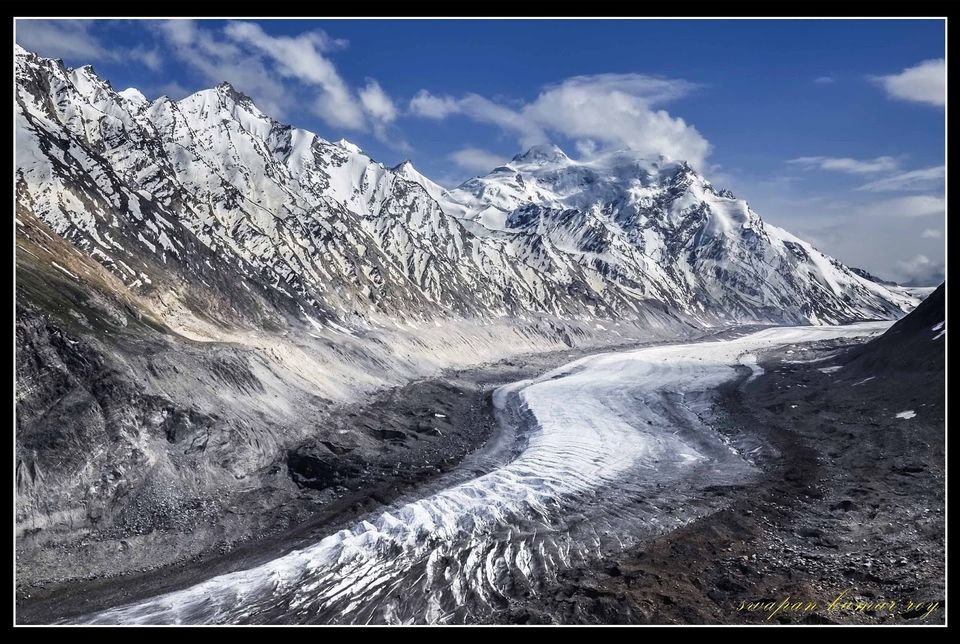 Pic Credit-www.trekearth.com
The Drang Drung Glacier is most beautiful thing I have ever seen in my entire life. It is a mountain glacier situated near the Pensi La mountain pass at the Kargil - Zanaskar Road in Kargil district of Jammu and Kashmir in India
Deodar Forest, Himachal Pradesh