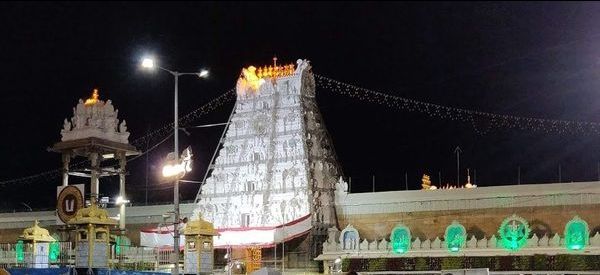 A lot of devotees are confused and have the same question in mind, Is the Tirumala Temple closed? 
The Tirumala Tirupati Devasthanams Board had announced a statement regarding the same. What did it say? Is the temple actually closed? If yes, then why? All these questions will be follwed in this blog post. Stay tuned. 
Tirumala, is a temple town in the Chittoor district in the state of Andhra Pradesh. Lakhs of people visit this place everyday, to have a darshan of their beloved deity, Lord Venkateswara Swamy. Now when such a question spread, all the devotees were a bit shocked. But the temple is Actually to remain closed for 6 days in August.
Why is it closed?
According to the Agama Shastras, or Vykhanasaagama, in Sanskrit, it is seems to be stated that every 12 years, all the temples following this Shastra has to be remain closed and perform various rituals called Ashtabandhana Maha Samprokshanam to the Lord. Meanwhile, a replica of the sanctum will be set up called Baala Alayam where the everyday rituals, that used to be performed even before these days, will be done.
When will the temple be opened?
The temple will remain closed from August 11, 2018 for 6 dyas where all the sacramental rituals including Santhi Homams will be performed. 
My Experience...
I was in Tirupati, which is like the base camp for the Tirumala piligrimage in the month of January, the same year. I visited one of the famous temples, called the Govindaraja Swamy Temple, near Tirupati Railway Station, where something similar was taking place, although darshan was allowed. Then also, a Baala Alayam was set up and  when I asked the priest as to why the darshan of the main deity was not allowed, he told me the same reason of following the Agama Shastras and had also told me that the Tirumala Temple's closing in the month of August. So I kinda knew it before!