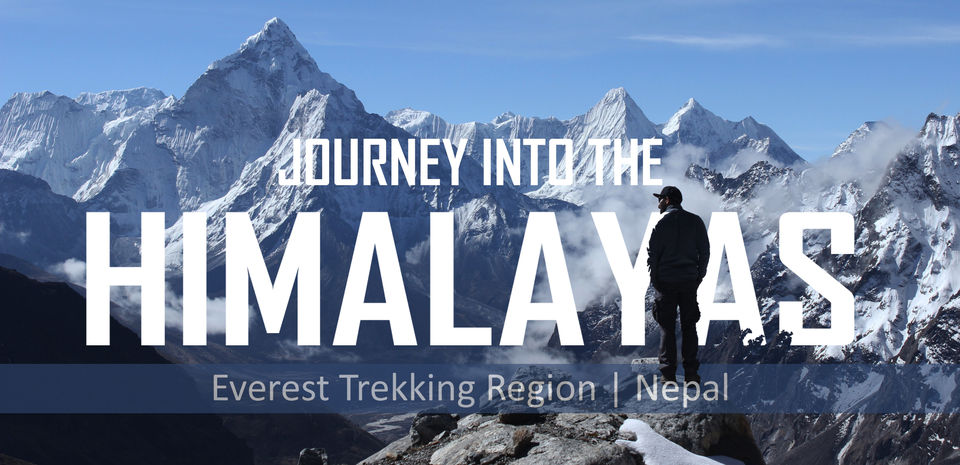 Duration-18 Days
Difficulty Level- Tough/Strenous
Terrain- High Altitude
Introduction
Trekking into the Himalayas to Mt. Everest Base Camp has been one of the biggest fantasy for every trekker around the world. I feel lucky enough to trek on the Everest region twice in last one year. During the journey on the most beautiful and challenging conditions on earth I pushed my limits to reach Everest Base Camp, Kalapathar and Chola pass. One of the biggest challenges in the Himalayas is altitude. If you are from the lower heights then it can be the biggest worry. I had the same worry too since I was not used to of the higher altitudes. Its a difficult trek but rewarding one where I went to see great mountains and find peace but ultimately found myself.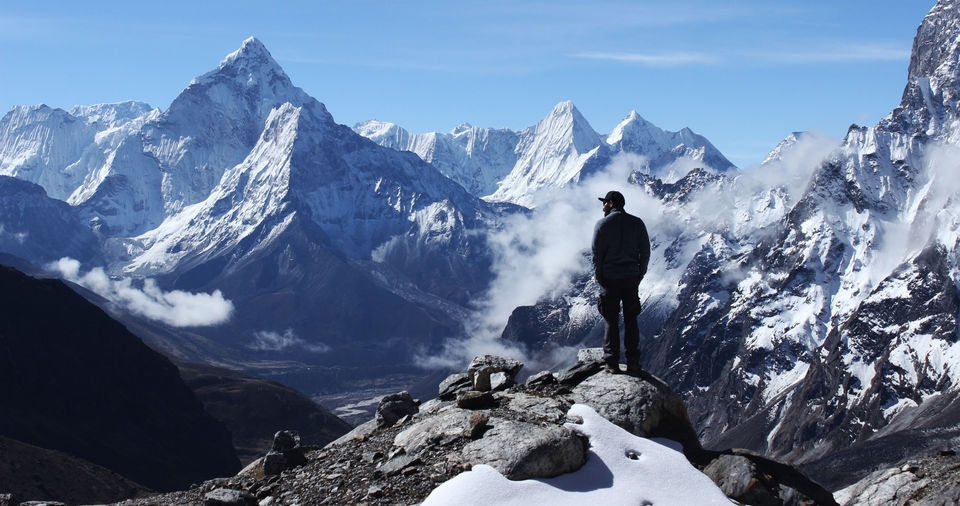 Let me share the experiences I had while walking on the mighty Himalayas of Nepal.
Its a 12 days to 20 days trek and couple of days in Kathmandu before you start your journey depends on the places you want to go. It can be just EBC and Kalapathar or want to exceed it to Gokyo with Chola and Renjo la. When I went for the trek first time I went for EBC and Kalapathar and the second time I visited Chola Pass too.
Beginning
I arrived Kathmandu and spent two days for some preparations. Its a beautiful city with some Architectural beauties like Durbar square, Bhaktapur, Patan etc. Since I am an Architect by profession those places are the must visit for me and you should definitely visit those to experience cultural history of Nepal.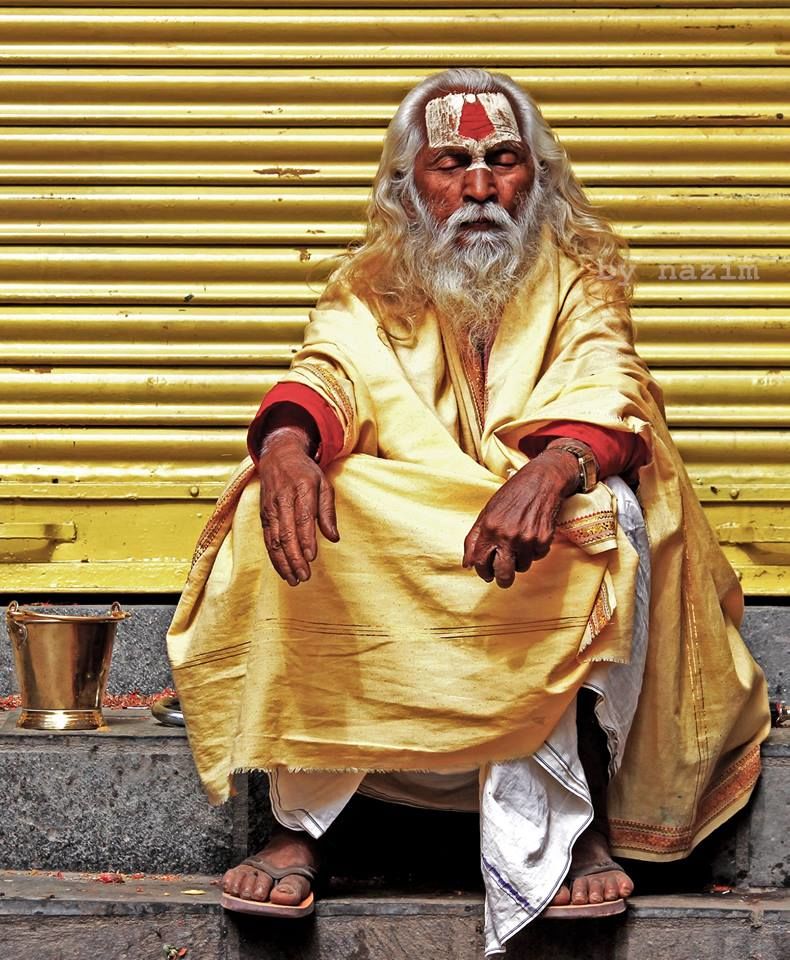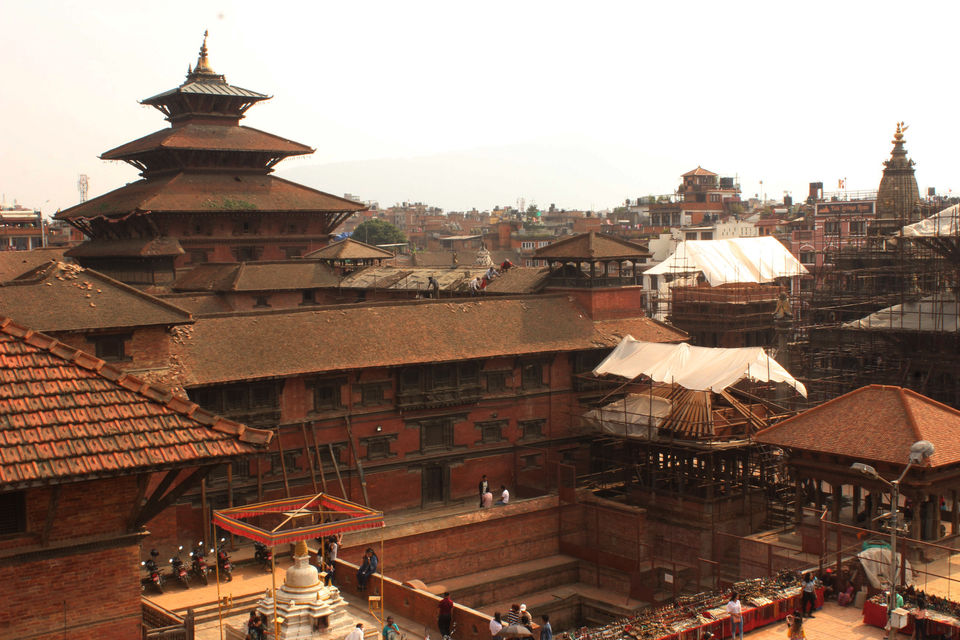 Kathmandu is also a very good market place for travelers and trekkers. So I decided to roam around and bought few useful things for the trekking in very cold and challenging conditions. Basically you can get almost everything related to trekking.
Kathmandu to Phaplu
After spending couple of comfortable days in Kathmandu I took the Jeep in sharing to Phaplu with the help of my Nepali friend. It is a 10 hours of scary road journey. I was praying in the entire journey since we had to go through the mountains by road. I think that is the most dangerous road journey I had. I reached Phaplu at around 4:00 pm and immediately started trekking after some snacks. I decided to trek for just couple of hours till sunset just to warm up because I knew that the coming 2-3 weeks will test my physical ability.
So basically there are starting points for the EBC trek. Most famous and most preferred is Lukla (2860m) which has a small airport. Trekkers directly go to Lukla from Kathmandu by planes and then they start trekking from there.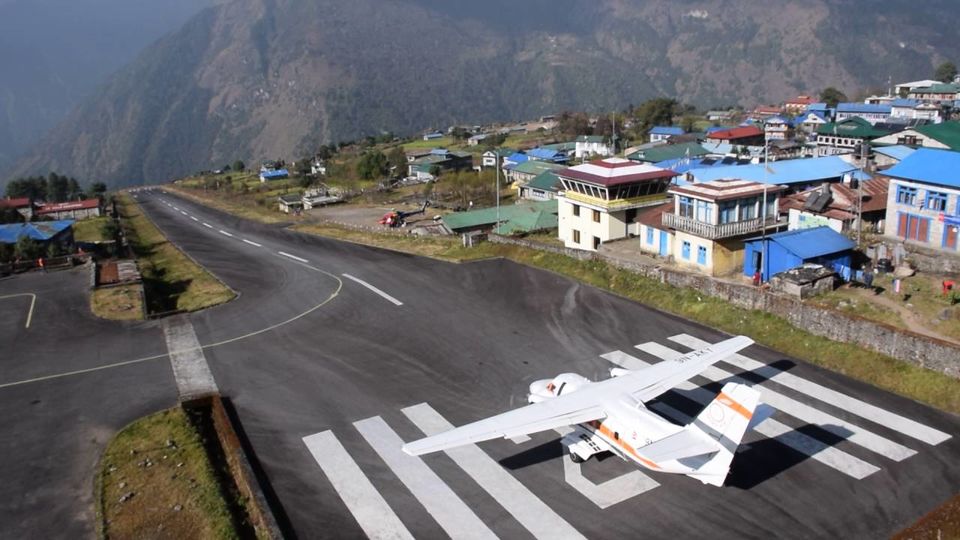 Initial Trekking Days
I decided to push my limits and avoided the flight which saved few grands for me. That is the reason I went to Phaplu (2413m) by taxi. From Phaplu its 3-4 extra days depends on one's speed of hiking to reach Lukla. And trust me! Sometimes I think that it was not the right decision since it takes extra days and a lot of efforts and the conditions were much tougher than I thought so if you like challenges than only you choose that route or Kathmandu to Lukla is a great option. The village I had to reach in three days was Surke (2300m) which is near Lukla. I did not have to go to Lukla from Surke but directly to Phakding which takes almost 4 hours from both Lukla as well Kathmandu. This is the day when I connected to the main route of EBC and met many trekkers.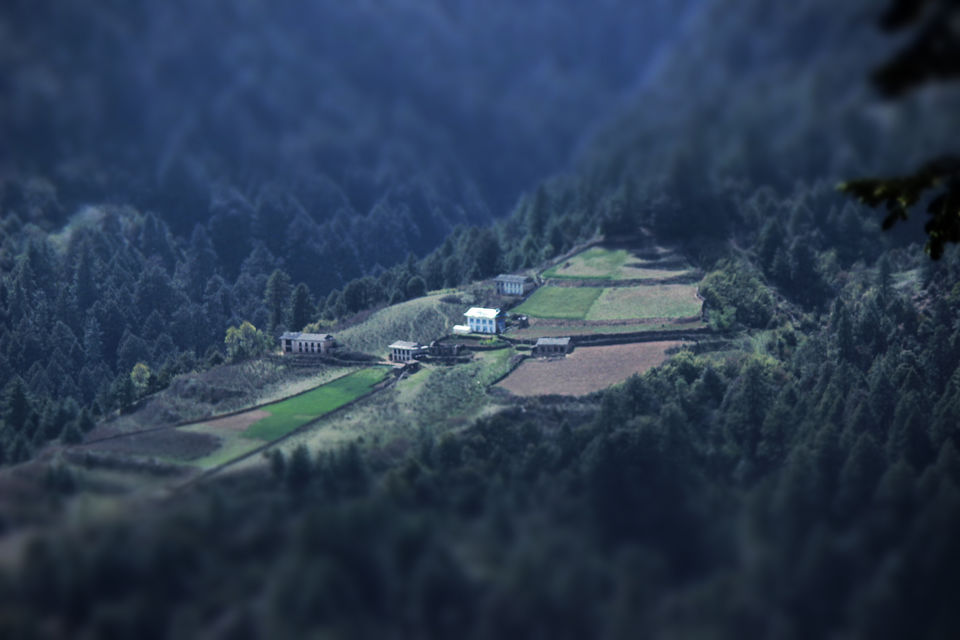 So the journey so far was already adventurous because of so many ups and downs, wet muddy trails and a new experience but I am yet to see snow capped mountains.
Phakding and Namche
I reached Phakding which is at 2610m at height and conditions started getting colder. One good thing about the EBC is that we get Tea-Houses to stay on the way with some warm blankets. Next day early morning I was ready to hit trails to reach Namche (3440M) and takes around 6 hours. That is the biggest village on the way to EBC where you can buy everything or anything you forgot to buy but if it is very important because things are way more expensive there. More higher more expensive that is the simple logic. They have also got Irish Pub there. And that is pretty awesome!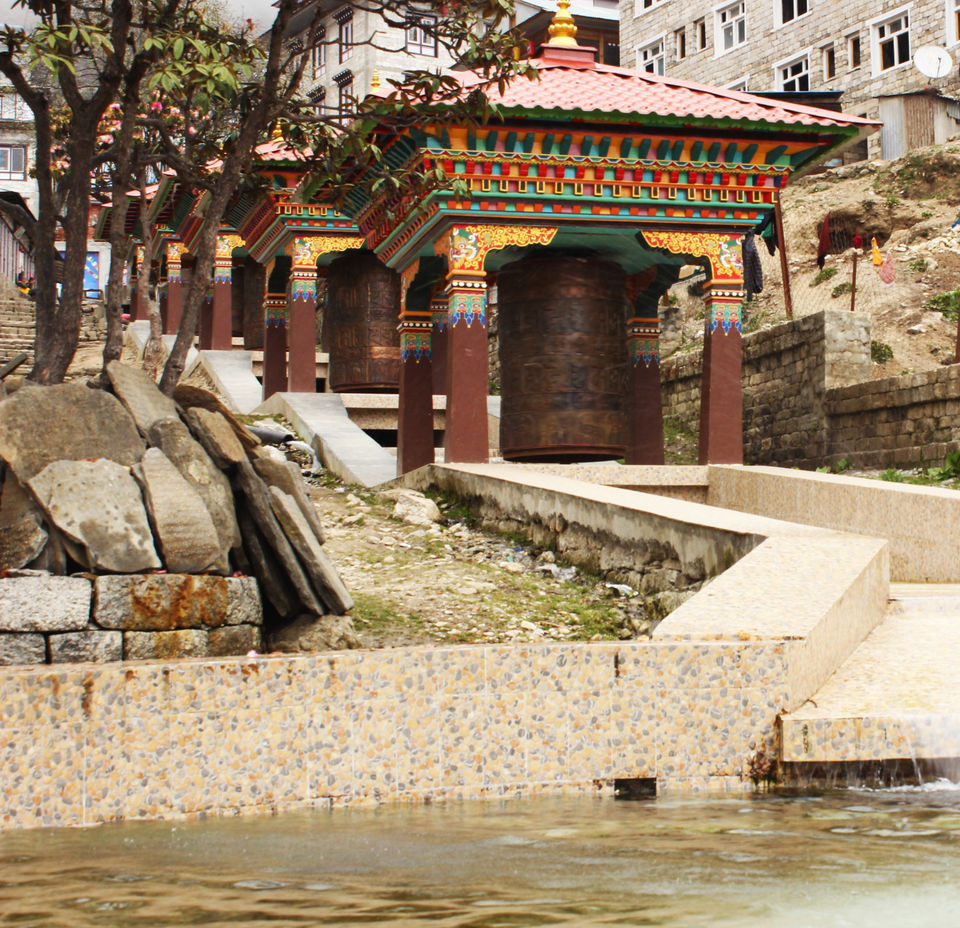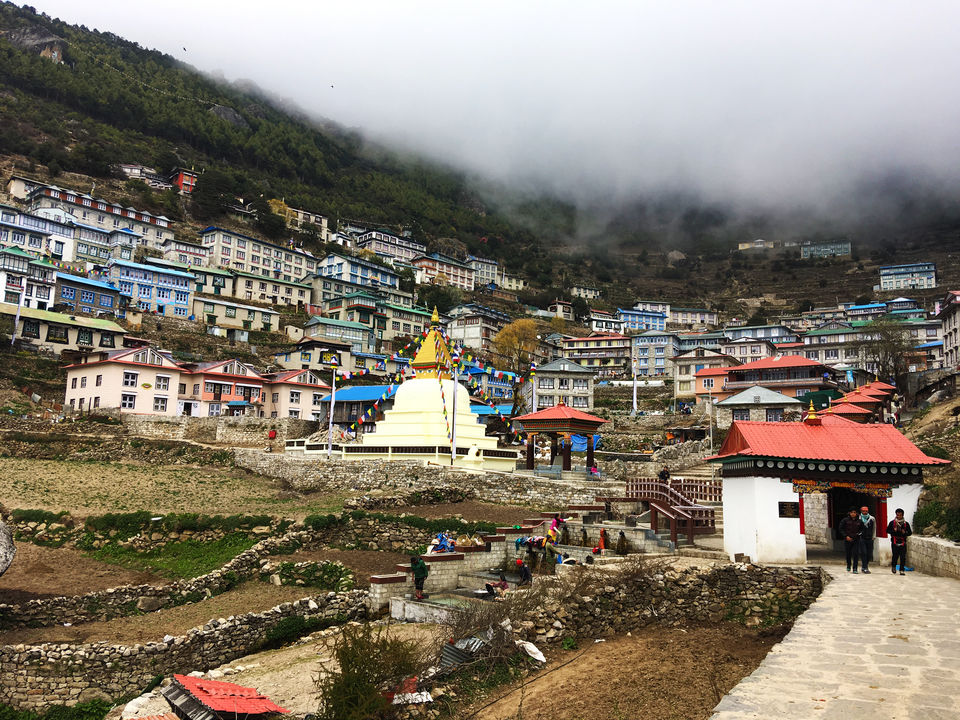 Acclimatization
This is the place where I started feeling the altitude and the cold winds. I would suggest you to be careful from the High altitude sickness and do not forget to carry Diamox with you to avoid this sickness. Obviously you do not want your body to get freaked out because of sudden change in Altitude. It was been 6 days of continuous trekking so I decided to have a day rest in Namche for the acclimatization and that is suggested while trekking in Himalayas.
After spending a day in Namche I headed toward Tengboche (3860m) which was suppose to be my next stop and takes aroung 4 hours from Namche. I reached Tengboche in four and half hours with a hungry stomach so had lunch there and visited the very famous monastery of Tengboche which you should visit too to spend some peaceful time.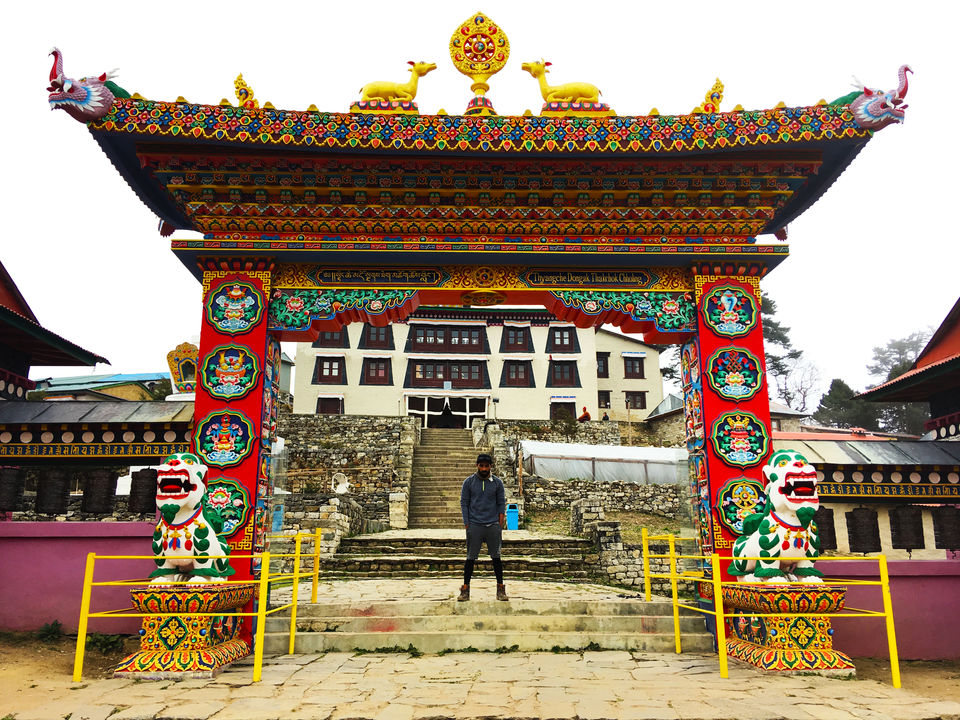 Dalbhat Power
After having Dal Bhat which is common Nepali meal I was supercharged and had few more hours to trek so I decided to move ahead to reach Pangboche (3985 m) so that It would save some time for the next days trek to Dingboche which is a moderate trek of 3-4 hours. And that is the day when it started snowfall. It was much colder than I expected but equally beautiful. I enjoyed walking during snow while staring at the snow capped mountains. And I got the first view of Mt. Ama Dablam on the same day.
Conditions got Tougher and more Beautiful
On the ninth day of my Trek I reached Dingboche (4410m). And then I realized that when I started my trek it was all green mountains with lots of vegetation on the way but what I see is very dry mountains with snow on the top. And oxygen level was also decreasing on every day due to height where I reached. It was the time to have one more day of rest in Dingboche to acclimatize.
Here is one thing I learnt during my research before the trek that if you wanna avoid High Altitude Sickness than sleep at the lower altitude than you were during the day. So n day rest day I went to a small hike at a higher point to get used to of the conditions and came back so once I went up and came down thats when I was comfortable to sleep in Dingboche and its advised that there should not be more 600m difference in the altitude of the place where you spend the last night.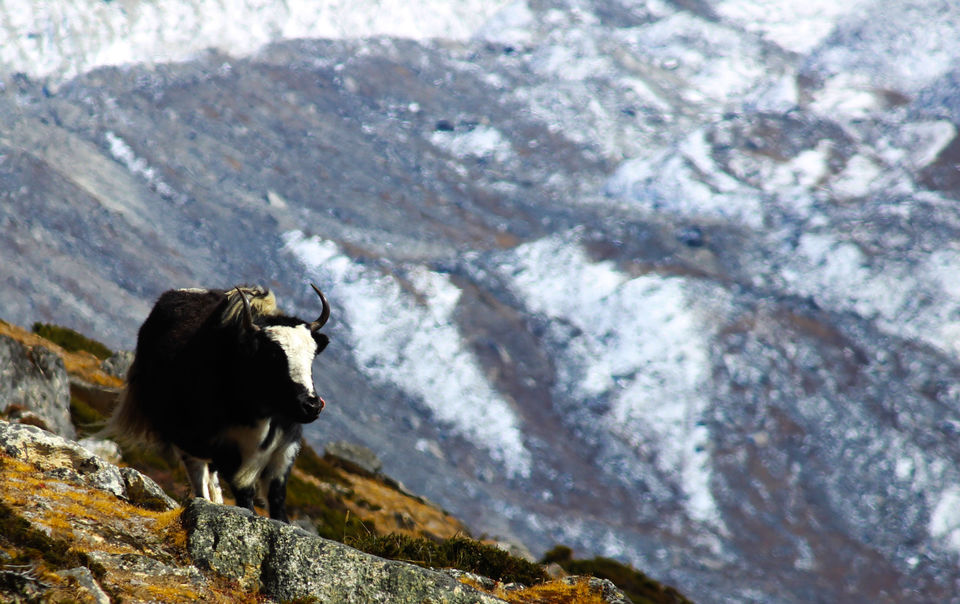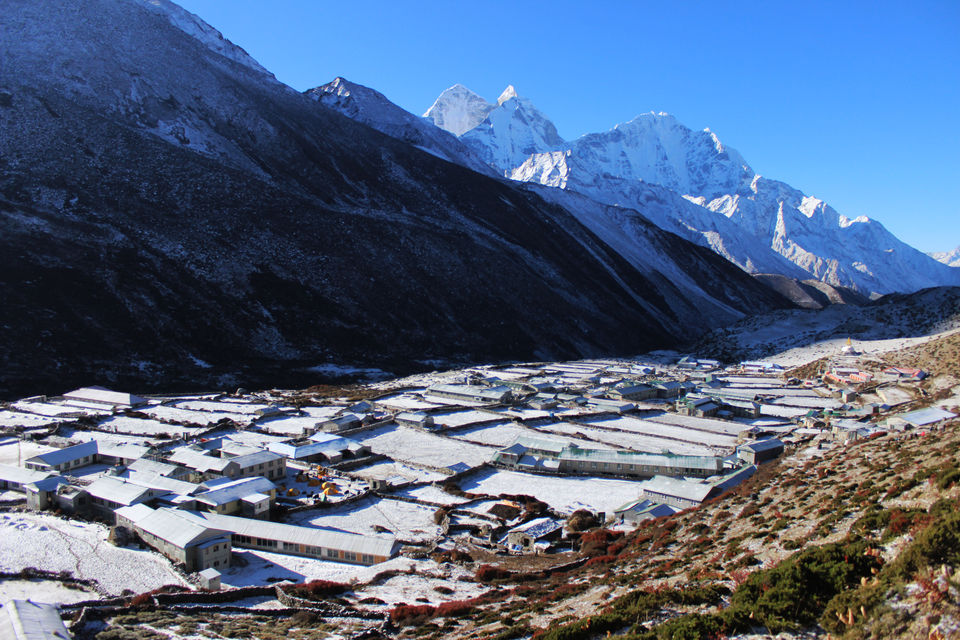 There was an amazing view from the top where I went for a day's hike on acclimatization. So spent couple of hours there with my headphones on to listen some inspiring music.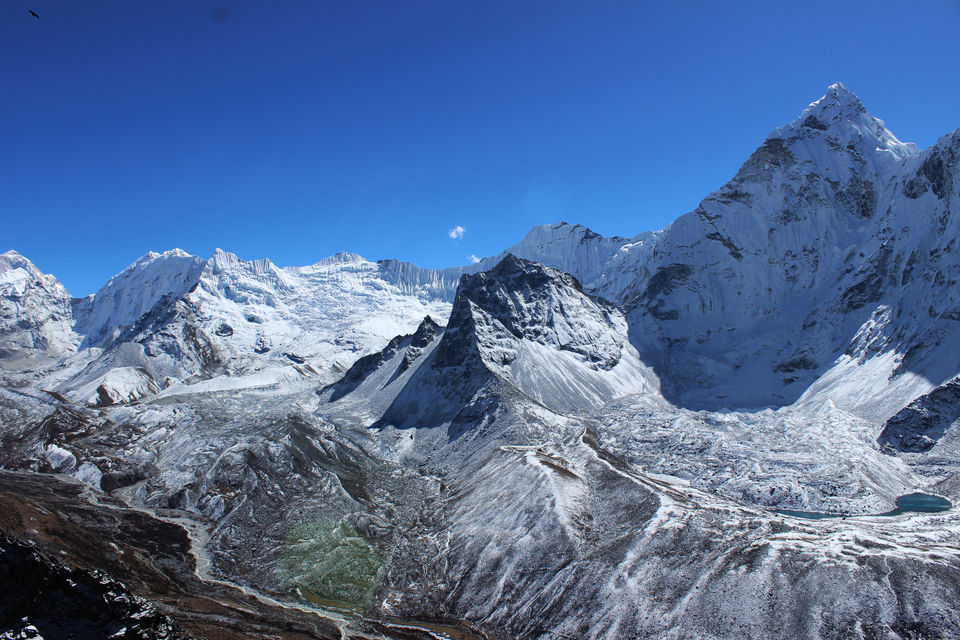 Almost there
Now I was just couple of days away from Mt. Everest Base Camp and super excited to be there but the conditions were getting tougher and more challenging. It was getting physical as well as mental task to move ahead with some positive approach.
I geared up in the morning of my eleventh day from Dingboche and moved forward for Lobuche (4940m) and took 5 hours to be there and then next day from Lobuche hiked to Gorakshep (5164m) on the other day which is the last village from where trekkers go to EBC and Kalapathar. Gorakshep is the toughest village to live I have seen in my life. I salute the local people of it who provide basic facilities to the trekkers.
Touched the Milestone
The moment I reached Gorakshep I had lunch and Immediately rushed towards the Everest Base Camp (5300m) after the long wait of 13 days. And finally reached the base camp of the highest mountain on earth in two and half hours of hiking. That is the moment filled with excitement, emotions and lots of celebration. I was so satisfied and accomplished.
Getting Topless
And then something I did there should not be done and I will suggest not to do that. Removing your shirt on the Everest Base Camp where its freezing cold is not a good Idea and that is what I did since a accepted a challenge from a guy I met during the trek. I do not regret it though.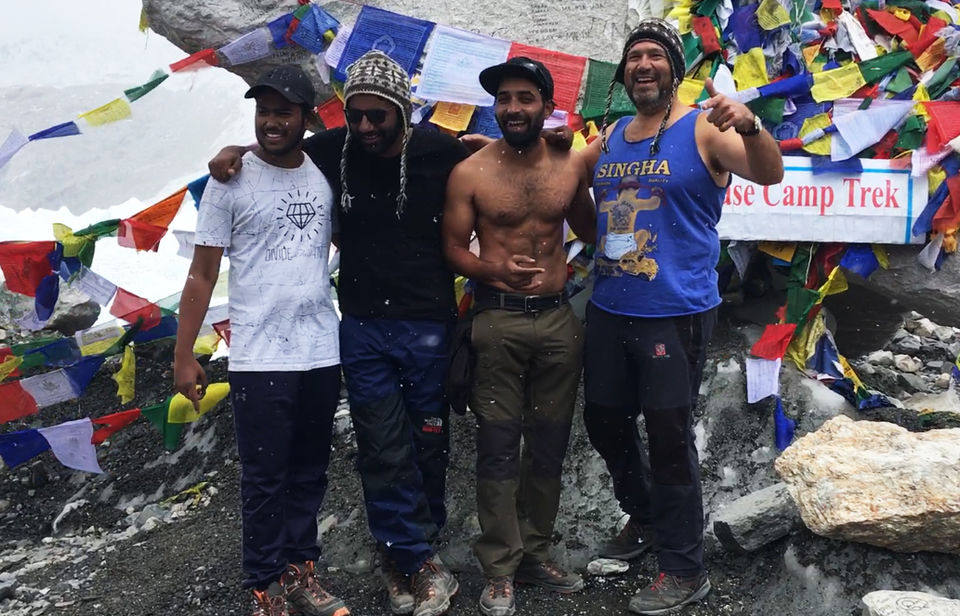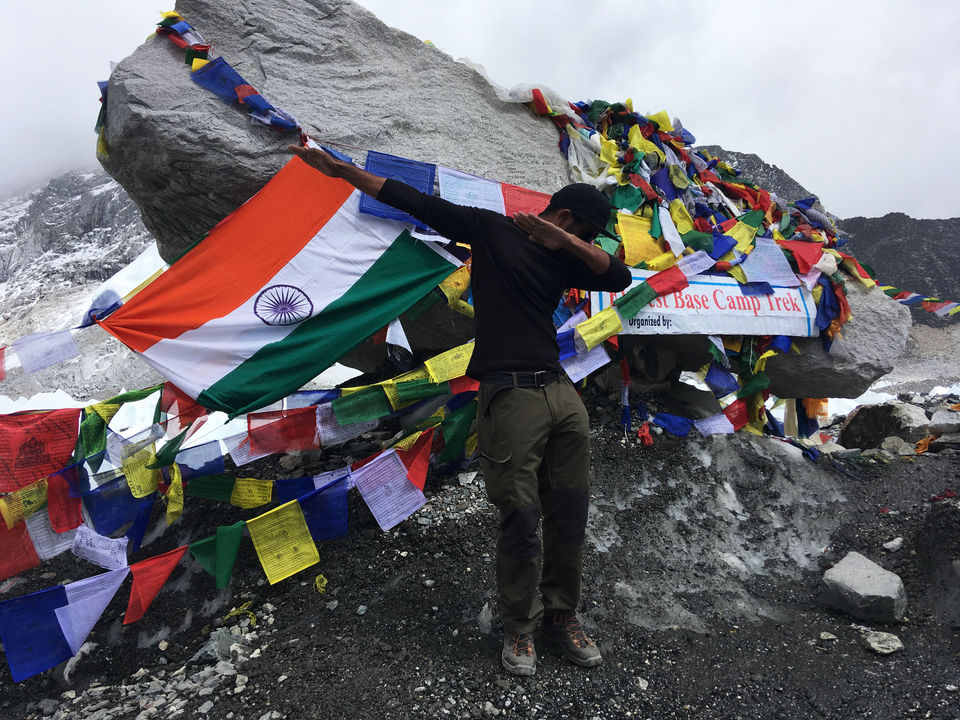 After doing some crazy stuff in the Base Camp it was time to go back to Gorakshep to spend a night there. I had a long day from Lobuche to Gorakshep and then EBC and again going back to Gorakshep.
Toughest Day
Next day was one of the toughest days of entire trek since I have to wake up early morning at 4:00am to climb Kalapathar which is the most difficult hike of the entire trek but totally worth it because that is the place from where I was suppose to get the best veiw of Mt.Everest. So without any hesitation I was ready for yet another challenge with my high spirit to see the highest mountain from the best possible point. Kalapathar is the mountain just beside Gorakshep at the height of 5643m. It took 2-3 hours to reach the peak for the most beautiful scenario I have ever had in life. It was chilling at the top and inhabitable for anyone but I thirst of seeing the sunrise from behind the Everest dragged me there. I literally cried once I was there as well as I was happy to be there. In short I was speechless.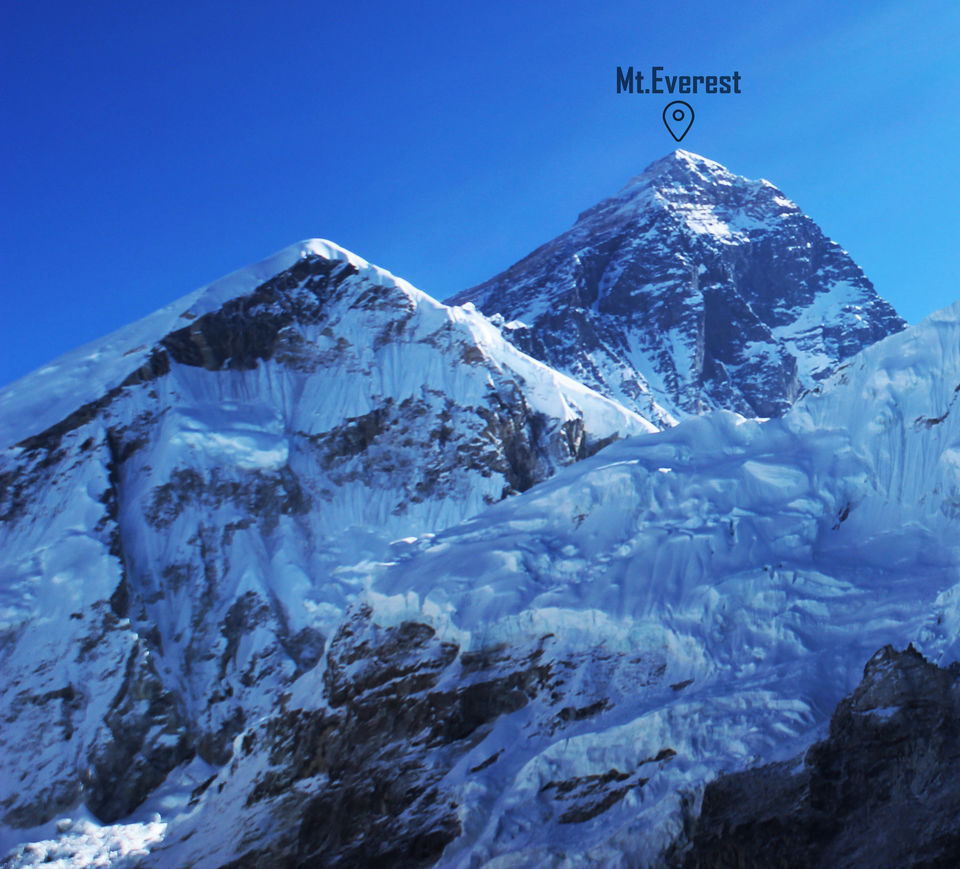 That was it. I just saw the greatest natural monument on earth. I could not ask for more.
Leaving Behind the Foot marks
After having such a wonderful experience of close encounter with Mt.Everest I started heading towards Chola pass which is at 5430m from sea level and in much isolated region than Everest Base Camp trek route and totally mysterious. It took two days of trek to reach Chola pass which was far more snowy than my previous days of trek. I went there to have some alone time since its nothing better than having just you. That is the time when we find our self.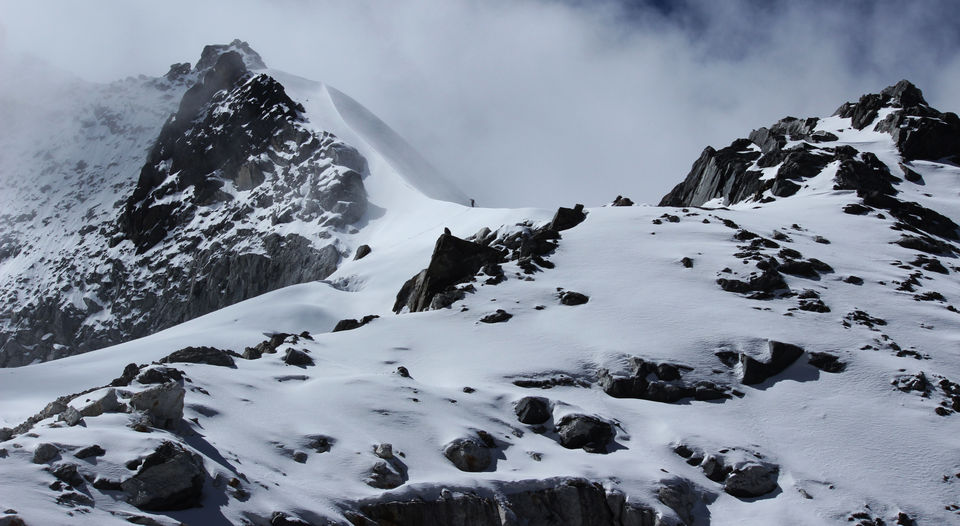 These passes are lesser visited by the trekker compared to EBC since its really difficult to reach there and its not safe either if you go by just yourself but I took the risk to touch the untouched and when I trekked on that region I realized that its more beautiful and hectic journey that the EBC route. I have some amazing memories and views in my head and its hard to share the feeling of being there. After visiting the Chola pass I decided to go back where I started from. It was already almost 18 days I was in the Himalayas of Nepal and the journey was beyond the words.
I escaped away from concrete jungles just to have an experience and to meet mighty Himalayas but unexpectedly I found myself. It totally changed my approach towards life and that is the best part of my Journey into the Himalayas.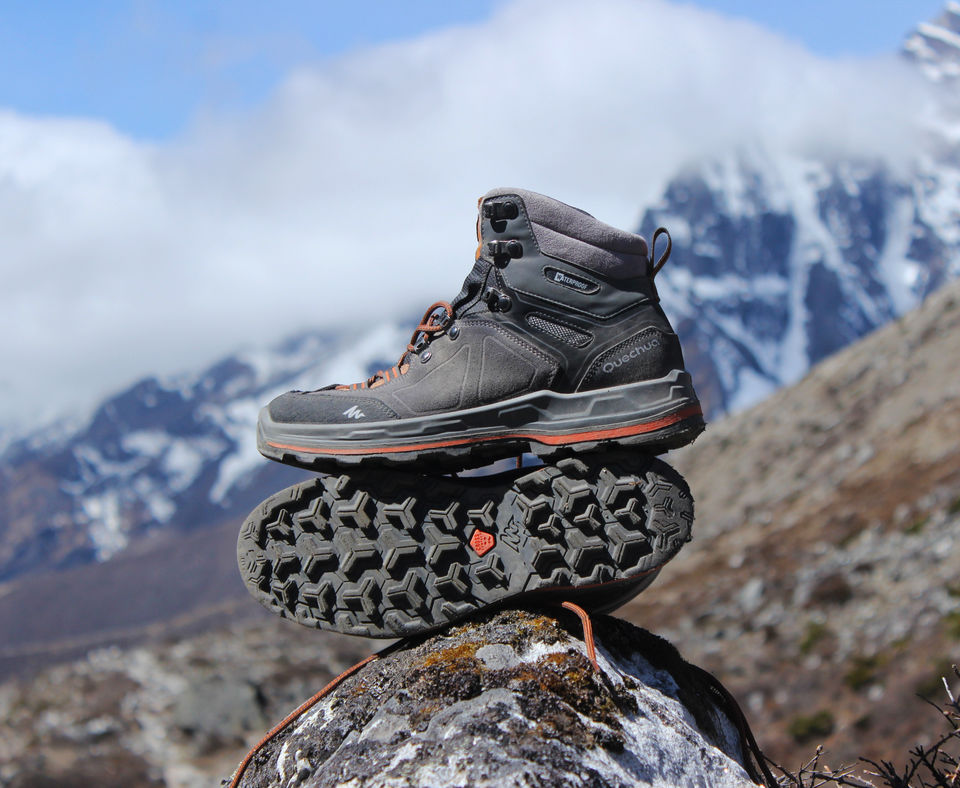 I am also attaching the YouTube video link of my Himalayan Experiences.