Before the advent of Summer in India , it is an obvious wish of mine to visit any unique place in India. I have been to many major tourist places in India particularly in Himachal Pradesh & Uttarakhand. Perhaps that might be the privilege of being staying in Delhi. But this time I was quite circumspect about my choice. I wanted to experience something new which could last forever in my heart. After giving a hard thought about all the options, I fixed my mind to Kashmir. It was a 4 night & 5 day trip to this mystical valley. I had two options, either I could have booked my entire trip indivisibly or I could have taken package form any tour service. But I found the second option more viable. I had taken the complete package from Make My Trip. It included my to & fro flight tickets, 4 night hotel bookings in Kashmir(Including breakfast+dinner), 5 day cab service, & Gandola ride tickets in Gulmarg.
Part One : Dal Lake [Sri Nagar]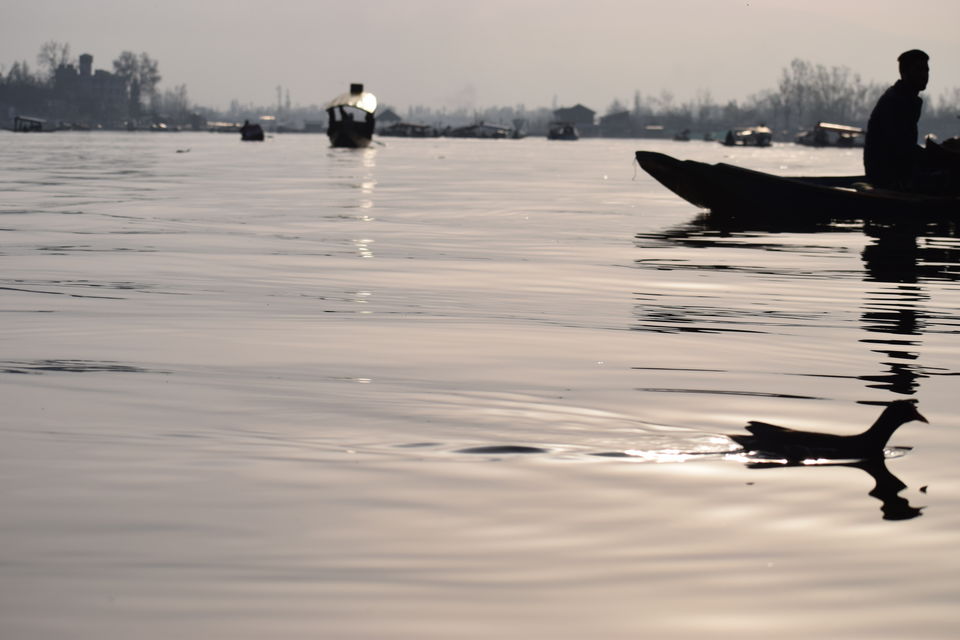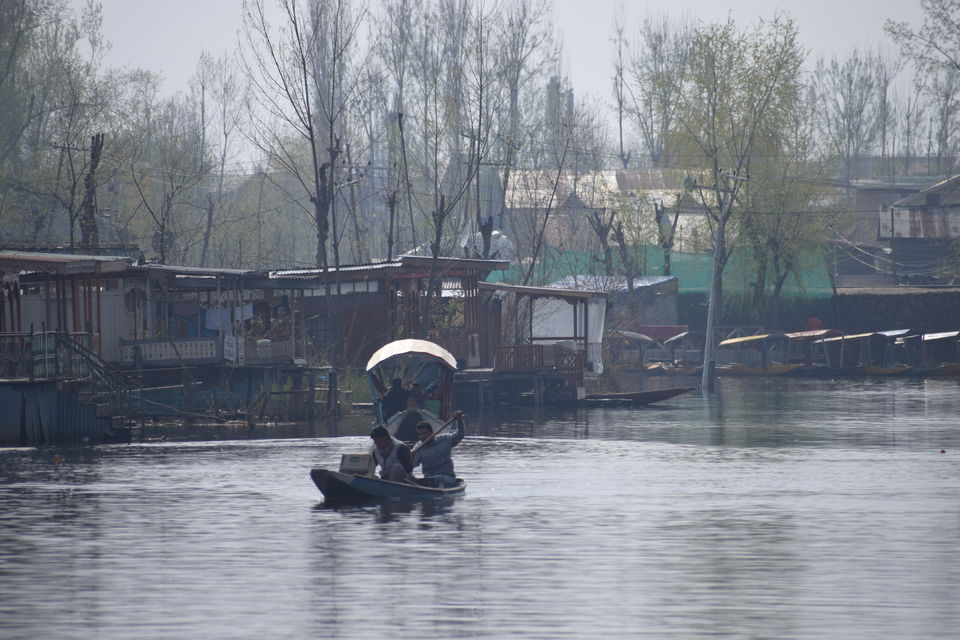 After lading in Sri Nagar, it was mandatory for doing Rapid antigen test for every one. It was a smooth process hardly took 10min. After the mandatory formalities, I & my wife left for Dal lake in the pre booked cab. Make sure you must carry a postpaid mob number with you. Prepaid mobile numbers don't work in Srinagar. It was a 45min drive from the airport to Dal lake. The first glimpse of Dal lake was awesome. Truly Dal lake is a city over a lake. It is amazing. Even mere words can't justify the beauty of this place. The first night stay was booked in a house boat. After reaching the Dal lake we were safely transported to our house boat by the Shikara driver. One thing I liked the most was this shikara ride to the respective house boat was free of cost. I have heard about this Dal lake from my childhood. But sailing through this and experiencing this was something cherish able.
By the time we reached our house boat we were very much hungry. But the beauty & touch wood of kashmiri safa was bamboozled us. It was a fine piece of beauty giving us a royal treatment. After getting refreshed quickly we jumped into the lunch. It was not a great lunch in terms of taste but considering the cordial atmosphere & pristine surrounding beauty it was quite satisfactory. Without wasting any further time, it was time for us to explore the Dal lake. Time was for some romantic shikara ride.
Truly one could experience many magical moments during the Shikara ride. Seeing the small kids peddling the shikara or hawkers selling their products , every activity had its own charismatic persona. It was a complete new experience for me. I was flabbergasted by seeing the life cycle inside the Dal lake.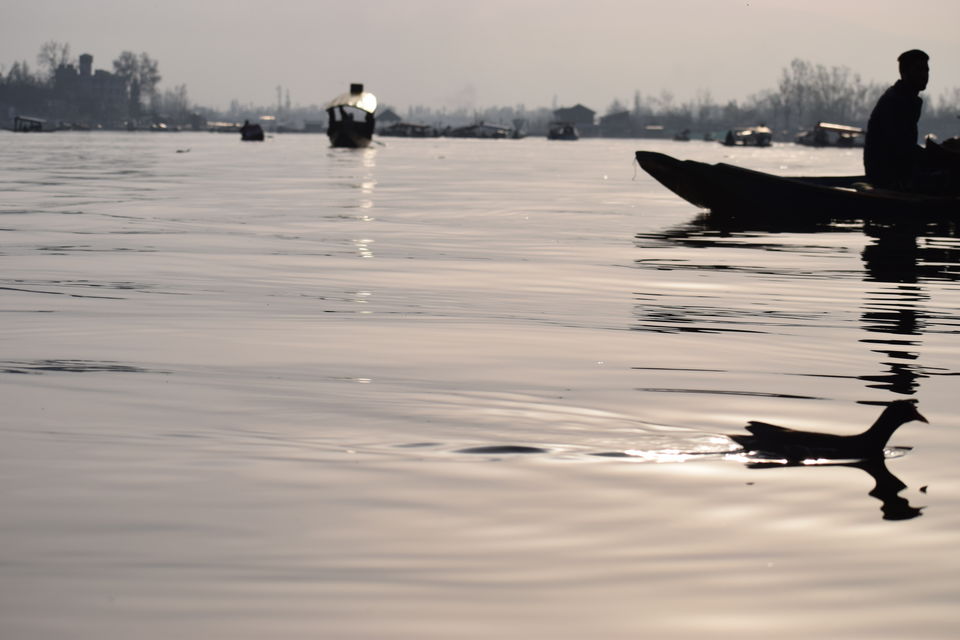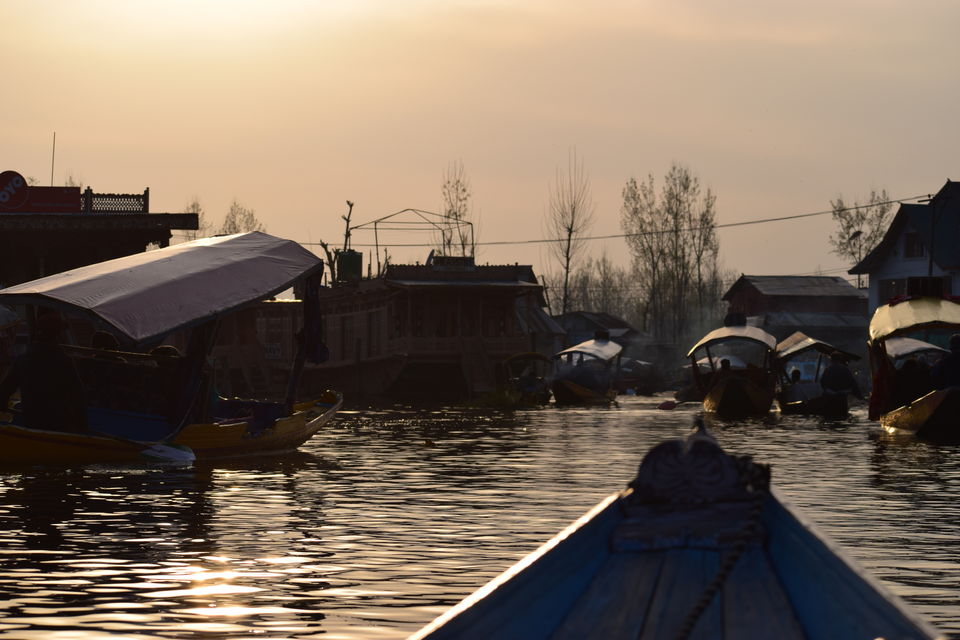 As the day passed, the Sun started to settle down. It was quite vividly reflecting in the water body of the lake. The soothing breeze was turned quite virulent. Like a little baby it was slowly sleeping with ease. Without much to do, we also returned to our boat.