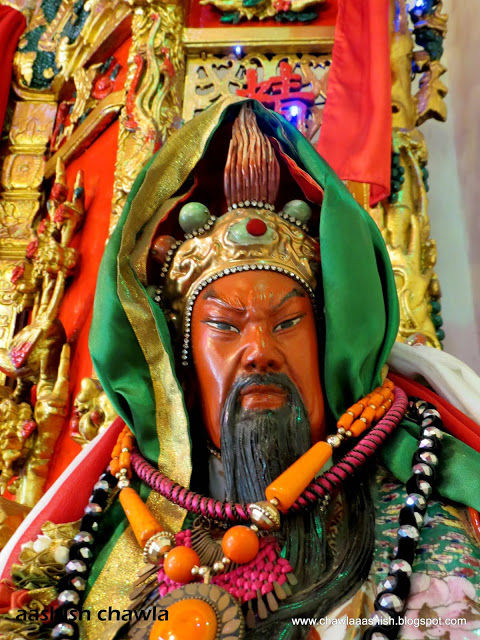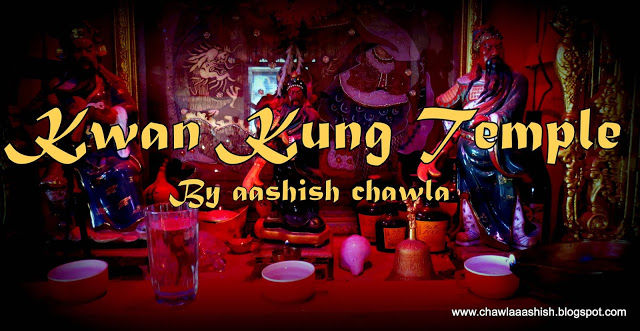 Hey you must be mistaken, China Town Woh toh Kolkatta mai hai ,
Well that was my immediate reaction when one of my friend spoke about this place to me.The Weekend Wanderer soul in me got stirred up and I was all set to check out this place, I was wondering, how could I miss out on something so unique in my home city.
Talking about Mumbai city, what I love about my city is its varied cultures, whereby I was able to explore some exquisite churches, beautiful mosques, amazing temples and gurudwaras and now here I was getting an opportunity to visit a Chinese Temple!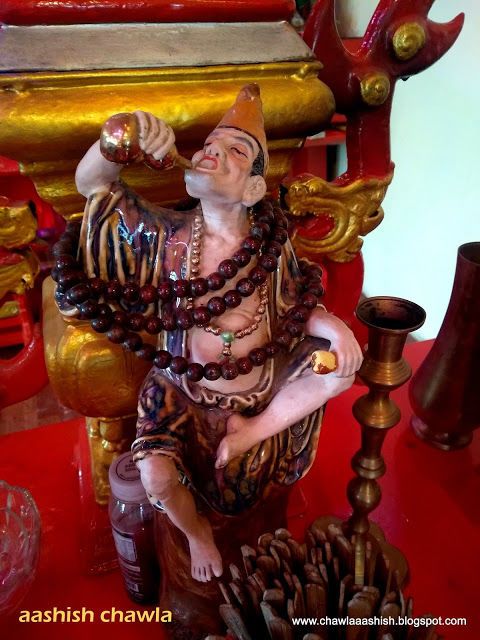 A little help from Google and friends, I was all set to go. You will be surprised to know that what today is a sidelined suburb i,e, Mazgoan, at one time was home to See Yup Koon community who were actually from Canton in Southern China. Due to work opportunities with East India Company these people moved to India to work and eventually settled here.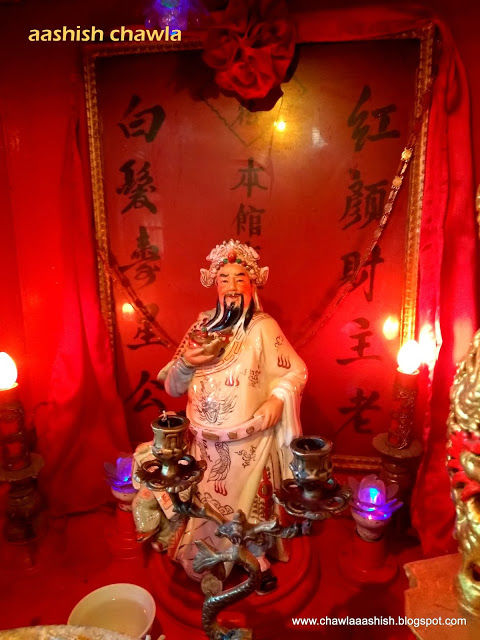 Dekha aapne chinese connection kitna purana hai, Tab bhi chinese apne yahan kaam karte the, aur aaj bhi, Even World Tallest statue of Sardar Patel ke liye humko chinese workers and technology lagi. Lagata hai china se humara rista Saas bahu wala hai -- Pyar mahobat aur zarorat lagi hi rahti hai
(Hardliners Chill and don't see red in this statement of mine. ????????????)
The Chinese who had settled in India were traders,merchants,workers and sailors.However when in 1962 the war broke out between India and china, as expected many of these people migrated back to their homeland China, however few of them stayed back here in their existing homes, which we now know as China Town. It seems because they were of See Yup Koon community ,the house near the temple had See yep koon written on them. (I wish someone was around to explain this to me)
Phew! I was so overwhelmed with this historical fact, imagine a small temple or a place can have a legacy, a history.
I took Harbor train to CST local from Andheri and got down at Dockyard station. ( This been the nearest station to Mazgoan).
We came out from the front end of the station, if you are coming from Andheri, which is connected with the foot over bridge which takes you on the other side of the road.
Keep walking straight, till you reach the wall of mazgoan dock, take a left and again first left and on your right side you will see this Chinese temple.
The google map was showing that this place is around 1 kms away from the station. So I started to walk. Now here a very interesting thing happened as we were searching for the way to go to this temple I saw an old Chinese walking towards our direction. For a second I felt that he looks like the owner of the temple but then again doubt got created in my mind Socha sare Chinese ek jaise hi dikte hai, so don't get excited. I went up to this person and asked him whether he is Albert, No reply came from him, Then I asked where is this Chinese temple, he simply looked at me and said its closed. I was very dissapointed to hear this. Per mai umeed chodne walo me se nahi hu, socha yahan tak aaya hu to Mandir dekh kar hi jaunga.
A small walk over the footover bridge and we saw a iron staircase going down on the left side, we took that stairs and came across a small postbox and took right turn, which brought us to a desolate lane, we kept walking till we came across an old 2 storied building.
I could have easily missed this place for any other residence apartment.What caught my attention was the wooden door painted in red, the picture of which I had seen in one of the FB post of my friend. I realised that this is it , that I have come to see. "The 100 year old Chinese temple, The Kwan Kung Temple.
We entered the Temple through this gate. There was a red door in front of us which was locked, I had read this was a room for one of the lady goddess. we moved on the right and started to climb the green coloured stairs when I came across a mural painted on the wall. This mural was of three gods FUK LUK SAU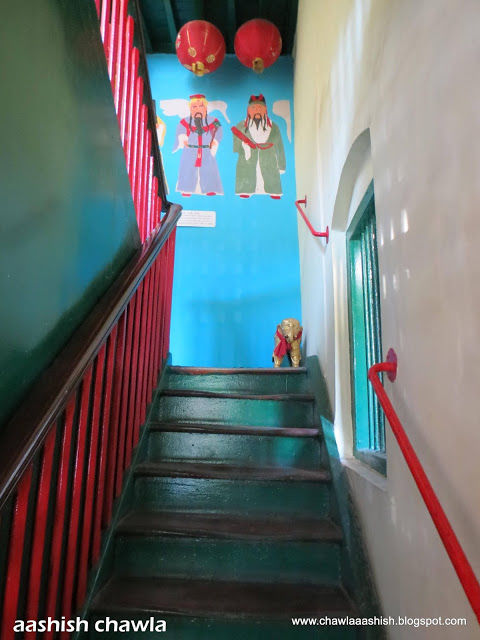 The Chinese character Fuk means blessings of good luck, health, and happiness. This is the wise man that is often depicted holding either a scroll or a child. There is a popular belief that Fuk is the personification of planet Jupiter, with all its associated energy of good luck and auspiciousness. The child is there to symbolize the transmission of this good luck to future generations, and the scroll can be perceived as the importance of knowledge/learning.
The meaning of Luk character in imperial China was an official's salary. It goes without saying that the energy of it is stability, fame, and success, as well as financial abundance. Luk is often depicted holding either a ru yi (symbol of power and authority) or a golden ingot, a popular wealth symbol.
Sau means longevity. This is the wise old man that is usually depicted with a very high forehead and a warm smile on his face. He is holding a staff, as he is old (thus the symbol of longevity). He is also holding a peach (considered a symbol of immortality).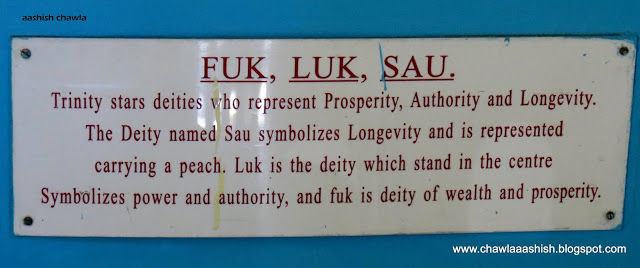 we reached first floor where the owners of this place stay. The son of the owner handed me the keys to the temple which was one floor above this. We went upstairs and opened the door and entered the Chinese temple. The moment I opened the door I could feel the strong aroma of incense sticks.
The whole room indeed transports you to china with splash of red everywhere, the room is decorated with all the requisite paraphernalia of a typical Chinese temple, including fortune scrolls, paper money and incense sticks.
The temple pays homage to the Chinese God of protection, justice and courage Guan Gong. The colourful decoration and the photograph nestled in that, declared that the God worshipped here is Confucius. The wise man of the Chinese history, who has been a great teacher, politician and a philosopher, is worshipped here as Kuan Kung.
Who Was Confucius? Confucius (551 B.C. to 479 B.C.), also known as Kong Qui or K'ung Fu-tzu, was a Chinese philosopher, teacher and political figure. His teachings, preserved in the Analects, focused on creating ethical models of family and public interaction and setting educational standards. After his death, Confucius became the official imperial philosophy of China, which was extremely influential during the Han, Tang and Song dynasties.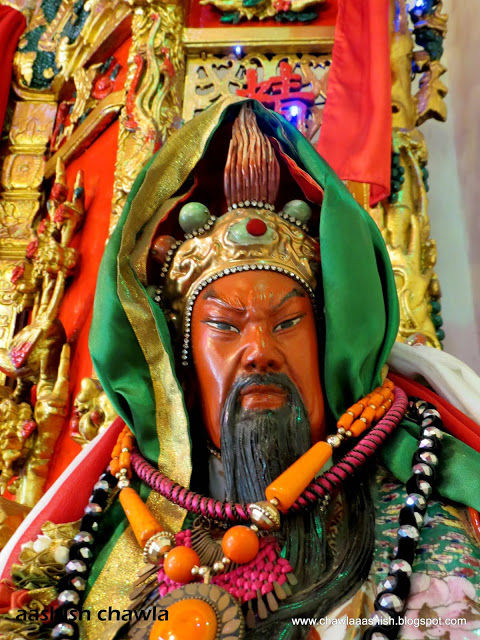 It was once asked to Albert Tham, The person who founded and owns this place as to why he selected Kwan Kung as his god of worship. His reply was I don't believe "I like this God as I have chosen him to be the one. in him just because I am forced to do so. I have learned a lot about emphasis much on any rituals but helps you lead a life of balanced him. I respect his morals values and teachings that do not personal and social ethics. He is more like a friend and a guide to me. I frequently spend time with him and discuss the things that bother me."
There was this one wall which has slips hanging, I couldn't make of it much because everything written on them was in Chinese. They were fluttering under the fan breeze beckoning me to solve the mystery.
As there was no one in the temple to explain to us their unanswered. Few of them were half burnt and then there was ashes in the drum below these paper slips all added to my inquisitiveness but Alas ! no answers for me , if you get to know about these rituals please do comment and let me know.
PS: As regards to the paper sheets let me add here. Those sheets are actually a way of reading fortunes.
The Chinese believe t hat the Gods will guide you for any important decision of your life through the oracles written in Mandarin on the bamboo sheets. They light up the candles and then pick up the wooden sticks kept on the table as a part of offerings to the lord. Then they refer to the sheet containing the suggested number on the stick. The bamboo sheets contain the fortune written in the Chinese Script and are referred by the followers of the faith once in a year."
We spent some time here and then moved on to the ground floor to visit the temple of Kuan Yin, an Empress that embraced spirituality and led a life to relieve the humans of their sufferings she is also known as goddess of Mercy.
We returned the keys to Mr Albert Tham.(So the old man I met on the road was actually this gentleman ).
Thanks for reading my blog, Your comments ,your suggestions are most welcomed , therefore do comment in the comment section below this blog. Please do join my site so that you get regular updates for a new story so posted by me. Given below is the Link to the video of our entire journey.