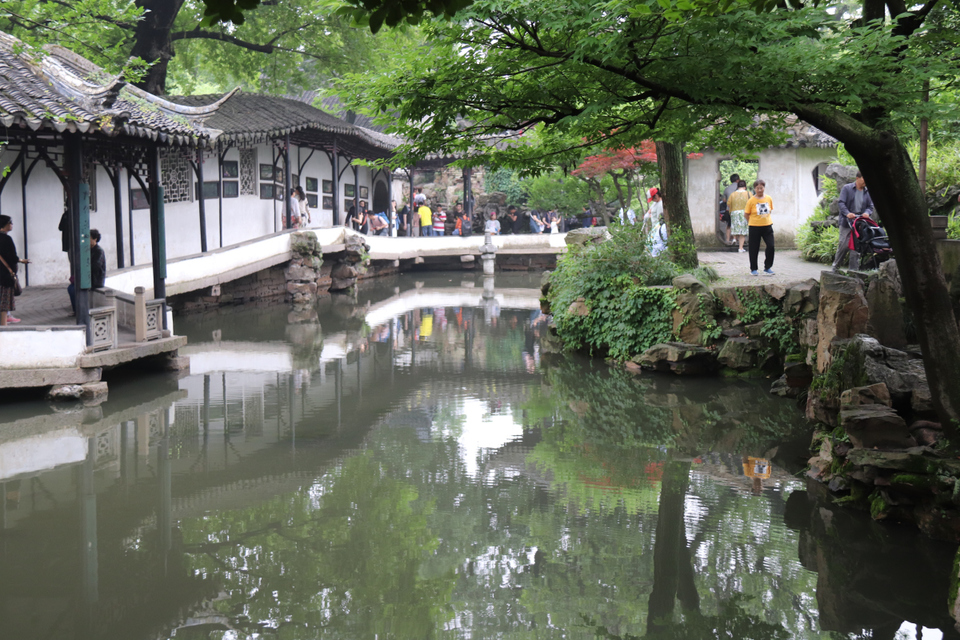 It was known to me that just a day each for these two places was never going to be enough, but I couldn't resist when the trip was announced in FCN. Something was better than nothing. I had booked a Taishan trip for the weekend before this and that got cancelled due to poor response. I was worried that this too may get cancelled. This was the first time FCN was doing this and it required booking three train tickets, Beijing to Suzhou, Suzhou to Nanjing and Nanjing to Beijing. Sabrina, the FCN contact, said she would go ahead once she had the three people who were interested in the trip, paid. Fortunately, there was no cancellation.
We gathered at Beijing Railway station around 18:00. The group size was 7 including the FCN leader, Joey. I was the only man and all others were women. The team was very diverse. Fiona - a Malaysian Chinese from Australia, Luca from Hungary, Pamela from Mexico, Martina from Italy and Christina from USA. Joey, the leader is a yoga teacher. Some of them had food at Dicos, a fast food restaurant and I packed a sandwich for my dinner while Joey got our tickets. Our train was T-109 and I was the only one from the group in my coach. I could sleep well in the middle berth for a change. Once again, the trains are excellently maintained in China and there is a large team of the Railway force on different duties. Next morning, I was up early. I had breakfast of bread, boiled egg, vegetables and Zhou (rice porridge) on the train around 08:00. We reached Suzhou at 09:40. The railway station was very large and impressive. From the railway station we took subway line 4 to Beisita, just the next station. The hotel was just across the subway station, next to the Bao'en temple. The hotel was small, but looked good. Being the only guy, I had the advantage of getting a single room while the others shared as two each per room. Though the hotel was small, it looked well maintained. The check in process took very long with the guy at the desk going through our passports very thoroughly looking for immigration stamps. We had 15 minutes to get ready and I managed to have a shower. The Bao'en temple looked impressive with a nice Pagoda, but we didn't visit it.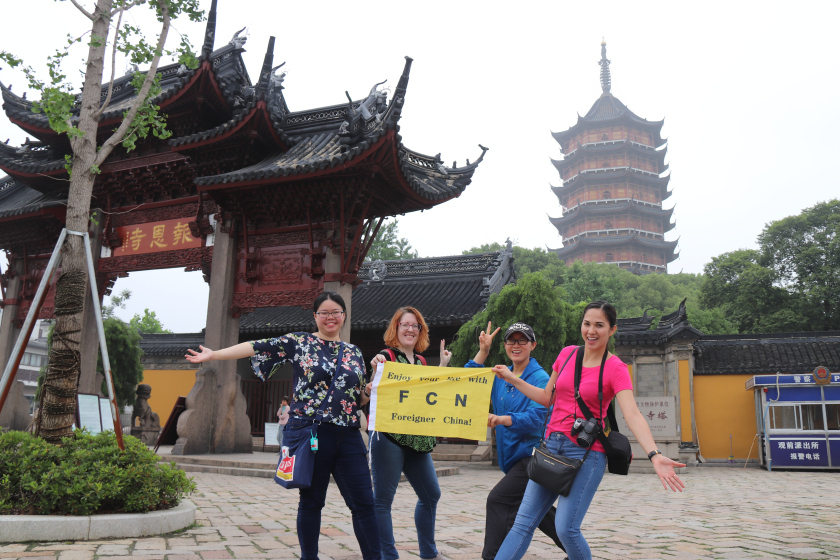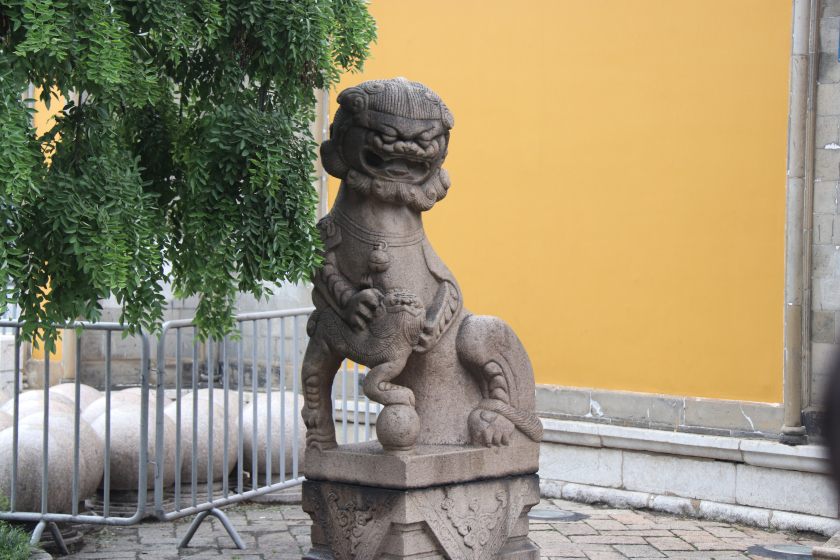 Suzhou is a city in Jiangsu Province of China, to the south of the Yangtze River. It is famous for its canals and gardens and is considered as "Venice of the Orient". The area of Suzhou is 42% water. The city is a classic combination of modern trade and ancient beauty. We walked to the first destination of the day, the Humble Administrator's Garden (拙政园; Zhuōzhèng yuan). This is the biggest and the most famous garden of Suzhou, spread over 12.85 acres. It is listed as a World Cultural Heritage site. The Humble Administrator's Garden was originally built in 1509 during the Ming Dynasty (1368-1644). It was initially a private garden of a former government officer and poet, Wang Xianchen. It is said that Wang was frustrated in his career and built a garden after retiring as a Magistrate in Zhejiang province. He settled in his home town, Suzhou, after his father's death. Wang got inspired by a verse of the famous scholar official of the Jin Dynasty, Pan Yue, in his prose, An Idle Life, "I enjoy a carefree life by planting trees and building my own house...I irrigate my garden and grow vegetables for me to eat...such a life suits a retired official like me well". Name of the garden is because of humility of Mr. Wang. The garden was formed upon the old relics of a residence and a Taoist (Dahong) temple. Wen Zhenming, a noted artist and Wang's friend, wrote essays and poems on Humble Administrator's Garden, and painted 31 Landscapes of the garden in 1533. Wang's son lost the garden to pay gambling debts, and it has been owned by different people. It has also undergone many changes in the past five centuries.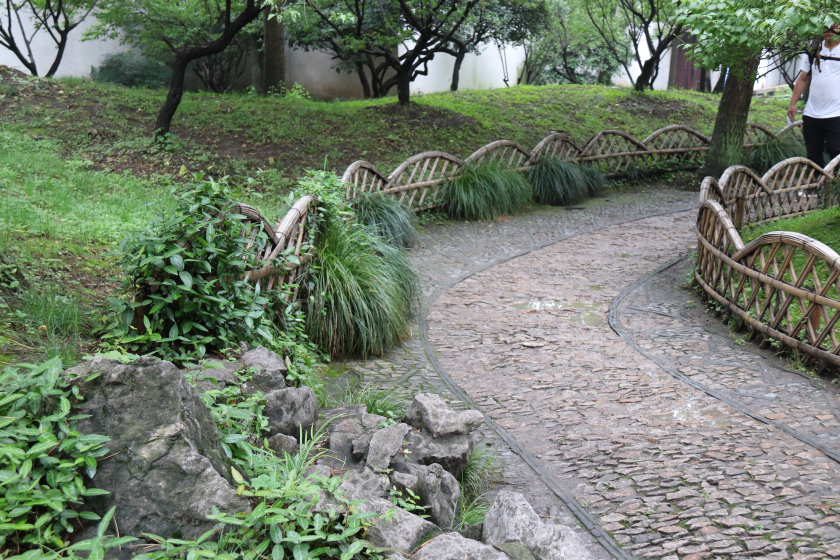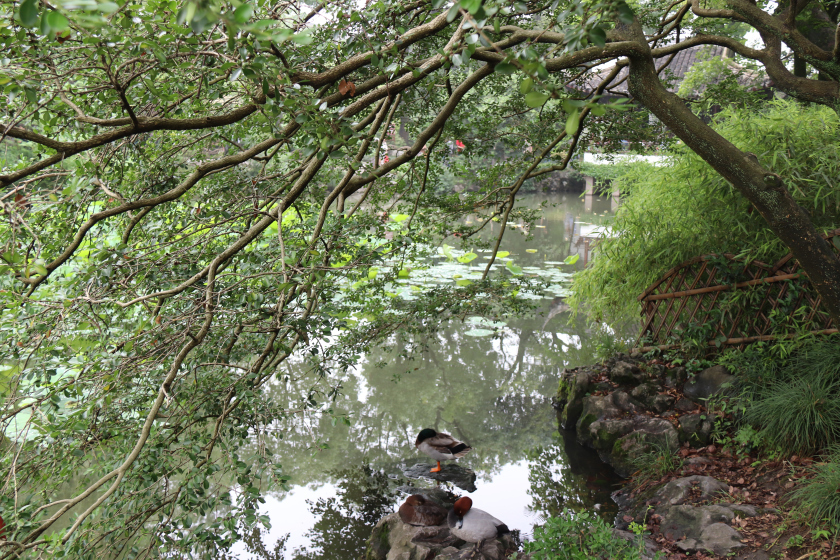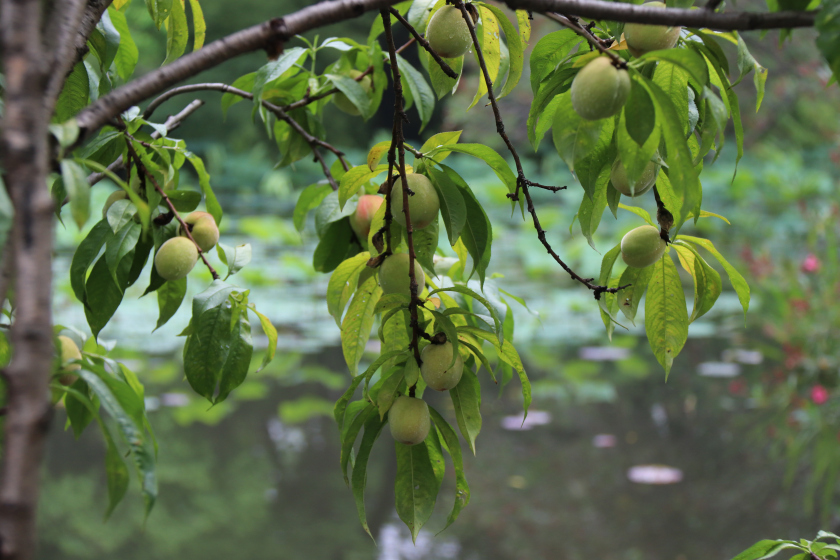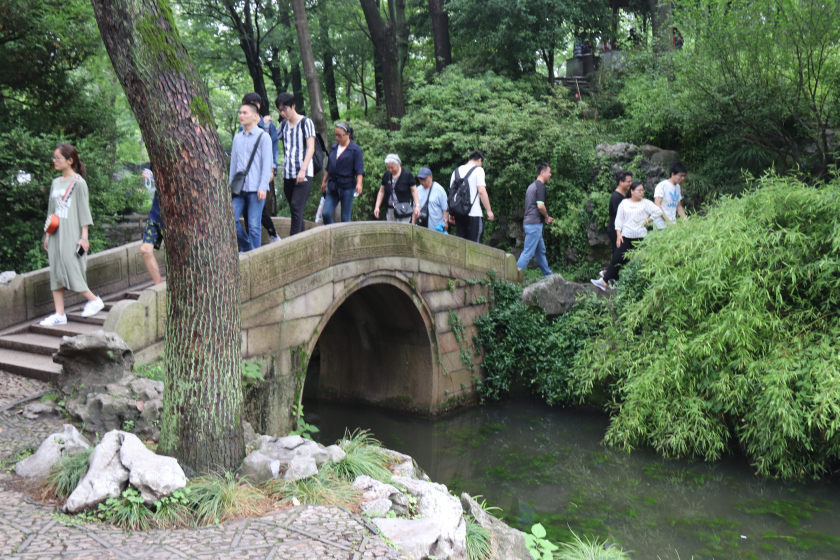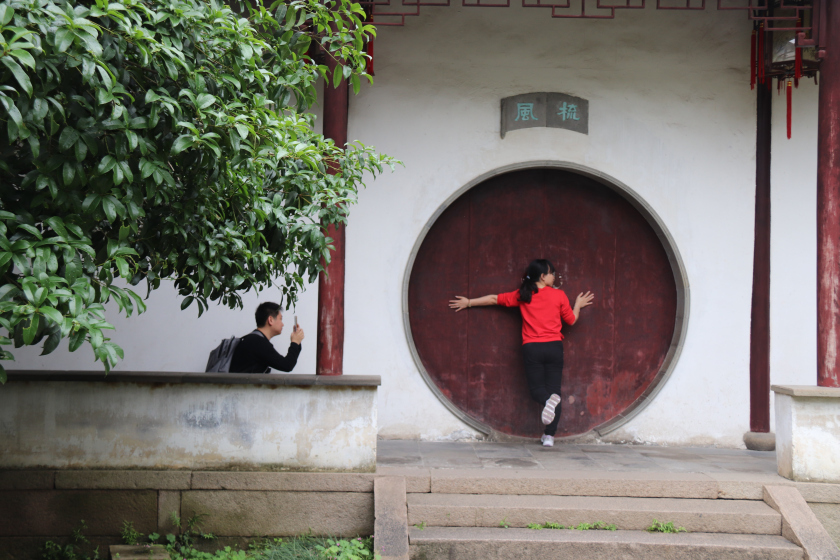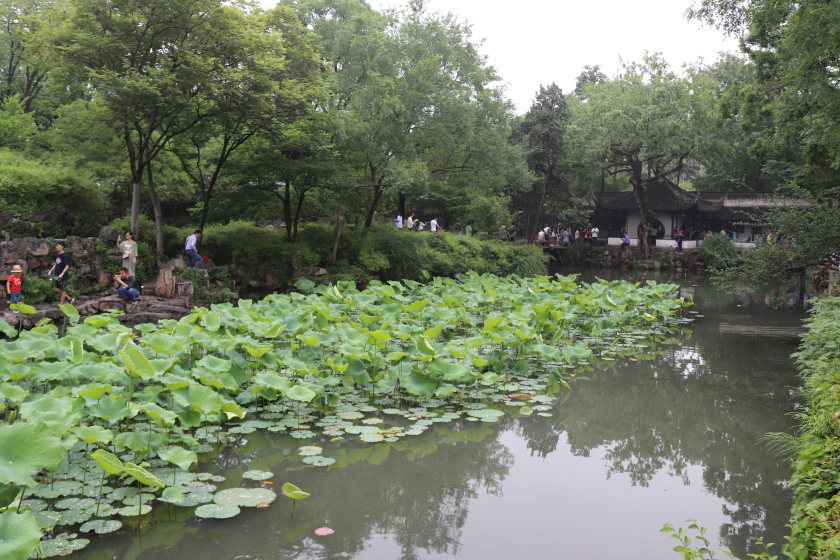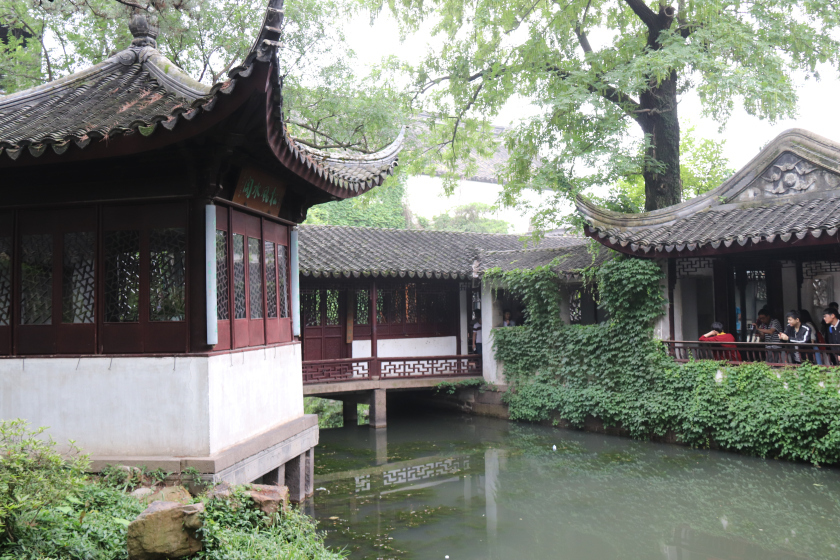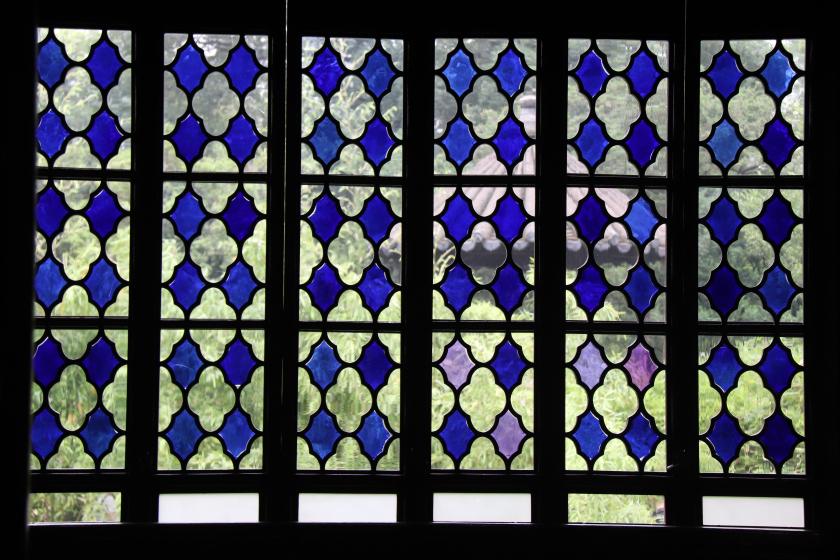 Water is the mainstay of the garden with several bridges, pavilions, watch towers, small forests and rock formations. Joey said that as the south did not have many mountains like the north of China, people liked to have small hills and rock formations in their gardens. The hallways host furniture, crockery and furnishings from Ming dynasty. It is indeed an overwhelming experience to go around the garden witnessing one of the best examples of Chinese landscaping creativity. While we were wandering in the garden, we came to the exit very early, and Luca went out by mistake. It was not possible to come in as the security there couldn't help as the place was under CCTV cameras. Luca said she will spend time outside exploring. We spent couple of hours in the garden. We tried some local food after coming out. I tried couple of different breads and a Zongzi (sticky rice dumplings). The food not only tasted good, but was very good looking. The street had many flower sellers who sold jasmine and magnolia flowers.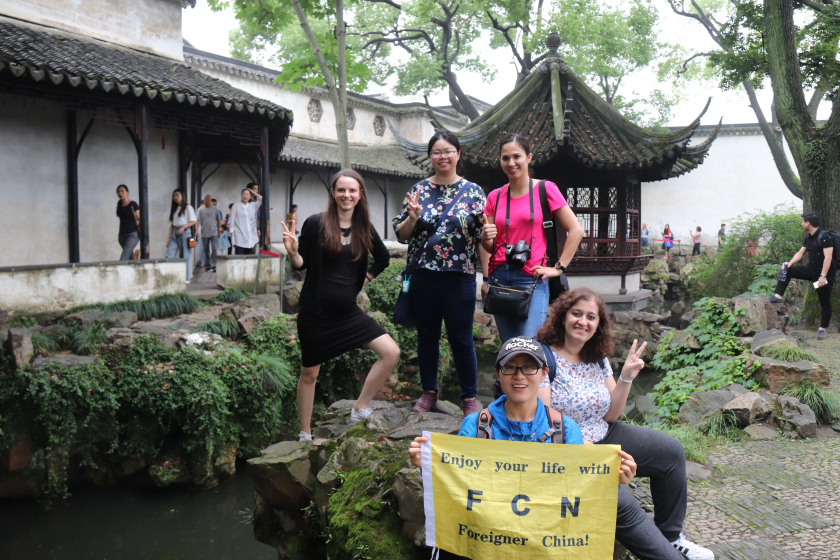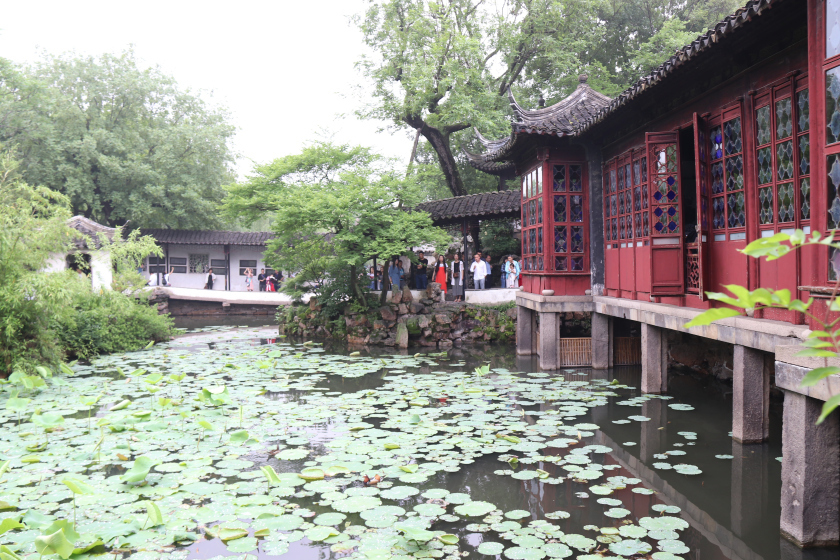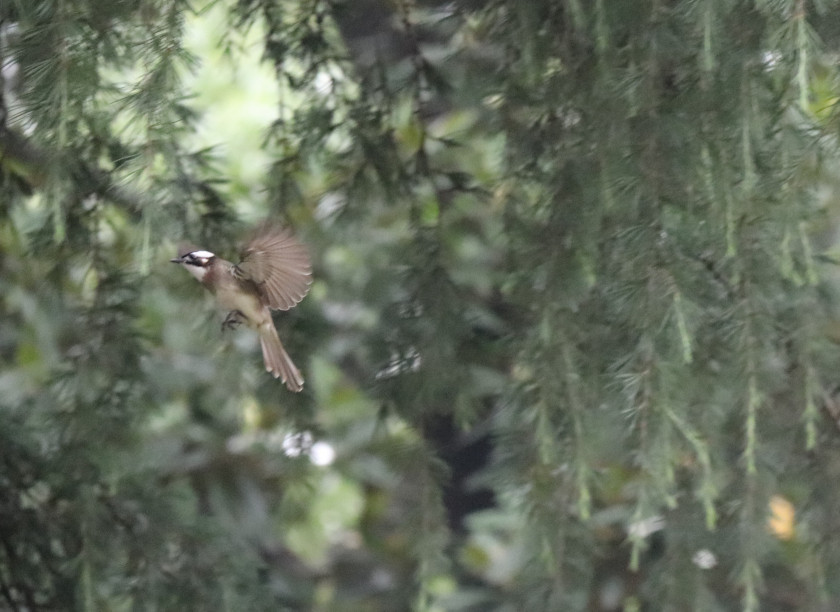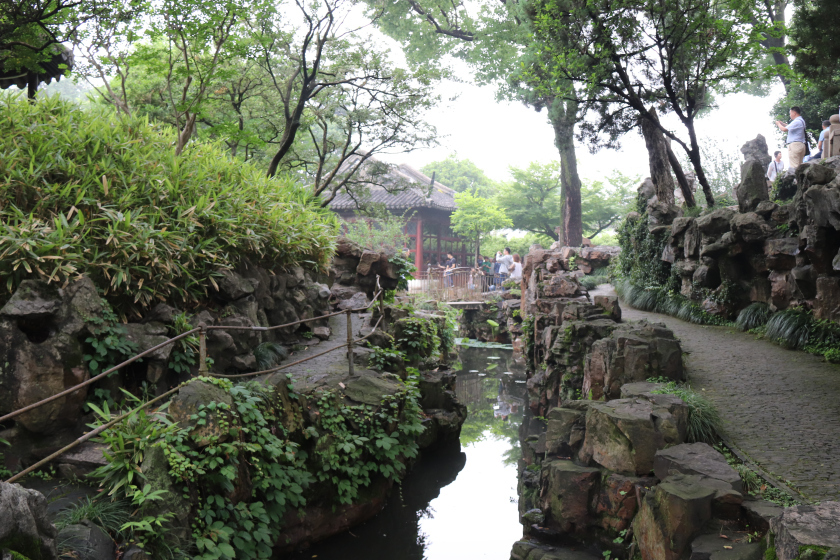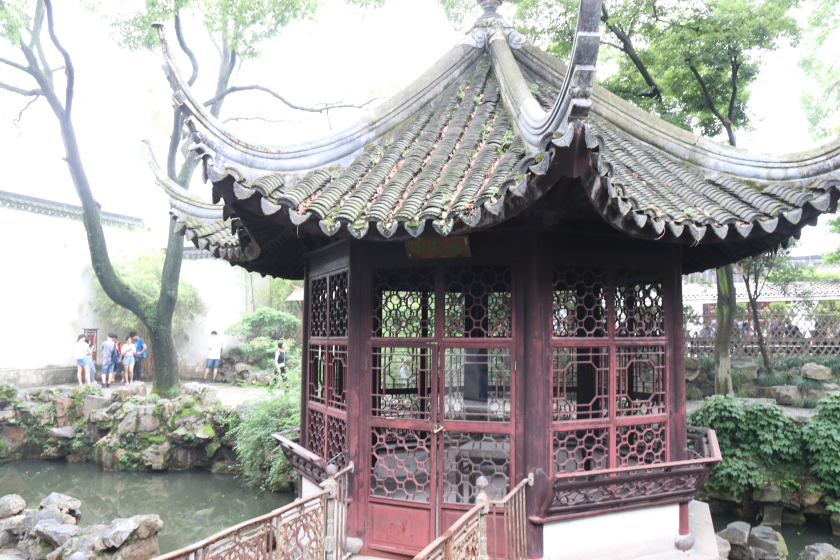 The next site to visit was Huqiu Park, or Tiger Hill. We took a bus from the Humble administrator's garden to Huqiu Park and the journey was about half an hour. Su Shi (960-1279), s famous Song Dynasty poet, said, 'It is a lifelong pity if having visited Suzhou you did not visit Tiger Hill.' This explains the kind of beauty the Tiger Hill is. This park also has many gardens, canals, watch towers, bridges and other historical monuments but the highlight is the Tiger Hill Pagoda of the Yunyan temple. The pagoda is octagonal and has seven floors with a total height of 47 meters. It began tilting over 400 years ago and, today, the highest point is more than 2 meters from its original position. It is also nicknamed the 'Leaning Tower of China', and was built earlier than the Leaning Tower of Pisa. Obviously, visitors are not allowed to enter the pagoda. We spent couple of hours in the park and took many pictures.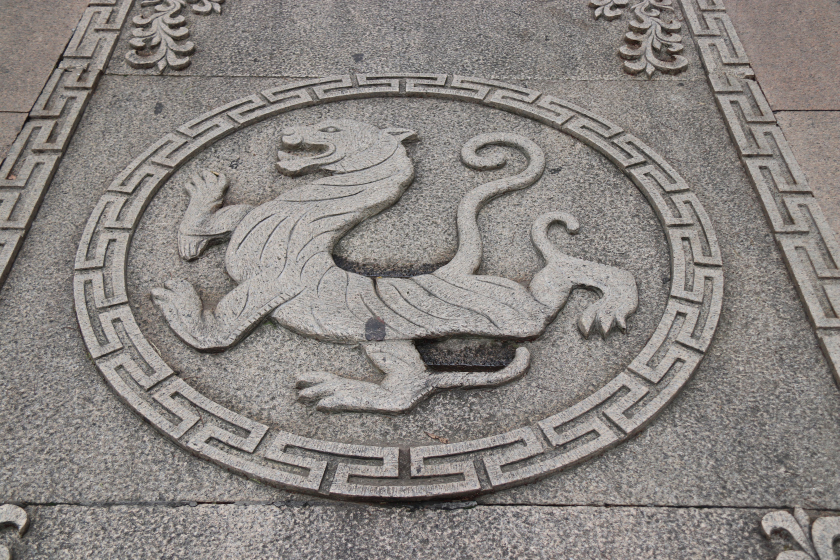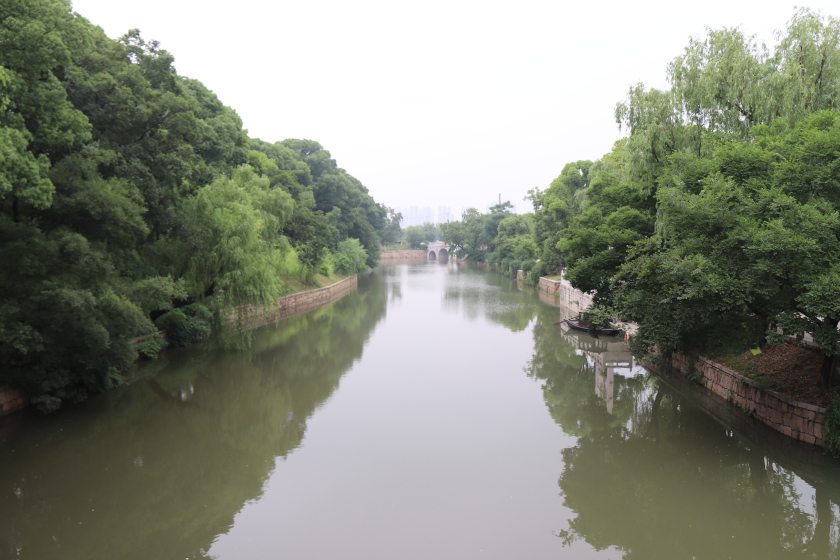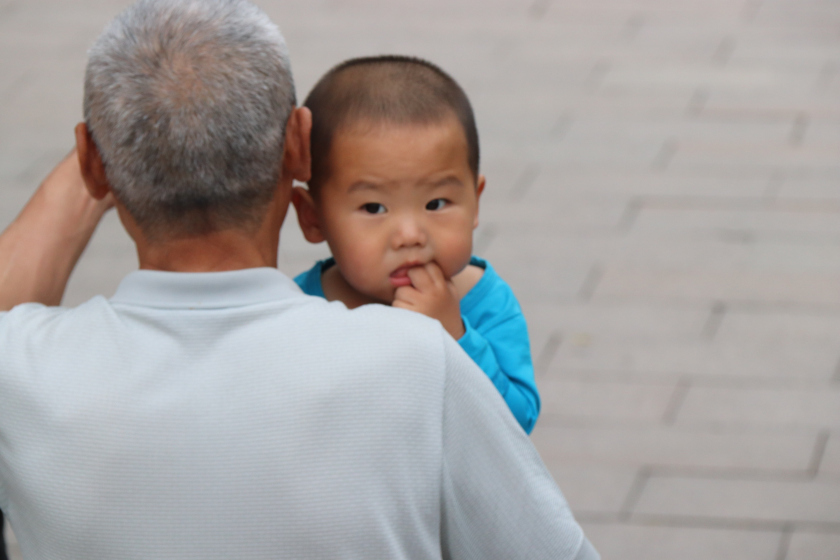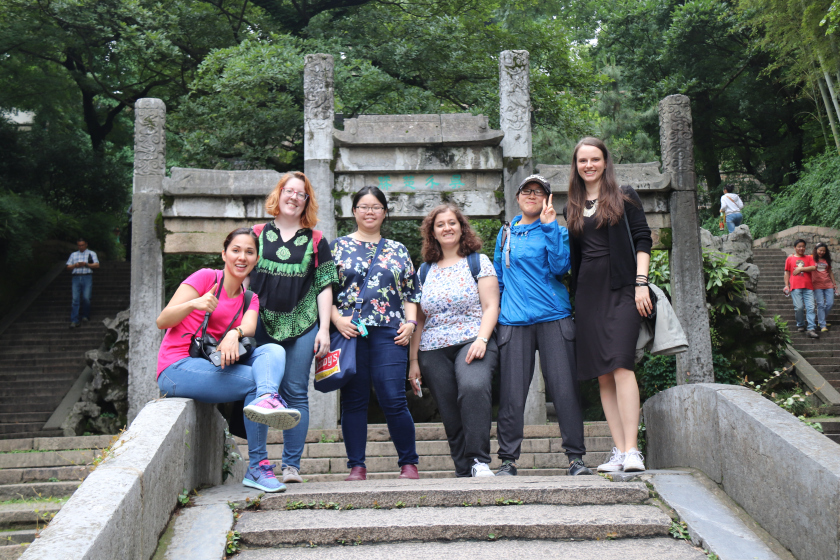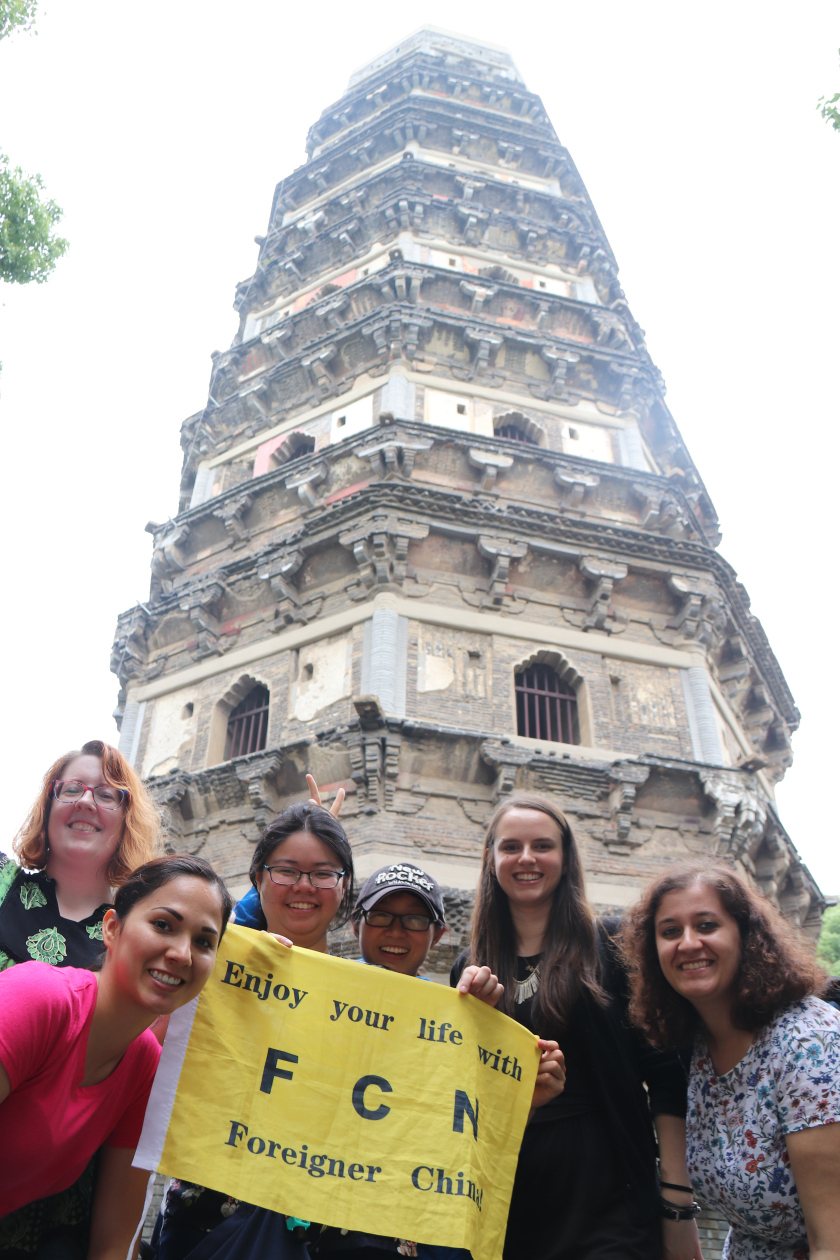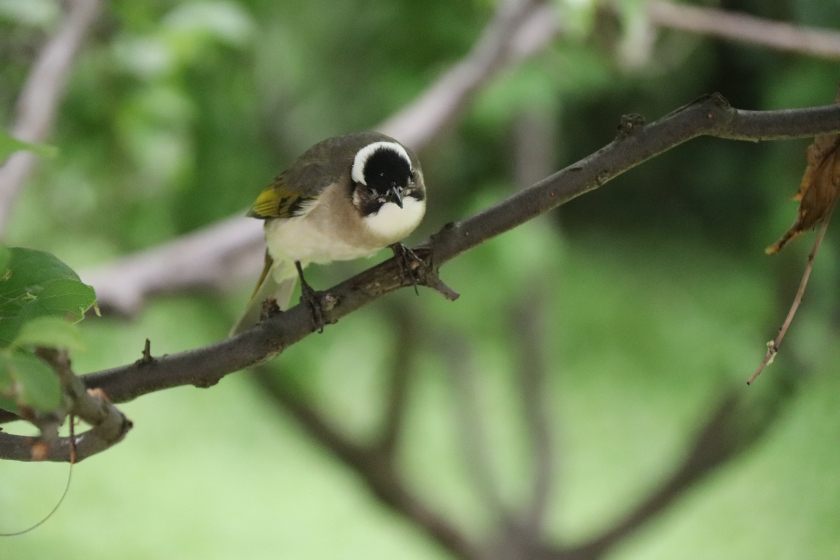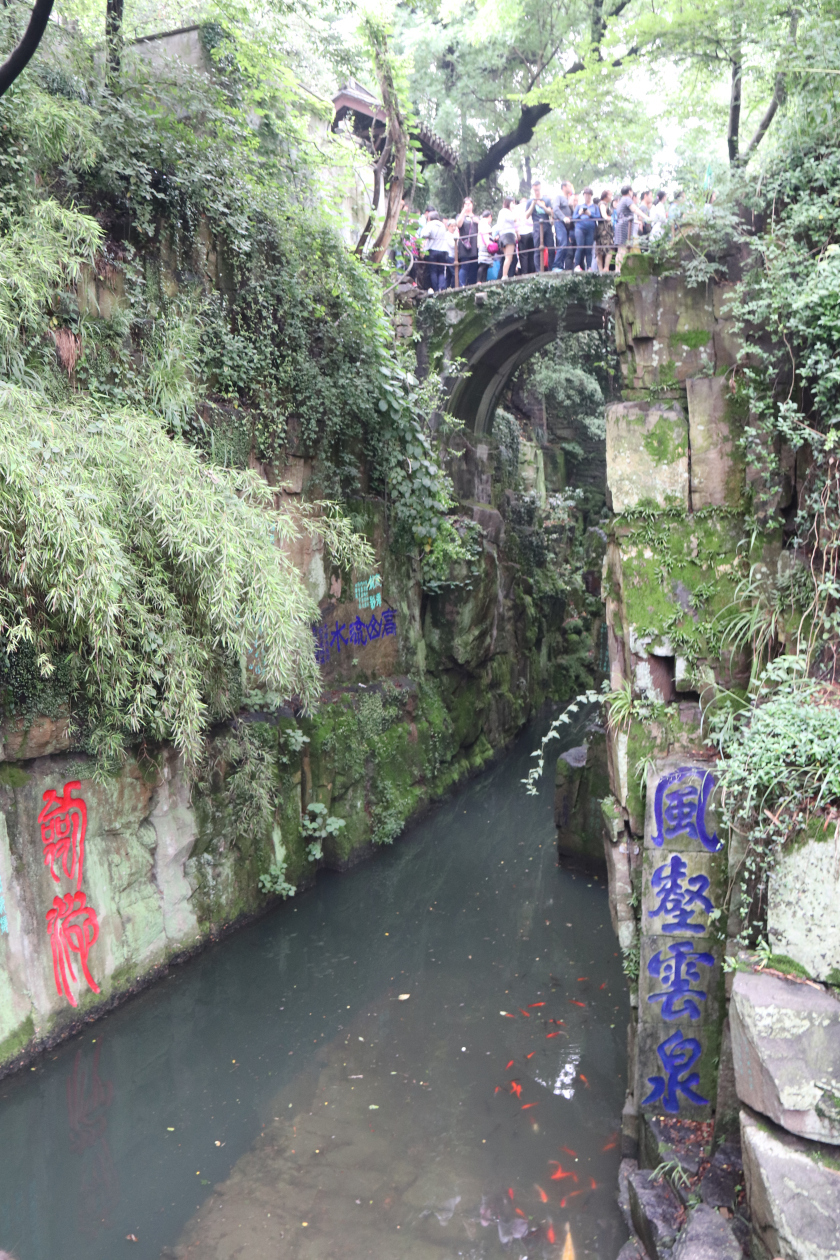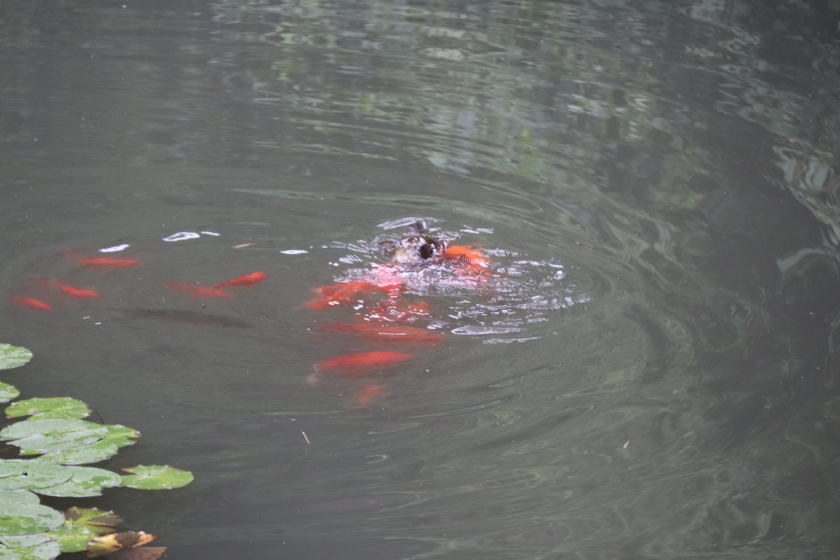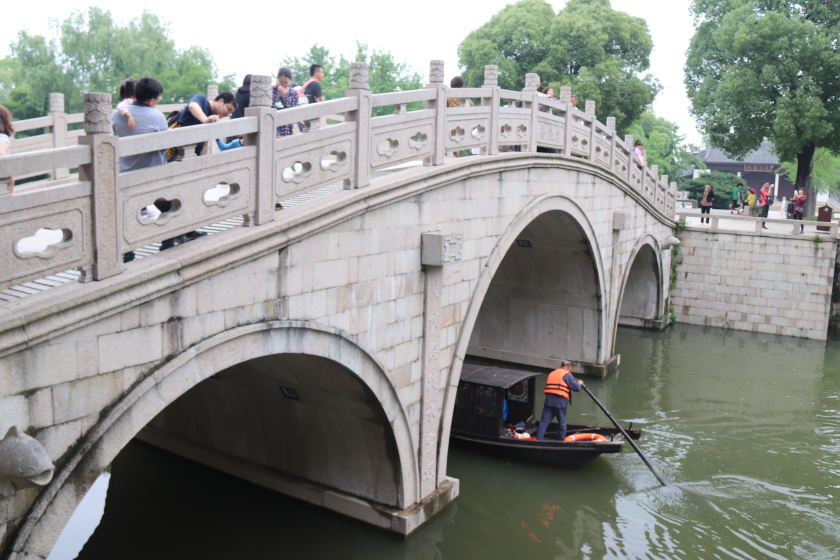 From Huqiu park we went to the Han Shan (Cold mountain) temple at the Maple bridge. The temple was constructed during the Liang Dynasty (502-557) and was repaired several times in the following dynasties. It is said that in the Tang Dynasty, a famous monk and poet Han Shan Deqing, took charge of the temple, and the temple got his name. Our guide Joey said that Han Shan and his childhood friend Shide both loved the same girl, a Han Shan sacrificed for his friend and became a monk. Sometime later, the firend also became a monk and joined Han Shan at the temple. It is said that Han Shan later had a troubled life and moved across many monasteries.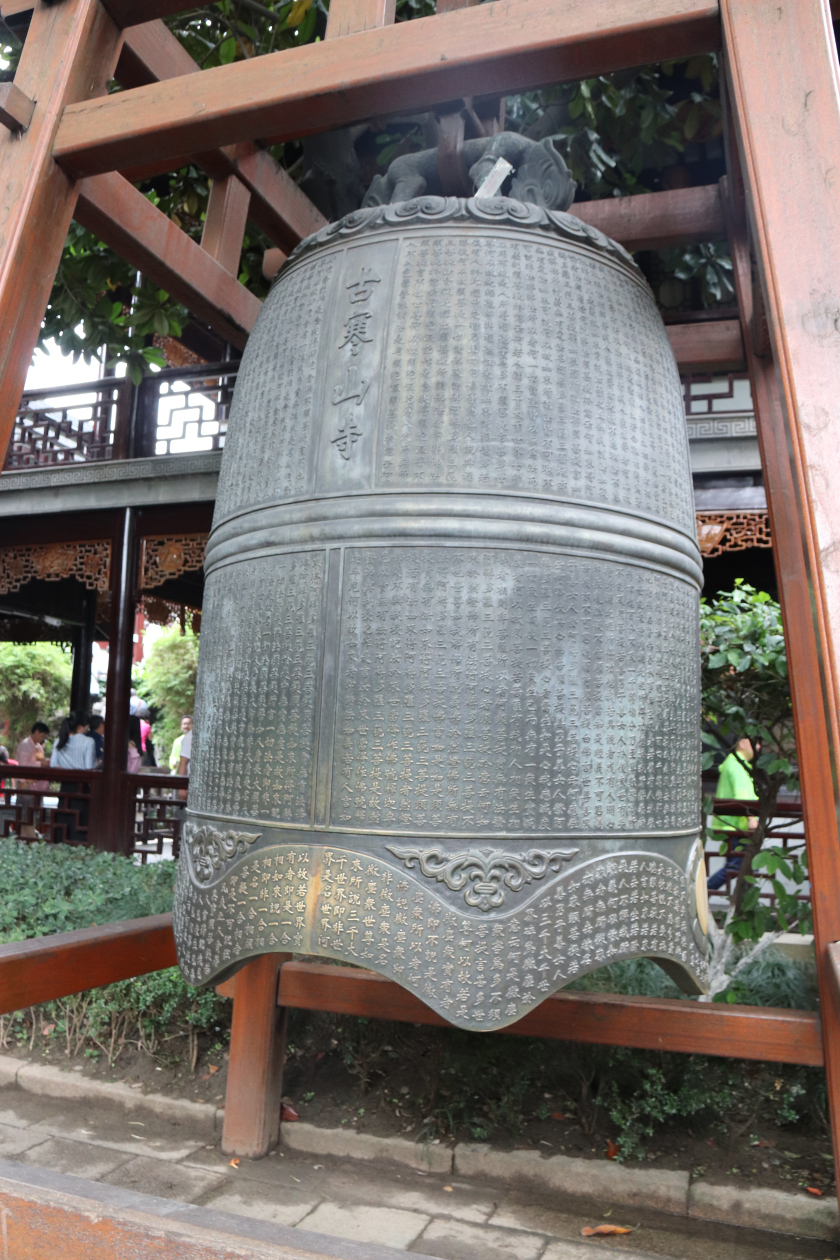 Famous Tang Dynasty poet Zhang Ji wrote the poem "A Night Mooring by Maple Bridge" (楓橋夜泊) upon listening the temple bells at the night.
月落烏啼霜滿天, 江楓漁火對愁眠。 姑蘇城外寒山寺, 夜半鐘聲到客船。
The moon is going down And the crows make a ruckus The sky is covered with frost There are maples on the riverbank And the lights of fishing boats Drift with the current I fall into a sad sleep from the monastery on Cold Mountain The sound of the bell Reaches the guest boat at midnight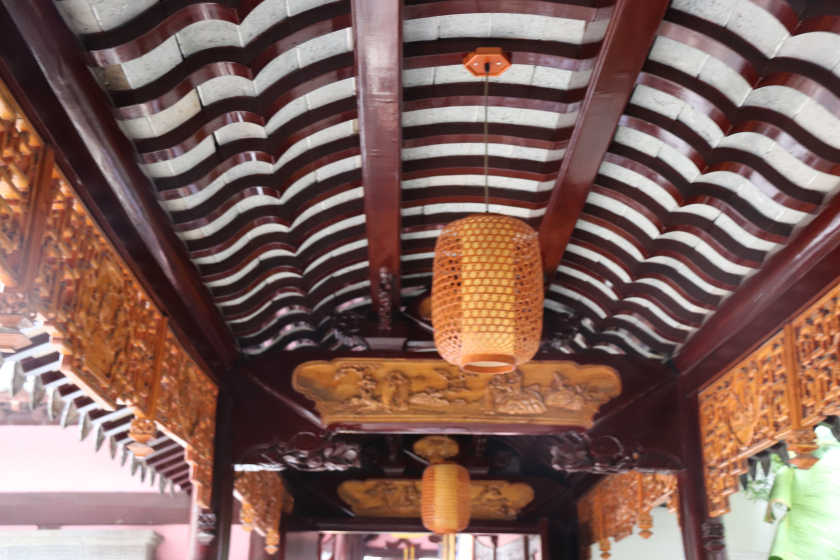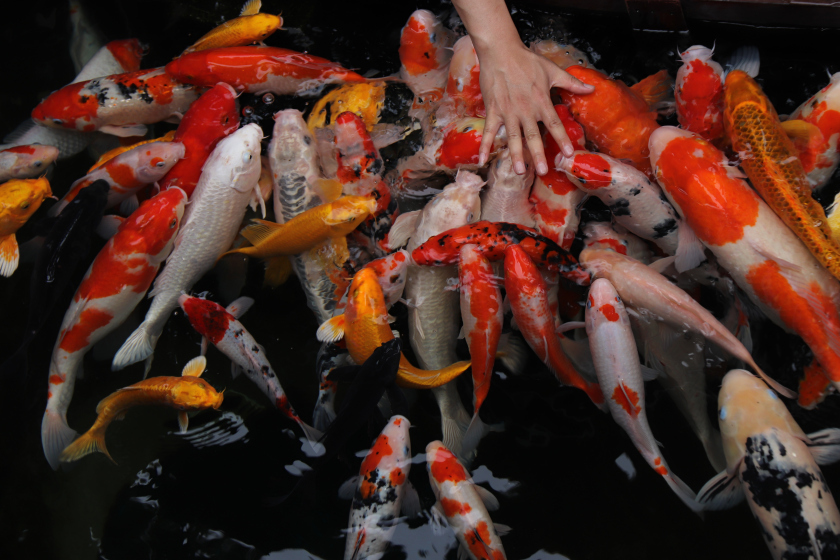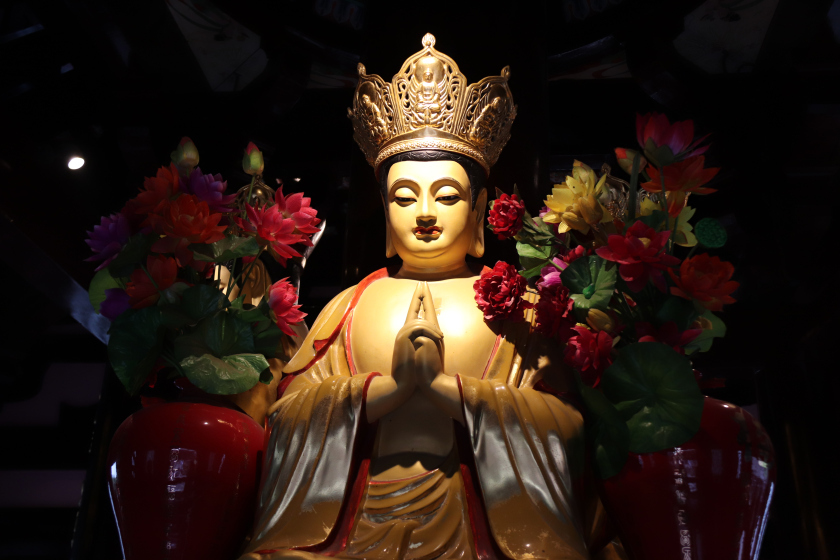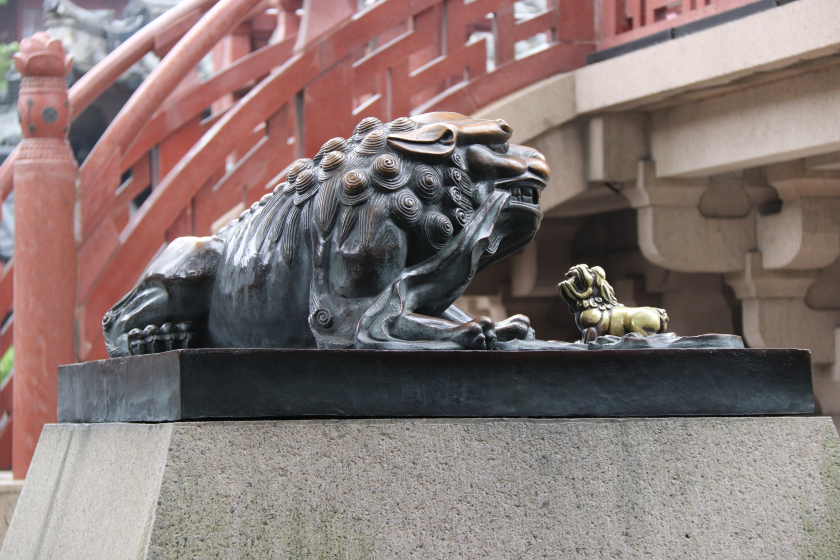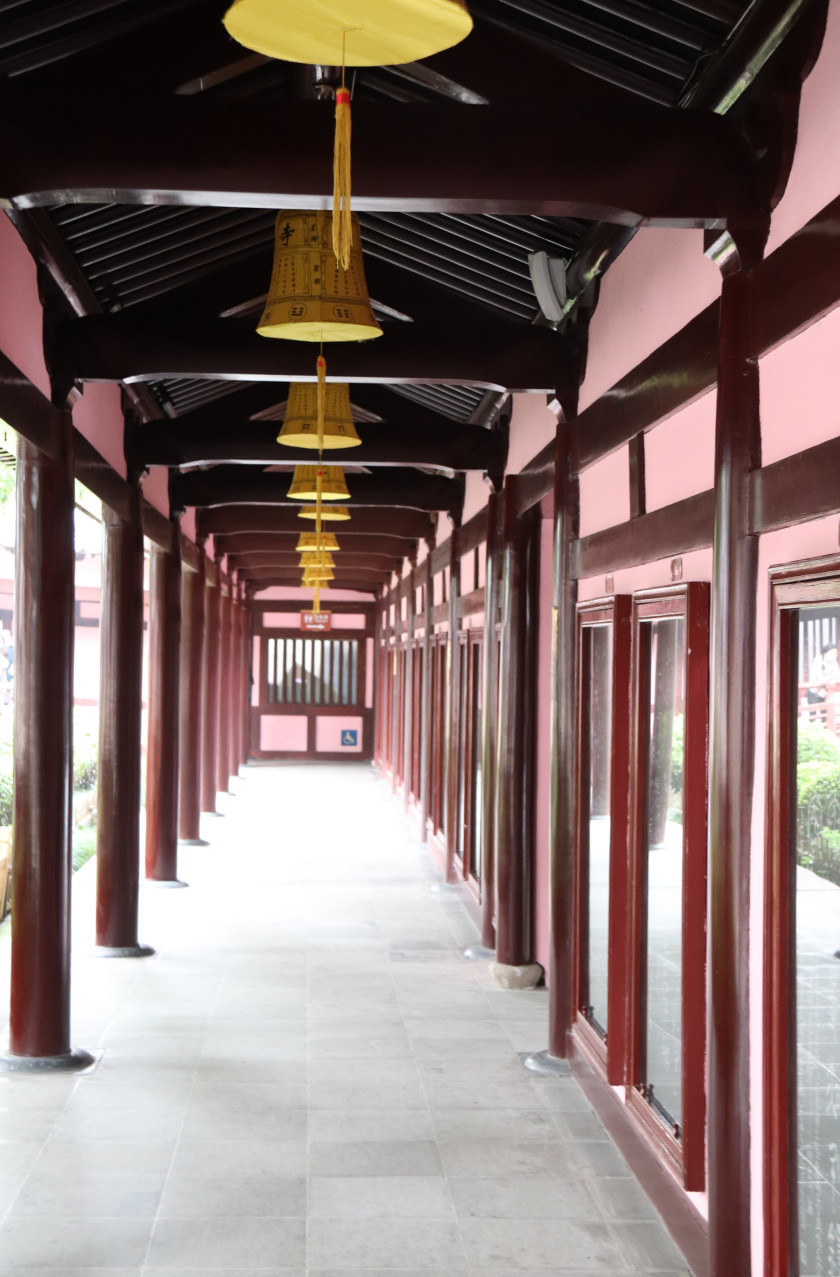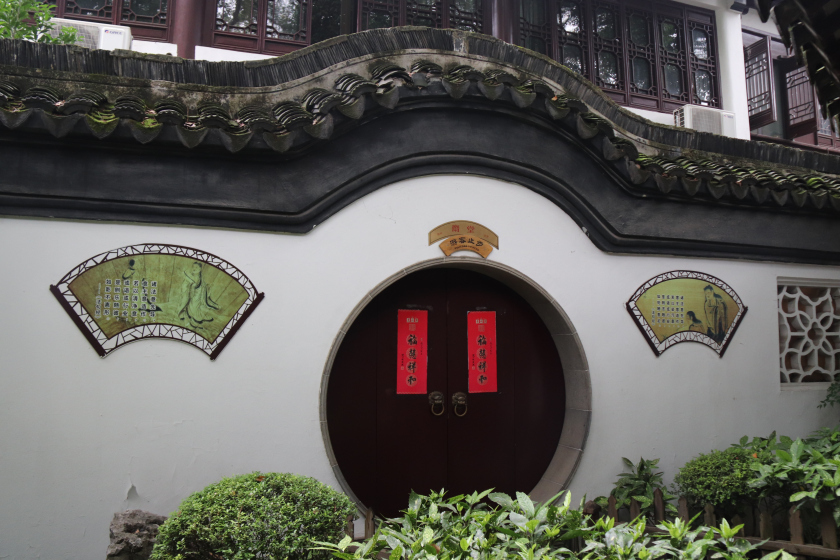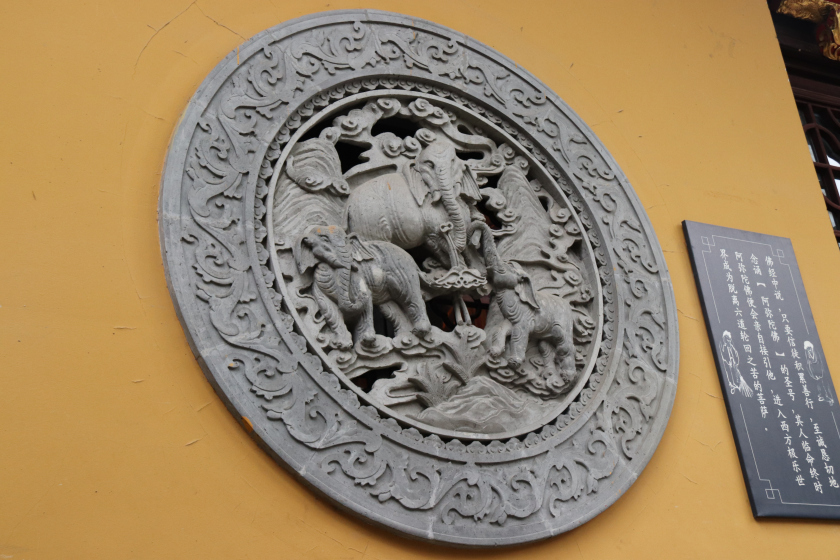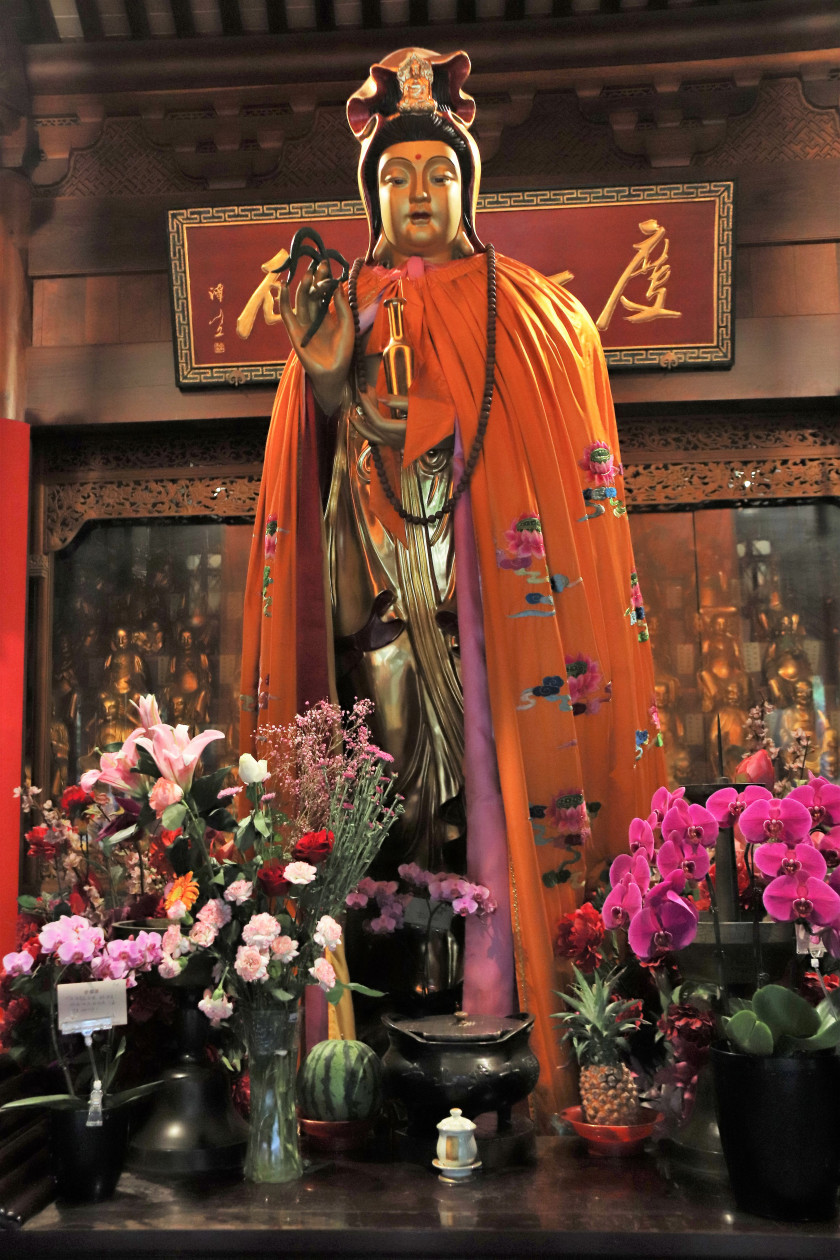 The temple complex has many halls, tablets with poems, beautiful gardens, water bodies with colorful fish, bell towers and pagodas, the most famous being the Puming Pagoda which was added in 1995. This is in in Tang Dynasty style. The grand prayer hall has four beautiful statues of Sakyamuni facing four directions.
In the evening, we had dinner at a local place and went for the river cruise. The cruise is through beautifully lit traditional buildings, but unfortunately the windows were closed and most of us were sitting away from the windows. A girl sang and played a viola for some time and they sold playing cards with Suzhou pictures and CDs of Suzhou. The cruise was for about half an hour. We came back to the hotel and rested.
Next morning, we left at 6:00 to catch train for Nanjing. We took subway from the front of the hotel to the railway station. The fast train was at 7:30. The speed was consistently 351km/h and we reached Nanjing at 8:10. We left out luggage at the cloak room at Nanjing station, had breakfast at Starbucks and left for Xuanwu lake garden by subway.
Nanjing is the capital of Jiangsu Province and was the capital city of many dynasties in ancient Chinese history. Till 1403 when emperor Zu Di made Beijing the new capital, Nanjing used to be capital of greater part of China. It is on the south bank of the Yangtze River and is famous for its history, the longest city wall and gardens.
We were at the Xuanwu lake garden around 10:30. Xuanwu Lake is a beautiful scenic spot with a long history. The name of the lake has changed several times, and is called Xuanwu because a black dragon was said to be in the lake. Xuanwu is at the foot of Zhongshan hill. There are five isles in the lake connected by beautiful bridges. Then there are temples, pagodas, pavilions, gardens, teahouses, restaurants and other attractions. The main entrance is the Xuanwu Gate. We took a picture at the gate and spread out to see the attractions. Near the gate there was a large place where the parents of eligible brides and grooms were looking for match with some charts like horoscopes. They didn't like to be photographed. We took pictures with the lake in background. Then we moved to a small temple built in memory of a third-century Taoist scholar and mystic named Guo Pu. He was fortune teller got killed when his predictions did not work for a Chinese warlord. The shrine is surrounded by trees and large stands for people to tie red ribbons with their wishes. This is a practice in many parts of China, but this place certainly was special, with a large area dedicated for the wish ribbons. People buy them, write their wish, and tie to the trees. The writings are mostly in Chinese, but some write in English too. We went around crossing stunning bridges and scenery to reach a Buddha temple with a green and white pagoda in its premises.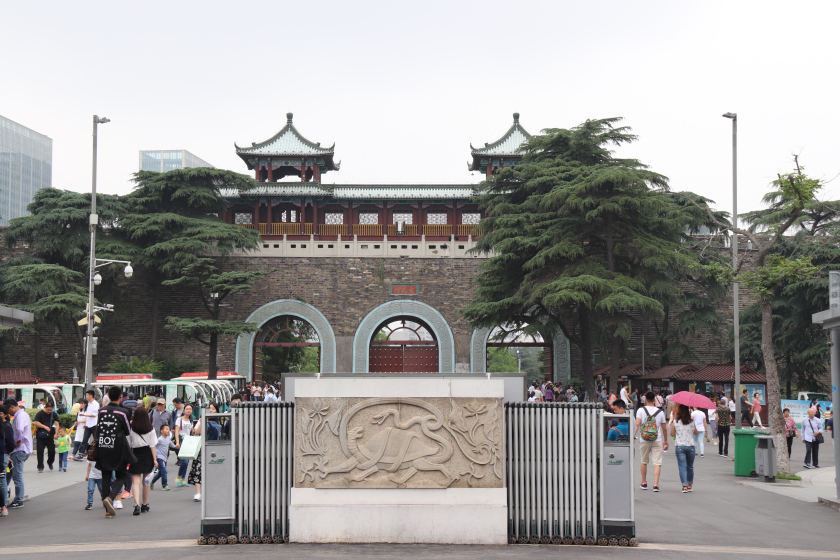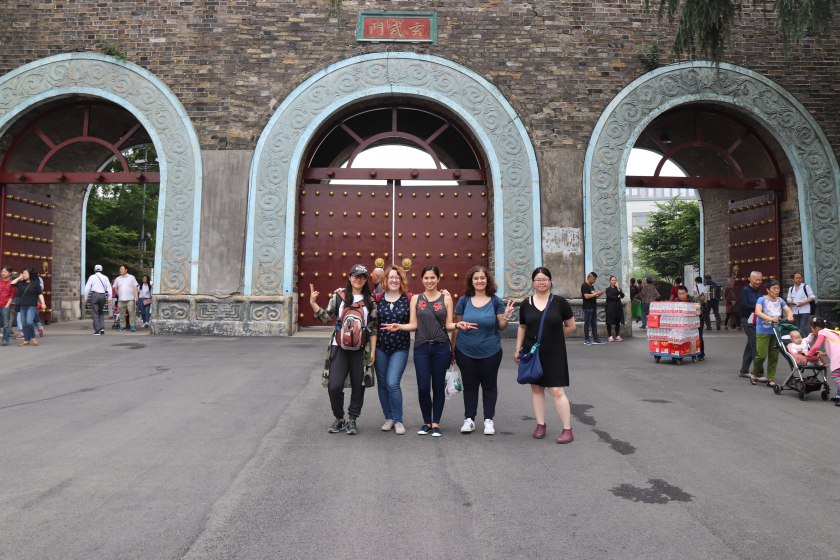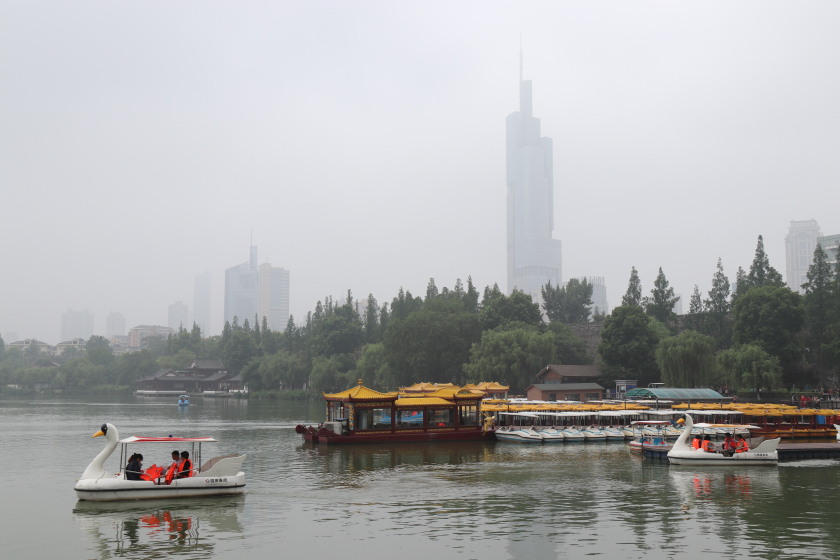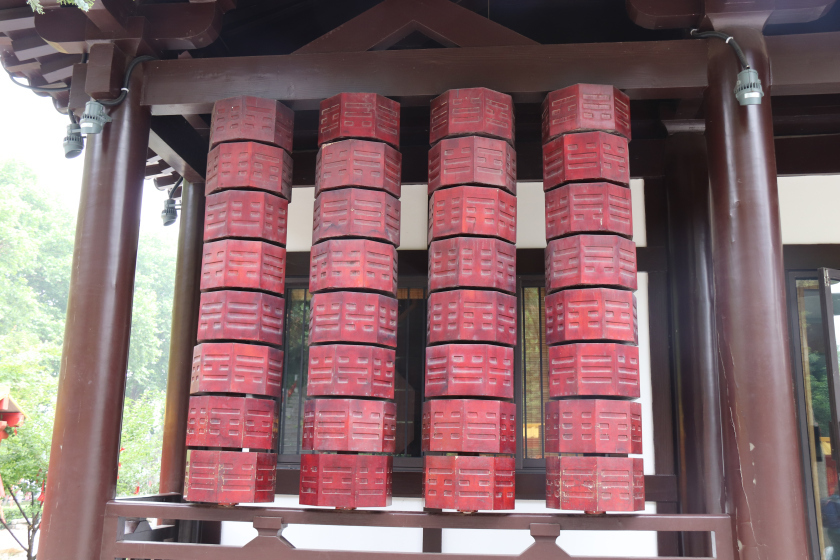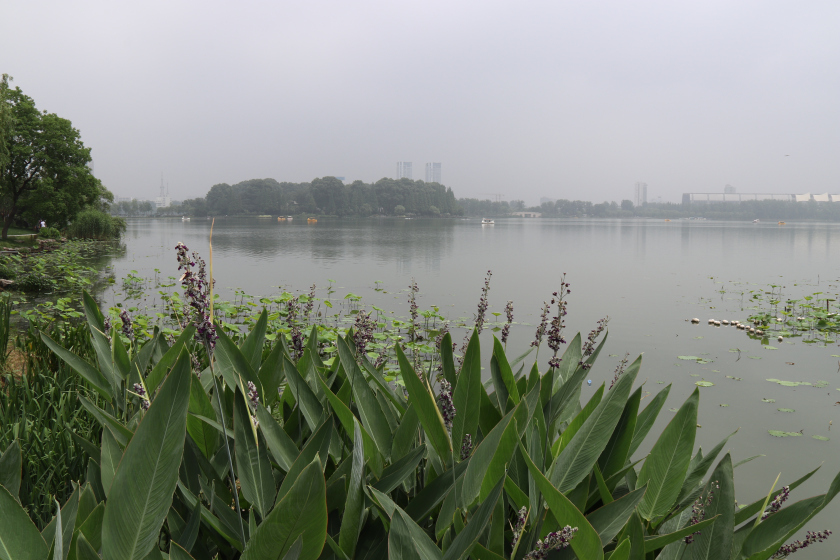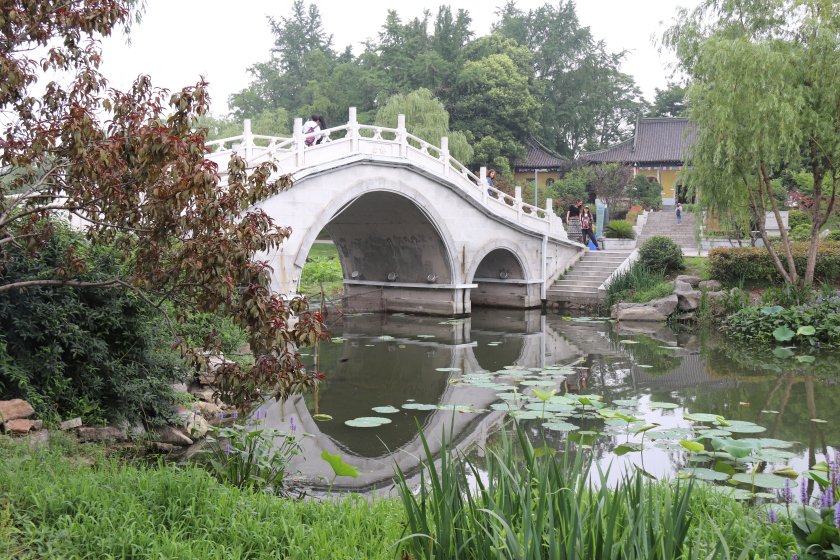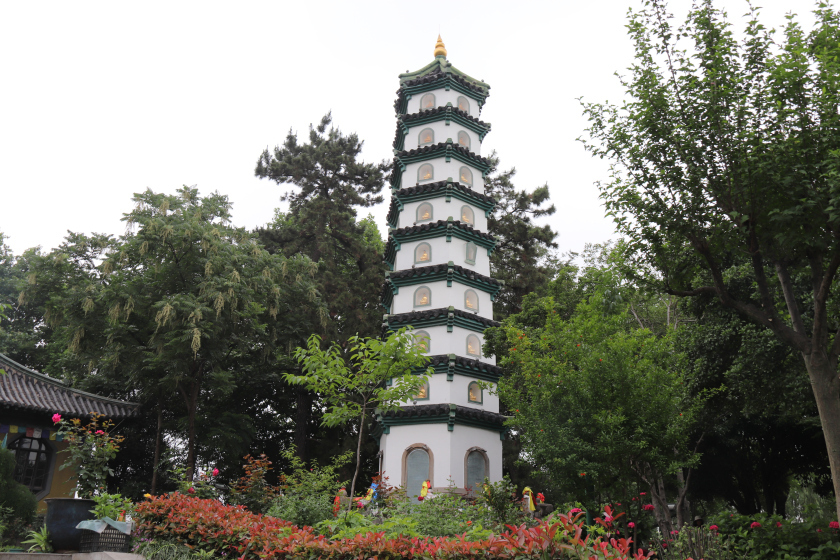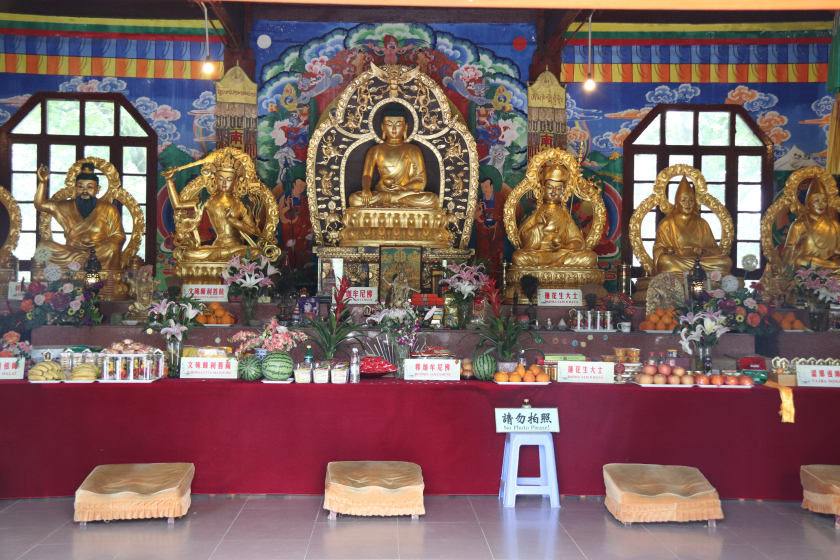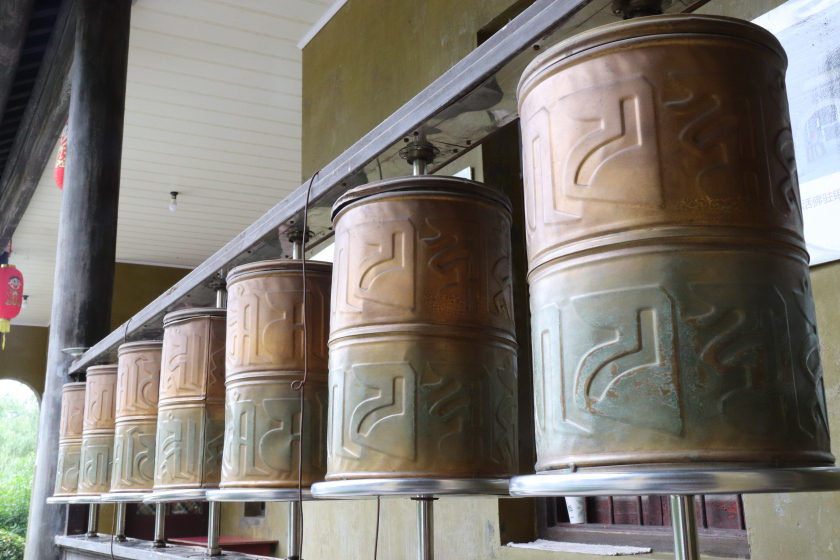 A short walk to the Xuanwu lake side led us a large beautiful Statue of Avalokitesvara Bodhisattva (Guanyin-Goddess of mercy or compassion). While we started taking pictures, Christina realized that she left her mobile phone at the last place, near the pagoda. Joey and Christina went back to check while Fiona, Martina and I waited for them there. It was about 11:30 when they left, and as they didn't come for the next half an hour, we moved to the entrance gate. We saw Joey and Christina moving in a police car. Joey said that in CCTV the police saw a woman in blue T shirt picked up the left phone, but the phone was switched off immediately. For next couple of hours, they looked for the elusive woman in blue T shirt. Christina's phone had a US SIM and there was nothing that could be done.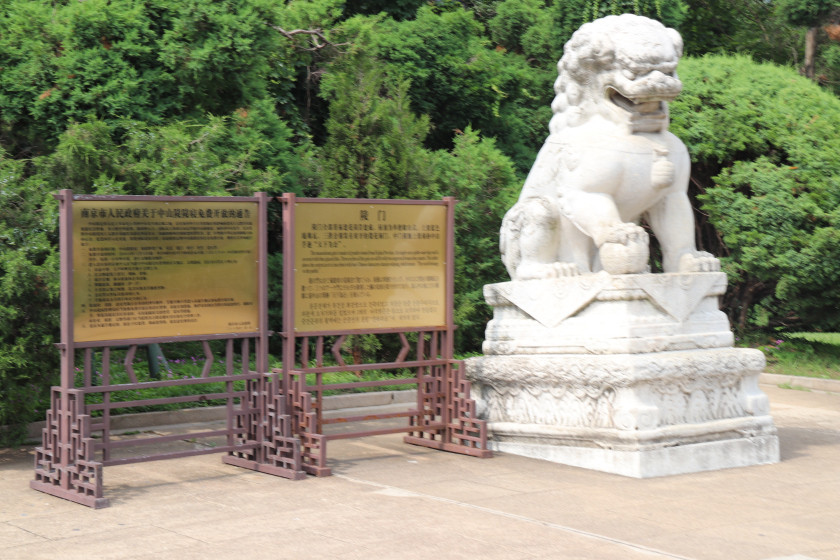 I ate cold cut noodles sold near the entrance for lunch. As we were losing time, we decided to skip the Nanjing massacre site and go ahead to Dr. Sun Yat-Sen mausoleum park. Fiona booked a taxi, the went to some distance and dropped at a mid-point as the road leading to the park was made in to a one way. After that I booked another taxi and he was going around in circles, trying to find the way to the park. We finally reached the entrance of the park at 14:10. The crowd was huge as we always find in tourist places in China on a holiday. There was convention happening that day and people in pink clothes had gathered in thousands.Dr. Sun Yat-Sen (1866-1925) was a great leader of the Chinese democratic revolution and the Chinese people to bring down the corrupt rule of the Qing Dynasty (1644-1911) and ended 2,000 years of the feudal monarchy system. He is considered to be "Father of Modern China". He was born in Guangdong province of China on 12 November 1866, and died in 1925 in Beijing, China. Upon his death, the mausoleum was built in an area of 20 acres in the foot hill of Mount Zijin (Purple Mountain) in Nanjing, by choosing the best design among 40 proposals. It was designed by Lu Yanzhi and completed by Poy Gum Lee between 1926-1929. The place is very impressive with beautiful gardens and majestic buildings. The marble gate has three arches, and has the inscription of four Chinese characters written by him, "Tian Xia Wei Gong" (天下为公) which means "What is under heaven is for all".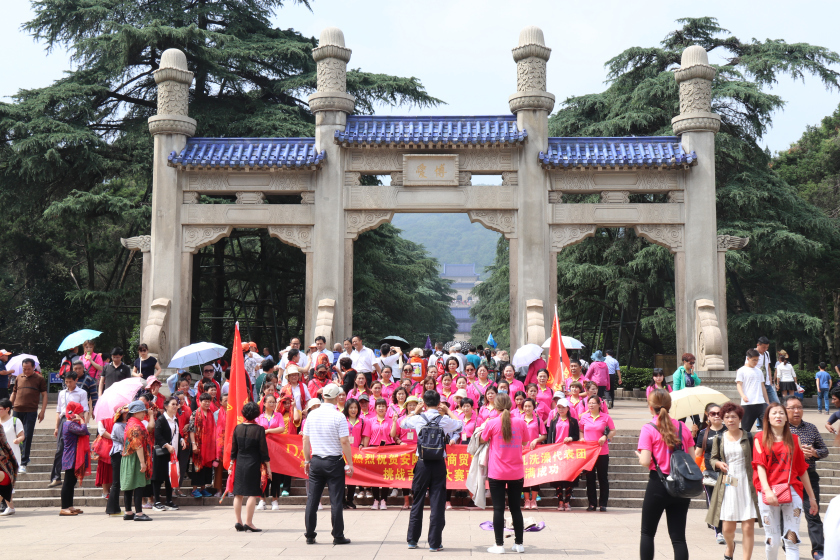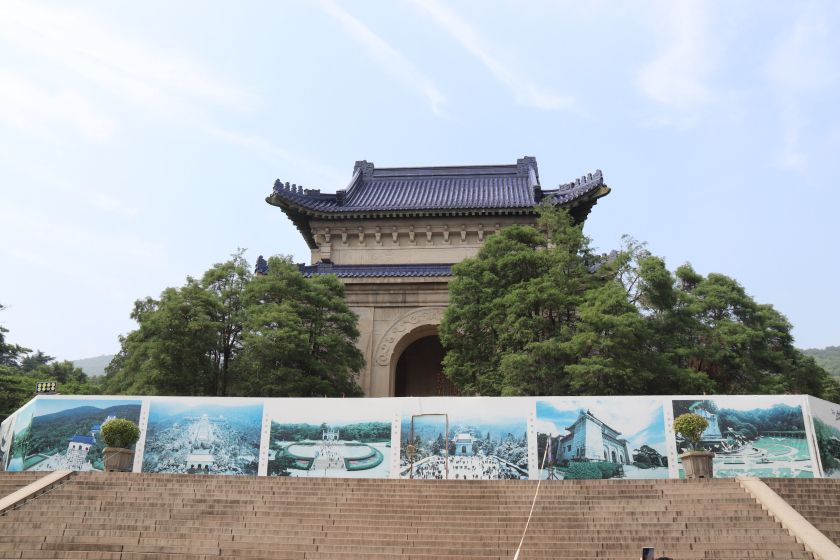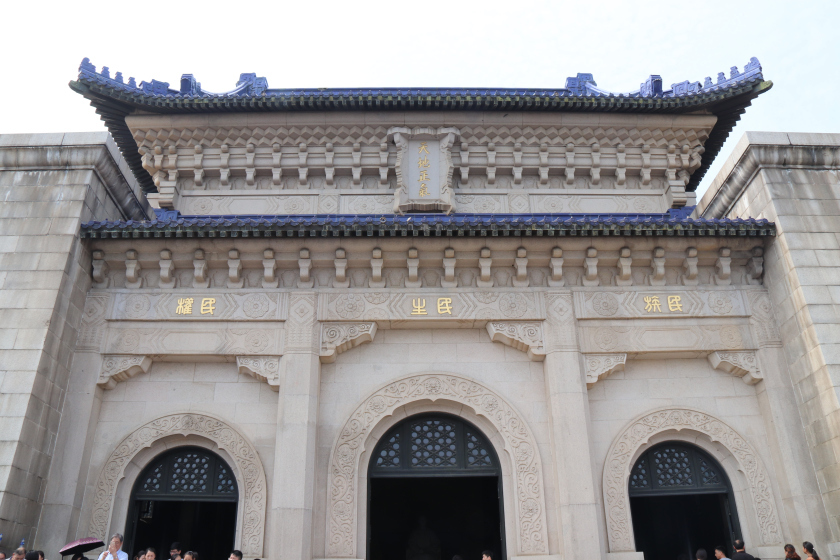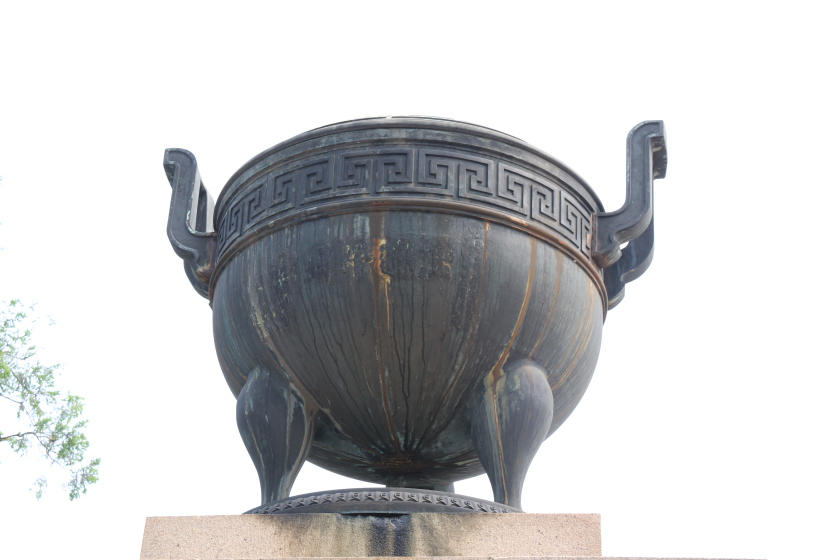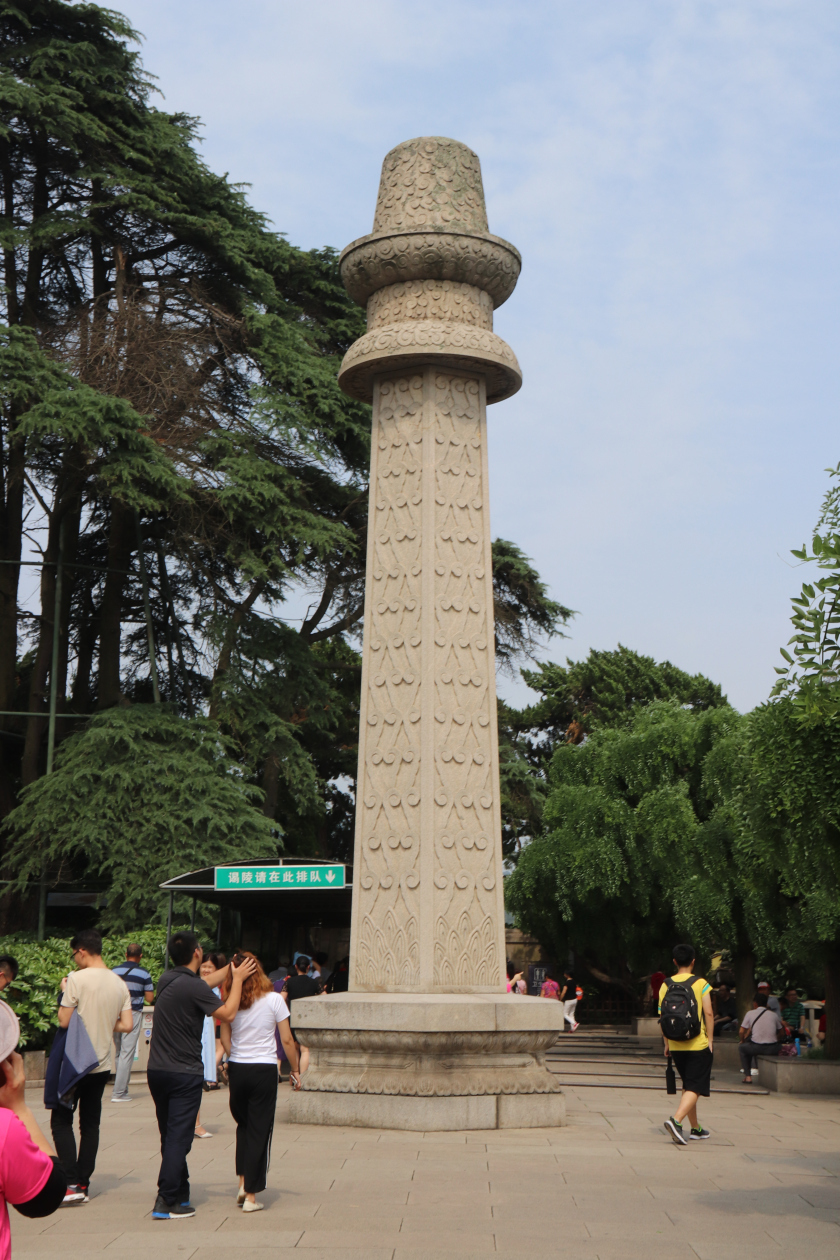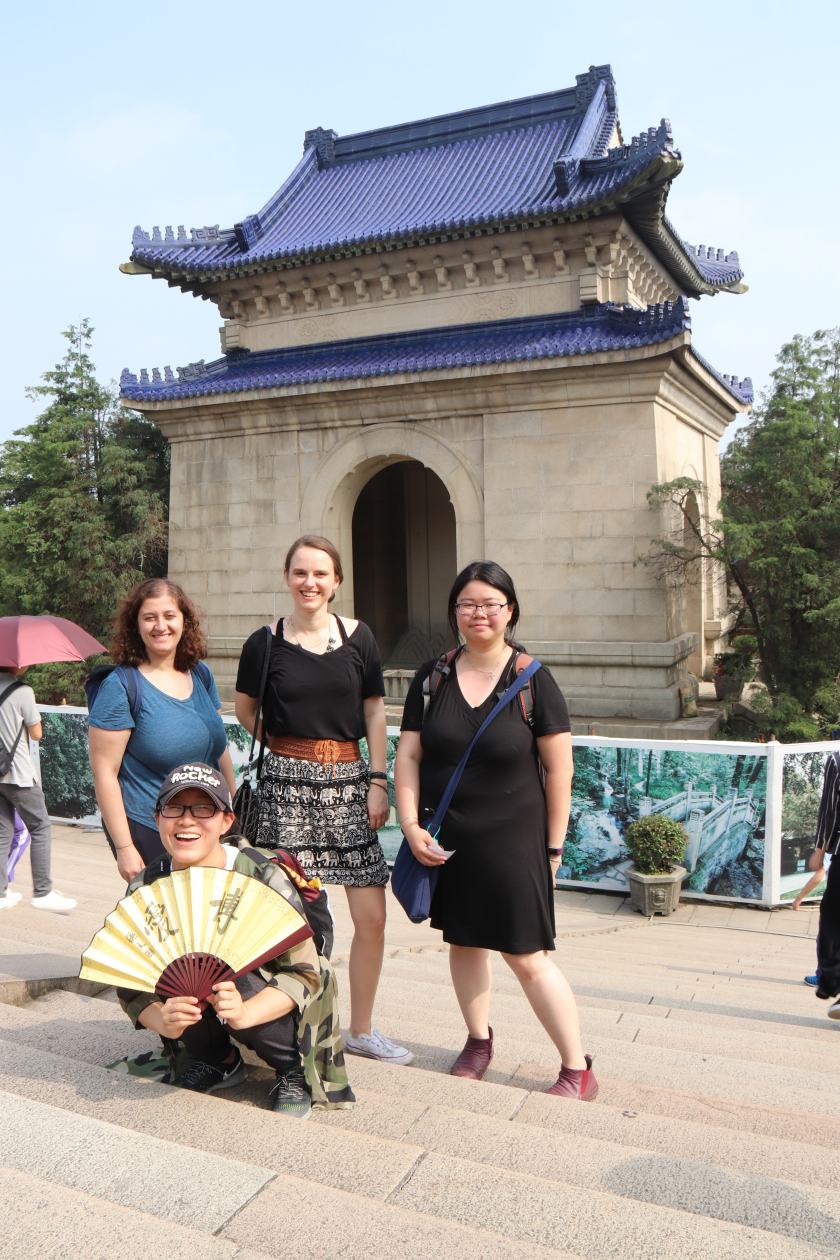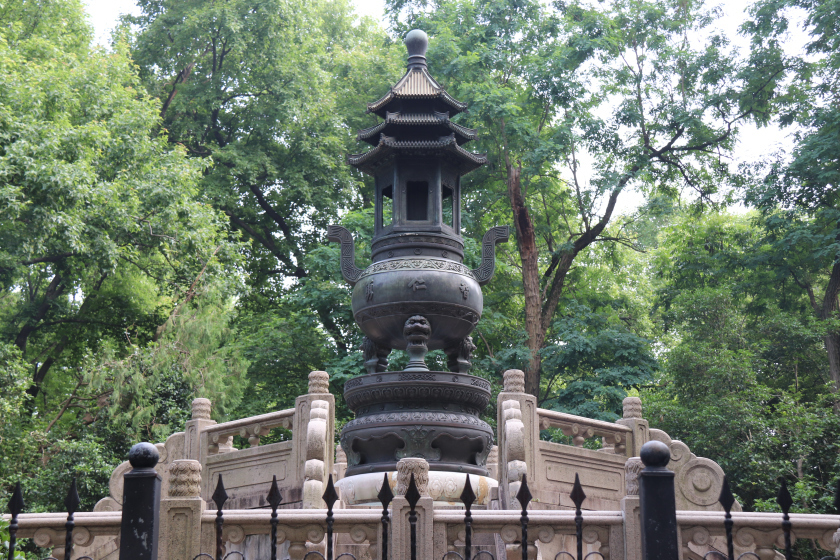 We went up to the main building where Dr. Sen is buried. There is an impressive marble statue of Dr. Sen. We saw the places around and were resting, when Joey and Christina joined. Apparently, the mobile phone could not be traced. At 16:15, we came out from the park and caught a but to the next spot, Fuzi Miao, Confucius temple market.
Confucius temple market is a street bustling with activity on the bank of Qin Huai River. On the riverbank there are many old houses. Joey said in the ancient times this area was famous for very beautiful girls who wrote poetry and sang beautifully. Men used to come seeking them. When the girls didn't like them, they would just sing a song and send the visitors back. They also inspired many poets to create great literature. The most notable lady from here was Chen Yuanyuan. She was born to a farmer family in Jiangsu province, and on the death of her father, she became a courtesan. Chen was an important figure in the Suzhou opera. In 1642, she became the lover of the scholar and poet Mao Xiang. Subsequently, she was the courtesan of Wu Sangui, a Chinese military general. There are stories that there were wars fought for her and led to establishment of Qing Dynasty. There is a saying: "冲冠一怒为红, Punch one in anger for the beauty". As per some stories, Chen Yuanyuan survived the fall of Beijing and reunited with Wu Sangui. There is a belief that later she changed her name and became a nun in Kunming after Wu Sangui's unsuccessful revolt against the Qing. Historians regard all these accounts as folklore.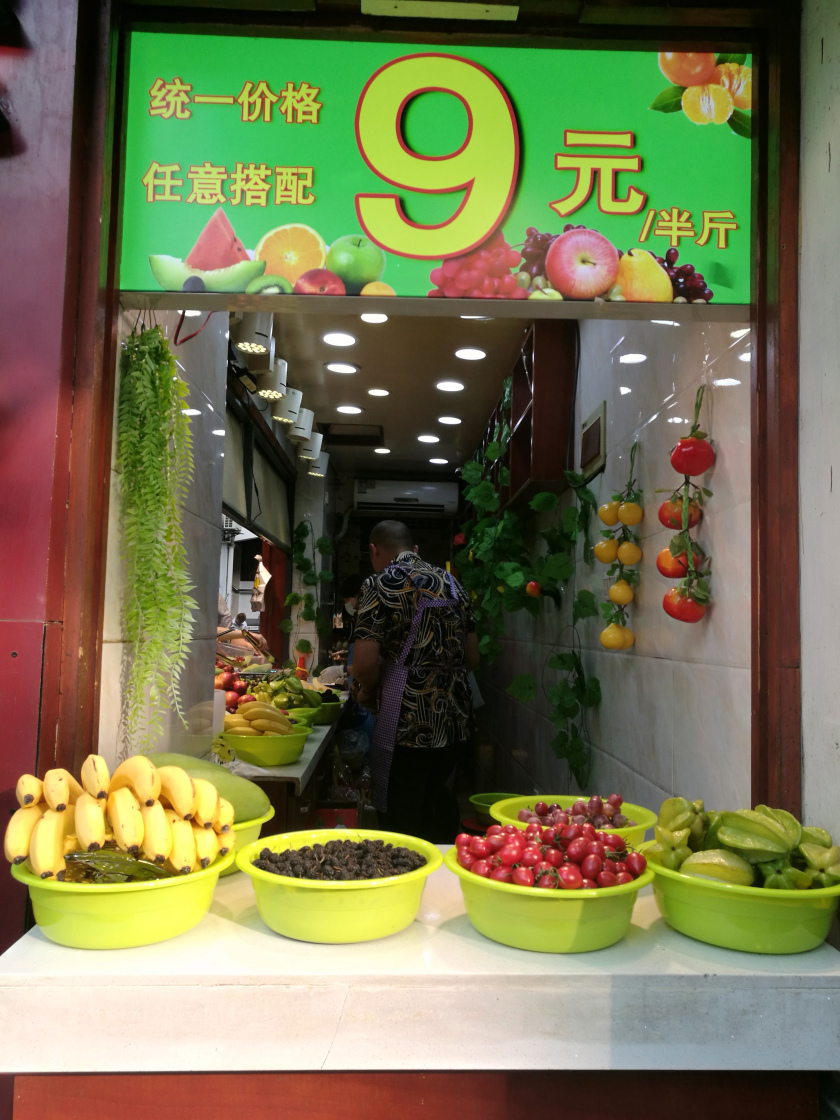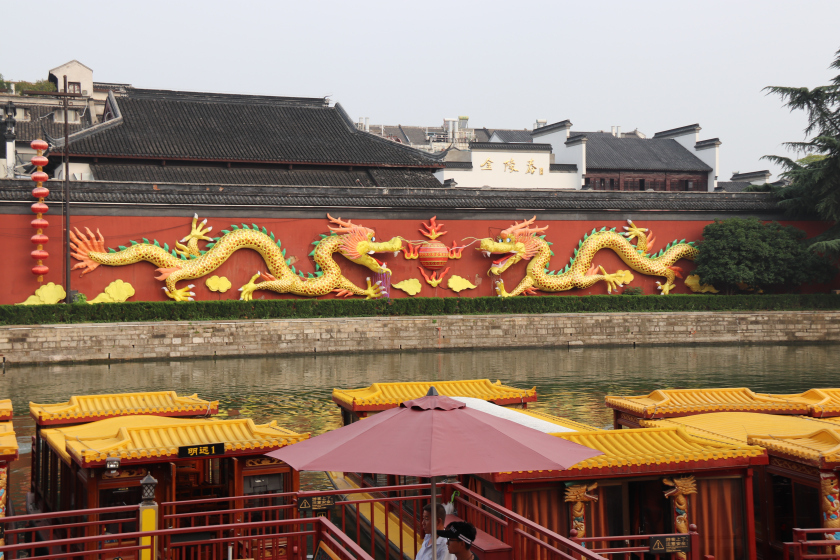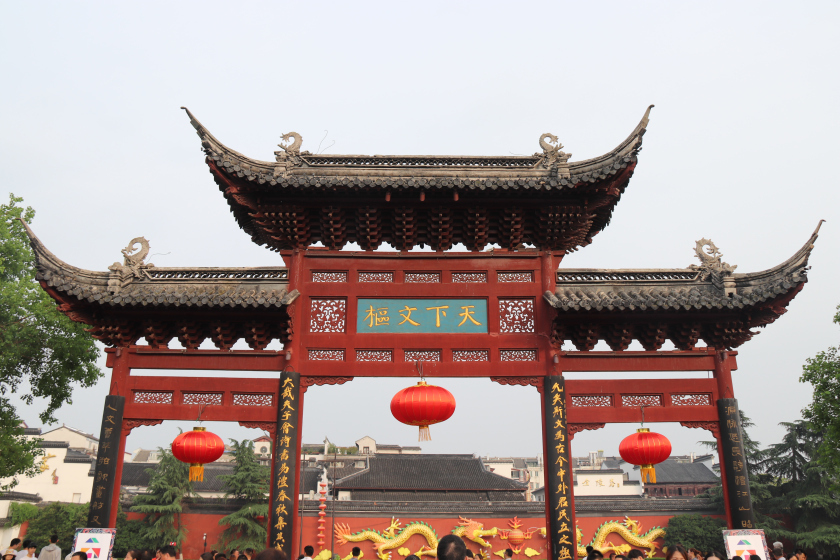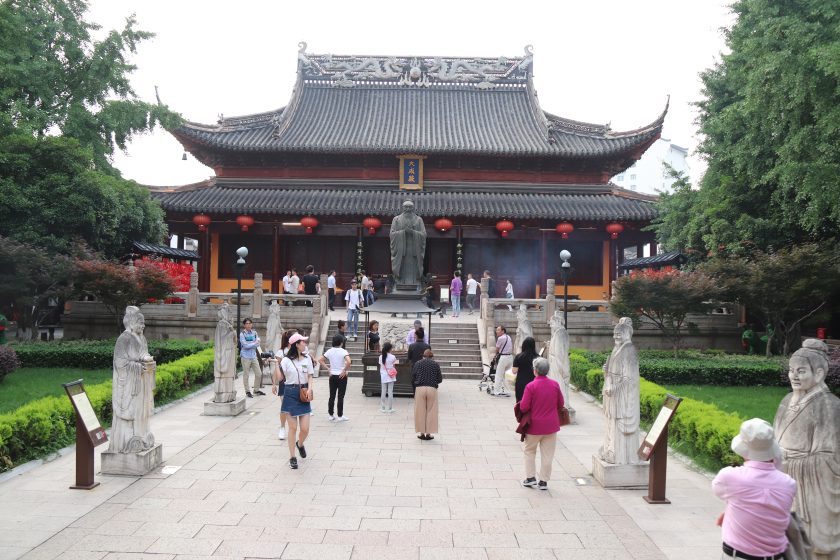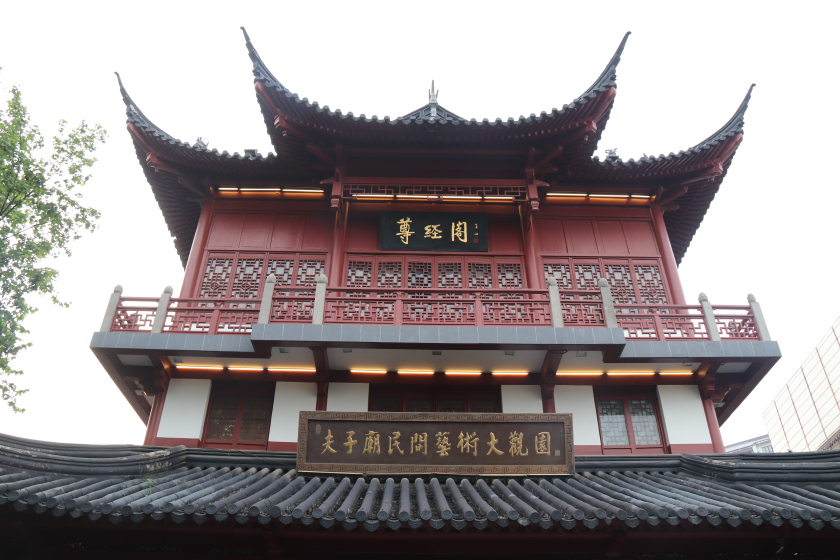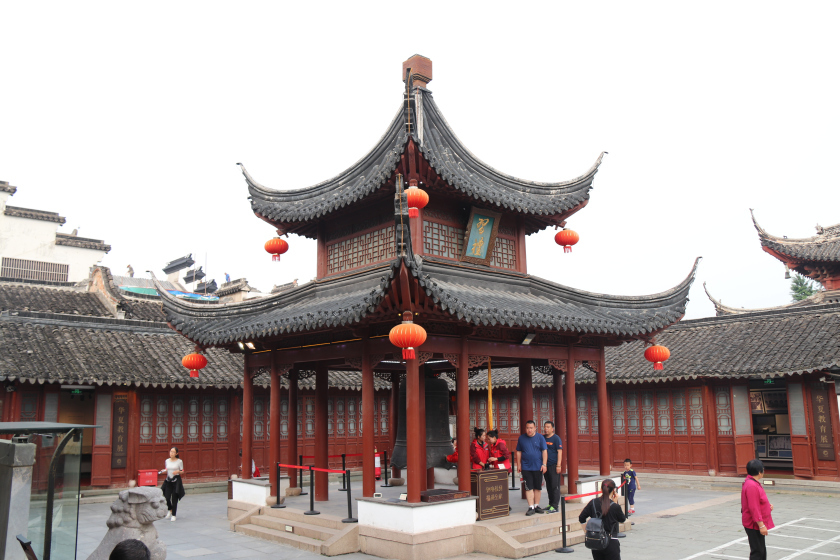 There were many shops selling memorabilia, artwork and local food. We tried fresh fruits in a shop where any fruit you could eat was sold for 9 RMB for half a kilogram. I don't know how it worked, but the combo I tried, costed 38 RMB with a free container. We met Pamela and Luca, who seemed to be having a field day shopping. We visited the Confucius temple that showcases the many important events of the great philosopher's life, as colored stone embedded beautiful murals. We were at the Confucius temple market for about an hour and left for Nanjing railway station by the subway. The journey by fast train was comfortable. Once again, the train's speed was above 350 kms/h. We reached Beijing south railway station at 23:18, a bit ahead of the time. There was a huge crowd of taxis outside trying to get more money from the people. Joey had to go to the same direction as mine, we tried looking for DD taxi and I saw that there was long wait for DD. We negotiated with a taxi driver for 200 RMB. He made us sit in the taxi and started looking for more passengers. Luckily, I could get a DD driver to respond. But it took real long for him to reach, and when he reached us, he sped past us a couple of times. Ultimately at 00:28 we could catch him, and I reached home at 01:05, after dropping Joey on the way.
The trip to Suzhou and Nanjing was wonderful, though short. I wish to go there again leisurely. Thanks to FCN for the opportunity, Joey for her guidance and the co travelers for a great company. Christina losing her mobile phone was a disappointing event in otherwise a great tour.