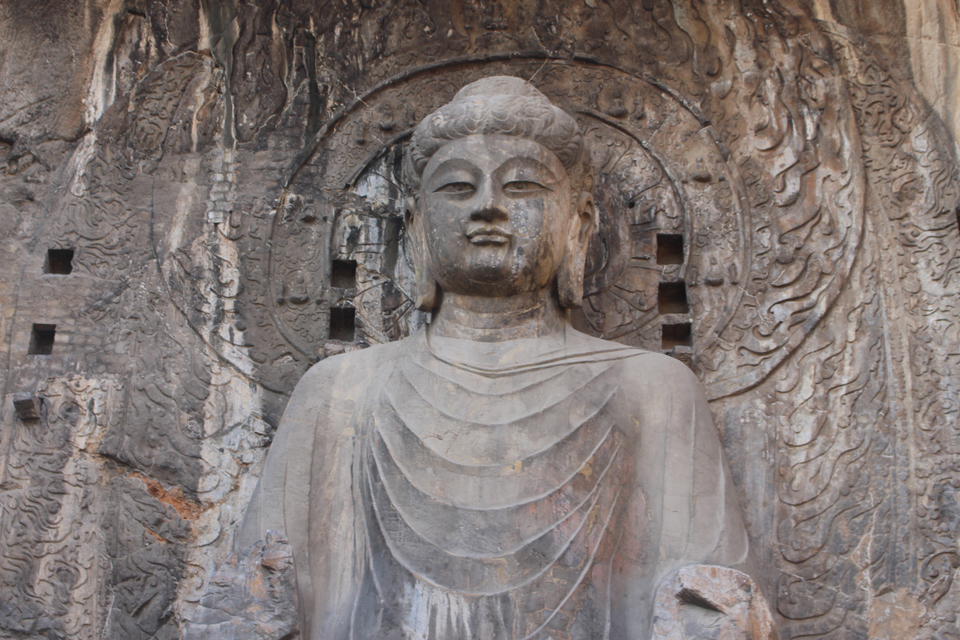 Shaolin temple has been on my wish list for long. Couple of months back I saw the trip on FCN itinerary, but it had got cancelled. I kept looking again and there it was on the weekend of 9 th and 10 th December. We went in a very small group, 7 people and a leader.
On Friday, 8 th December, at 10.15 pm was our train from Beijing west railway station to Luoyang, in the Henan province. We met at the station around 8.30pm. The FCN leader was Queena and we had 7 tourists, Christopher Scotland, Theresa and Vincenz from Germany, Marija, Mariana and her 12-year-old son Luka from Croatia and me. I had a hard bed (three tier) which was a middle berth, and hence a bit cramped.
We reached in the morning and took a bus to the Youth hostel, where we were staying that day. As it was quite late, we hurried up and had local breakfast of bread stuffed with vegetables and hot soup at a small place nearby. Crossing the wide roads in Luoyang was a challenge in absence of controlled crossings. Luoyang seemed to be a big city.
The first spot was Guanlin temple, about seven kilometers south of Luoyang City. We took a bus to this place. Guanlin temple was built in 1596, during the reign of Emperor Wanli in the Ming Dynasty (1368-1644) and was expanded in the Qing Dynasty (1644-1911). It is called General Guan's Tomb as well.
Guan Yu is a hero in Chinese history and is the only person respected by Confucians, Buddhists and Taoists. Guan Yu was a general of the Kingdom of Shu during the Three Kingdoms Period. After he was murdered by people of the Wu Kingdom, his head was sent to Cao Cao, to frame Cao Cao and start a fight between the Shu Kingdom and the Wei Kingdom. However, Cao Cao realized the plot. Due to his great respect for General Guan Yu, Cao Cao had Guan Yu's body carved from eaglewood and buried the carving and the head with great honors outside the South Gate of Luoyang City. Emperors of succeeding dynasties valued Guan Yu built the temple for him and worshiped him as God of War.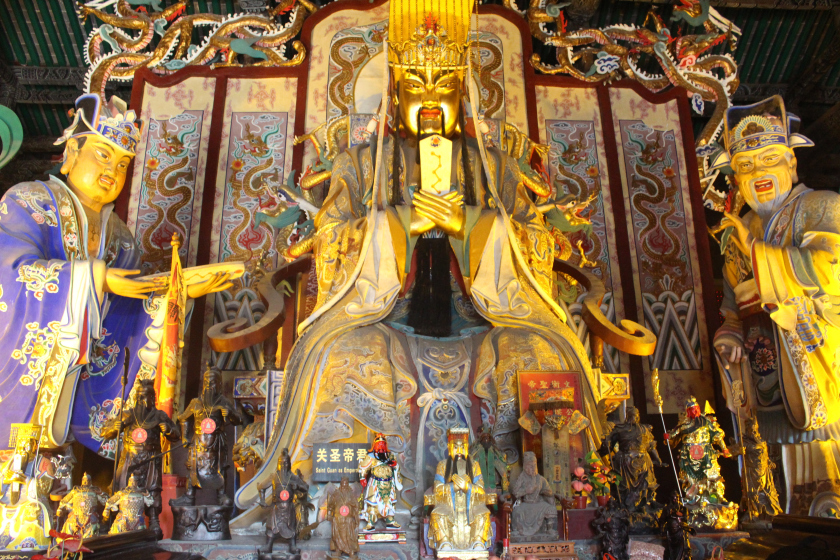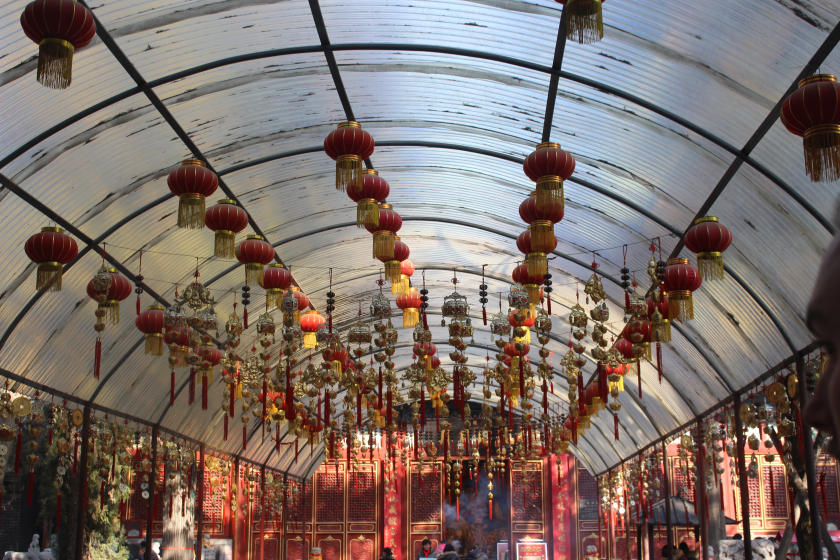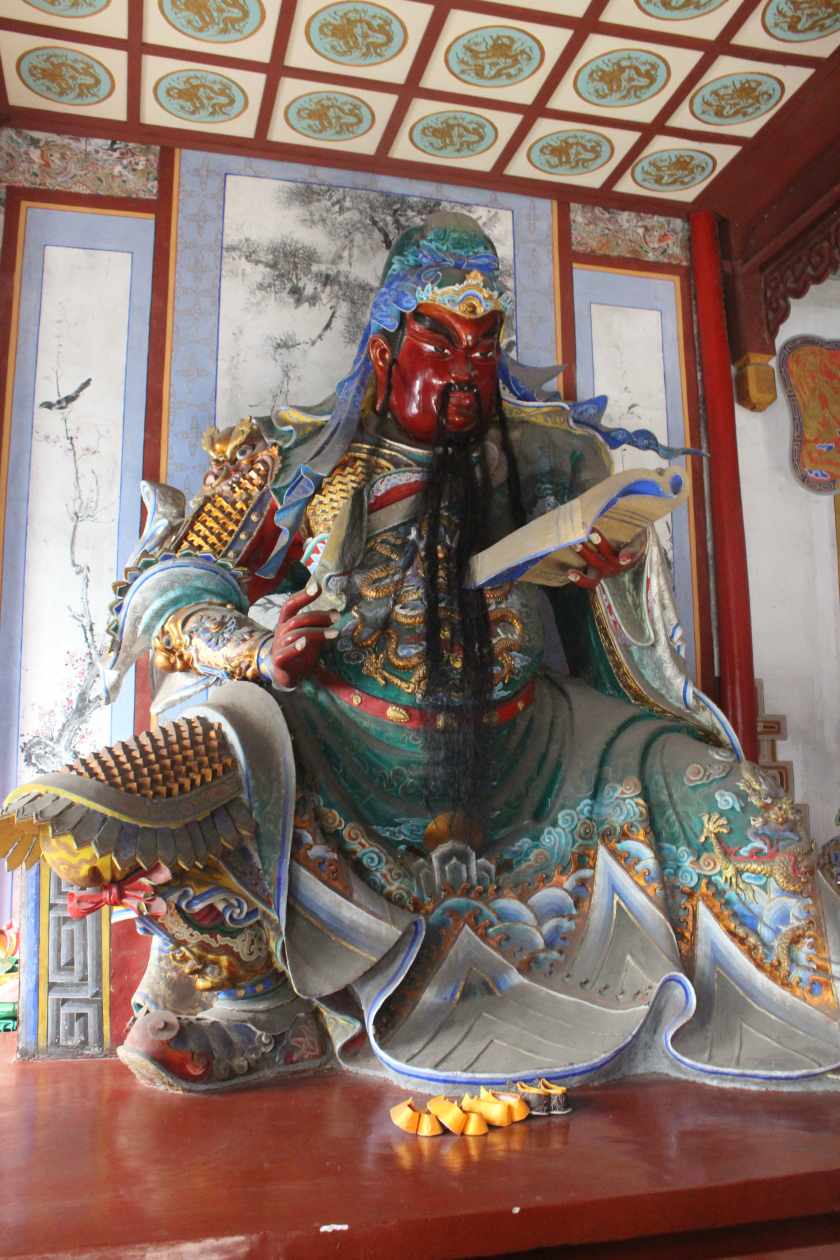 The Guanlin temple is in a large complex with many buildings and gardens. The main building houses statues of Guan Yu in different actions and paintings and reliefs of his life stories. There is also an art gallery displaying ancient steles and stone inscriptions. In the large place outside, there were people playing tops and whips (wielding a large metal whip to make a loud sound).
After seeing the Guanlin temple, we took the bus to Longmen grottoes. We were there by noon. The Longmen Grottoes are between Mount Xiang and Mount Longmen and face Yi River. This is indeed a very beautiful place that hosts thousands of beautiful Buddhist figures and other inscriptions. Though more like ruins, some of the statues are in good shape and the whole atmosphere here is very serene.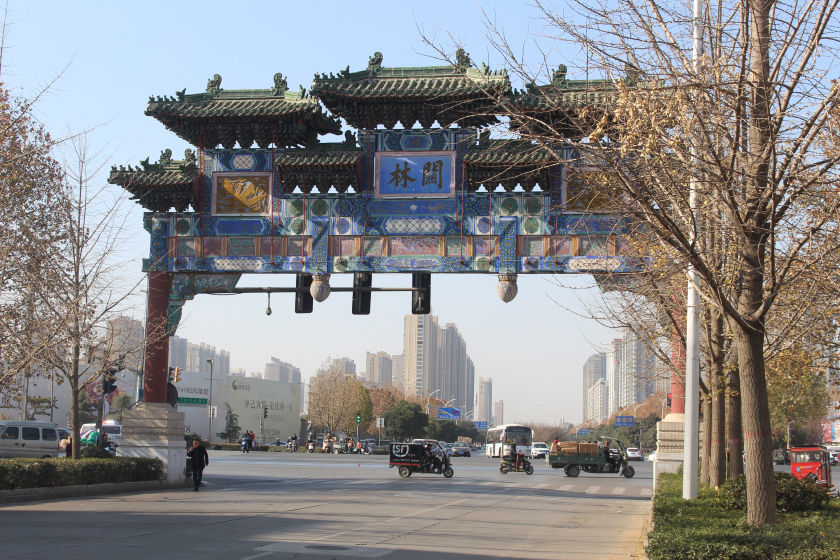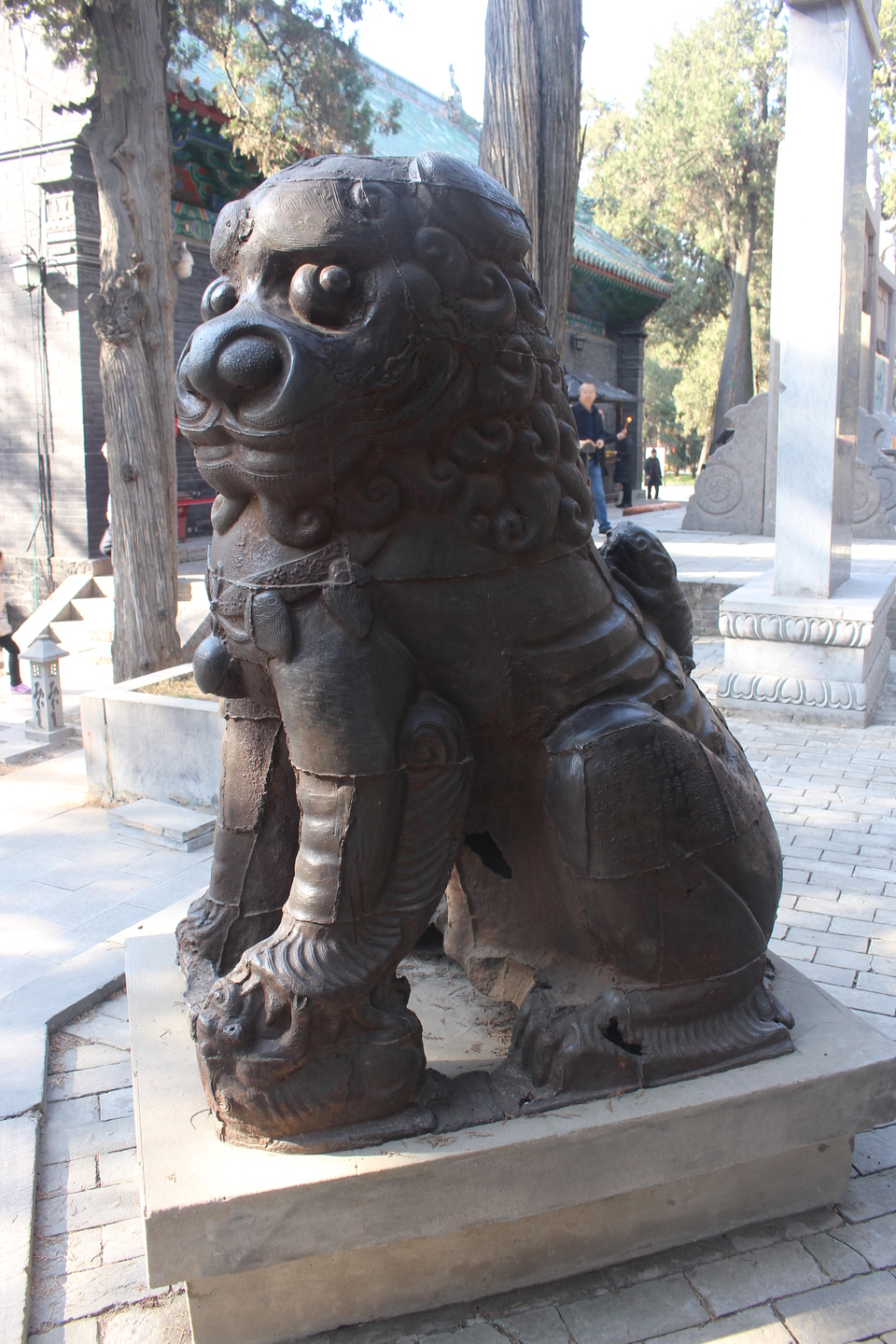 The grottoes were started around the year 493 when Emperor Xiaowen of the Northern Wei Dynasty (386-534) moved his capital to Luoyang. They were continuously built the next 400 years until the Northern Song Dynasty (960-1127). The scenery measures 1,000 metres (about 1,094 yards) from north to south where there are over 2,300 holes and niches, 2,800 steles, 40 dagobas, 1,300 caves and 100,000 statues. Most of them are the works of the Northern Wei Dynasty and the flourishing age of the Tang Dynasty (618-907). Lots of historical materials concerning art, music, religion, calligraphy, medicine, costume and architecture are kept here. The different caves are named Wanfo, Guyang, Binyang and Lotus caves. The most famous Buddha statue is in the Binyang cave with Sakyamuni surrounded by his disciples and bodhisattva.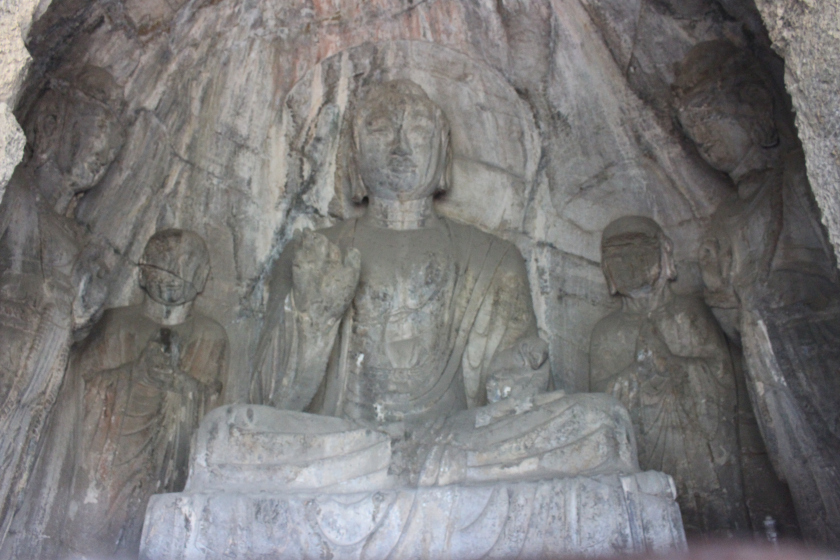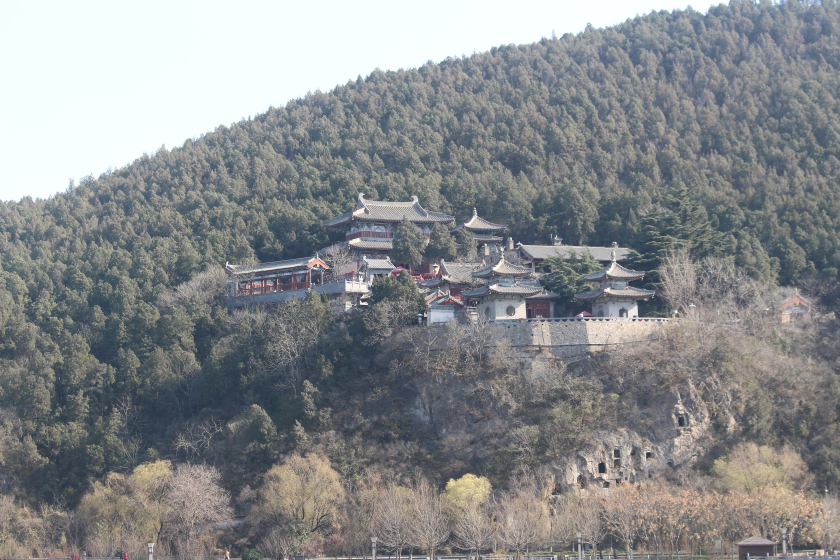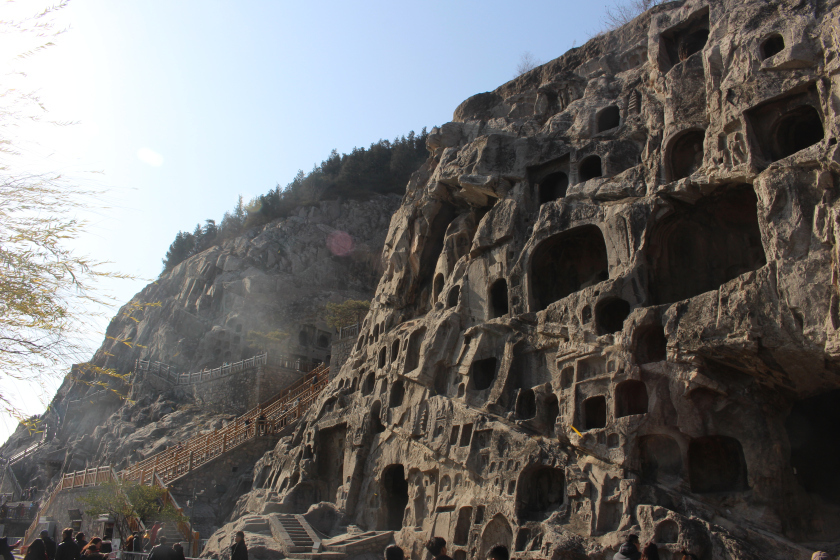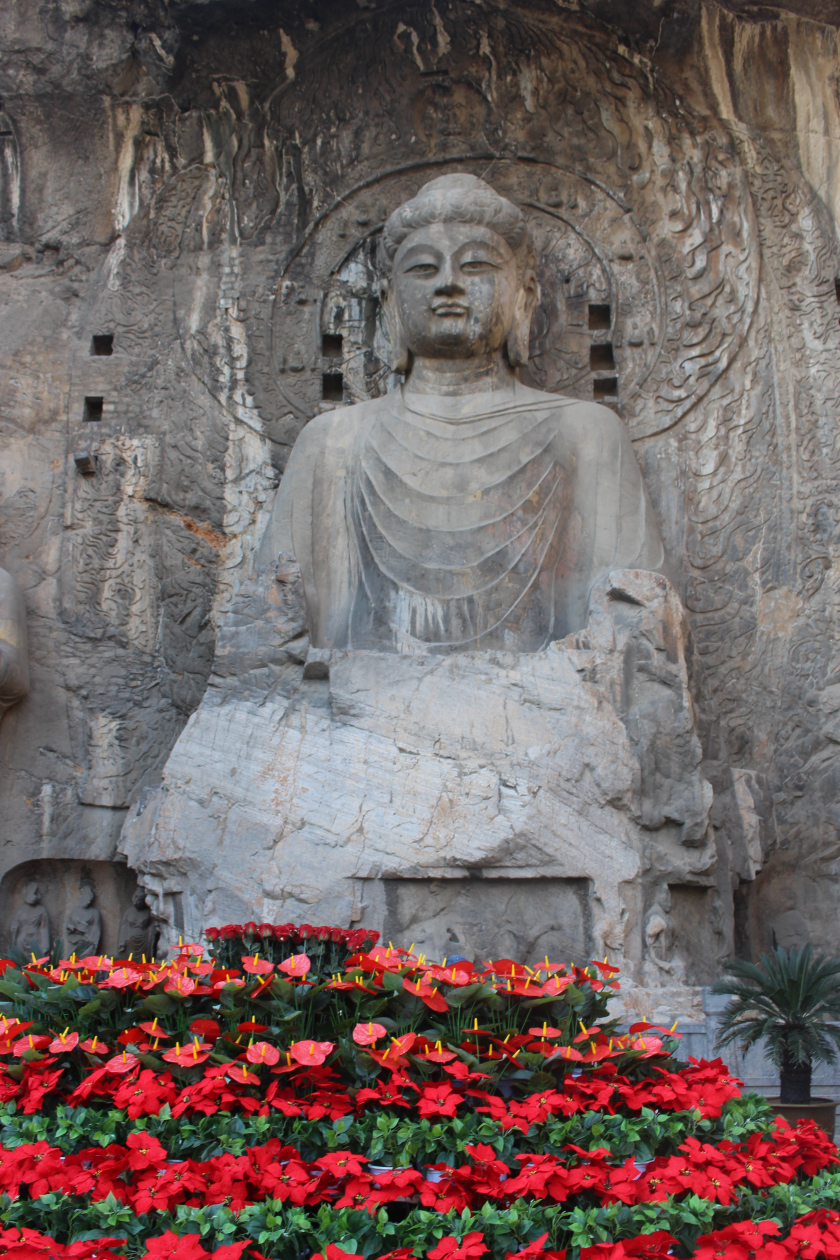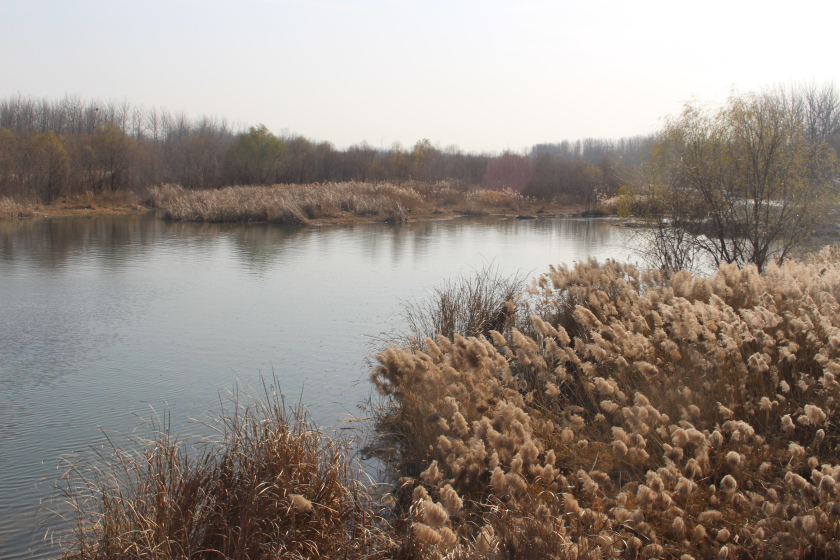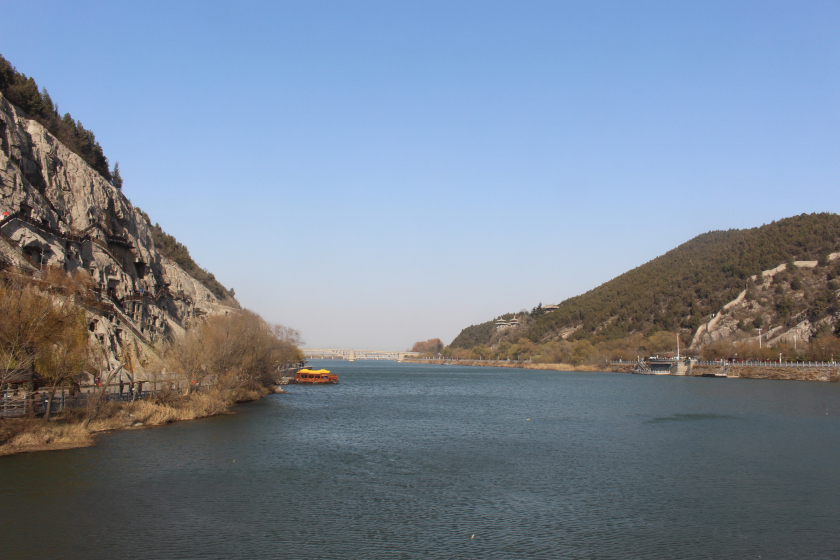 The complex has a large temple called the Fengxian Temple that was built during the Tang dynasty. This hosts many beautiful Buddha statues including that of Vairocana Buddha.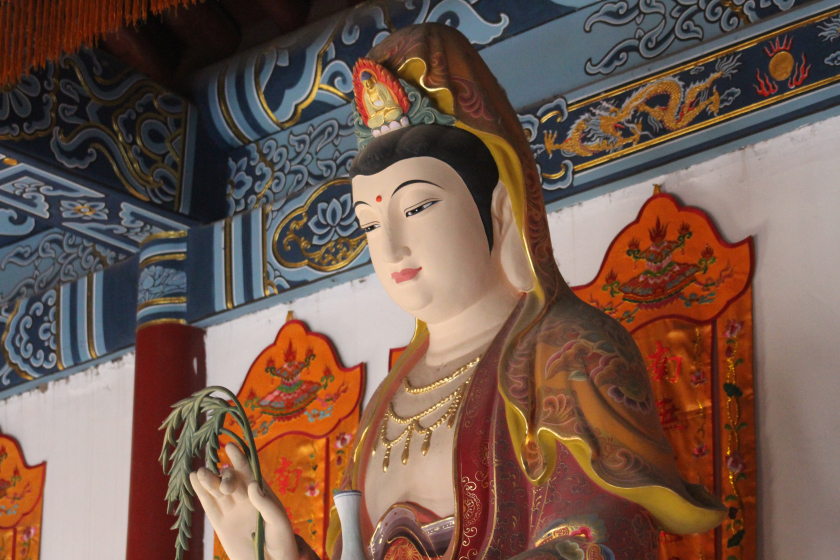 We spent some time there, and then caught the bus to our next destination, Lijingmen. The bus journey took almost two hours. We could see some unique Pagodas from the bus on the way. There is a city wall and a gate that leads to the ancient city. The street had festive look and was filled with people shopping for food and memorabilia. We had dinner in a local restaurant and retired for the day.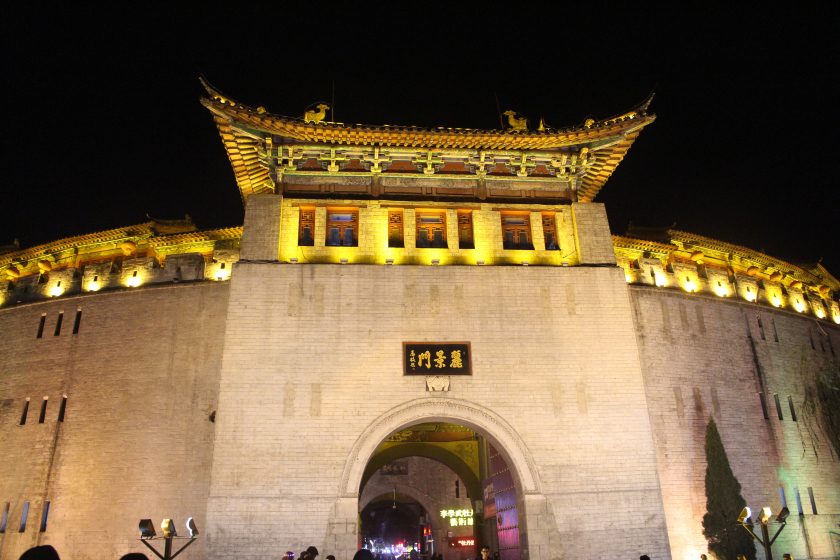 Next morning, we left for Shaolin temple, and Queena had arranged a large car for us. The first stop was Songyang Academy in Dengfeng. This was one of the four greatest academies for higher education in ancient China, together with Yingtian Academy in Shangqiu of Henan, Yuelu Academy in Changsha of Hunan, and Bailudong Academy in Jiujiang of Jiangxi. The Academy was an important and unique educational organization in ancient China. It played an important role in China's educational and cultural history.
Songyang Academy, built in 484, used to be an arena of Buddhism, Taoism and Confucianism. It was called Songyang Temple firstly, which was an arena of Buddhism with hundreds of Buddhists. From 605 to 618, it was renamed Songyang Taoist Temple. After renaming several times, it was called Songyang Academy in 1035. From then on, it became a classical education institution in ancient China. It was also one of the birthplaces of Neo-confucianism in Song Dynasty (906-1279). ( Ref: https://www.travelchinaguide.com/attraction/henan/zhengzhou/songyang-academy.htm).
The academy has beautiful architecture starting from the front gate. Then there is the previous saint's hall with a statue of Confucius and portraits of other saints. There is a classroom with teaching equipment of ancient times. The complex has Daotong Temple with busts of ancient Chinese kings Yao, Yu the Great and a Duke of Zhou dynasty. The site also has some unique ancient trees, a book collecting tower and a large stele.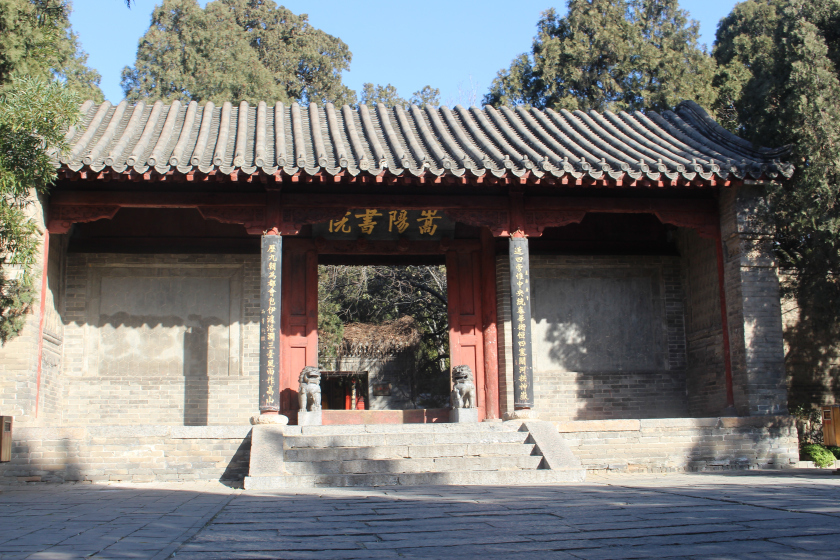 We moved to Shaolin temple next and reached by noon. Shaolin temple, or Shaolin monastery, is one of the most famous sites of Zen Buddhism and martial arts in the world. It is a large complex that hosts many interesting places. In the entrance is a large inscribed rock with a monk's statue in a prayer (namaste) pose.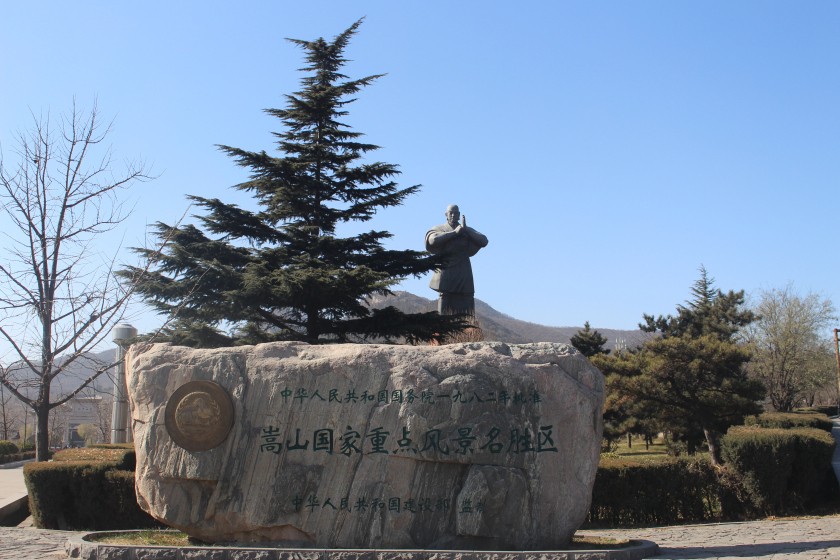 The major attractions include (source: Wikipedia) Mountain Gate (山门; shan men) (built 1735; The entrance tablet written with golden characters "Shaolin Temple" (少林寺; shao lin si) in black background by the Kangxi Emperor of the Qing dynasty in 1704).
Forest of Steles (碑林; bei lin), Ciyun Hall (慈雲堂; ci yun tang, built 1686; changed 1735; reconstructed 1984). It includes Corridor of Steles (碑廊; bei lang), which has 124 stone tablets of various dynasties since the Northern Qi dynasty (550-570).
West Arrival Hall (西来堂; xi lai tang) or the Kung fu Hall (锤谱堂; chui pu tang, built 1984).
Heavenly Kings (Devaraja) Palace Hall (天王殿; tian wang dian, built in Yuan dynasty; repaired in Ming, Qing dynasties).
Bell Tower (钟楼; zhong lou) (built 1345; reconstructed 1994; the bell was built in 1204), Drum Tower (鼓楼; gu lou) (built 1300; reconstructed 1996).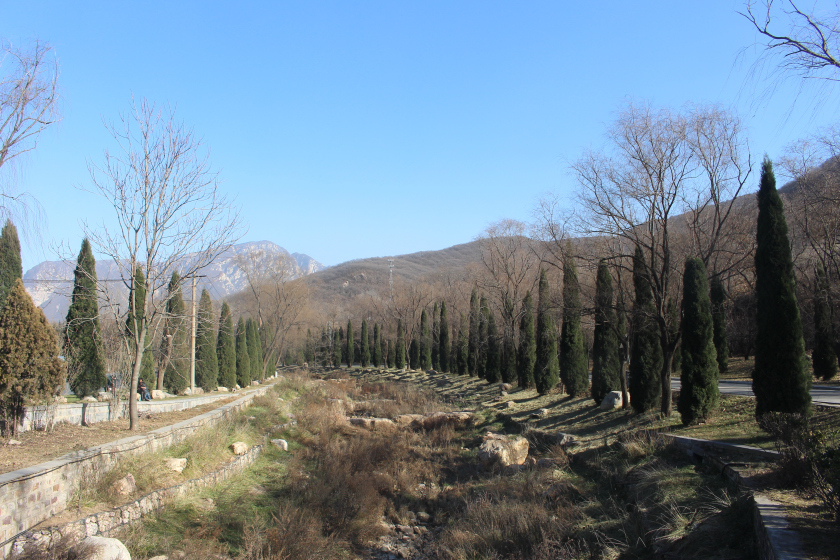 Kimnara Palace Hall (紧那罗殿; jin na luo dian) (reconstructed 1982), Six Patriarchs Hall (六祖堂; liu zu tang), Mahavira Palace Hall (大雄宝殿; da xiong bao dian) or Main Hall or Great Hall (built maybe 1169; reconstructed 1985), Dining Hall: (built in Tang dynasty; reconstructed 1995), Sutra Room, Dhyana Halls: (reconstructed 1981), Guest Reception Hall, Dharma (Sermon) Hall (法堂; fa tang) or Scripture Room (藏经阁; zang jing ge, reconstructed 1993), East & West Guests Rooms, Abbot's Room (方丈室; fang zhang shi, built in early Ming dynasty), Standing in Snow Pavilion (立雪亭; li xue ting) or Bodhidharma Bower (达摩庭; da mo ting): (reconstructed 1983), Manjusri Palace Hall (wen shu dian) (reconstructed 1983), Samantabhadra Palace Hall, White Robe (Avalokitesvara) Palace Hall (白衣殿; bai yi (Guan yin) dian) or Kung fu Hall (quan pu dian) (built in Qing dynasty), Ksitigarbha Palace Hall (地臧殿; di zang dian): (built in early Qing dynasty; reconstructed 1979), 1000 Buddha Palace Hall (千佛殿; qian fo dian) or Vairocana Pavilion (毗庐阁; pi lu ge, built 1588; repaired 1639,1776), Ordination Platform (built 2006), Monks' Rooms, Shaolin Pharmacy Bureau (built 1217; reconstructed 2004), Bodhidharma Pavilion (chu zu an, built first in Song dynasty), Bodhidharma Cave, Forest of Pagodas Yard (塔林院; ta lin yuan, built before 791). It has 240 tomb pagodas of various sizes from the Tang, Song, Jin, Yuan, Ming, and Qing dynasties (618-1911) and Shaolin Temple Wushu Guan (Martial arts hall).
There are so many kids and adult monks practicing Kung Fu seen everywhere. One of our teammates from UK, Christopher, was keen on finding out about joining the school and with Queena's help, approached couple of monks who were practicing there. He is a biotechnology student who was on an exchange program, and wants to lean Kung Fu after his graduation.
After seeing all the places, we witnessed a Kung Fu show by the students of Shaolin at 3pm. It was an amazing display of Kung Fu and some of the stunts showcased were unbelievable.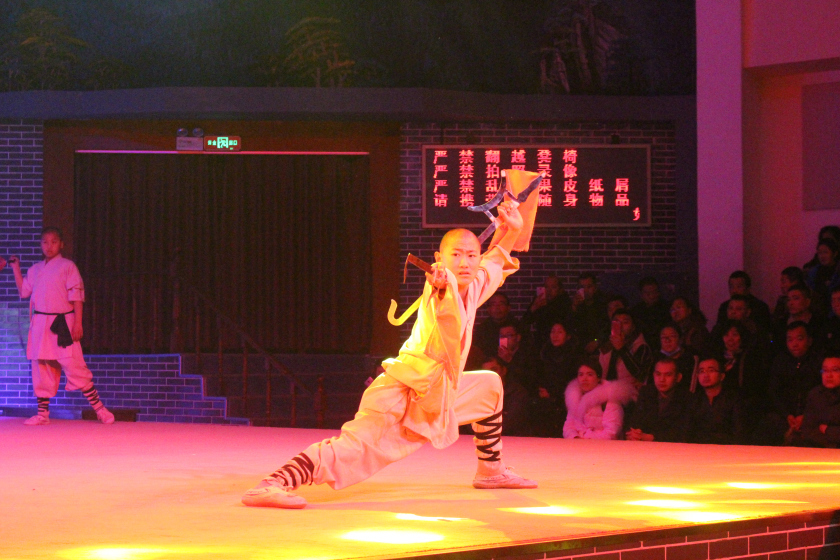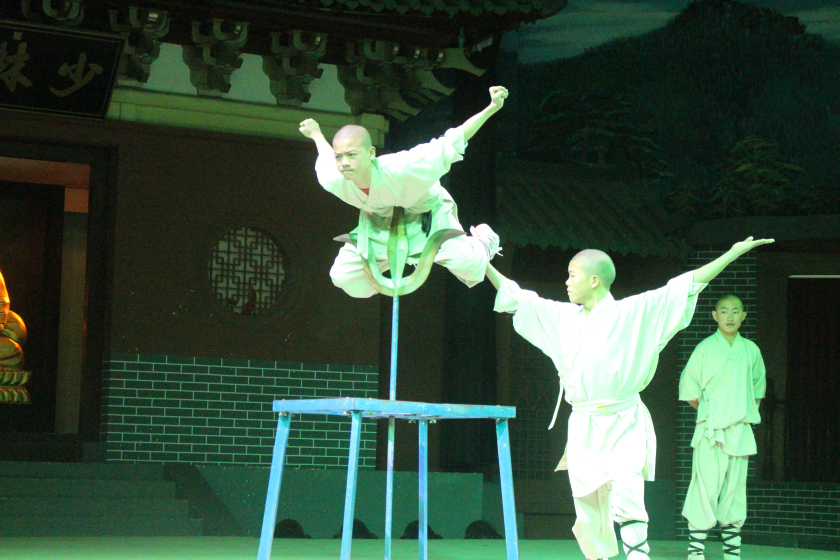 There are interesting theories as to why the peace-loving Buddhist monks learned martial arts. The most obvious reason should be for self-protection from bandits and war lords who attacked the monasteries looking for perceived wealth. The two different Shaolin temples, one in Henan and the other in Fujian, teach different styles of Kung Fu.
After the show that was for half an hour, we left the Shaolin temple. The car dropped somewhere mid-way from where again we had to take a bus to the railway station. That was a bit strange as we could have asked for drop to the station by paying some extra money. Nevertheless, we were in the railway station ahead of time, and had a good train journey back to Beijing.
Visit to Luoyang and Shaolin temple was a fulfilling experience, and the small team we had was very cooperative. I thank FCN for the opportunity.