Amigos,
Firstly I would like to thank you for taking time to go through this travelogue.
Just a quick introduction, my name is Sai Sathuluri working as an IT professional who is interested in biking, travelling and photography.
I am creating this blog to share my wonderful experience and everlasting memories of Leh Ladakh motorcycle tour.

Ladakh "land of high passes" is a region of India in the state of Jammu and Kashmir that lies between the Kunlun mountain range in the north and the main Great Himalayas to the south. It is a dream destination of many and the Mecca of adventure enthusiasts! Leh, one of the coldest deserts in the world is located at a distance of 434 Kms from Srinagar and 479 Kms from Manali.
To be honest, i really don't know when this thought of riding to Leh Ladakh came into my mind. I have been reading and seeing pictures of this place for quite long and getting totally lost. Started reading travelogues generally late on a weekend and read them throughout the night right up to the early morning hours! Wish i had previously studied with that amount of passion too...Ahh...never mind but that's what effect the place had on me. When i shared this with my family and friends, i came across mixed responses and some people did not even hesitate to call me crazy, insane and show-off. lol :-)
So i would like to take this opportunity to thank all the people who encouraged me to do this trip and I'm really grateful to some of you for putting a superfluous effort to make the whole trip easy for me. This trip would not have been possible without the support and guidance of Aman Jain and Sasi Bonam from Xbhp Hyderabad, Sarav Dayal from Himalayan Bike Tour Manali, Prakash and Adarsh from World Peace Cafe Manali.
How it started?
1st September 2014 was the day when I along with two friends(Kiran and Bharath) embarked on a journey that I dreamed of for so long. A journey that took me to a world that was unknown to me till now. A world that casted a spell on me, to an extent that no matter how hard it hit me, I just can't let go of it now. It's a part of me now, along with all the experiences I have, this one's right among the top contenders. It's amazing what travelling can do to you. It can give you the experience that you won't get from anything else. It's like falling in love, being forgotten, being lonely, being broken, being on top of the world; simply put, you'll never forget it. 14 days of journey to the far, faraway lands with your best friends is a dream come true and when the destination is Leh-Ladakh, it doesn't get any better.
Here is the itinerary of our trip
Riders - Sai Sathuluri, Sai Kiran and Bharath Kumar
Machines - RE Classic 500 and RE Electra 350
Kms Covered - Around 2K
Sep 1 - Hyderabad to Delhi
Sep 2 - Delhi to Manali
Sep 3 - Manali Rest Day
Sep 4 - Manali to Jispa
Sep 5 - Jispa to Pang
Sep 6 - Pang to Leh
Sep 7 - Leh to Khardung La to Leh
Sep 8 - Leh to Lamayuru to Leh
Sep 9 - Leh to Pangong Tso to Leh
Sep 10 - Leh Rest Day
Sep 11 - Leh to Darcha
Sep 12 - Darcha to Manali
Sep 13 - Manali Rest Day
Sep 14 - Manali to Delhi
Sep 15 - Delhi Rest Day
Sep 16 - Delhi to Hyderabad
As it happened...
Day 1 - 
Started from home at 5.45pm
Snack Break @ Hitech City, Madhapur
Reached Airport at 7.10 pm
Spice Jet flight Delayed by 2 hours
Drinks @ Coffee Club
Boarded the flight at 10.30pm
Day 2 -
Reached Delhi at 1.15 AM
Dining and Lodging at Singh Empire Continental @ Paharganj
Visit to India Gate, Rashtrapati Bhavan and Parliament of India
Started to Manali at 5.30pm thru Laxmi Holidays
Dinner at Masala Mantra, Haryana
Day 3 -
Reached Manali at 9.45am
Lodging at Surabhi Hotel in Vashisht
Lunch @ World Peace Cafe (Maggi and Momos)
Rented bikes from Himalayan Mountain Club (Sarav Dayal)
Photo shoot @ BEAS River
Wine and Dine with Sarav Bhai (Yummy Trout Fish)
Day 4 -
Started from Manali at 9.45am
First water crossing – Rani Nalla
Snow & Rainfall on Rohtang Top
Slush @ Rohtang Descent (Mother of all roads)
Lunch at Koksar at 2.45pm
Photo shoot at Sissu
Chai Break and Petrol Refill @ Thandi
Crossed Keylong @ 5.45pm
Reached Jispa @ 7pm in rain
Tent stay @ Padma Camping
Veg Buffet and Coke
Spoke to family and slept @ 9.30pm
Day 5 -
Started from Jispa in heavy rain @ 9am
Bought cold gloves in Darcha
Photo shoot at Patsio
Landslides and Snowfall in Baralacha La pass
Lunch at Sarchu @ 3.30pm
Gata loops
Crossed Nakeela and Lachung La pass
Reached Pang at 7.30 pm
Tent stay @ Skitpachan
No mobile network and electricity
Day 6 -
Started from Pang at 8.30am
Morey Plains (45km good stretch)
Taglangla Pass (Second Highest Motorable Road)
Snowfall till Rumtse
Colourful mountains en-route to Upushi
Lunch at Upushi @ 1.30 pm (Yippee...Mutton Curry)
Crossed Army camps at Saru
Visit to Hemis and Thiksey monastery
Visit to Shey Palace and Rancho cafe & school
Reached Leh at 5.30 pm (finally got Leh'D)
Stay at Solpon Guest House @ upper changspa
Wine and Dine with Etai Livne and Gregory
Day 7 -
Ride to Khardung La
Entry at South Pullu check post
Reached K-Top (Yay... World's Highest Motorable Road)
Souvenir Shopping (T-shirts & Jacket)
Lunch at wonderland
Visit to Leh Palace, Tsemo Fort and Shanti Stupa
Walk to Leh Market
Dinner at wonderland
Day 8 -
Visit to Spituk Gompa and Hall of Fame
Prayer at Pathar Sahib Gurudwara
Magnetic Hill (Gravity Hill)
Smoke break at Saspol
Indus and Zanskar Confluence
Reached Moon Land (Desi Grand Canyon... lol)
Lunch at Lamayuru
Ride back to Leh in rain
Wine and Dine with Pushkar and Manjeet Bhai
Day 9 -
Breakfast at Karu
Landslides on the way to Chang La (Worlds second highest motorable world)
Reached Pangong Tso at 2.00pm
Marmot watch at wildlife sanctuary
Bike Service at Army Workshop @Tansey
Dinner at K.C Garden @ Leh
Day 10 -
Rest Day
Drinks and Lunch
Fuel Refill
Dinner at wonderland
Day 11 -
Started from Leh at 7.00am
Breakfast at Upushi
Crossed Pang at 1 pm , Sarchu at 4pm and Baralacha La @5.45pm
Experienced water crossings in dark
Dhaba Stay in Daracha
Day 12 -
Left Darcha at 7.00am
Bike check at keylong
Bridge repair at Koksar from 10 am to 4pm
Crossed Rohtang @ 6.30 in heavy rain
Finally reached Manali at 8pm
Wine and Dine with Sarav
Day 13 -
Visit to Solang valley
Lunch at Himalayan Dhaba
Visit to Apple farm
Wine and Dine with Prakash
Day 14 -
Visit to Hot water springs in Vashist Temple, Manali
Lunch at World Peace Cafe Day
Off to Delhi via HP Volvo service at 5.45pm
Day 15 -
Reached Delhi at 8am
Lodging at Mayur International
Lunch at Madras Cafe
Walk to Karol Bagh market
Wine and Dine
Day 16 -
Visit to Qutub Minar and Lotus temple
Lunch at Bikkinel Restaurant 
Reached airport at 8pm
Devils are back home 
It's a great feeling to be back home safely after two weeks of bike riding in World's Highest Motorable Roads dealing with rain, slush, water crossings, landslides, snowfall, gravel roads, thin air and etc.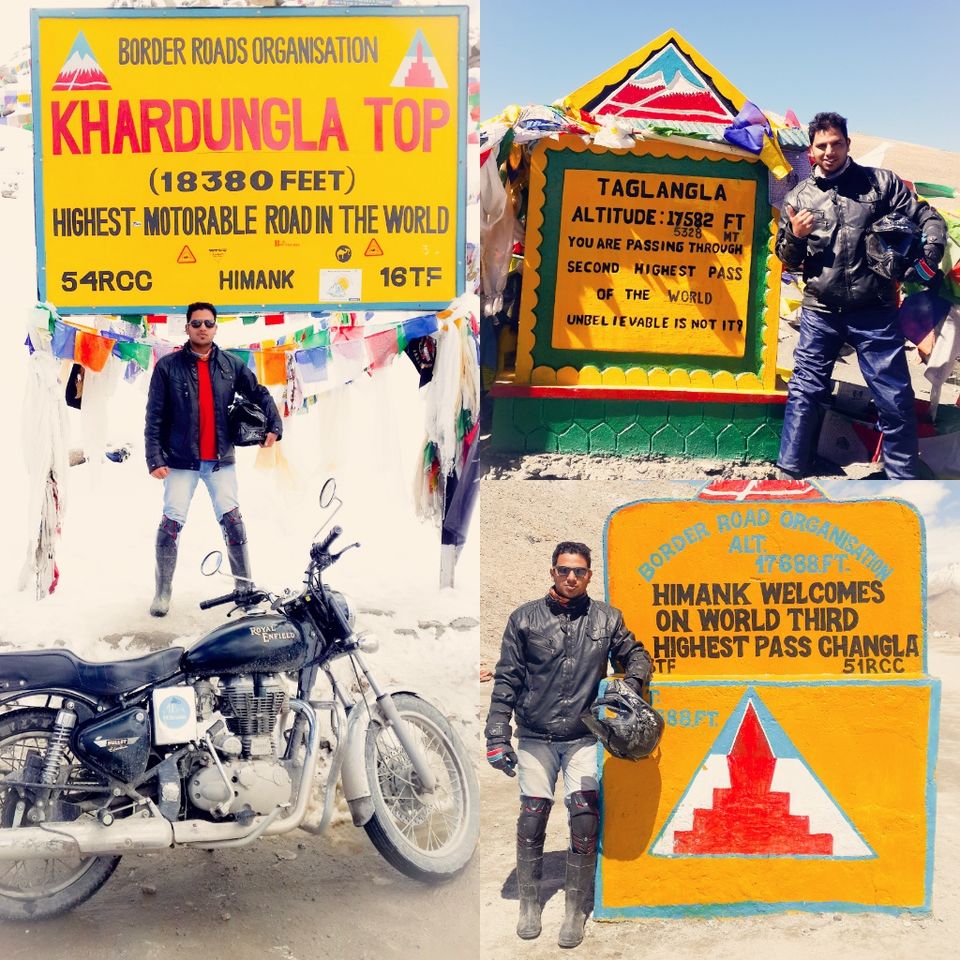 I seriously miss those mountains :(

Hope I will be visiting them soon again.
If anyone is interested to do the Leh Ladakh tour, below are some useful details

Best time to Visit - Between June to September
Budget - 50000 to 60000 INR
Manali Bike Rental Shop - Himalayan Bike Tour
Manali Stay - Hotel Surabhi @ Vashist
Leh Stay - Solpon Guest House at Upper Changspa
Mandatory things to Carry - 
ID Proof
Trekking Bag
Medical Kit
Thermals, Sweater and Rain coat
Riding gear (Helmet,jacket,cold gloves,elbow and knee pads)
Gum Boots
Face mask or Balaclava
Bike Accessories ( Tool Kit and Cables)
Woolen Socks and hand gloves
Torch light and swiss knife
Places to visit - 
Pangong Lake
Khardungla
Tso Moriri Lake
Nubra Valley
Diskit Monastery
Shanti Stupa
Hemis Monastery
Thiksey Monastery
Shey Palace
Namgyal Tsemo Monastery
Leh Palace
Hall of Fame
Spituk Monastery
Pathar Sahib Gurudwara
Lamayuru
Magnetic Hill
Indus and Zanskar Confluence

My sincere recommendation, if it has to be a vacation in India that's to be lived in memories for a lifetime, it has to be LADAKH! The colourful monasteries, steep curves, snow-topped peaks, double humped camels, burning sun, freezing winds and a destination that comes straight out of the world of fantasies.

I would like to pay special tribute to people who lost their lives and loved ones in the Jammu and Kashmir floods, Indian Army for their valour, courage, sacrifice and BRO(Borders Roads Organisation) for connecting us to heaven.

And before i say goodbye, I would like to thank my wonderful family and dearest friends Priyanka Kaleru, Anthony Francis, Arijit Yadav, Satya Challa, Kiran Chaliboina and Sachin Thandlay for all the love and support.

As someone rightly said, journey is more important than destination and I would love to travel as much as possible and keep writing this kind of blogs and continue troubling you.

Thank you once again for your valuable time and do check out the pictures from the trip attached below.

You can write to me on sandy3736@gmail.com for any assistance.

Cheers,
Sai Sathuluri