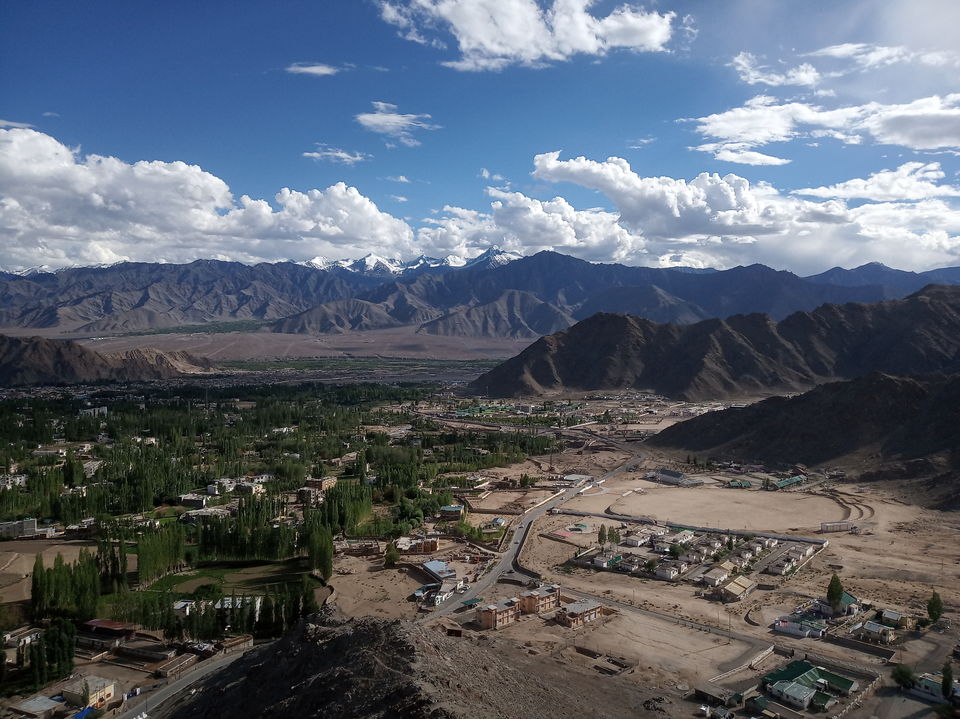 Where to halt? What time to start? How many days to ride? How many hours a day do we ride? How remote is the area?
Route from Manali to Leh is one of the most panoramic and spectacular ones in the world. Being one of the highest motorable roads they are no less dangerous as well as adventurous at the same time. Most of the bikers or even those traveling by four wheelers use a similar strategy while travelling to these regions which is- ride or drive all day, take breaks in high altitudes (mostly for pictures and selfies) halt before it gets dark. Almost every person falls sick by the time they are about to reach Leh (coz of altitudes and fatigue). Planning a bit and sticking on to the schedules will help you avoid such sickness. I would like to put this across to give you a brief idea about the places that are available (camps, homestays) on the way so that you plan your journey according to your preferences.
Manali is a place which needs no description or information, you may find it everywhere. Let me first mention all the major places you shall be passing through on the way to Leh (they have been mentioned in accordance with the route)-
Major Passes-
Rohtang Pass, Barlachla, Nakeela, Lachung La, Tanglang La.
Major towns -
Khoksar, SIssu, Keylong, Jispa, Darcha, Rumtse, Gya, Lato, Miru, Upshi, Karu, Shey, Choglamsar,
Stays and Camps-
Keylong, Jispa, Zing Zing Bar, Sarchu, WhiskeyNala, Pang, Debring, Rumtsey, Gya, Lato, Upshi
Route goes somewhat like this-
Rohtang-khoksar- Sissu- Keylong- Jispa- Darcha- Zing Zing Bar- Barlachla- Sarchu- Nakeela- Whiskey Nala- Lachungla- Pang- Moore Plains- Debring( Tsokar, Tsomoriri)- Tanglangla- Rumtse- Gya- Lato-Miru- Upshi-Karu- Shey- Choglamsar- Leh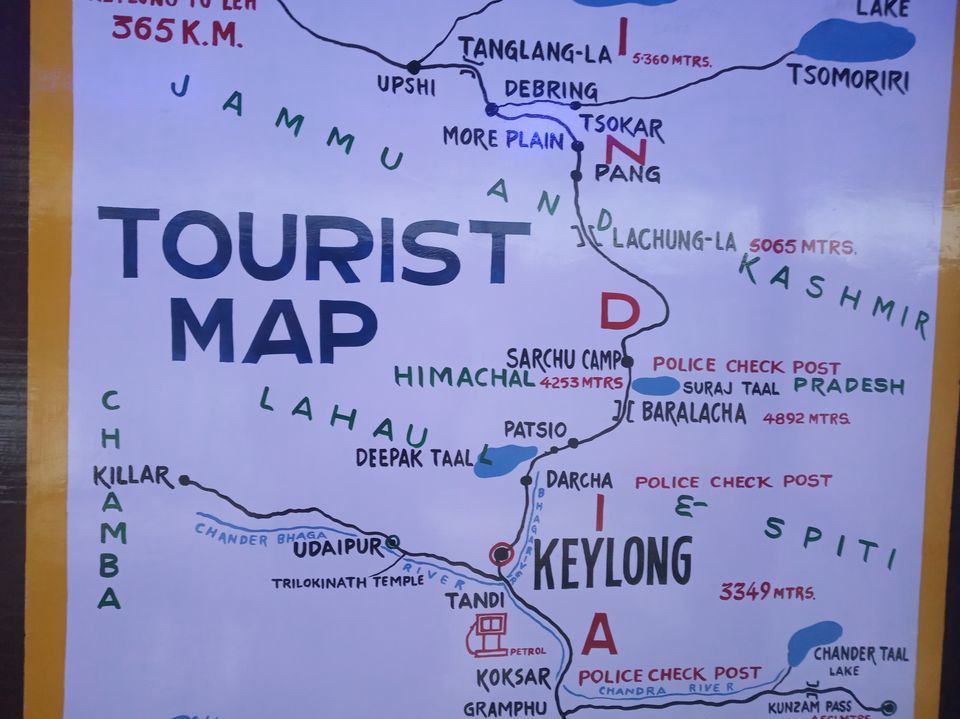 Shall also mention at the end, the way it worked out for us (we almost did not catch any altitude sickness at all)
Most of you must be aware that Rohtang is the first pass which we shall come across at a distance of just 50 Kms from Manali. Crossing Rohtang early is advisable if you are planning to drive long on the first day. Can reach Keylong (115km from Manali) in a five-hour ride from Manali at the max. Jispa is at another approximate 23km distance from Keylong. Either Keylong or Jispa are ideal places to halt for the first day. After this point there are no proper homestays and convenient toilet and bathroom options until Rumtse(which is more than 200km from here). All the options you shall be coming across are Camps and sharing beds with dry compost toilets mostly. Darcha is a town with checkpost after which the streams and adventure on road kinda begins, so get geared!!
Or if you want to go further and cover more distances Zing Zing Bar before Barlachala pass is the option. After Barlachala Pass (190 km from Manali) too there are a couple of camps pitched for travelers. Last safest option in my point of view on day one would be Sarchu (approximately 30km from Barlachala) with a good number of accommodation options at very nominal rates. Sarchu is also the place where Himachal Pradesh Ends and THE Ladakh starts.
Starting from Sarchu early morning can get you to Leh by the evening at the maximum. If you want to chill and take another halt you can too, this further information shall help you decide. It is good if you can cross Nakeela (30 odd kms from Sarchu) and Lachung la (50 odd km from Sarchu) passes at once as they aren't much farther from one another. Whisky Nala is another Camping area which is located in between these two passes and always a high-pressure area for storms, winds and rains, but yeah that is the only next refreshment area after Sarchu though.
Pang arrives once you get down from Lachungla, another camping and refreshment area (you are at 170 km from Leh). This is also a good option for you to halt if you are starting from Keylong or Jispa on the day 2. From Pang one stretch ride of a good 6 hours must get you to Leh on day 3. After this is the most beautiful drive/ride with the best landscape – Moore Plains. You may also get to spot a few nomads with herds of cattle in this stretch. But you won't be able to find any stop-overs for refreshments until Debring, which stands at end of these plains. So, one can also choose to stay here by end of the day before heading on to Tanglang la the last pass you will have to cross to reach Leh.
There is a small road at Debring which leads towards Tsokar and Tsomoriri Lakes. Tsokar can be reached with-in half an hour which is located at just around 15kms from Debring. There are options to stay there as well and if you are lucky enough you will be able to see better water levels. Place is mostly good for wildlife enthusiasts or birders and alike.
Top of Tanglangla pass from Debring is 22 km after getting down from which you shall start coming across villages and towns once again starting from Rumste. Here you can find homestays for the stay (mostly with shared washrooms though), refreshments etc., where one can choose to stay or just take a break because all the villages from here on are so picturesque, scenic and tidily maintained.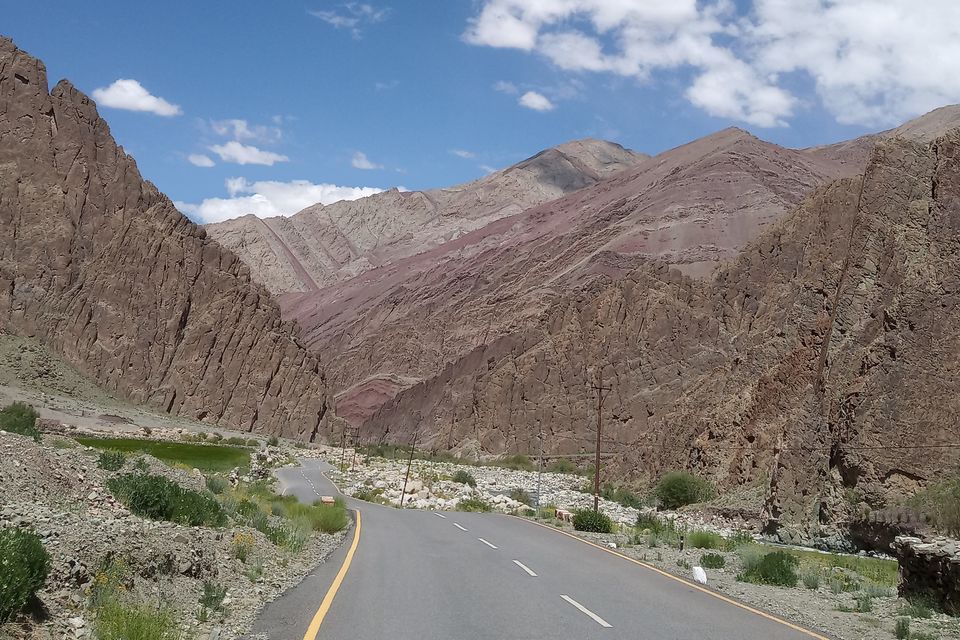 Reach Leh from here within next 2 hours as you are hardly at a distance of 100 km and roads are completely good all the way till your destination.
So, what did we do??
Day-1
We started off from Manali at around 7am expecting the roads especially at Rohtang Pass to be clear of traffic. After taking a pause for breakfast we headed further without any breaks at higher altitudes. After all the crossing with a bit of harsh and slushy terrain the ride started getting picturesque and smooth. We enjoyed the ride at our pace reaching Keylong by around lunch time I.e 1 pm. We chose Keylong because it was pretty less touristy as compared to Jispa. It was a peaceful drive of half a day and chill for the rest. Keylong is located at around 10k ft not too high to get sick. We anyways had no plans of going any further of Jispa even if we drove further.
Day-2
This was quite a hectic day for us as we had to cover the maximum distance so that we clear all the passes without being stranded anywhere in between. It was a total of 280km which would need a minimum nine hours of drive and including breaks it took us almost 12 hours. Be ready for streams from here on which will wet your shoes and even a part of your clothing if the waters are shallow. Covering our feet with polybags didn't help either. We reached Rumtse by around 9.30 as we started late too. I suggest if you are planning to follow this schedule start early; around 5.30-6 would be the best time so that you reach your destination before its dark.
Day-3
We had a slight heaviness in our heads this day because of all the riding the previous day. Rumtse was still at a height of 14k ft so we had to ride down to get back to normal. We rested in the morning, had a good lunch and peacefully left the village at around noon and were at Leh in next 1.5 hours.
It was wonderful next days in Leh. We explored, experienced and enjoyed our travel in the best possible sustainable and responsible manner. The place will remain untouched and beautiful forever if every person travelling there can do it reponsibly.
Frequent Searches Leading To This Page:-
Top manali tour packages for couple from delhi, top manali tour package for family, manali tour packages for 2 days, delhi to manali tour package for couple in delhi, manali trip from delhi