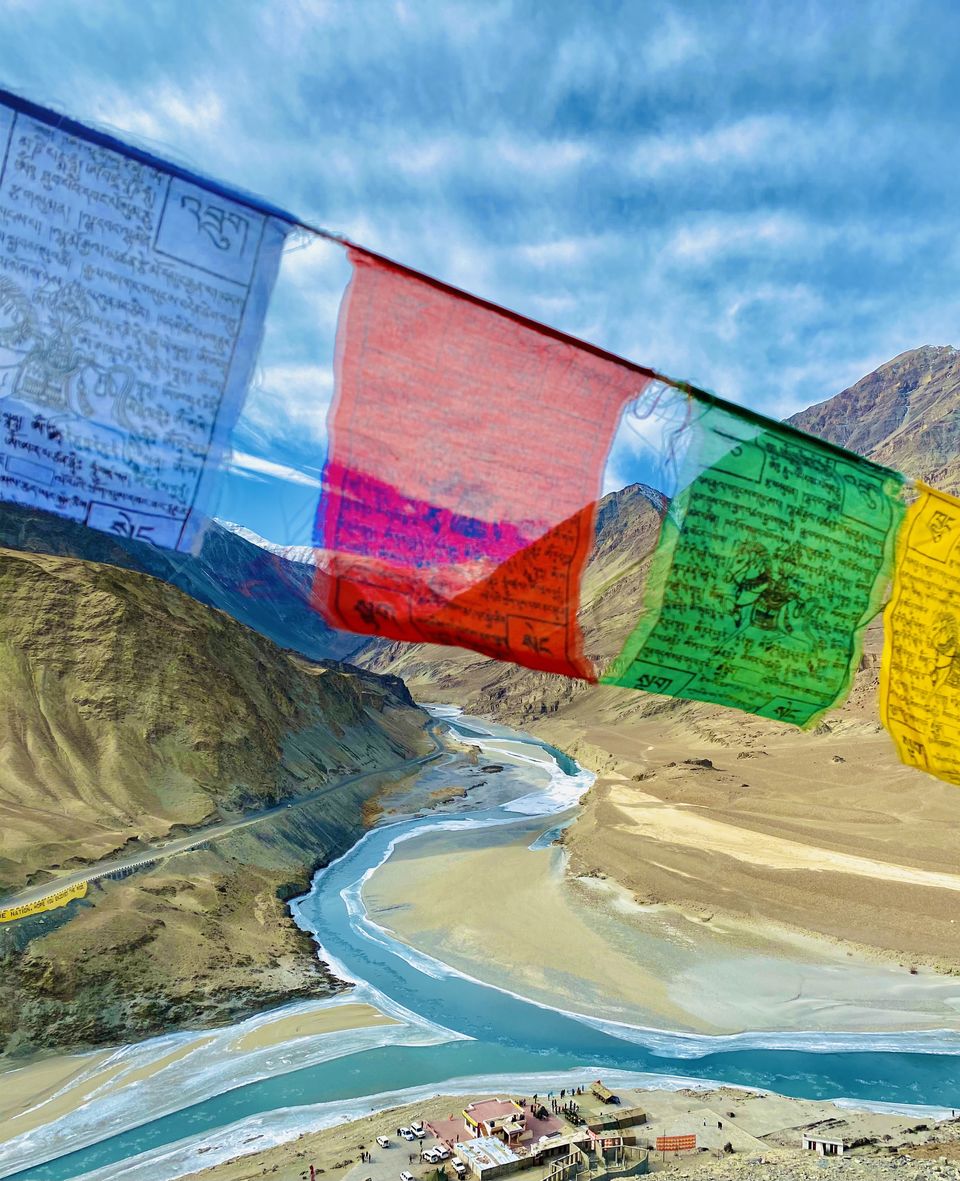 "You do not travel if you are afraid of the unknown; you travel for the unknown that reveals you with yourself." – Ella Maillart.
This quote justifies my travel tale to Ladakh.
LADAKH- The land of high passes and some remote monasteries. It's a dream destination for many travelers in India. We have always dreamt to go to Ladakh for many years, but as they say every place has its own calling, our call of Ladakh came in the winters of January 2021. Being there was an unforgettable experience viewing all those snow covered peaks, frozen lakes, deserted plains, walking on semi frozen rivers, bone-chilling cold. The trip to Ladakh in winters is not about checklists, it's all about experiences and new travel learning's like...
-ADAPTING to High altitude & extreme temperatures. Landing at an altitude of 11,500 feet along with -14 degrees temperature gave us a sublime feeling. It is better to wear 3-4 layers of clothing at the departing airport itself to prepare yourself for the imminent cold at the Leh airport. While you are on the flight, there are dazzling endless views of the snow laden mighty Himalayas and brown arid rustic mountains.
-SMILE as locals share their experiences and open their hearts so generously and ask you about how you are adapting. One of the members of the hotel in which we were staying was gracious and benevolent towards us adjusting to the high altitude.
-LANDSCAPES that will gaze your eyes with wonder and will make you fall in Love with LADAKH. You will be taken in by the breathtaking beauty the moment you land with cobalt blue sky, snow covered peaks, semi frozen rivers and great roads.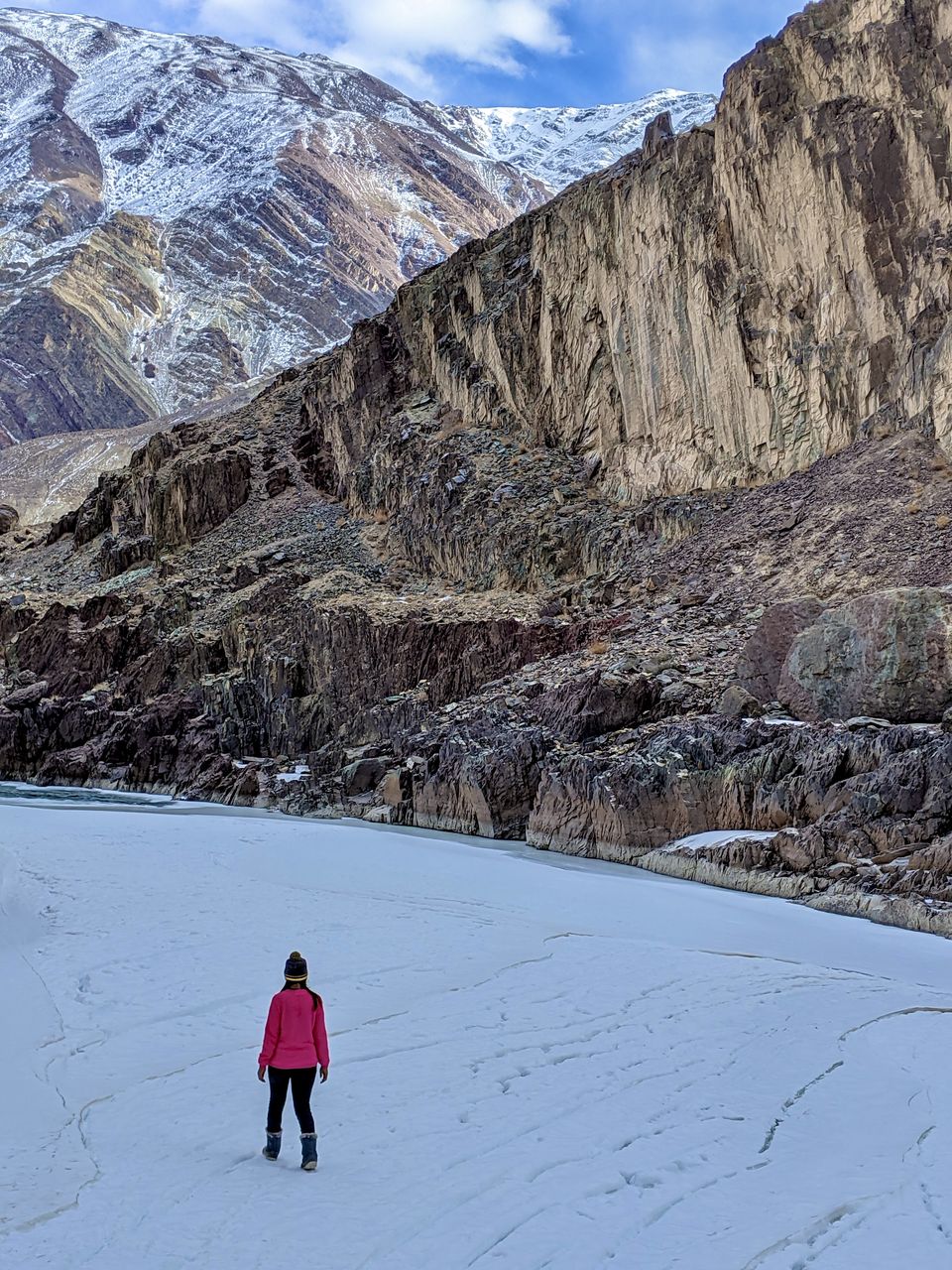 Ladakh is bestowed with so many natural and man made wonders and we visited few of them:
Sangam – Confluence of Indus and Zanskar Rivers in Ladakh:One of the most captivating sights of nature in Ladakh is the Sangam of rivers. Nestled between the stunning mountains of the cold desert, there is a vantage point at about 35 km from the city of Leh near the village of Nimmu, on the Leh - Srinagar Highway, where the picturesque Sangam of these opulent rivers is witnessed.
Khardung La Pass is one of the highest motor-able roads in the world located at an altitude of 17982 feet above sea level and is extremely popular among adventure seekers and regular tourists alike.
Changla Pass one of the highest Motorable Mountain passes at an elevation of 17590 feet en route Pangong Lake. While heading towards the Changla pass we enjoyed the stunning panoramic views and also bared the irresistible cold here at the checkpoint. It was so chilly, that I was barely able to took my hands out to capture the beautiful view.
Pangong Lake The sight of Frozen Pangong Lake is one amongst the many rewards of visiting Ladakh during Winters. The lake was completely frozen and it gave us a feeling of being teleported to the ice age. Being a low tourist season, we had an opportunity to get uninterrupted shots of the Beautiful Pangong Lake and it seemed like the whole of Pangong Lake was hosting us exclusively.
Walking on Frozen Zanskar River: This little gem, close to the tiny village of Chilling in Ladakh.
Exploring Ladakh during winters is a bit of an unusual decision, however we can assure you that visiting Ladakh in winters has been one of the most surreal experiences of our travel journey till yet. If you're looking to challenge yourself by breaking out of your comfort zone then, go ahead and pack your bags for the winter trip to Ladakh for experiencing freezing weather, revitalizing breezes and breathtaking landscapes.
Note: Taxi fares in Ladakh are quite steep, though it is the most convenient option and also gives the flexibility to stop as often as you want for photography and sightseeing.
PS: Follow us on Instagram at @binge_trippers