Ladakh - as soon as we heard the name the first thing which comes to our mind is snow covered mountains, frozen rivers and lakes. It's a dream destination for everyone who loves nature and photography. Definitely I'm one among them who loves both of them. Temperature in Ladakh in winter drops to -30 degree Celsius and the availability of basic amenities will be a billion dollar question here. You can ask me why you want to visit Ladakh in winter. Answer is I want to experience Ladakh's hardest and truest form, initially I thought of going alone but when I booked my tickets my friend Sathya Narayanan also joined with me.

Travel Chennai - Leh:
During winter all roads which connects Ladakh are got blocked due to heavy snowfall. The most commonly used road is via Rohtang pass from Manali and the only option to reach Ladakh in winter is by air. As we don't have direct flights from Chennai - Ladakh, I've booked SpiceJet which cost me INR 8,685.00/- back and forth between Chennai - New Delhi. From New Delhi GoAir will be the budget friendly option and it costs me INR 8,435.00/- back and forth, Air India and Jet airways are the only other two service providers to Leh. So the total flight ticket cost me around INR 17,120.00/-.
Leh Ladakh 4D/3N itinerary:
I know you will think it's a very short period of time, b'se I works in one of the companies which needs me to on board in Saturday's too. So there is no choice. When I started enquiry about my accommodations in Leh most of the service providers where told me this is not the right to visit Ladakh. Apart from them few of them sent quotes as well. After a week's research I finalized Visit Ladakh.net which is owned by Distant Holidays. Distant Holidays has vast experience in Tourism Industry. They gave me to options one is Budget and luxury. I always prefer budget friendly travel and got accommodation in Aayat Guest House (with heating). Its cost me INR 11,000/- and this cost includes pick and drop, accommodation in a double room, breakfast and dinner, transport services, sightseeing and transfers.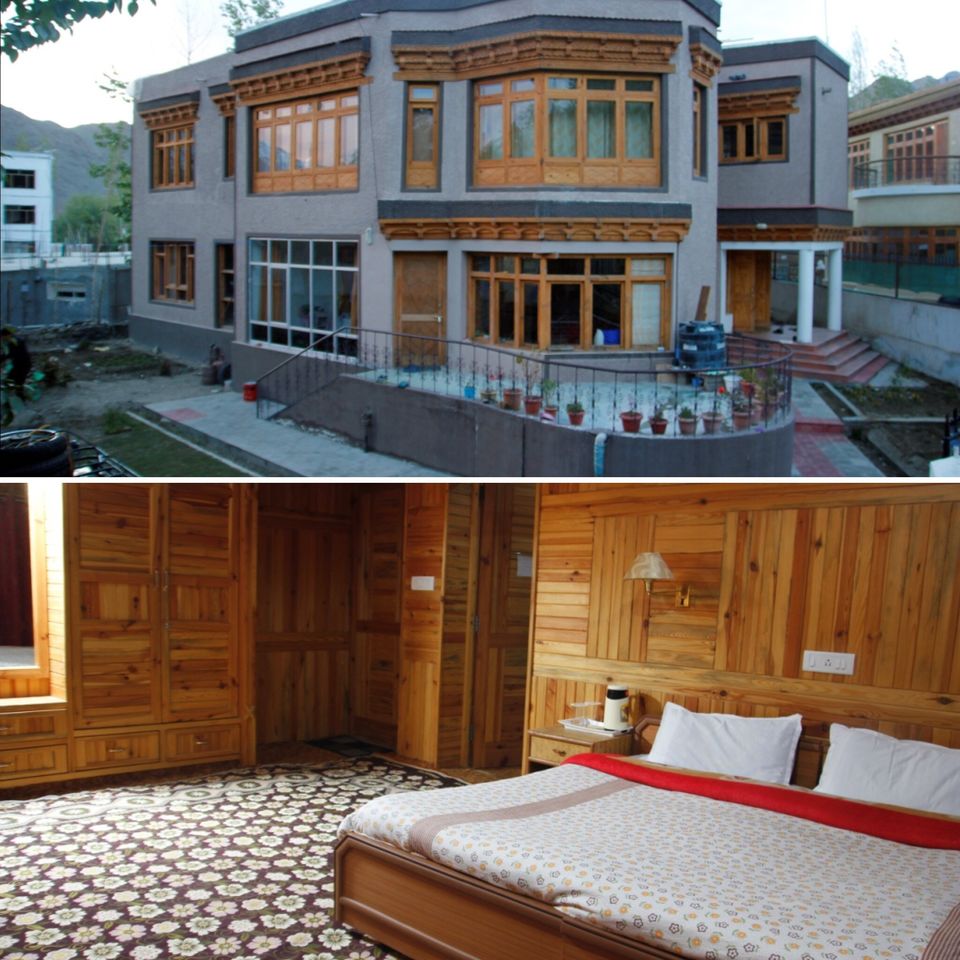 Things to do once you landed in Leh:
Since Leh Town is situated at an altitude of 11,500 ft. above sea level acute mountain sickness can occur to anyone at an altitude above 10,000 ft. from the sea level. I felt little bit discomfort and the most common symptoms of acute mountain sickness are headache disturb sleep loss of appetite, nausea, coughing and irregular breathing. As per the plan one of the representatives picked me from the airport and we headed directly to the hotel and had a small nap. In the evening I just came out for a walk in to main market and the temperature is -5 Celsius at evening 4'o clock. Also be careful with the street dogs in Leh.
Places we visited:
As it's a short period of time, I tried to cover as much as possible so I choose Pangong TSO, Changala Pass, Khardung La Pass, Magnet Hills, Sangam Point, Shanti Stupa and Leh Palace.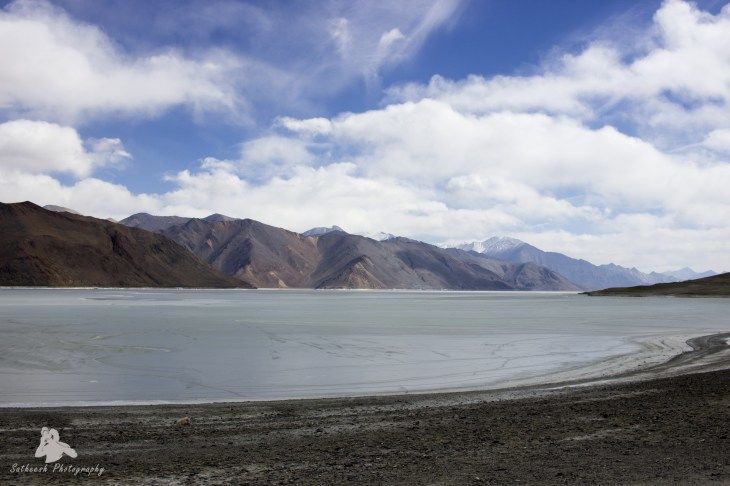 Pangong TSO:
Leh - Pangong TSO road is one of the most breathtaking and hard roads to drive which I came across till now. Once you started your drive from Leh you will get pass through the scenic remote villages in Ladakh. As soon as you took the Leh - Manali highway, Indus River will flows adjacent to you till the change village. After Changa you have to take the Pangong Lake Road which leads to a village called Chemrey. As soon as you crossed Chemrey the ghat road starts. These roads will take you to the HARONG WETLANDS where you can see some pashmina goats and Kiangs are grassing in the slops.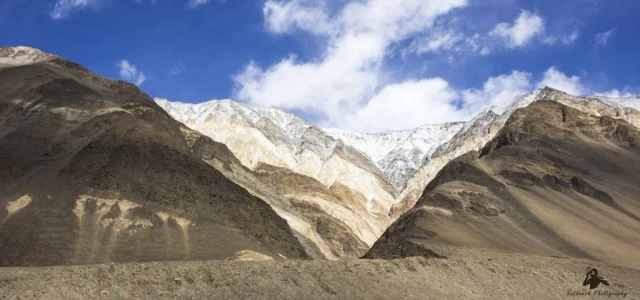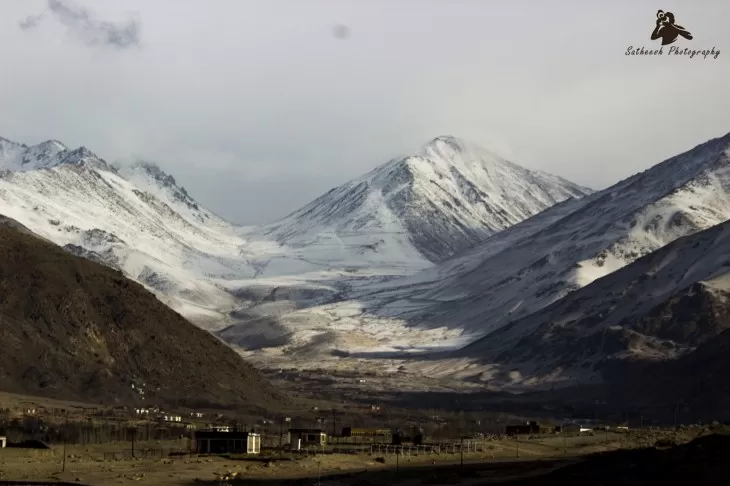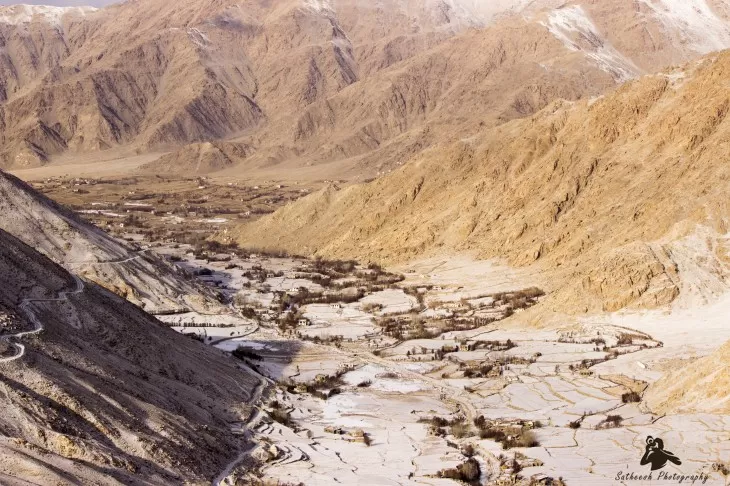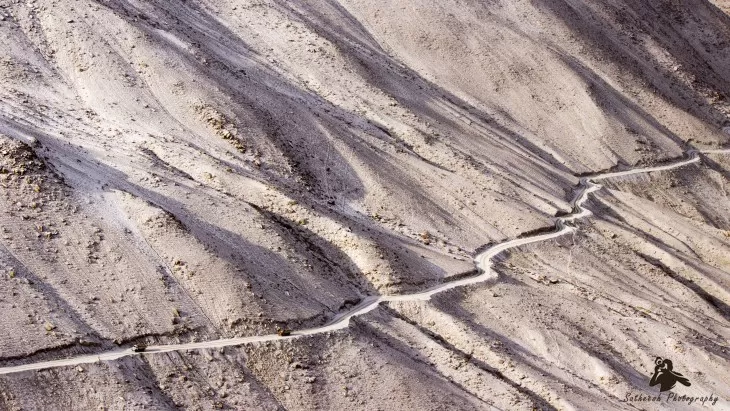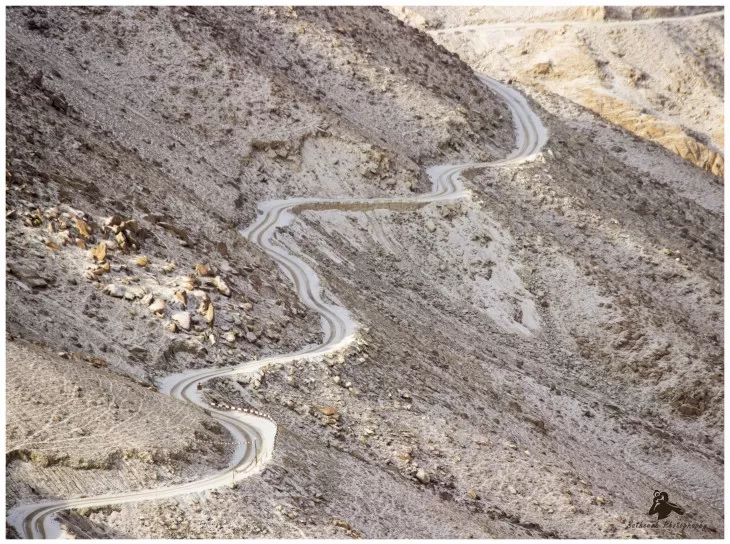 After few hours of drive will take you to The Chang La is the second highest motorable road in the world. The Chang La pass is situated at a height of 17,500 ft.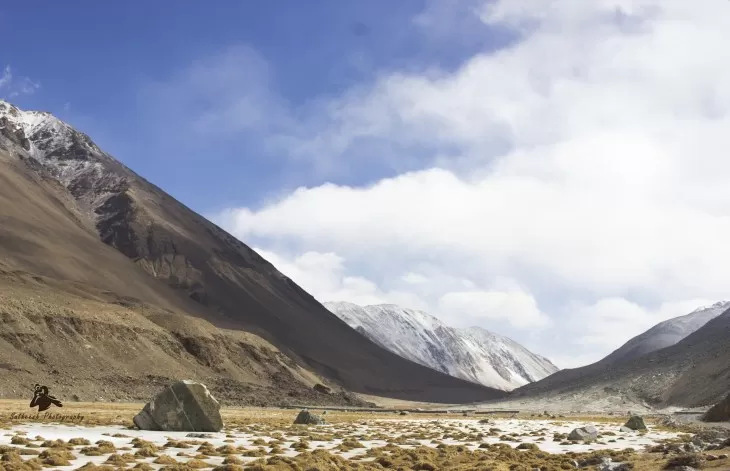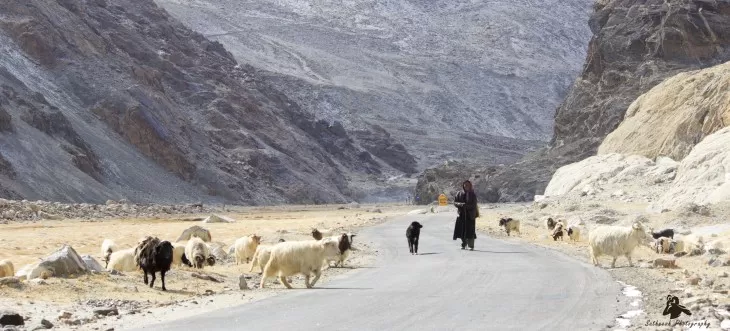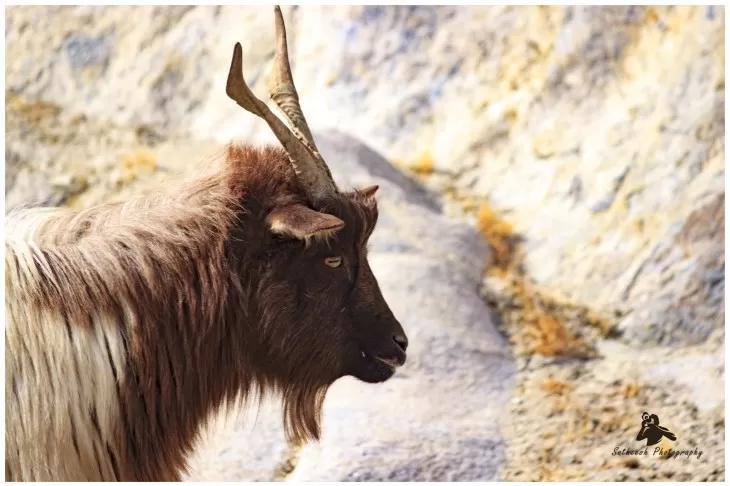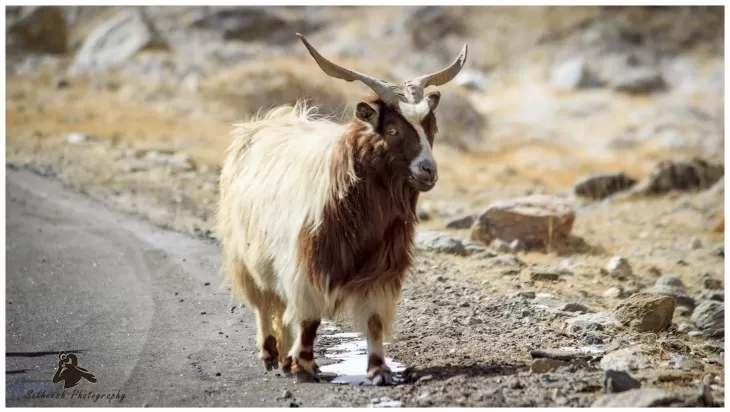 The descent from chang La towards tangtse or darbuk is again very steep. We stopped our vehicle for 30 minutes to have tea. This is the last point where you can able to get some eatables.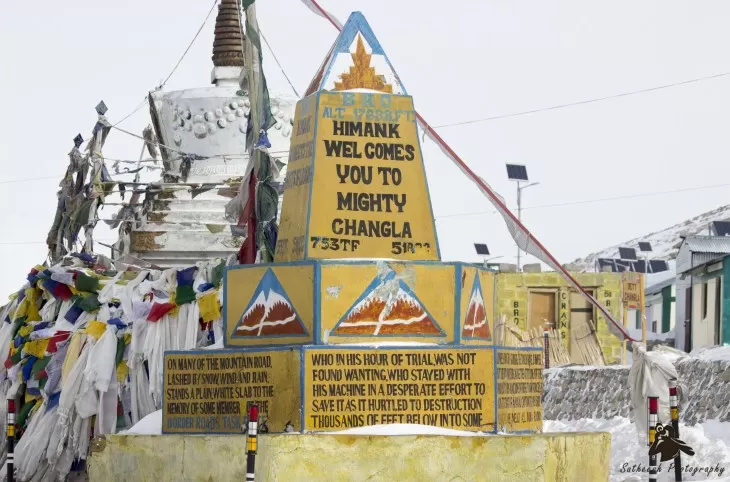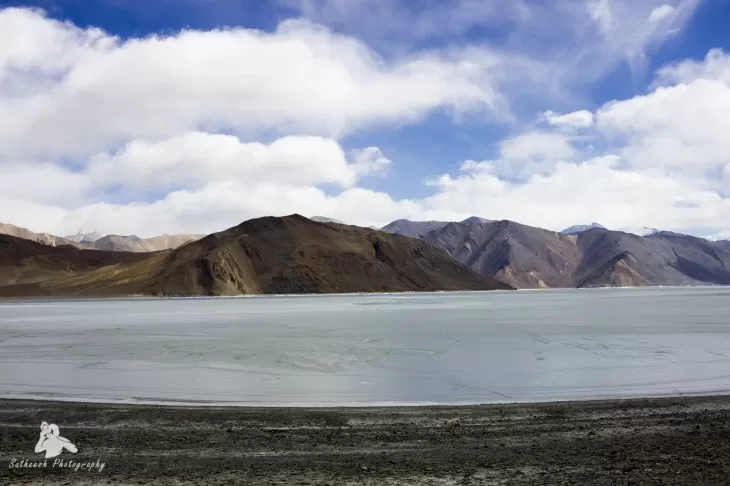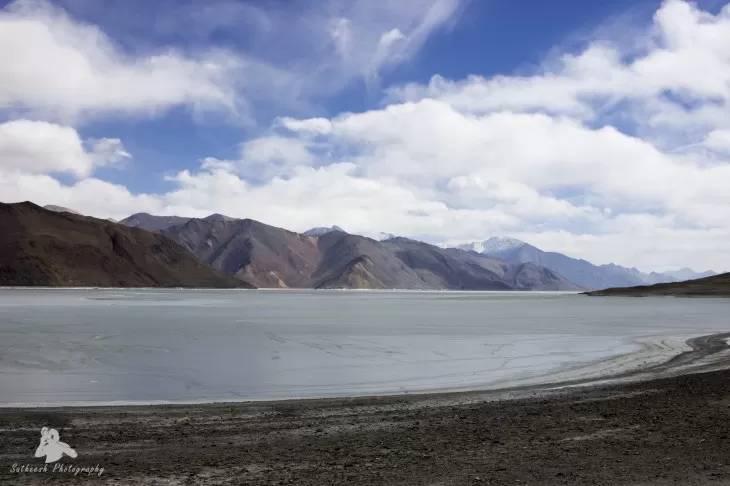 Pangong Tso is one of the largest brackish lakes in Asia which is situated at a height of 14250 ft. Pangong is one of the largest high altitude lakes in India and while only one third of 135km long lake is in India and rest in China. We have been there at the peak winter time (January to February). Its unbearable cold and wind over there which doesn't allow you to stand for more than a minute. Pangong Tso becomes completely frozen and hard enough for cars to drive on! It is a must visit for all travelers, no matter how many times you have visited Ladakh.
Khardung La Pass:
The Khardung La village (3975 metres / 13,042 feet) with the route involving a gentle but steady climb to the Khardung La top, one of the world's highest passes and goes till 5370 meters / 17,618 feet before the route descends to Leh, the capital of Ladakh.
The Khardung La Pass is the high point along the route which is called the world's highest motor-able road. Driving in this road will gives you a spectacular mountain view of the Karakoram range and the Stok massif, running past mountain villages and summer pasture land of the yaks of the Nubra Valley and North Pullu. From Khardung La it's all downhill to Leh.
Magnet Hills:
It is a small stretch of road located about 30 kms from Leh towards Kargil and known as Magnetic Hill of Ladakh. On this particular part of the Srinagar-Leh highway, you would clearly see the road ahead going uphill and the wind will blow hard against you in this place.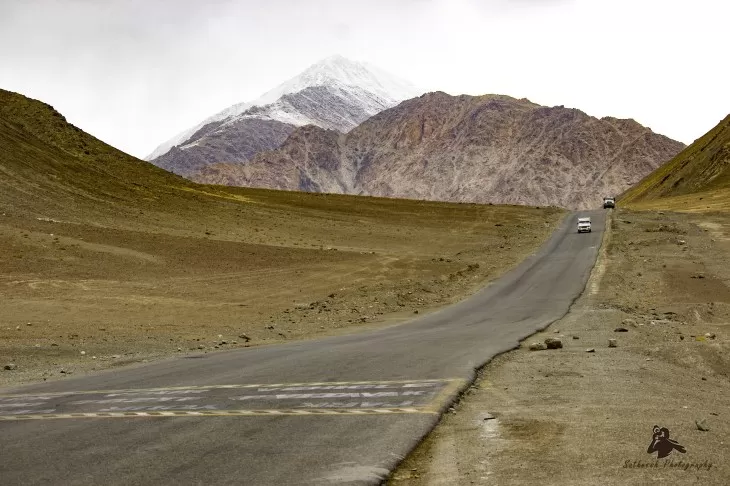 Sangam Point:
The Sangam point is the spot that you should not miss; you can see the magnificent view of two diverse rivers merging at one place. Most part of Zaskar River will gets frozen in the winter and ironically Indus River never does. You can clearly see Zanskar River (from top) and the Indus (bottom flowing from left to right) which flows towards Pakistan, before its ending at Arabian Sea.
Shanti Stupa:
Shanti Stupa is situated on a hilltop in Chanspa, Leh district, Ladakh, in the north Indian state of Jammu and Kashmir. Shanti Stupa as know Buddhist white-domed stupa. It was built in 1991 by Japanese Buddhist Bhikshu Gyomyo Nakamura .The Shanti Stupa holds the relics of the Buddha at its base, enshrined by the 14th Dalai Lama himself. Shanti stupa has provides beautiful and panoramic view of the surrounding landscape. This has become a primary reason for Shanti Stupa to become a popular tourist attraction, apart from its religious significance.
The Shanti Stupa was built to promote world peace and prosperity and to celebrate 2500 years of Buddhism. It is considered a symbol of the friendship between the people of Japan and Ladakh. It's at a height of 4,267 metres (13,999 ft) which is 5 kilometres (3.1 mi) from Leh - the former capital of Ladakh. On a steep hill facing the Leh Palace. The stupa can be reached by a drivable road or on foot using a series of 500 steep steps to the hilltop. The stupa is open for tourists between 5:00 a.m. and 9:00 p.m.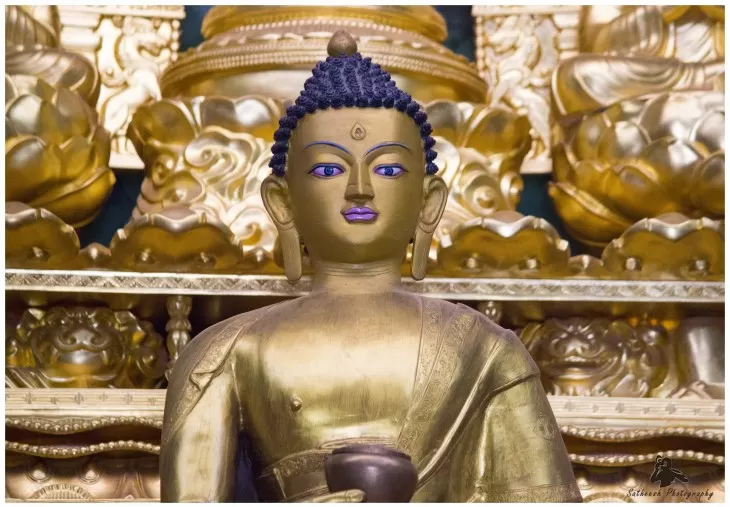 Leh Palace:
This is a nine-storey dun-coloured palace is Leh's dominant structure and architectural icon. It took shape under 17th-century king Sengge Namgyal but has been essentially unoccupied since the Ladakhi royals were stripped of power and shuffled off to Stok in 1846. This place was built with the help of stones, mud bricks, poplar wood, mud mortar and wooden rafter's.
Shopping in Leh:
As it's an off season 90% of shops were closed, so you can't expect the Kashmir specials like Pashmina shawls. You can also buy Tibetan handicraft items including prayer wheels, Buddhist masks and Thangka paintings can be purchased in Ladakh. Apricots are the ones which you get abundantly in Ladakh.
Overall it was a great life time experience to visit Ladakh in winter, unfortunately all the 3 days we woke up by witnessing the snow fall. Each and every corner of Ladakh beauty can be witnessed without crowd in all the important places. My pictures won't justify the visuals which I experienced personally in the coldest dessert. All I can say is "Snow looks good only in pictures" but on the field it will test your threshold level to the fullest. It will be a life time experience for each and every individual.
This blog was originally published on 'JIGARTHANDA'
Frequent Searches Leading To This Page:-
Places to Visit in Leh Ladakh in Winters, Best Chennai to Ladakh Tour Packages, Top Leh tour packages with price, Budget Trip Packages for Group to Leh, Leh Holiday Tour Packages, Leh Ladakh Tour Packages Itinerary, Leh Ladakh Road Trip Packages