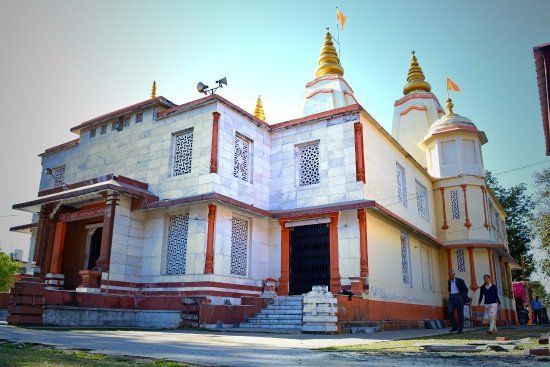 The Laxmi Narayan Mandir is a magnificent temple dedicated to Goddess Lakshmi and her consort Lord Vishnu. This temple is in the district of Bilaspur. The shrine is of enormous spiritual significance for Lord Vishnu and Goddess Lakshmi devotees who visit the temple to offer their prayers and seek sanctification from the divinities.
The magnificent temple was built in the Shikhara Shaily style and attracts architecture enthusiasts worldwide. The new white temple, located in the scenic area of Bilaspur, has a beautiful aura that will instantly soothe anxious worshipers.
The Temple's Importance
The royal temple has beautiful statues of Lord Vishnu and Goddess Lakshmi. At the same time, there are magnificent idols of Goddess Durga, Lord Ranganath, Lord Shiva, and Baba Bangali in various parts of the temple. The Laxmi Narayan Mandir was once located where the Bhakra Nangal Dam was submerged in the reservoir known as Gobind Sagar Lake. The Lord Ranganath statue was initially placed in an old Bilaspur temple.
The idol was reinstalled at the Lakshmi Narayan Mandir when the town was transformed. The temple provides a welcome respite from the city's hustle and bustle. As part of their regular devotion, many devotees used to sit and sing Lakshmi and Vishnu Mantras. Devotees believe immortals are powerful and that any request uttered with a pure heart is always answered.
The Laxmi Narayan Mandir's architecture
An expansive courtyard surrounds the magnificent Laxmi Narayan temple with wrought iron chairs and lush green grounds on all sides. The temple is an evolved form of the Shikhara construction style, with five gold-coloured shikharas on top of the building. The entrance requires a few stairs to be climbed. Sturdy pillars support the gallery.
The sanctum sanctorum contains the statues of the principal deities, Goddess Lakshmi and Lord Vishnu, and the images of minor gods. The entire building is constructed of white marble. Furthermore, the entrance frames are brick red, and ventilation is accomplished by rectangular jali-work found all around the temple's walls.