1. Badrinath Temple - Uttarakhand
Badrinath Temple, Badrinath Dham, Chota Char Dham Yatra & The Complete Information - Uttarakhand Tourism, There are Badrinath temples located in the Chamoli district of Uttarakhand state and close to the Alaknanda River.
The Badrinath temple is one of the Char Dham pilgrimages. It is situated at an altitude of 10,279 feet. This sacred Hindu temple dedicated to Lord Vishnu is a part of the four holiest sites called Char Dham.
You may also like to read: vadakkunnathan temple
It is one of the 108 temples dedicated to Lord Vishnu, this temple is surrounded by the snow-covered Himalayas flowing along the Alaknanda River, which brings great peace to the mind. ( Read More )
2. Ranganathaswamy Temple, Srirangam
Sri Ranganathaswamy Temple Located in Srirangam in the city of Tiruchirappalli, South India, Sri Ranganathaswamy Temple is one of the special temples of Sri Hari spread over approximately 156 acres.
According to the Puranas, Vishnu Avatar Sri Rama worshiped here after returning from Lanka after killing Ravana. Of the 108 Divyangs of Lord Shri Vishnu, Sri Ranganathaswamy is considered to be the first and the most important. ( Read More)
3. Shri Padmanabha Swamy Temple - Kerala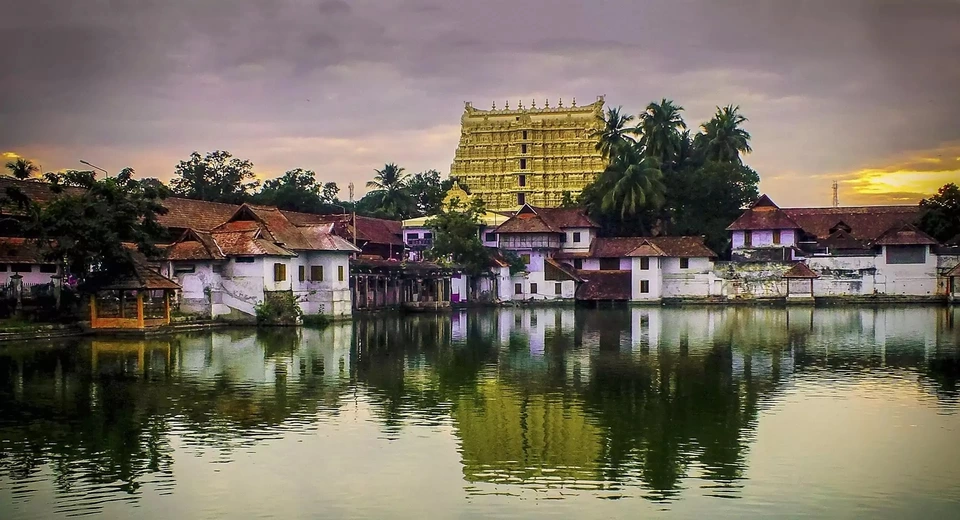 Sree Padmanabha Temple Located in Thiruvananthapuram, the capital of Kerala, it is a famous Hindu temple of Lord Vishnu. Padmanabhaswamy temple has a huge statue of Lord Vishnu in the sleeping posture on Sheshnag.
The architecture of the Sree Padmanabha Swamy temple is a beautiful and amazing blend of Kerala and Tamil styles. ( Read More )
4. Tirupati Balaji Temple -Tirumala
The Tirupati Balaji temple dedicated to Lord Vishnu is one of the oldest and famous Vishnu Temples in Kerala. Located on the Tirumala hill in the Chittor district, this temple of Lord Vishnu is considered to be the richest temple.
Every year millions of Vishnu devotees come for the blessings and darshan of Lord Venkatesh. There is also the practice of donating hair in temples in Tirumala. - read more
5. Guruvayoor Temple, Kerala
Vishnu Temples in Kerala, The Guruvayur Temple, dedicated to Lord Vishnu, is located in the city of Guruvayur in Thrissur district, Kerala.
The nearly 5000-year-old Guruvayur Temple is one of the most important religious and worship sites for Hindus. Only Hindus can worship in this ancient Vishnu temple.
6. Jagannath Temple, Puri - About Jagannath temple
Jagannath temple information, Jagannath Temple is located in the city of Puri in the Indian state of Orissa, dedicated to Lord Jagannath, who is a form of Vishnu.
Sri Jagannath Temple is an important Hindu temple. This famous temple was built by Anantavarman Chodaganga Deva, the first king of the Eastern Ganga Dynasty, and the temple was rebuilt around the 10th century.
The holy Char Dham along with Badrinath, Dwarka, and Rameswaram is included in the yatra. (Read More)
7. Ramanathaswamy Rameswaram Temple
The Ramanathaswamy temple, spread over an area of about 15 acres, is one of the ancient and famous Hindu temples in India.
This temple is a very sacred site for Hindus, as it is one of the 12 Jyotirlingas established in India. Every year lakhs of devotees visit the Ramanathaswamy Temple.
The beautiful artwork on the walls of the temple looks very beautiful to see. (Read More)
8. Dwarkadhish Temple, Dwarka
Dwarka Temple is situated near the Gomti River in Dwarka, Gujarat state of India, this temple is a famous pilgrimage site for Hindus.
Dwarkadhish Temple, also known as Jagat Mandir, is known among the people. Dwarkadhish Temple is a Hindu Mandir dedicated to Lord Krishna. In this temple, you get to see Chalukya style architecture. ( read more)
9. Lakshmi Narasimhar Temple - Goa
Sri Lakshmi Narasimha Temple, built-in Goa's Welling village, is the fourth incarnation of Lord Vishnu.
Pleased with Prahlada's devotion, Lord Vishnu incarnated Narasimha for the slaughter of Hiranyakashyap, the Sri Lakshmi Narasimha Temple in Goa is dedicated to this form.
The idol of Lord Narasimha about 6.7 meters high is very popular among the devotees.
10. Laxminarayan Temple - Delhi
Lakshmi Narayan Temple is one of the famous and largest Vishnu Hindu temples of Delhi. The Lakshmi Narayan Temple dedicated to Lord Vishnu and Goddess Lakshmi is also known as Birla Mandir.
Spread over an area of ​​7.5 acres, Lakshmi Narayan Temple is a popular religious and tourist destination of Delhi. Lord Vishnu sits in this ancient Hindu temple along with Goddess Lakshmi, hence this temple is called Lakshminarayan Temple.
How many Vishnu temples are there in India?
There are around 108 Vishnu temples in India and each temple has a different recognition and story. Some of the important Vishnu temples have been given information in this article.
Which temple is dedicated to Lord Vishnu in South India?
The Padmanabhaswamy Temple located in Kanyakumari, Kerala is dedicated to Lord Vishnu, the temple is the most famous and popular Lord Vishnu temple in South India.