Day 1   Leh to magnetic hill and Indus Zanskar confluence    
All of us were planning this trip from Last 6 months.Specially Ashish Amit and Mathur was involved in planning part.Before one week we got bad news that Deepak hand is fractured , Although we somehow convinced him to come along with us with this promise that we will carry your bag in complete trip,But I guess this happened only first day😀😀. Finally the judgement day came.Me and my 6 friends took flight from IGI airport around 5 am. Actually we heard a lot about wonderful view in the morning from window side of plane . All snow cladded mountains look very beautiful from window side. Main concern between us was who is going to take window side , finally we settled and the view was awesome.
Finally we reached leh airport around 7 am . As we boarded we started feeling Acute Mountain Sickness. All of us were facing headache and a lot of tiredness . One of my friend Gyandeep (GD) did 6 time vomiting with in 2 hours that he revealed in day 2 of trip. We came to our hotel and settled there.
All of us facing headache due to AMS  then one of my friend Ashish came with Idea that we should go for a acclimatization drive for magnetic hill and Indus Zanskar confluence. Then we hired  three 500 cc bullet and one classic 350 for half-day with a rent around 700.
We started around 2 PM ,road  was very scenic .It was leh Srinagar highway and road conditions were also good .We had decided that we will not cross Speed limit of 40 but due to road conditions all of us sometime touched 80 k. First we reached at Magnetic hill . Magnetic hill is famous for some magnetic phenomenon .We tried to perform this phenomenon but failed.Afer that We went for Indus Zanskar confluence .
Actually at the start of trip we have decided that we will visit all places through rented car but after this test drive all of us  changed our mindset and decided to rent bike for our entire trip.
As you know Leh bike trip is must once in a life. Around 7 Pm we returned back to Leh city .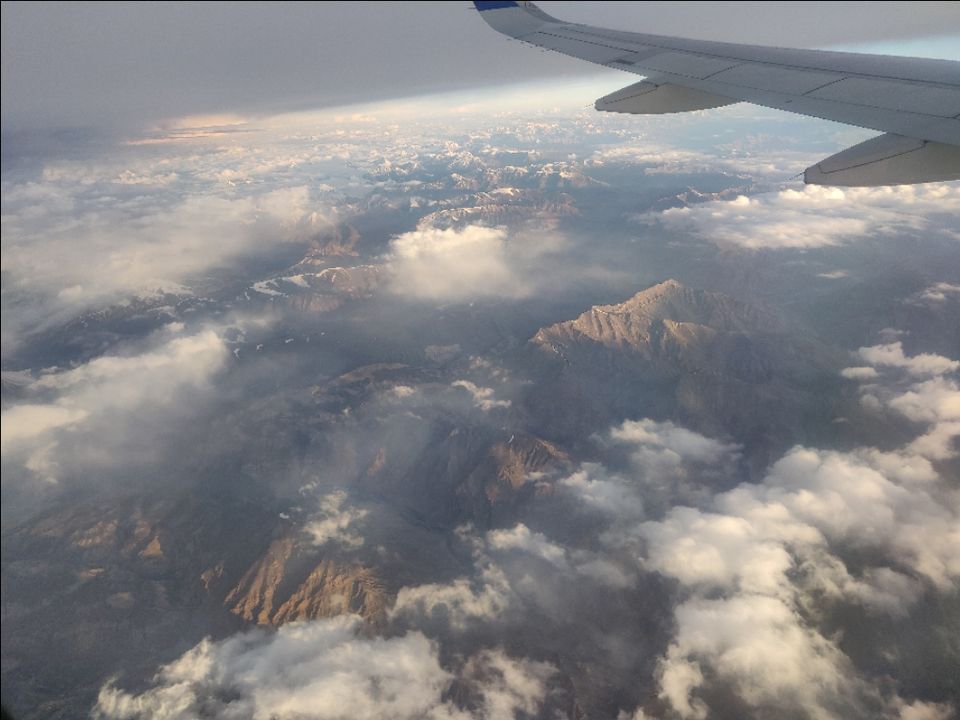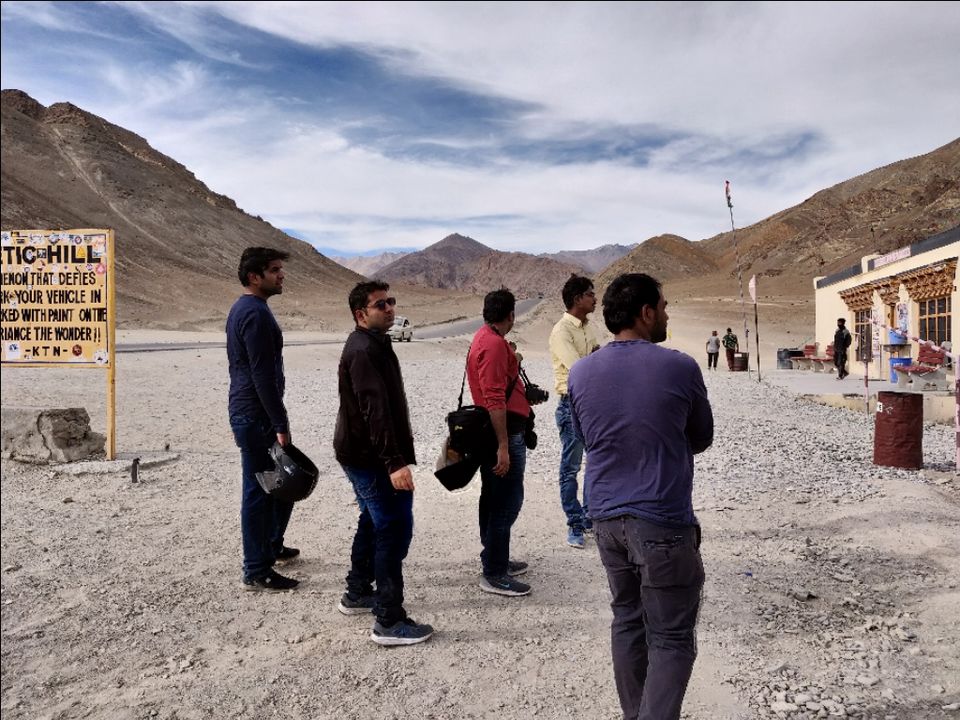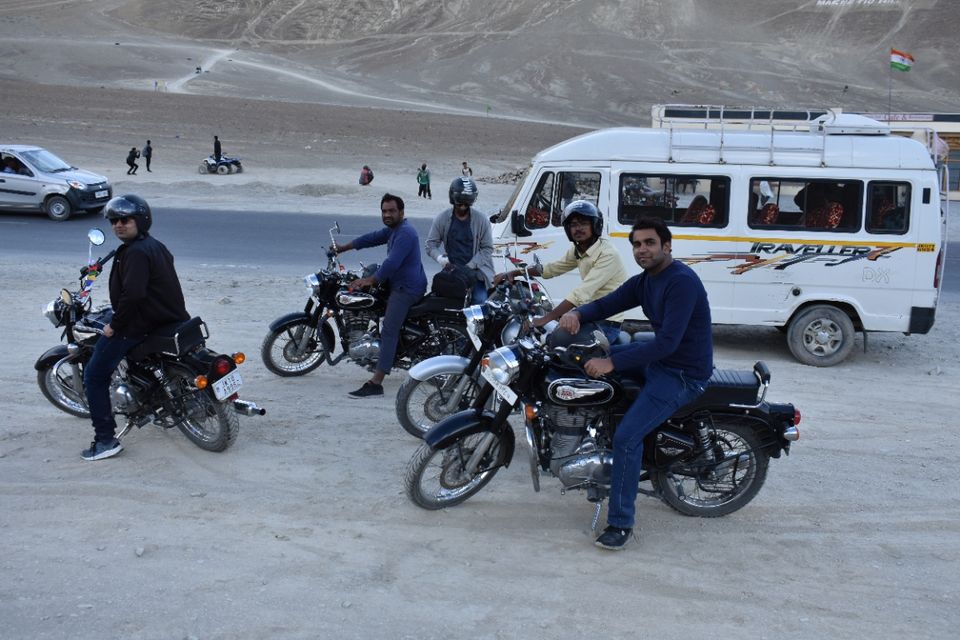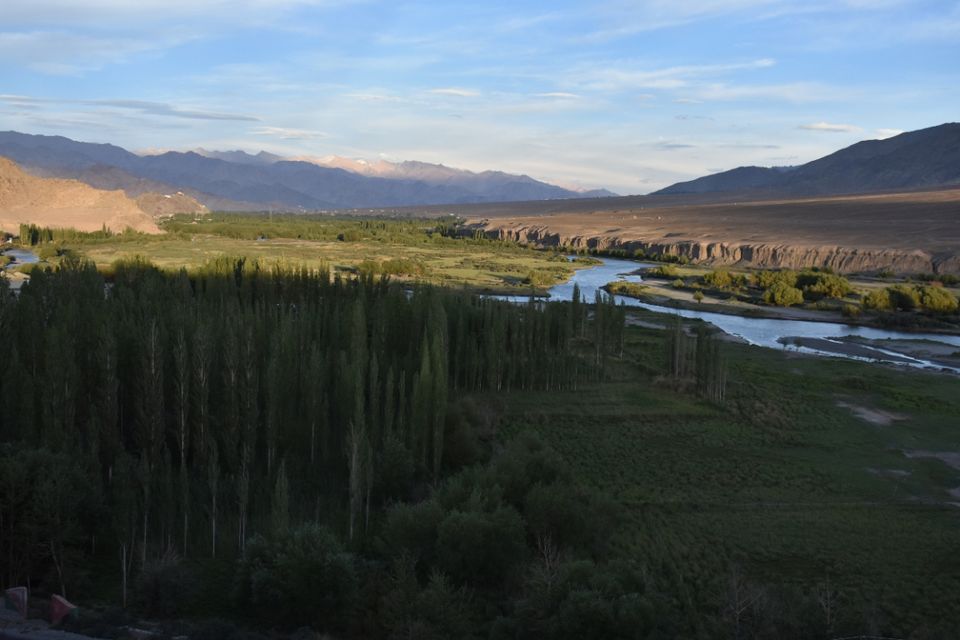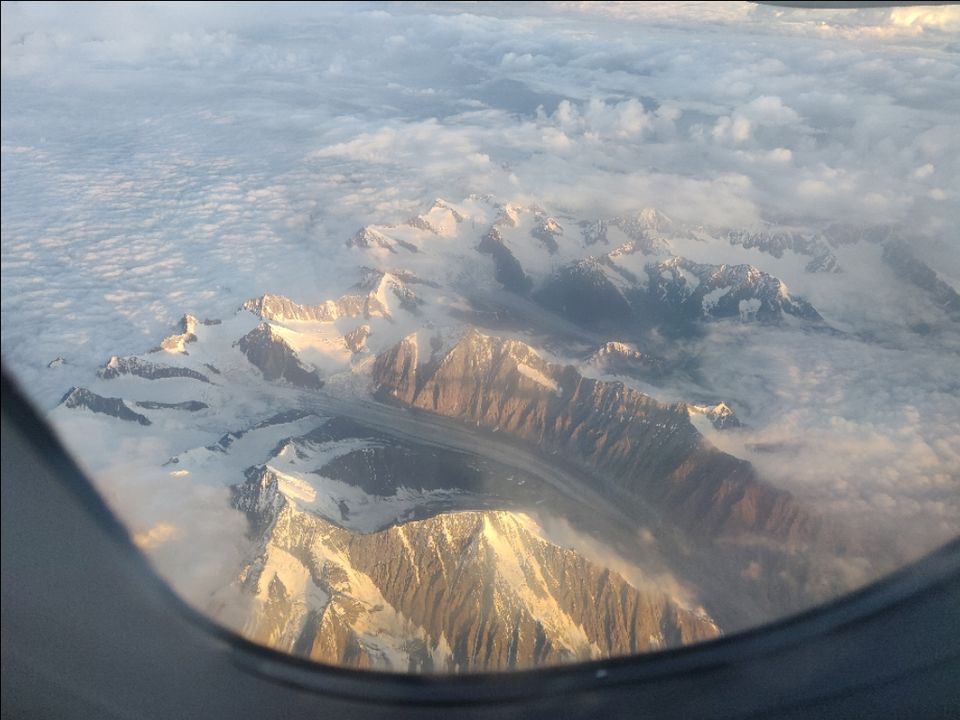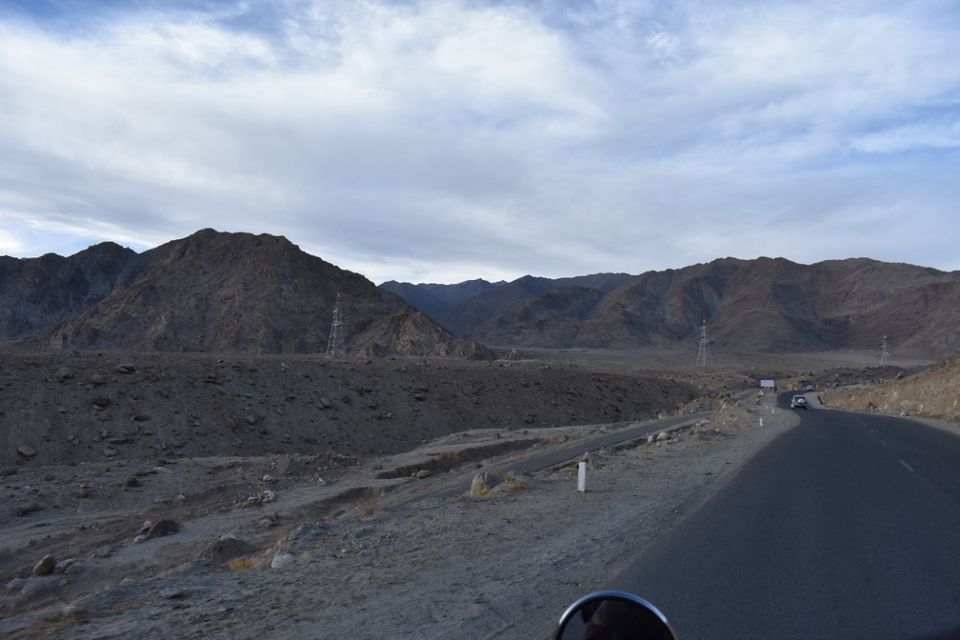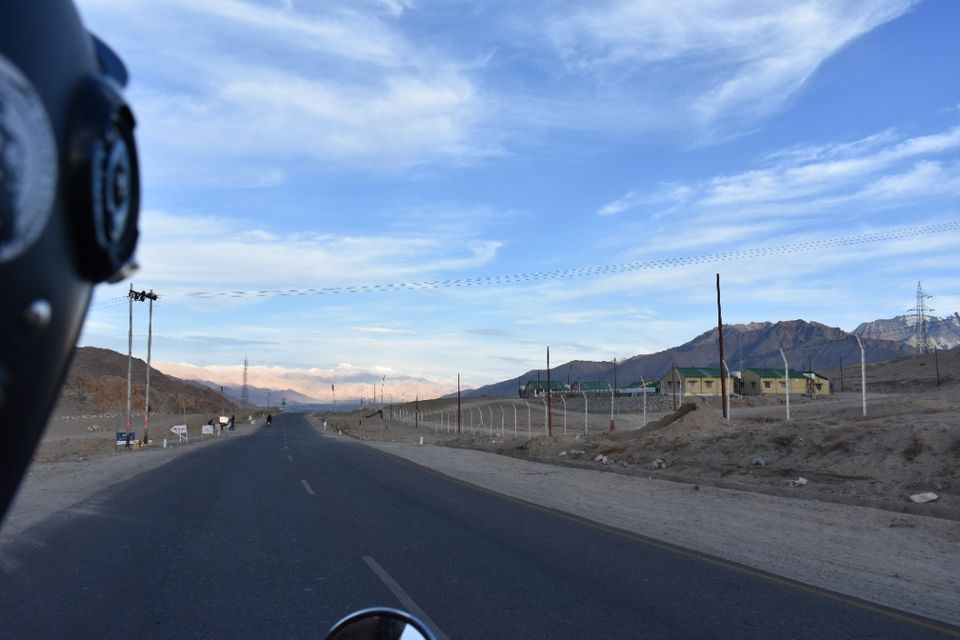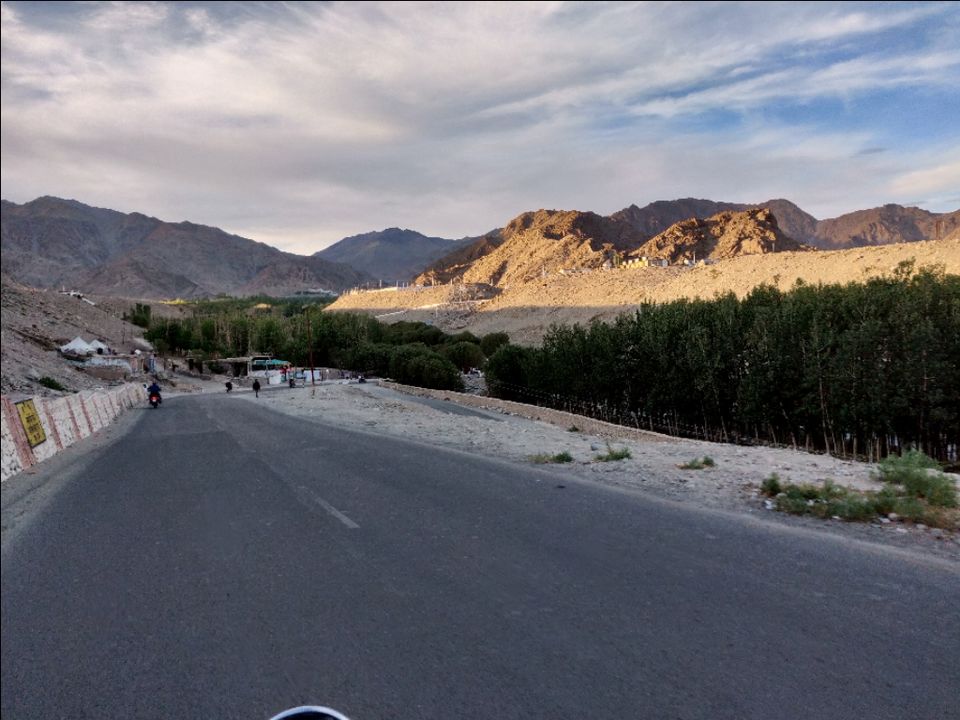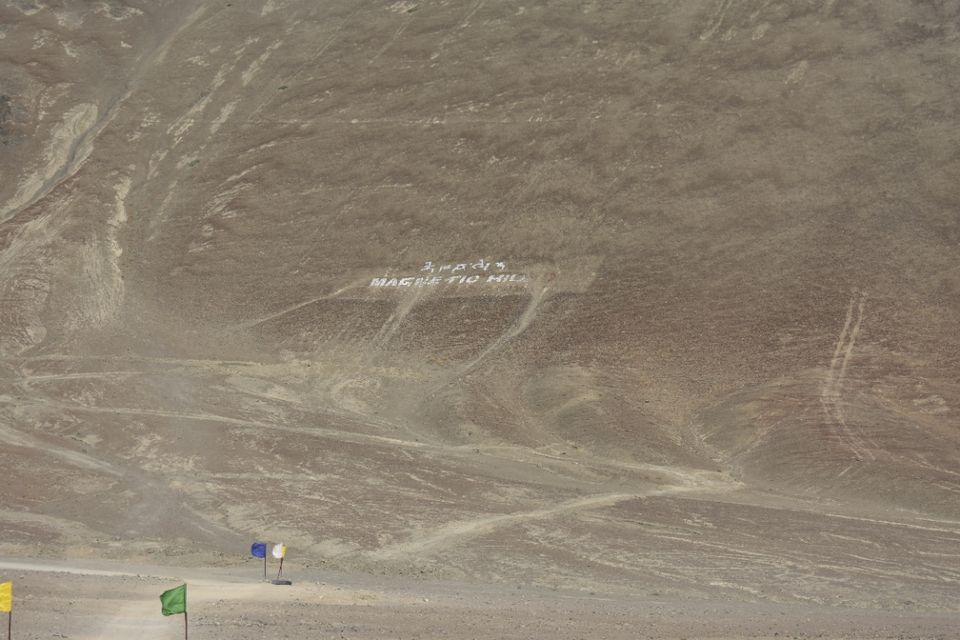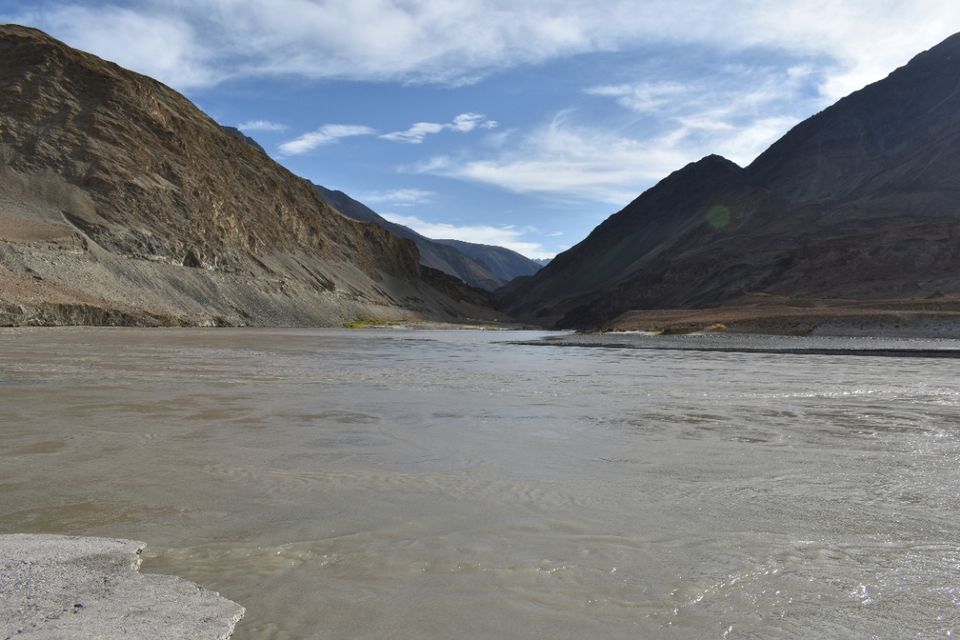 Day 2    Leh to Nubra Valley via Khardungla Pass                                                 
   Today Our plan was to reach nubra valley via mighty Khardungla Pass. Khardungla Pass is one of the highest motorable pass. Khardungla Pass actual  height is 17582 feet but it is wrongly mentioned in many places as 18379 feet. We wanted to start early in the morning for nubra valley because we had to cover total 160 km . We got late and started around 12 Pm for nubra valley. We reached Khardungla around 3 pm . It is advised that anyone should not pass more than 10 minutes in Khardungla because of its height and windy atmosphere.
But all of us didn't face any AMS problem there . Infact we spent there around 25 minutes , may be due to Mathur sahab diamox. GD crossed this pass only wearing t-shirt 😀😀 but it is not at all advisable😀😀
Around 3:30 we again started for nubra valley. Nubra valley is very beautiful cold desert.It is situated on river bed of shyok and nubra river. We reached there around 6 pm there, took some beautiful photographs in beautiful sand dunes. Now its time to take the ride of double hump camel for which it is famous. After ride we sat beside a water crossing with our legs in that water.View was so beautiful at evening that no one was ready to move from there for search of night stay.
Around 7:30 we started to search our night stay. Some local suggested to stay at padam home stay but it was already occupied.
Then we reached at some camp where negotiation started from 7000 and settled around 5000 .Stay was so beautiful and dinner was also awesome there.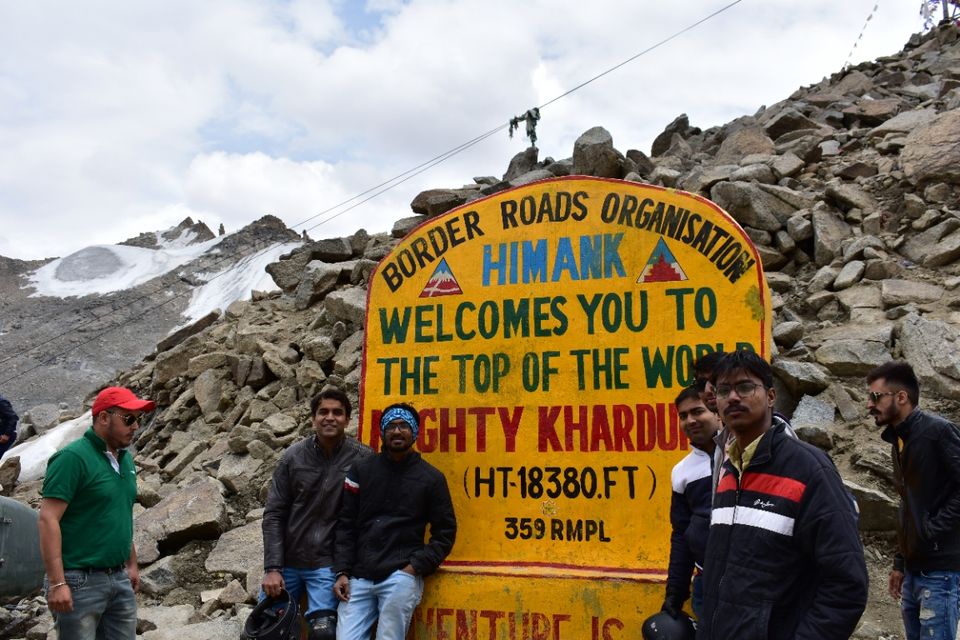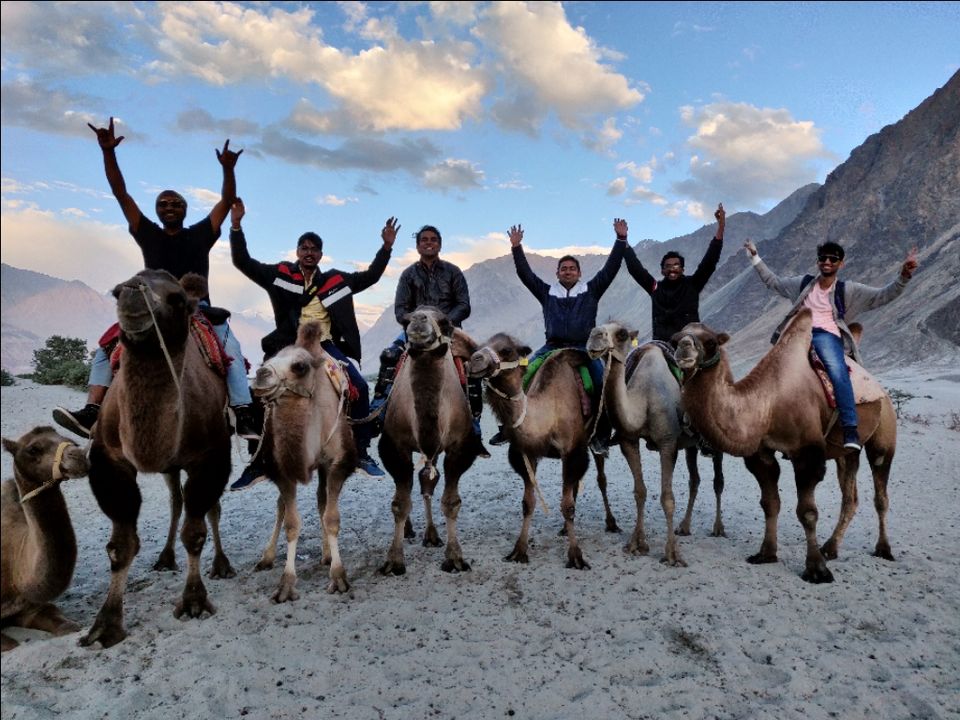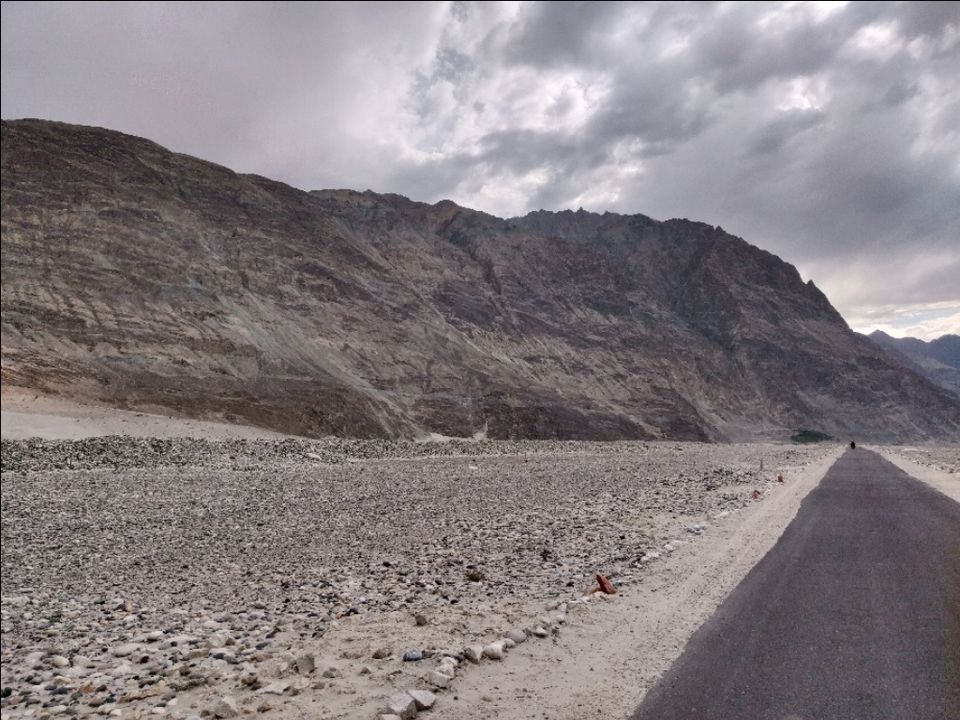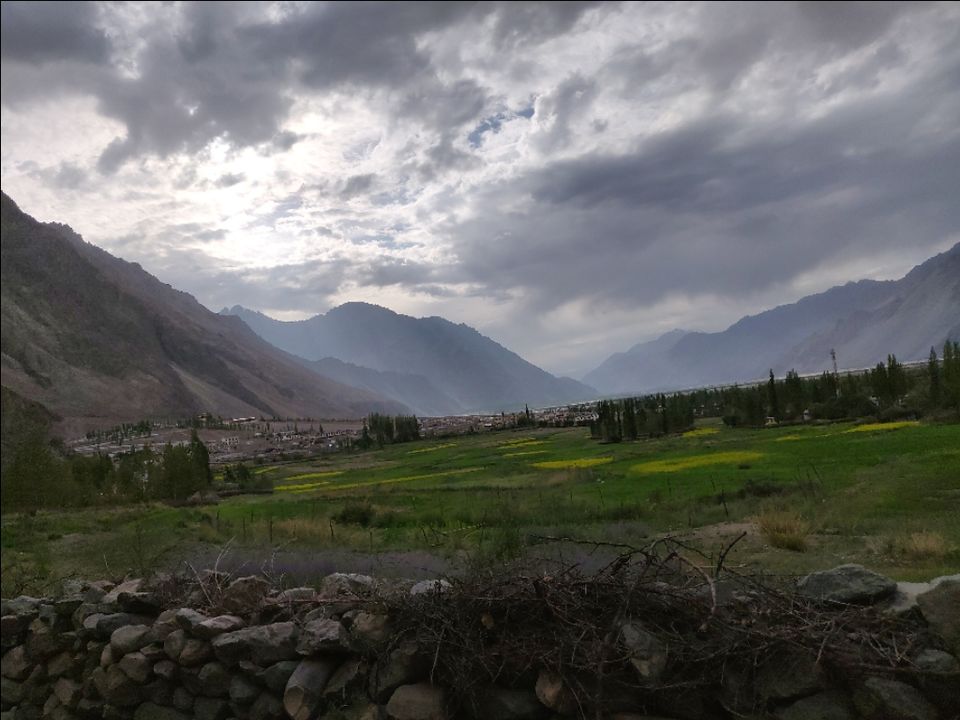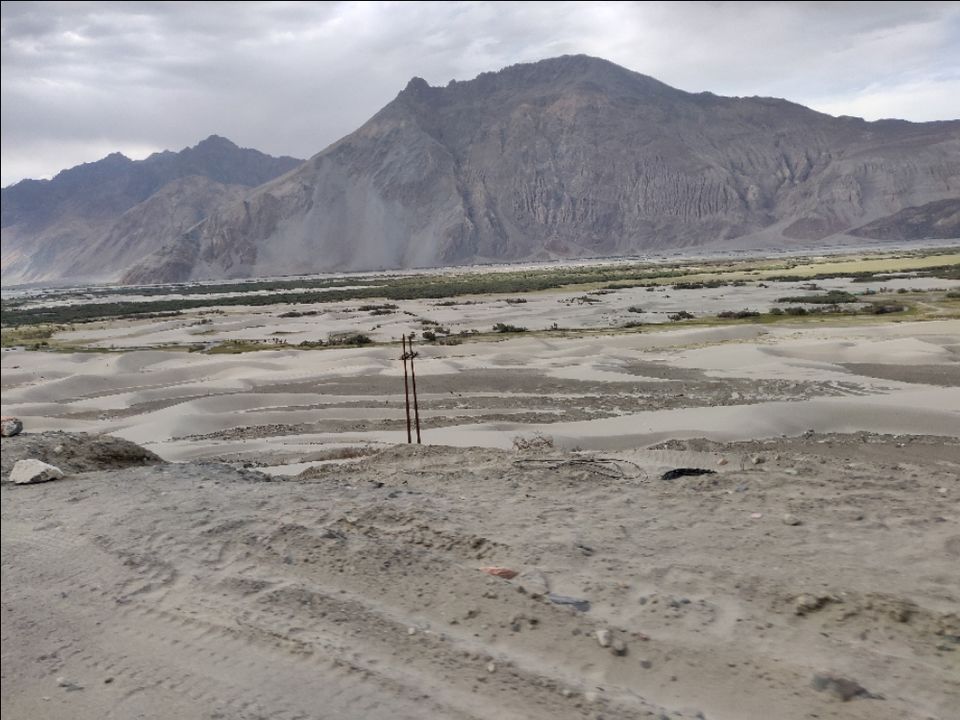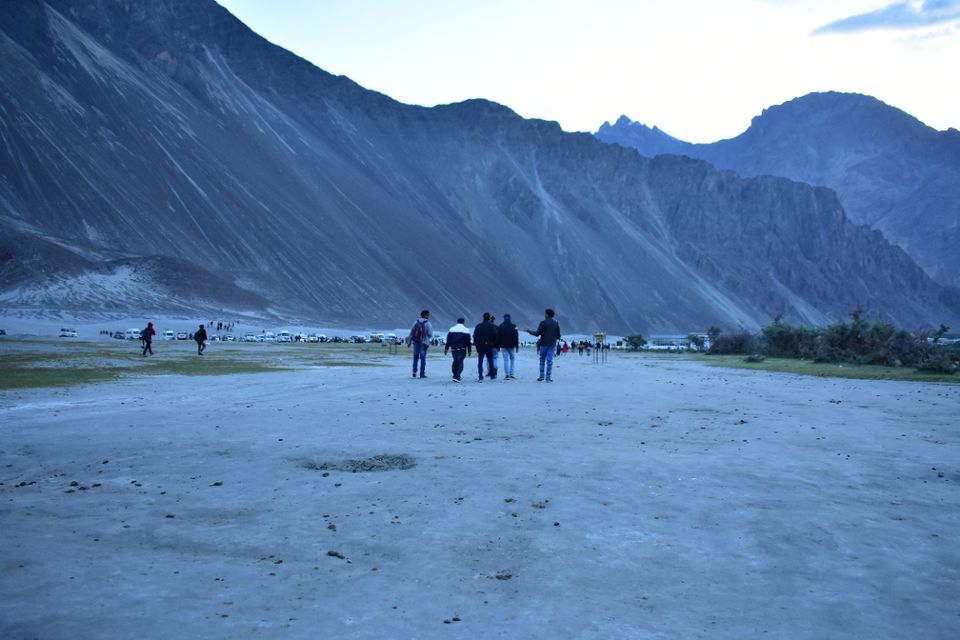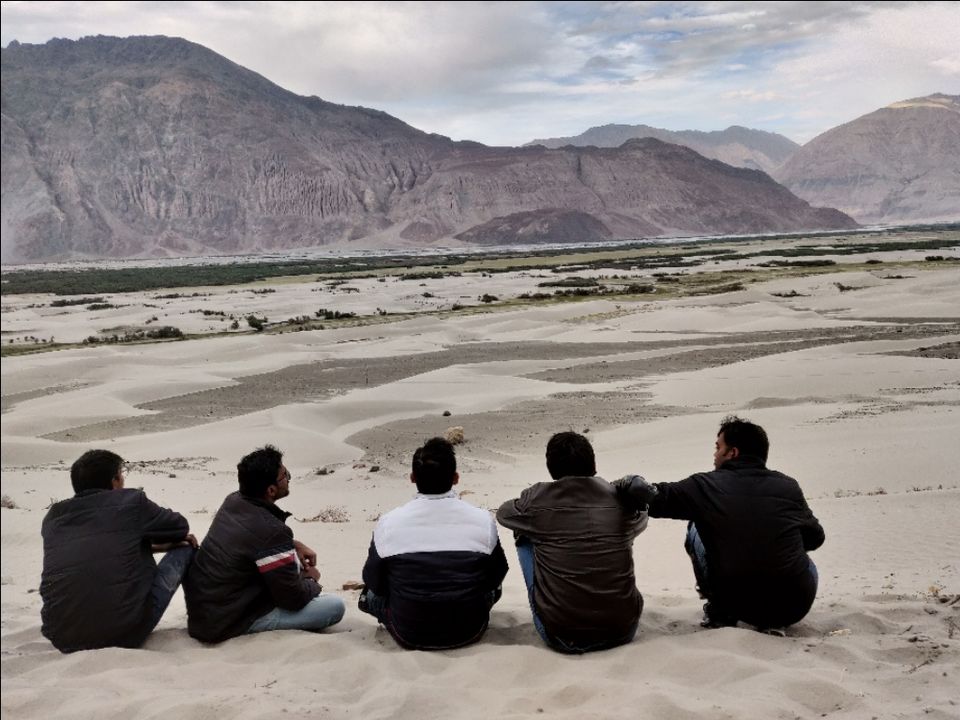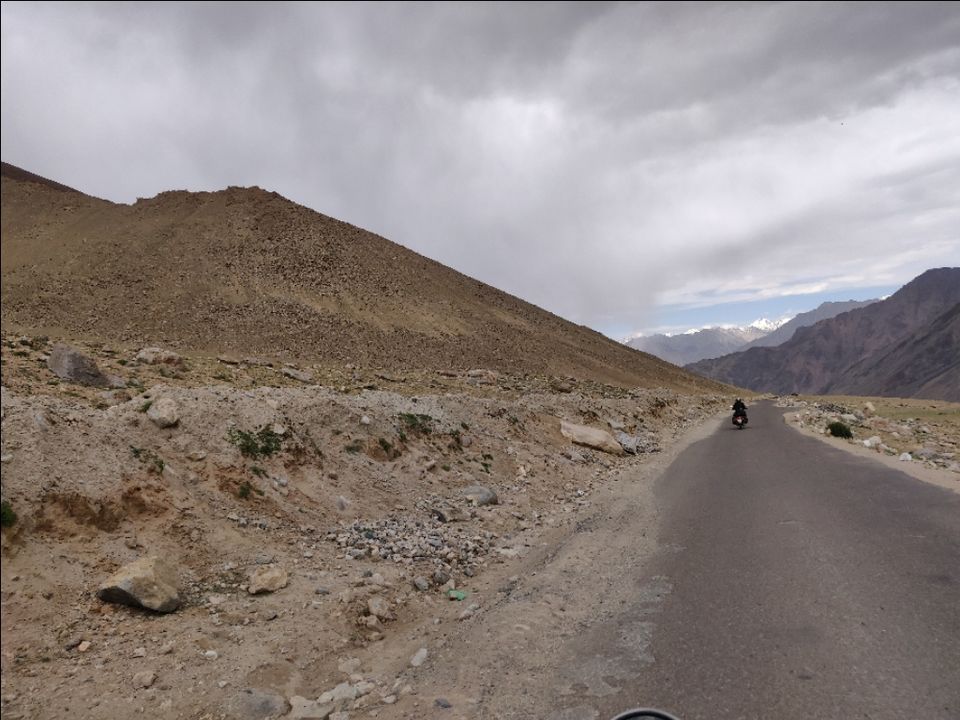 Day 3  Nubra Valley to Pangong Tso via Agham Shyok Road.                                                             .    Today Our destination was beautiful Pangong lake. Pangong lake is most beautiful lake I have ever seen in my Life.
It is around 134 km long with 60 percentage lying in Tibetan region and 40 per in india at a height of 14300 feet. There are two ways to this lake one through changla pass and one beside shyok river and popularly known as Agham Shyok road. Both roads meet at durbuk. We started early morning because we have to cover a distance of 200 km.Our bikes brakes were not working proper so firstly we decided to resolve this but mechanic shop opened around 7:30 till then we waited . After servicing We asked for charges he told us 250 . We guessed that it will be per bike but he told it is total charge.
We surprised that such phenomenal amount for a very good service. In my entire trip one thing I have experienced one thing that ladakh people are very big hearted and helpful in nature. After servicing the bike we refulled our bikes and tank at diskit (only one hand operated petrol pump of that route). After refueling we moved for a very beautiful monesty at diskit. It was very serine place and scenic as well.
After that trip started in most beautiful road I have ever seen in my Life.In this route  Colour of mountains were changing in every 10 km.
Brown, Blackish and Pink colour mountains were so scenic. Most adventurous part of that day was water crossing like river flow.
There was around 8 to 10 water crossing but in one water crossing it took around 1 hours to cross . Water was flowing like river in that water crossing.All of us pushed together the bikes then bikes came out of water. It is advisable that you should start your journey very early in morning because in afternoon when snow melts water crossing flow increases.Around 100 km we moved beside shyok river.Some part of route was scary too where deep valleys were in left side.In some places Amit told me that GD in some places was driving in 10 kmph speed😀😀. Route was so scenic that we wanted to stop at every 10 minutes for some photographs but we were running out of time. That's why we took only two brakes for food. One at around 90 km from nubra where we took parathas, maggie and lemon tea and another break in durbuk.
Time was around 5:30 pm when we reached at durbuk. From durbuk Pangong lake was around 60 km. We wanted to see evening shed of Pangong Tso so we decided not to take single break during this stretch.This stretch of road was so well maintained and scenic. It was looking like a movie scene horse was running in green grassland along left and right side of us. Small water crossing coming in our way in every 10 minutes. We wanted to stop for photographs but we were bounded with time. Afer 45 minutes first look of Pangong Tso appeared.Then after 20 minutes we reached in bed of Pangong Tso.Lake was looking so beautiful ,serene and calm.We took some photographs there Earlier we had plan that our Pangong stay will be in Man Village but We were too late to go there . It's already 7:30 pm ,now we started search for our night stay near Pangong lake.
There were many tents near Pangong lake .
Around 6000 for 7 people we booked 3 taints for us. He took additional 500 for bonfire.
Earlier Ashish had plan that he will take night photographs of Pangong lake and beautiful sky. But we were so tired that nobody had dare to come outside in 2 degree temperature and such windy atmosphere.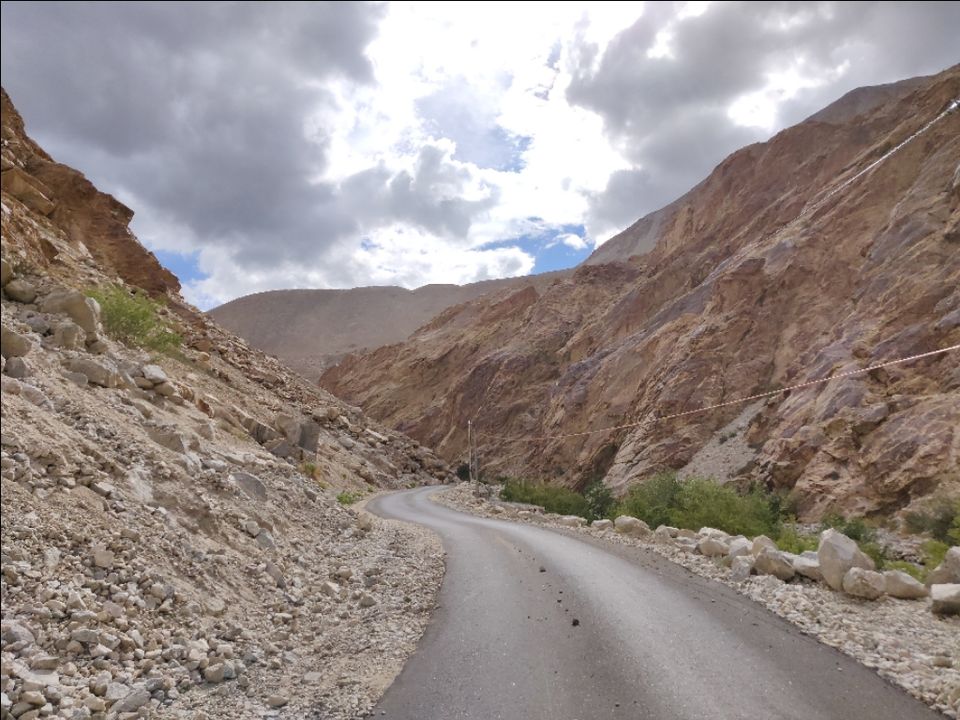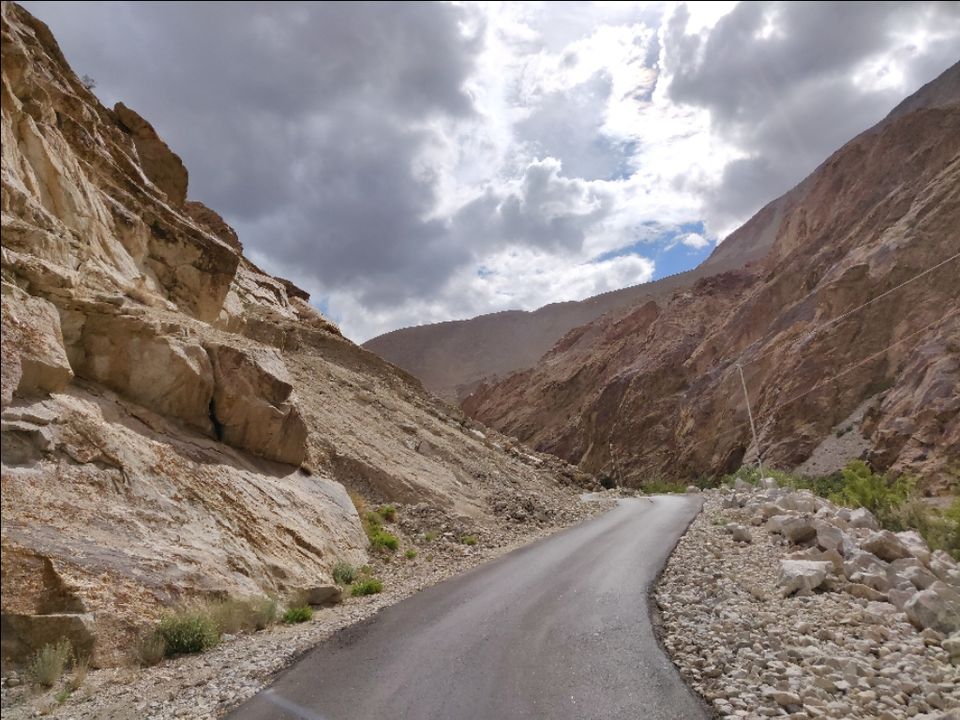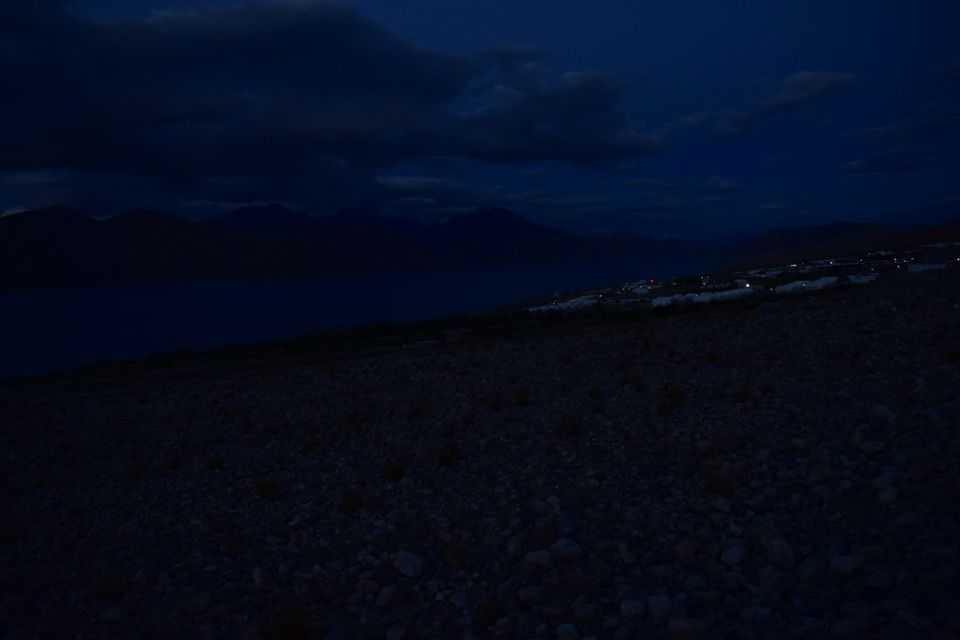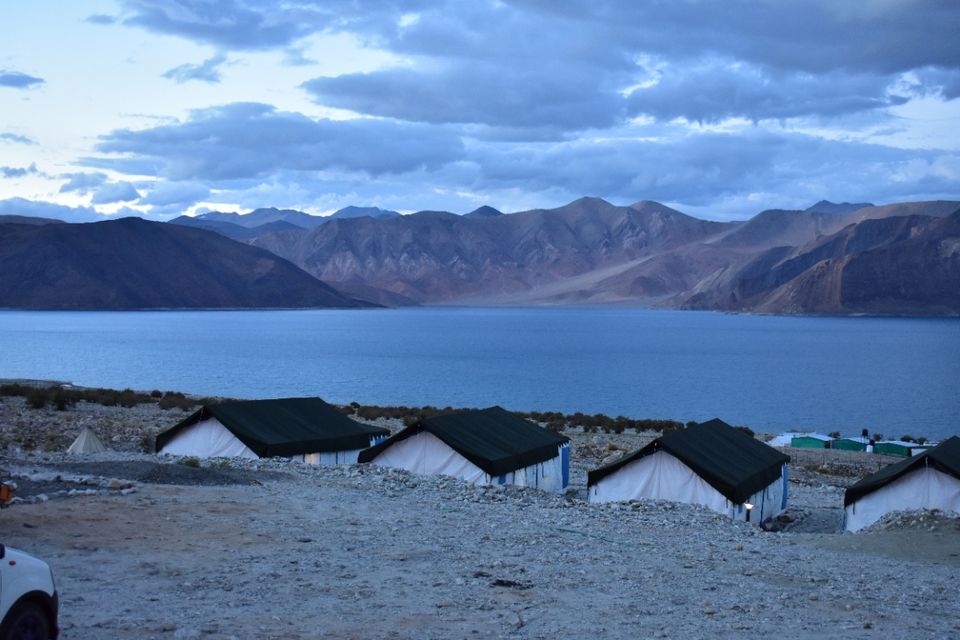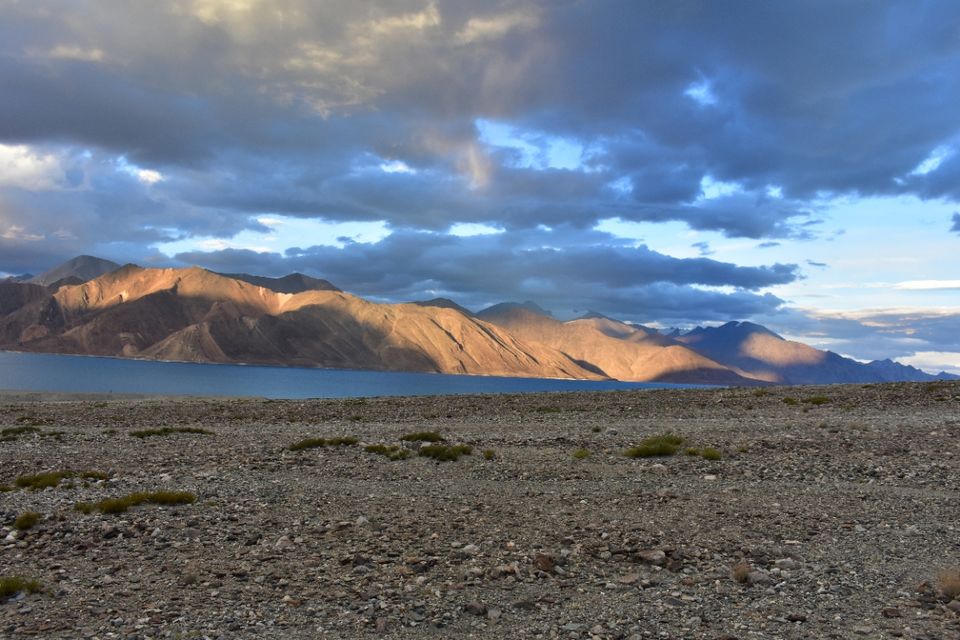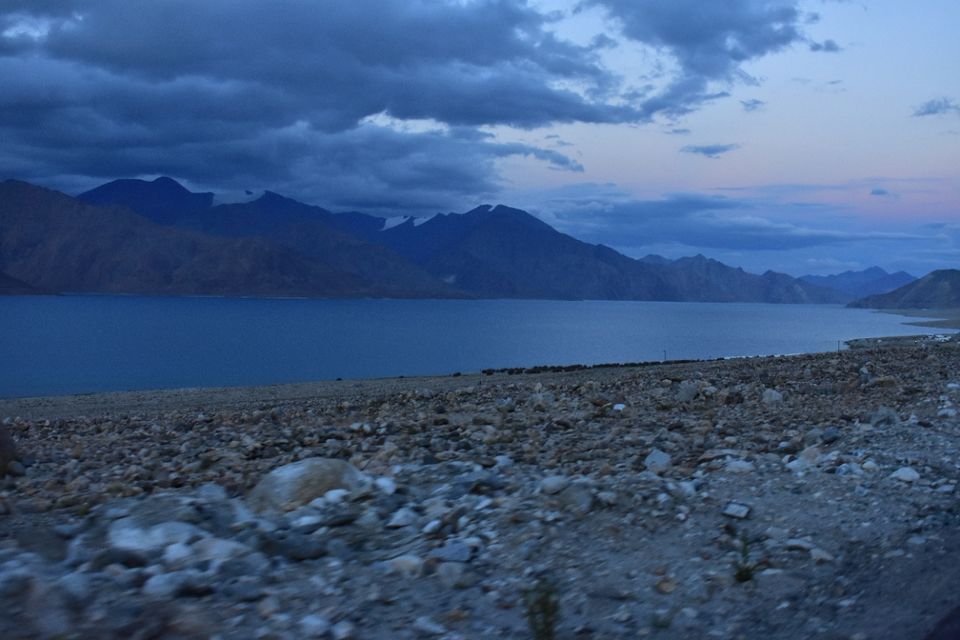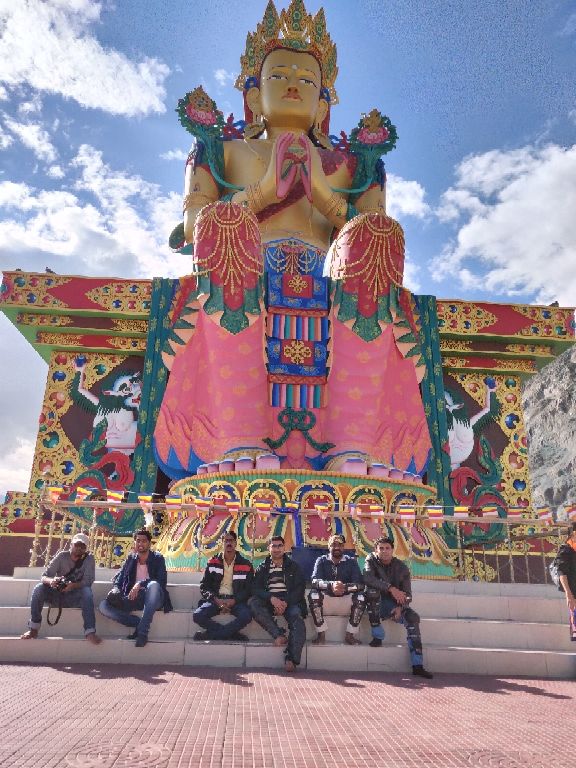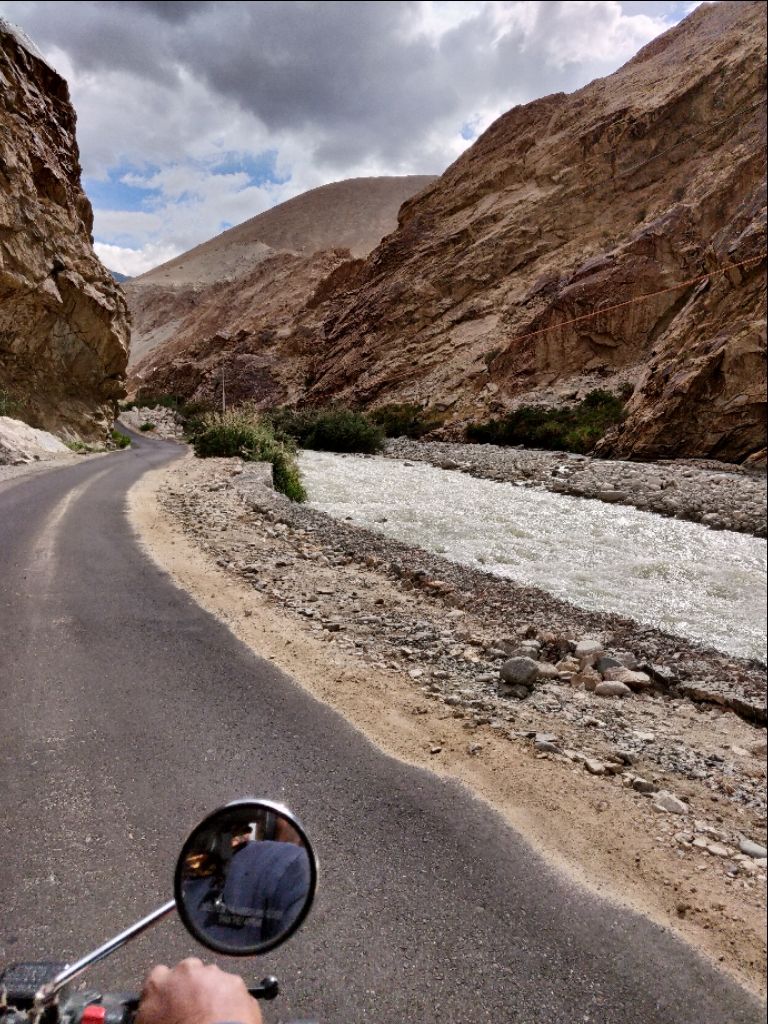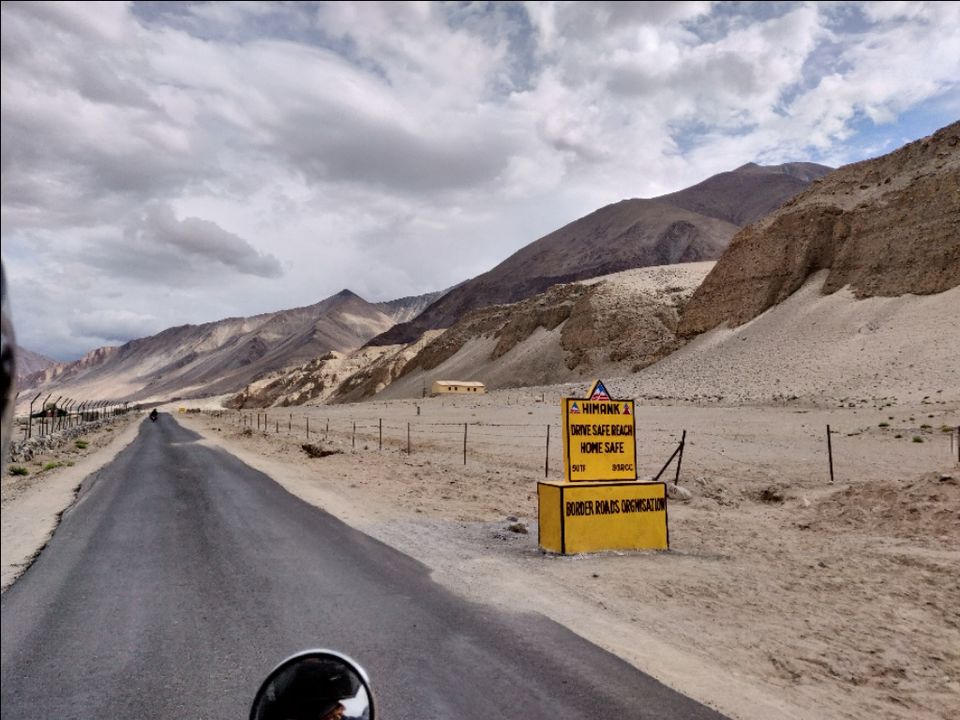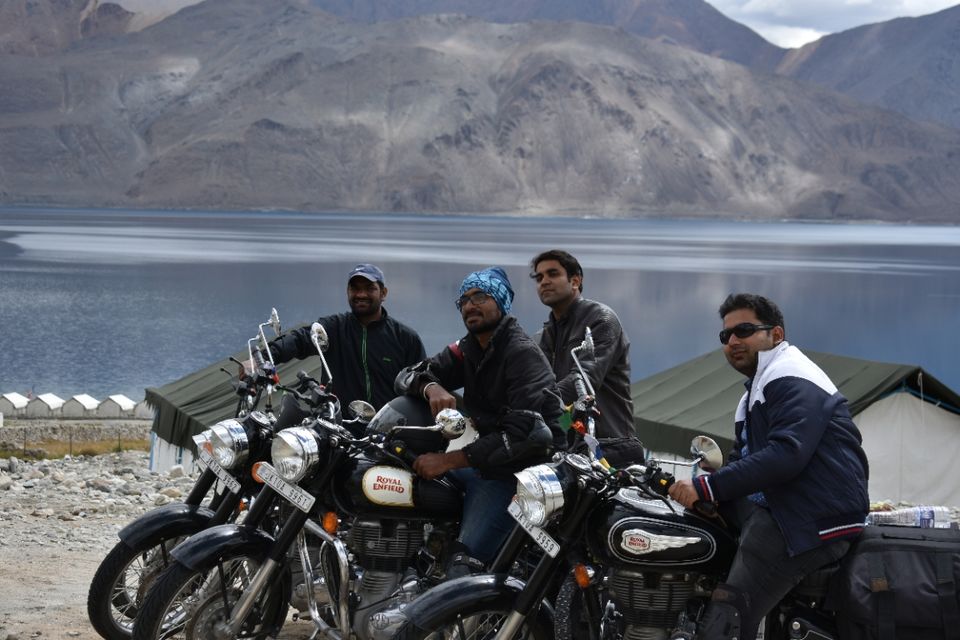 Day 4   Pangong Tso to Man Village                                 Earlier we had plan that we will visit Tso moriri lake but our flight got cancelled and new flight was one day earlier than our previous schedule . So we dropped our plan. Another reason was we were so tired due to continuous driving from 3 days and we had to covered many places near Pangong Tso also.
Due to late evening arrival we were unable to visit 3 idiot point.This is the point where last scene of movie shooted where Rancho was flying a drone over a lake. Around 6:30 me, Deepak and Ashish woke up and went in bed of Pangong lake for morning wake and for some photographs.After breakfast now we moved for 3 idiot point in Pangong Tso.We stayed around 4 hour near Pangong lake. It's water is so crystal clear. It's look like a sea beacause it is so wide. So many melting water stream coming from mountains and mixing in Pangong Tso.
Now it's time to move for Man Village. We were confused that our bike has sufficient fue l to move till there or not. Because we have only one Jerry can petrol with this petrol we have to move till karu which is around 30 km from leh. We have no Idea about how much petrol comes in a bullet. Infact all of us were driving bullet first time. We asked many bullet riders , but no one was sure about tank capacity. After shaking the tank we found that there is sufficient fuel. Man is a beautiful Village around 12 km from 3 idiot point and  complete road for man is along Pangong Tso.In this road we saw many tall stones coulomn build by traveller for fulfilment of their wishes. Horses are running along the lake it was looking like a scenary. After 1 hour drive in almost soil and sand we reached in man Village around 1 PM. Many home stays were available there but We stayed in Nubu's Place (Nubu is name of boy who hosted us).
This home stay was so beautiful ,Water stream was flowing near it's gate, Pangong lake view was also quiet clear from our homestay.He asked very phenomenal amount of 2700 for our stay and food.In evening all of us went for a walk near Pangong Tso, It was amazing. There were two tents beside our tents where four Israeli were stayed. After eating Thukpa(Some local food) and dal chawal we sat for bonfire with Nubu's music system.
Israeli people also joined us and we had very good discussion between us. Around 12 Pm we went for our bed.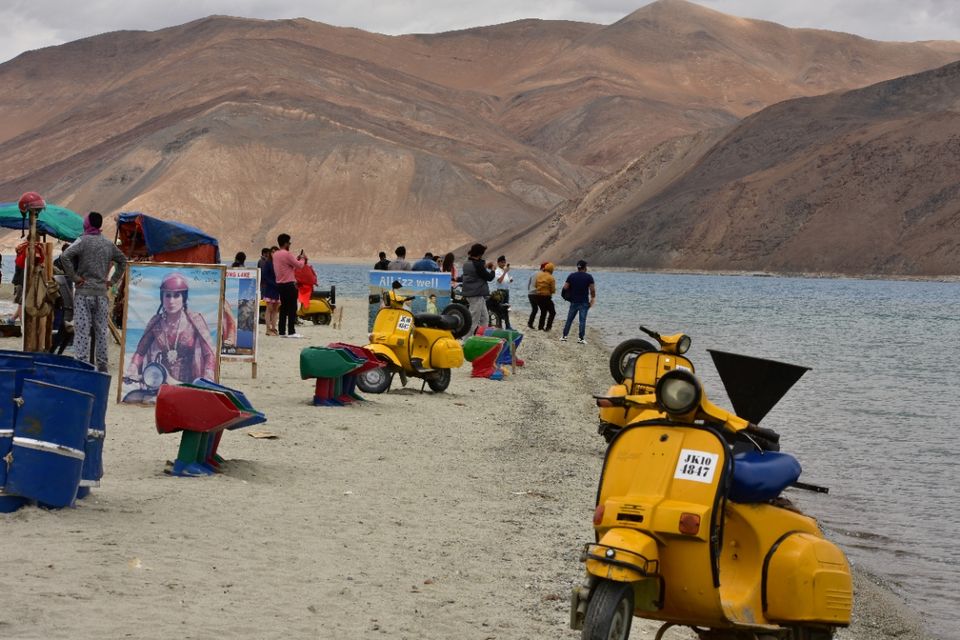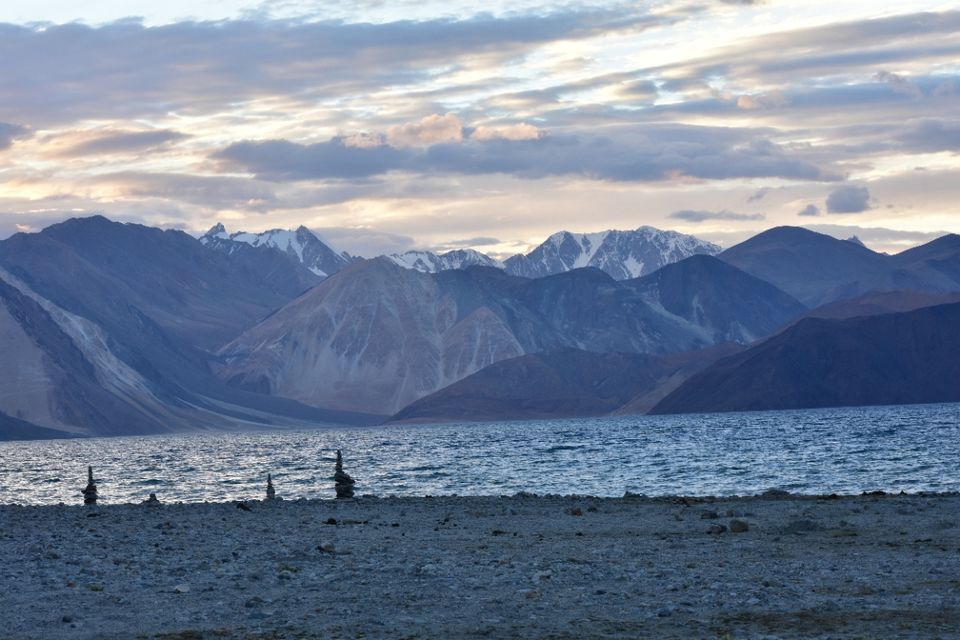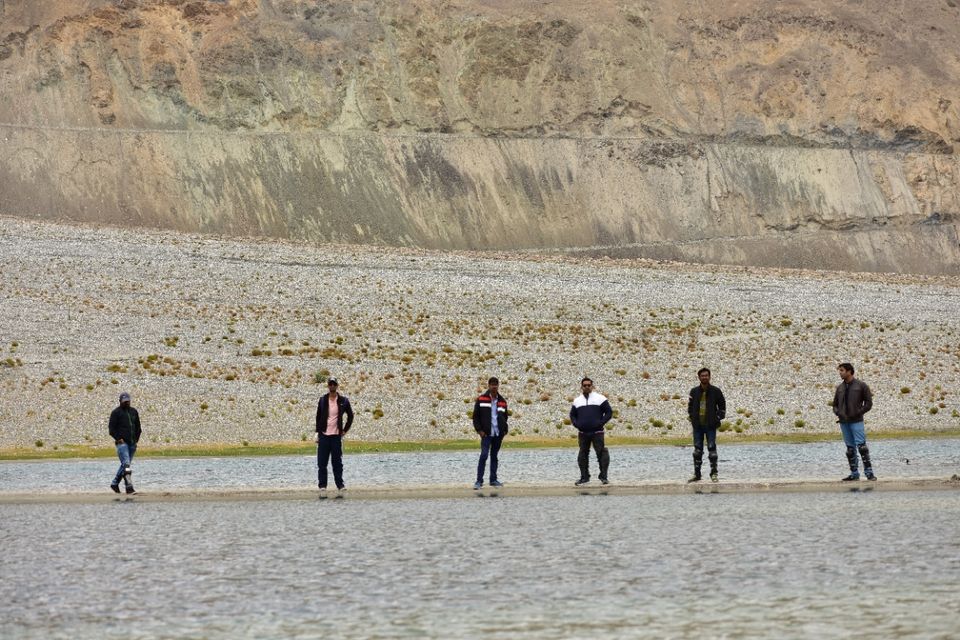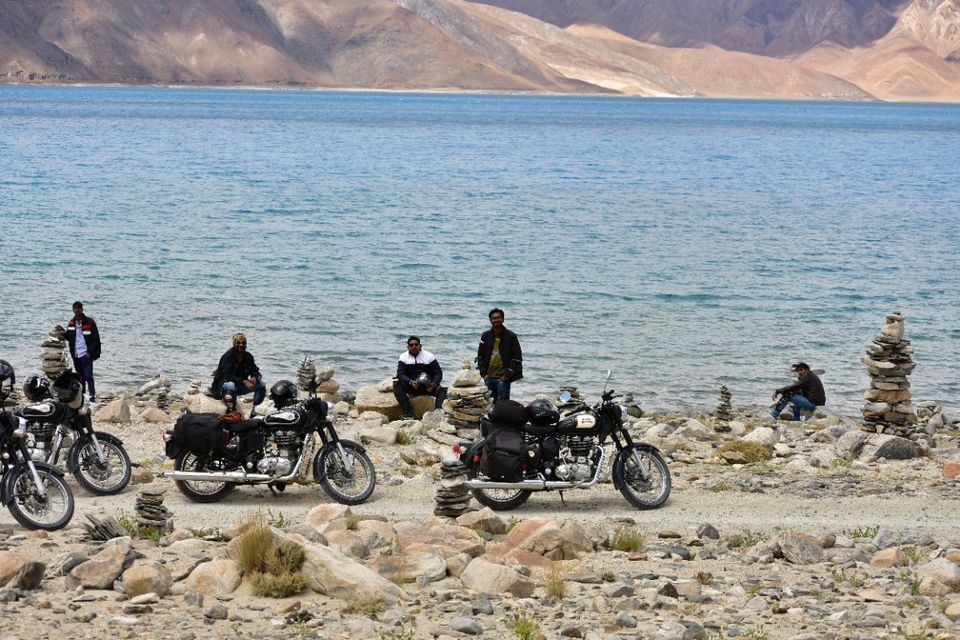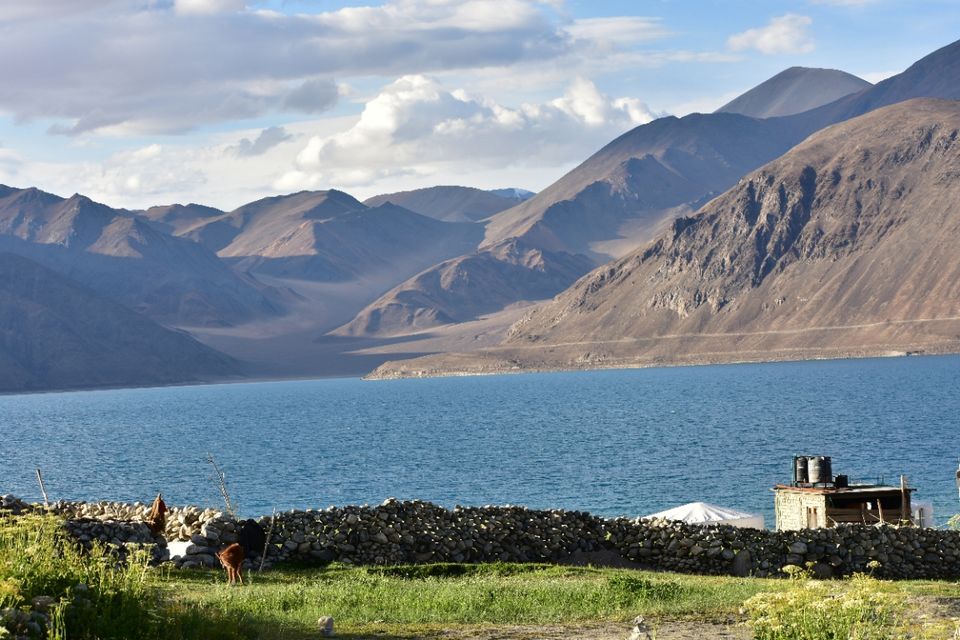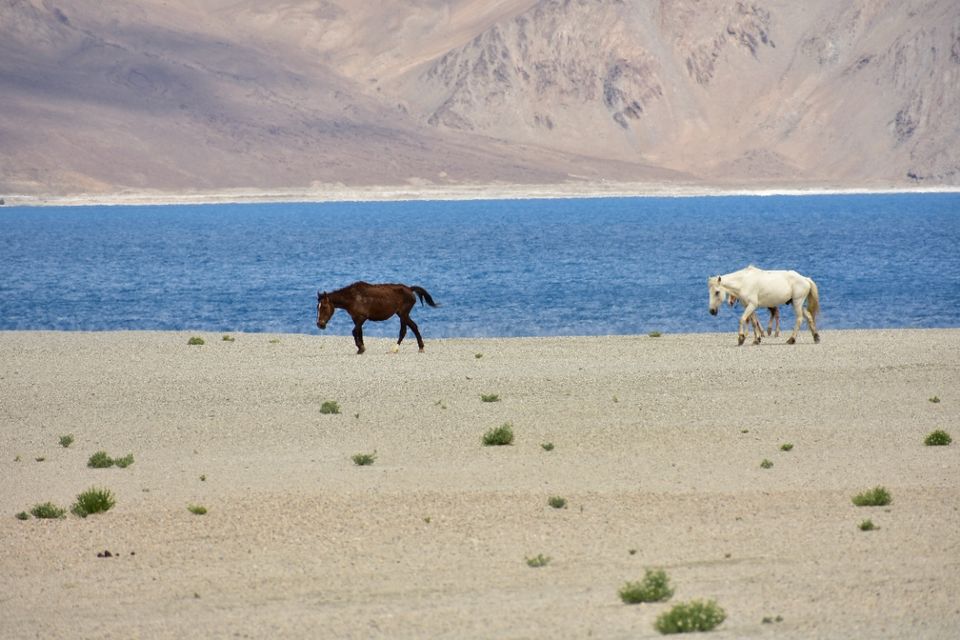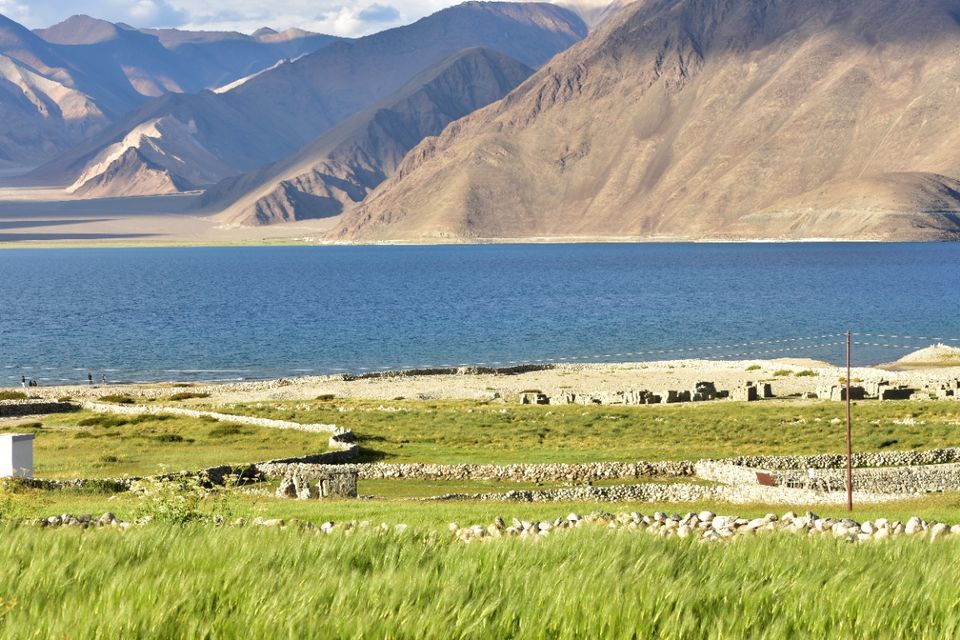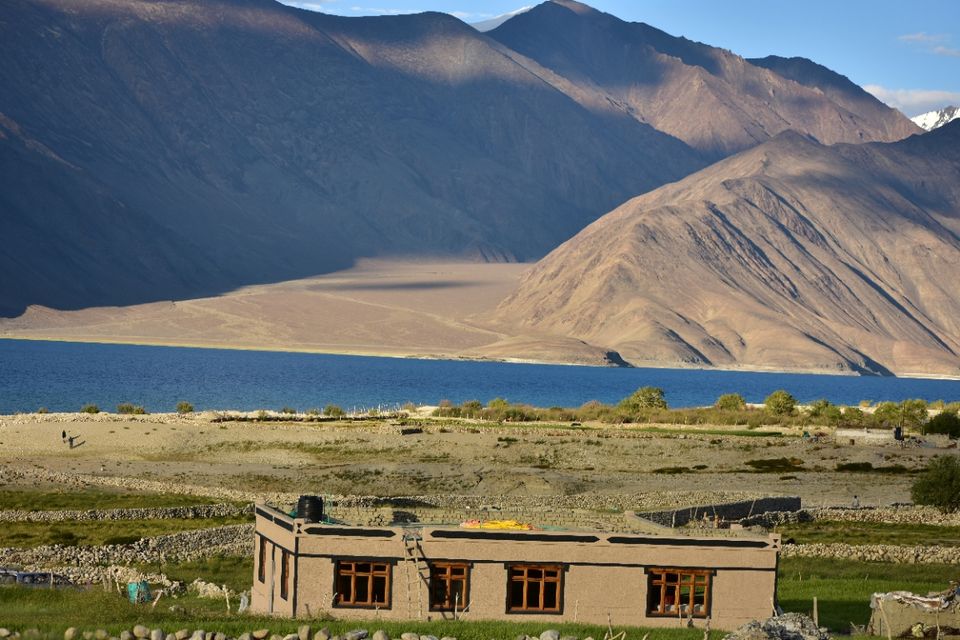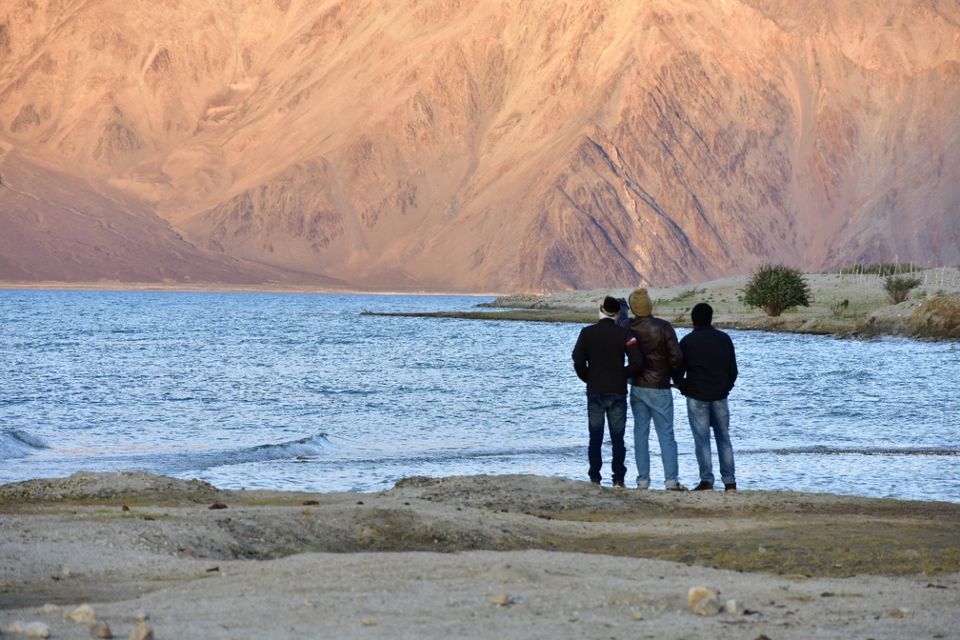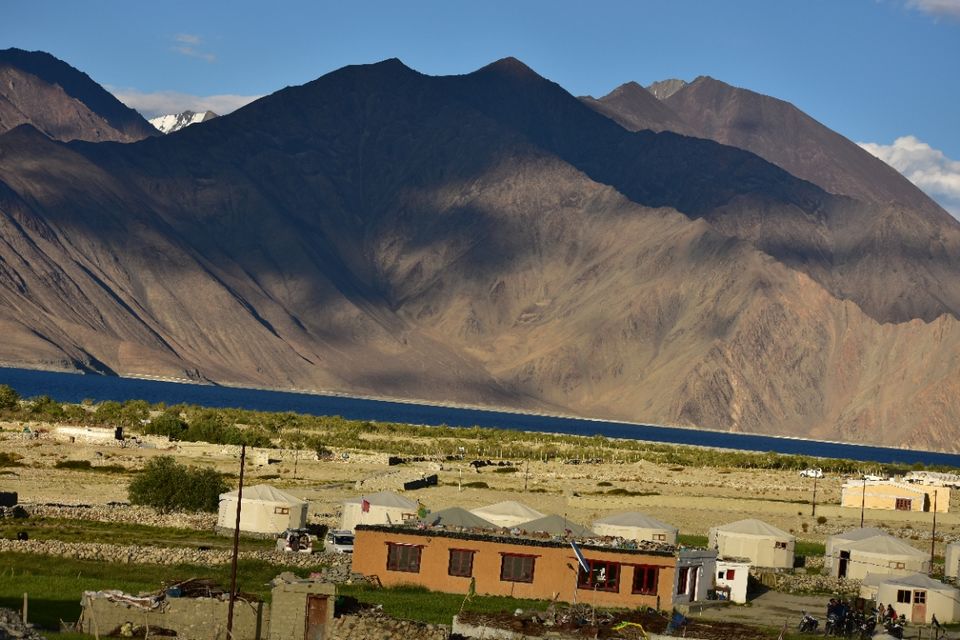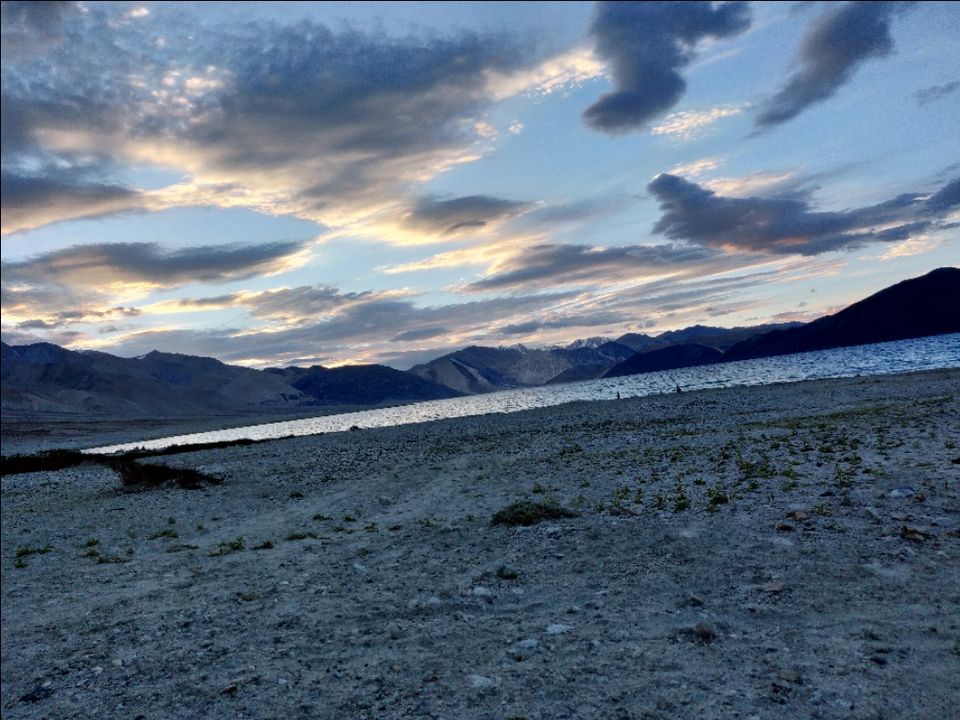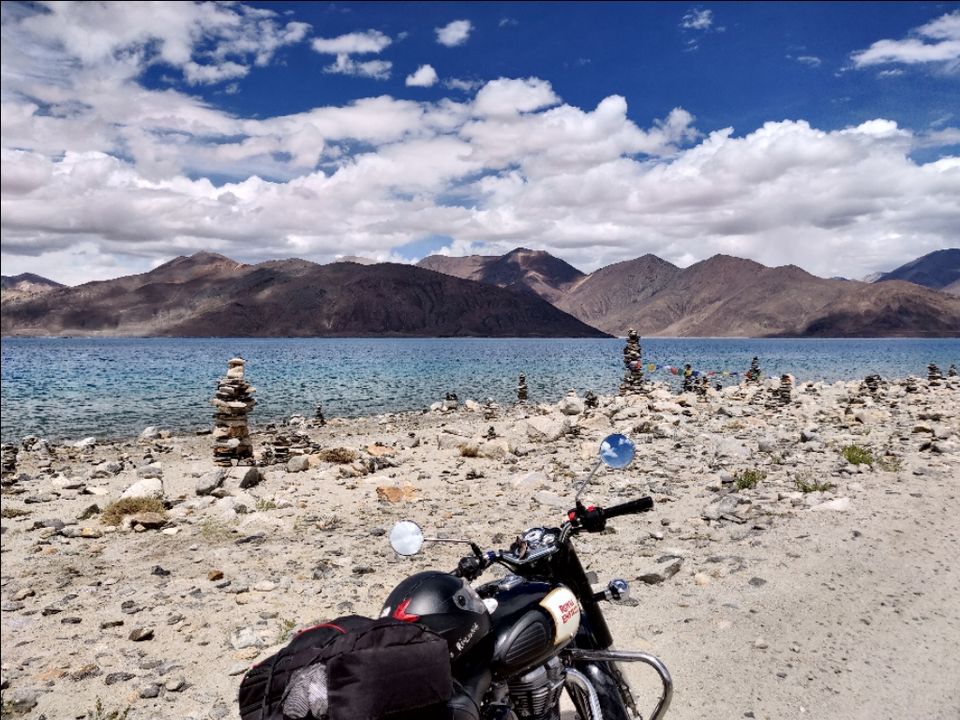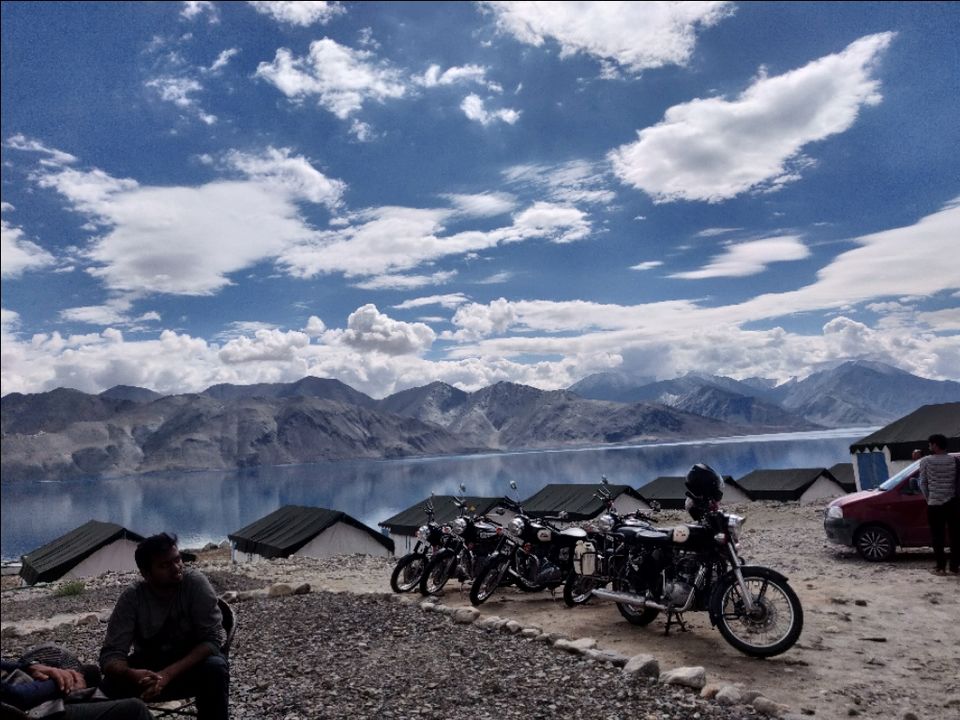 Day 5. Man Village to Leh via Changla Pass
We woke up around 7 am . Morning was so beautiful and refreshing there . We wanted to stay one more day here but we were bounded with time. We fulfilled our bike tonkey because Man to Leh distance is around 240 km and the next petrol pump was around 200 km distance at karu.Now it's time to say goodbye to our friend Nubu .I never saw such wonderful hospitality in my life.Whole family was so friendly with us. Around 8 am we started our today's Journey .Sky was cloudy and drizzling was happening . We coudn't afford much delay so we started our Journey. As we reached near Pangong starting point , it started  raining heavily. We stopped in a cafe and ordered maggie and omlette. When rain stopped then we again started our journey barley we moved around 15 km it started raining again. We hadn't raincoat and there was no place where we could hide ourselves that's why we continued our journey. Some time later Sun came out and rain stopped .
Pangong Tso to Changla Pass is around 140 km. As we were 20 km before mighty changla pass it welcomed us with hailstones and heavy rain. Temperature was around 0 degree  and due to rain roads became so slippery and muddy. Around 3 pm we reached at changla pass ,As we were wet we immediately went in a tea shop at changla  pass. I remembered that we all took back to back 5 cup tea. After that we took breath of relief. I felt driving at changla pass was much difficult than Khardungla Pass.Around 3:30 pm we again started our journey for leh.  Around 90 km journey was still left. We reached leh around at 6:30 Pm. Around 7:30 pm we went for visit of local market and took Famous Pasmina Shawl for our family.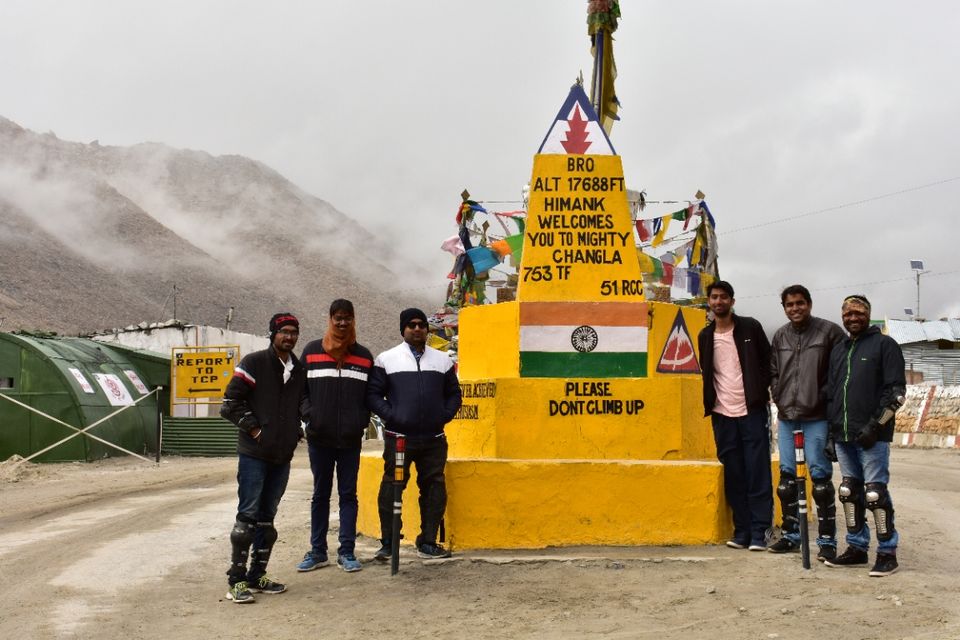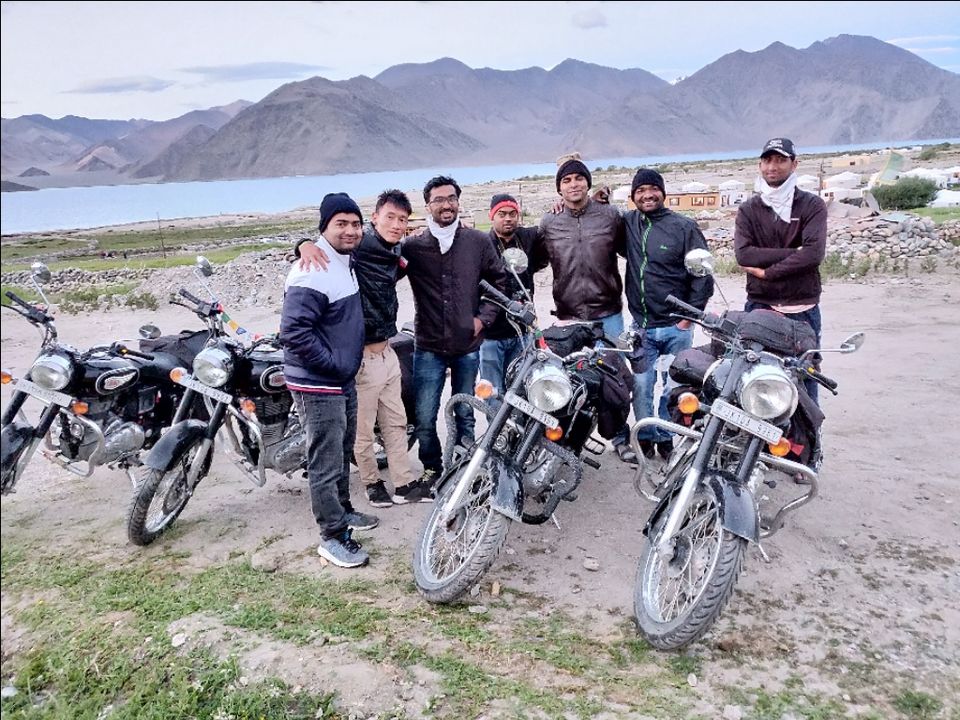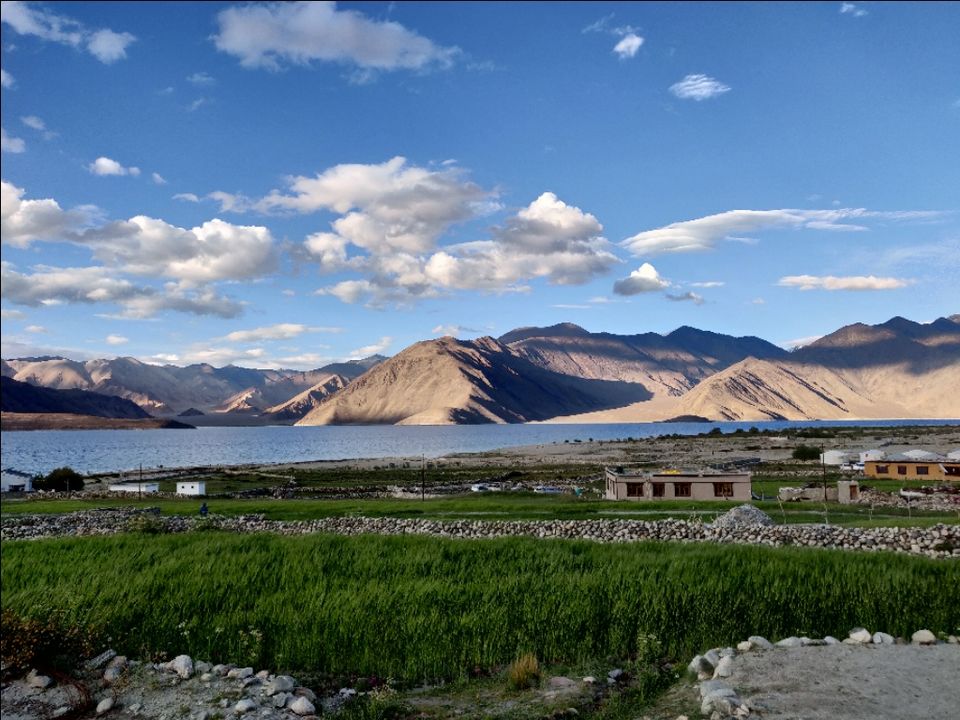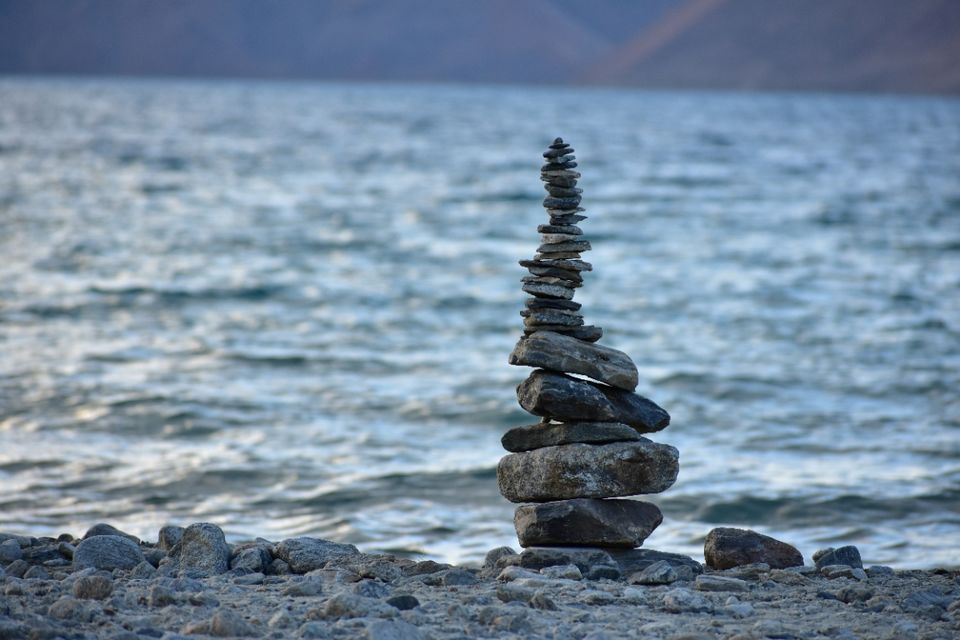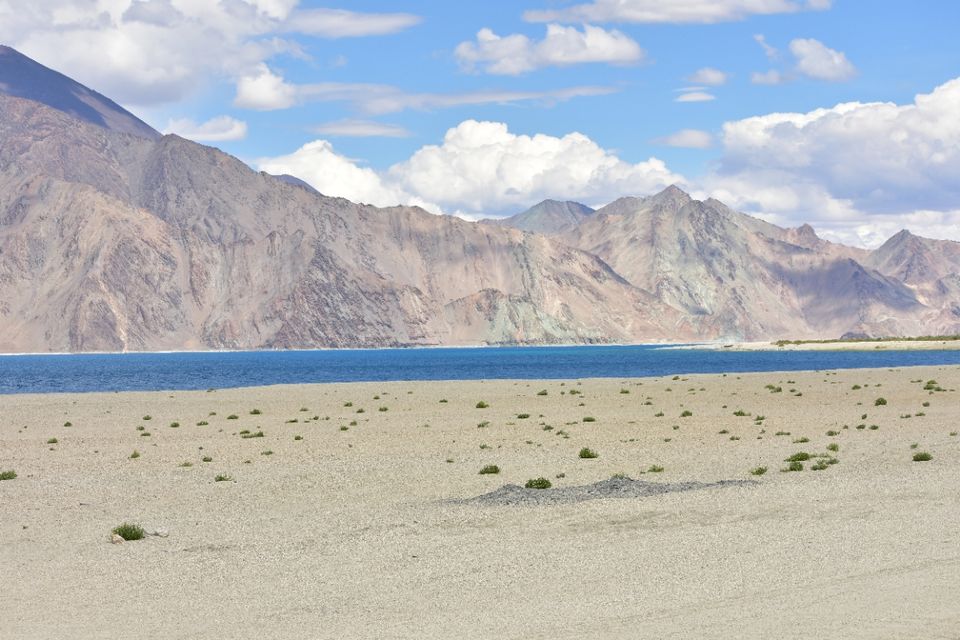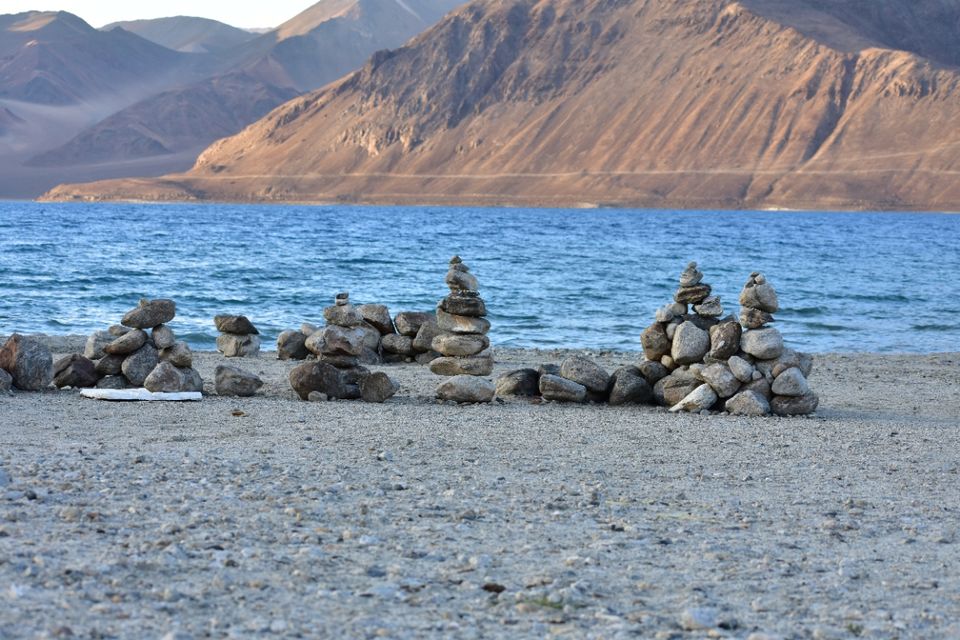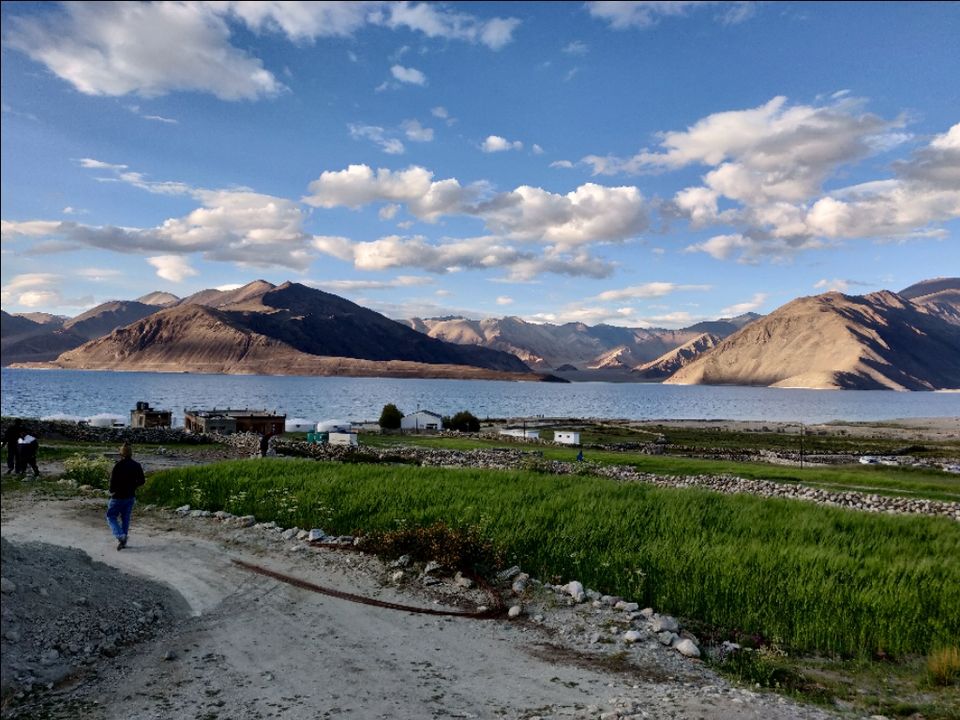 Day 6.  Leh Local Visit (   monesty,Rancho School, Army museum,)
This was our final day at leh . Today we decided to visit at local places around leh.
First we visited druk padma karpo school which is Popularly known as Rancho's school.
Many scenes of films were shooted there.
We also visited leh palace which was Palace of Leh king. We also visited  Thiksey monesty and hall of fame  museum .This museum contains all information about flaura &fauna of Leh. It also has all information about wars and all Paramveer Chakra awardee till now.
In evening we visited Shanti Stupa. Shanti Stupa is very beautiful place ,from here you can see complete view of Leh. We spent almost two hours there. Around 6:30 Pm we returned to our hotel and around 7:30 pm we were again out for leh market.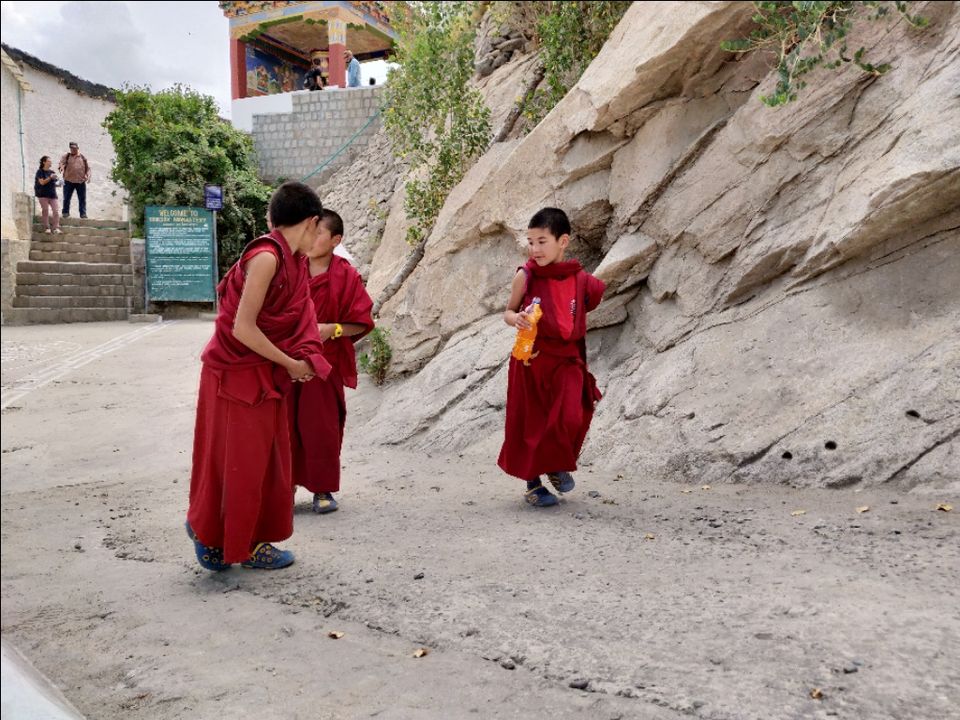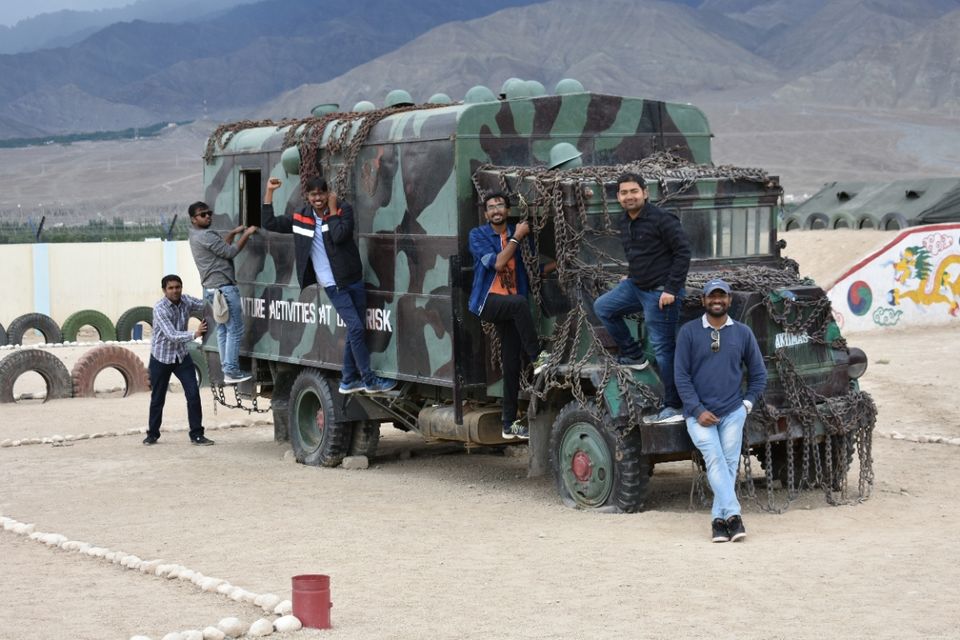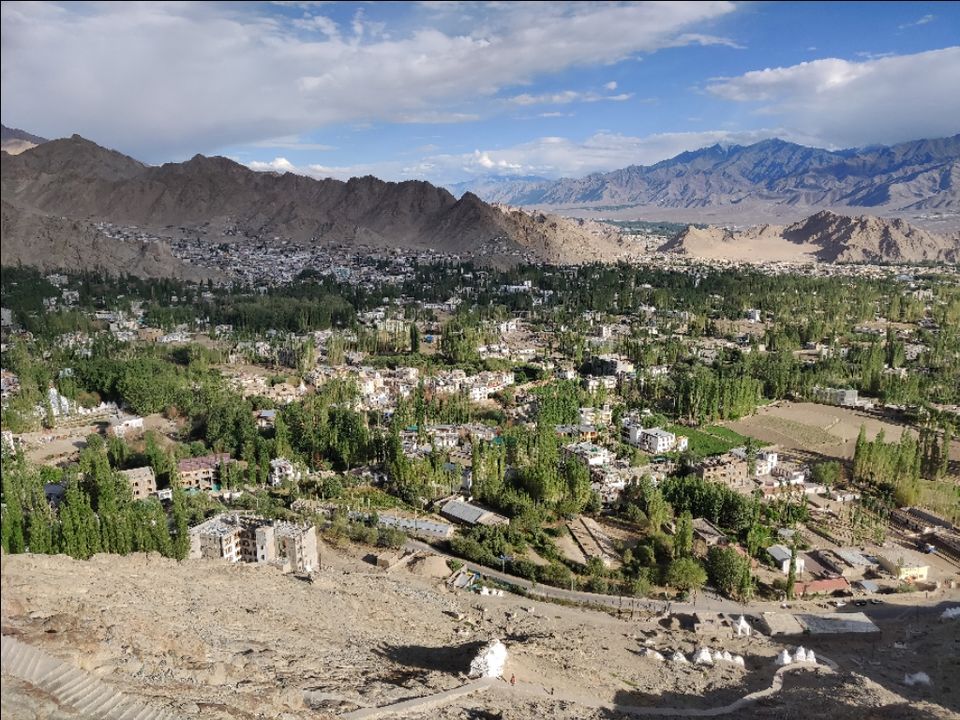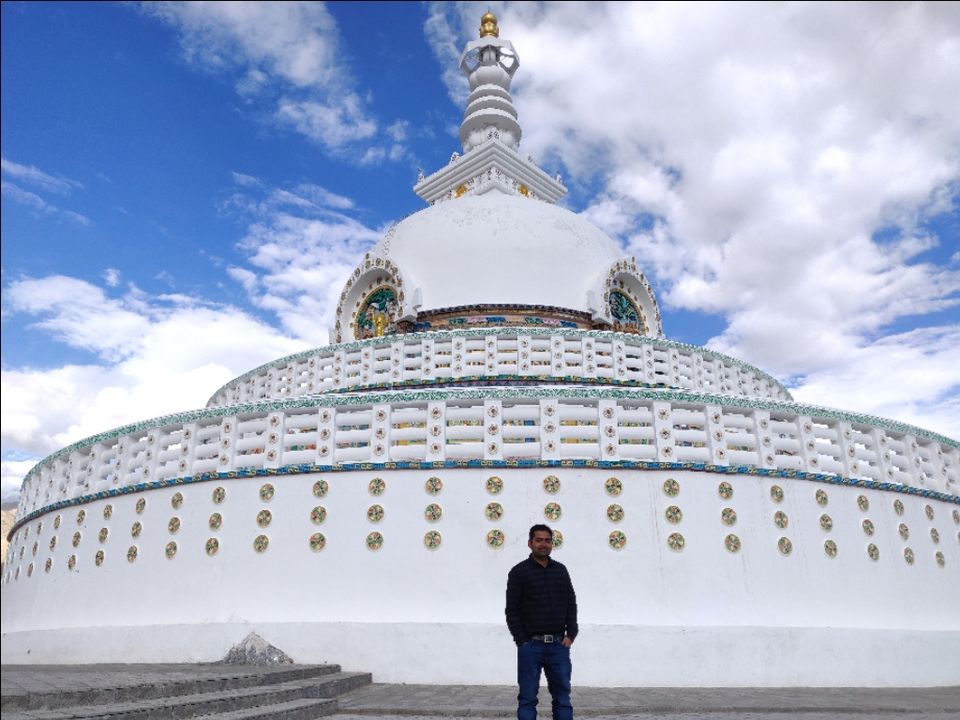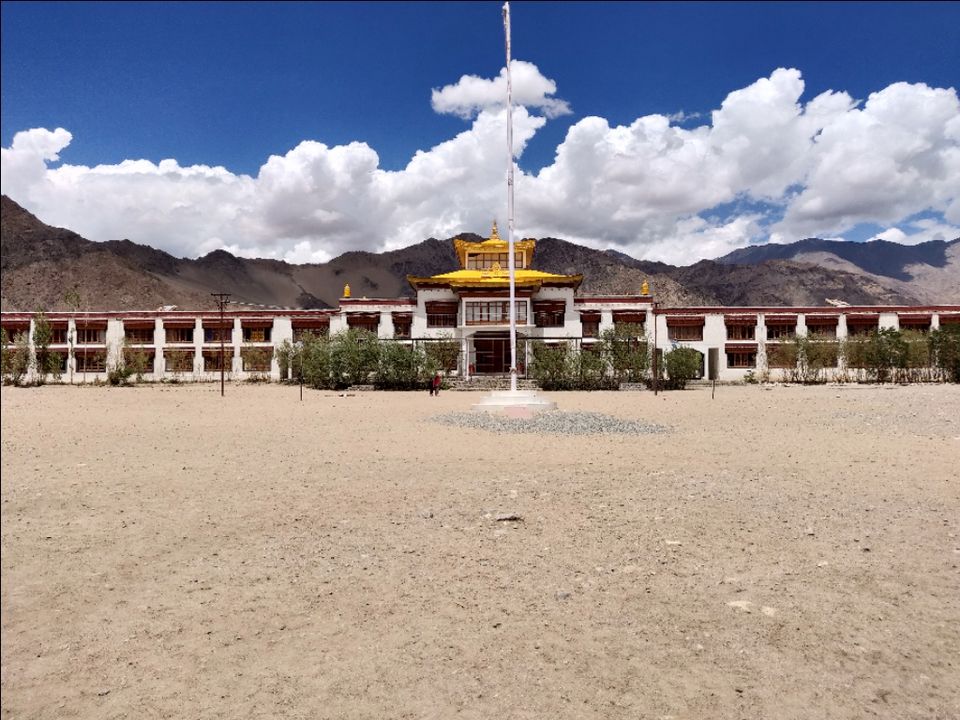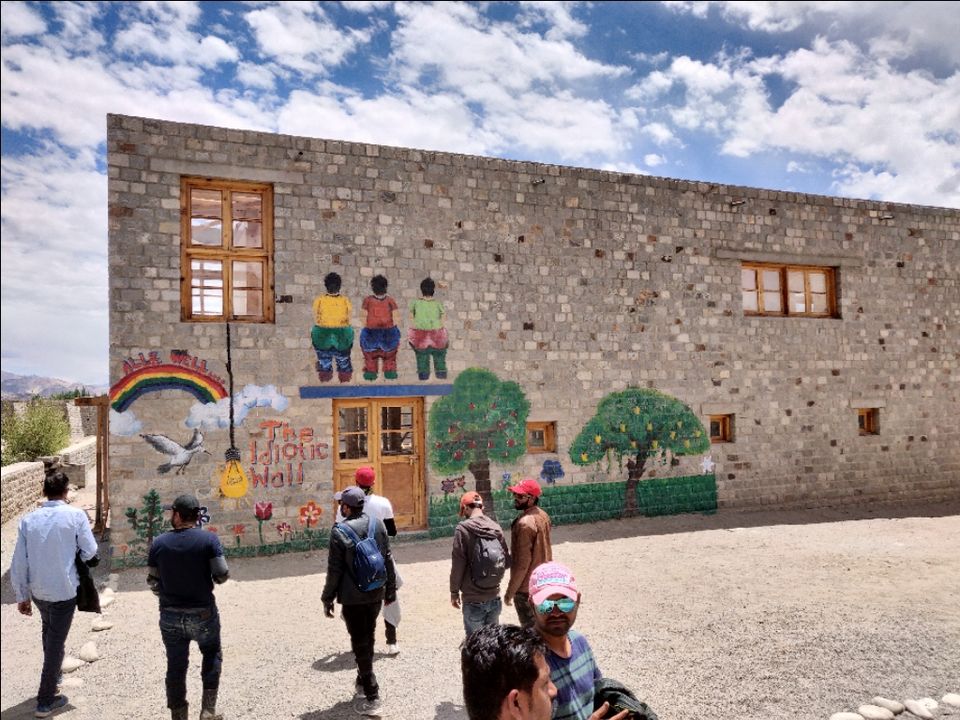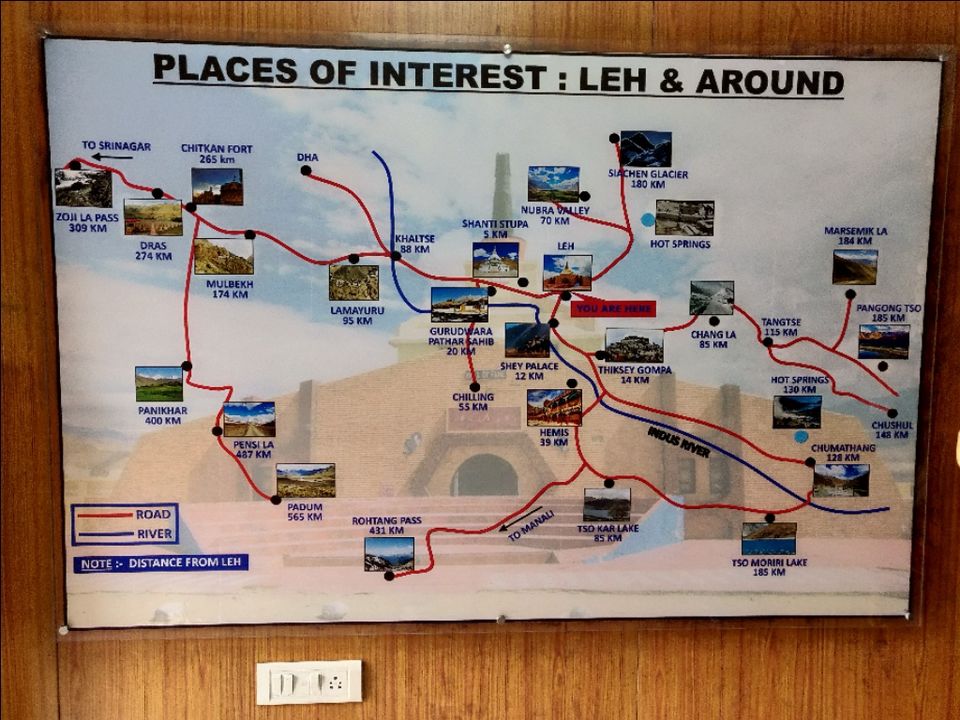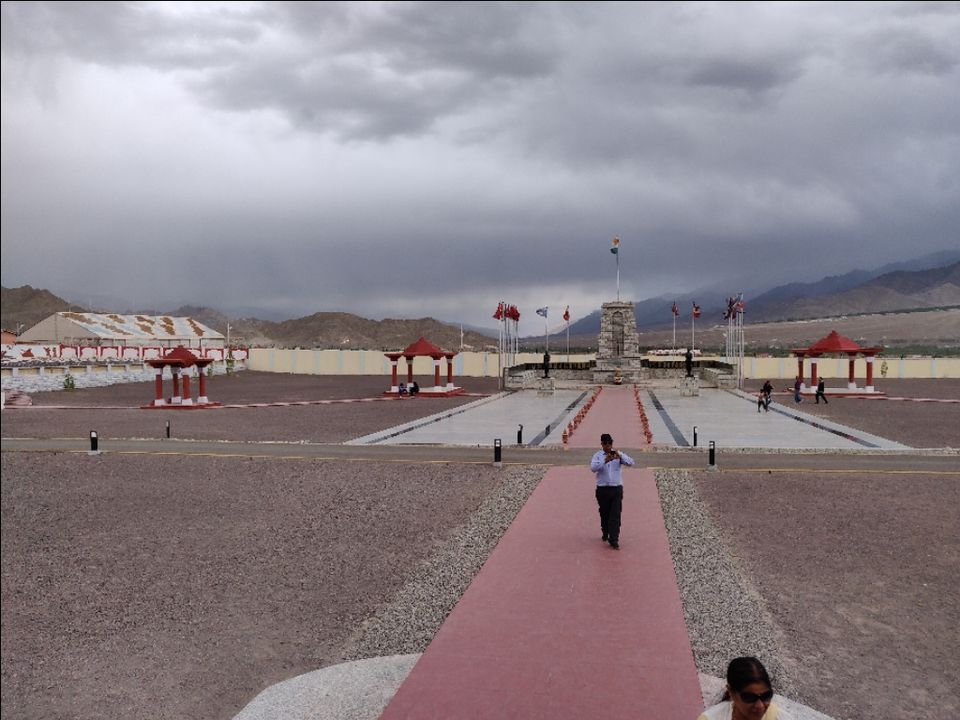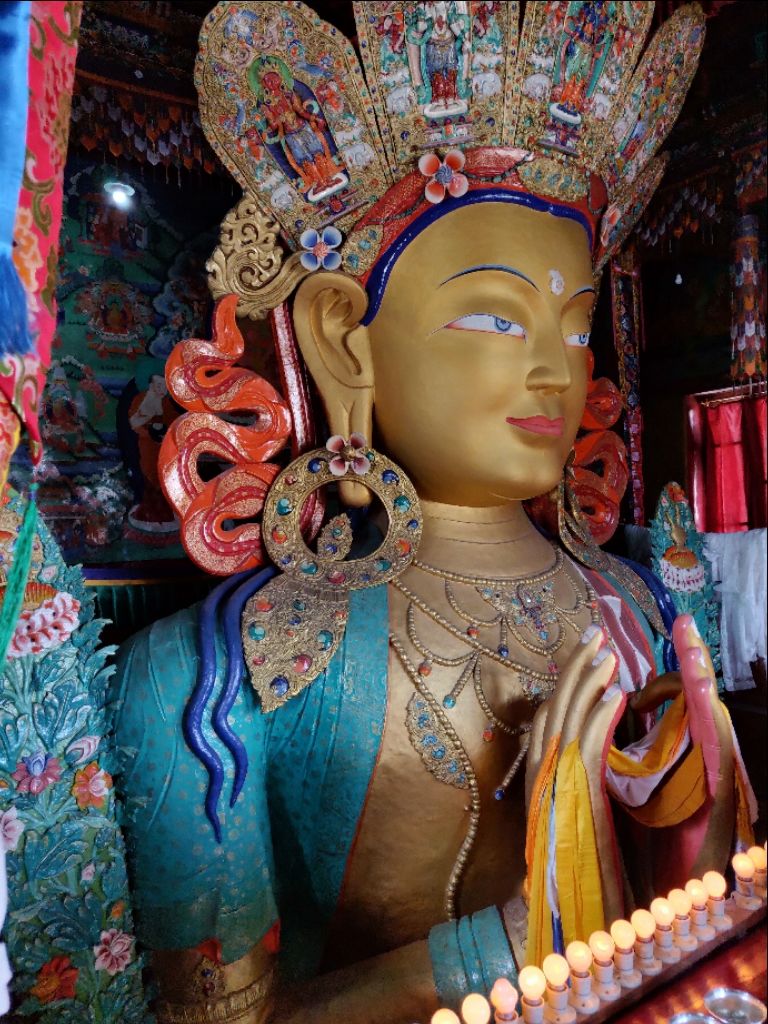 Day 7 Leh to Delhi
We never expected this trip is going to be so much successful. We never planned to do our complete trip with bike, our bike plan was only for one day. We had no backup vehicle neither any puncture kit with us .We are fortunate enough that our bikes never broke down but I will suggest that you should go with proper kit or back up vehicle. Either of us had no experience of such long driving on bullet. Finally around 8 am we took our flight for delhi.
Before writing this blog I travelled across India in many places but I have never seen such a beautiful place. If you will visit in any place , there will be some points from where you can see the view. But in Leh , when you will look around everything looks like a scenery. Specially Nubra Valley and Pangong Tso are so beautiful. Agham Shyok road is so damn beautiful that I would love to travel here  every year. When I returned to Delhi, Sometimes in night I had dreams that I am driving in Agham Shyok road.
Suggestions I would like to discuss some points with our experience which before travelling to leh  can be looked into.
First thing I would like to discuss about acclimatization, If you are going with flight you should give atleast 1 or 2 days for acclimatization. This is must.
You should go with proper first aid kit  medicines like diamox (for acclimatization ) should be in your kit.
If you are going with bike then you should have basic tools like pump, Puncture kit, Chain, Lubricants. If you are going too far like Tso Morari lake or hanley  then I would recommend for back up vehicle.
You should have sufficient cash because digital transaction are very rare there.
You should arrange inner line permits for visiting places like Pangong Tso.    
You should take proper winter clothes ,Boots and rain coat .