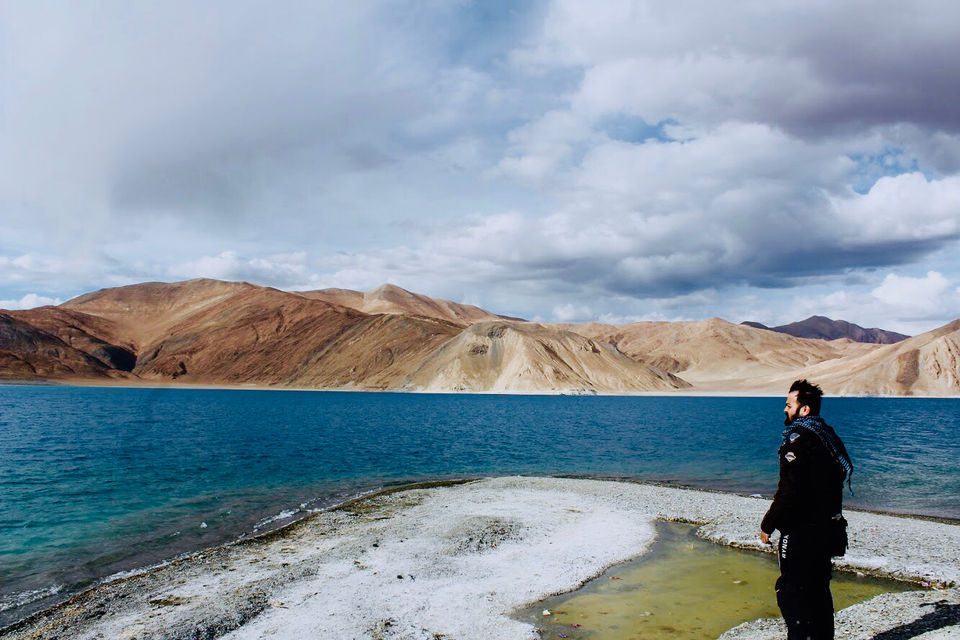 A bike trip to Leh/Ladakh is one of the 'things to do before you die' for almost all adventure lovers. There are many people who have done and experienced lifetime memories on epic bike expeditions including the Leh Ladakh one. Whether you are a biker or not, a bike trip to Leh pushes you to face new adventures and risks that are worth to take. So let's stay prepared for rugged terrains and unpredictable weather and some insignificant views of the "Bikers Teerth Dham".
Below given are some of the most important items to carry if you are planning for Bike ride to Ladakh.
1. Safety jacket and gears : Not everyone is used to such rough and rugged terrains, unexpected steep turns and slopes and gravel on turns. It is advisable to wear best quality of safety gears. The list includes 1. Safety Jacket 2. Shin pads 3. good quality full face helmet 4. Full/half fingers gloves 5. Riding pants (good to have).
2. Dry fit sports clothes : The climate in these areas are unpredictable and tend to change in matter of minutes. Hence it is a tried and tested method to use dry fit clothes as they do not take much time to dry and can be easily washed and reused. (Thus helping in reducing excess of load in bags)
3. Spare memory card : "I went to Leh/Ladakh and came back without clicking pictures" or "i had to click more pictures but ran out of memory" doesn't sound good right? Yes the beauty of nature and the panoramic views that you experience here with your eyes cannot be captured with same justice in pictures but you still need to keep these memories captured and stored for a lifetime. Hence it is very advisable to carry a spare memory card or high storage pendrive to transfer your pictures.
4. Thermal wear : The climate in these areas go from 36+ deg in day time to 3-4 deg in night or even in negative at times. In such harsh climate conditions it is must to carry a pair of thermal wear to keep you warm at night.
5. Bike spare parts : Most of bike enthusiasts use "Royal Enfield" (RE) or "Avenger/Pulsar" for this ride. It is must to have knowledge of how to change Accelerator and Clutch in case of emergency and also do carry a spare ones with you. The terrain is not that smooth in all parts and at times you may have to cross water crossing with stones and boulders beneath, which might damage these wires. Spare parts to be carried for RE 1. Spare rear tube depending on your bike tyre size 2. Acceleration and Clutch cable 3. Chain link lock 4. Chain lubricant and engine oil 5. Spark plug 6. Air filter
6. Medicine and some less known Safety items : Not everyone can breathe-in easily at altitude of 17k ft. So do keep "Diamox" tablets and consume them at night before going to sleep. This tablet helps in thinning the blood which avoids clotting in such temperature and helps in oxygen supply at normal level. Garlic and cloves are the famous home remedies to avoid the effects of altitude sickness. Garlic thins the blood and enhances blood flow and cloves help the body to take up oxygen easily. Adequate consumption of these two herbs will help you avoid the altitude sickness. Afterall, who would like to be sick and rest after going on a dream ride destination?
7. Gum boots : This is a MUST item for every biker as there are multiple water crossings on the road where in your normal sports shoes will get wet and there are chances that you may not get a good sunlight to dry your shoes for next day. Hence these gumboots help in keeping your feet dry and easy to ride in water passes as well
8. Plastic Sheets for luggage : Yes, you heard right. Though plastic bags are banned in Maharashtra and other states, you still can get those thick plastic sheets (blue black and transparent) which are allowed and can be used to cover your luggage from uncertain rains.
9. Bungee cords : Again one MUST carry item on the list. These bungee cords help you to tie your luggage/bags to your bikes and thus helps you to ride smoothly without worrying much about your luggage (PS. Do check on your luggage after every short interval and if these cords are tied properly or not, as i lost one of my luggage bag on the way and couldn't locate it as it came to my notice after 20-25 kms of distance)
10. Airtel/BSNL postpaid sim : At some places like Sarchu, Pang and aome high altitude passes there is Zero mobile network available. But in some places and parts you do get Airtel/ BSNL network to connect with your loved ones and keeping them aware about your location and safety. In places where you don't find network there are Army camps/check posts where in you can use their phones for emergencies and SOS messages.
11. Bike original papers n Permits : If you are carrying your own bike then make sure your bike papers are with you and also you have all required permits to enter specific areas as there are check posts on the way where you need to show these documents. If you are found without permits then the official have complete right to stop you from going ahead from that point.
So, these are some important 'good to have' and 'MUST have' list of items to carry if you are planning for a Bike ride to Leh/Ladakh.
Ride safe and if you come through ladakhi people just say "Jhulley". Its their way of saying Hello or goodbye in pahadi areas.
Hope above information helps you. Do leave your feedback/comments below.