It takes the immense amount of time and preparation for a bike trip to Ladakh because the situation can become rough anytime and you may not have anyone for a rescue if you are stuck somewhere. No network at most of the places, will make it more painful, but after all, it's Ladakh and everything is worth for the mystical region.
Route:
There two main routes to reach Ladakh:
1. Srinagar to Leh
2. Manali to Leh
I did Manali-Jispa-Pang-Leh-Nubra-Pangong-Leh-Kargil-Srinagar bike trip, and from my experience, Manali to Leh would be a better choice for the following reasons:
- Any unrest in Srinagar may cause the delay in your trip
- I didn't have family or aged person with me, hence less worry for AMS
- Though Manali to Leh route is tougher than Srinagar to Leh, I would prefer to choose the tougher route in the initial itinerary so that when you are tired in the later part of the journey, it will be a cakewalk.
- Both the route can be completed in 2-3 days, it would be better to reach Leh from Manali in 3 days and Leh to Srinagar in 2 days
- Both the routes are equally beautiful and every turn will give you magical views
- During the journey, you will feel like you are completing one stage of the game and moving forward will keep you motivated
Rented Bike vs Own Bike:
Personally, I would prefer to go on my bike because of following reasons:
- If you have your own bike, you will be better versed with it hence more reliability
- Leh to Nubra and Pangong doesn't allow you to take rented bikes which were not taken from Leh
- Rented bikes are costlier compared to Own bike
- Riding in unknown terrain become more comfortable on own bike
Things to remember before starting the trip:
- Get your bike checked up in Manali before starting the trip
How to Transport your own bike:
- You can courier your bike in Gati or VRL like couriers to Chandigarh, Mandi, Srinagar or Jammu and start the trip
- It takes 5-7 days depending on the connectivity, hence it is advisable to plan in advance
- Transport cost by Gati:
Rs. 5000-6000 Bangalore to Chandigarh ( 5 days )
Rs. 8000-9000 Srinagar to Bangalore ( 8 days ** )
** If you are unlucky, your bike will be stuck in their godown for more than two months, I am one of the passive victims of Kashmir unrest.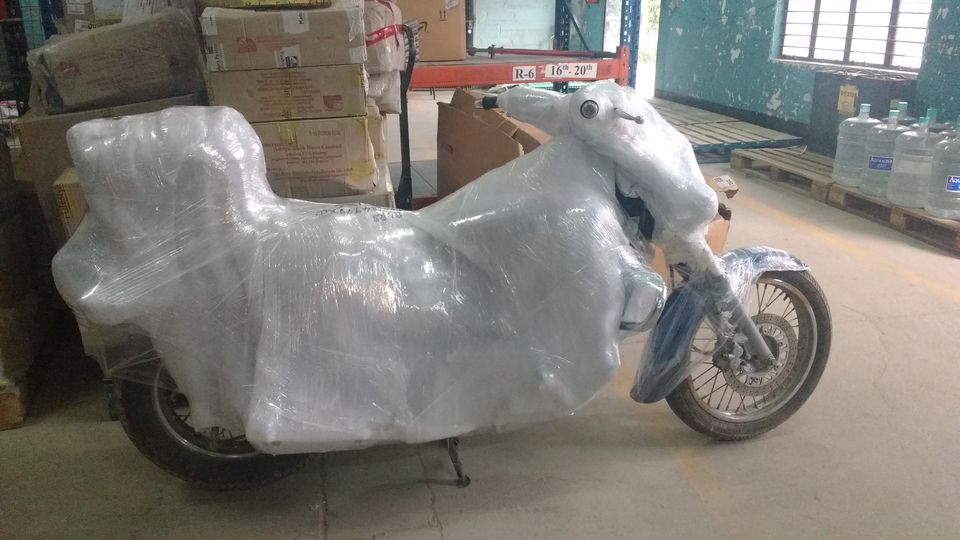 Accommodation and Food:
- If you are adventure seeker, don't book any accommodation in Leh, Nubra or Pangong
- Homestay or shared tent are available almost everywhere
- It is advisable to reach early at any places so that you can book a place of choice for accommodation and can also bargain
- In Ladakh region, Sun rises at 5-5:30 am and sets at 7-7:30 pm, hence you can drive longer but it is best to end the day by 5-6pm so that in case of emergency, you will get some help
- You will get lunch and dinner on the road, hence you don't need to worry about food options unless you are conservative about what you would eat
- Maggi, Omelette, Momos, Biscuits, and Tea are available at every popular place
- Shared Tent cost Rs.200-300 per night for accommodation and Rs.150 for lunch or dinner
- Homestay: Rs.300-500 per person(except Leh, Manali, and Srinagar) but depends on the place and availability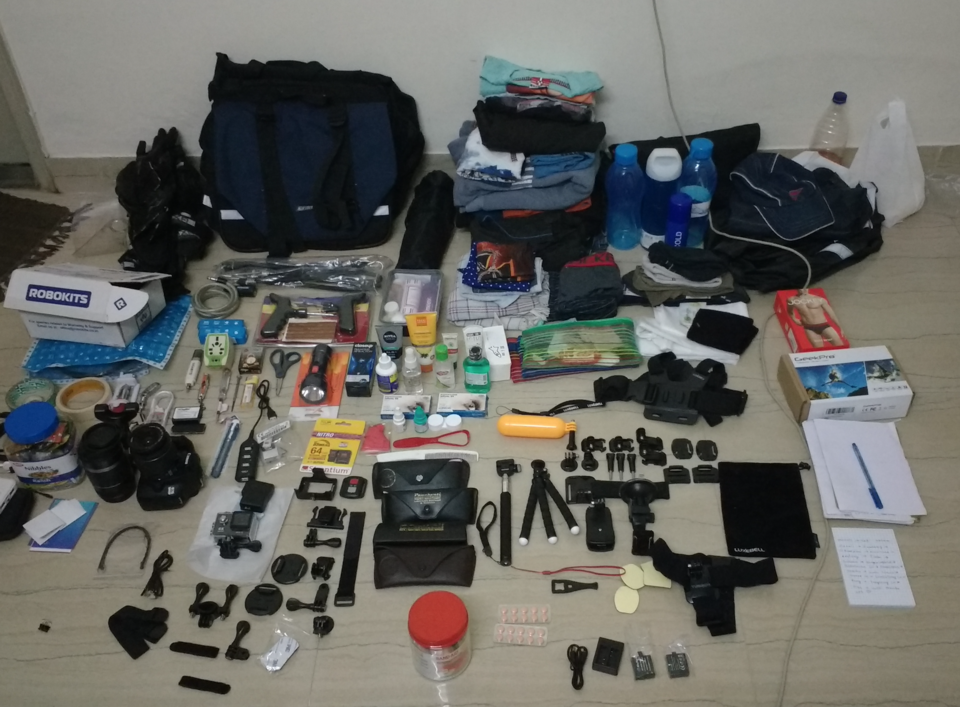 Things to carry:
1. Carry-on and Luggage
- Lightweight backpack to keep valuables
- Winter clothes, even if you visit Leh during May or June when other parts of the country are Hot, Ladakh is totally different
- Rain cover for the bags
- Raincoat
- Gum Boot, this is a must have ( you can buy it from Manali market)
- 3-4 pairs of thermal socks
- Thermal layer, thermal gloves ( you can buy it from Manali market)
- Windcheater, Jacket / Sweater apart from regular clothes
- Mostly you will get a bath daily, hence you can avoid too many clothes, don't worry about sweat
- Riding gears
- A Cap, Couple of Handkerchiefs
2. Bike Items
- Tubeless puncture kit with an air pump
- Spare Tube in case tubeless tire is punctured and a tubeless kit is not usable
- Spare Clutch, Brake and Accelerator wire
- Spark Plug
- Headlamp, high altitude may damage your headlamp
- Fuses
- Saddlebag to keep the luggage
- Two 2 liters bottles to carry the additional fuel
3. Personal Essentials and Medical
- First Aid kit
- Lip balm
- Toiletries
- Sunscreen at least SPF30
- UV Sunglasses
- Glucose
- Chocolates and biscuits
- AMS tablet, Gingko Bilabo or Diamox, more details
- Please avoid Smoking and Drink Alcohol
- Always keep 2-3 liter water with you because dehydration can add up an extra complication to the ride
4. Photography
- DSLR with Tripod
- Action Camera with Helmet and Bike mounting kit (optional)
- Extra pair of batteries
- Extra storage cards
5. Connectivity
- BSNL or Airtel Postpaid SIM card
In most of the Ladakh region, there is no mobile network except main parts e.g. Keylong, Jispa, Leh, etc. If mobile network is available, only BSNL and Airtel postpaid works in most of the areas, so make the arrangement likewise.
For BSNL, you have to manually activate the GPRS Roaming, follow the link
6. Electronics
- A Torch
- Bike USB Charger which can be used for Mobile Charging
7. Documents
- Pen and Paper to note down if needed
- Driving Licence, RC Book, PUC, Insurance
- Passport size photograph in case needed
8. Permit for Rohtang Pass Road ( if you choose Manali to Leh route)
- Where to get: SDM Office in Manali market
- Congestion Charges: Rs.50
- Documents Required: ID Proof, Vehicle Registration, PUC
- The traffic is allowed from 4 AM in the morning to 11 PM at night, after which traffic will not be allowed. Hence, it is suggested to start at 3 AM from Manali to avoid long traffic jams, especially in June, to Rohtang Pass.
9. Money
Apart from main cities(Srinagar, Manali, Leh, and Kargil), there are no ATMs, hence it is advised to carry extra cash with you.
10. Fuel
- If you start from Manali, the next petrol pump on Manali – Leh highway is at Tandi, approximately 110 km from Manali. Tandi is the last petrol pump before Leh.
- After Tandi, next petrol pump is at 365km at Karu, hence fill the tank and all the extra fuel bottles
- There is a petrol pump in Diskit, which is a manual petrol pump hence you have to buy it in multiple of 5 liters
Bonus: Do take some candies to give it to nomadic people on the way
Riding in Ladakh region is fun and an achievement which you will never forget in your life.
Happy Riding :-)
Note:
- This post is my experience centric
- If you have noticed Leh - Nubra - Pangong instead of Leh-Nubra-Leh-Pangong-Leh, I will write a separate post about my lifelong memorable experience and how to prepare yourself for the less traveled route for adrenalin adventure seeker
- Though my Ladakh trip expense was a bit higher side as I had purchased a lot of camera accessaries, you could save on that if