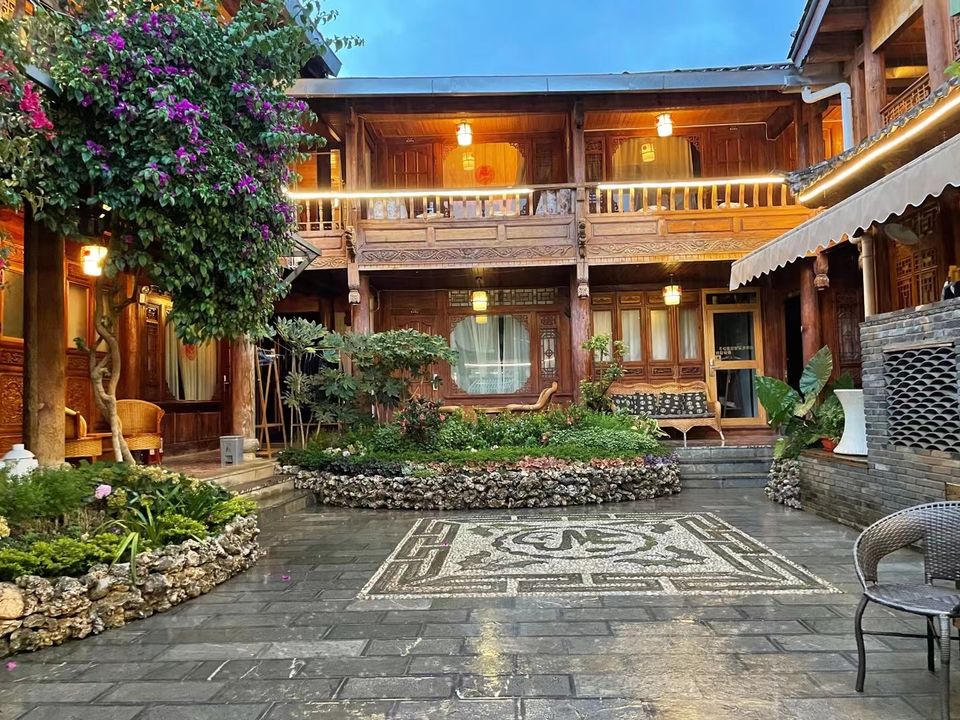 DAY 1: Arriving in Lijiang, an early flight from Changsha, and just before landing, the views from the plane of Jade Mountain were so mesmerising it made up for my early start (3.00AM) and got me super excited for the trip. Once I landed and the coffee addict that I am, I needed to find some caffeine booster and found refuge in one and only KFC. My taxi was pre-booked by my hotel, and we were driving through some of the most beautiful views of Snow Jade mountain. Once checked into my beautiful family homestay hotel, I was welcomed with a massive big smile & Zongzi (Chinese dumplings made of rice served during 'Duan Wu Jie' or Dragon Boat Festival) by the combo of husband and wife owners. I had gulped down my quota of 2 Zongzi, washed down with some "red tea" (AKA black tea by the rest of the world), it was time to explore the Old Town.
Lijiang is a picturesque postcard old town with cobbled streets, traditional buildings made of wood, miniature canals flowing with crystal clear water fed by local springs, which has been an integral part of these areas for centuries. It was the capital of Naxi people (1 of the 55 minorities in China) who have settled here for hundreds of years. Although a bit touristy, if you are a keen walker and are willing to explore further & more profound into the old town, you will find some quaint places. I found my refuge from the soaring heat in a mausoleum of some sort, but the quietness was magical. Finished off my day with a local meal (Rice noodles in a broth), enjoyed my first sunset in Lijiang over a drink in a café and bid farewell to the day.
DAY 2: Another early rise, as today I was to visit the Blue Moon Valley. These 4 natural lakes lie at the foot of the 5600 meters high Jade Dragon Snow Mountain. It's the melting glacier's water that feeds the lakes, giving its crystal clear blue colour. The panorama is truly soothing for the eyes. The mountain backdrop makes it truly picturesque for many newly married couples who were in numbers signifying their love for their partners with lovey-dovey photos. Trees, stand like skeletons submerged in the water, forgotten to be rescued. The day's final summit was to reach the highest reachable point by cable car+ foot, which sits at a paltry height of 4630 metres. As the last 200 metres have to be crawled through zig-zag wooden stairs and with every step, the lack of oxygen makes your lungs strenuous. Not for the faint-hearted, once on the top, the view is just....
Day 3: Slept longer as I had a late-night while chatting with the friendly hotel owner and his mum, a tea connoisseur and enhanced my tea and tea drinking art in 30 minutes, which will be a lifetime experience.
Started the day with 2 double espressos and headed off to Shuhe small( Naxi town) on the foot of the Jade Snow mountain, which is littered with cobbled streets, eccentric cafes, small stone bridges & mini canals. Just 20 minutes drive from Shuhe is another, even smaller Baisha town which was the centre of Naxi culture, and it takes you back in time and is one of the most authentic local experiences I have encountered on my many trips in China. Had a nice salad lunch in a family restaurant, and the icing on the cake was having a "buttermilk tea" (people who have encountered Tibetan culture will know what I am talking about) made by an old lady in her shack. The contentment on her face seeing a foreigner enjoying her brew made me so grateful for this beautiful life and the opportunities it presents us to travel and integrate with people. Zhànshí zàijiàn, hěn kuài zàijiàn.
Published on 27th July 2021 by Quresh Jawadwala