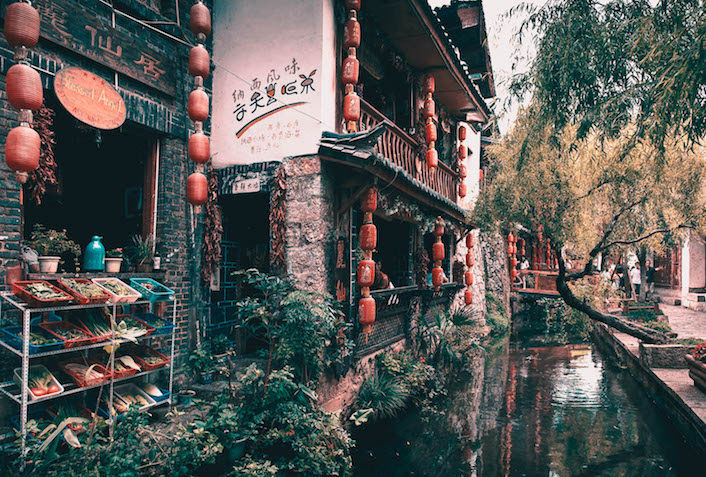 China isn't lacking spectacular natural scenery, and Lijiang can hold its own. From deep river gorges to towering Himalayan peaks, this ancient city has its fair share of eye-catching goodies. But they don't stop there. Lijiang City blends its natural backdrop perfectly with historical sites, nooks and crannies, and a unique culture. It's no wonder people have lived here for centuries. It may miss most international tourists' top 10 lists, but it's a gorgeous destination for travelers in the know.
Map of Lijiang: N 26.85° / E 100.22°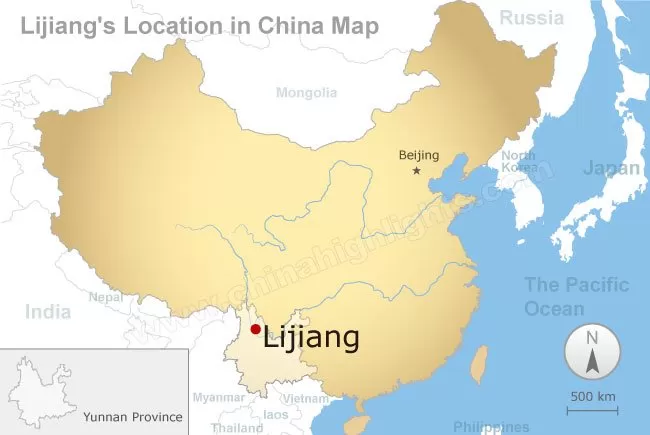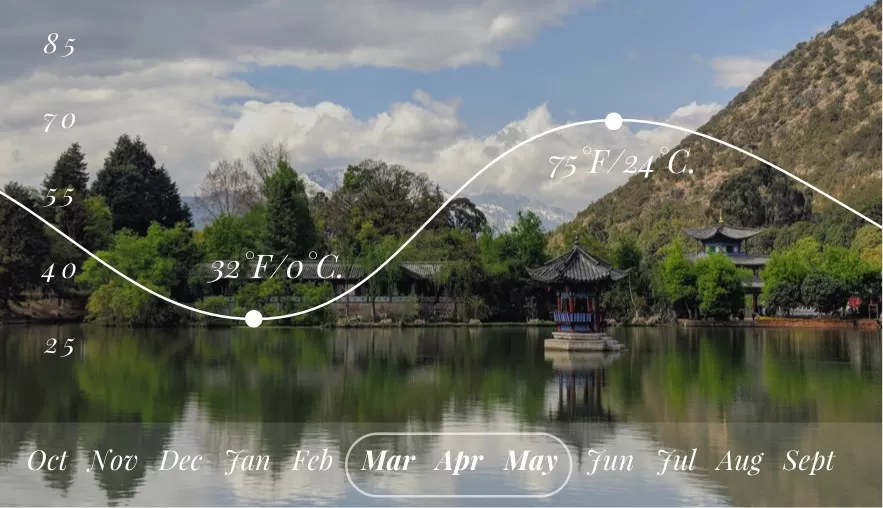 Don't let those snowy mountains in the background fool you - Lijiang's weather is actually quite mild with warm winters and cool summers. The city can, however, experience drastic swings in a single day, so it's best to layer up. Avoid the monsoon season (July-August) as well as Chinese public holidays (Labor Day and National Day) to beat the crowds. We recommend March-May to see the sights without the crush of holiday-happy tourists.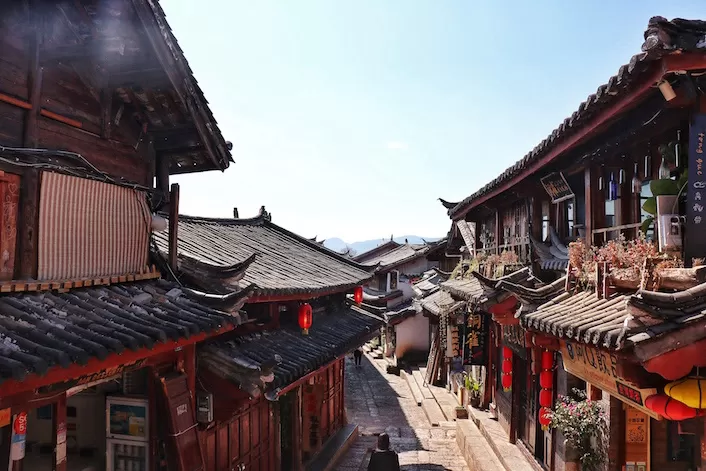 Poking around the UNESCO heritage site of Old Town Lijiang is a must when visiting. But by midday the narrow cobblestone streets are packed with tourists. Get up early and explore the main streets before the rest of the crowds get there. Once they arrive, step off the main path to find more peaceful walks. You can also skip over to the nearby village of Shuhe, which offers its own delightful experience.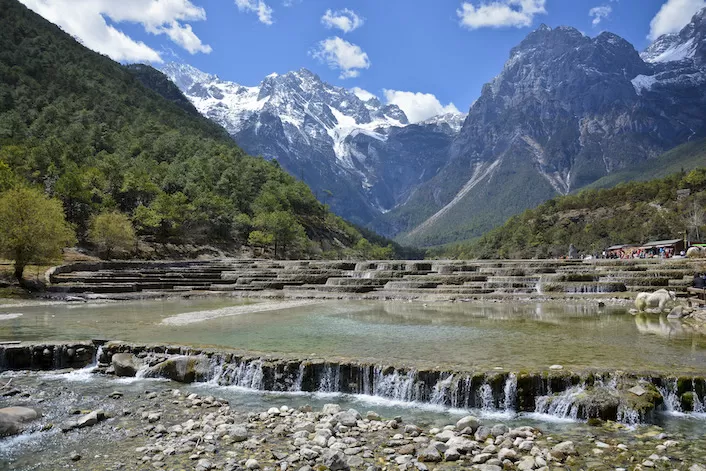 Jade Dragon Snow Mountain is a breathtaking piece of the Himalayan mountains right in Lijiang's backyard. There are some pretty touristy things you can try, like watching the local village's musical performance or taking a cable car to the top of the peak. But the best way to experience the mountain is from Blue Moon Valley. This series of stunning blue pools offer fantastic photo opps. Head for the top pool and crawl over some big stones to get away from your fellow travelers.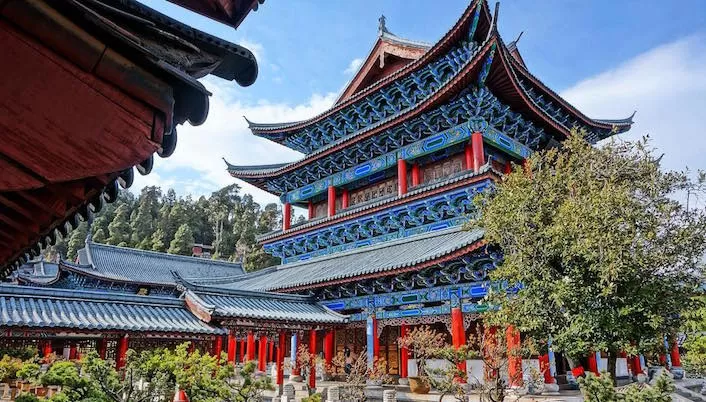 Lijiang is full of stunningly well-preserved historic buildings. One of the most popular to visit is Mu Residence, a mini Forbidden City that features ornate rooms and beautiful gardens. Also worth checking out is Wenchang Palace, a slightly lesser-known mansion with incredible views. Also make sure you visit Black Dragon Pool for the hands-down best view in the city.
Tiger Leaping Gorge is more than a fantastic name. It's one of the best hikes in the world, and, unlike most of the region, much less touristy. Meaning, the trail is actual rocks instead of pavement. Wander the edge of one of the deepest gorges in the world, admiring the rocky cliffs with only the Yangtze river as your companion. This is a two-day hike, so stay at one of the guesthouses along the way.
What to eat?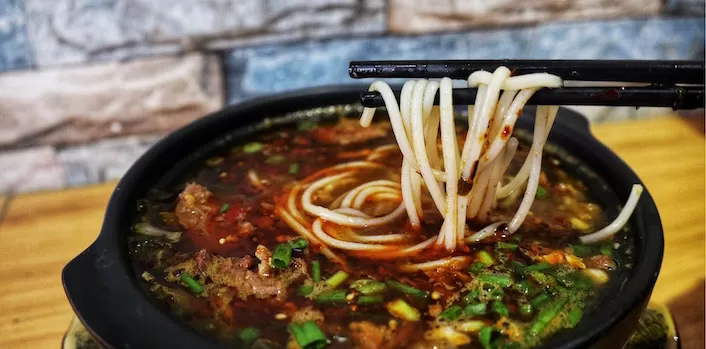 Like any Chinese province, Yunnan has its own unique dishes that you have to try. Many of the food stalls or local restaurants serve these key dishes. First, check out the mixian, or "crossing bridge" noodles. These delicious rice noodles are served in hot soup, meat, and veggies for a flavorful dish. Next, grab yourself a fried cheese roll from a street vendor for a tasty snack. The next treat to try are the rose cakes offered in almost every bakery in the city. Savor these melt-in-your-mouth treats that will be a nice reprieve after the spicy Yunnan cuisine. Finally, you can't escape China without a traditional tea tasting. Soak up those herbal fumes and enjoy feeling fancy.
Where to stay?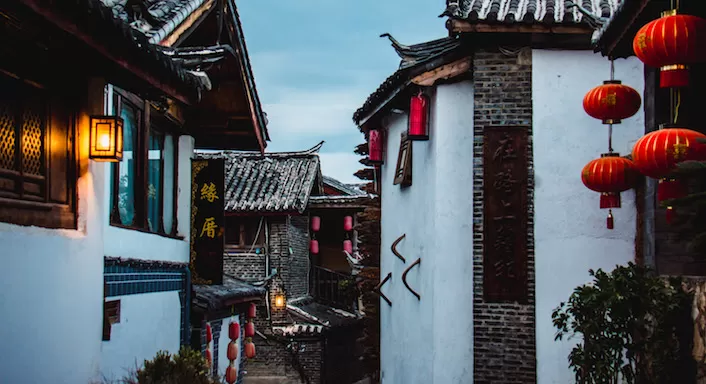 There are a lot of quaint local guest houses throughout the city that many Chinese tourists love to stay in. But if you don't speak Chinese, making reservations can be tricky. If you have a local friend or guide, they can set you up. Otherwise, there are several gorgeous hotel options, like the Lijiang Zen Garden Hotel or the larger Bivou Lijiang. No matter where you stay, be sure to write down the address, as the narrow streets can turn into a maze at the end of the day. Having a Chinese translation app can be handy.