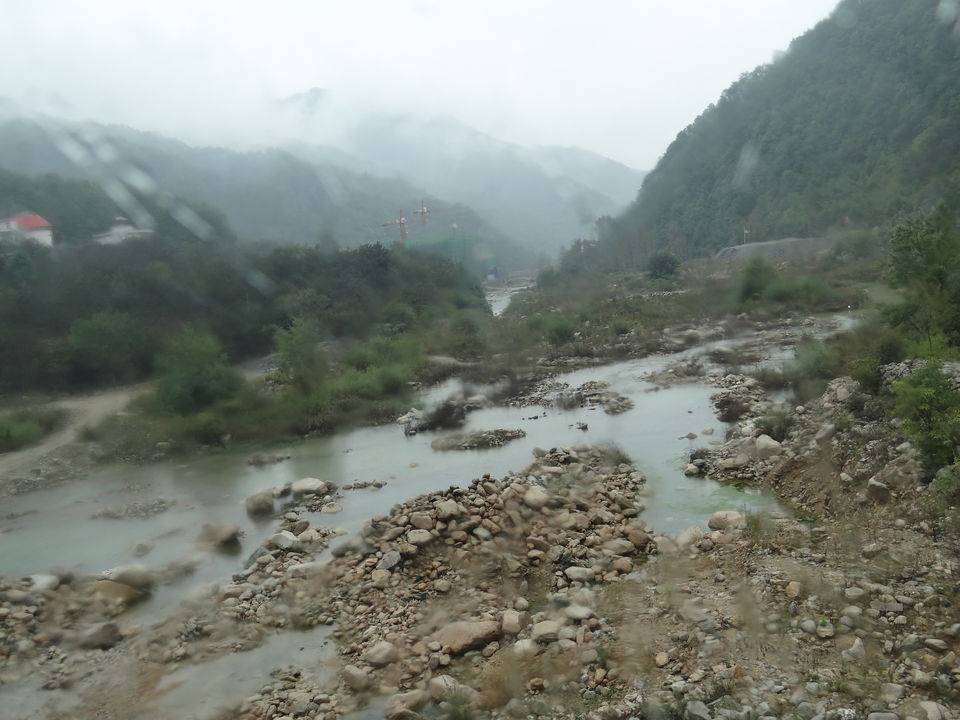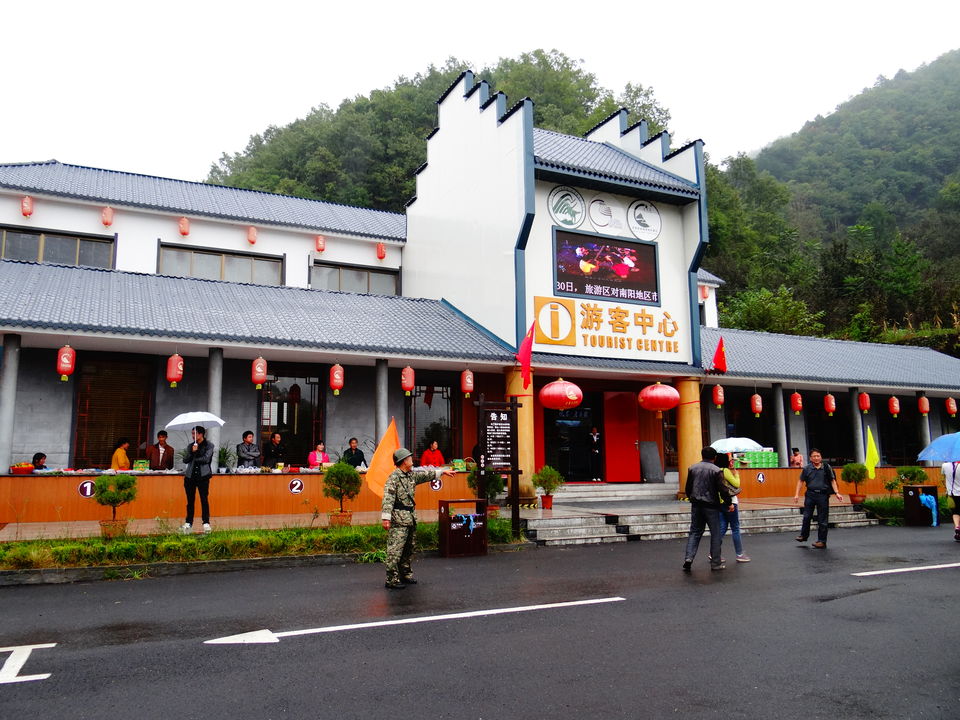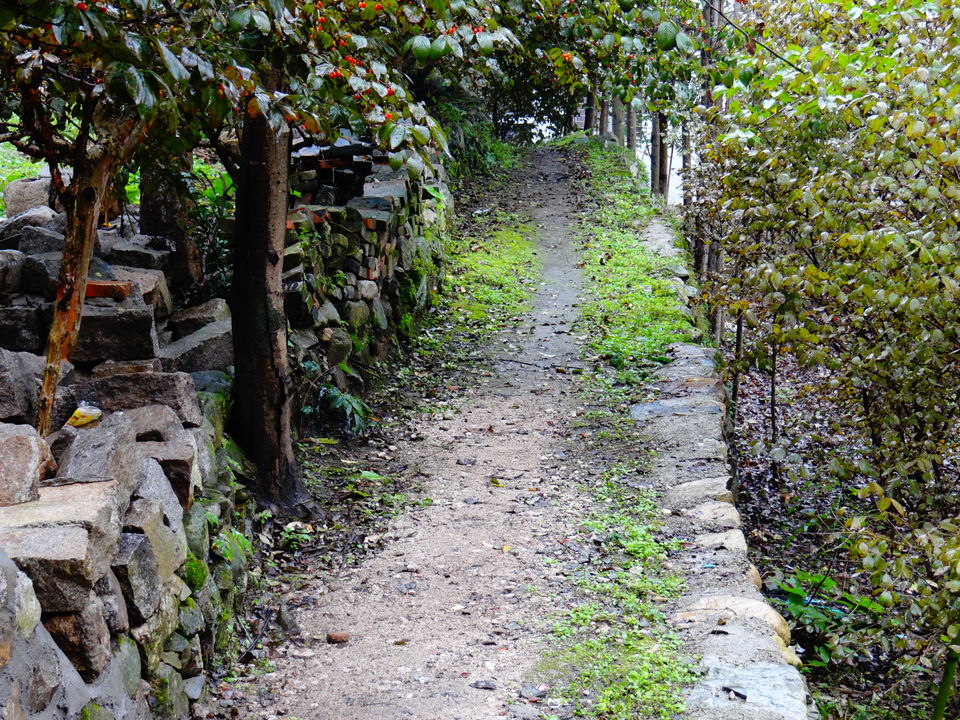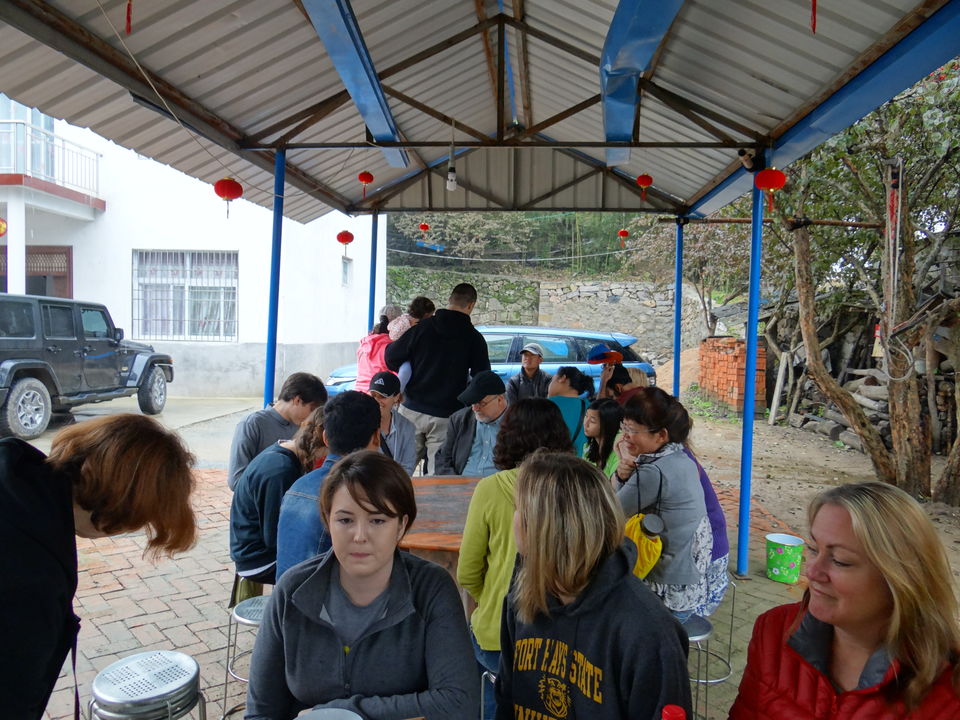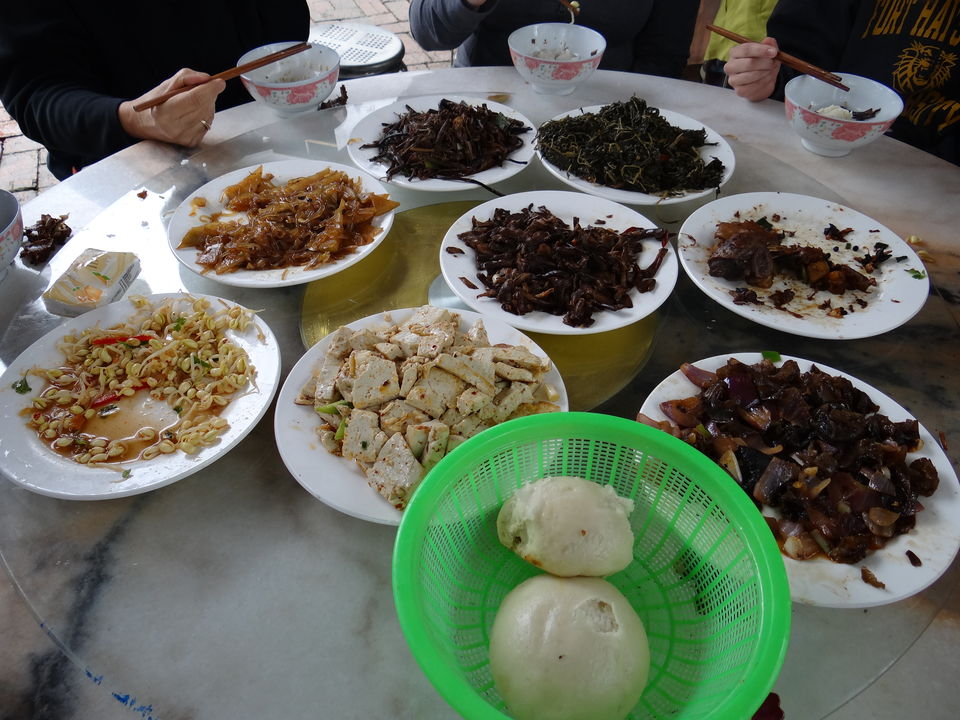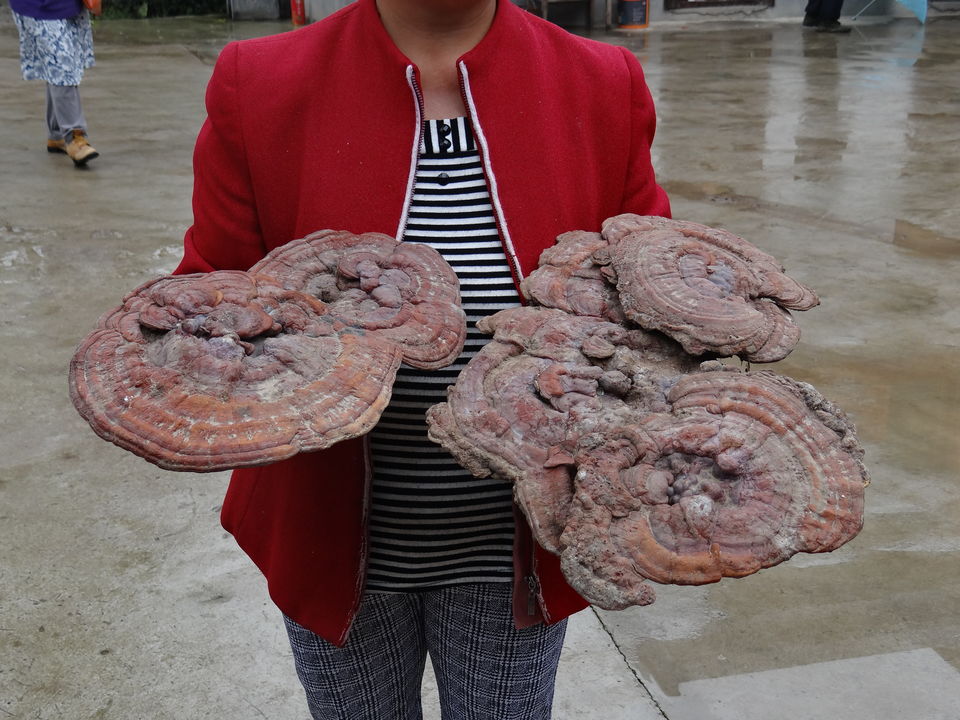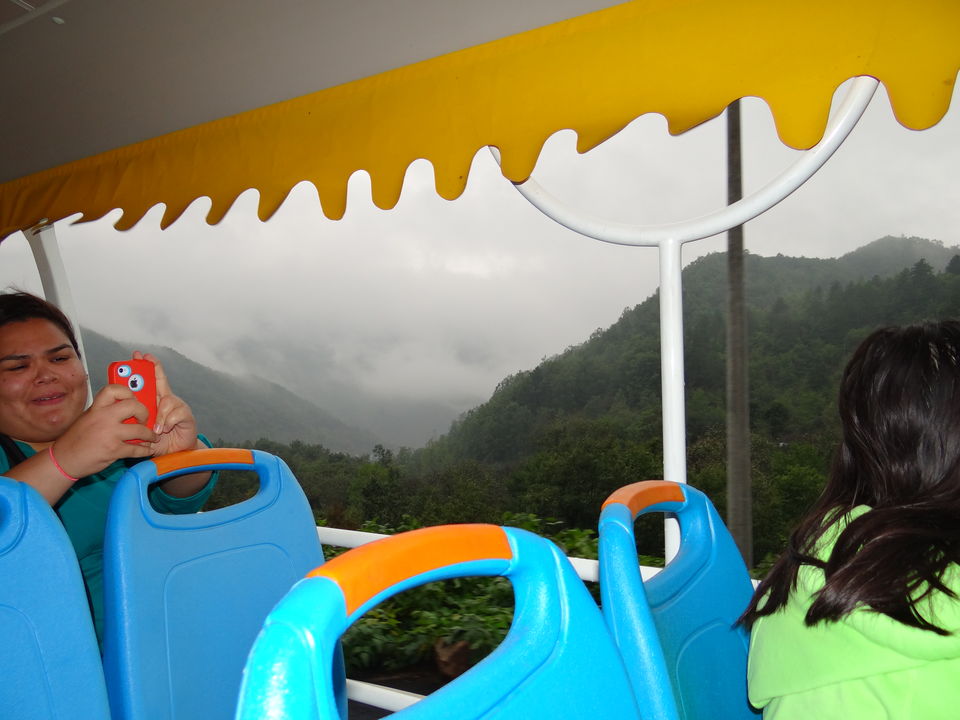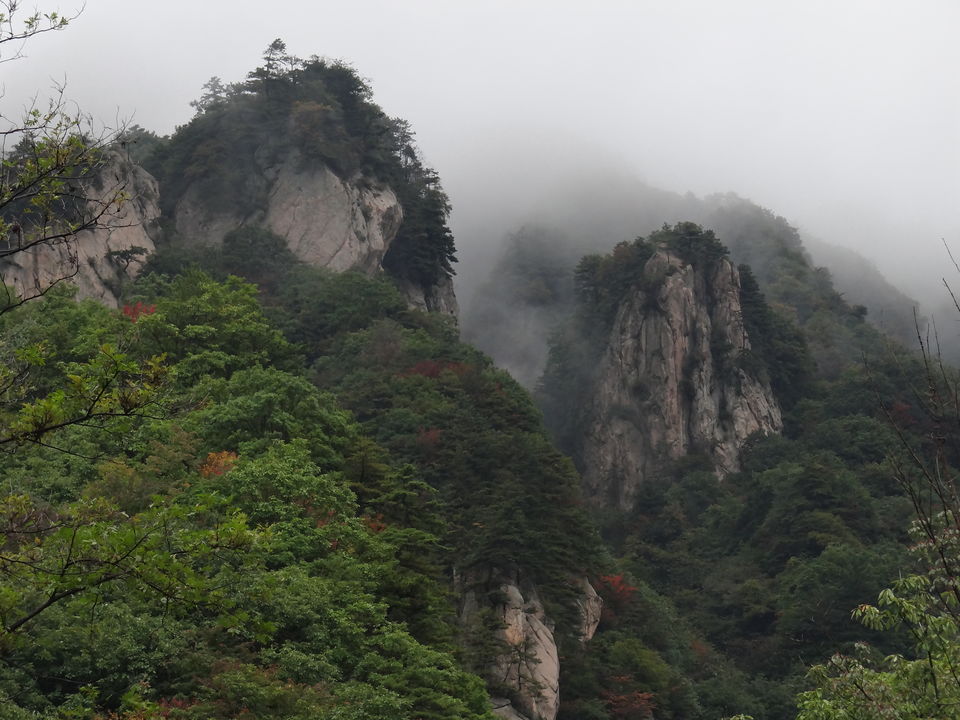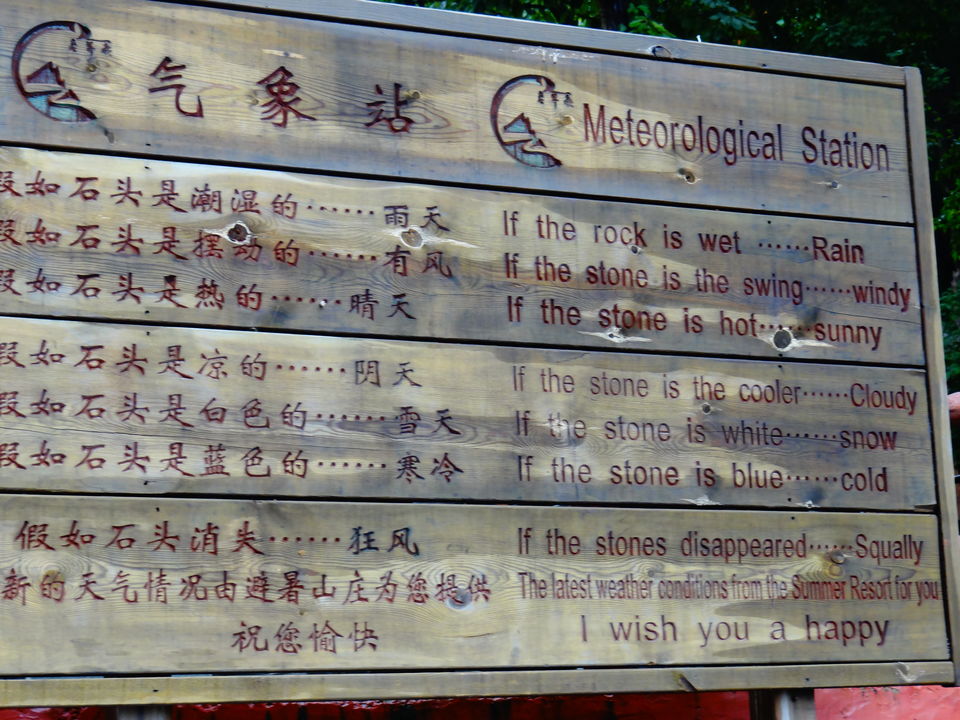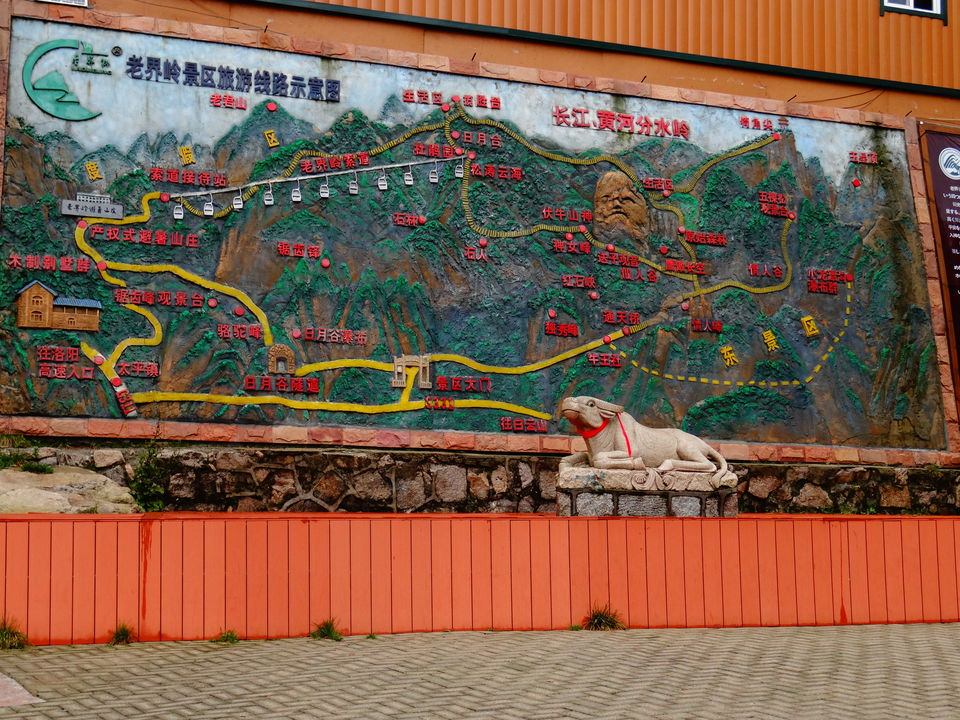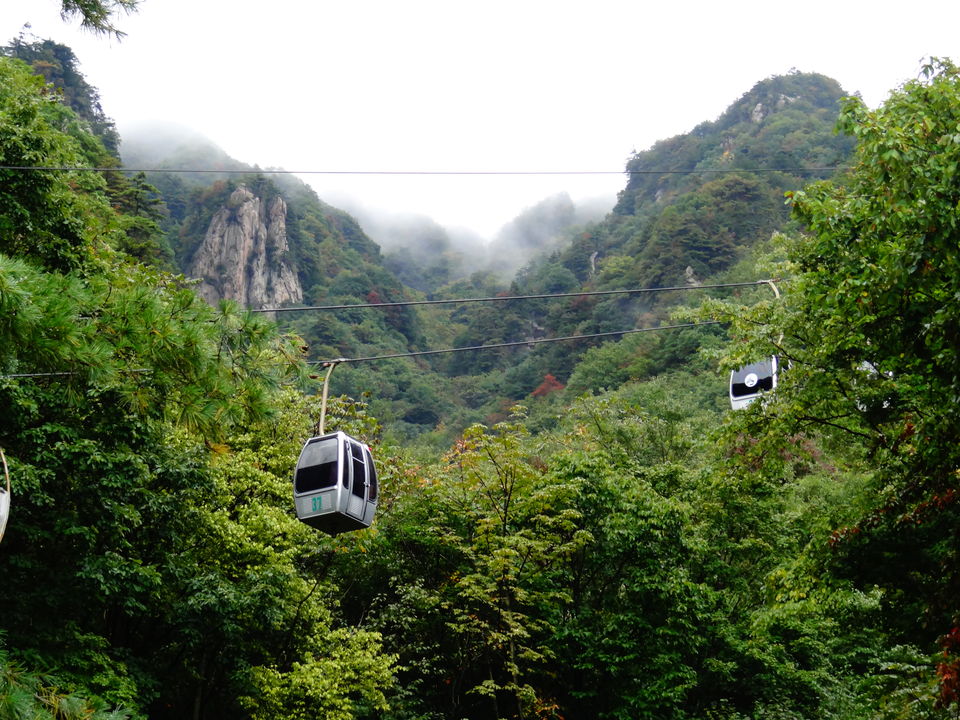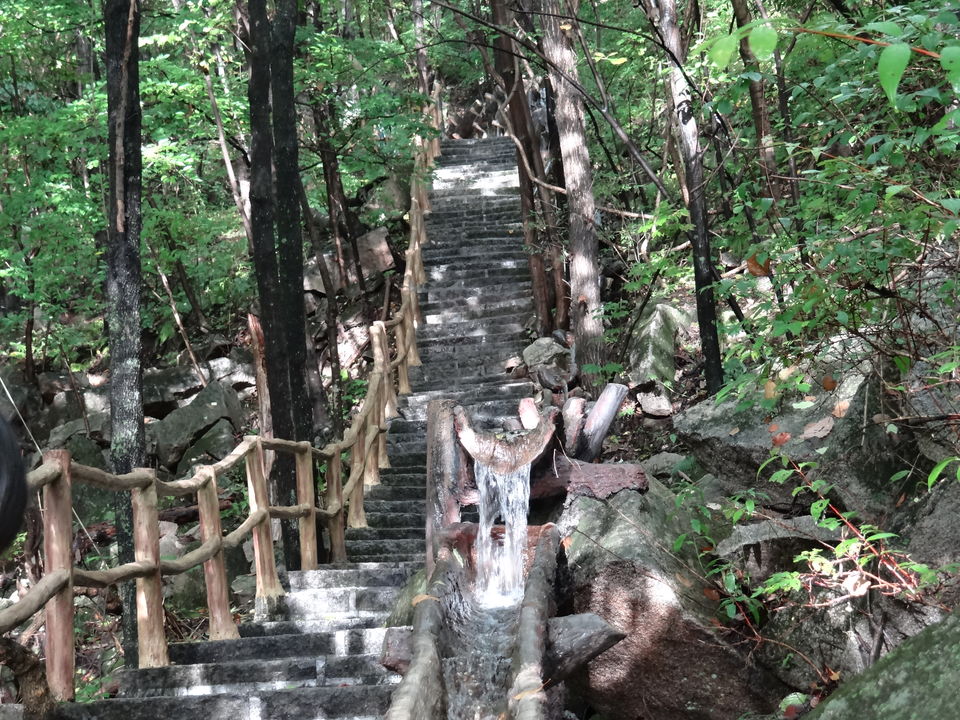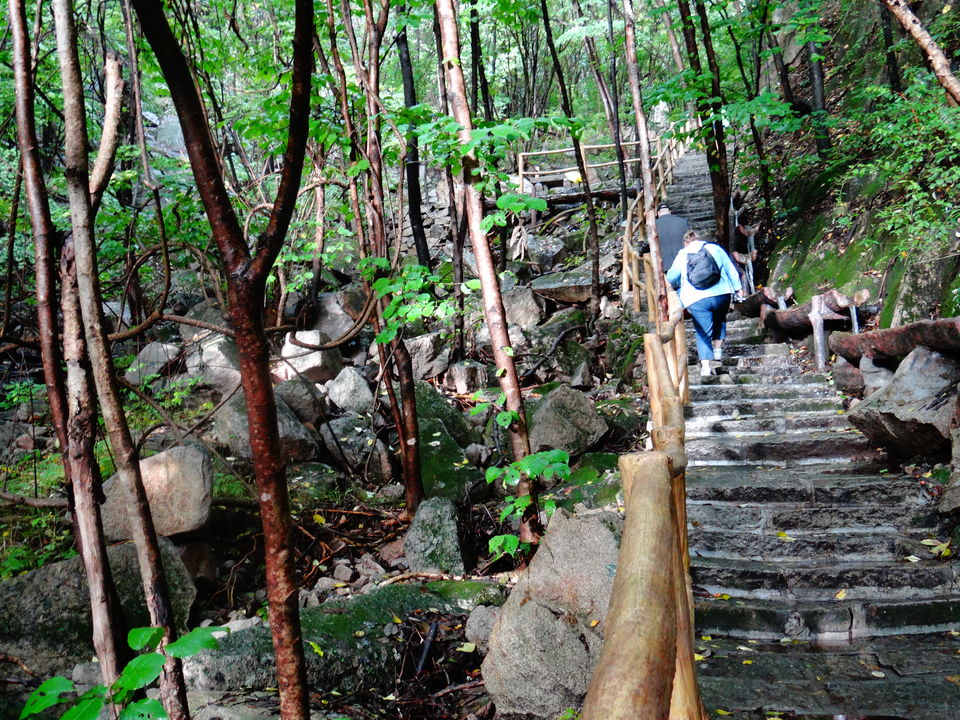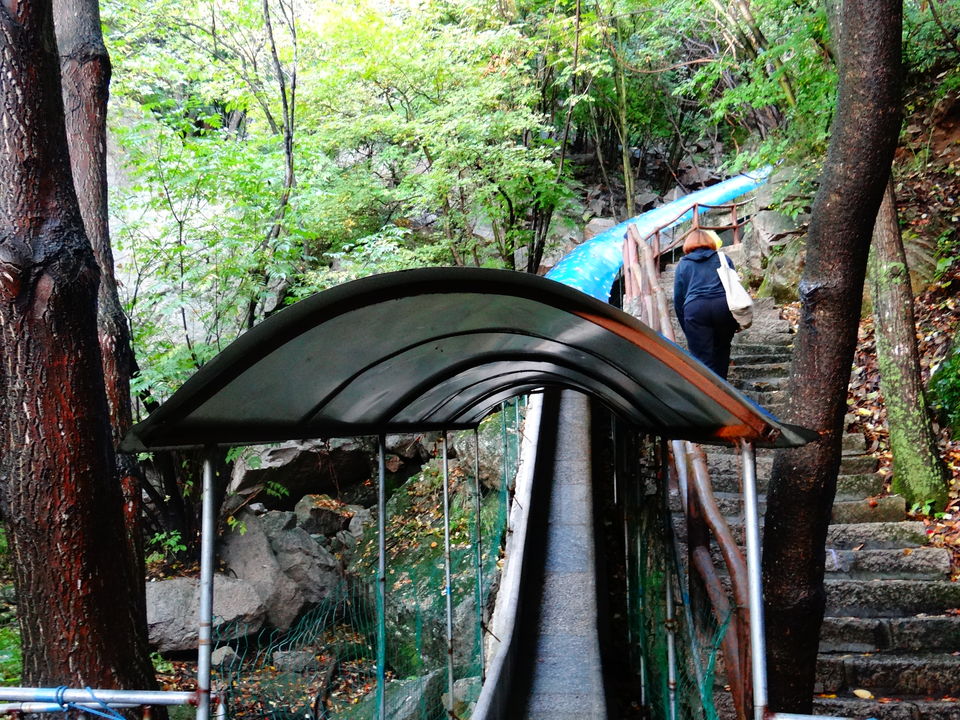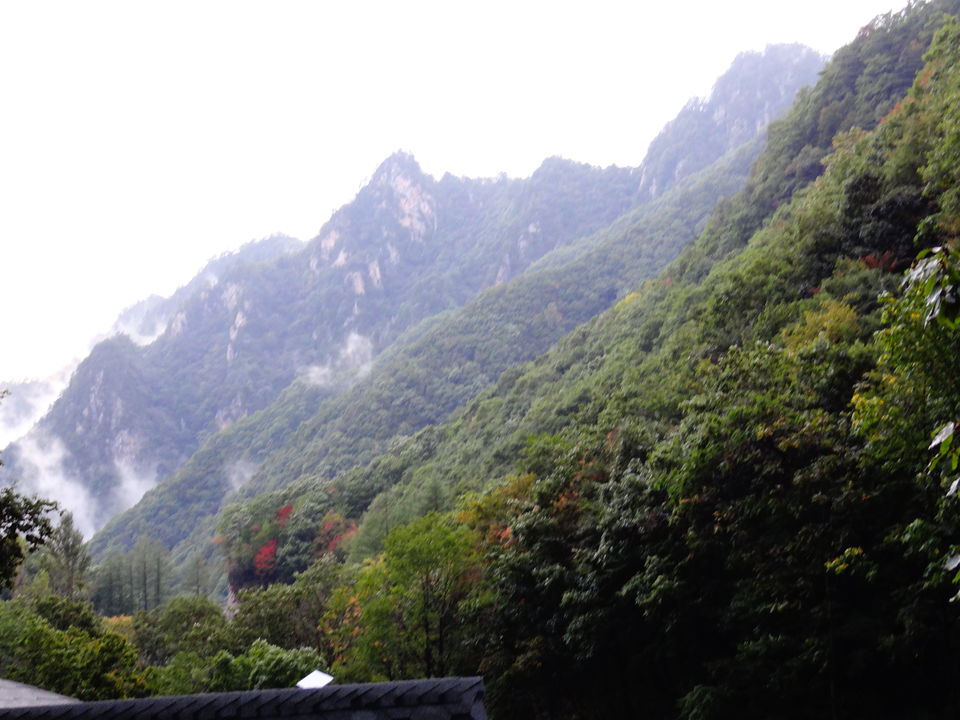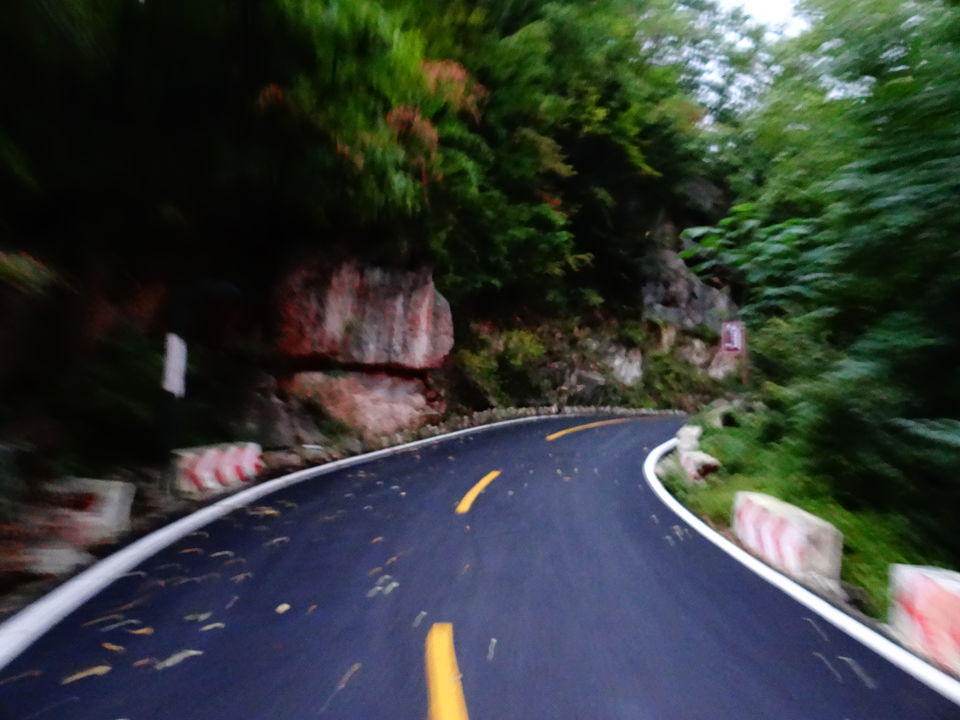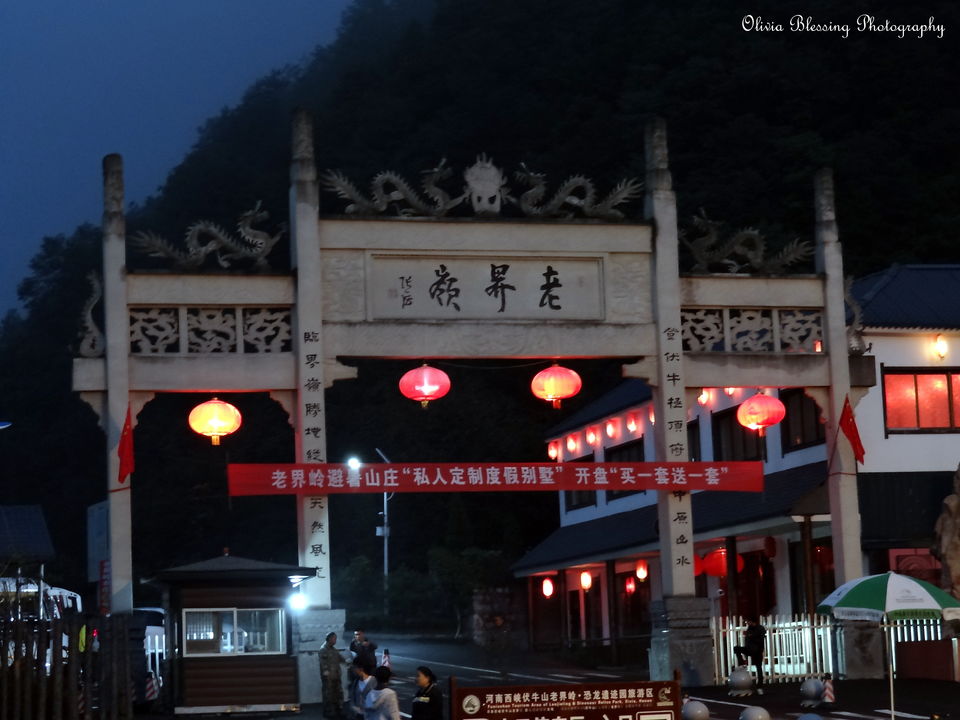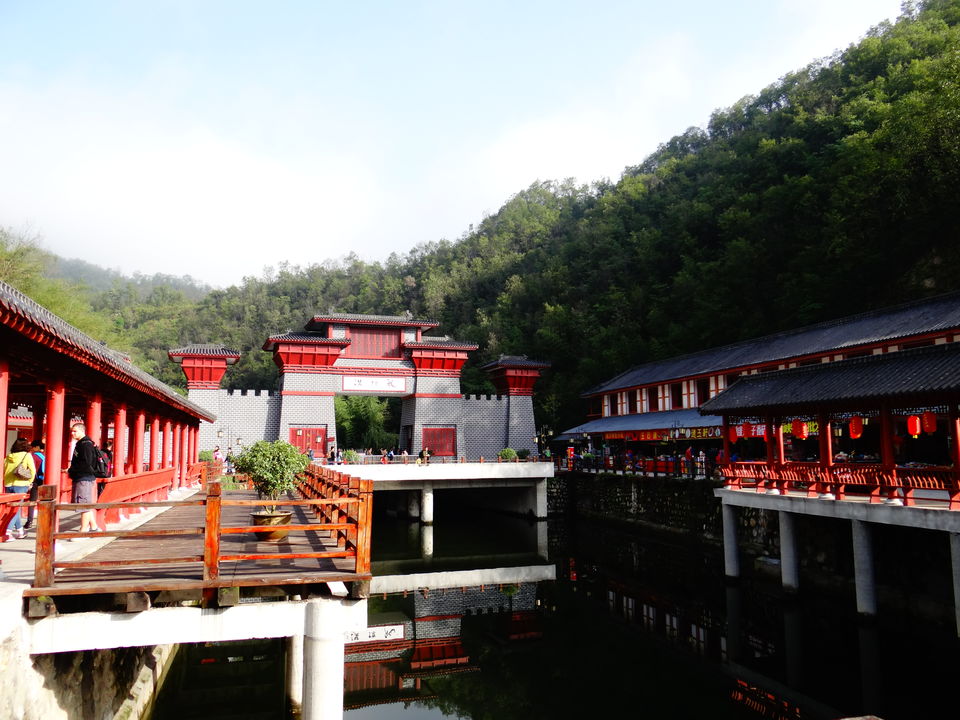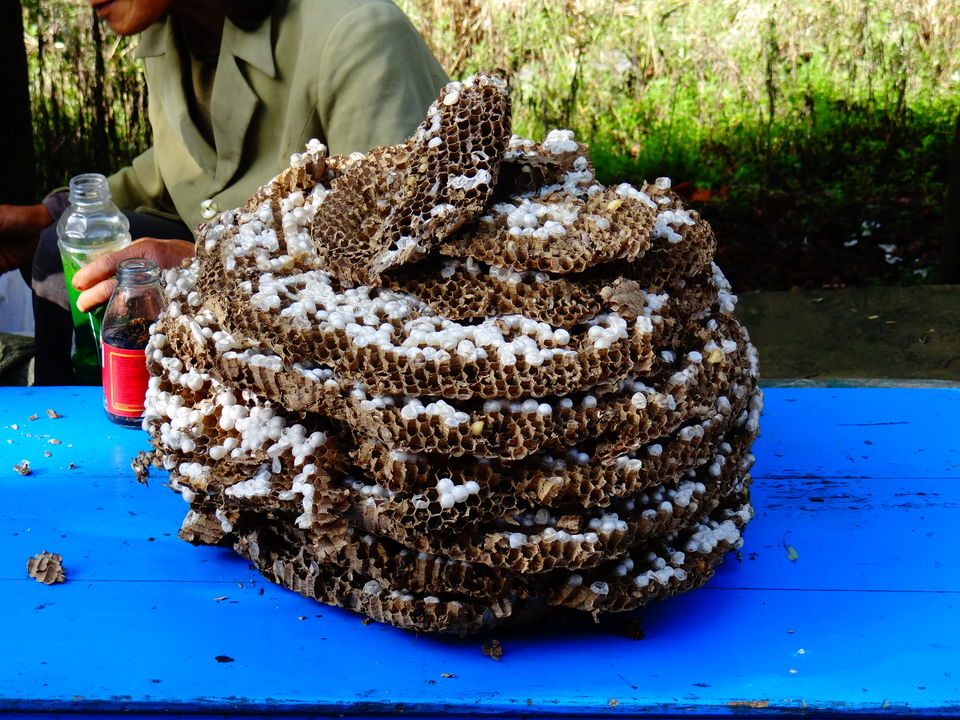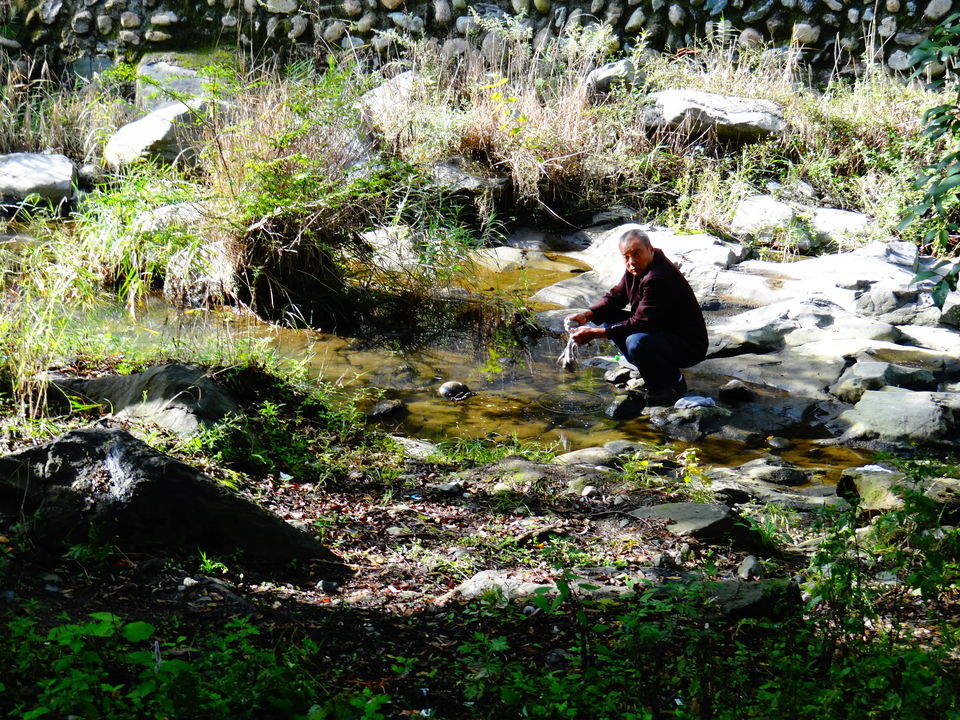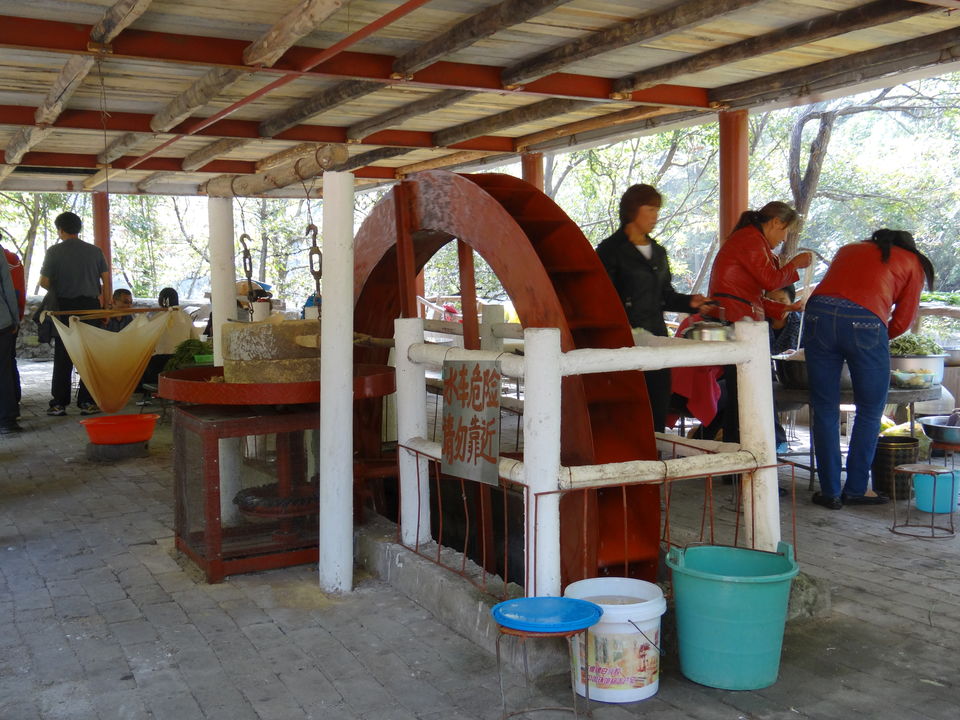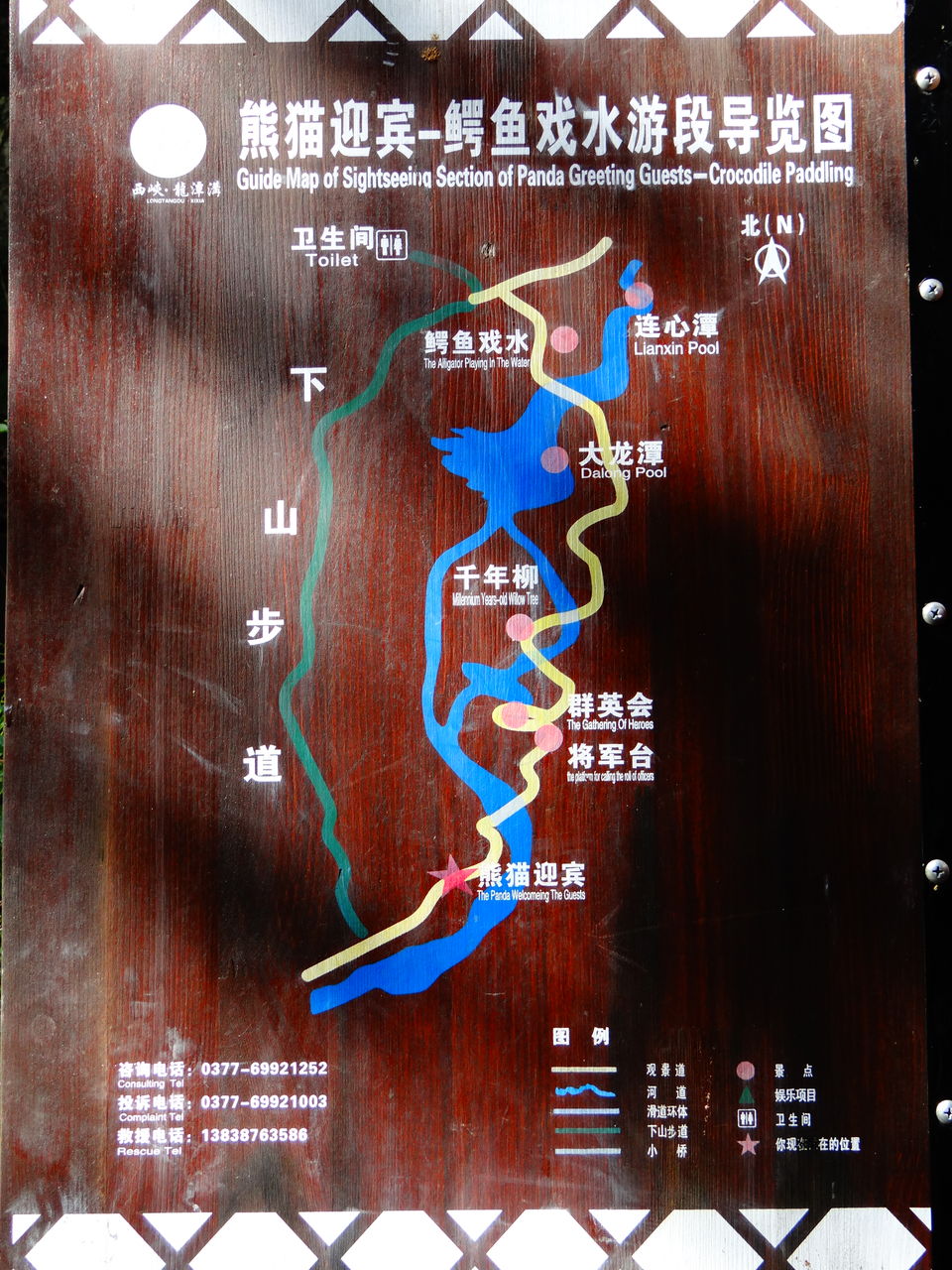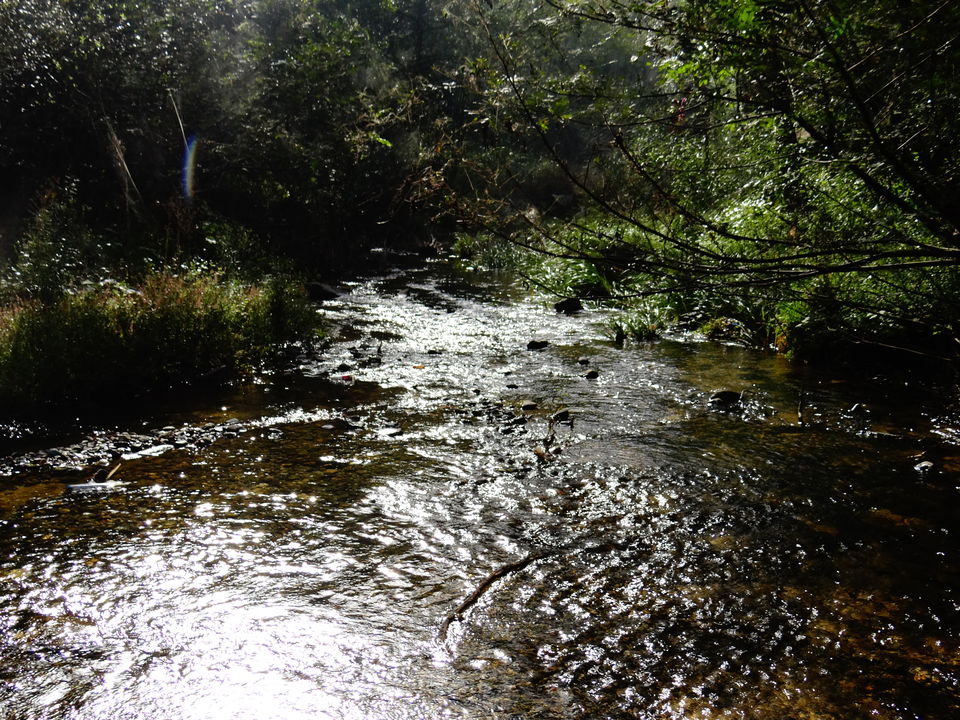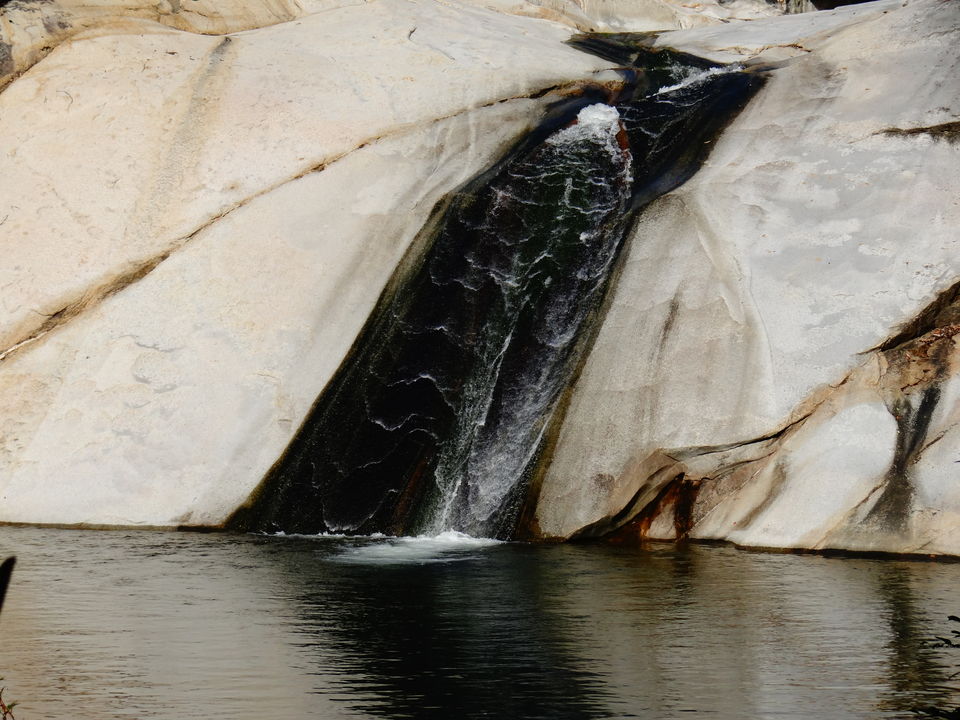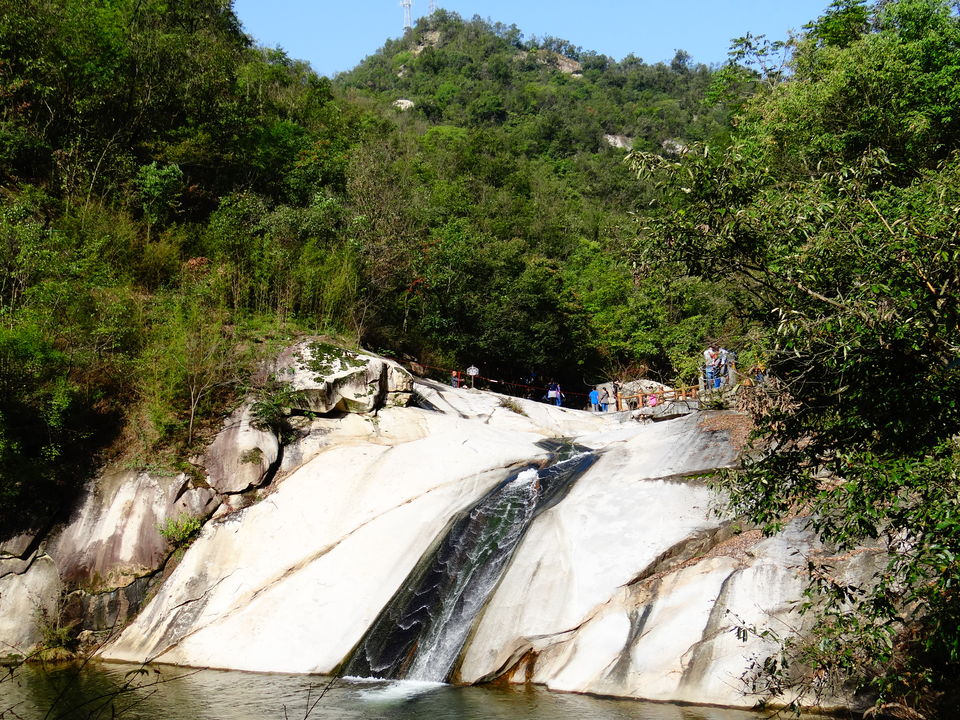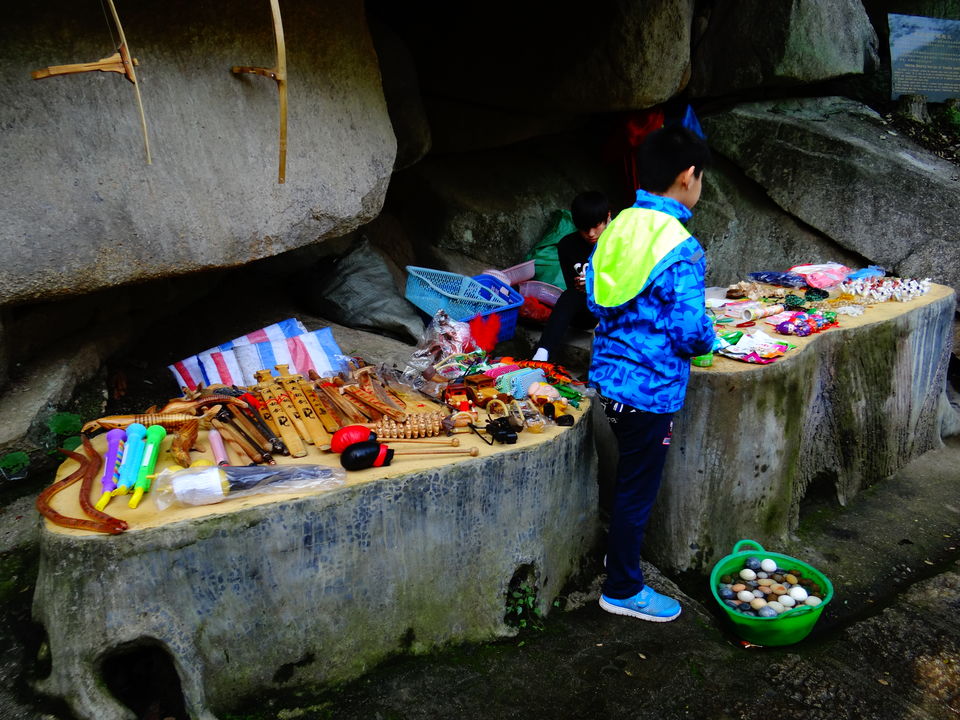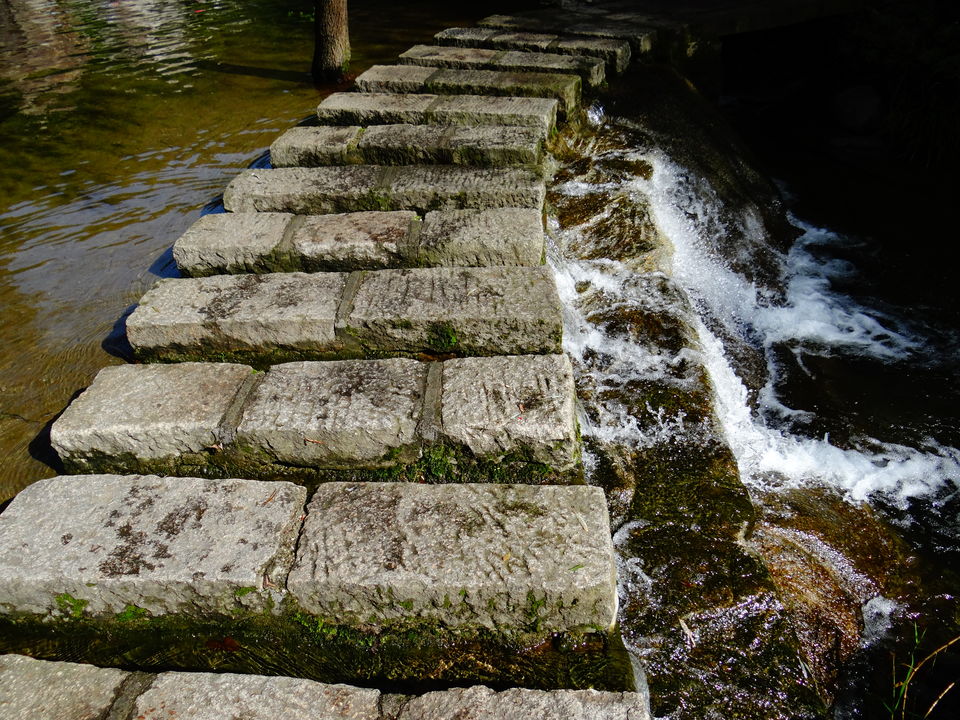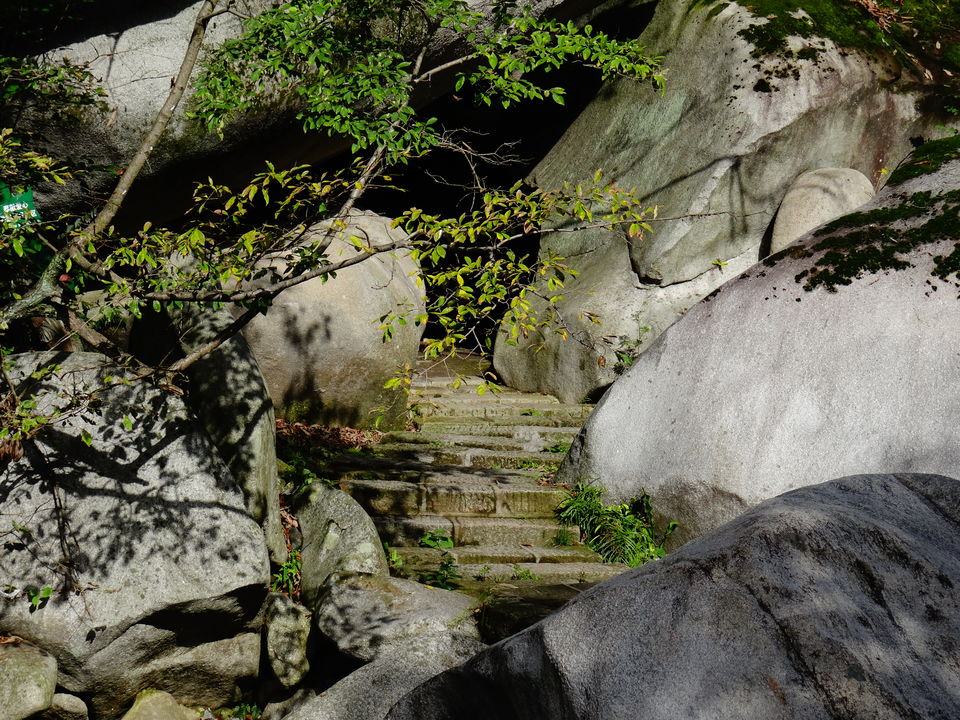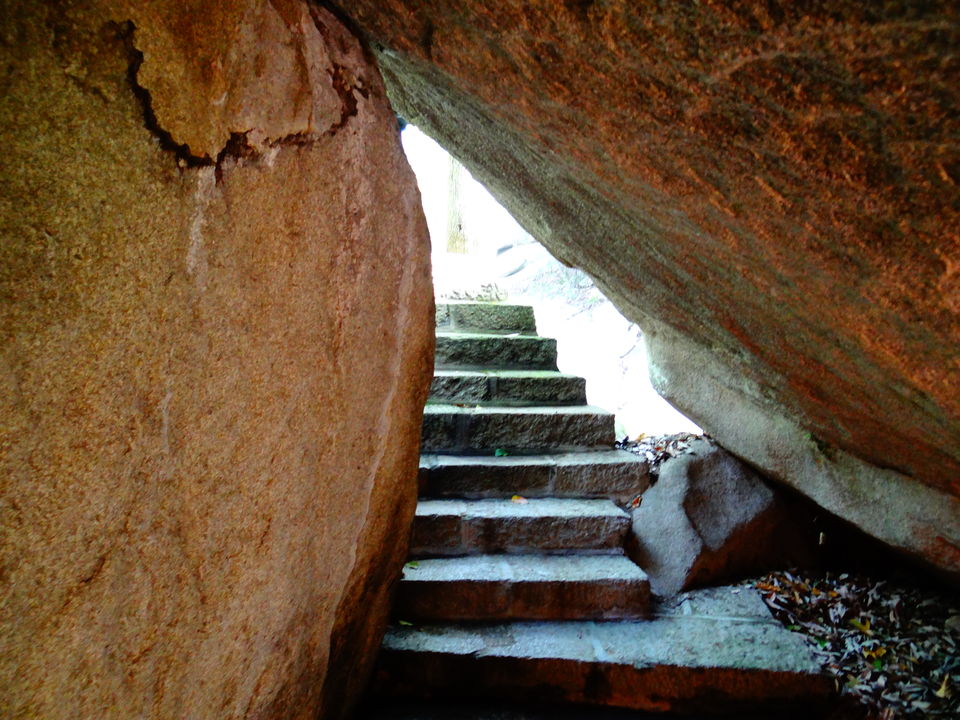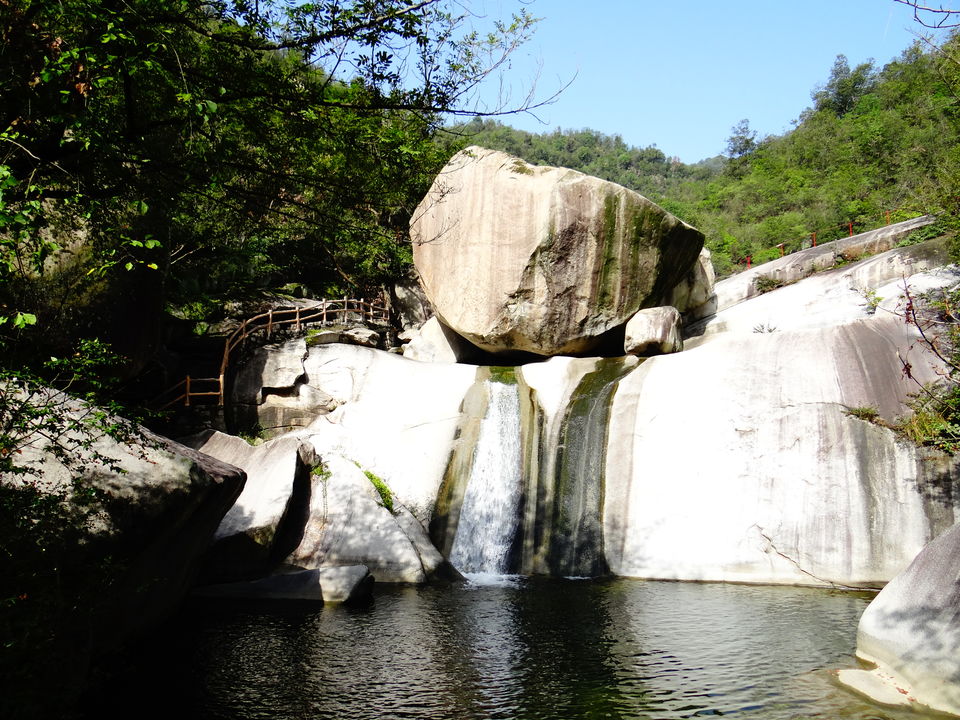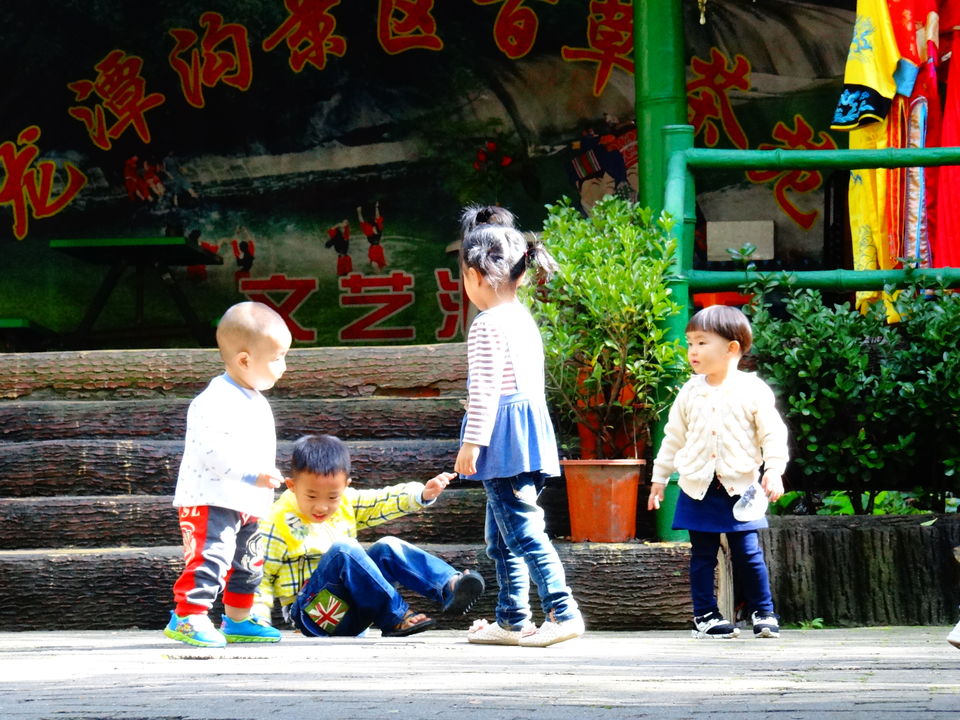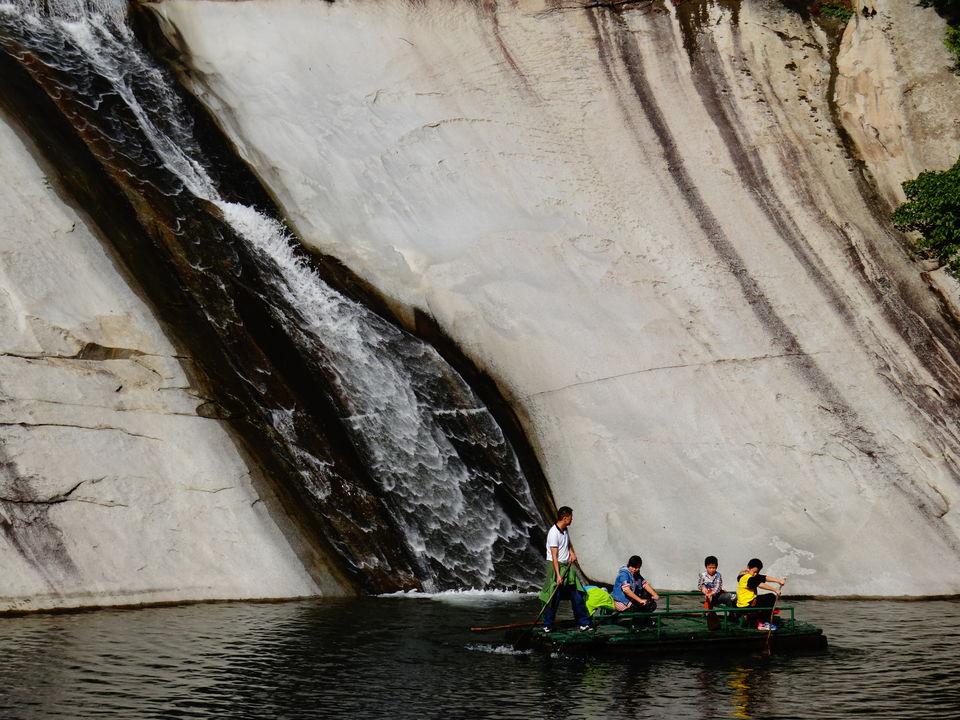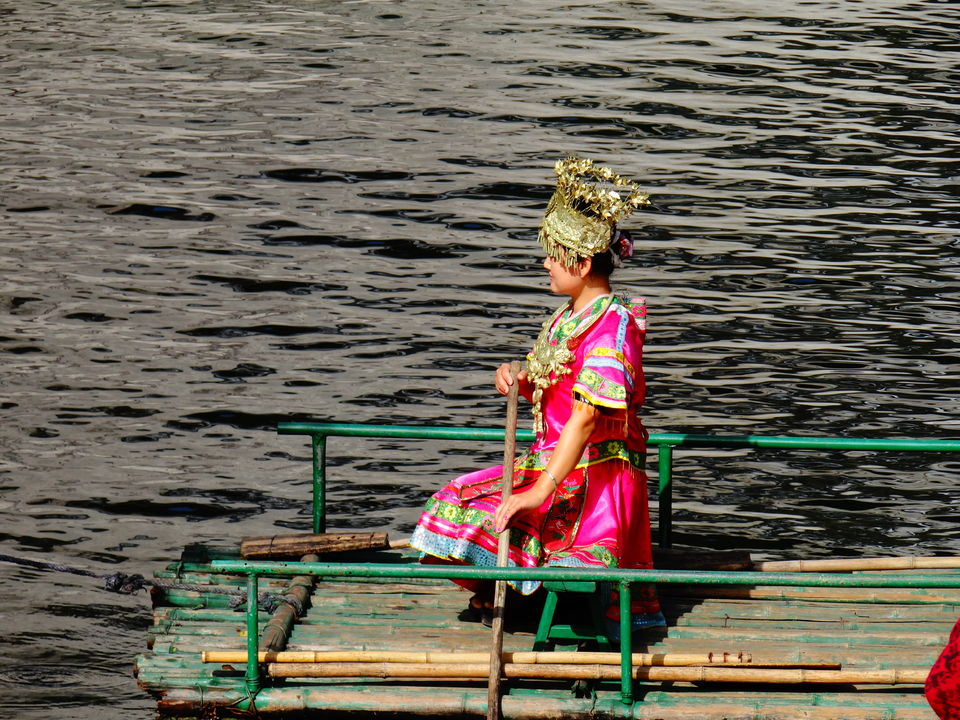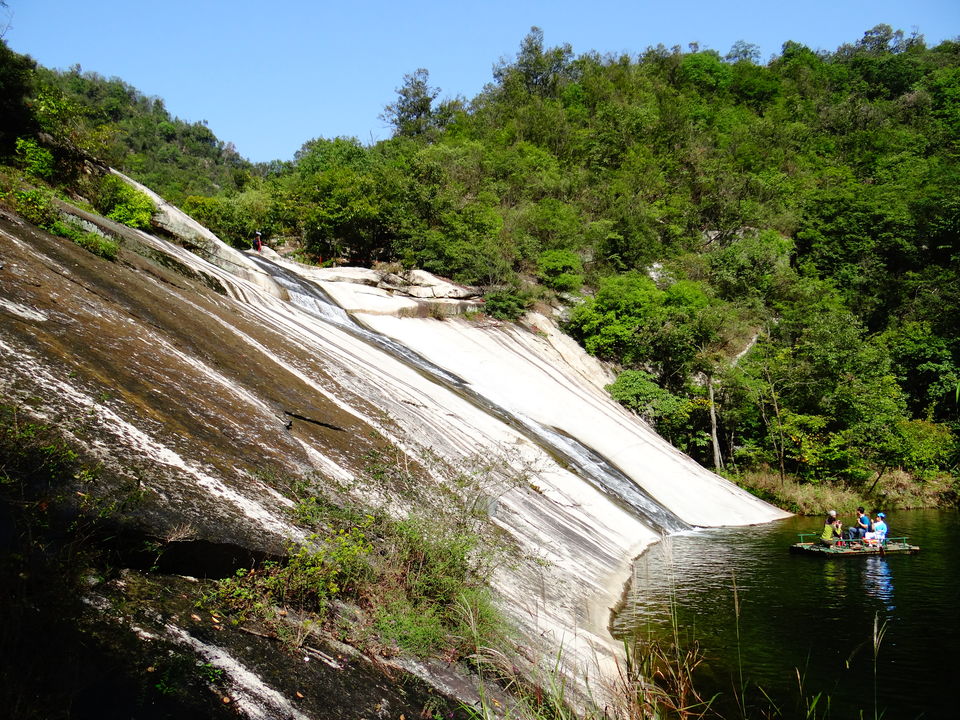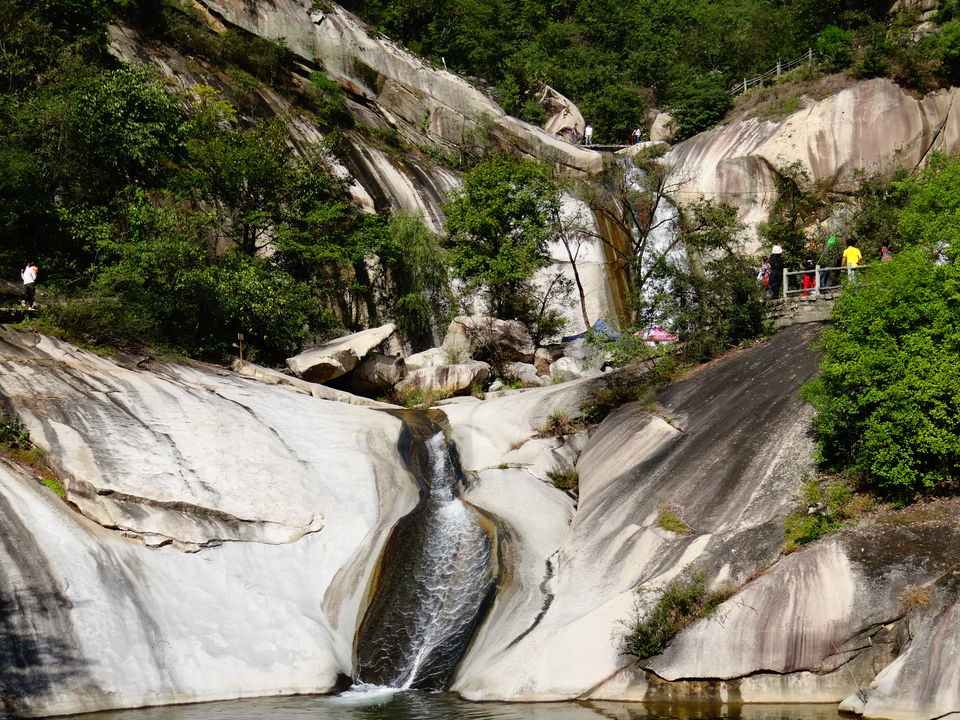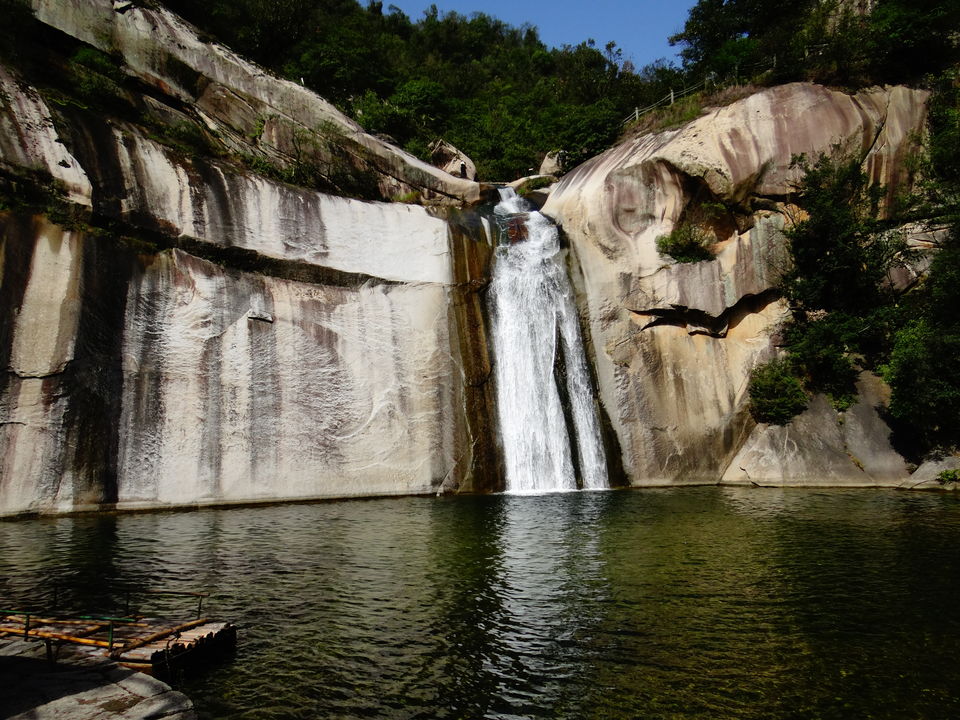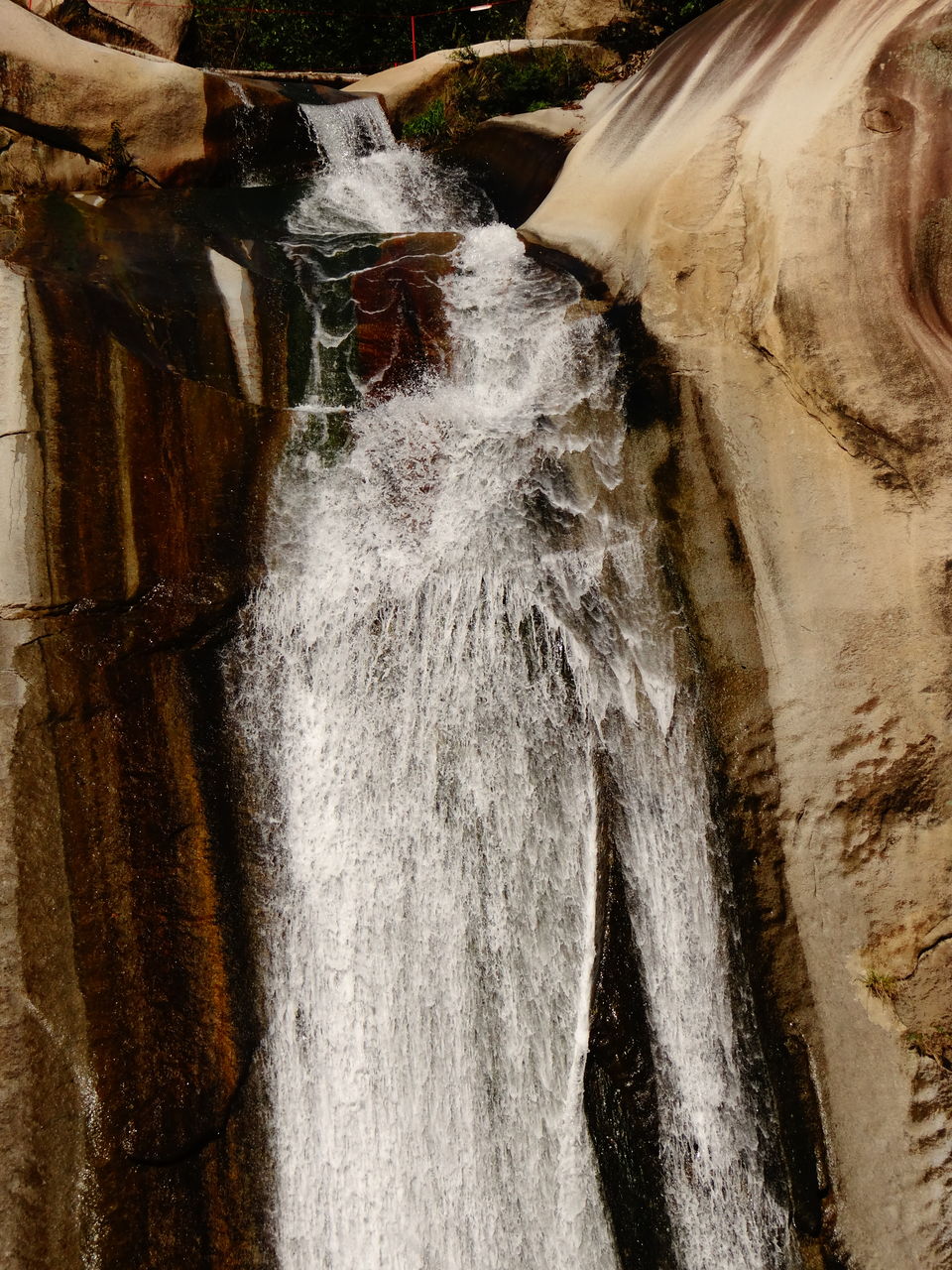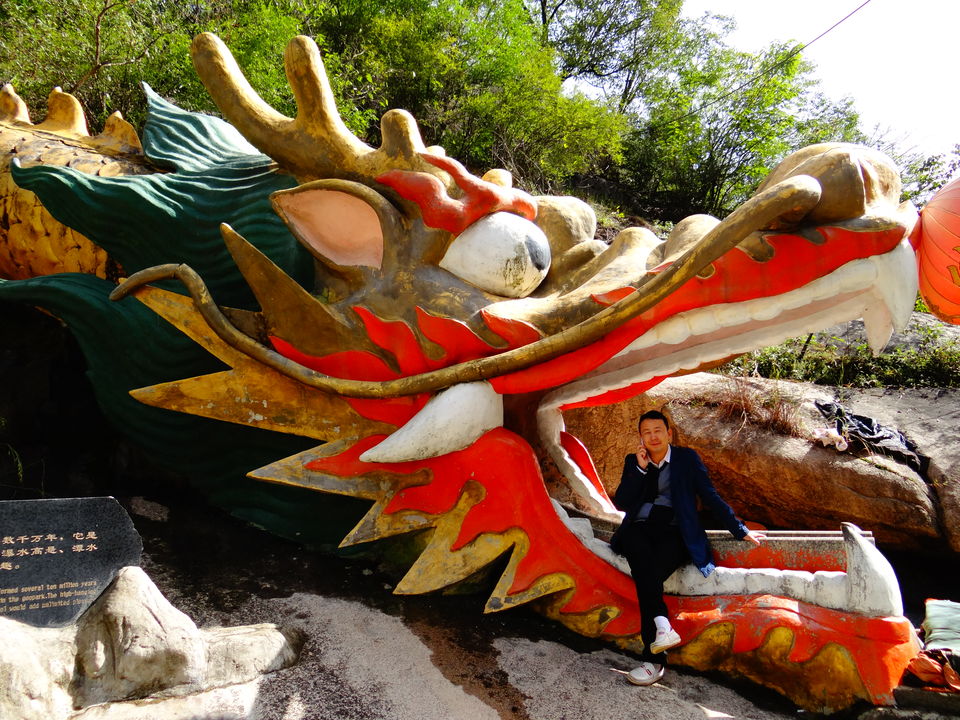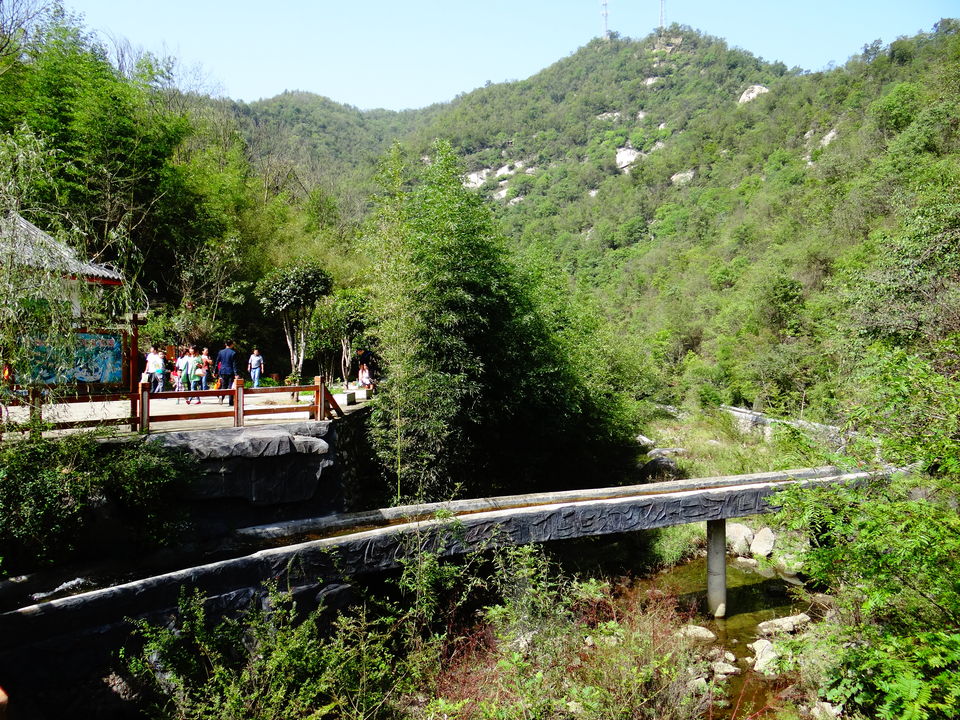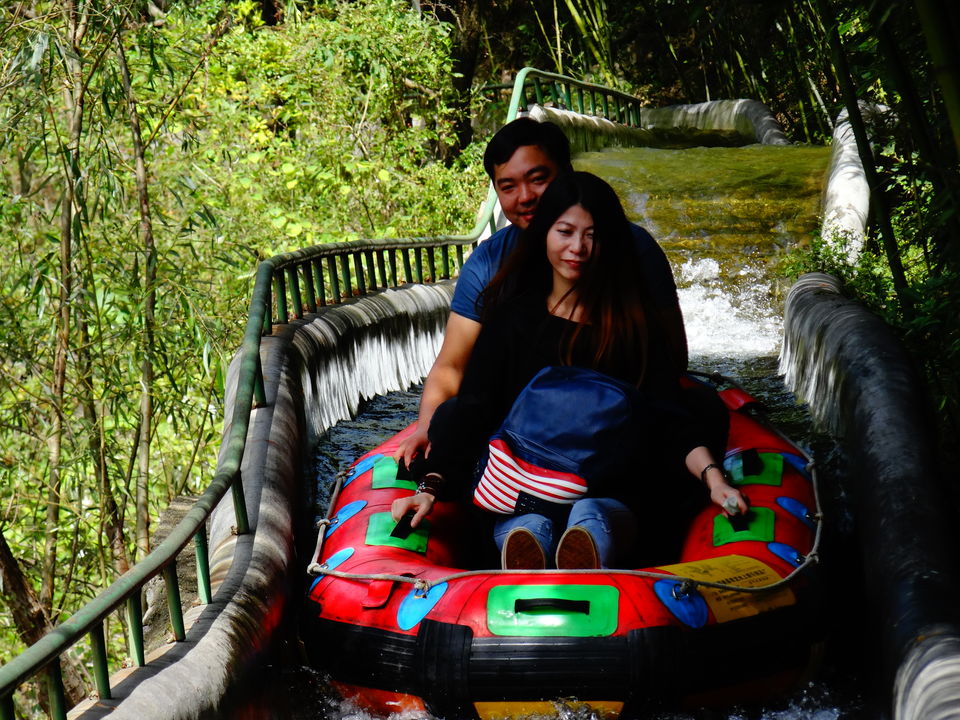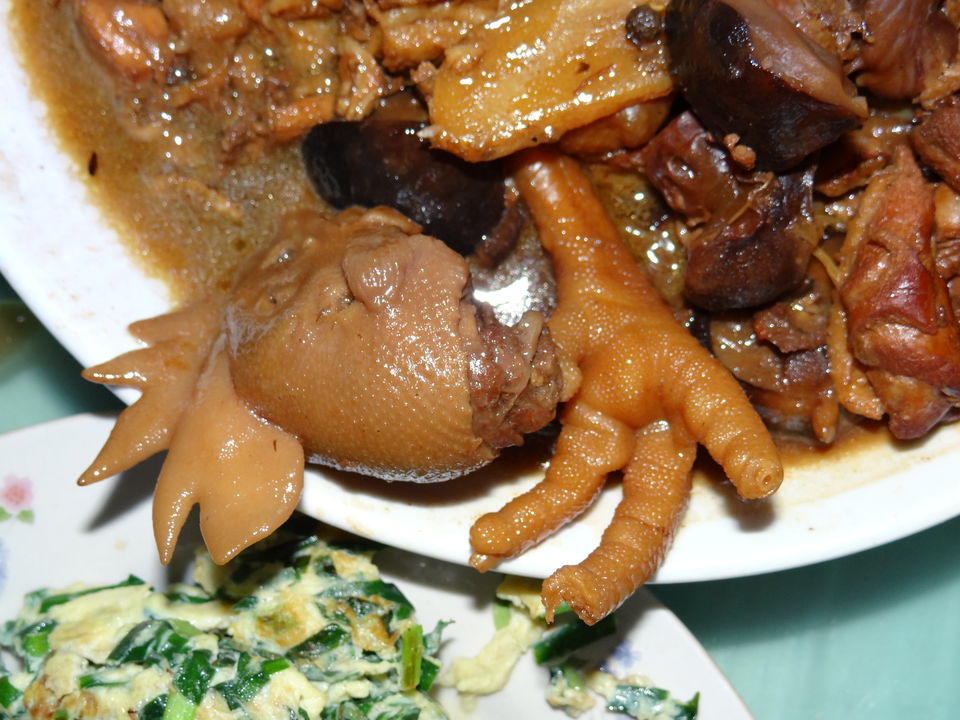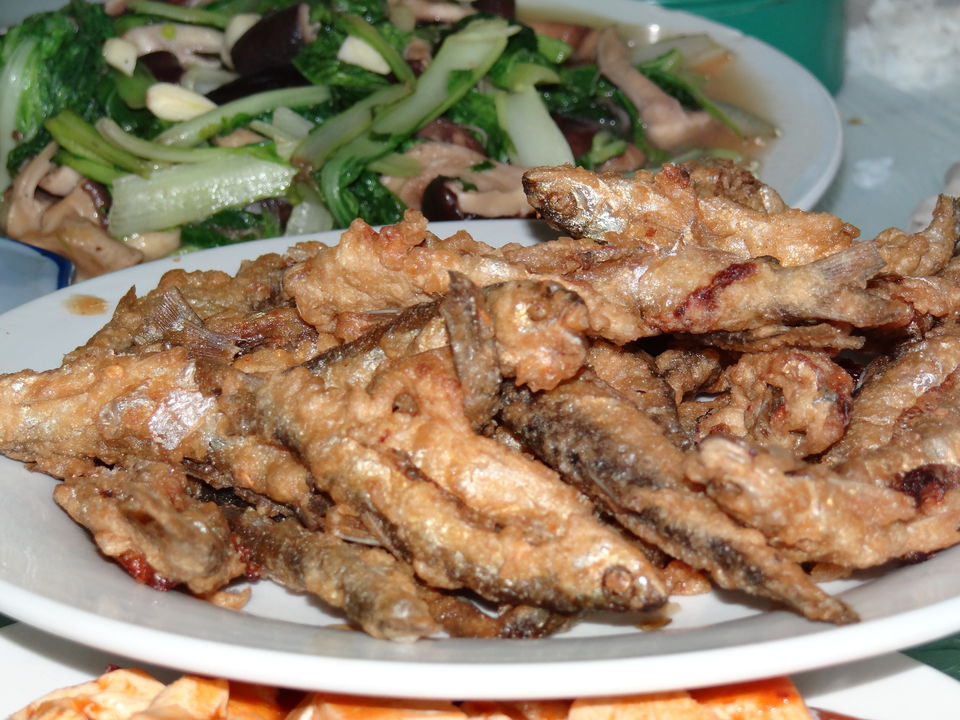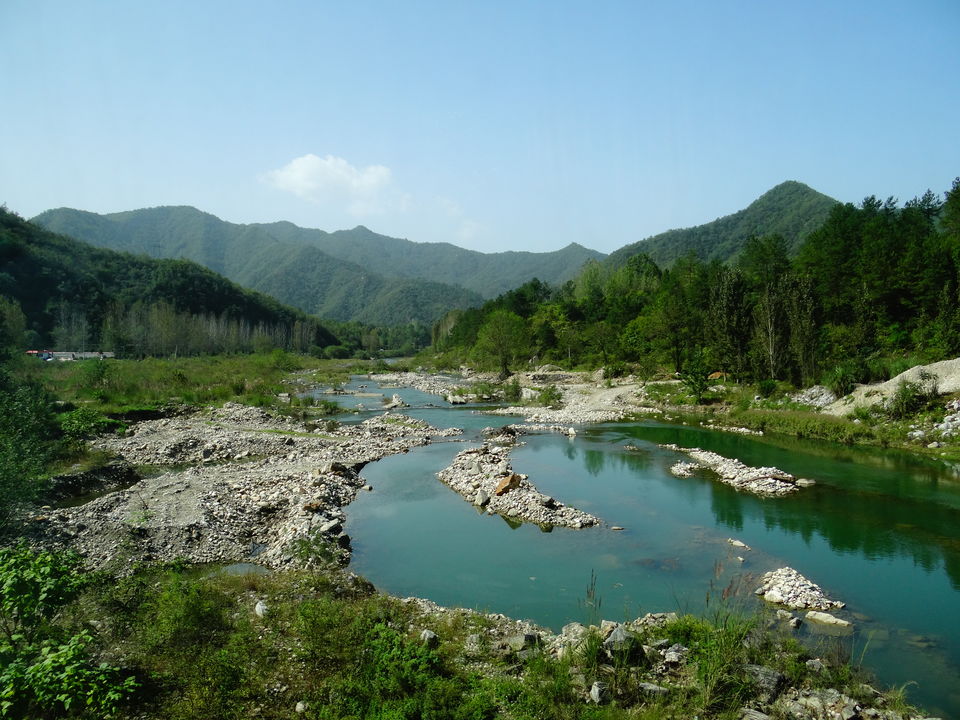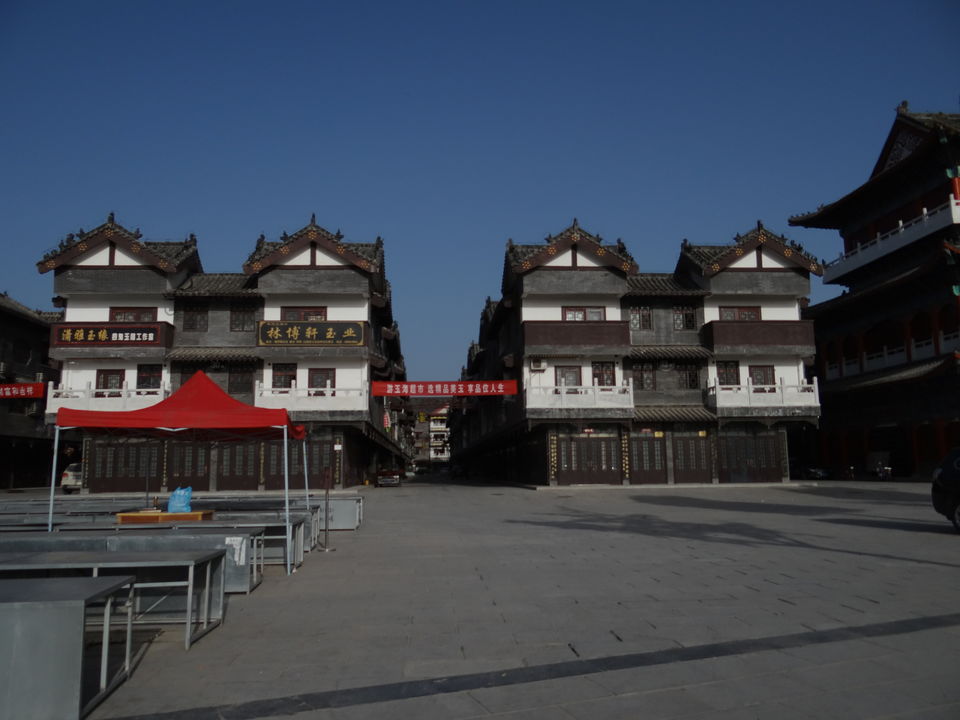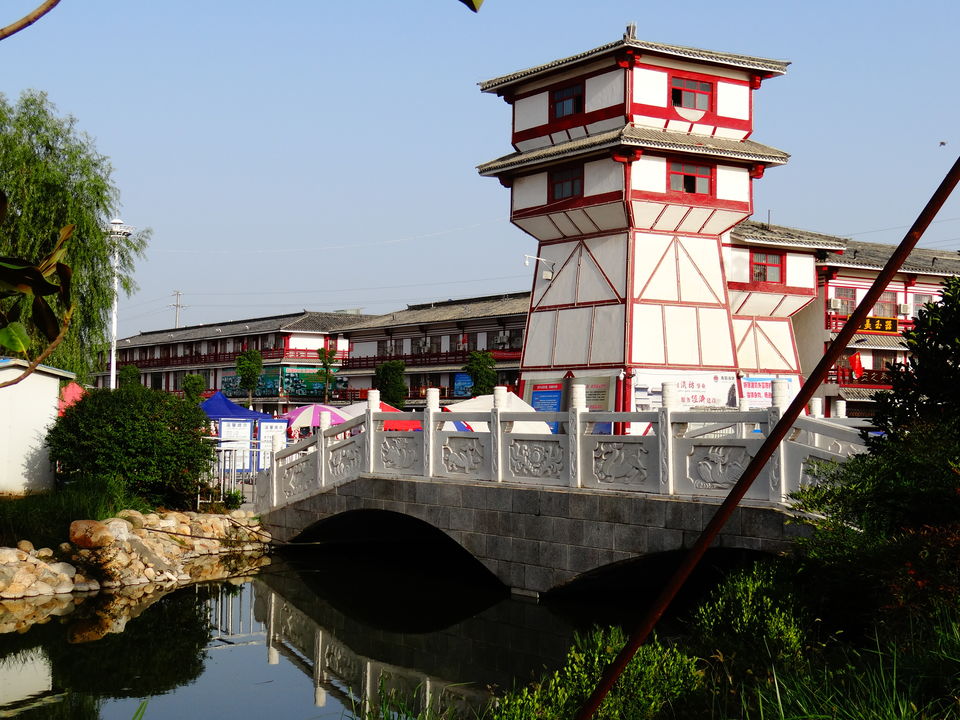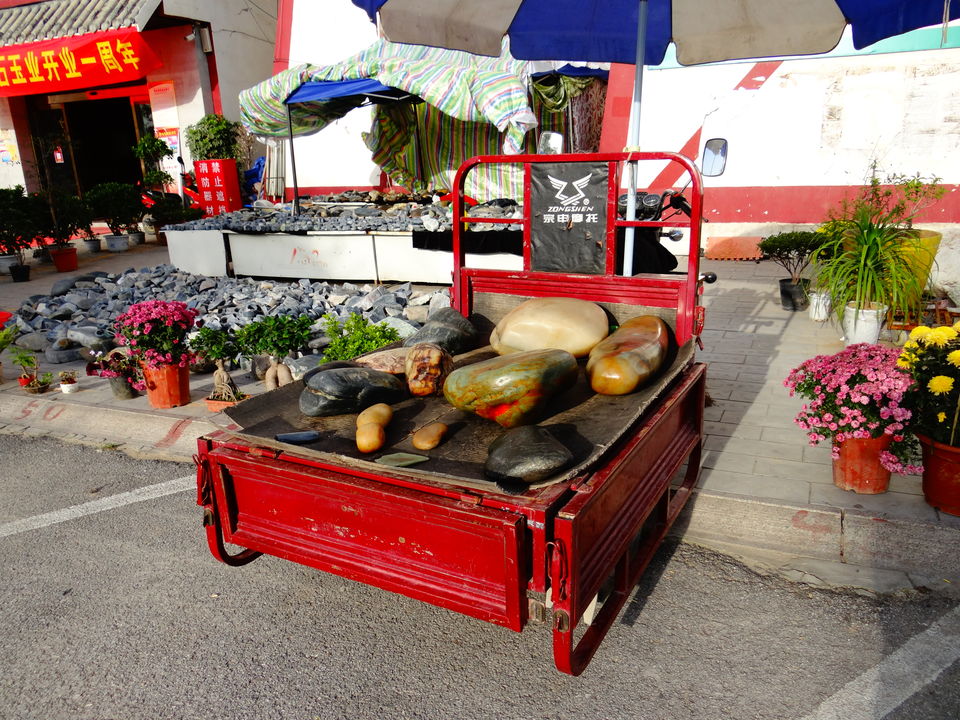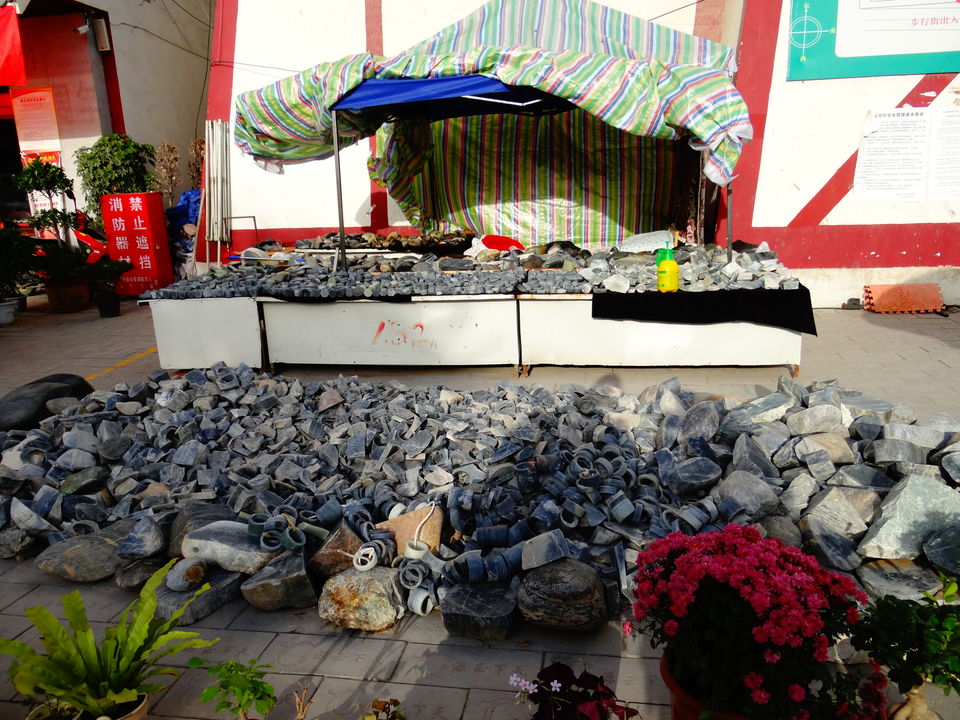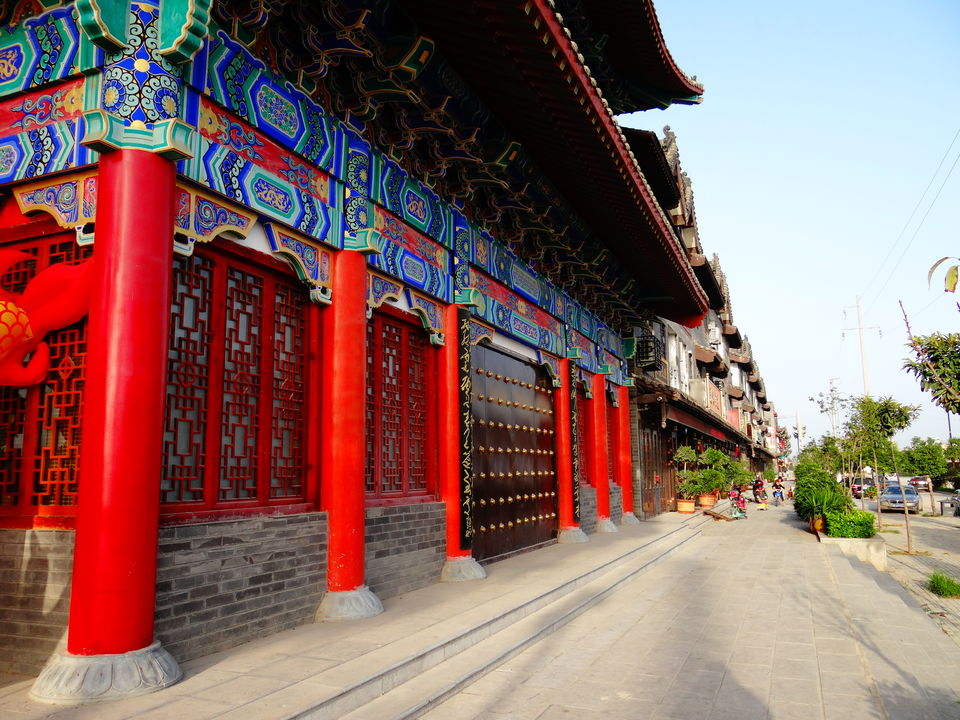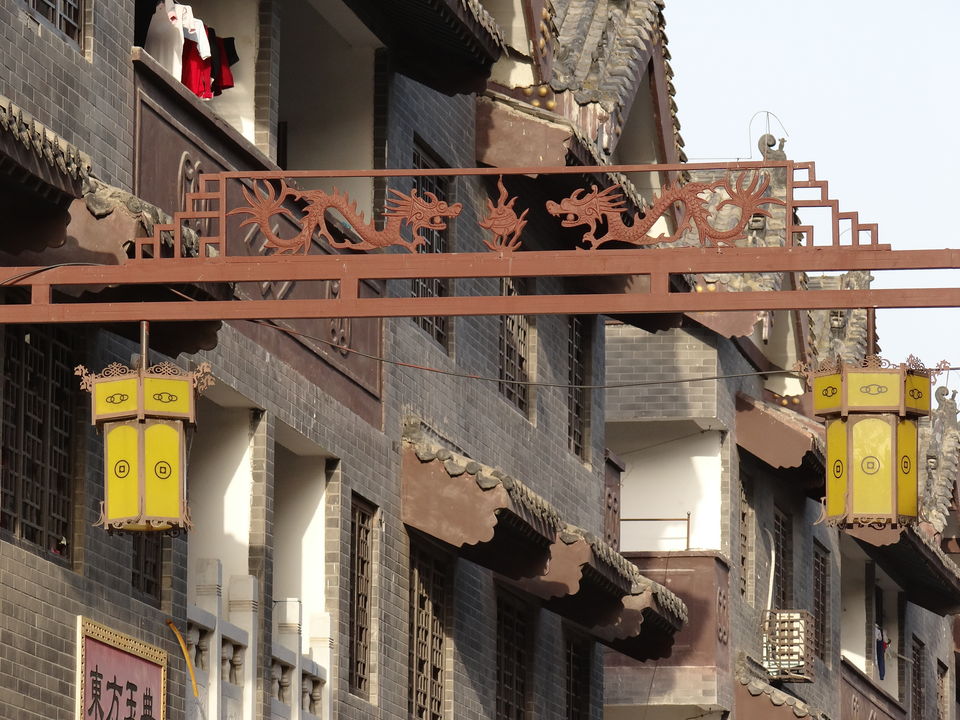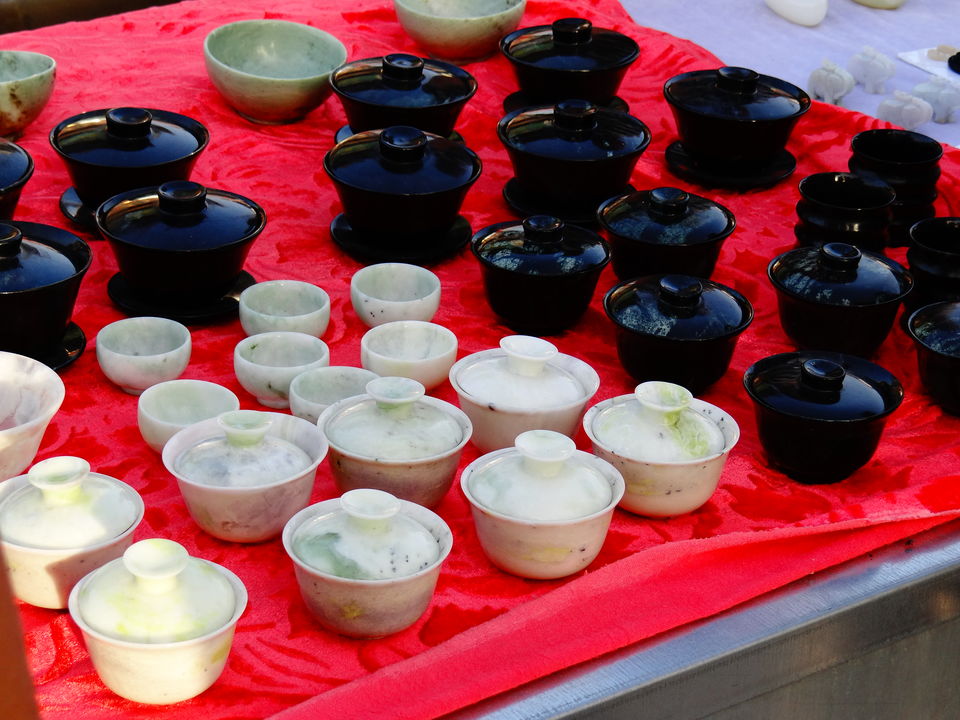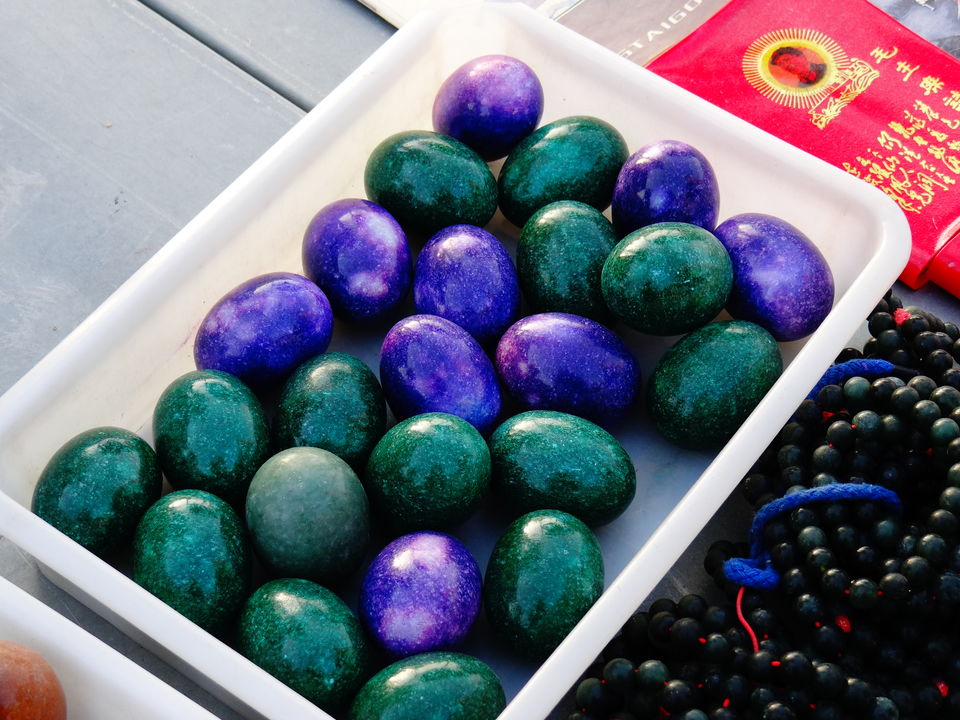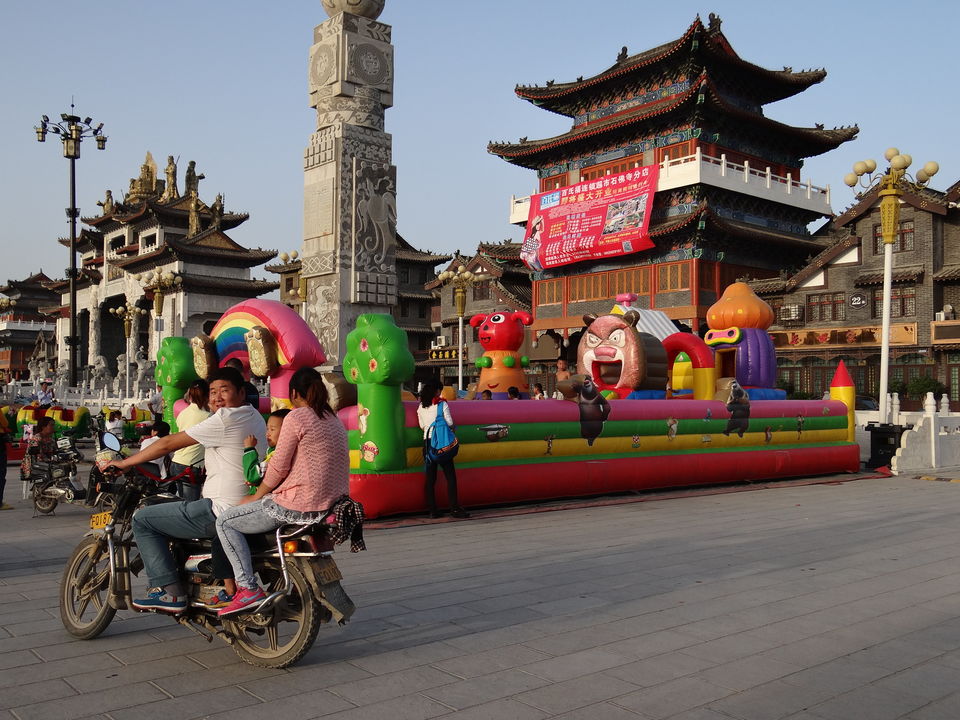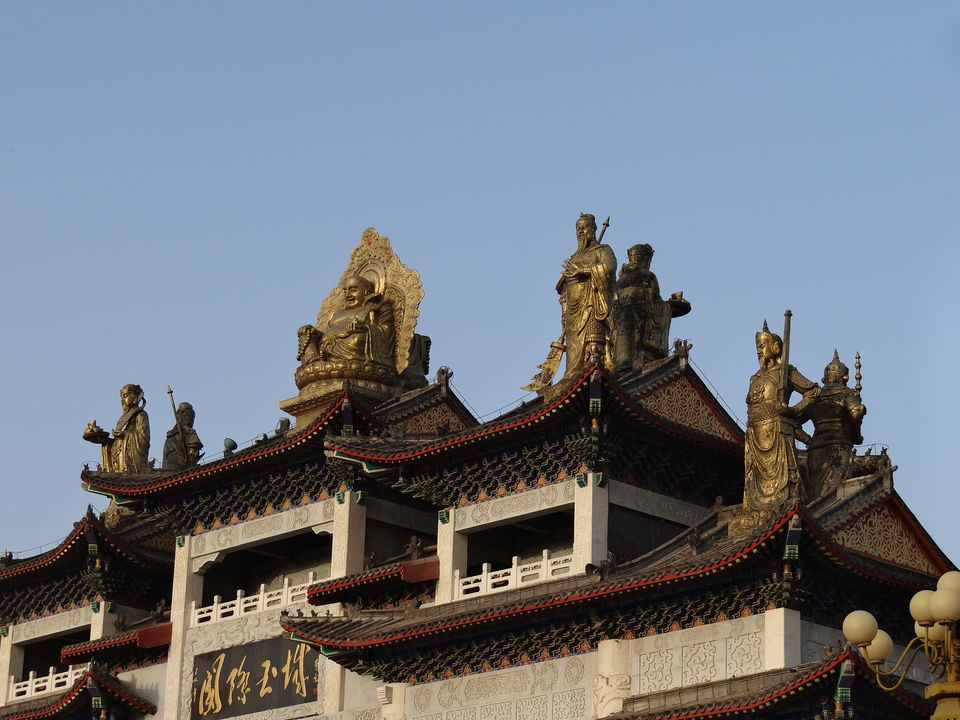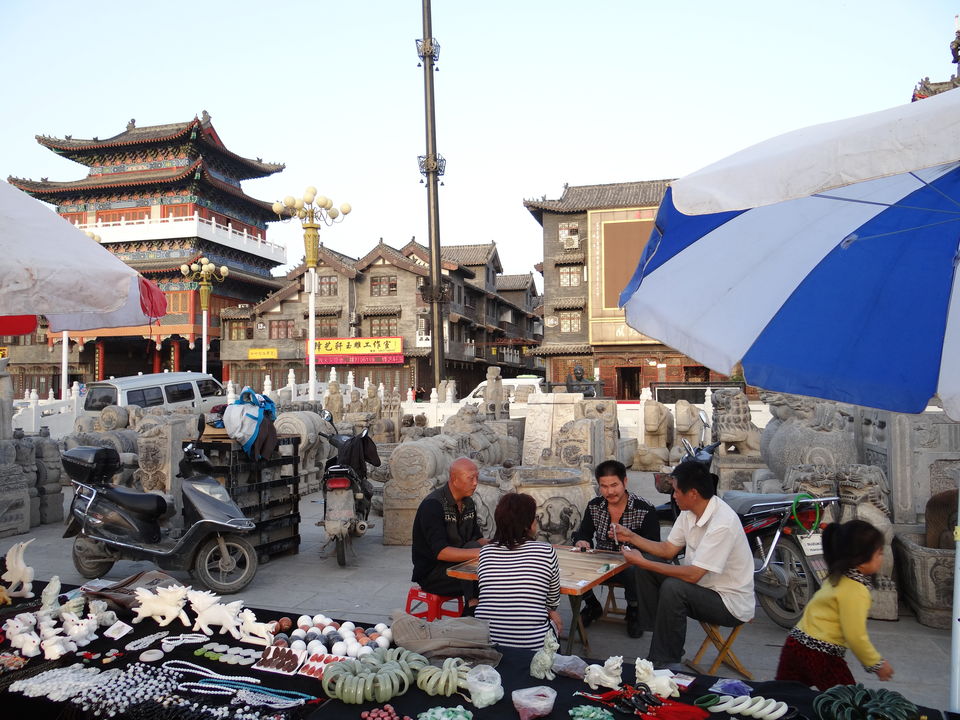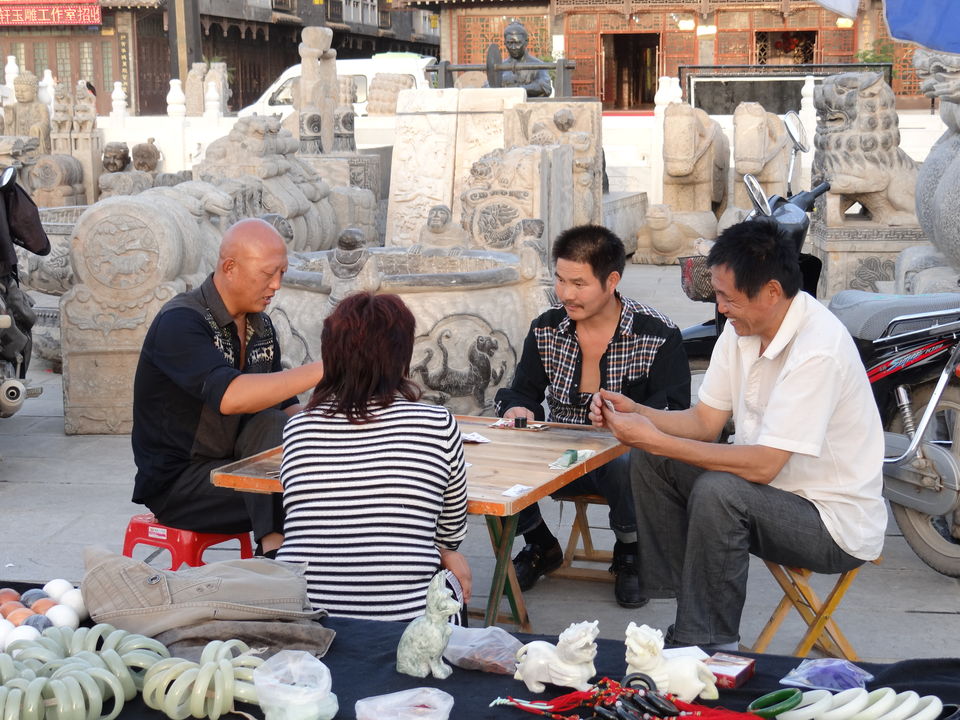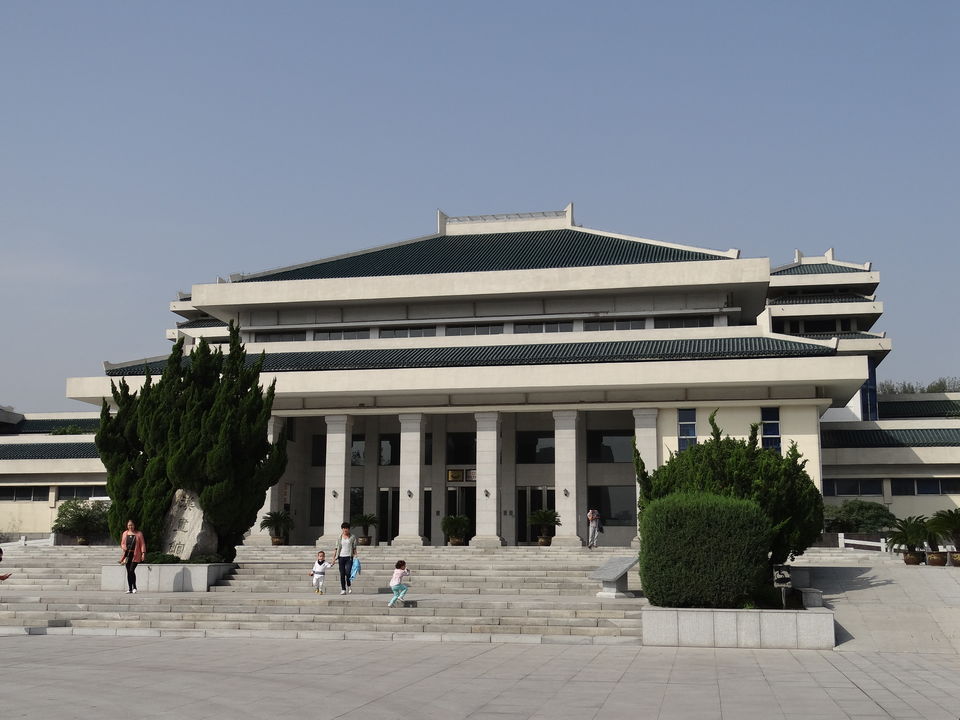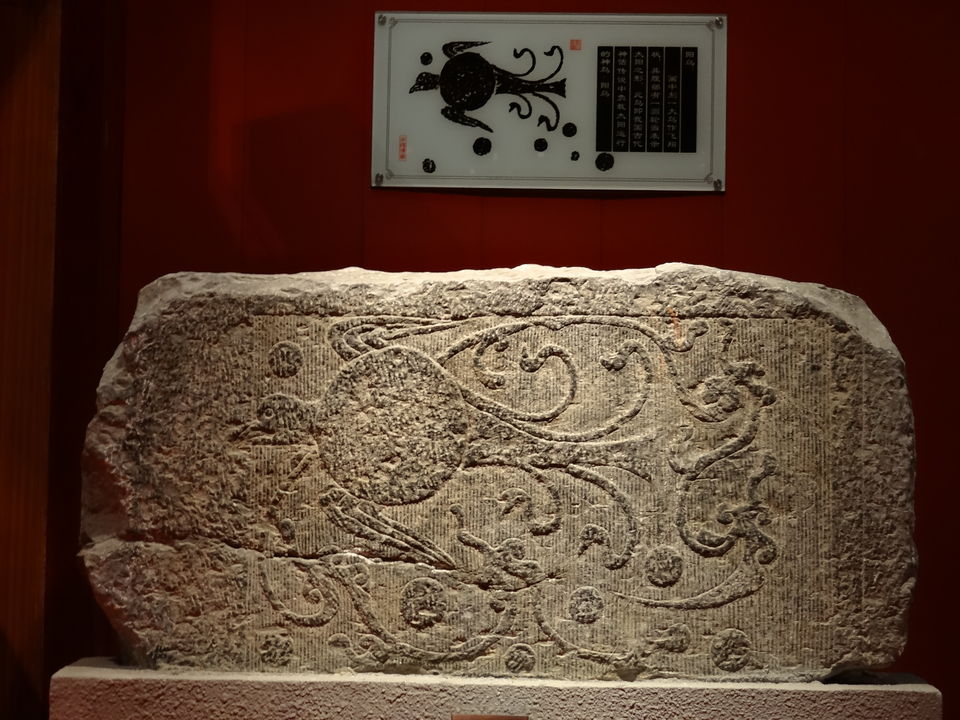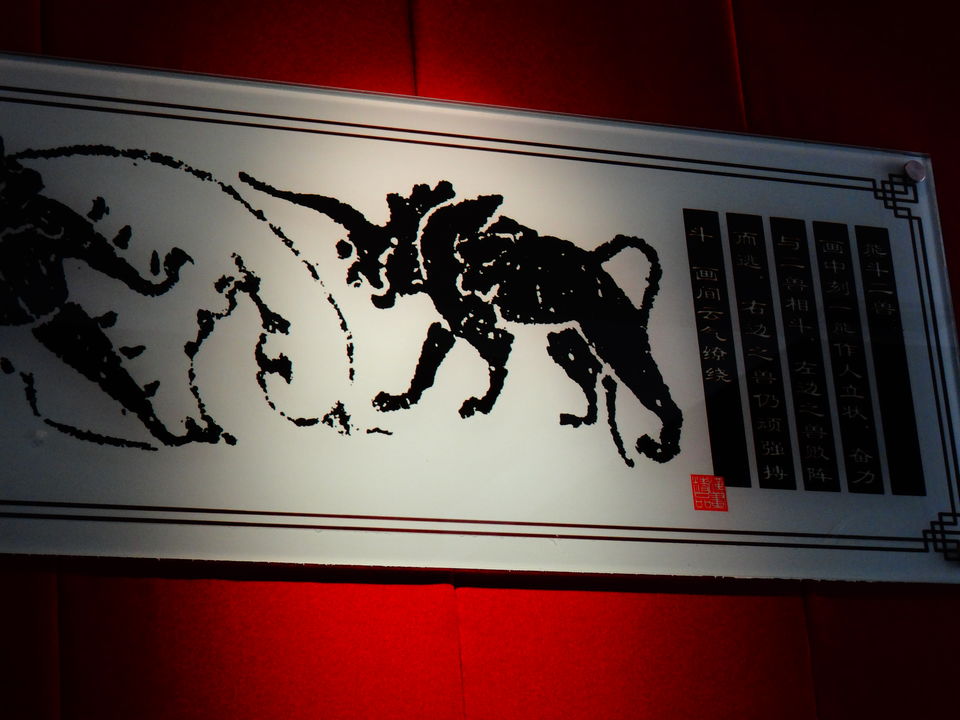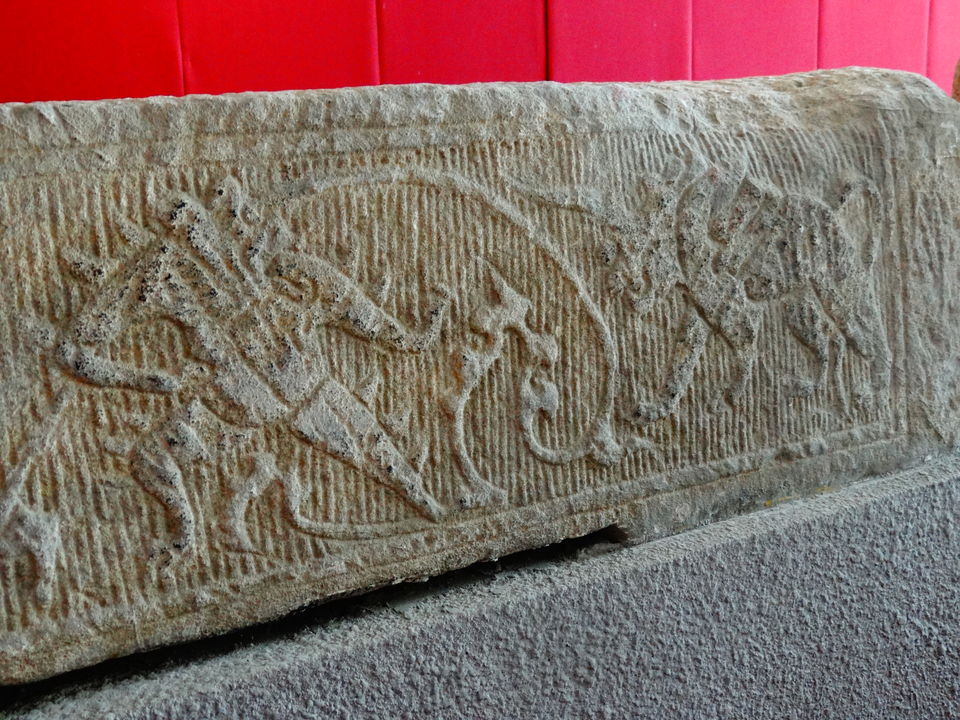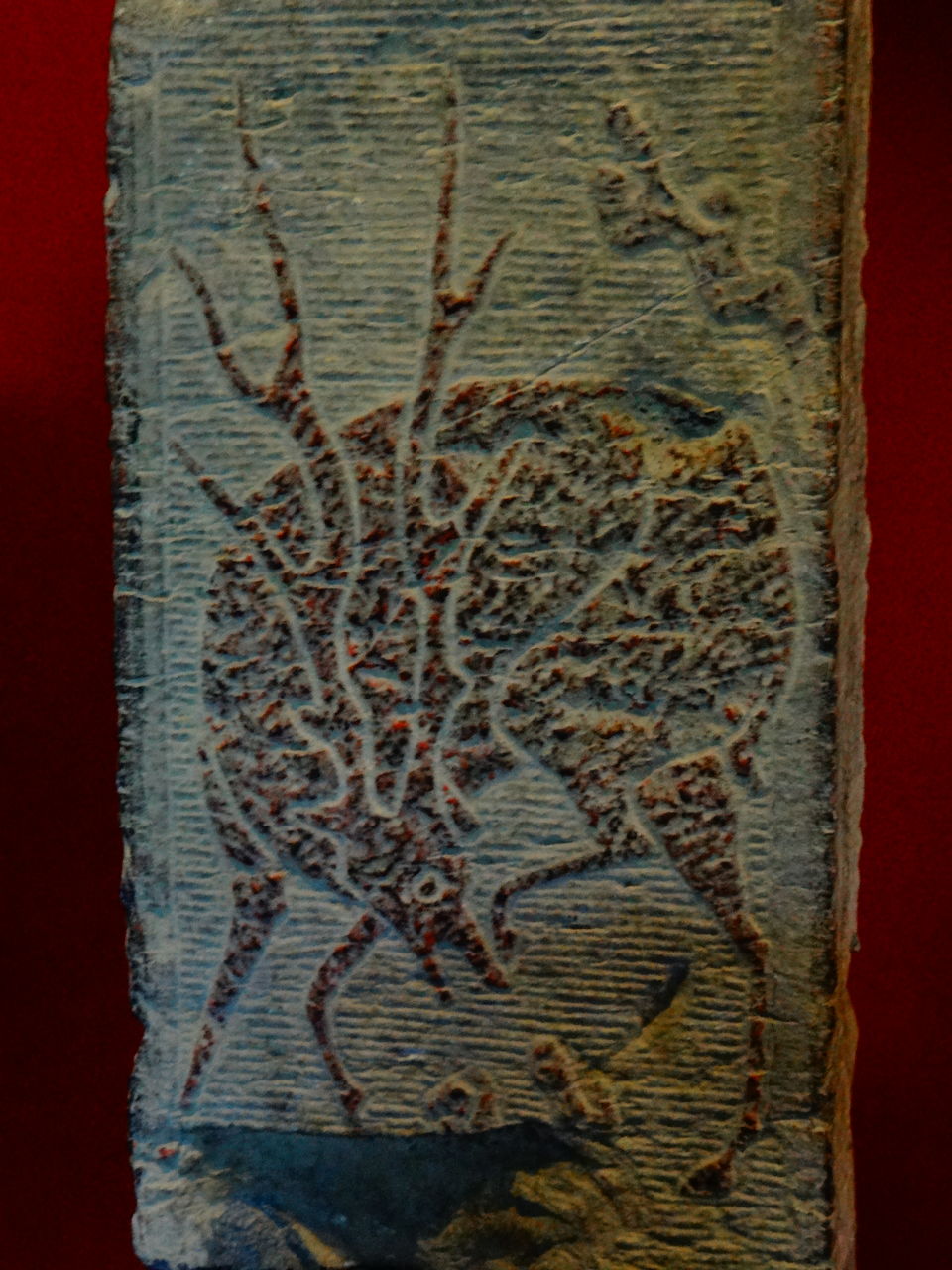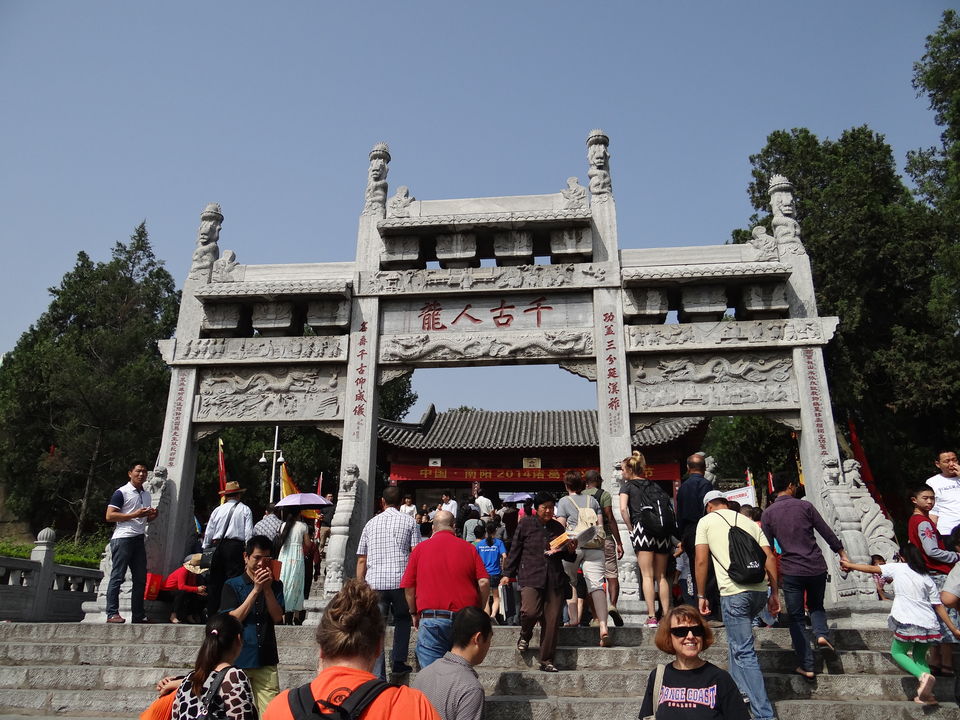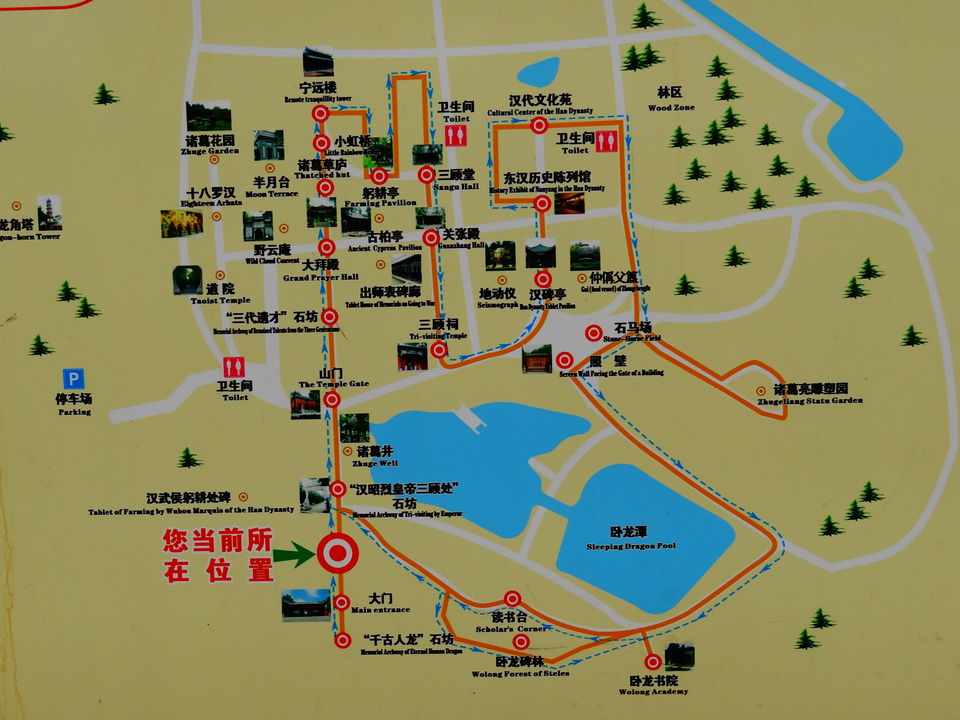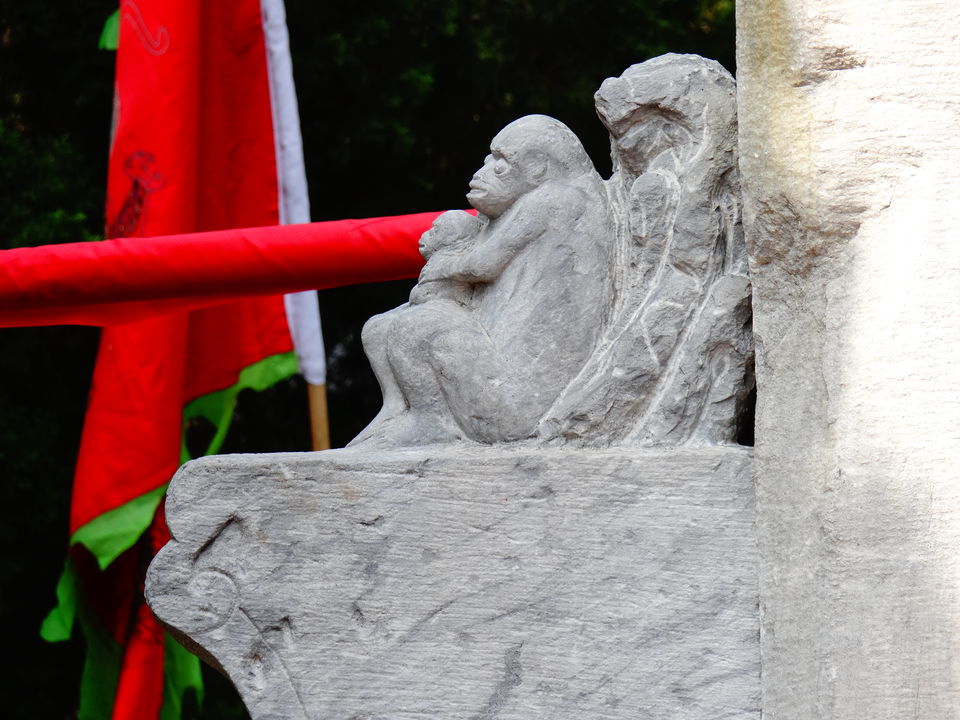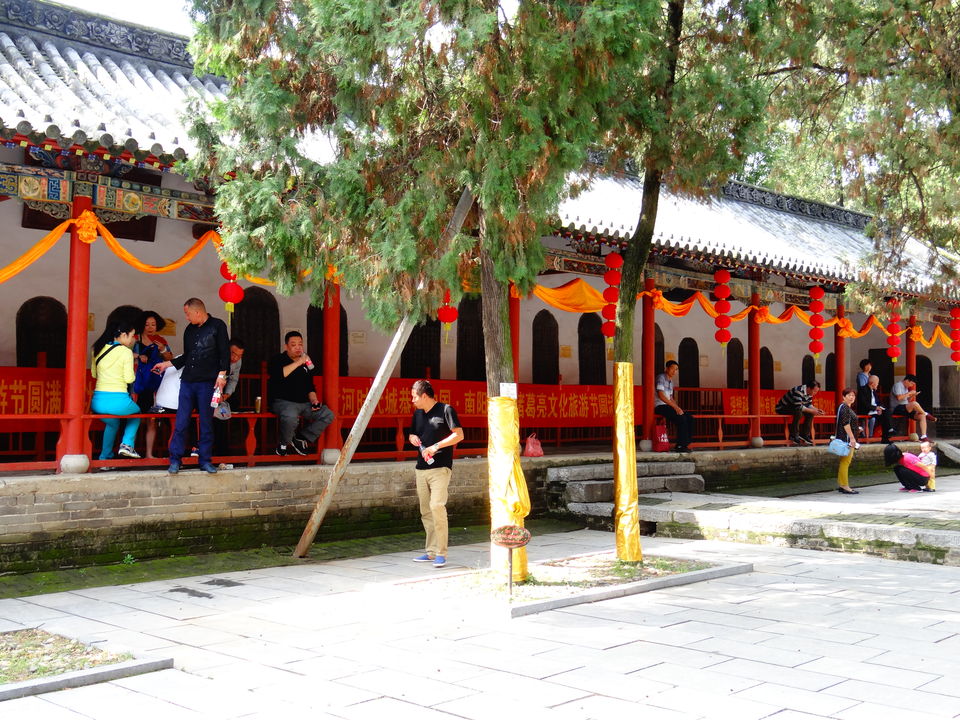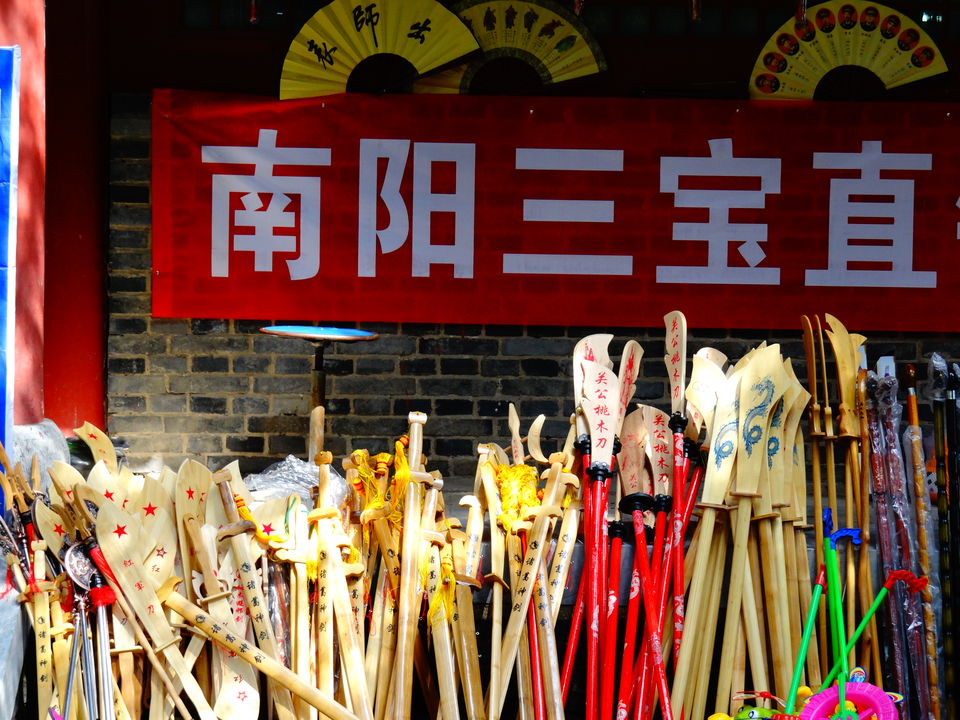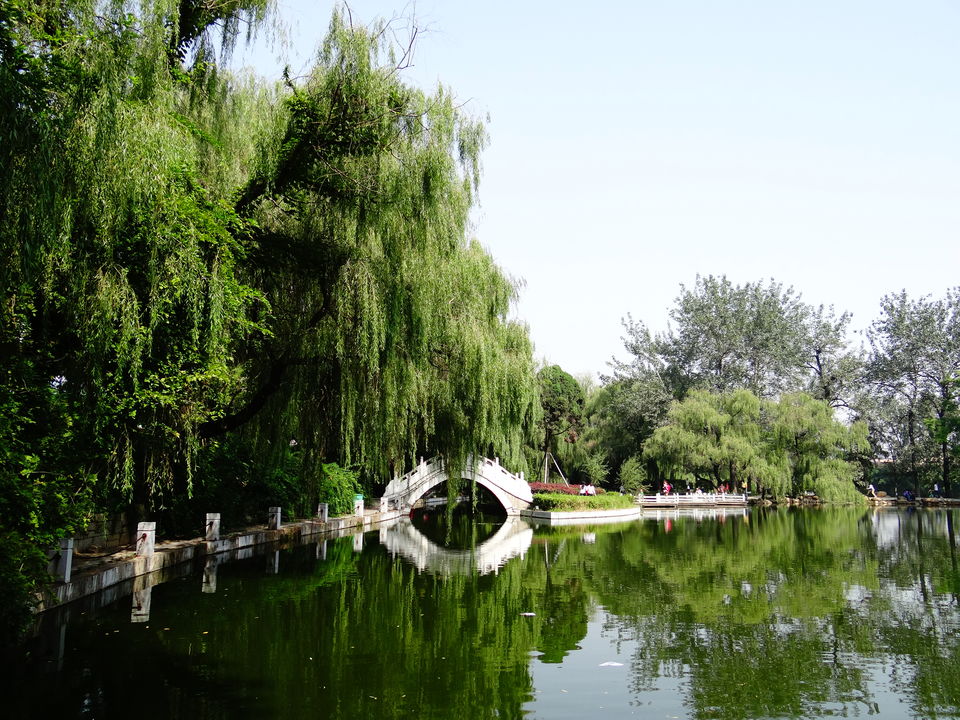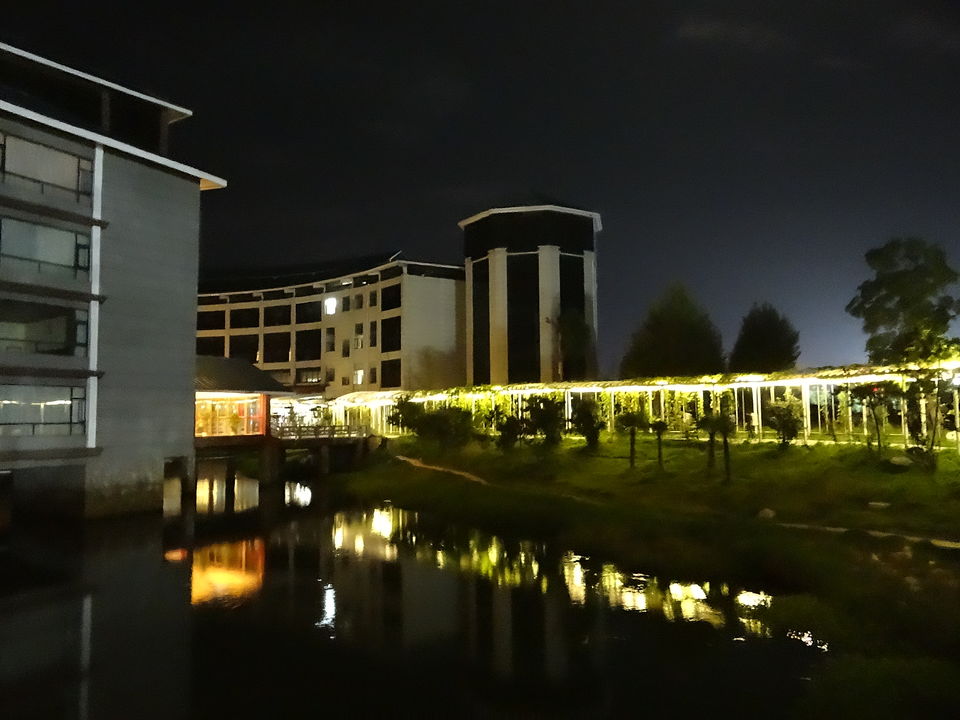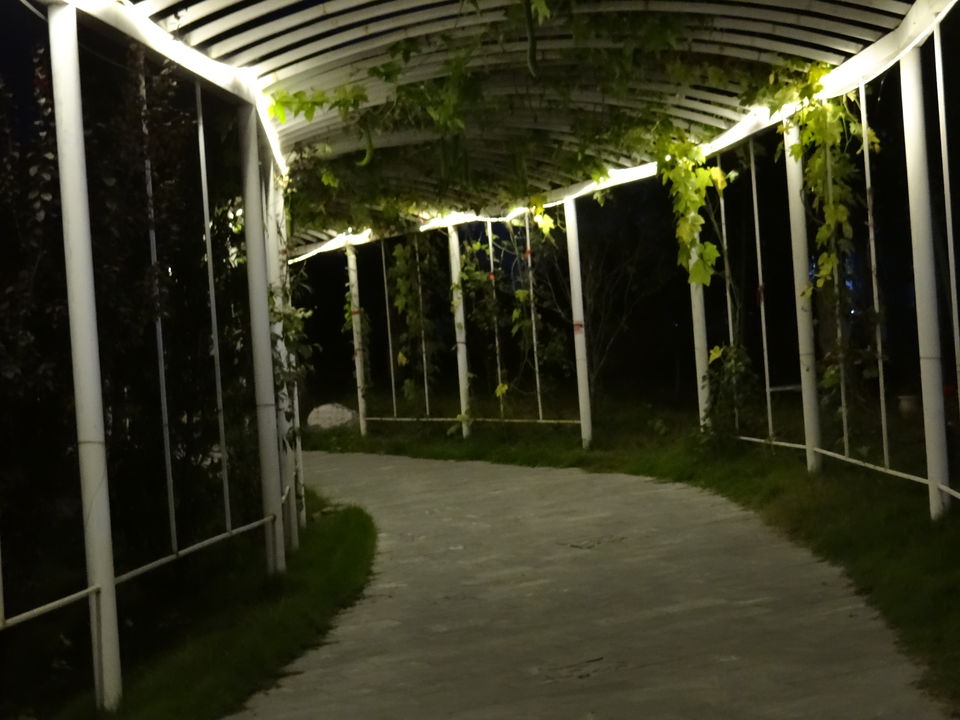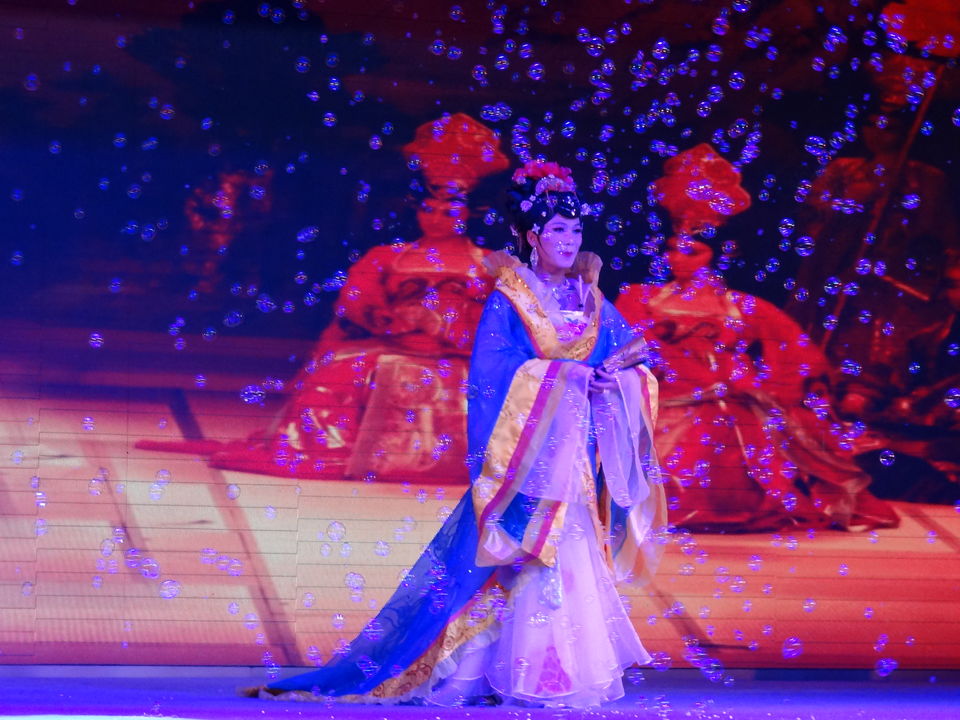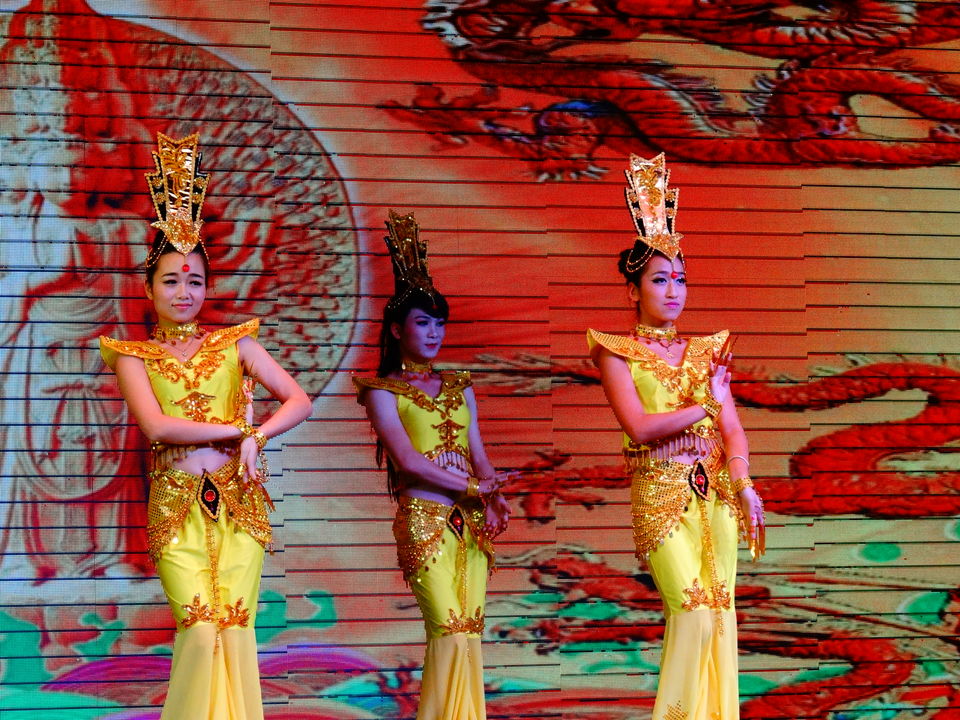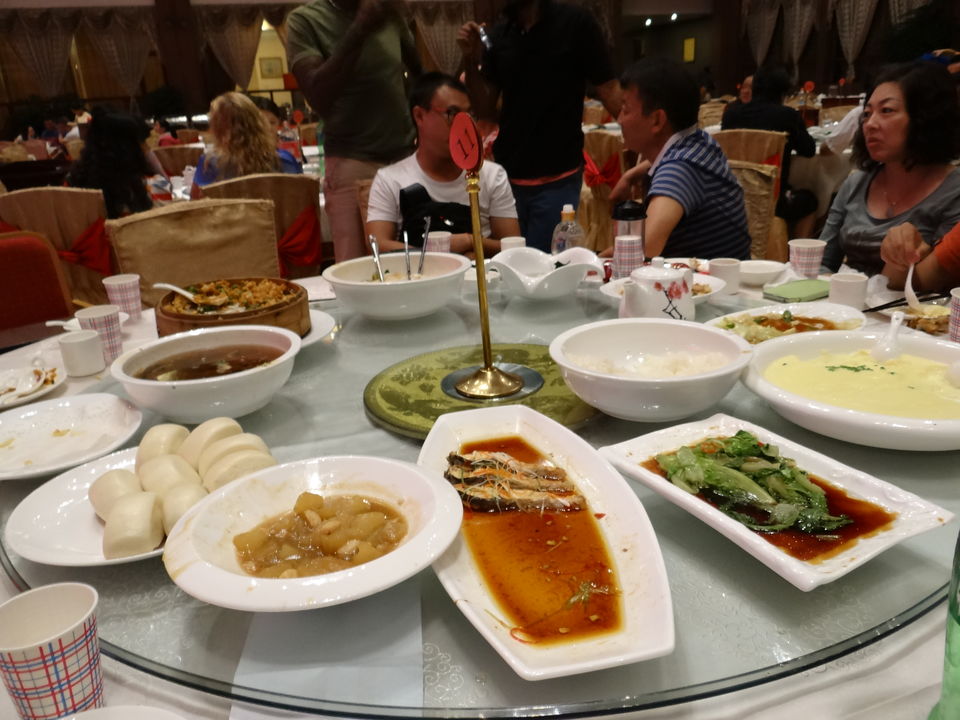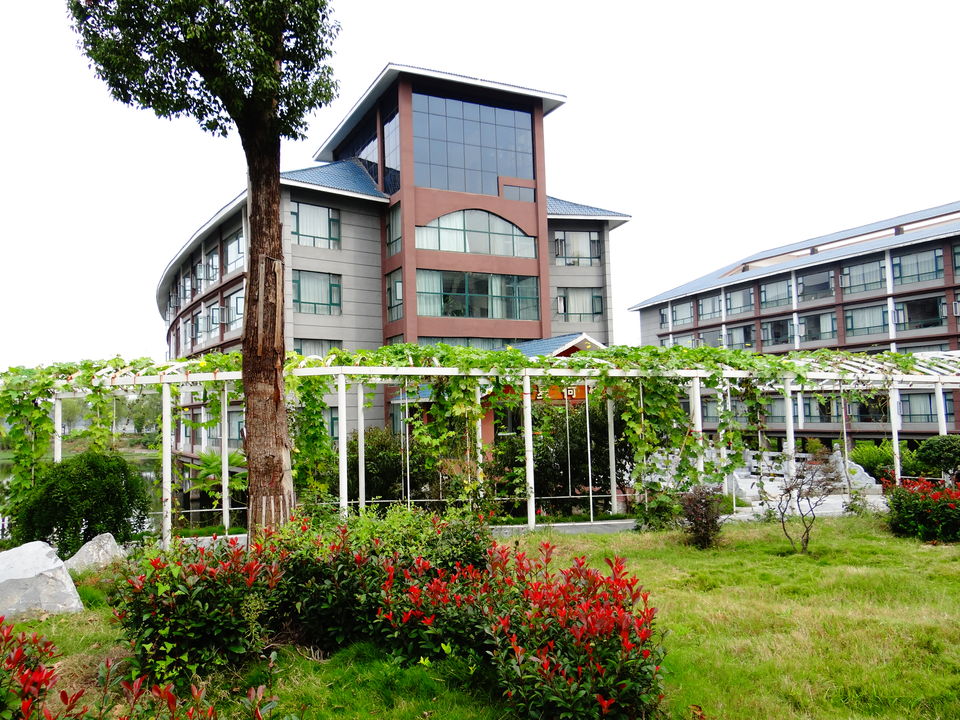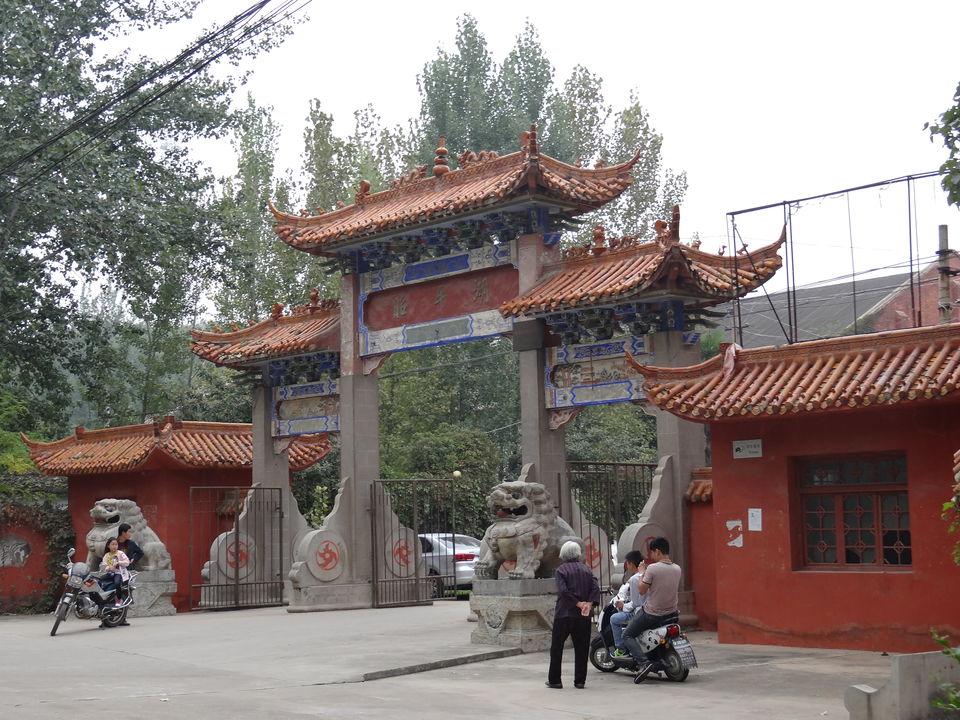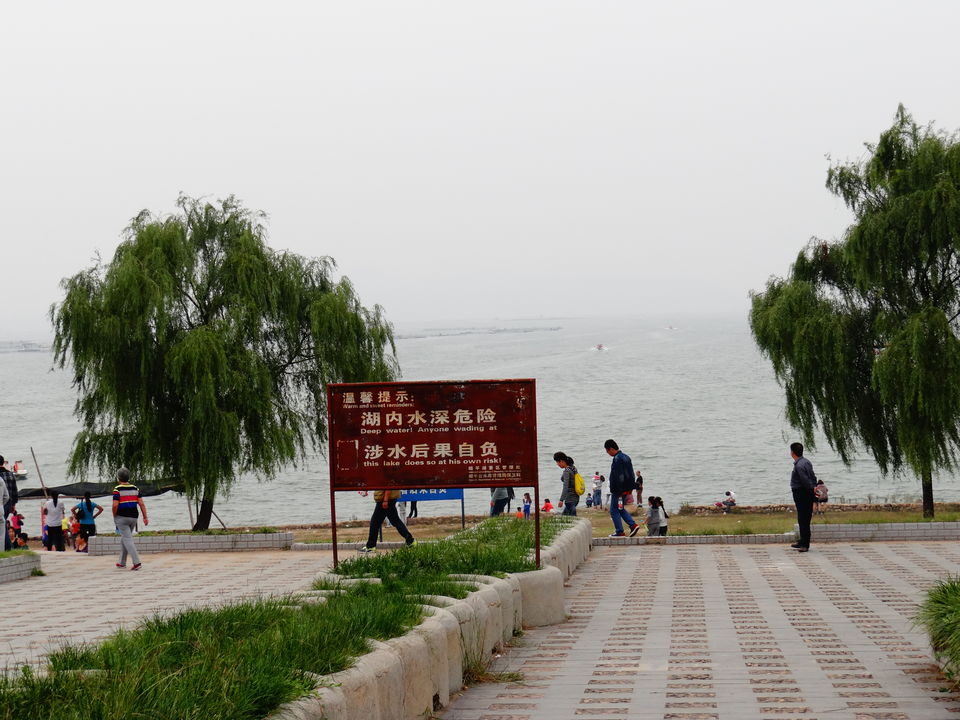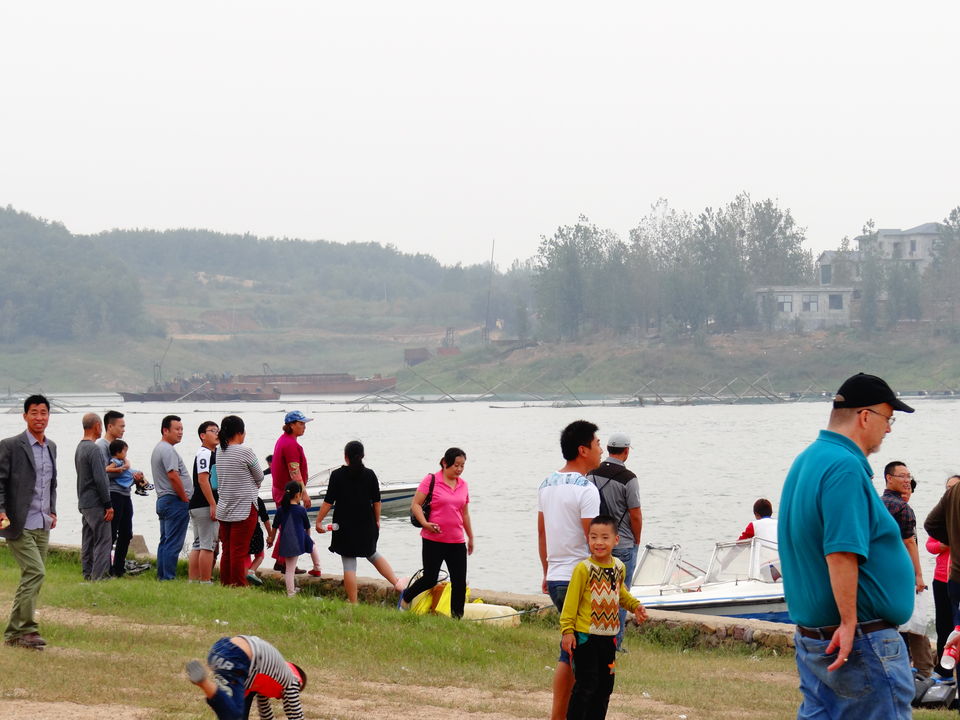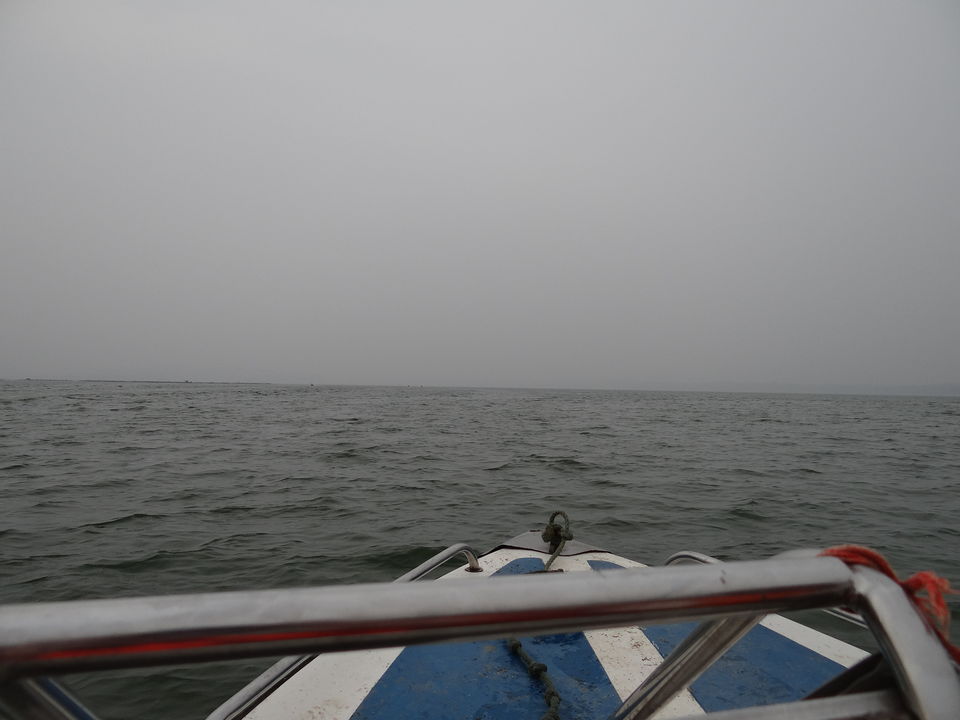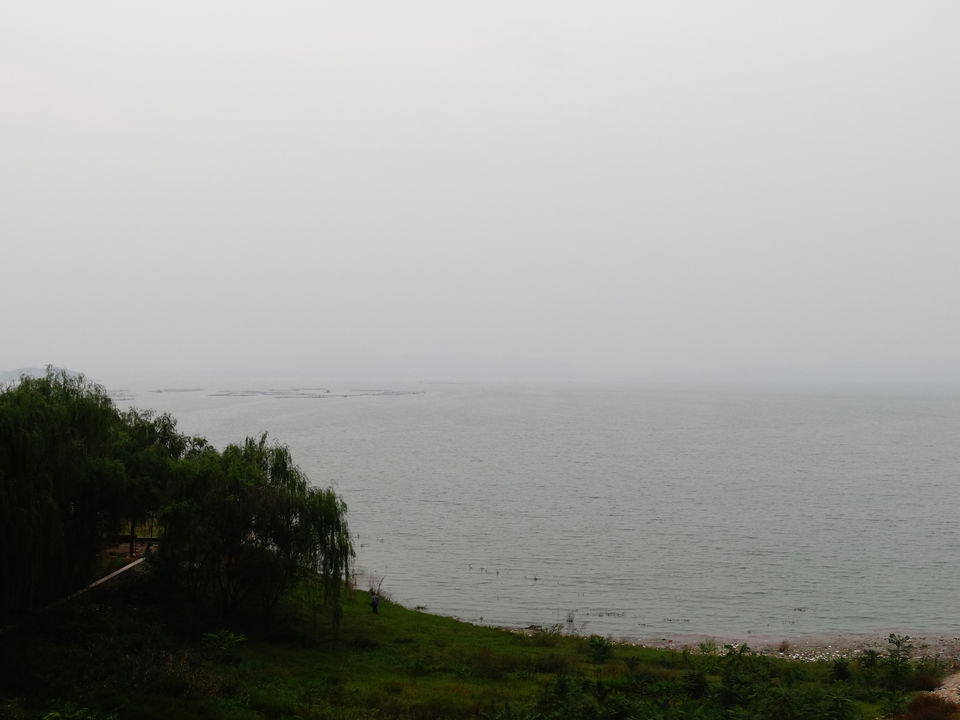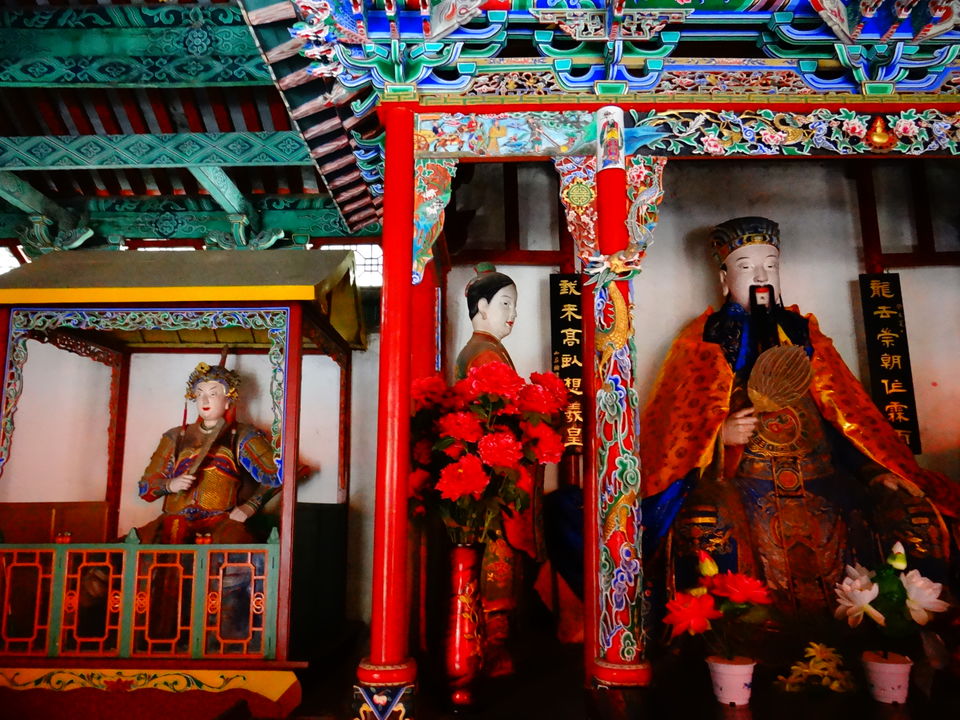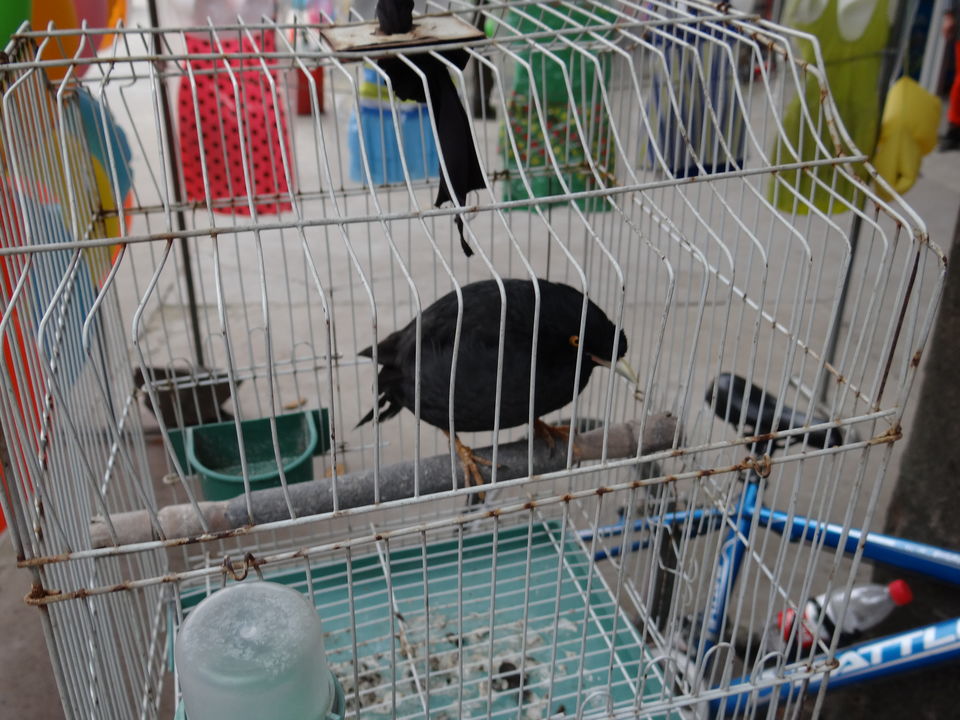 Every October, China shuts down most institutions for a week-long fall holiday, more or less the Chinese version of "Thanksgiving Break." It's a time for students and children to return home, help finish up the harvest, and hang out with family. For those foreign teachers in China, it's a week of either catching up on back work or traveling to see the sights. Given my procrastinating nature, you can guess which one I chose! :p Problem is, you know how crazy travel gets in America during Thanksgiving Break? Add on about 500 Million more people into the mix, and you'll see our dilemma. Where oh where to go?
We decided to ditch public transportation, and 25 foreign teachers pitched in for a bus and a Chinese speaker to take us around Southern Henan Province (we live in the north). They arranged hotel reservations, where to go, transportation, tickets, etc. for us and were in charge of getting us where we needed to be. Unfortunately, they hadn't actually been to any of these places before, so it all ended up QUITE the adventure.
We chose locations that not a lot of foreigners or tourists visit, which kind of ended up being the Back of Nowhere, China. This included sending a big tour bus up a one lane dirt road on the side of a massive mountain sans guard rails and following 180 degree curves. Bus got stuck quite a bit, and we took a ton of wrong turns. One time, we were driving along and the bus driver started shouting in Chinese. The tour guy (Charlie) jerked forward and they started chattering. Finally Charlie turned back and told us that on our right was coming up Henan's largest Buddha if we so cared to look. Also, we are going the wrong way. Apparently seeing the giant Buddha was a pretty good sign that we were 2 hours out of our way :P
Anyway, the trip itself was a ton of fun. We saw the Lao Jie Ling scenic area, the Dragon Valley scenic area, the Temple of Marquis Qu. Shopped at the Zhenping Jade Market. And relaxed at the Mingyang Hot Springs. We even made a little extra trip to a large lake for a boating excursion! We covered a lot of ground, tried a little bit of everything, and got our adventuring in without too much hastle involving the maddening crowds!
Tips:
Housing ~ Stick to 5***** hotels. Anything less in Southern Henan won't guarantee you clean sheets or hot water, much less working internet or tvs. In fact, the 5-Star Hot Springs was lacking the tv or cold water, so no shower! I know it might cost you a little more, but it is absolutely, completely worth it to pick nicer hotels. We stayed at a 3-Star hotel where a lot of people refused to actually sleep given how filthy it was.
Eating ~ Be careful, and be prepared. Utensils weren't always clean (I had a dried on mosquito stuck to my bowl. Good idea is to make sure they provide you with a pot of hot water. Then pour some in your bowl and dip your chopsticks in it to swirl it around. This cleans both bowl and chopsticks! Otherwise food was awesome, although we did get a chicken head in two dishes and a rabbit head in one 0_0
Shopping ~ Jade market is HUGE. And bear in mind that they are selling fakes alongside those real jade pieces. Don't count on a "good deal" meaning not a lot of money. Real jade costs, even at a discount. Still, check it out, because if you want some jade, they had that and more besides!
General Tips ~

Don't forget to bring Water and Soda/Coffee with you. If you get a drink at all (even at restaurants!), it will be hot water. And drink machines are few/far between.
Take good walking/hiking shoes!
Bring along about $100 worth of Yuan for emergencies, convenience stops
Arrange everything a couple months early!! We only got our hotel/food reservations because we had someone arrange everything really early. Otherwise, it might be packed.
Don't forget your passport!! You have to have this to check into a lot of places.
Be prepared to get lost and for everything to take longer than expected. Life in China is both crazy and lazy, just get used to it. You're going to be stalled, end up in road work, and find yourself taking insane speeds on hairpin curves. Roll with it!
This was our launching location. We had breakfast here, and then started on our way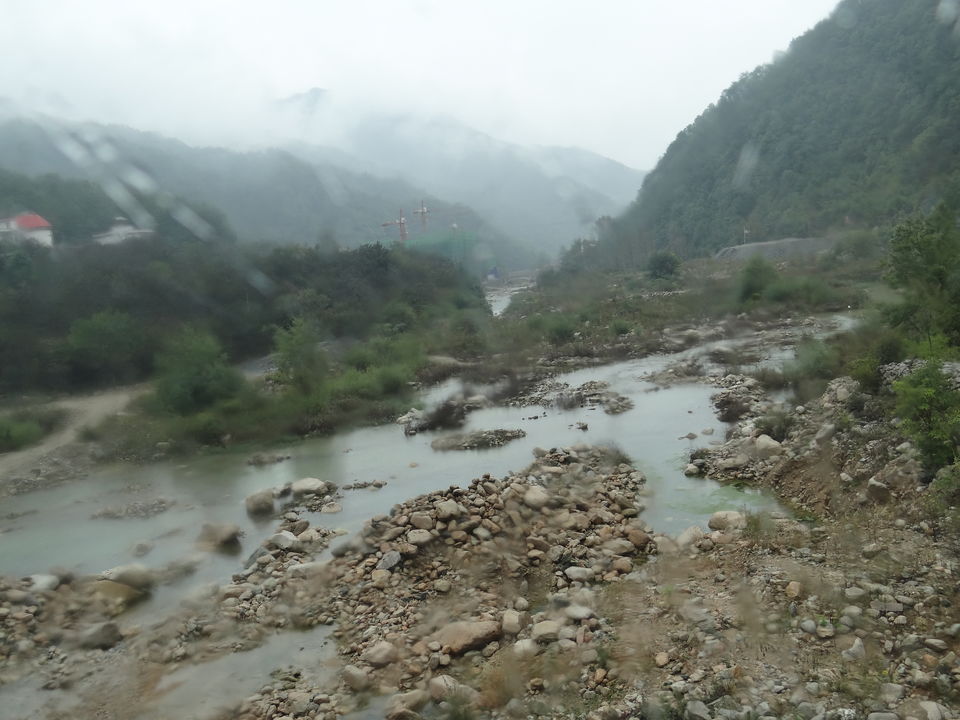 I cannot give you a precise location, because it doesn't have a name. We ended up stopping at a small farming outdoor restaurant for lunch. The restaurant is located close to the mountain scenic area, alongside the path up to our shuttle bus site. It was tucked away into the back corner of this little farming village. The farmer had a home, where his wife, daughters, mother, and grandmother all cooked the meal (for 27 people!!). Outside the home, there were little tin-roof shelters like you see at a park, and three tables with plastic/little metal stools surrounding them. We all sat on the stools and ate the delicious food as they served us about 8 different dishes per table. Rice, vegetables, chicken, fish, mushrooms, bread. They had it all! So good.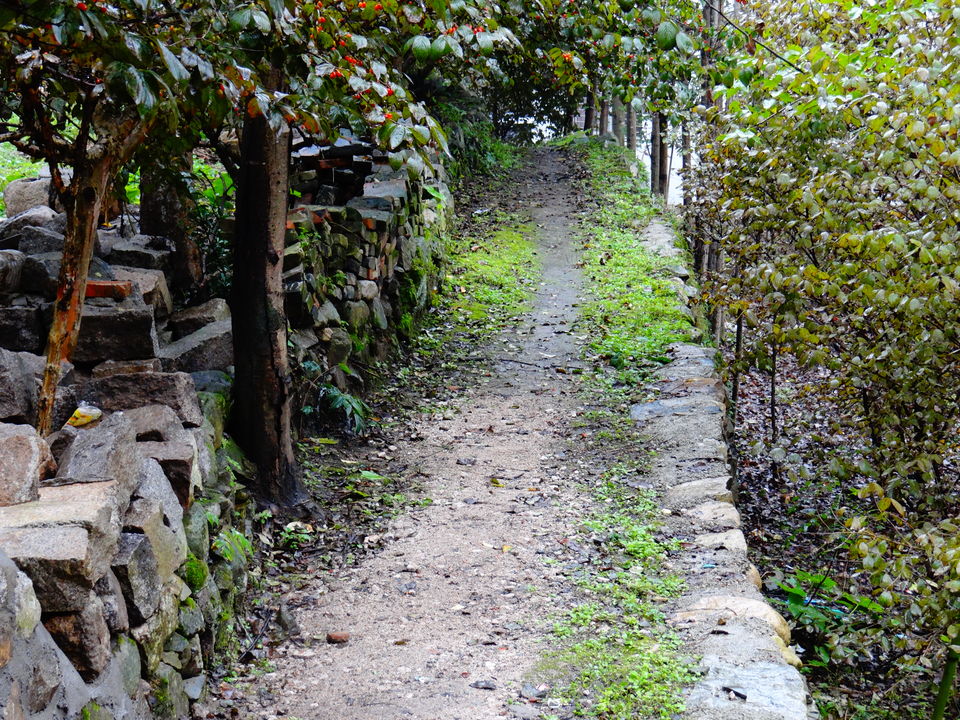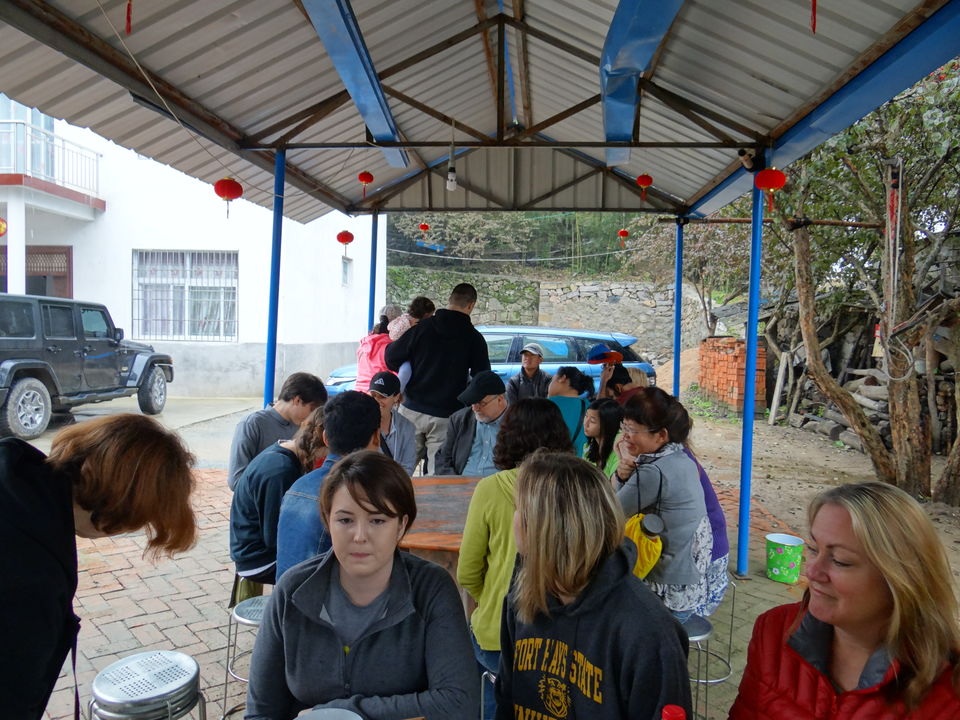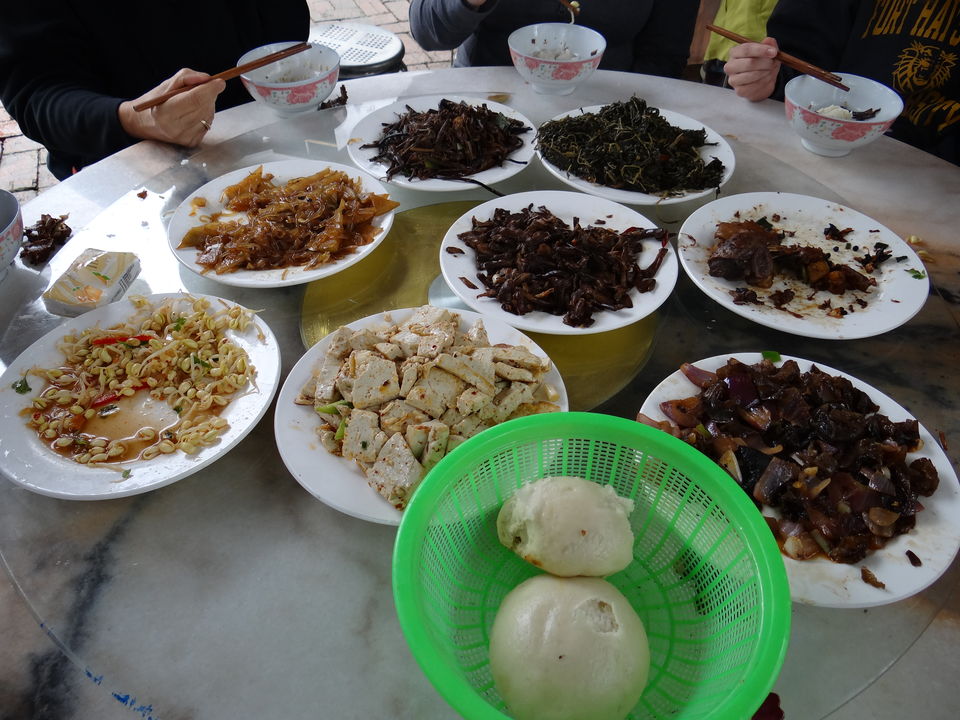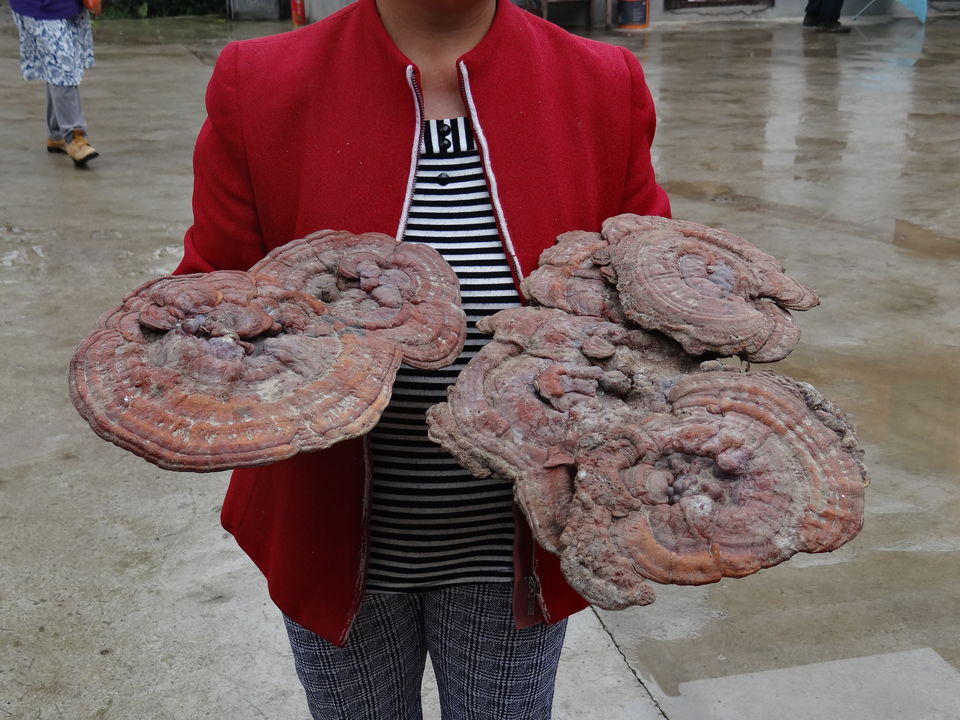 This is one of the locations for the head-waters of the Yellow River, so we went mountain hiking! We met at the foot of the big mountain and rode a shuttle bus upwards a little ways. Then we were given two options ~ hike the mountain yourself or ride a cable car up about half-way for 50 RMB both ways. Some of our group took the cable car, but my family and some of the rest decided to walk it. The stairs were steep, but the scenery was gorgeous. After sitting in a bus for 7 hours (our 2.5 hour trip took a lot longer due to rain and getting incredibly lost about 5 times), you have no idea how nice it was just to stretch our legs. Only a couple people made it to the top, but it was too foggy to see much of a view there. For those of us who went only part way, we got to follow a long hand-directed waterfall railing thing where they channeled water down from the top of the mountain. If you went about 1/3 of the way up the mountain, you could catch a long granite slide that went about 1/2 back downhill again. It made for a ton of laughs :)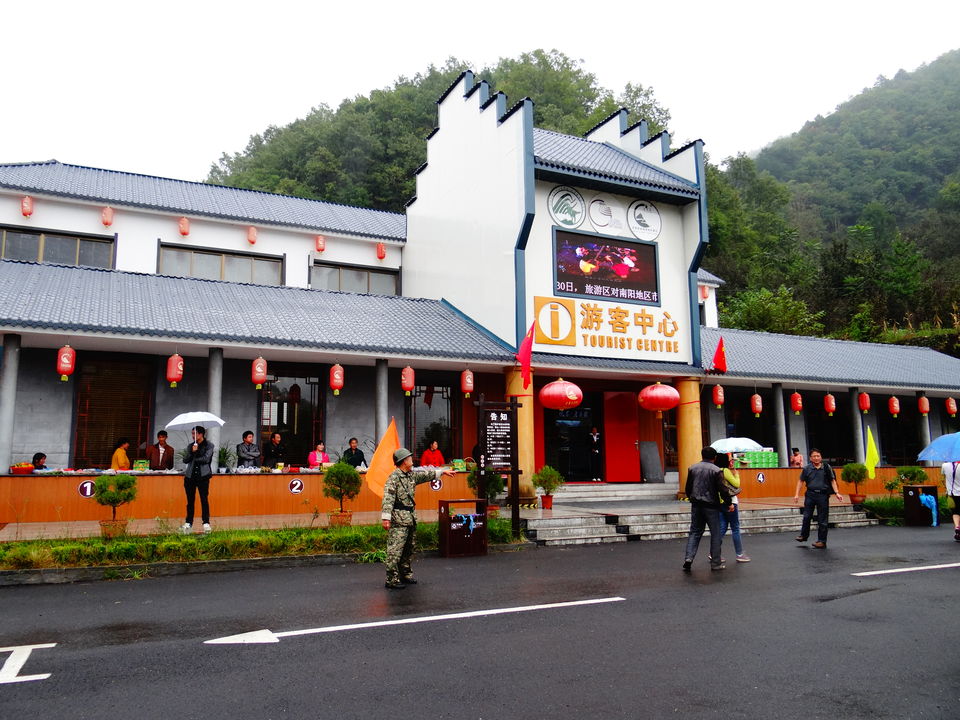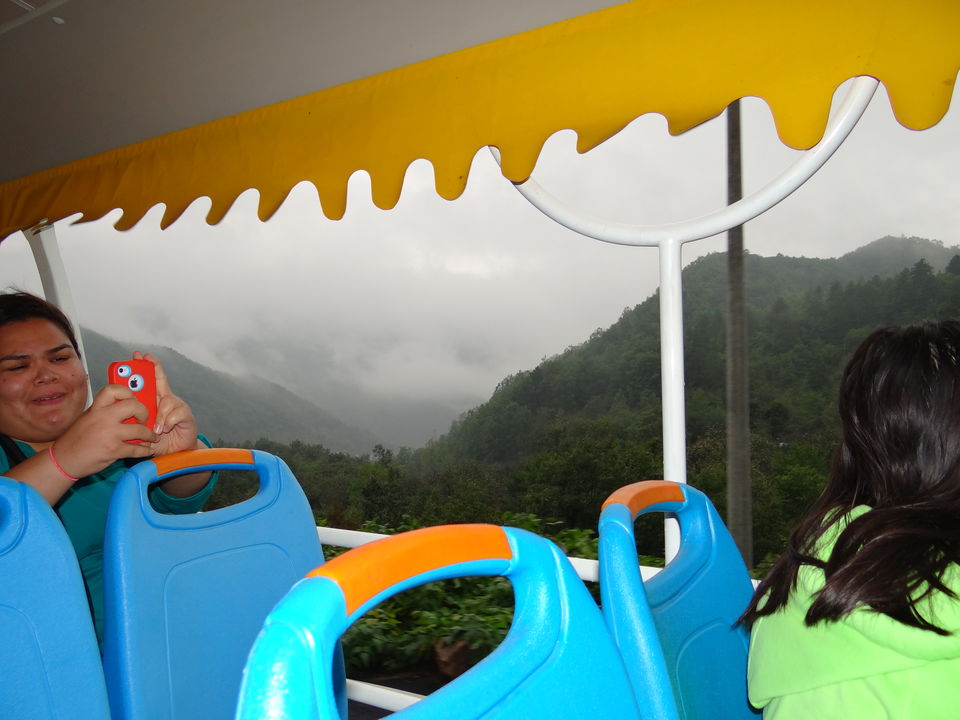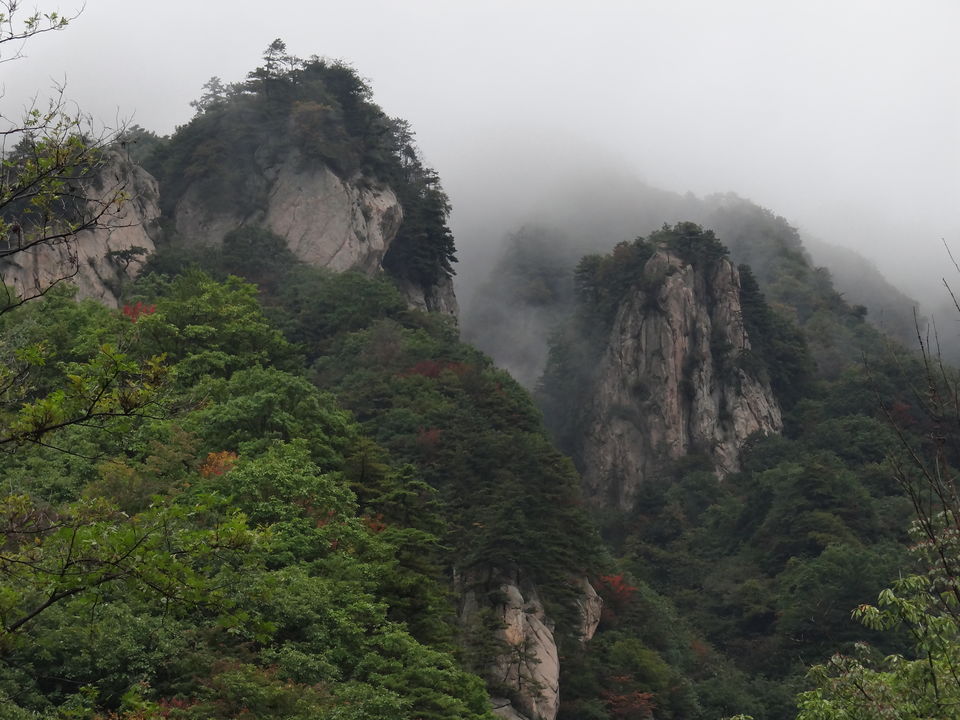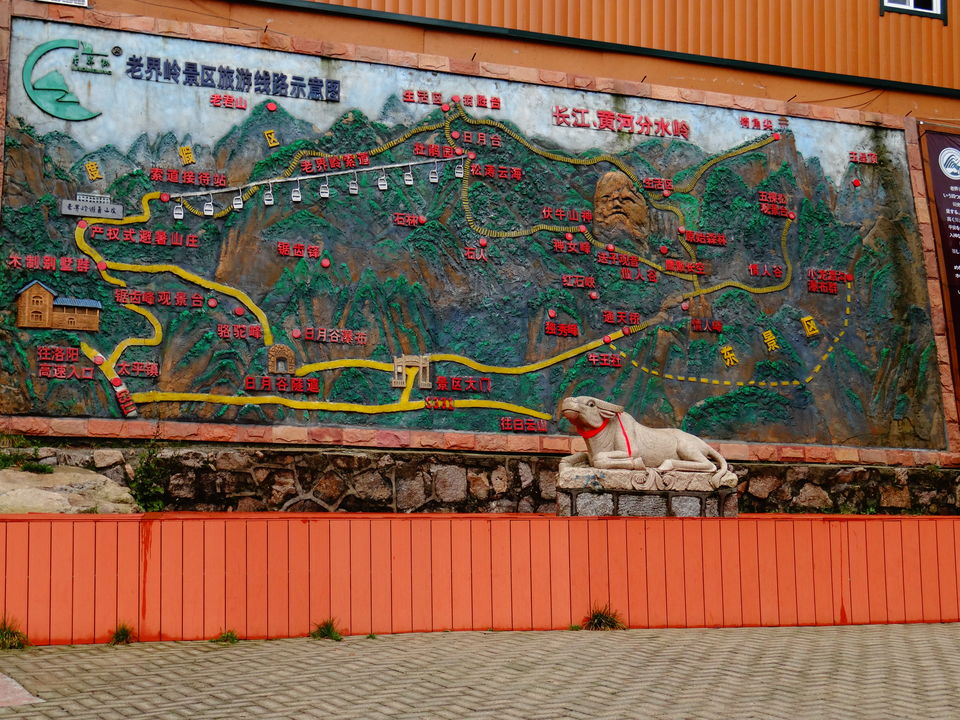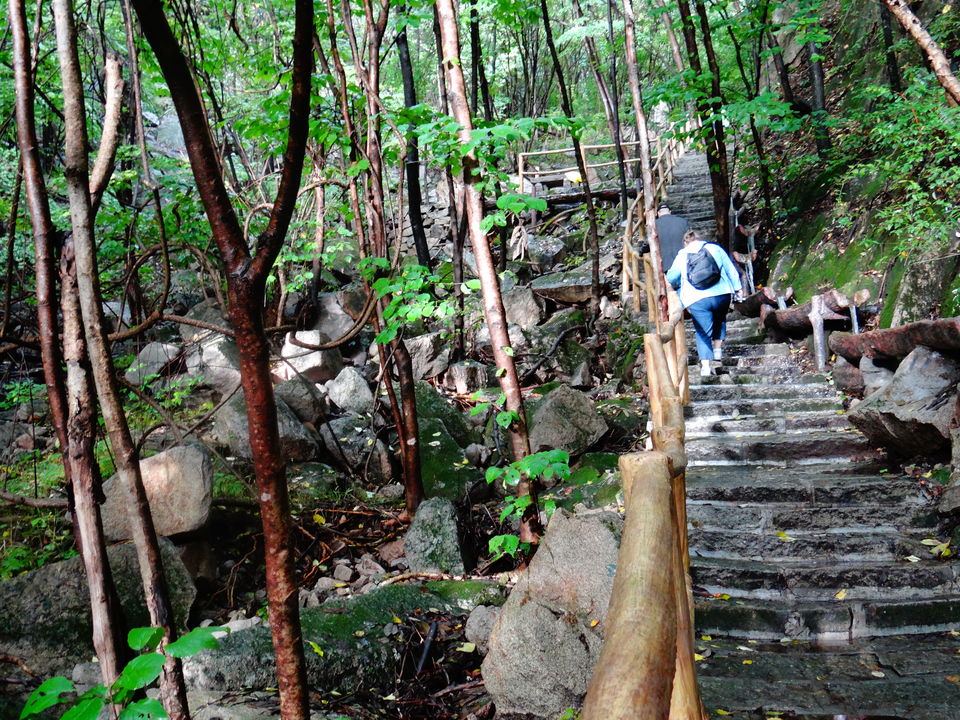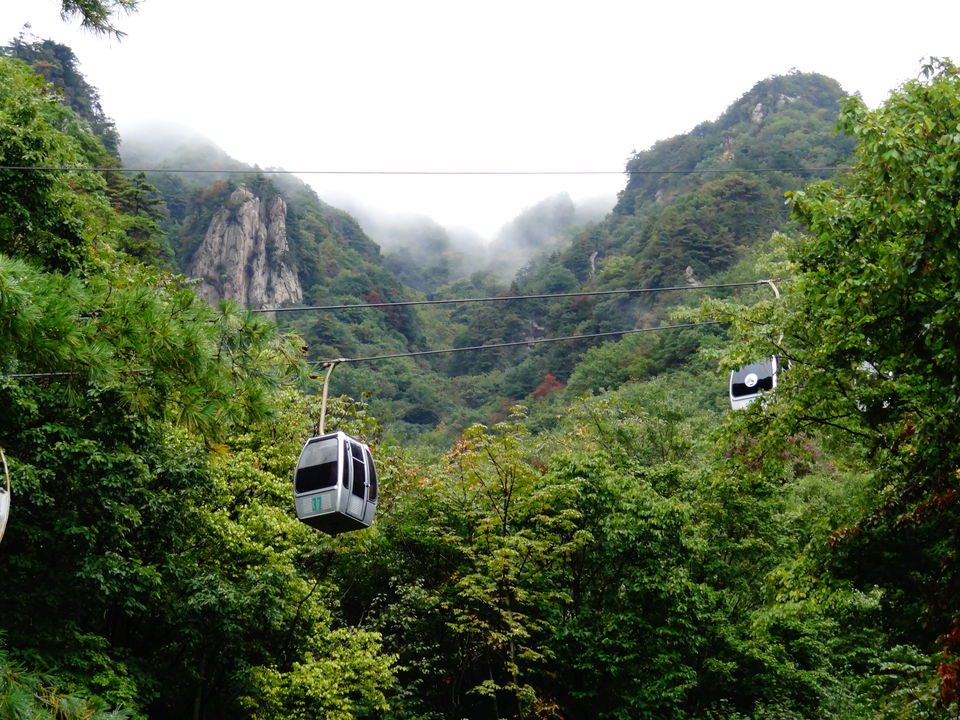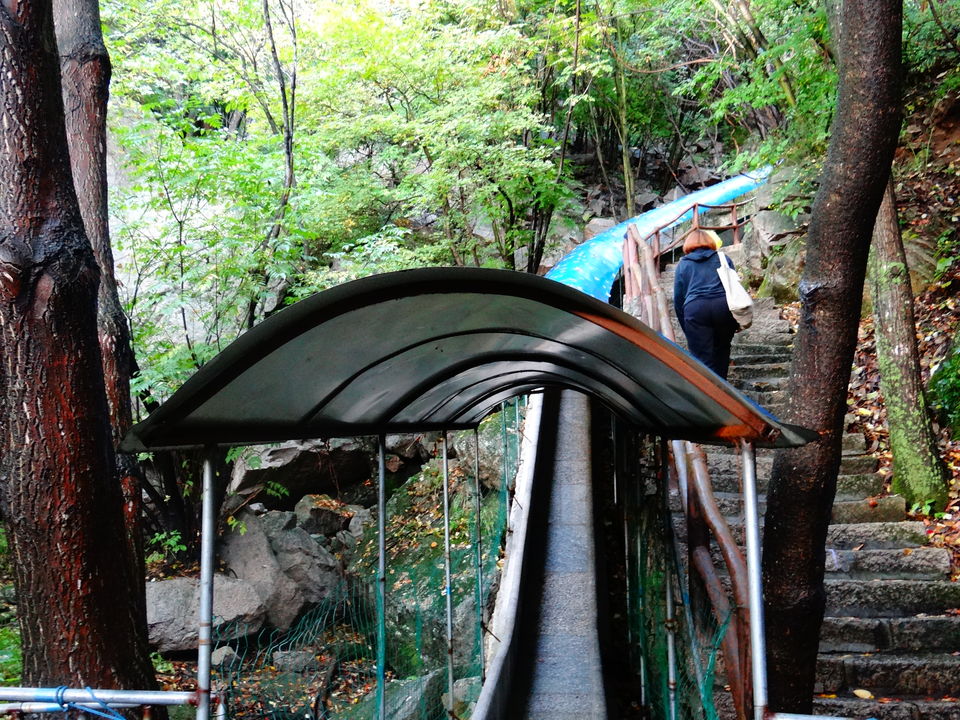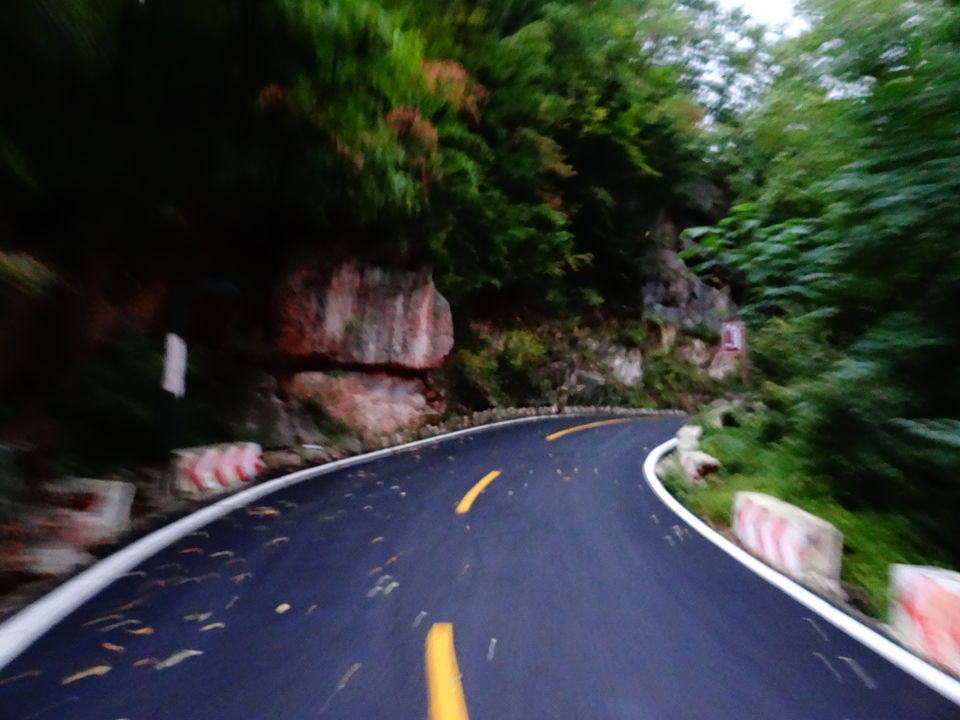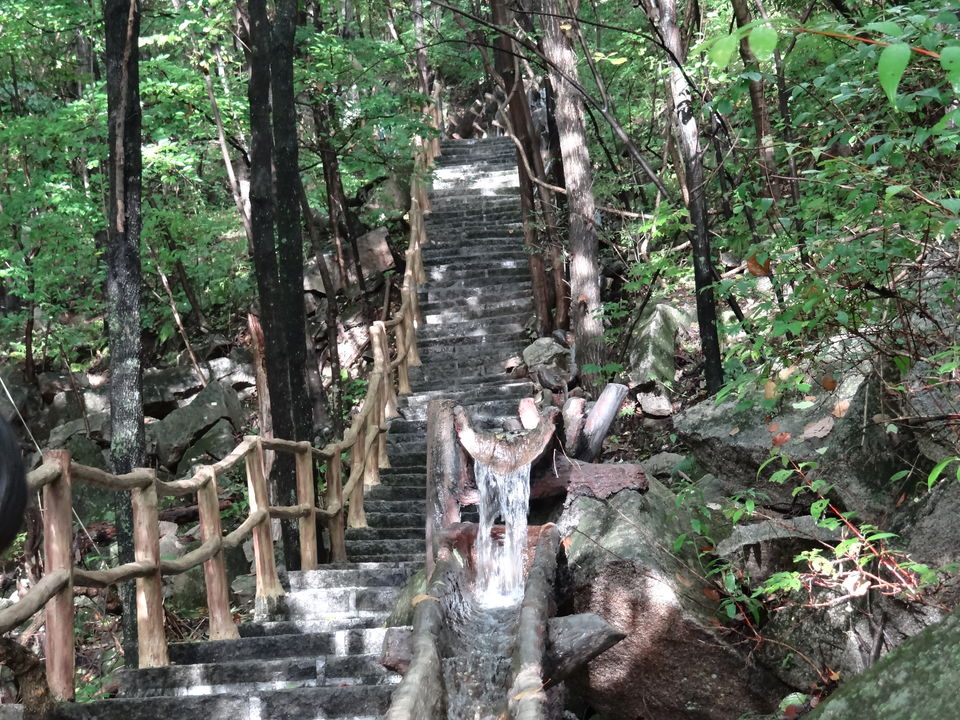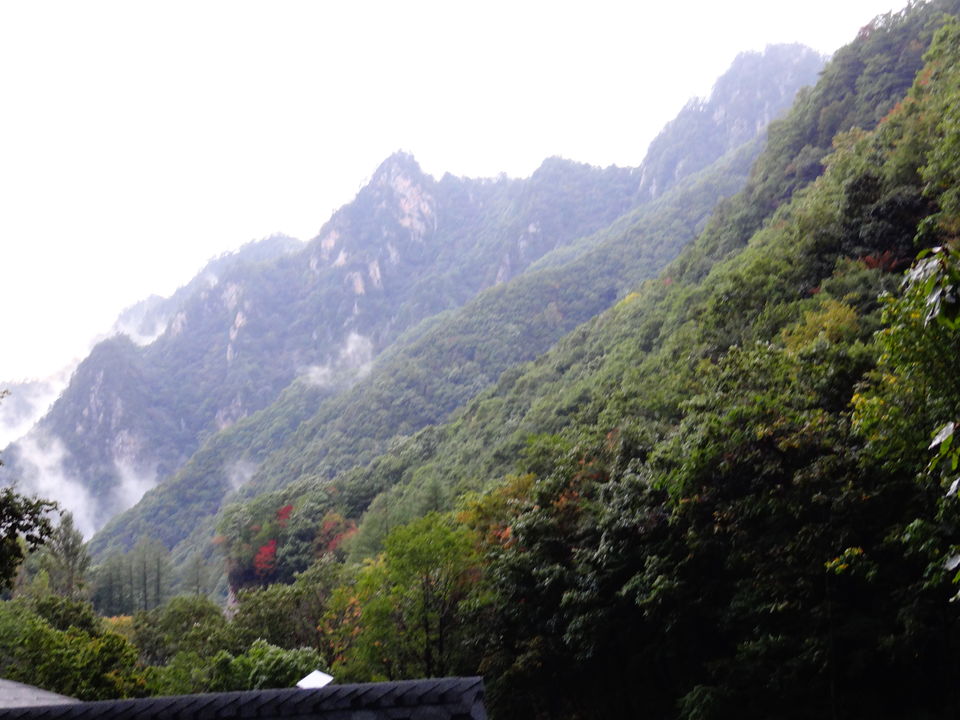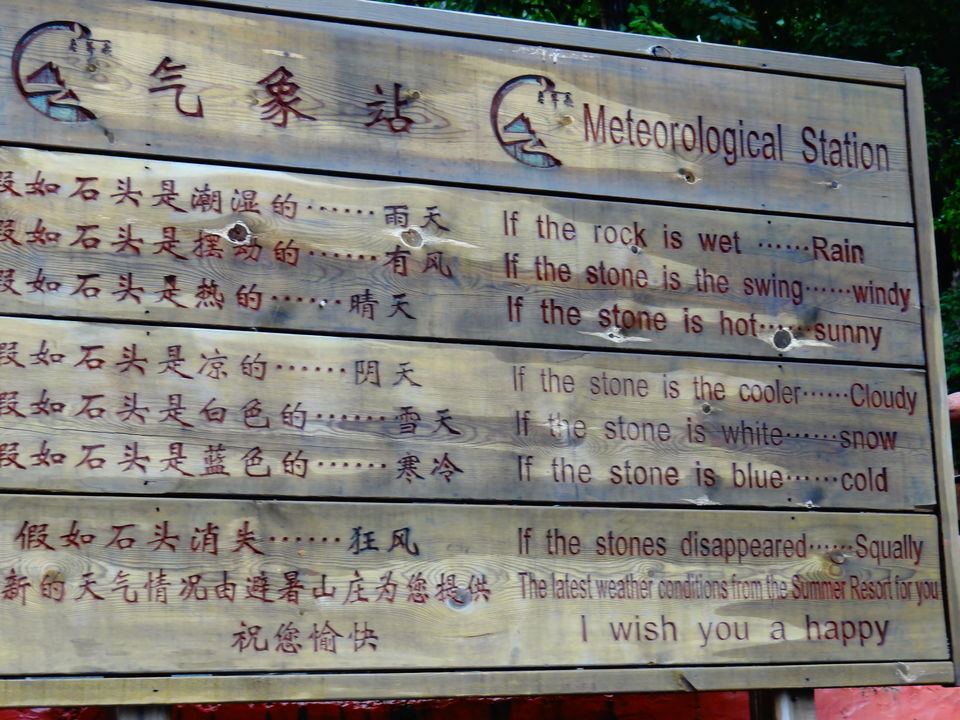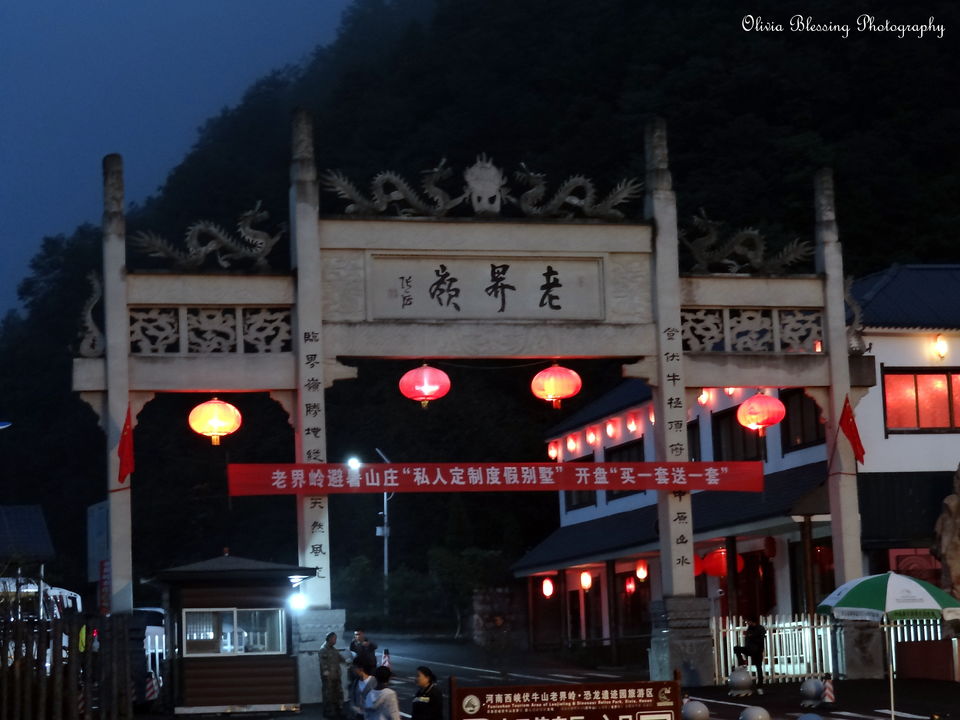 After the Mountain, we checked into the Danyuan Hotel, a 5***** hotel about 45 minutes away. I can't find it online, but the Telephone number was 0377-6992-1866. If you're interested, have a Chinese speaker make the reservation. Food was okay, we ate supper there. They didn't serve any drinks which was a little annoying, but we brought in some drinks from outside. Food was standard Chinese fair. I also ate breakfast here, and it was here that my bowl had the dead mosquito dried on. Room wasn't too bad actually. Good bed, warm water. It was actually one of the nicest rooms we stayed in, barring the fact that there was no real view.
Dragon Pool Valley Scenic Area is a giant park where you can clime up the mountain and follow a series of waterfalls as they carve their way down to the bottom below. The waterfalls are gorgeous, as are the little pools and creeks in between. Many vendors along the path were selling swimming wear, nets to catch the little minnows, and yummy food. Most people make a day out of it! The hiking was great for exercise, but not as intense as the day before.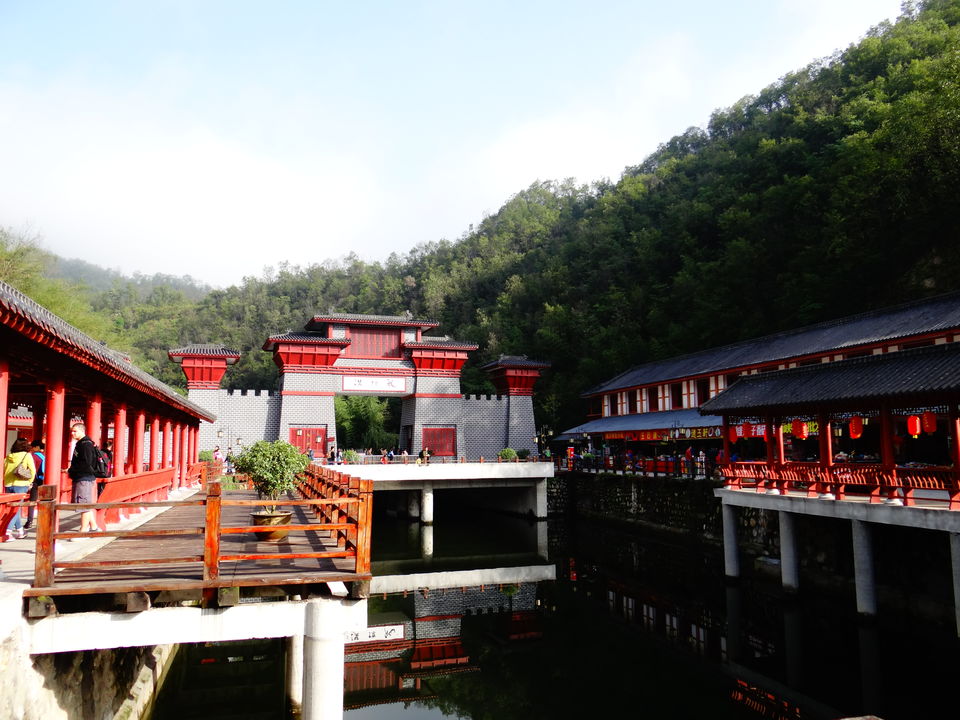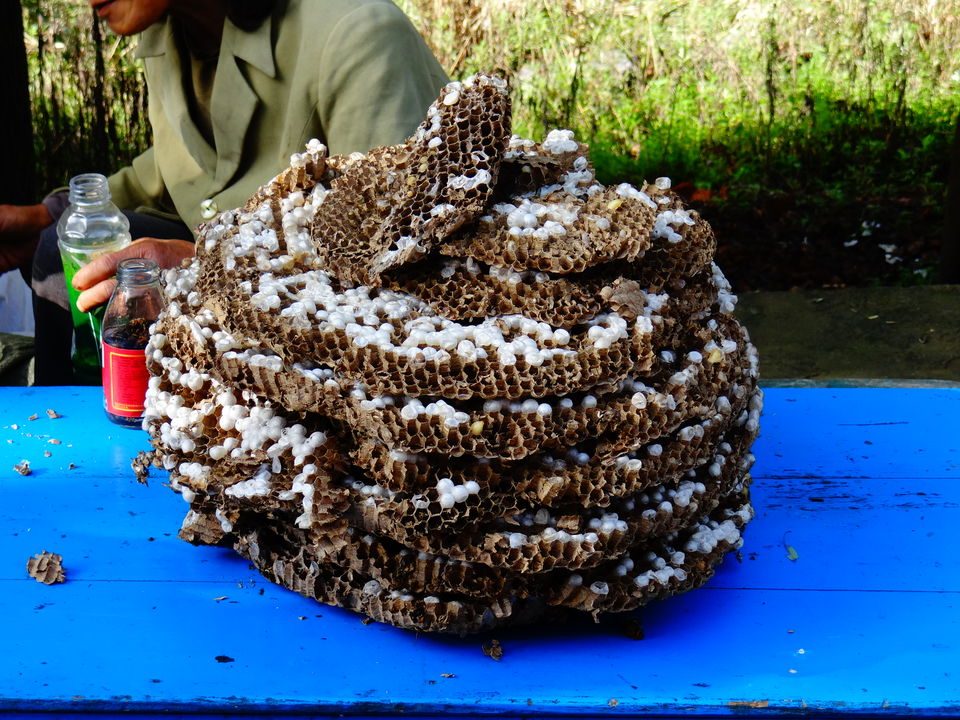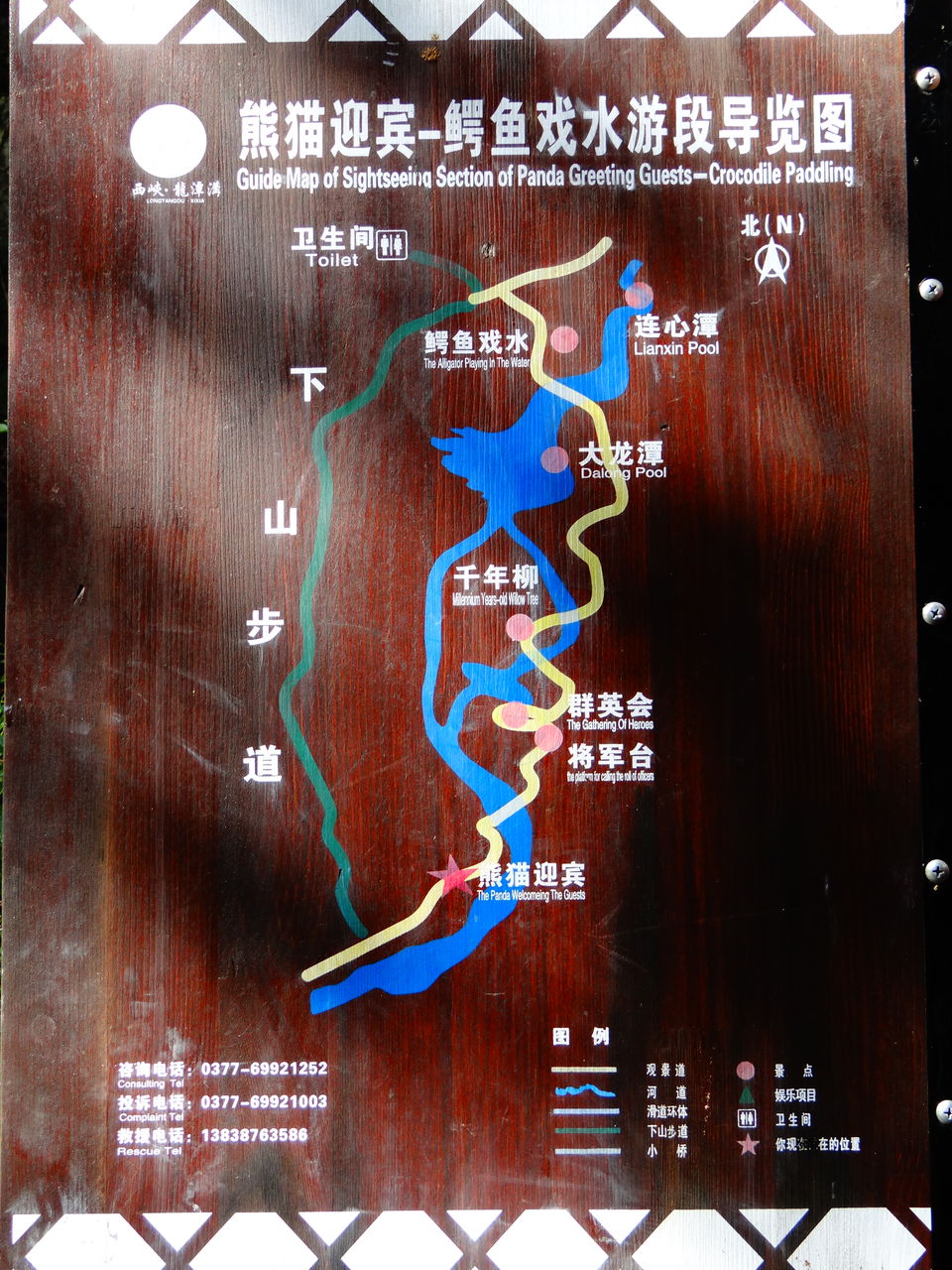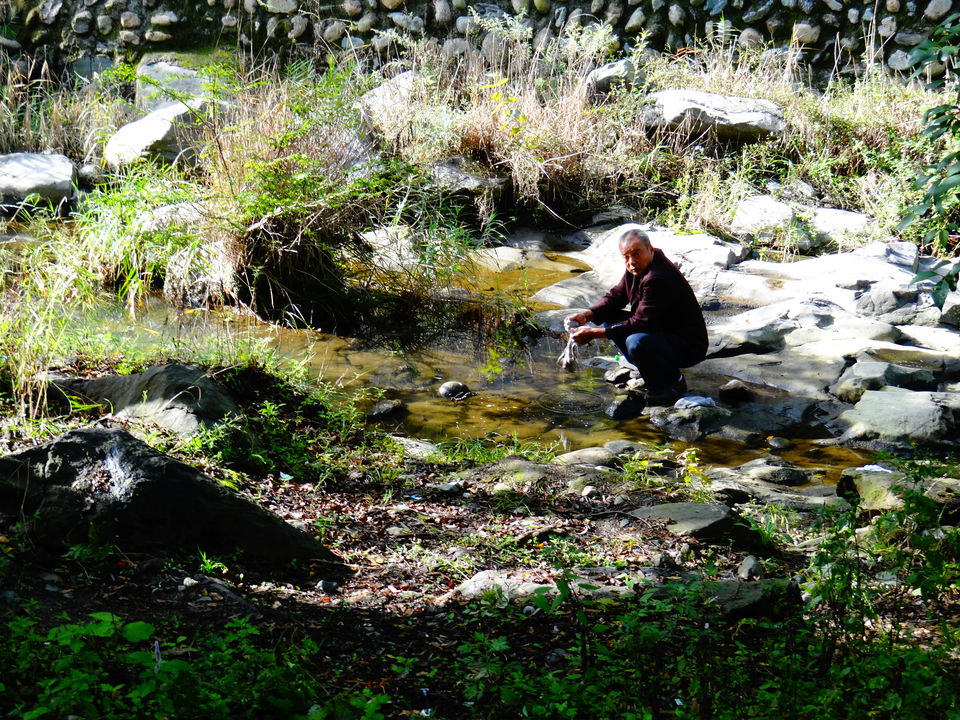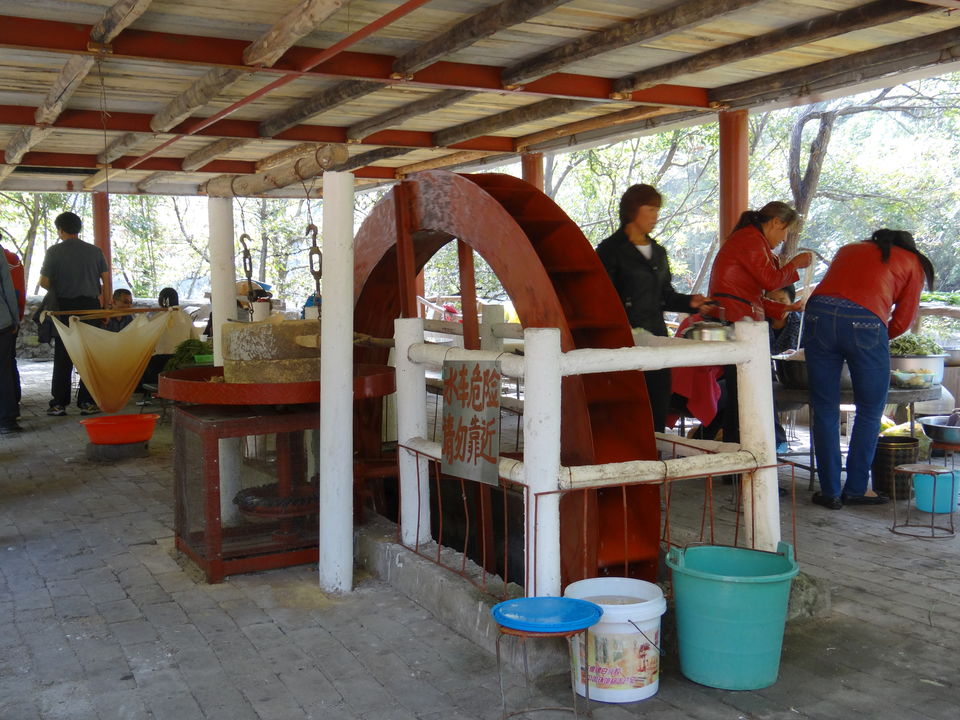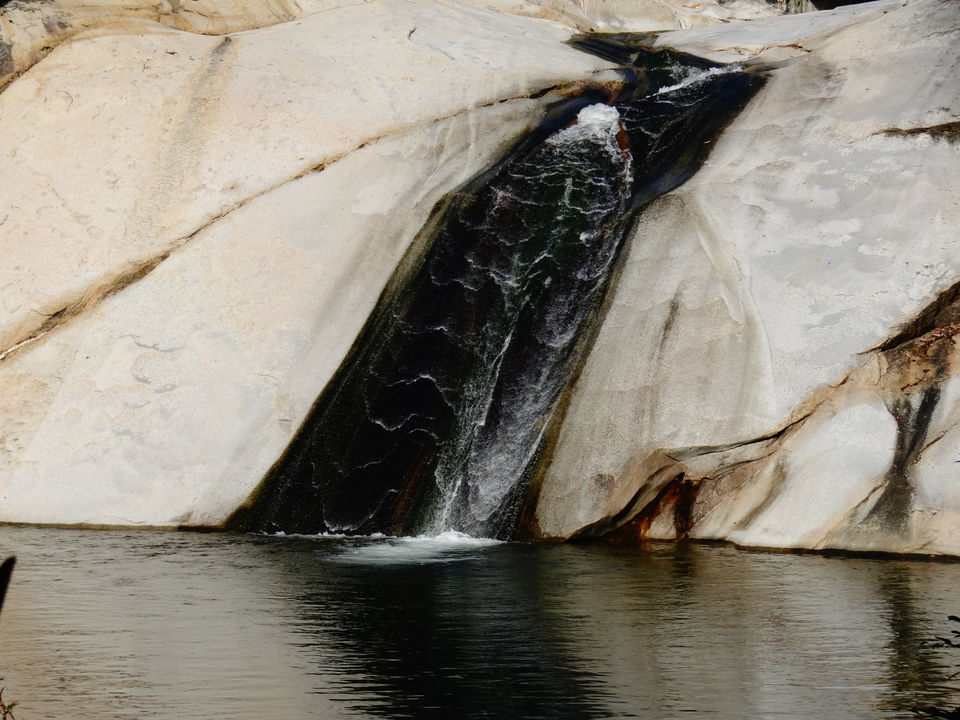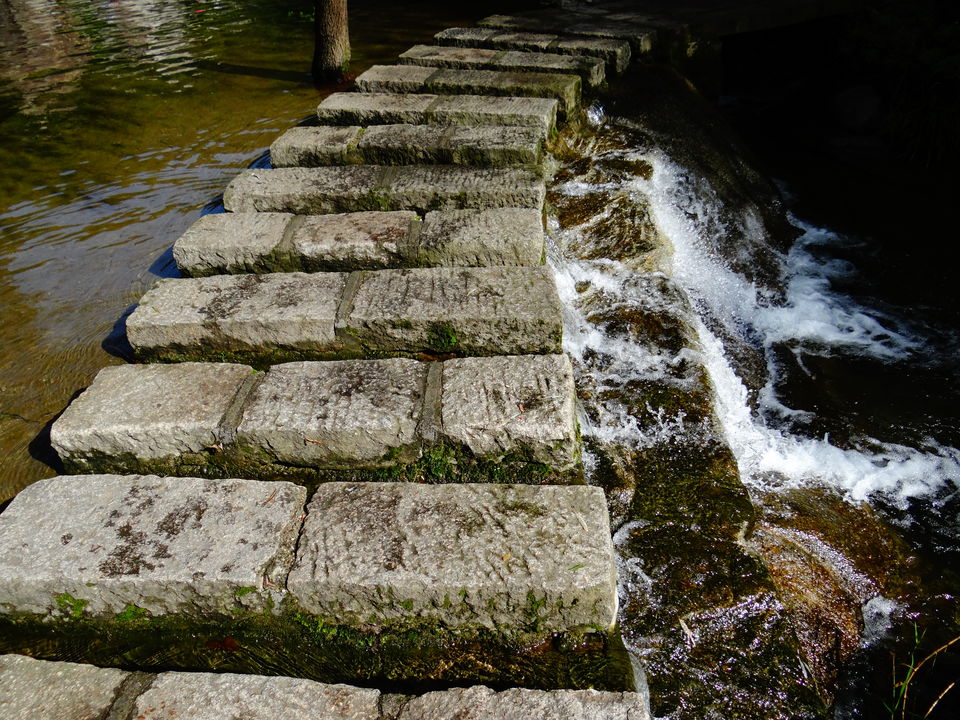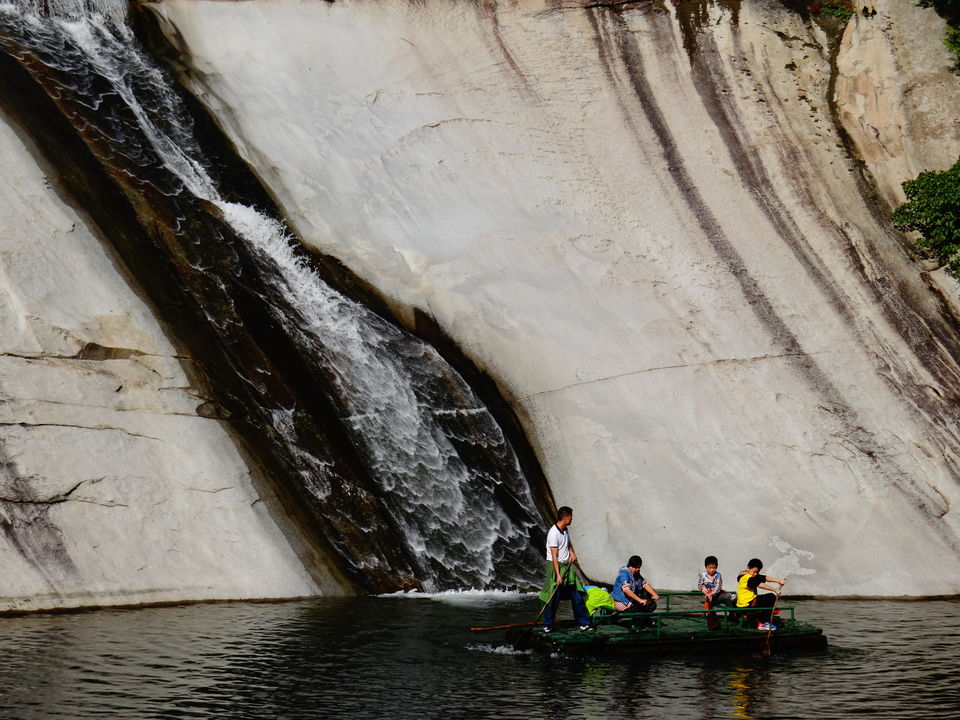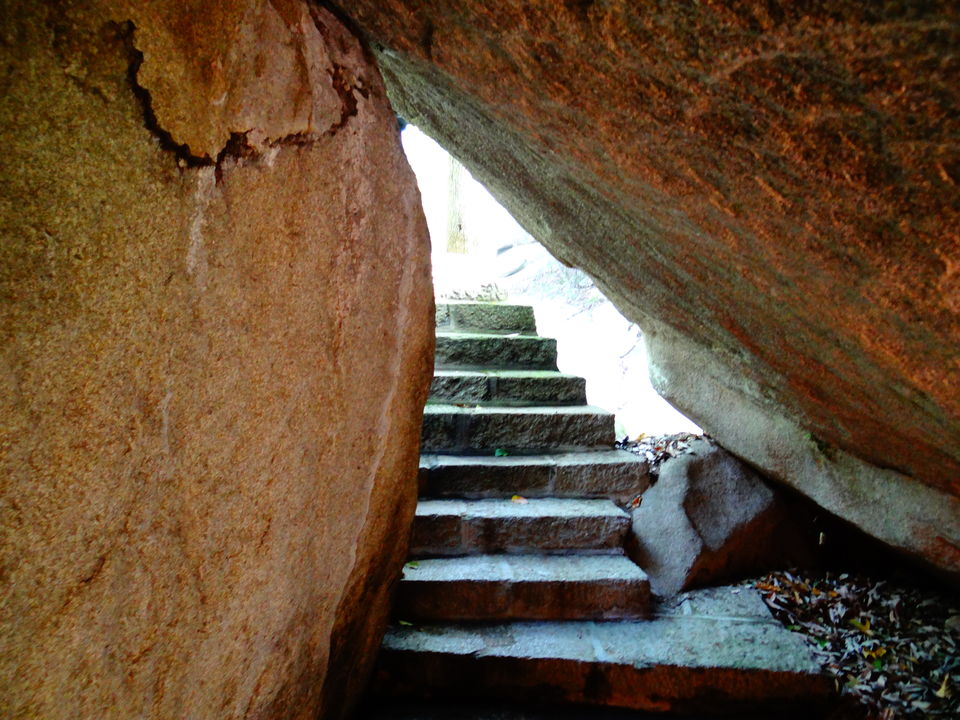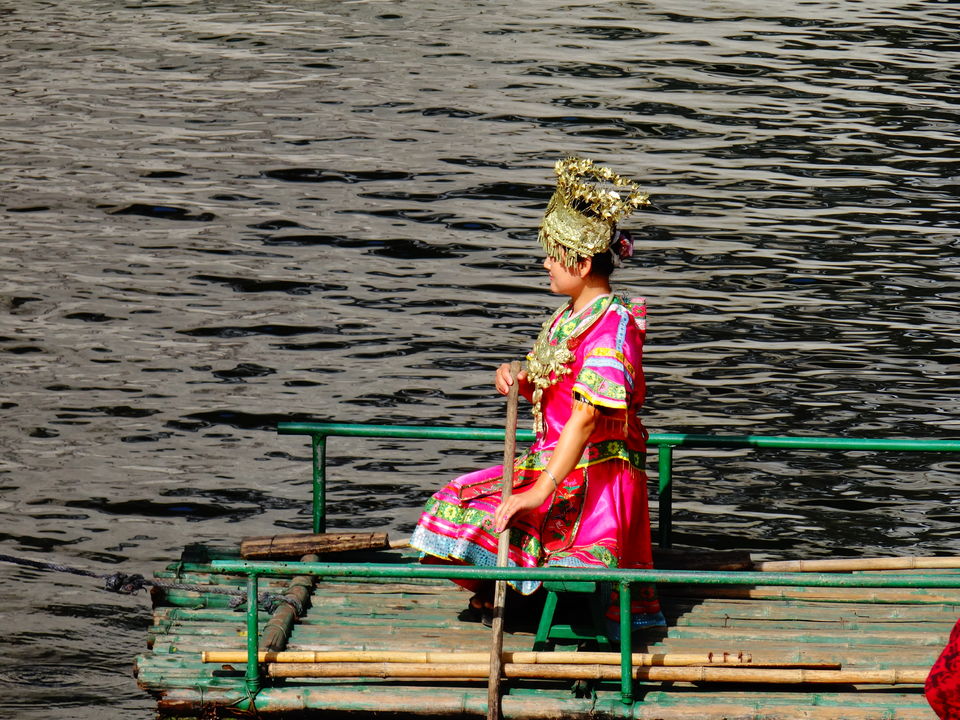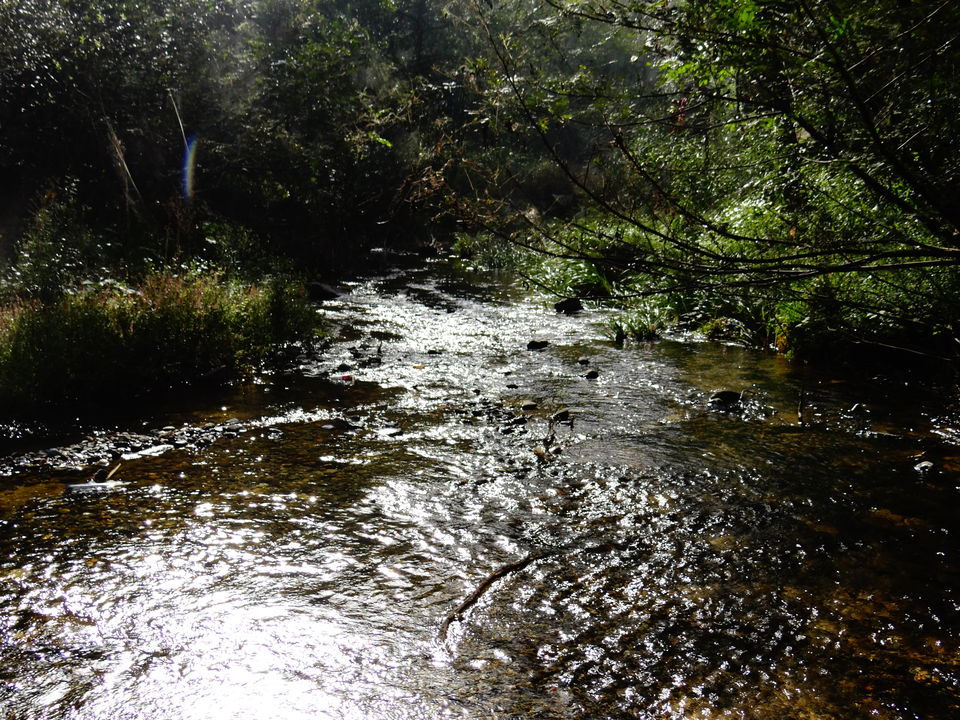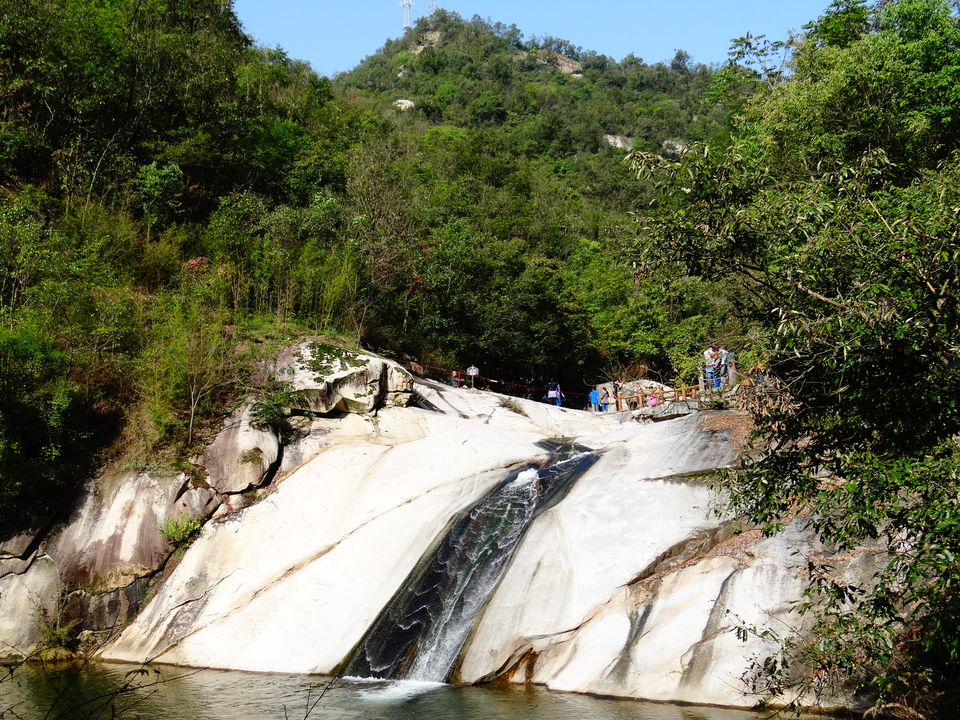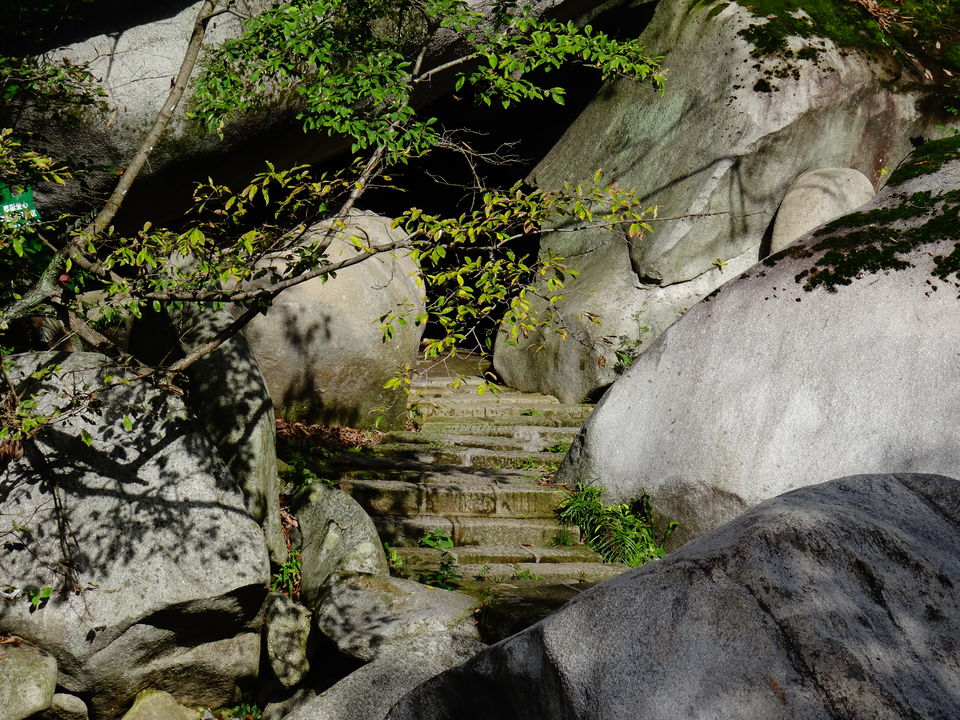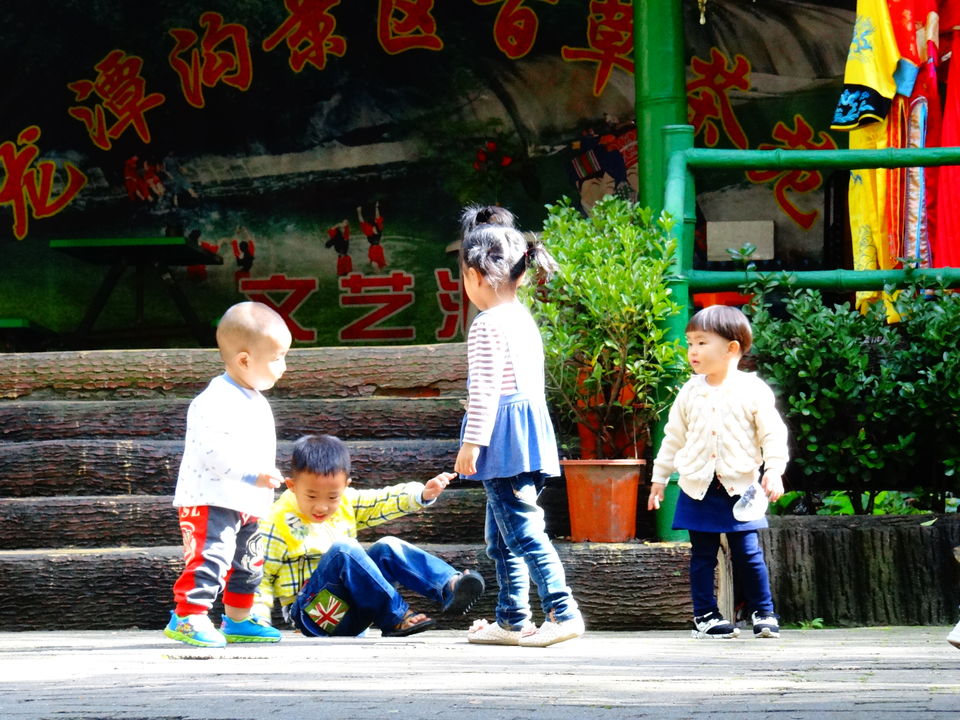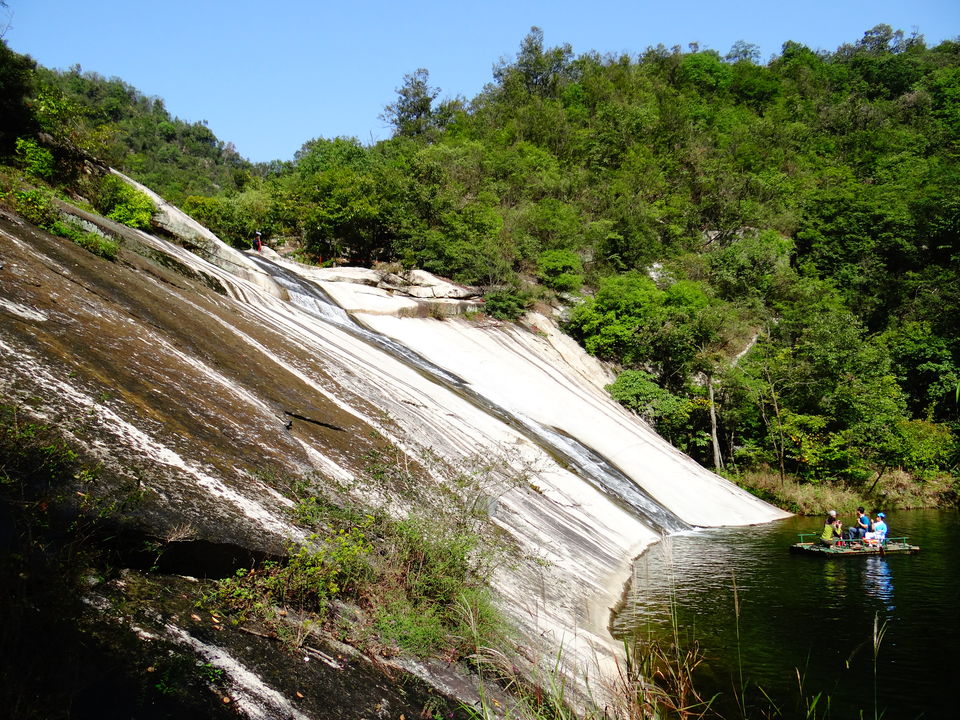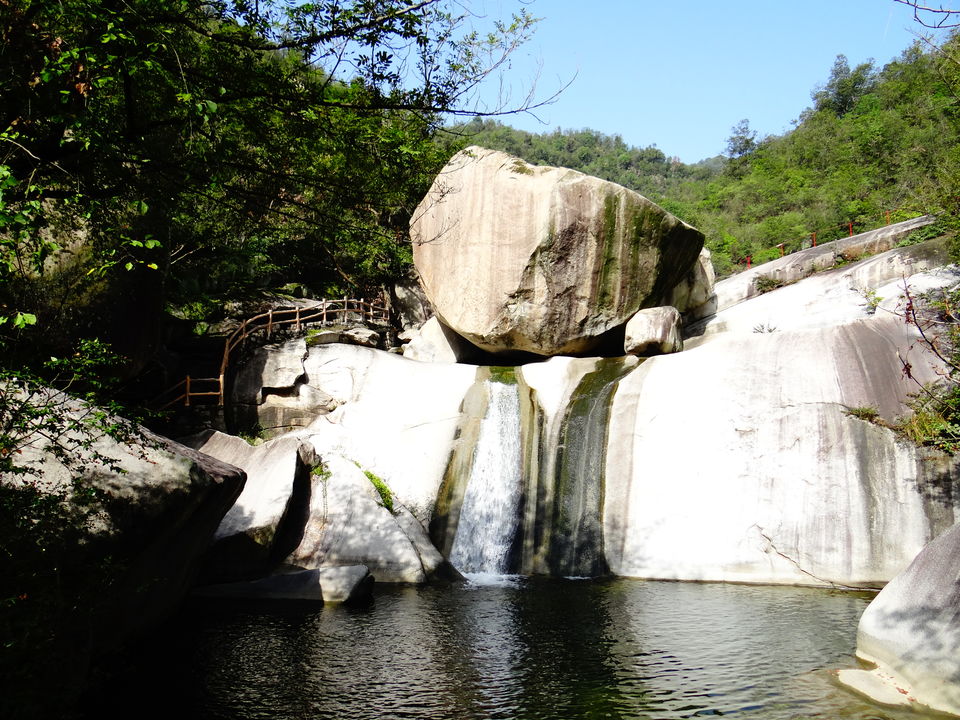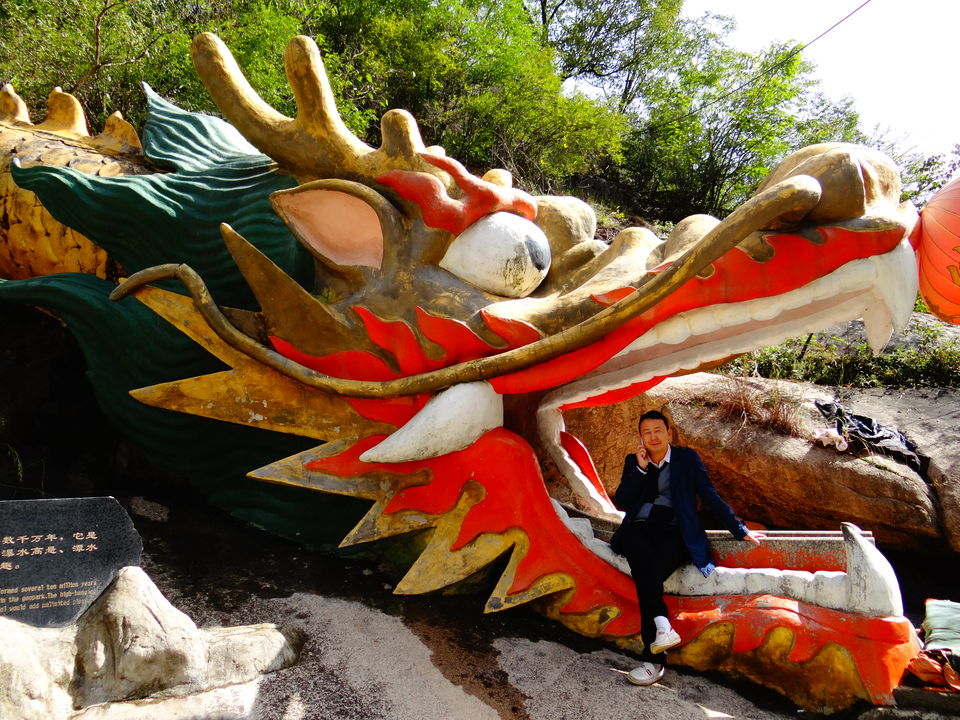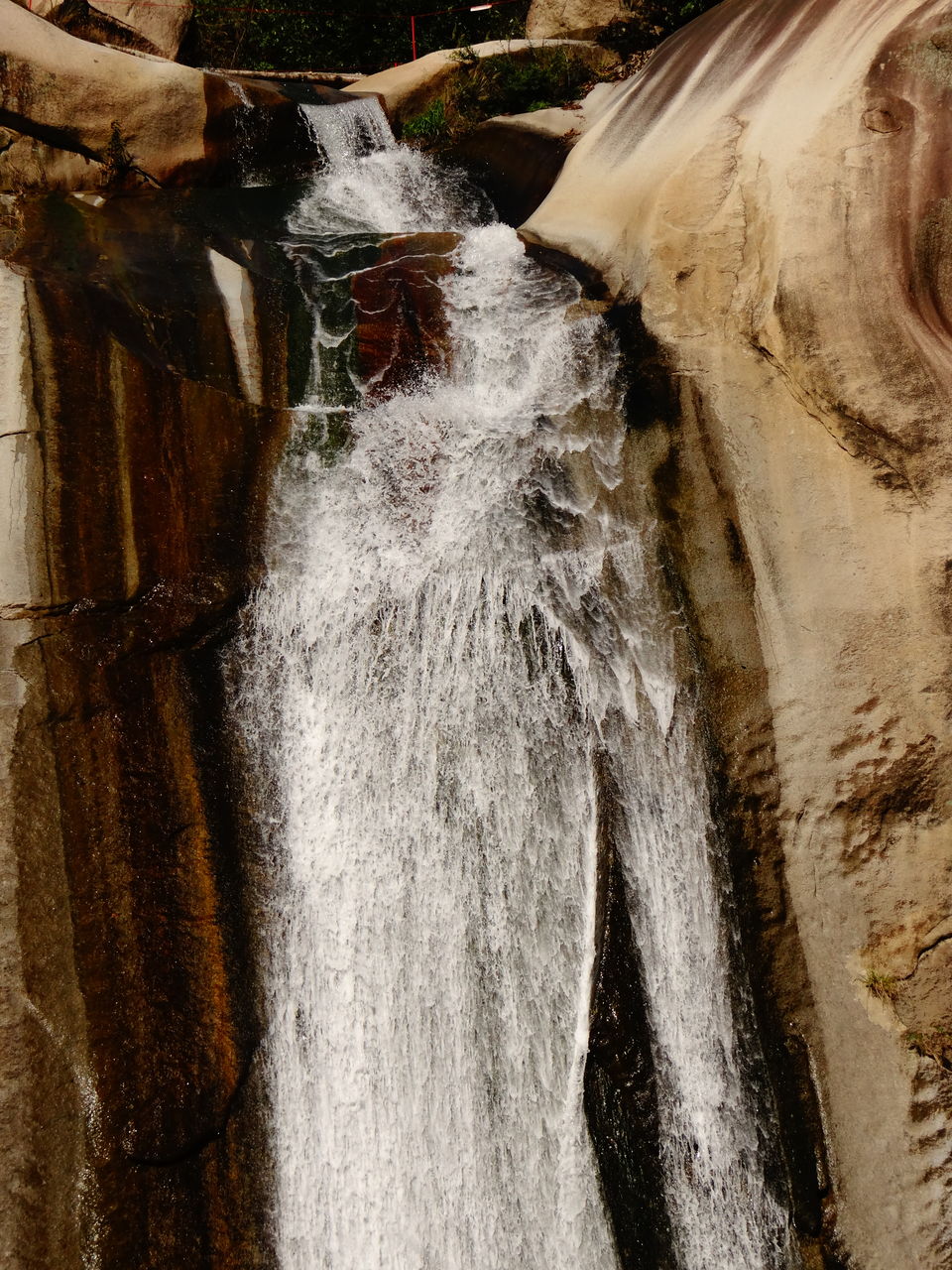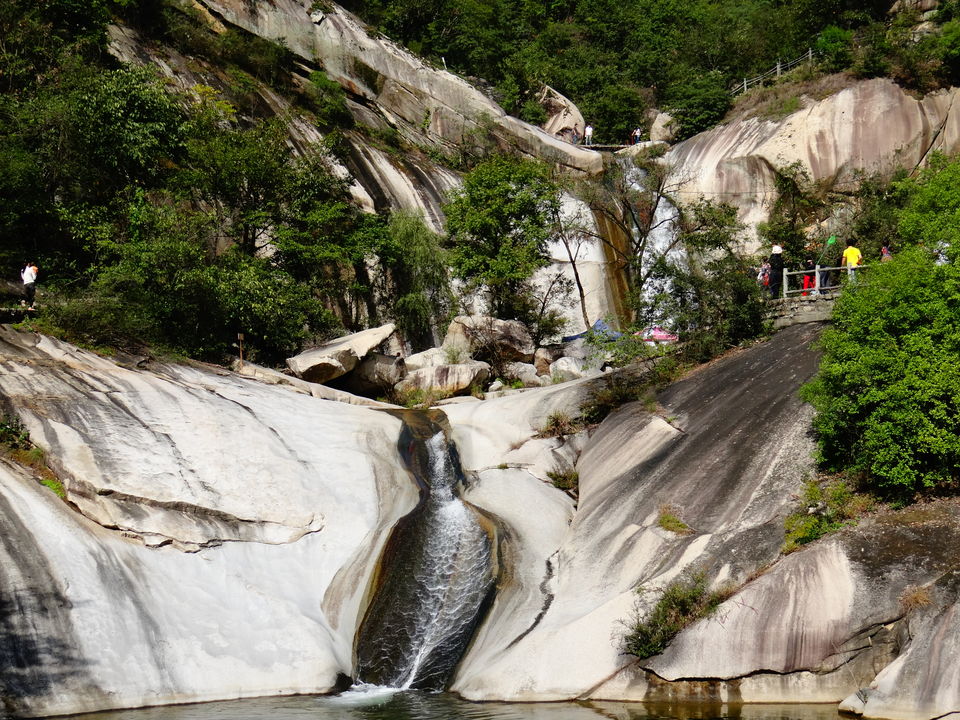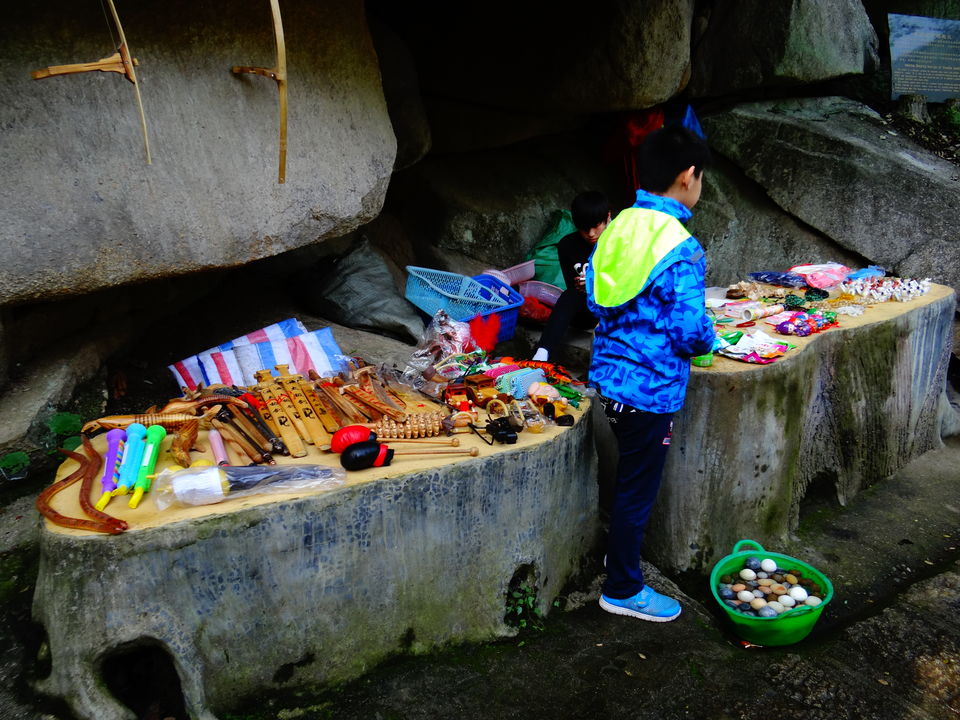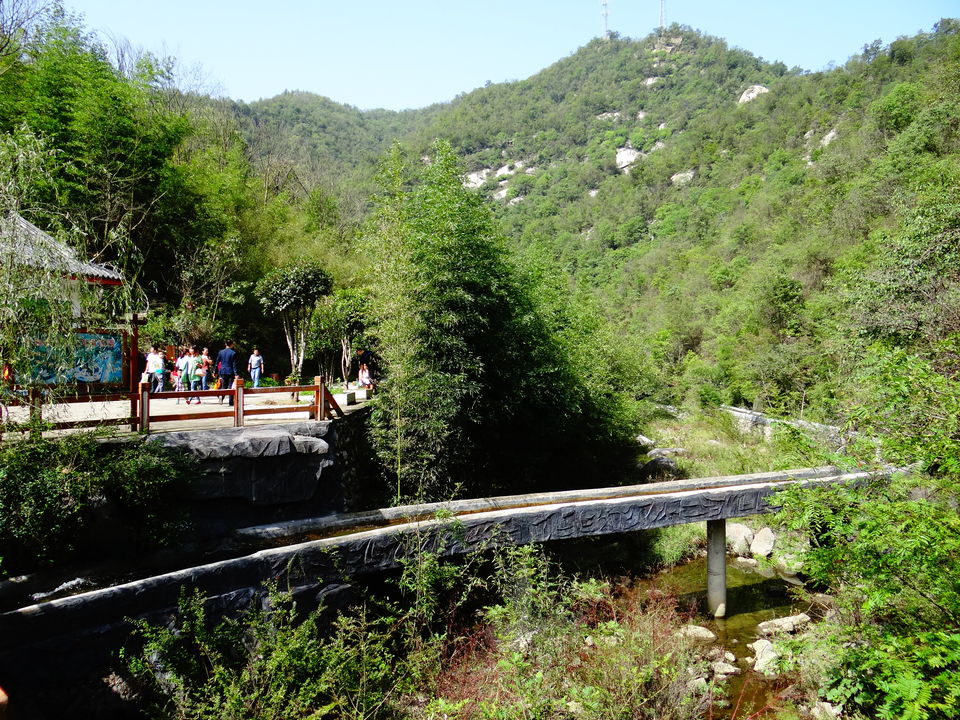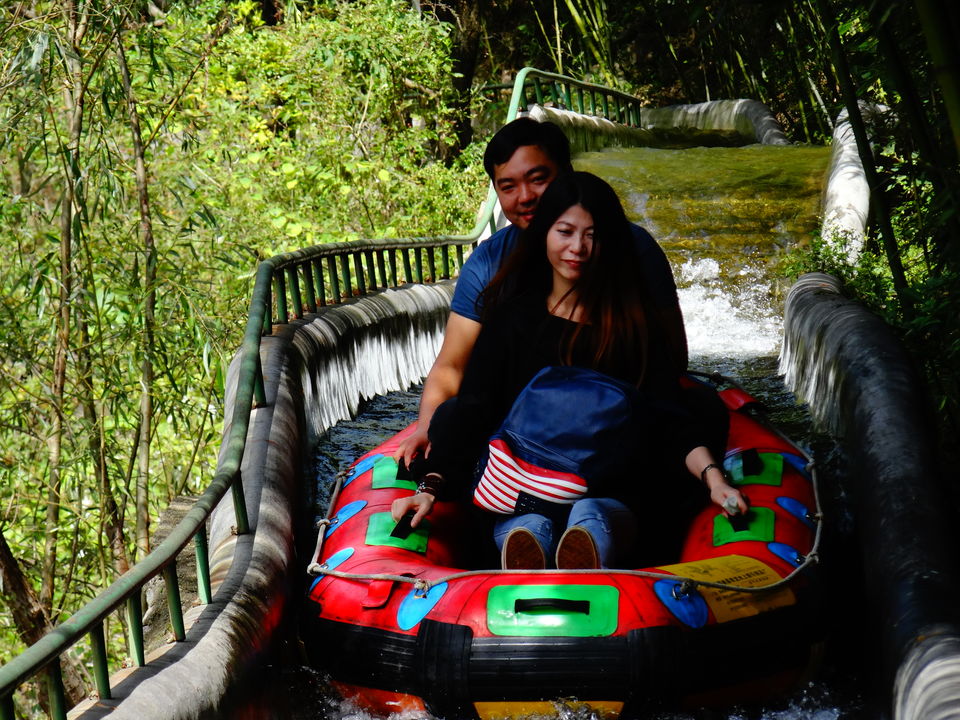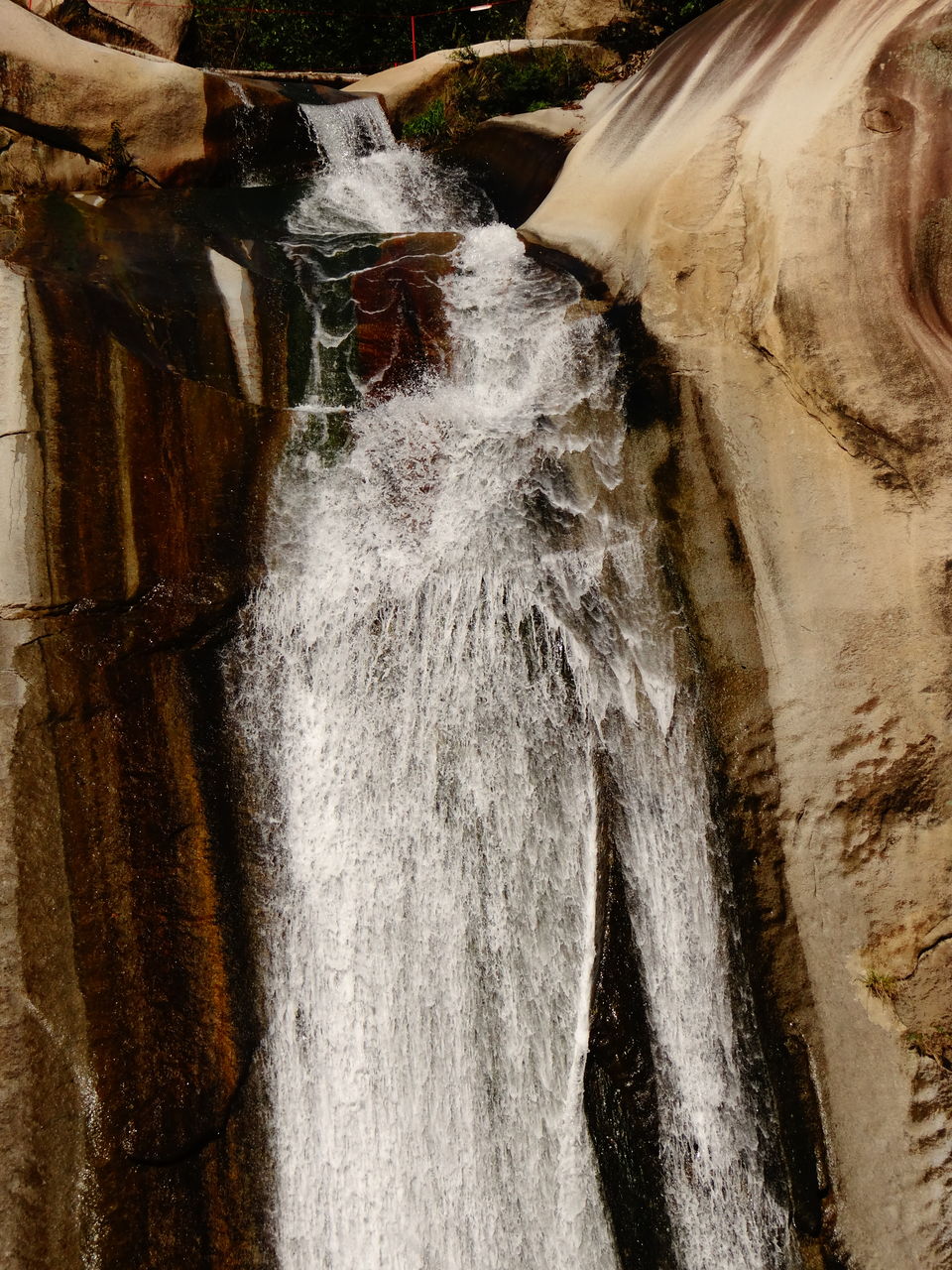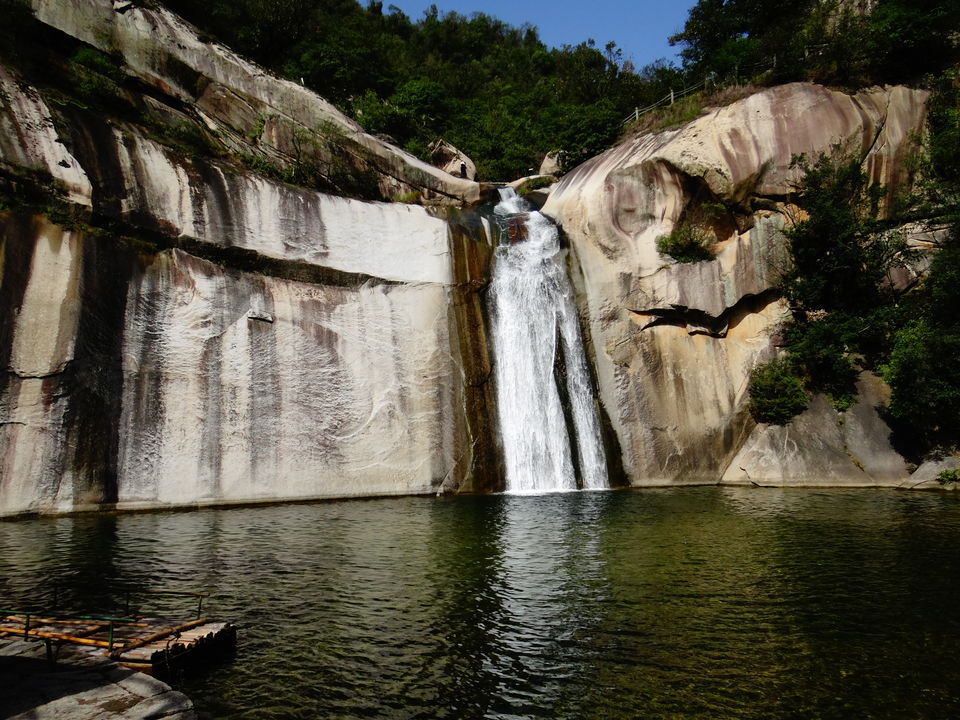 We just stopped at a random little restaurant on the way from the Dragon Pool Valley Scenic Area. There are a lot of restaurants nearby the entrance to that park, and our tour guide had picked a random one to make a reservation at. It had enough room for us. The food actually wasn't that good. Our table had another chicken head (beak and wobbley chin thing included), while another got a rabbit head. Some of us were a little sick later :(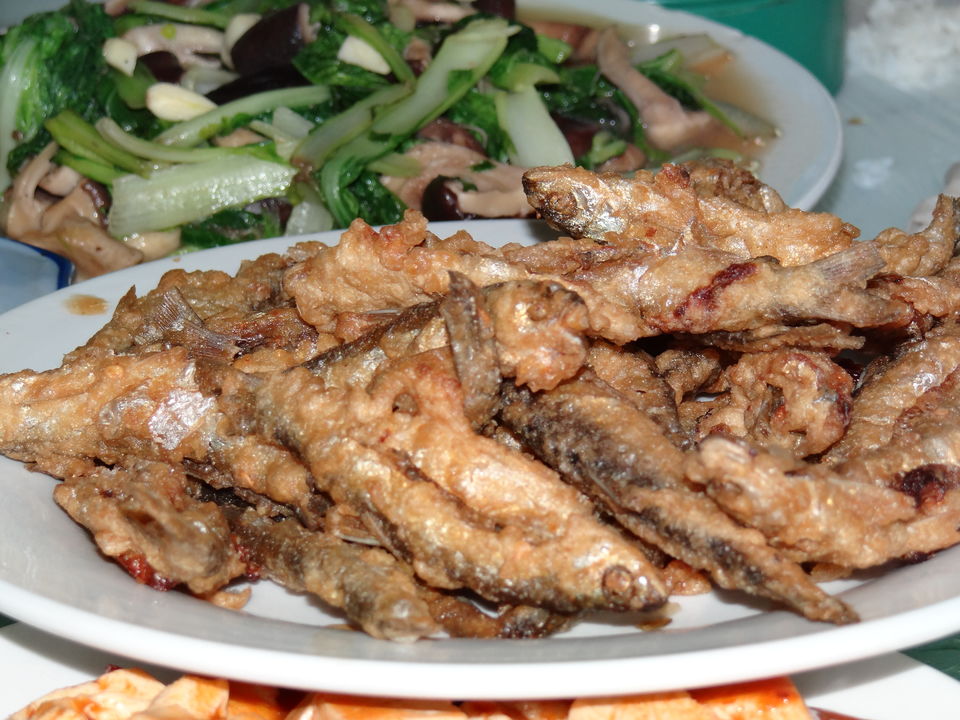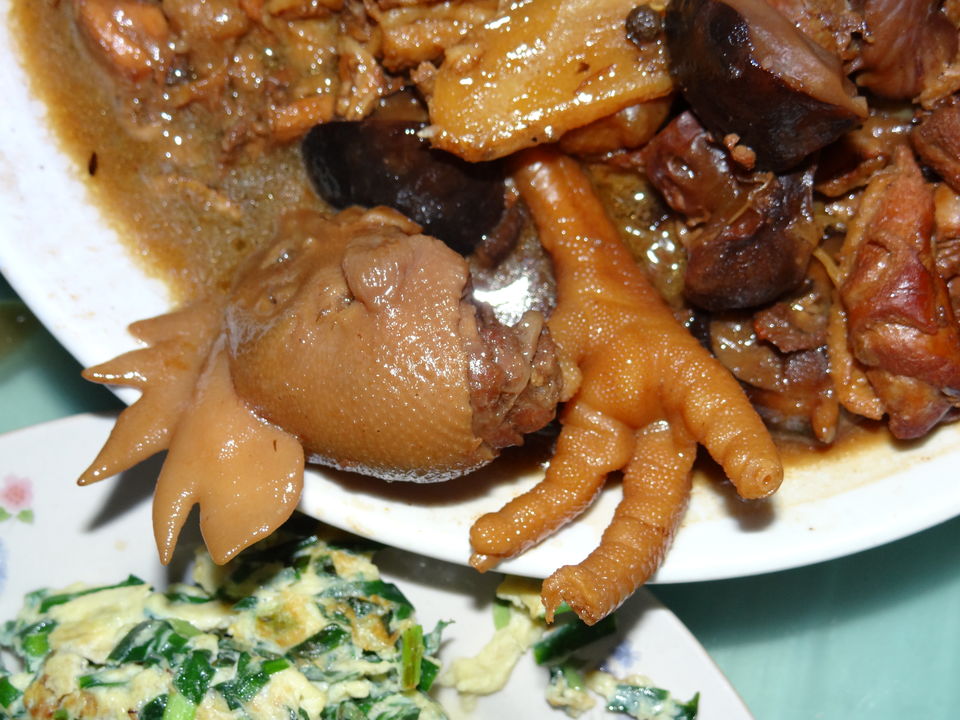 This is a massive ancient marketplace, with hundreds of shops set up into long rows of buildings along the street. It's known as the Jade Market, but there are actually a ton of other products sold along there as well. This is where a lot of the merchants buy their jade in bulk from the makers, to then re-sell to consumers in jewelry stores. You are supposed to get a pretty good discount here, although I didn't find anything. The history of the place, the small carnival going on nearby, and the sweet people made it worth our while though :)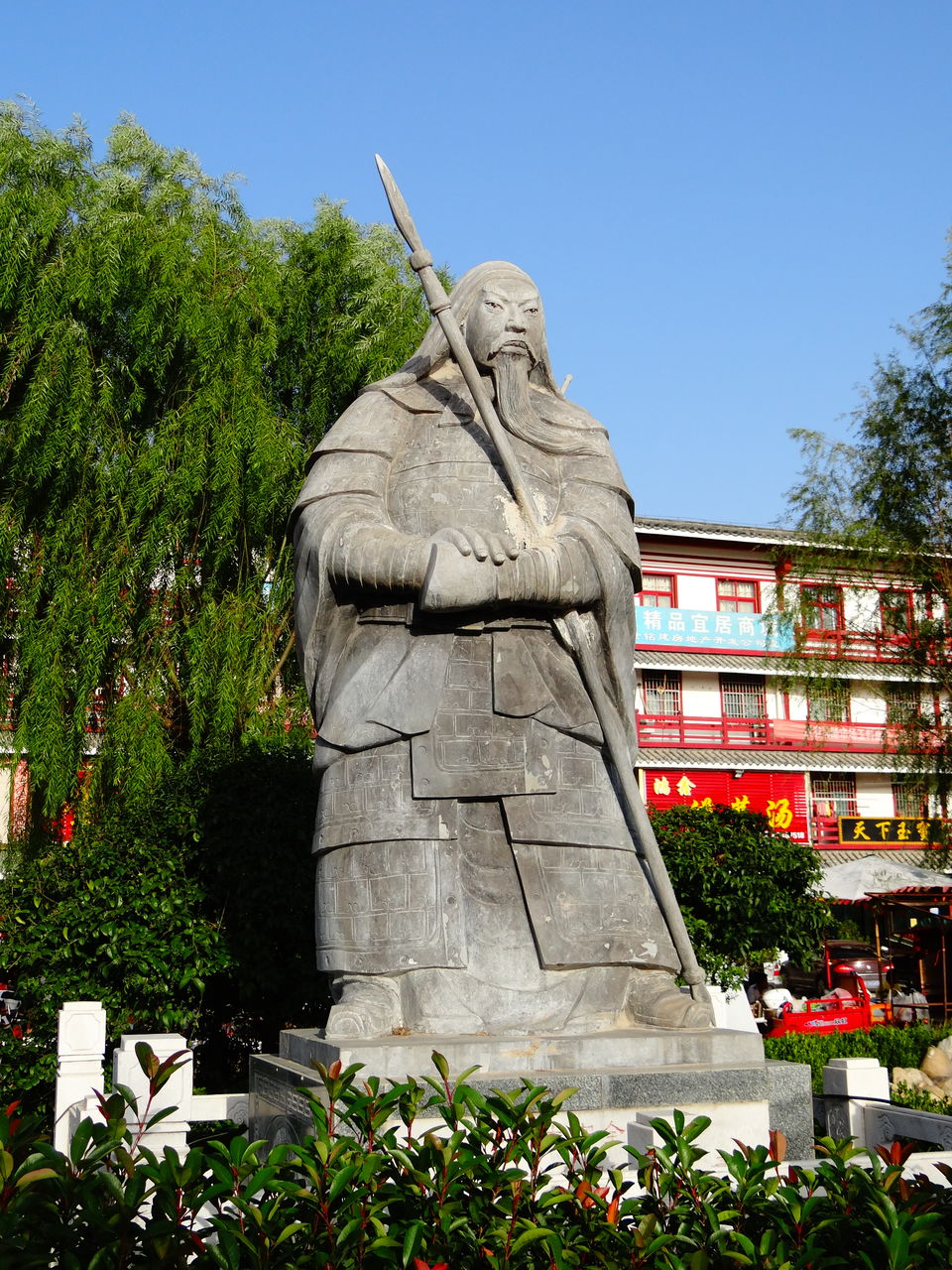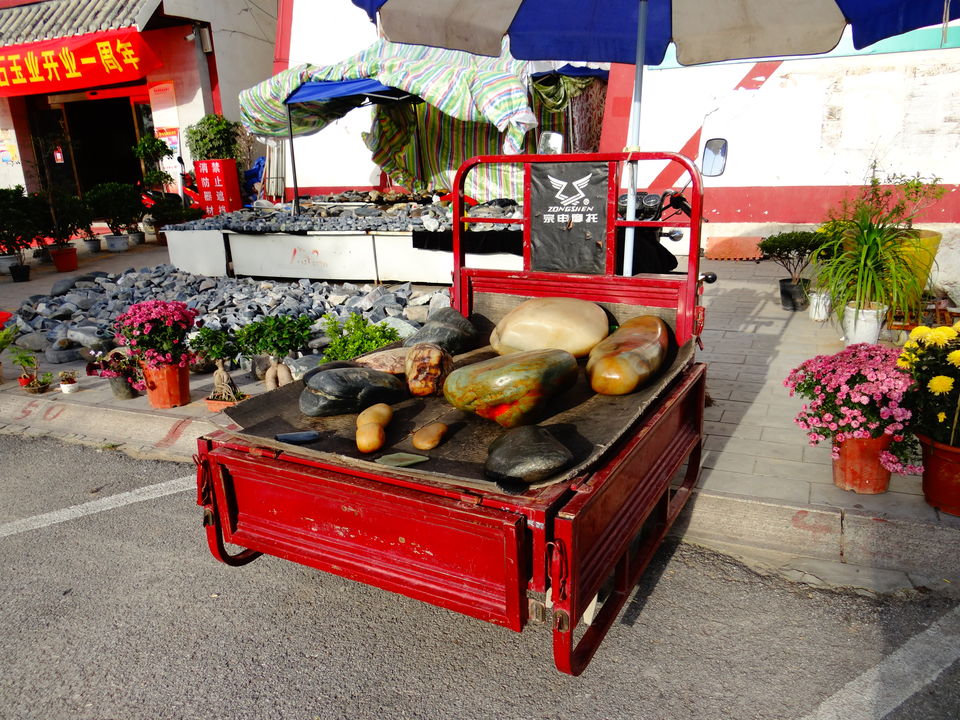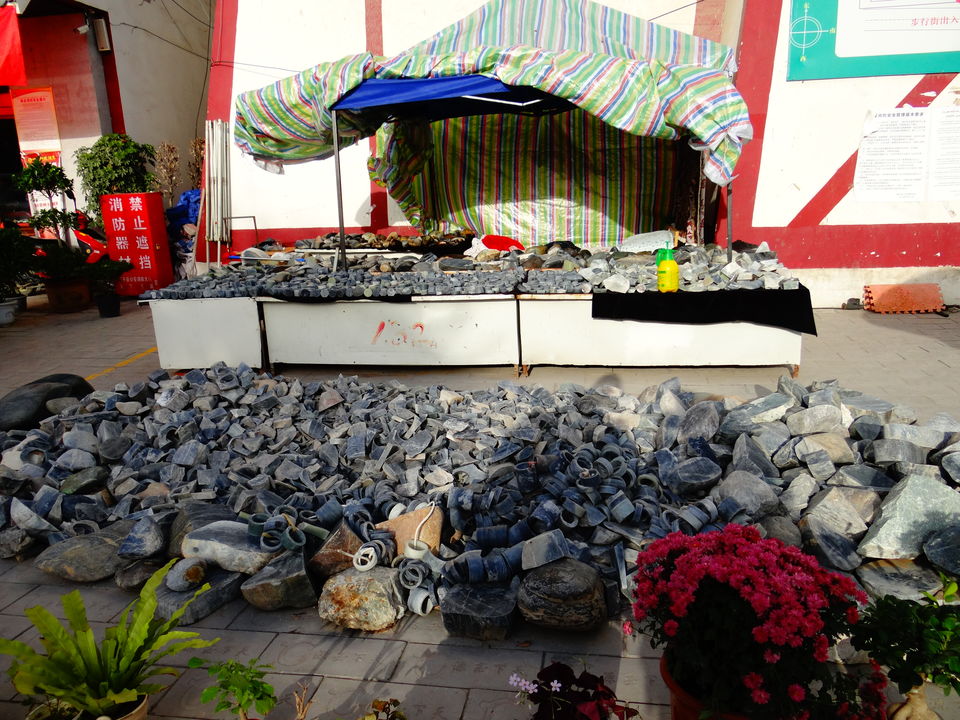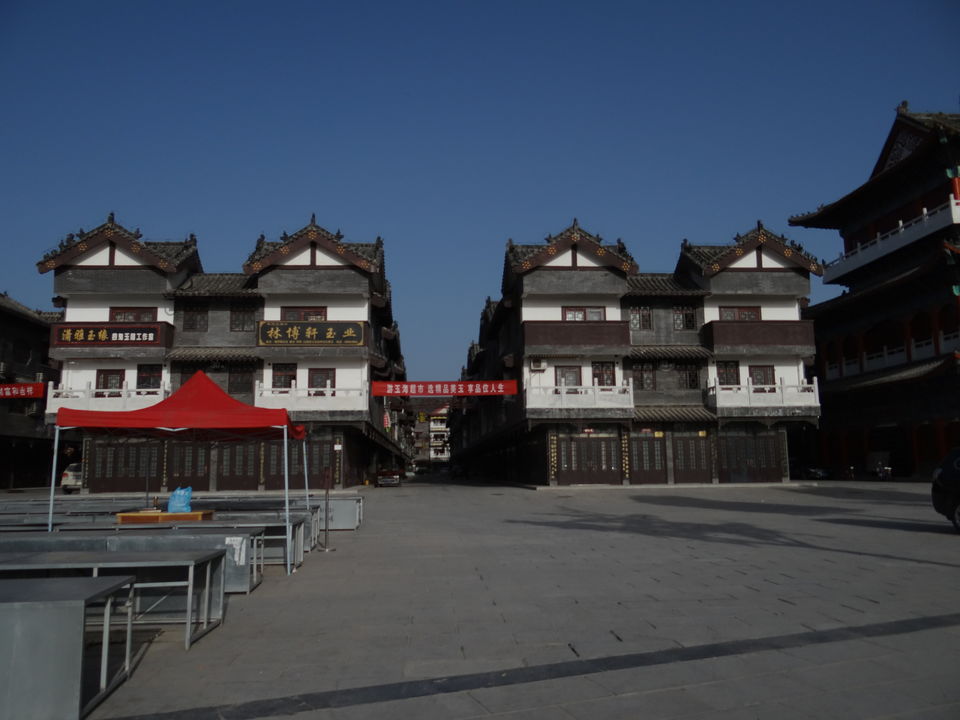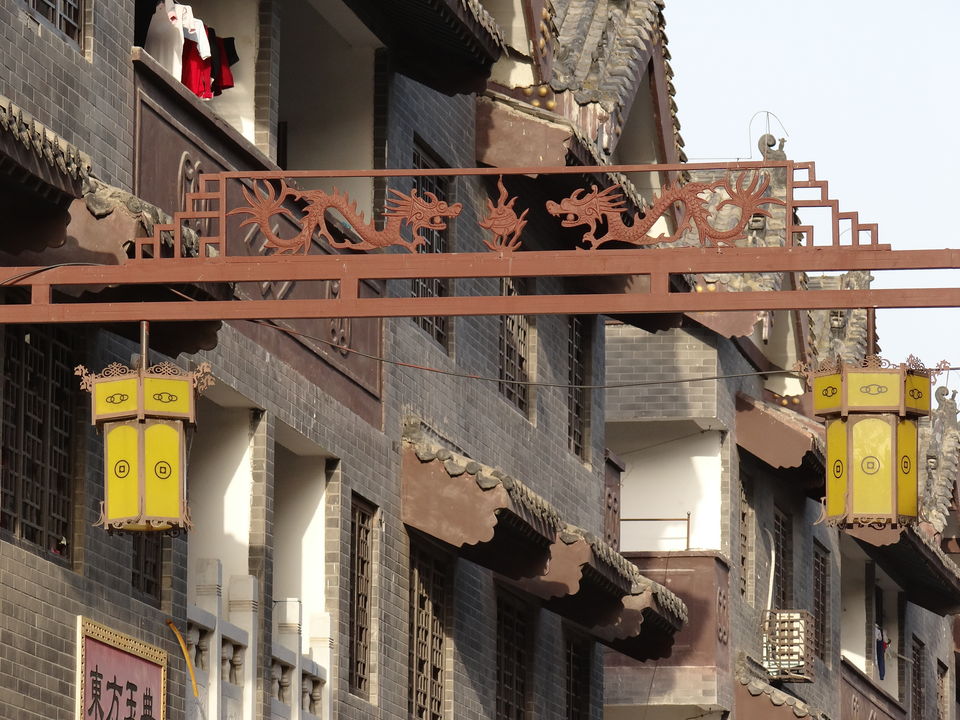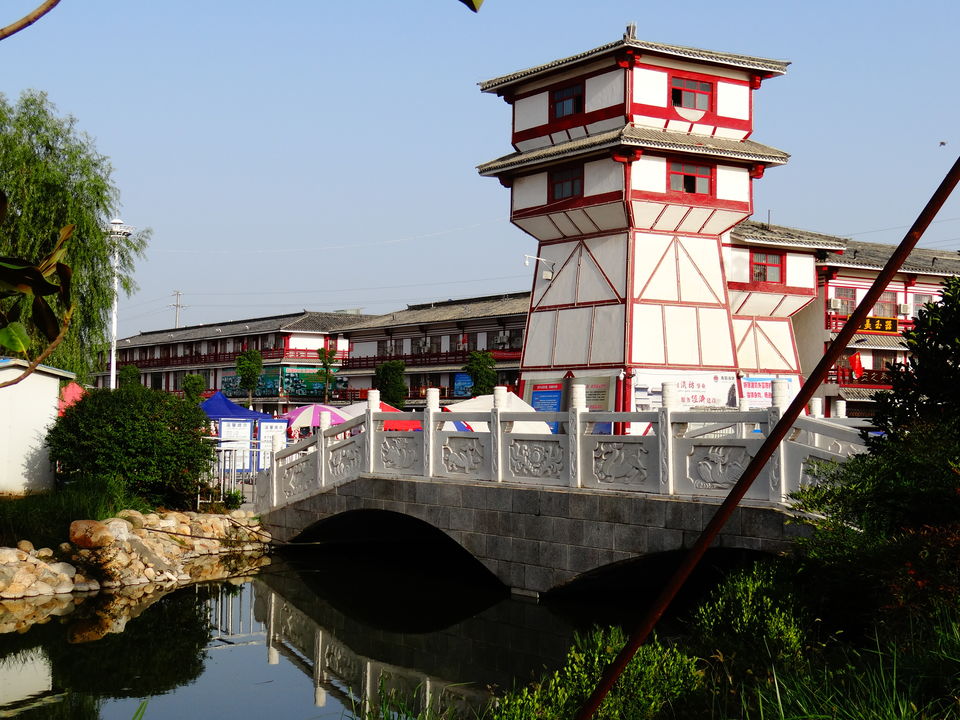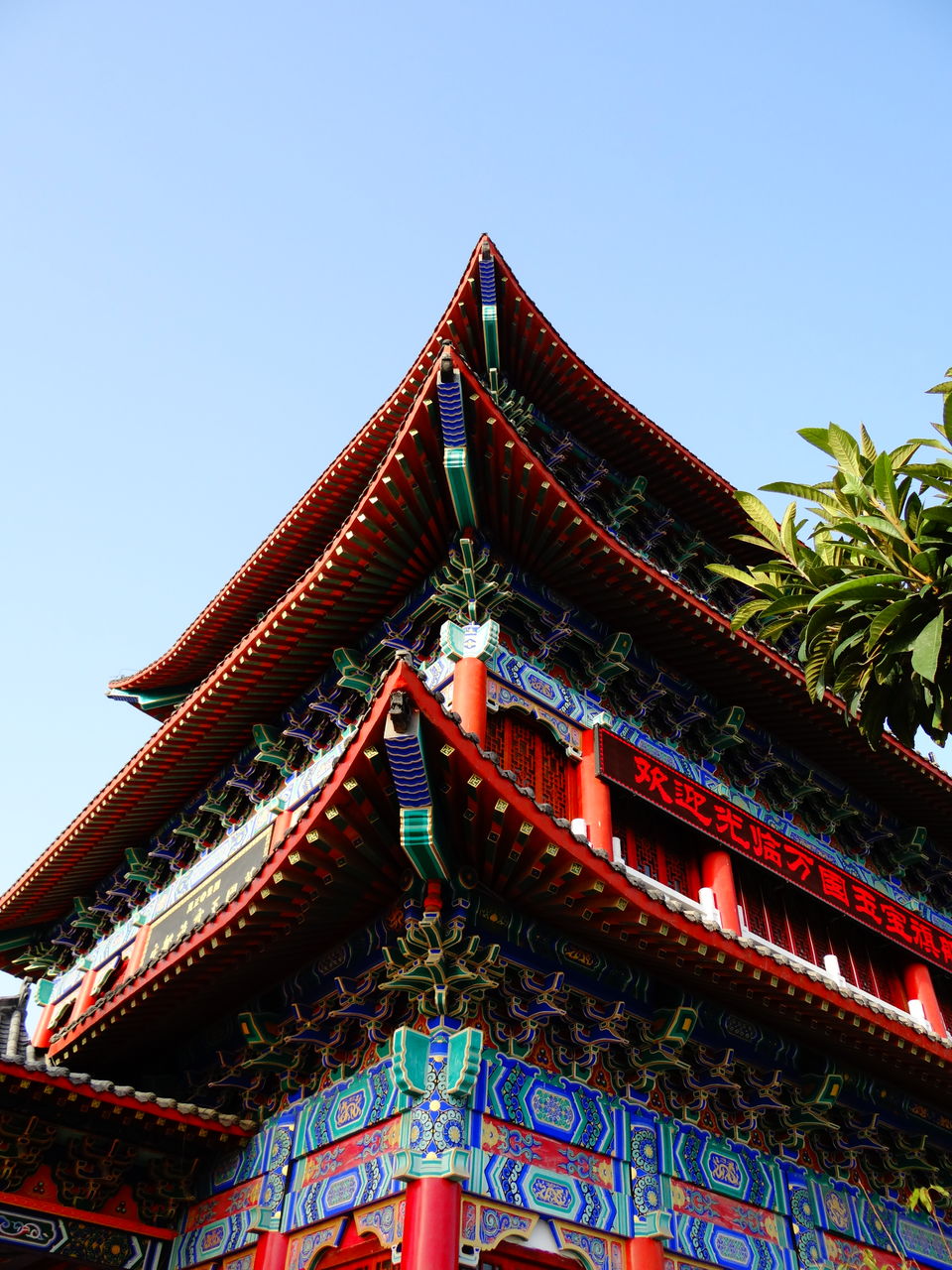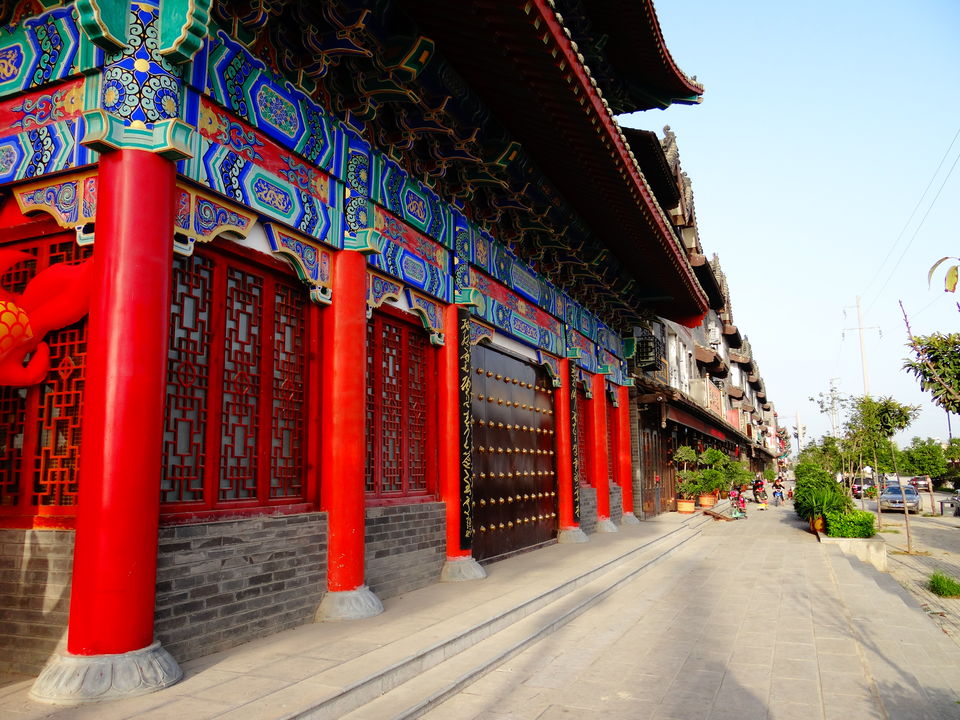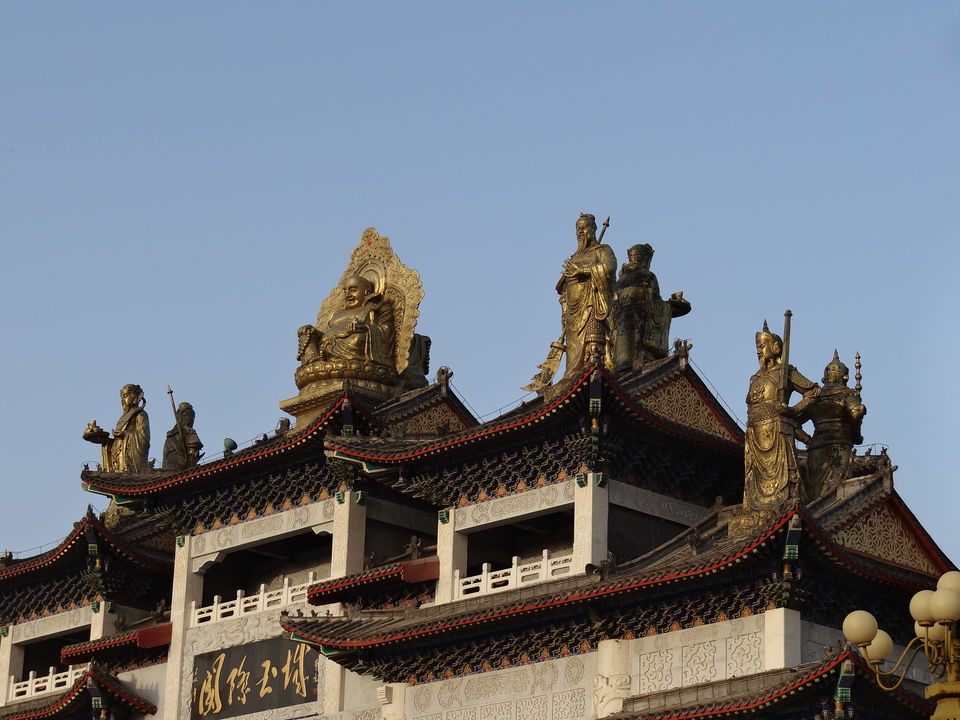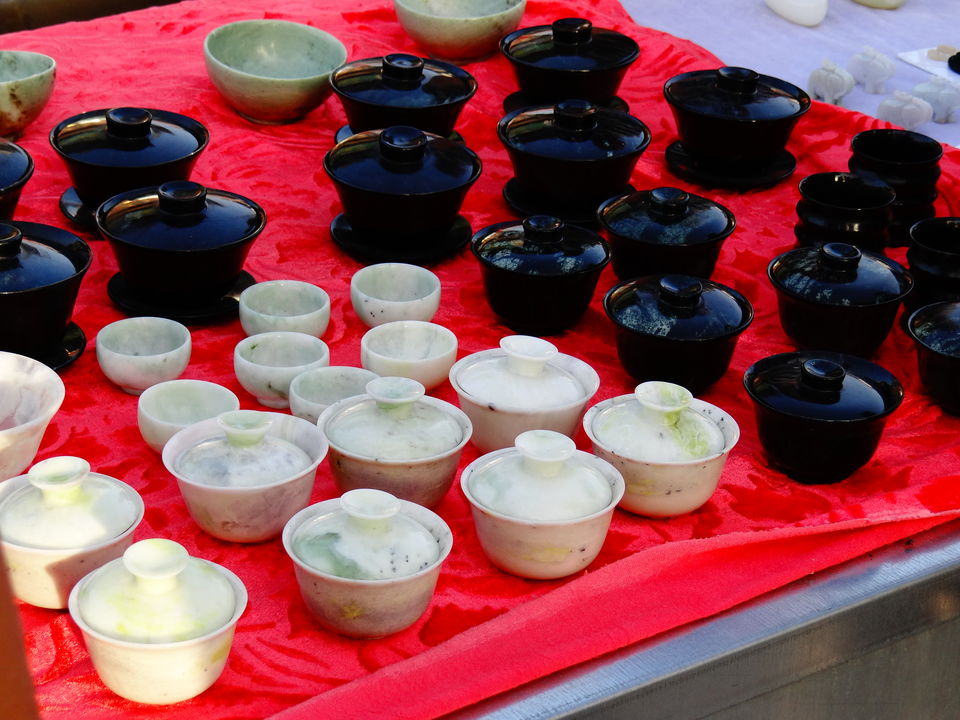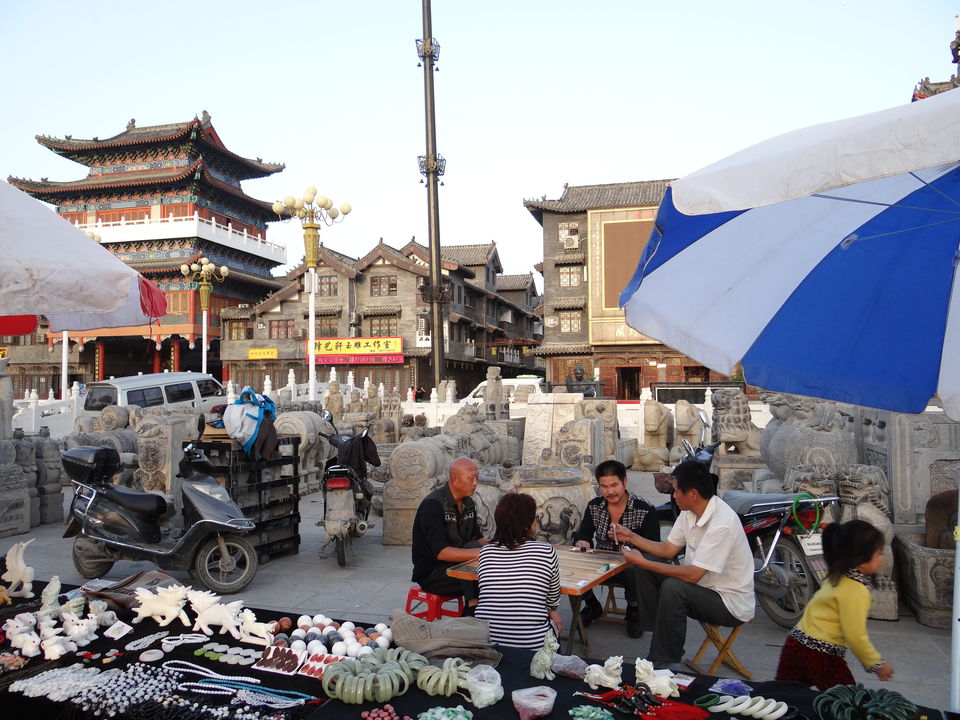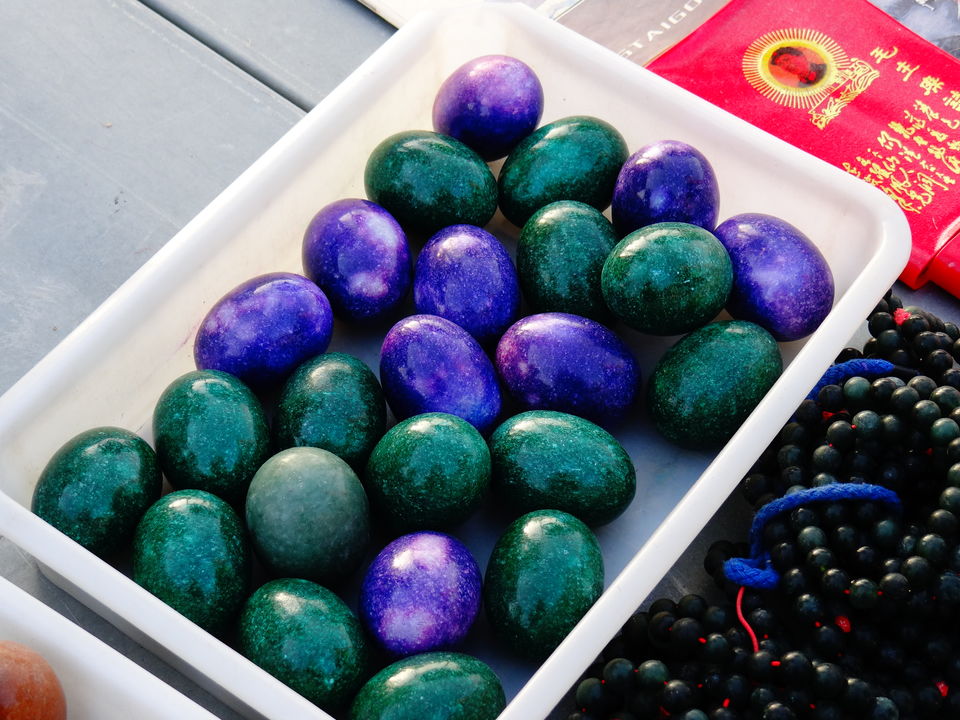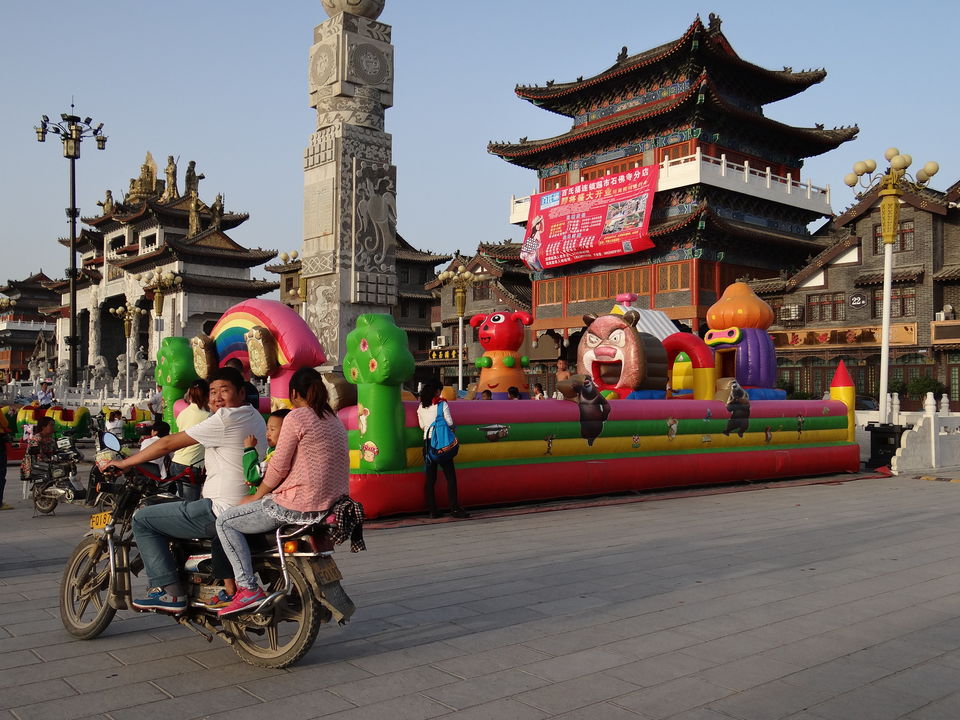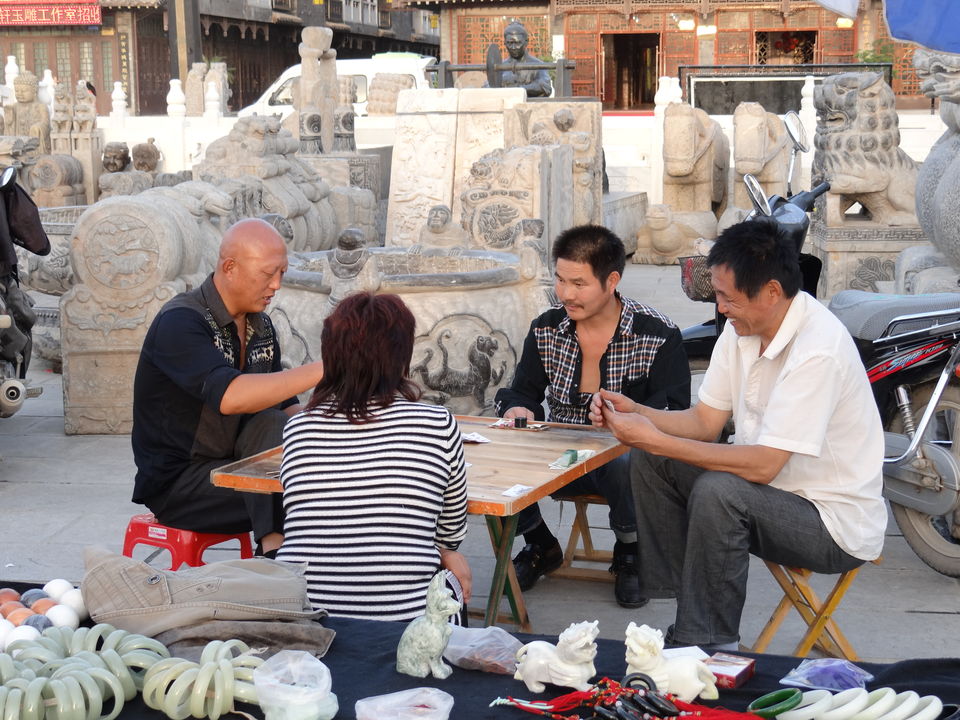 DO NOT GO HERE!!! Find somewhere else, I beg of you. The address is #793, Dushan Street, Wencheng District, Nanyang, and it sucks pretty badly. 3*** hotel in the middle of Nanyang, so location and price wise, it was a good deal. However, the place was so filthy many refused to eat there. Even the bus driver and tour guide chose to eat at a nearby outdoor restaurant instead, and they were up for eating just about anything. Sheets were filthy. Rooms were disgusting. No hot water. Drunks and screaming children running about. Just not a good place :(
This was a really fascinating place. The museum holds hundreds of stones engraved with various pictures and images collected from ancient Han tombs. We were told that they were more than 1000 years old! I was intrigued by the carvings themselves. Naturally, they varied on the subject of their work - dinners, hunting, musicians, kings and counsels. It's always neat to see art demonstrating the use of ancient musical instruments or to watch fashions change as the years go by. But I was really interested to see some of the animals are actually pre-historic. One was clearly a dinosaur (you know the kind that is Sarah on The Land Before Time?). Two were dragons, but only one had wings. You kind of expect the dragons, but the differences in how they were depicted suggests two origins to the dragon legend. One was wingless and quite fat. The other had wings and was longer and thinner. Add in the dinosaur, and it was all really cool!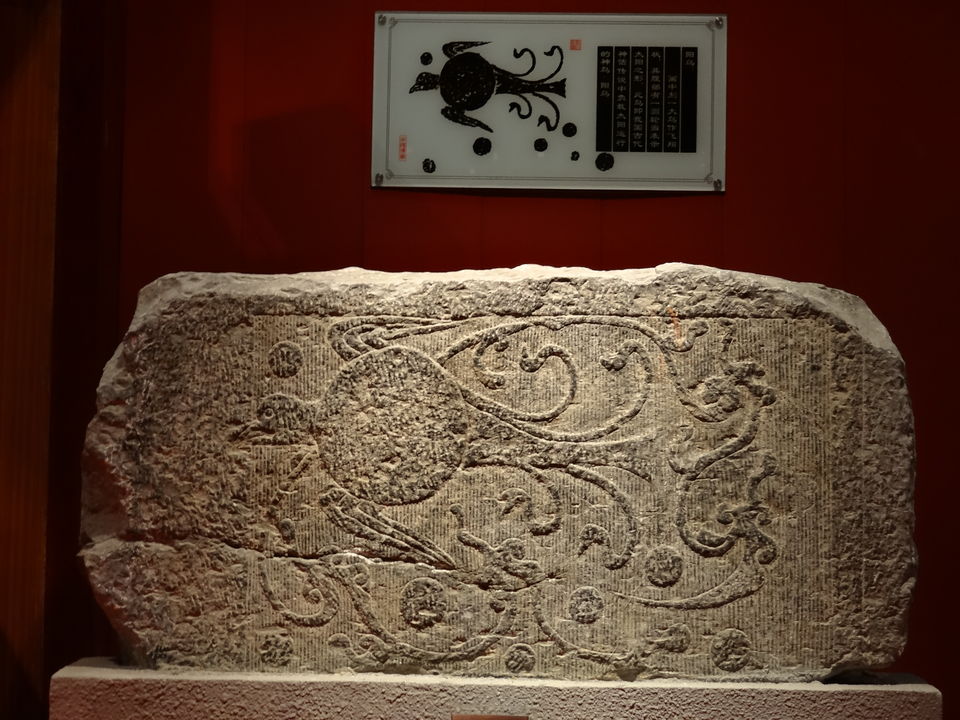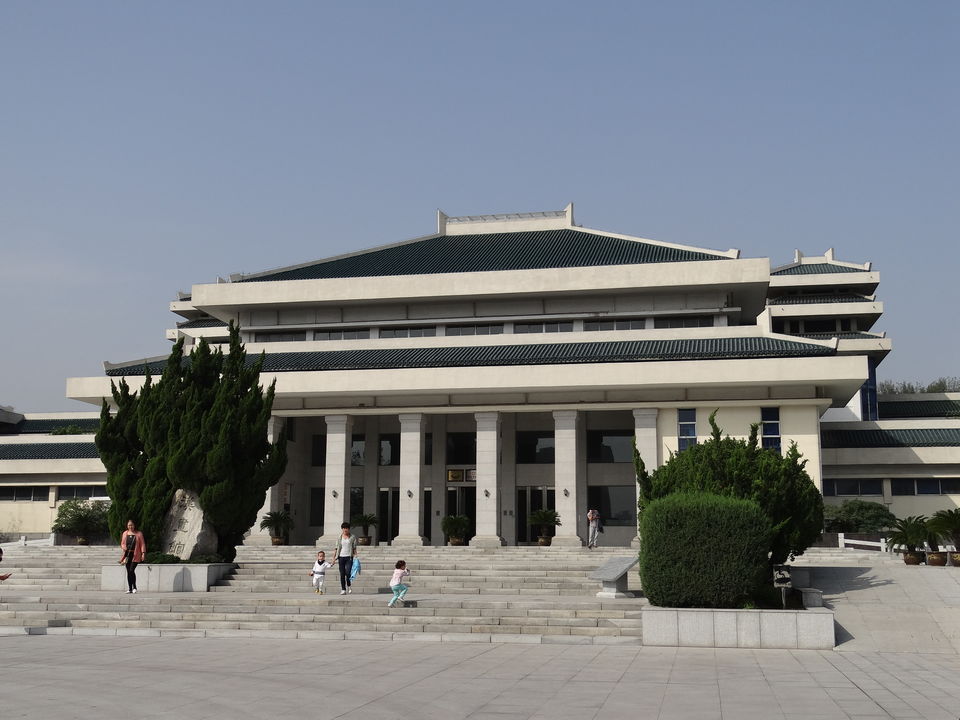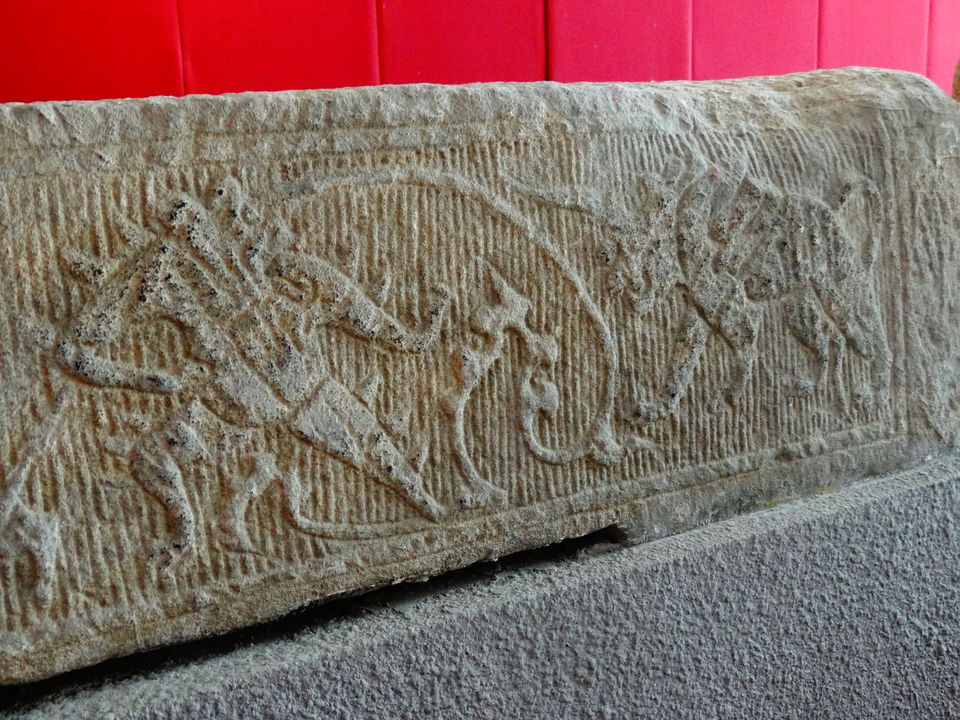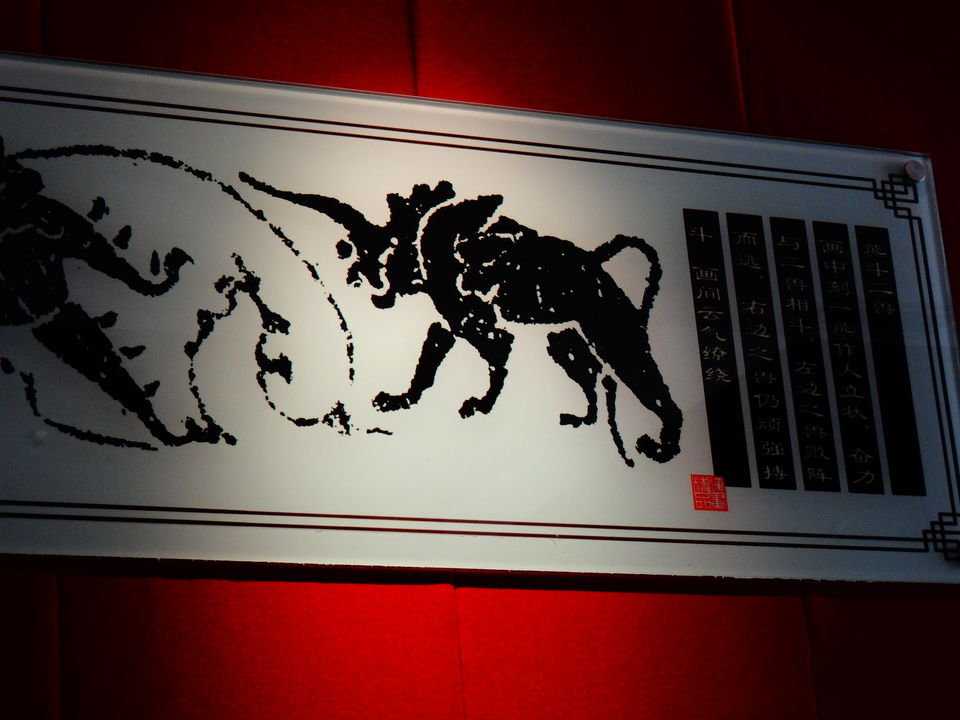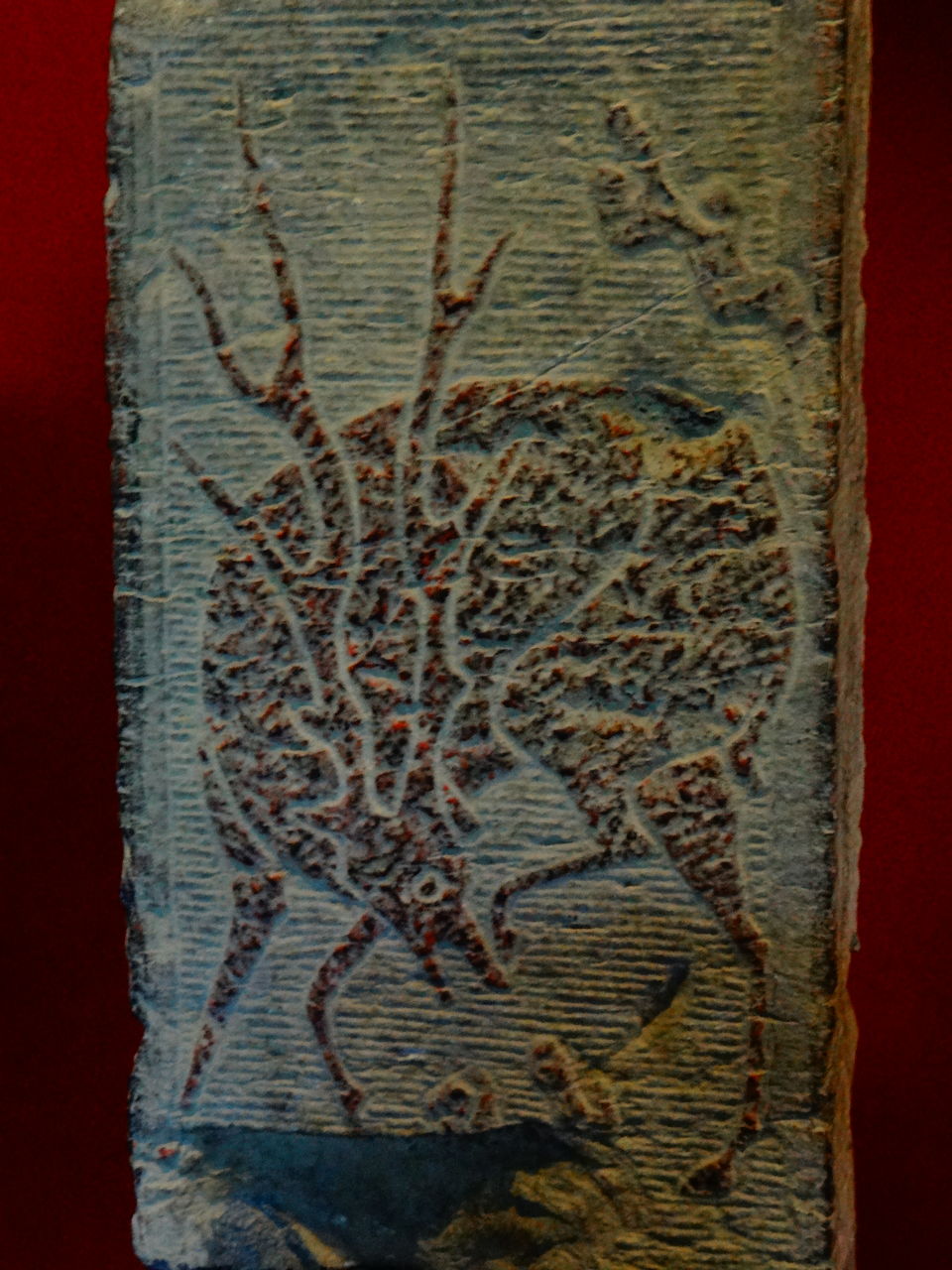 Roamed around this large temple in Nanyang, probably the busiest location we visited. It is a memorial site, commemorating Zhuge Liang, a chancellor of the state of Shu Han during the Three Kingdoms period of Chinese History. He is famous as an inventor, counselor, war strategist, political analyst, and more. He is famously depicted with a fan made of crane feathers (replicas of which are sold at his temple ~ I got one!). The temple itself is beautiful, with a lot of fun things to do. The buildings have many replicas of famous people and statues in historic poses, as well as a lot of giant statues, and other cultural relics. There is also a large lake with a fun zig-zag walkway across it. For the holiday, there was a carnival around back that the children loved. The boys were especially delighted at all the play weapons they could buy!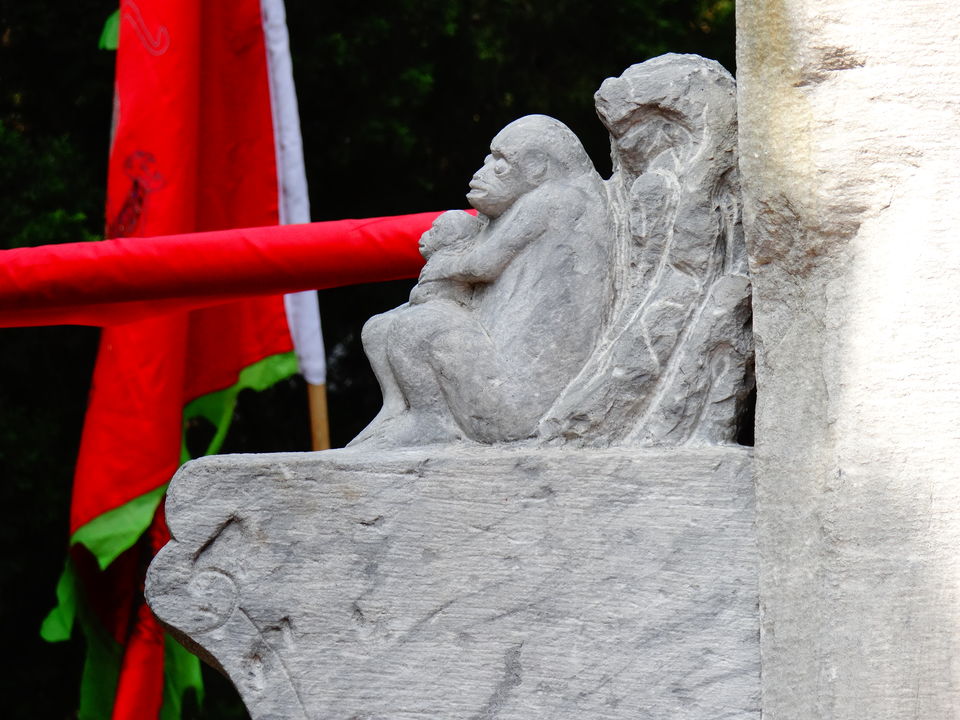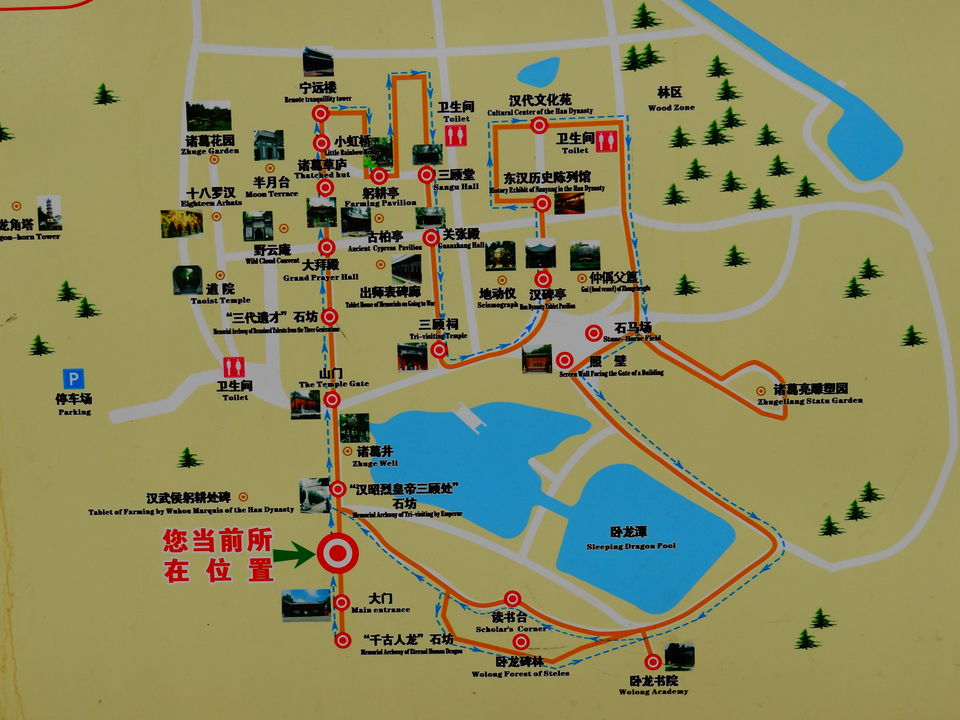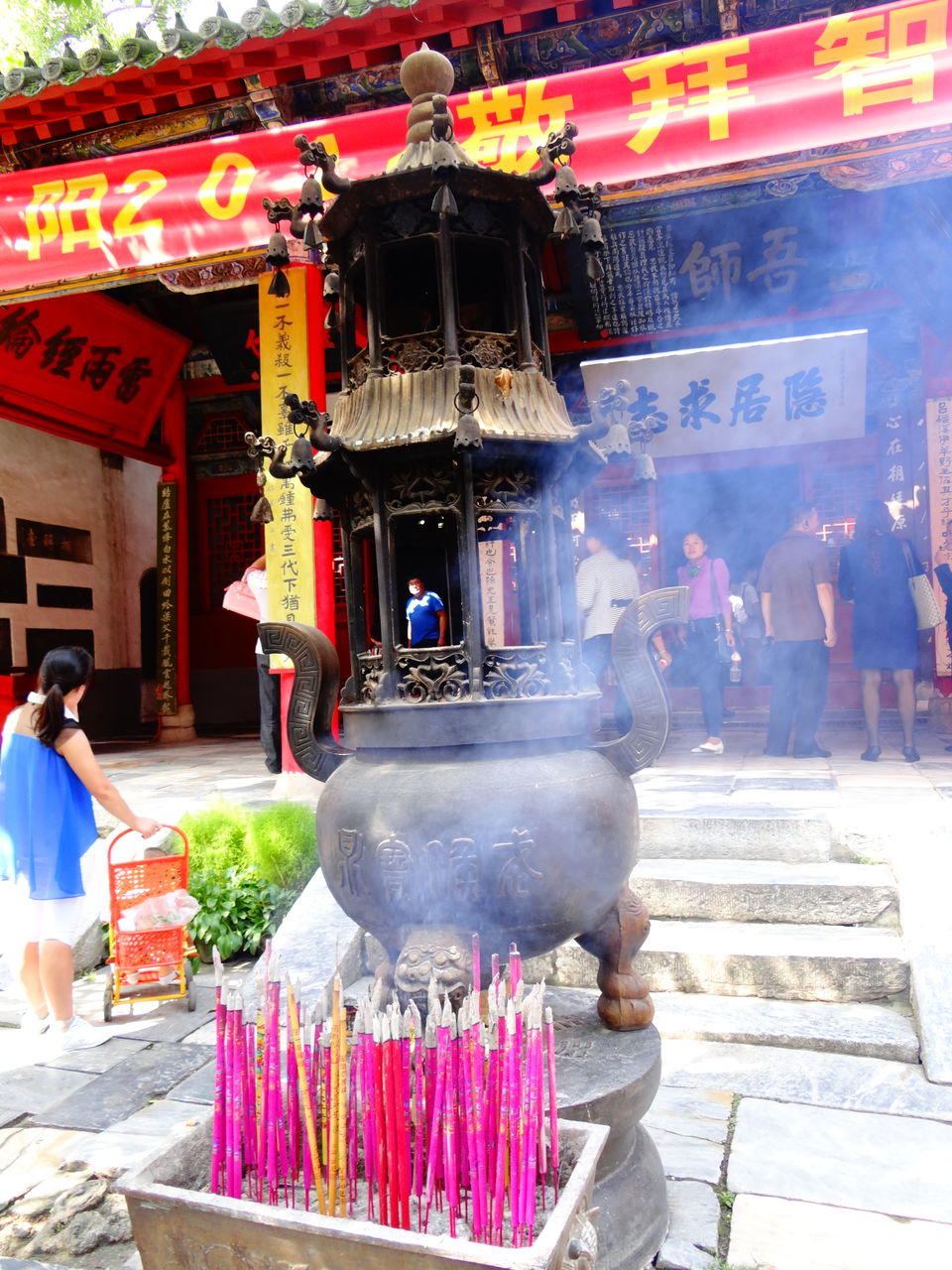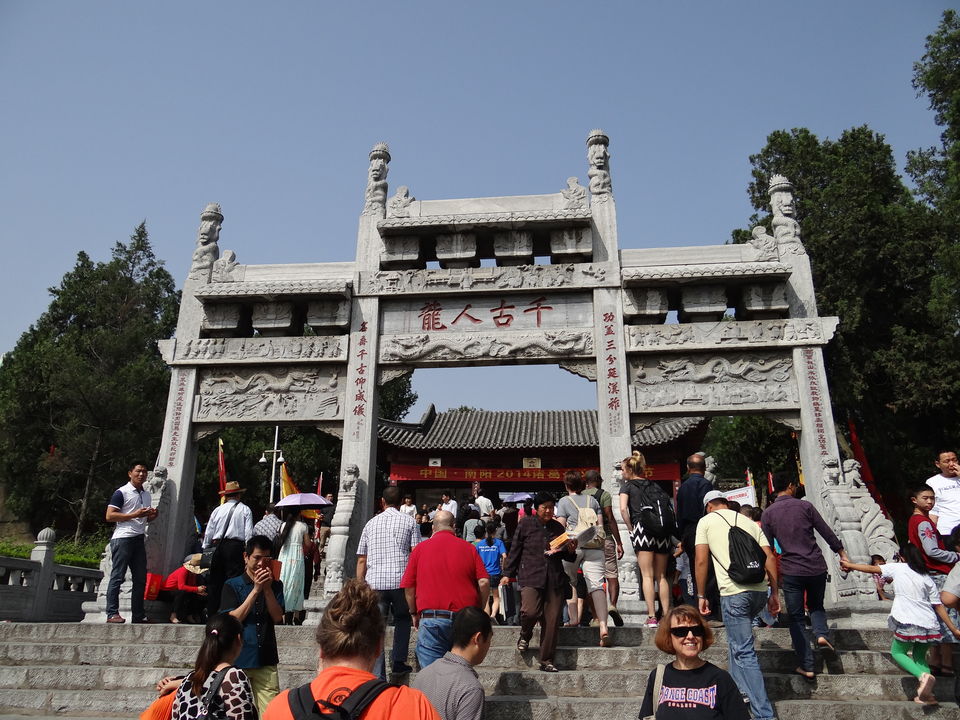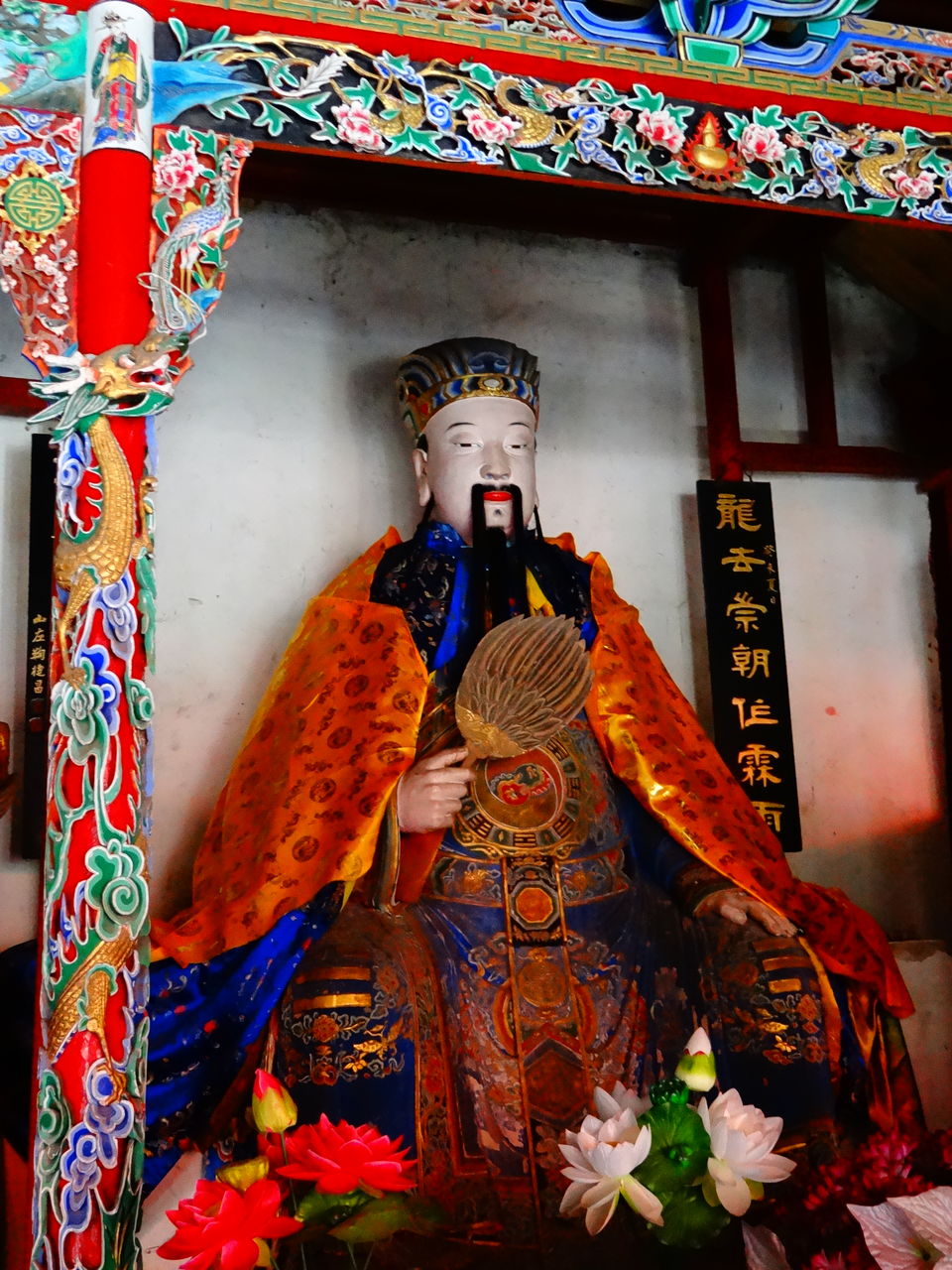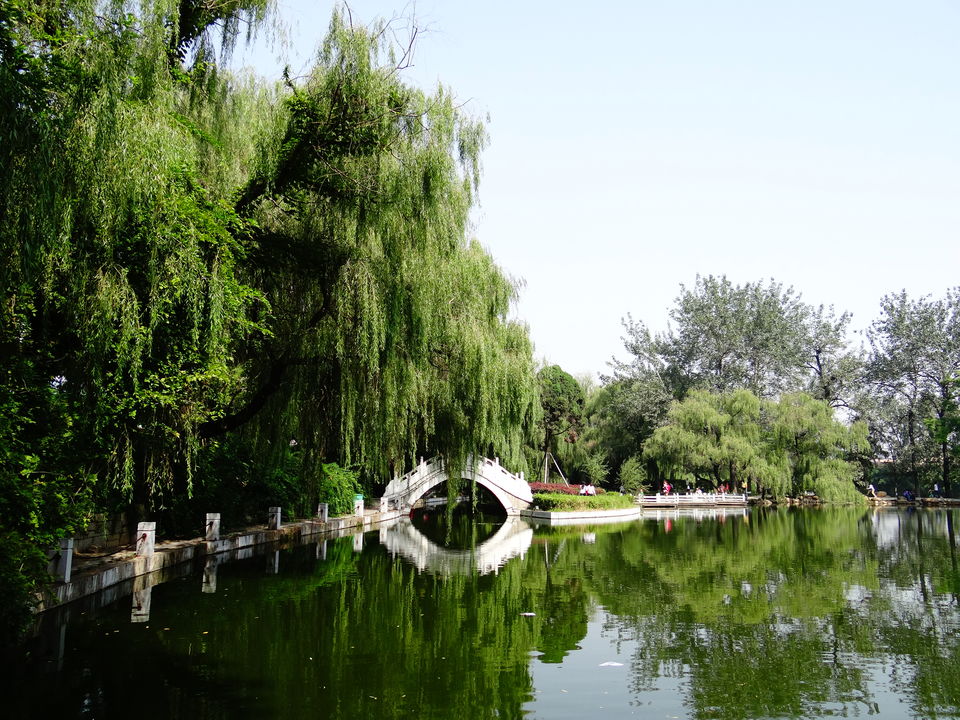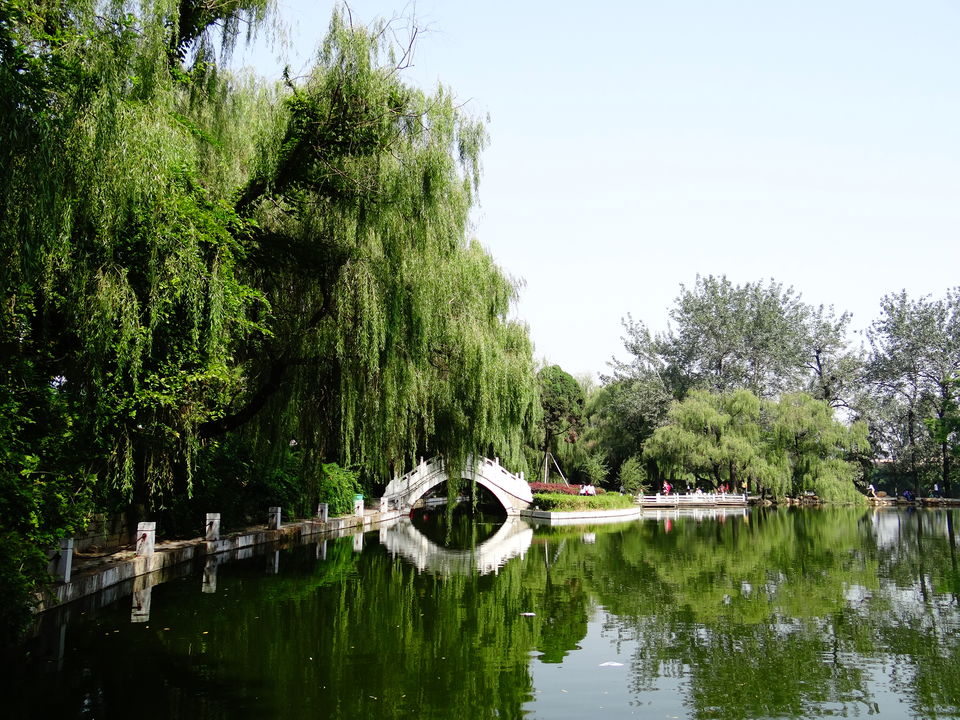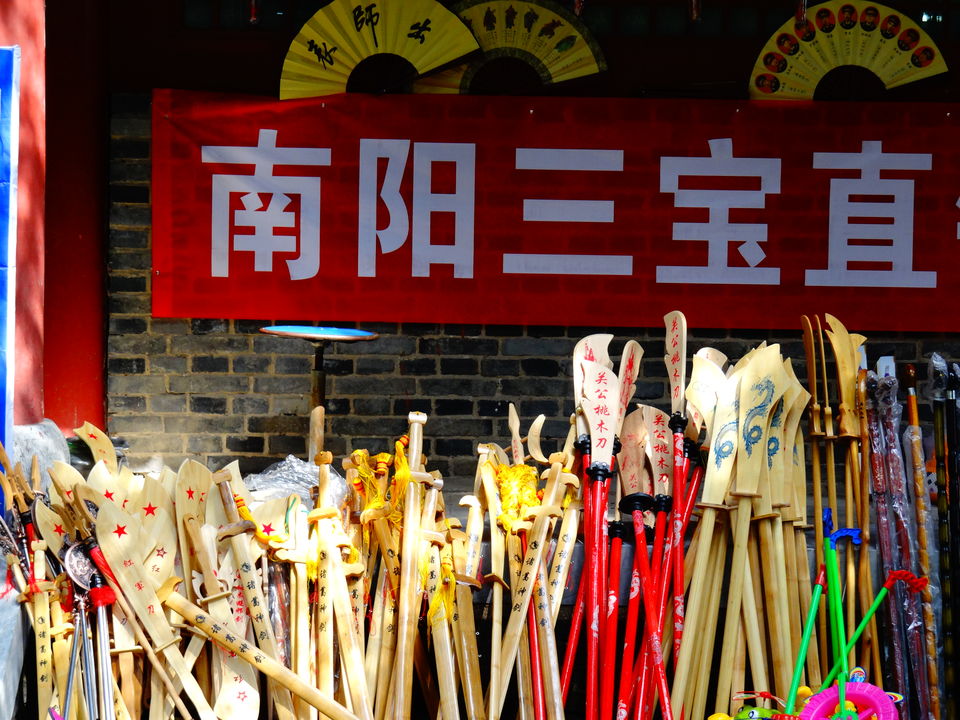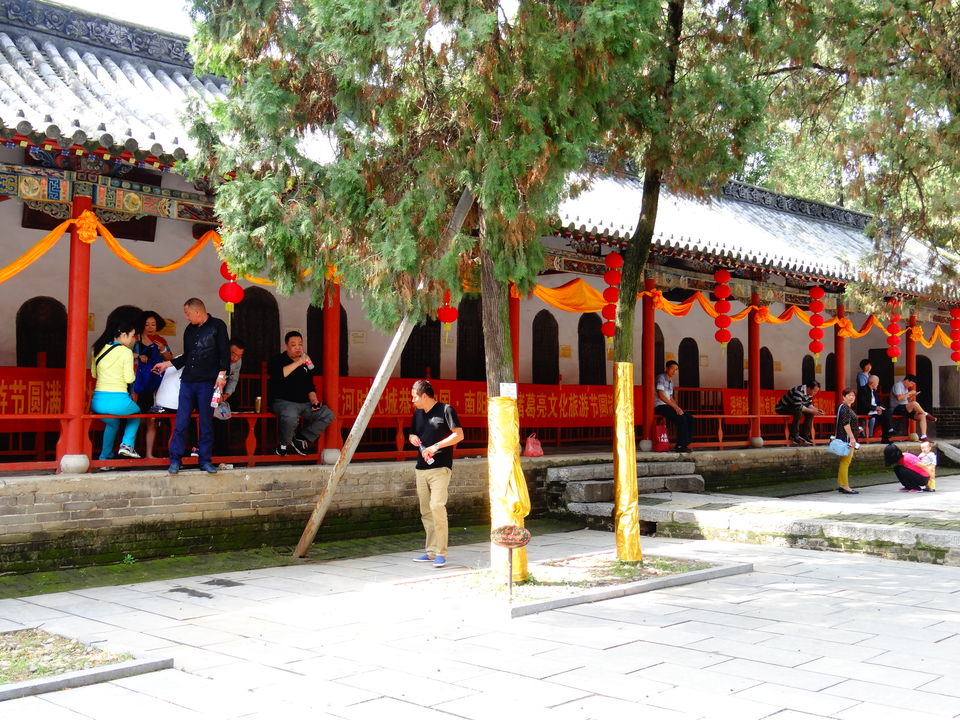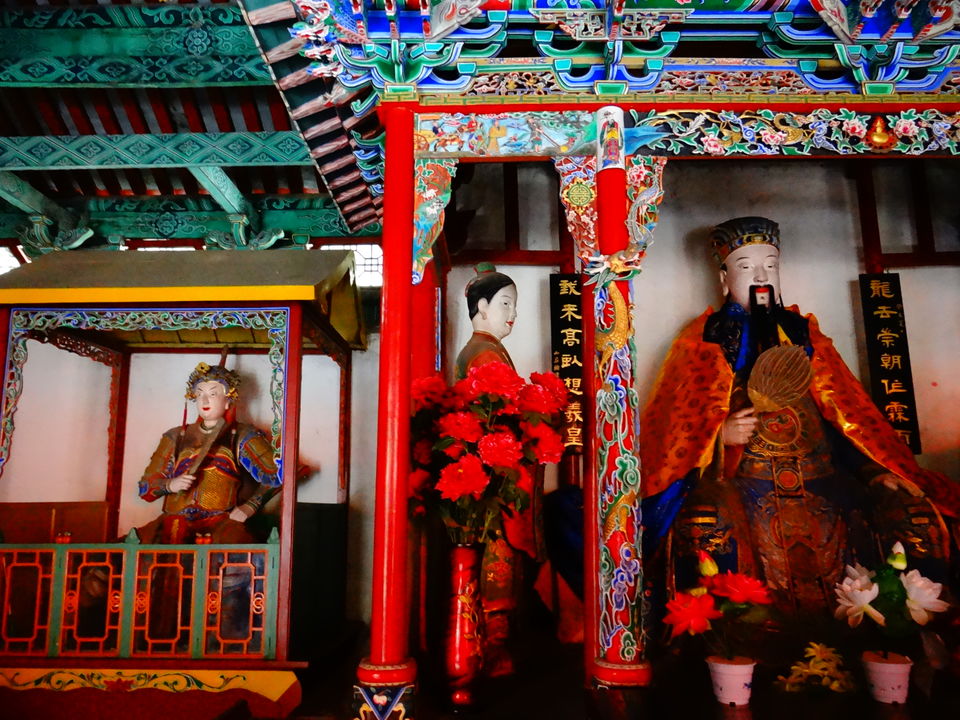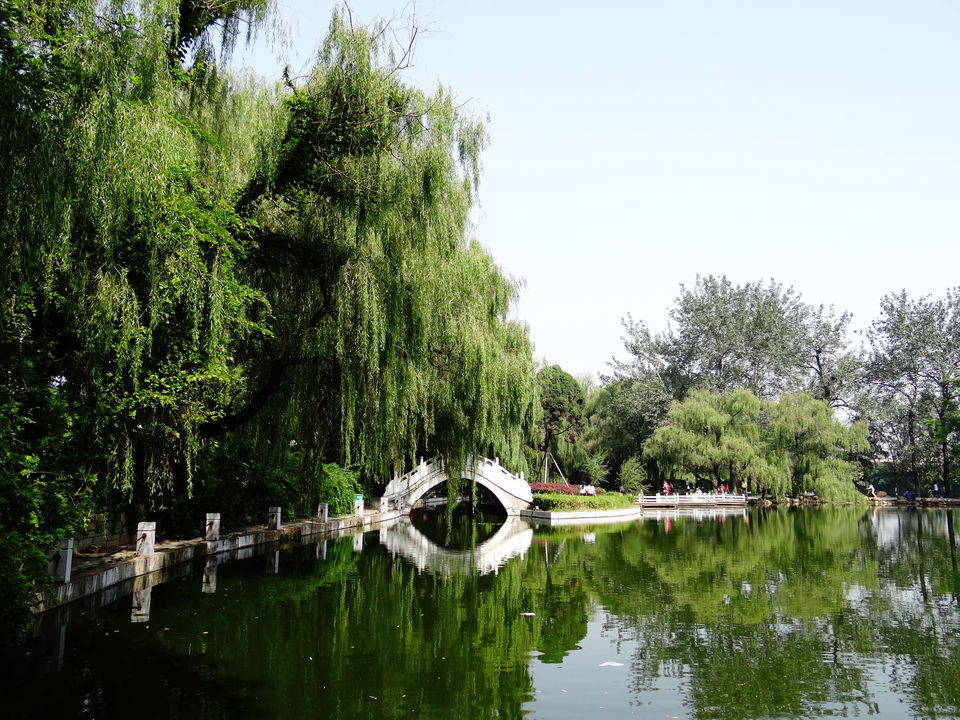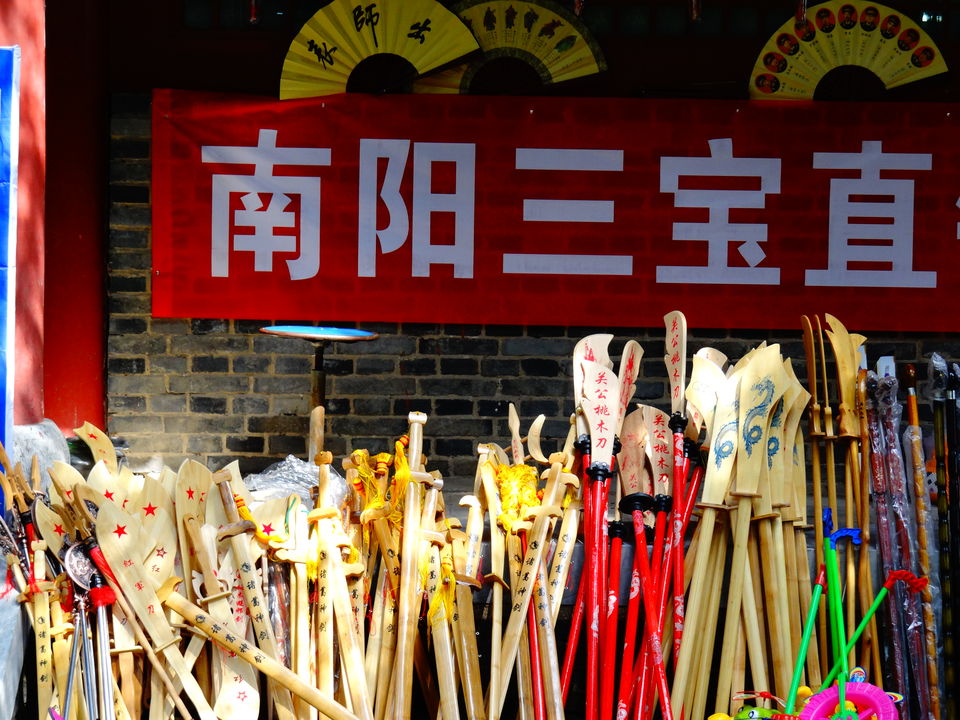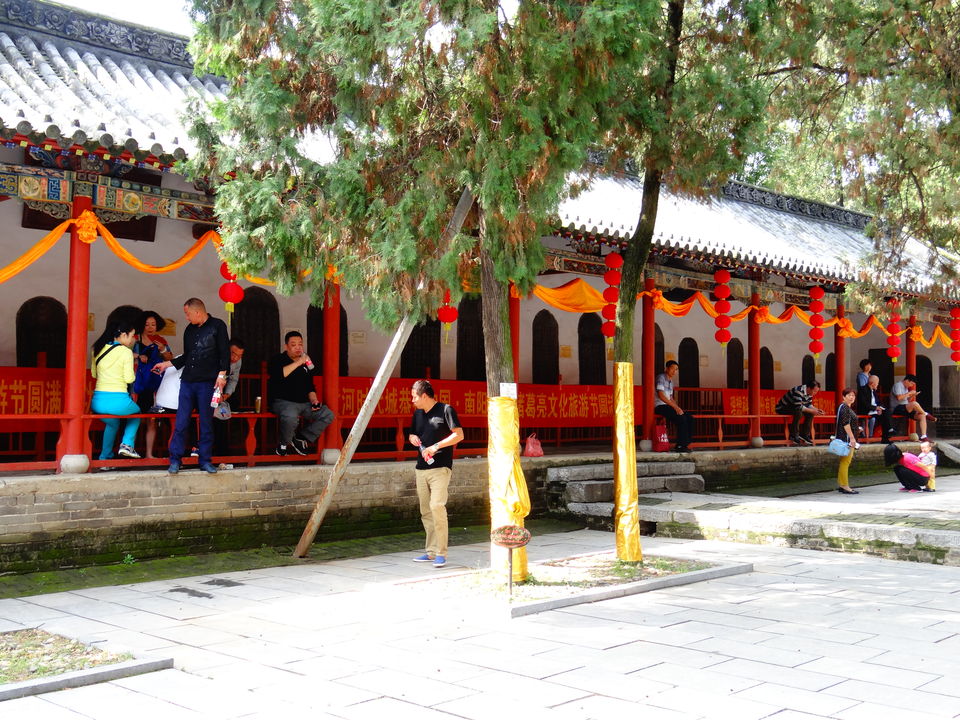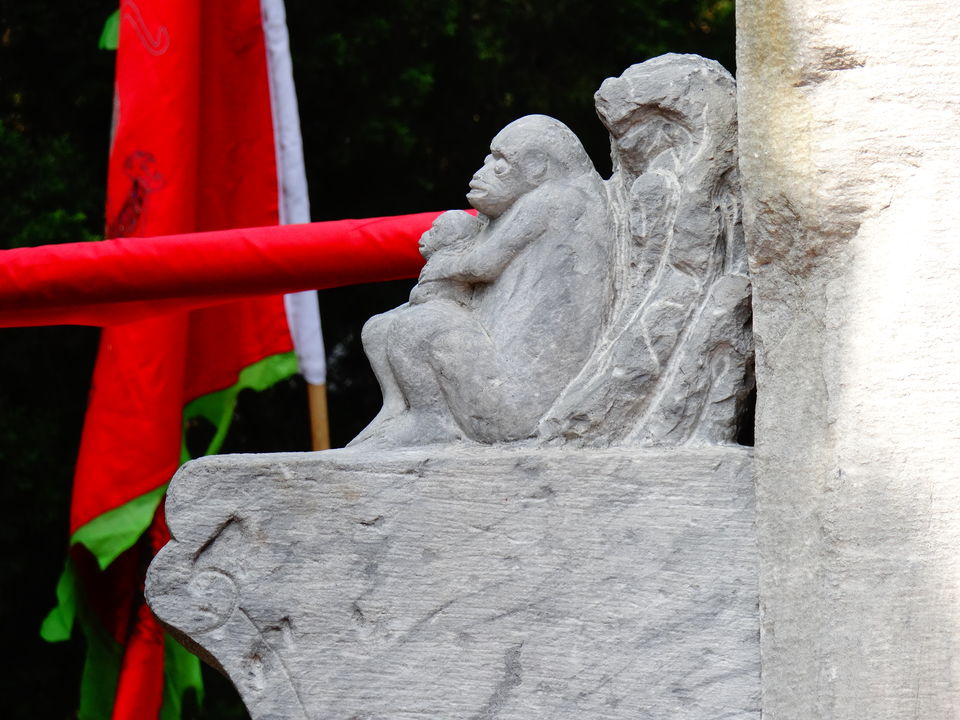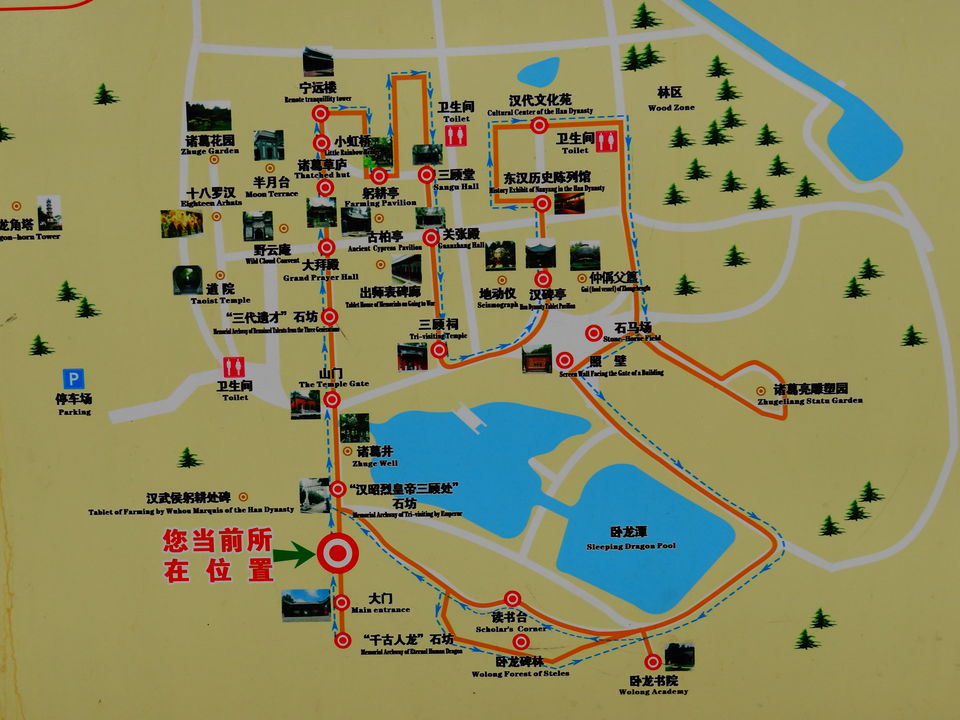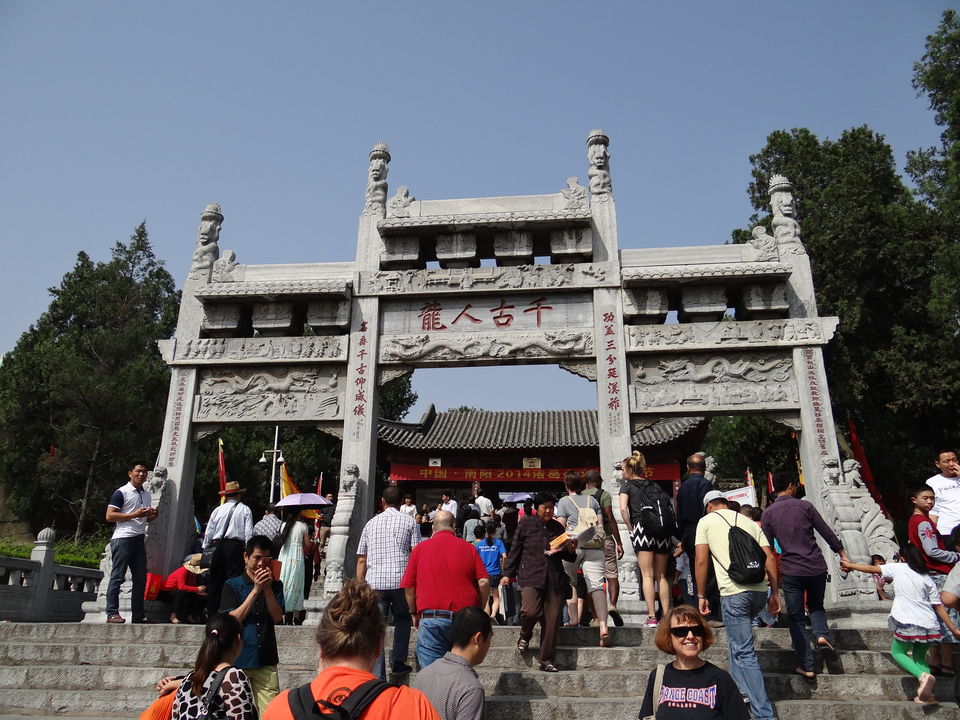 Soooooo amazing. No words. Just, No words. Well, here are a few: Spa (Hot baths and Cold Baths with Massaging jets) Mineral Bath Delicious Food Dinner and a Show Bedroom is over the lake <3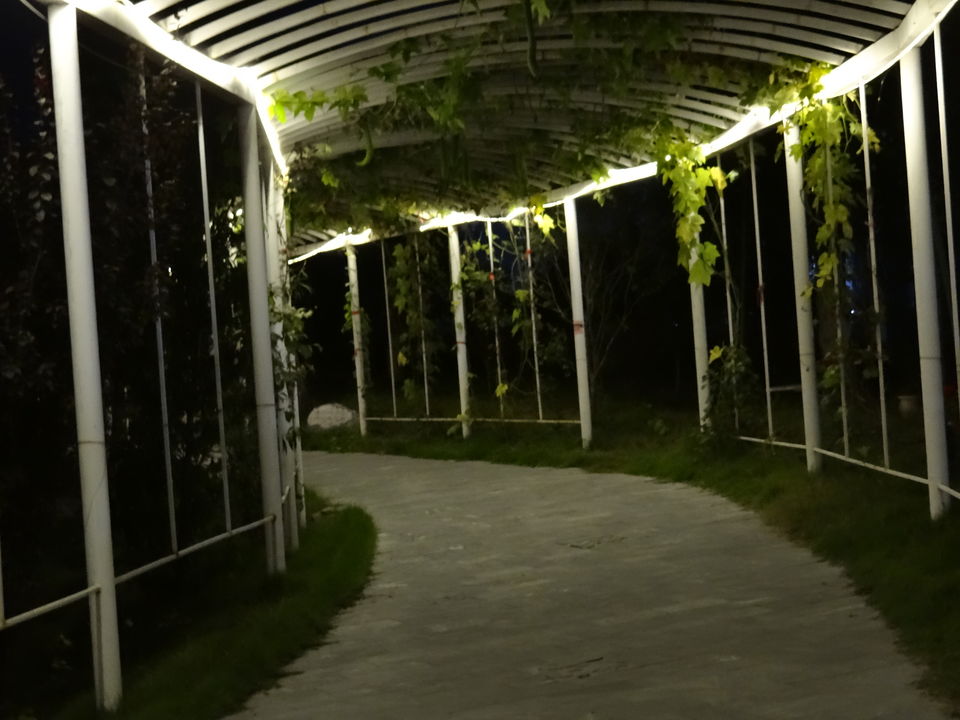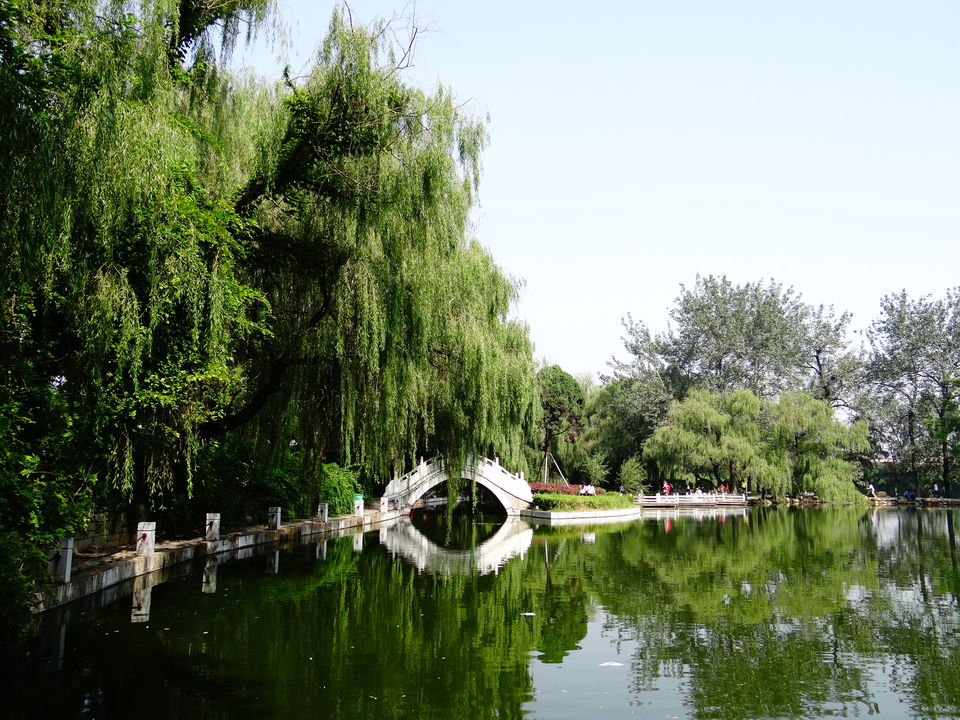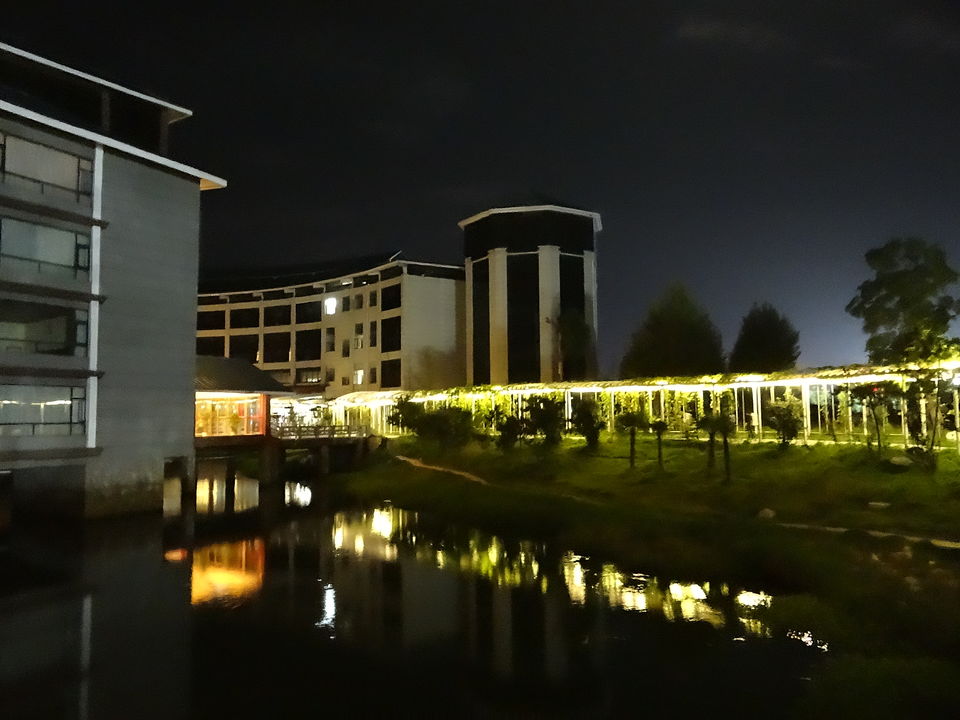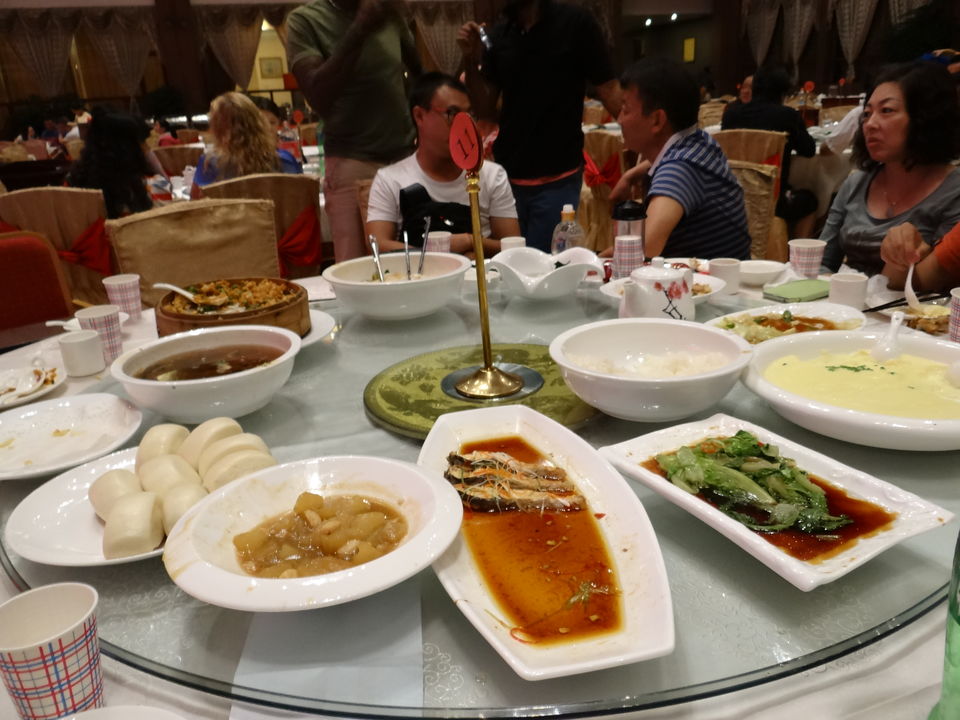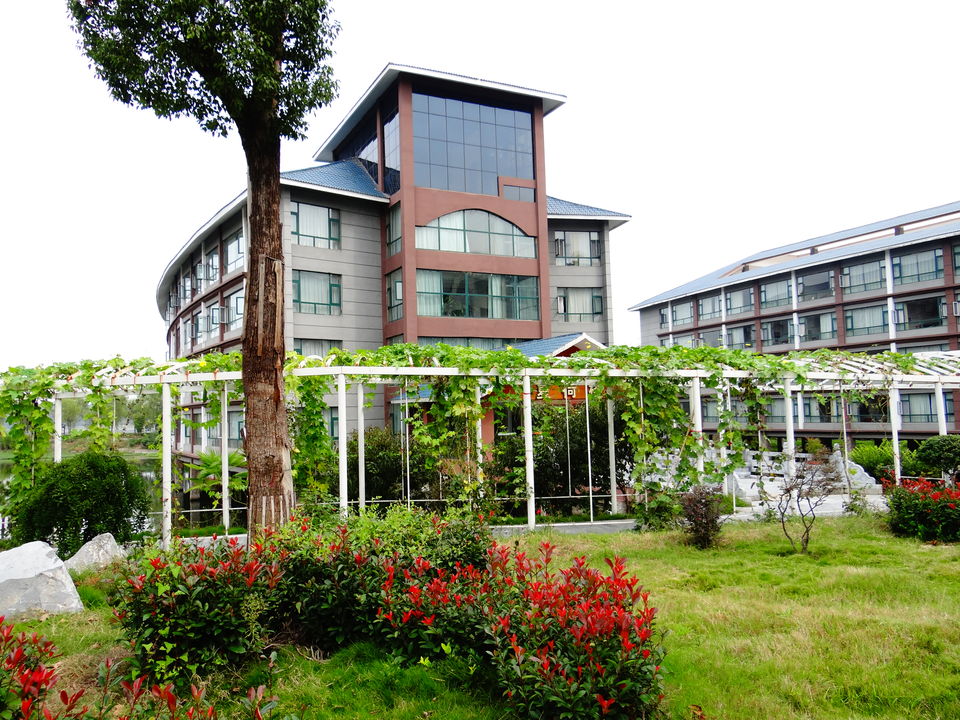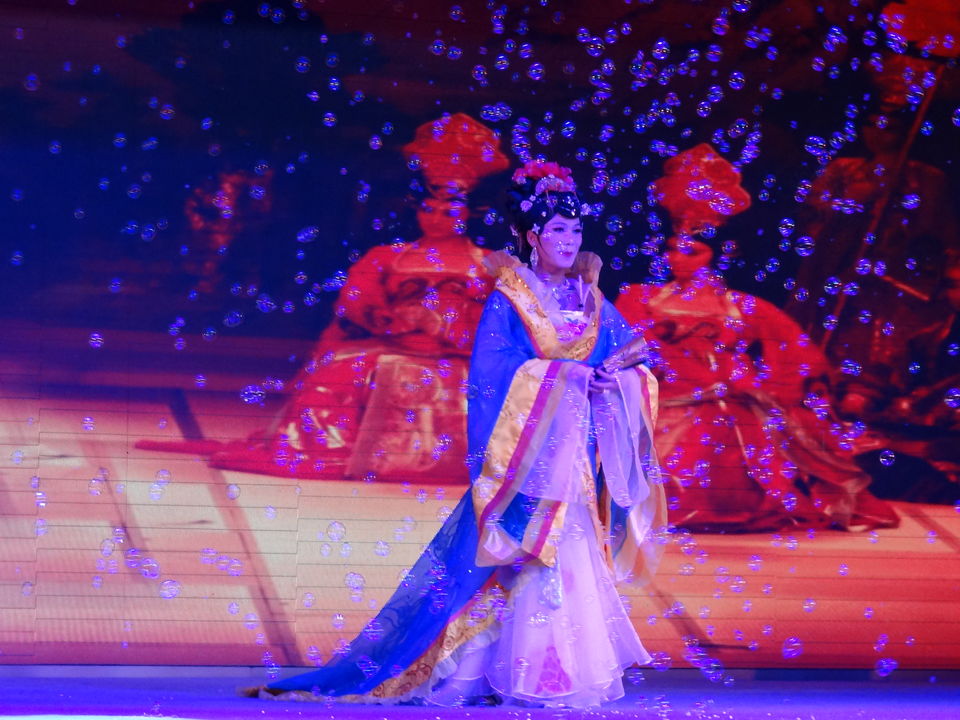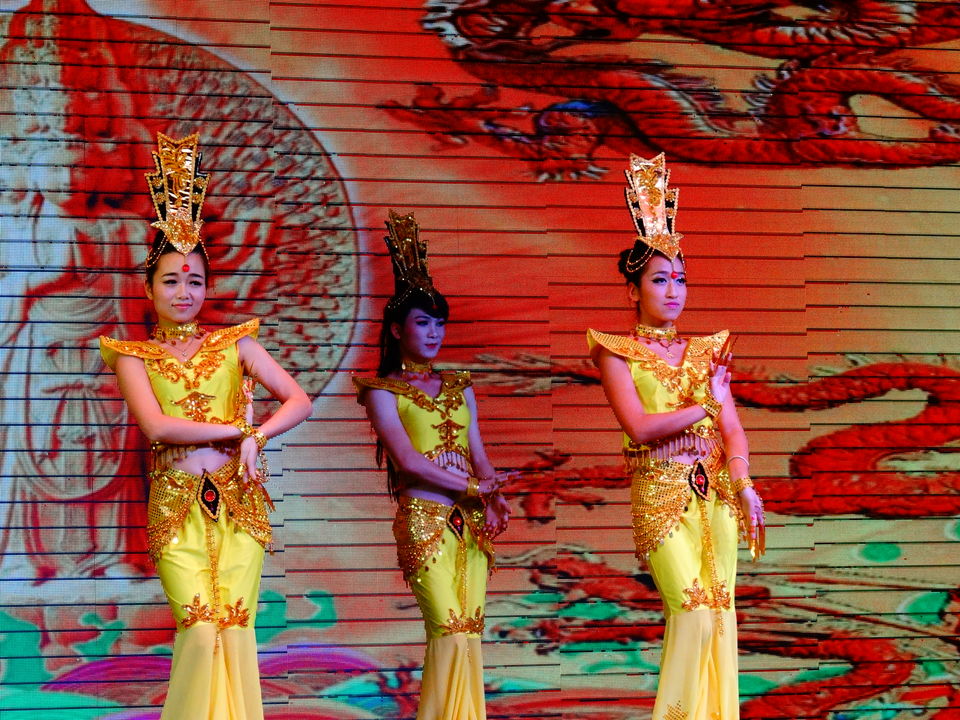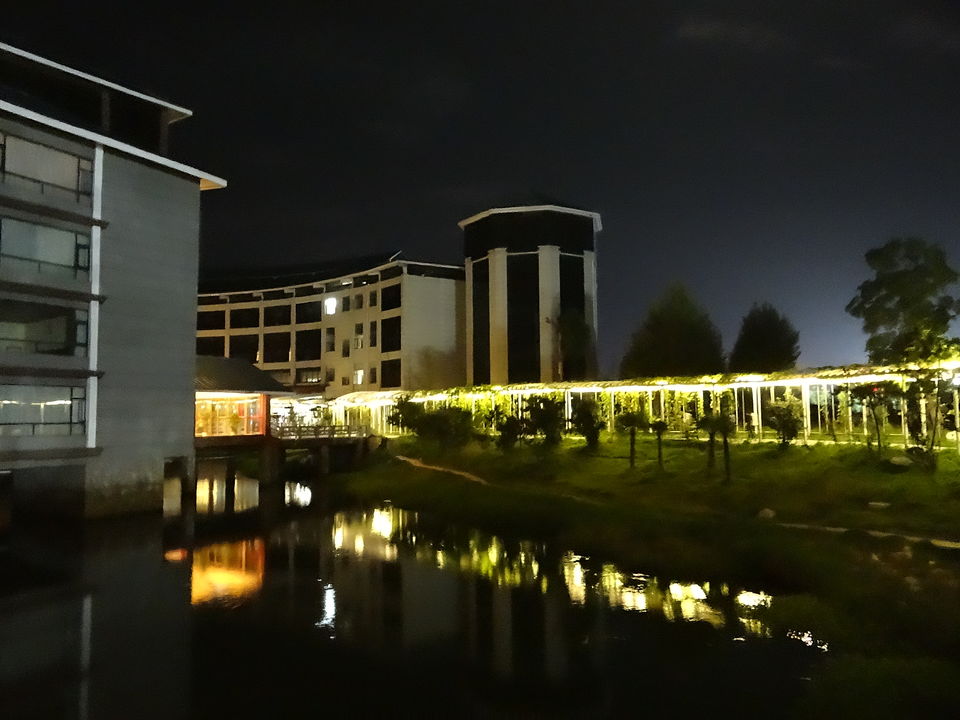 Stopped by here on our way home. It's a massive lake with a little boat trip. Not my favorite spot, although the kids LOVED the boat ride. Personally, I couldn't get past all the trash and diesel fuel rubbish in the water. Fun for kids, but otherwise not recommended.