After my last attempt to climb up to Brahmasthali Temple in Pangot, I thought of taking a break from hiking to sort out some health issues I'd been facing off late. I still did my birthday trip to Jodhpur and rode to Almora to visit my sister post that, but something was still making me restless - it was the itch to climb.

McLeodganj | Triund

With Delhi scorching at 46 degrees, it was time to ditch the bike. I convinced a friend to tag along on this trip. He's off the grid BTW for some reasons, so you may not see his physical appearance in the blog. Let's call him PK for reference purposes.
With my 15 year old vintage, clocking over 1 lac kms, I didn't want to take risk. It's a sort of car for which we used to say "horn ke alava sab bajta hai". We decided to take PK's car, which by the way needed some tuning. So basically it needed service, new tires, clutch cylinder, etc etc. All said and done, we were finally ready. Initial drill was same, leave work at wee hours to ditch city traffic. We set off at 1 AM.
The traffic condition till Panipat toll isn't the best, but after that, it's a joy to drive on GT road. We'd loaded the car with snacks (reminds me of "car bhar lo", as said by someone close). There was no need to take breaks excepts to lighten the body weight. At 6, we were cruising through Mohali, heading towards Kharar. Beautiful sunrise caught my camera's attention.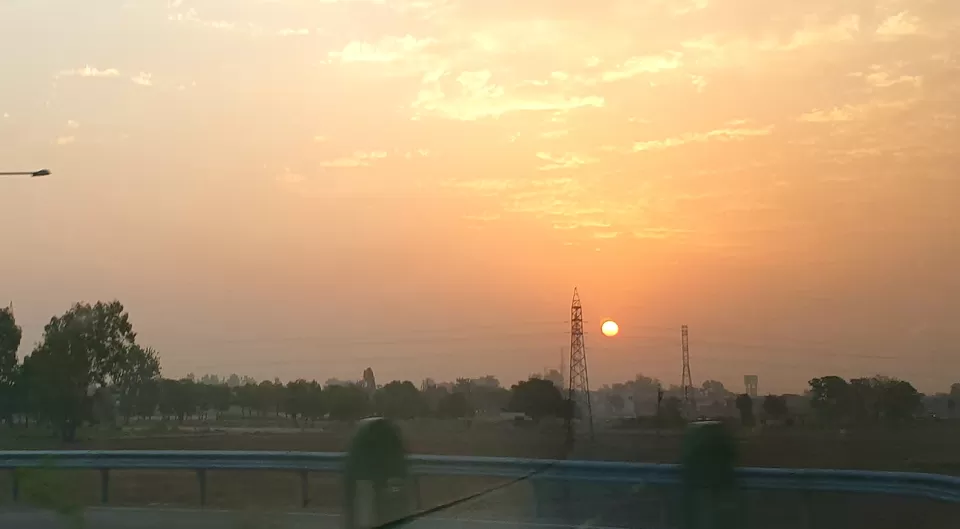 Once you cross Kharar, the road is drivers' paradise. Route ahead: Rupnagar - Kiratpur Sahib - Anandpur Sahib - Nangal - Una - Amb. After crossing Amb, PK gave up the steering. He did really well to stay awake on straight road, all the way from Noida to Amb. It was time for me to steer through the curves. I wasn't really expecting it, but when Dhauladhar hills emerged from the clouds, it made me forget the shit which was going on in my head since last 6 months.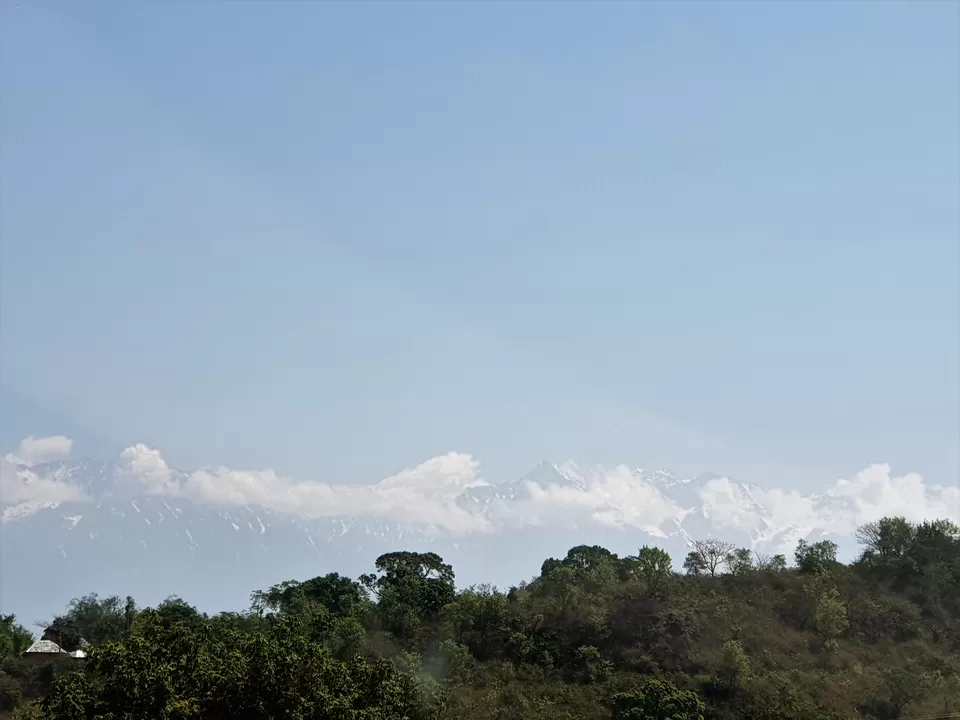 At least since a month and a half, I'd been reading about traffic jam in hill stations. Nainital, Mussoorie, Manali, Rohtang, etc... they were all in news for wrong reasons. May be, last week of June brought the typical tourist janta back. Drive till Dharamshala - an absolute breeze. McLeodganj is only 6 - 7 kms from Dharamshala, but it brings a decent change in altitude, and hence the temperature. We reached McLeodganj at 11 AM. This time around, I had booked couple of beds in dorm rooms at The Hosteller, Mcleodganj. The property is located near Bhagsunag Temple, and to reach the place you need to trek for about 20 - 25 mins from Bhagsu car parking. After maneuvering through a little bit of congestion and traffic here and there, and completing the climb to The Hosteller, it was time to rest in our bunk beds. Weather was a bliss, a much needed natural relaxation. I took a hot shower and dozed off for couple of hours.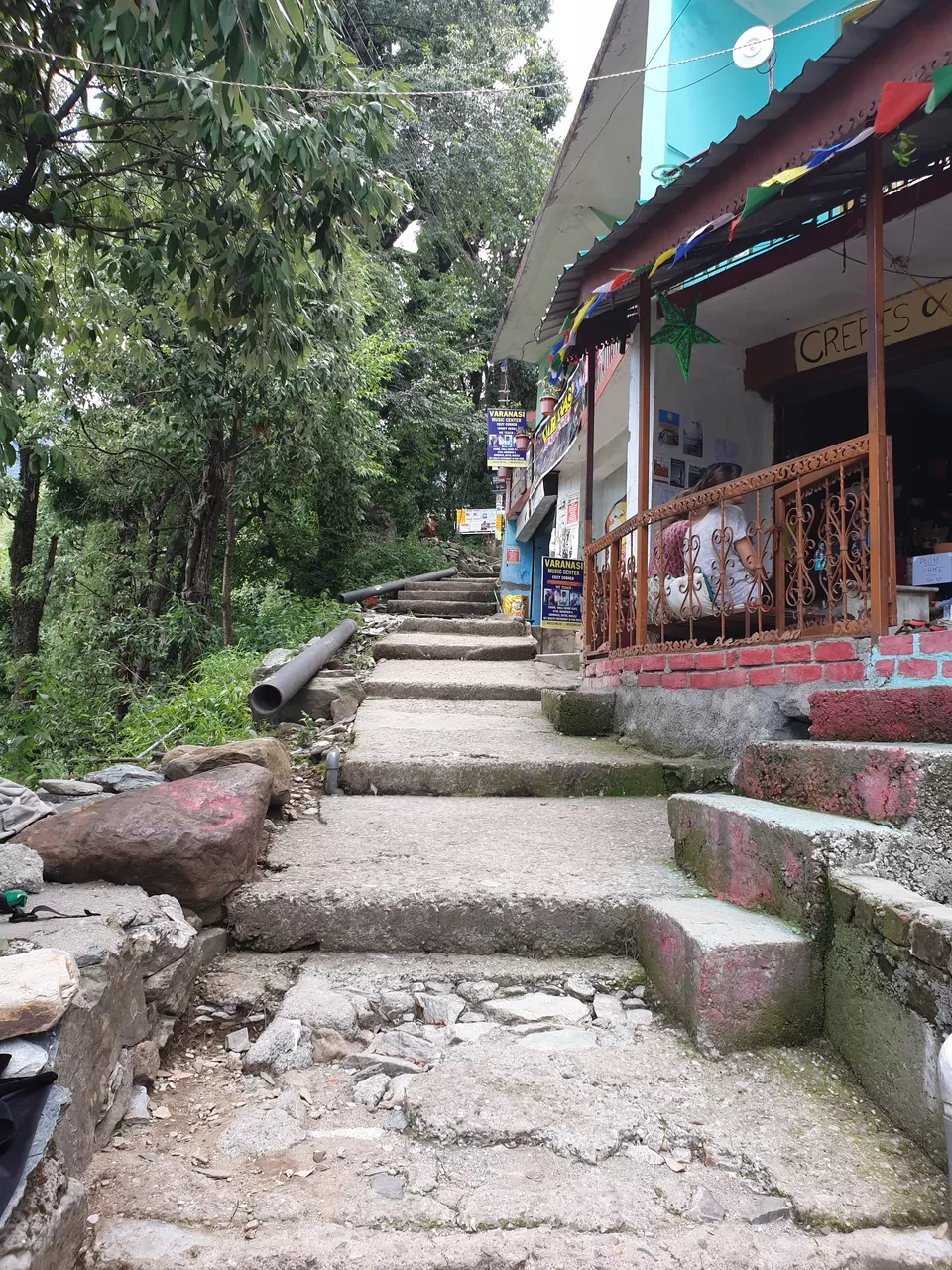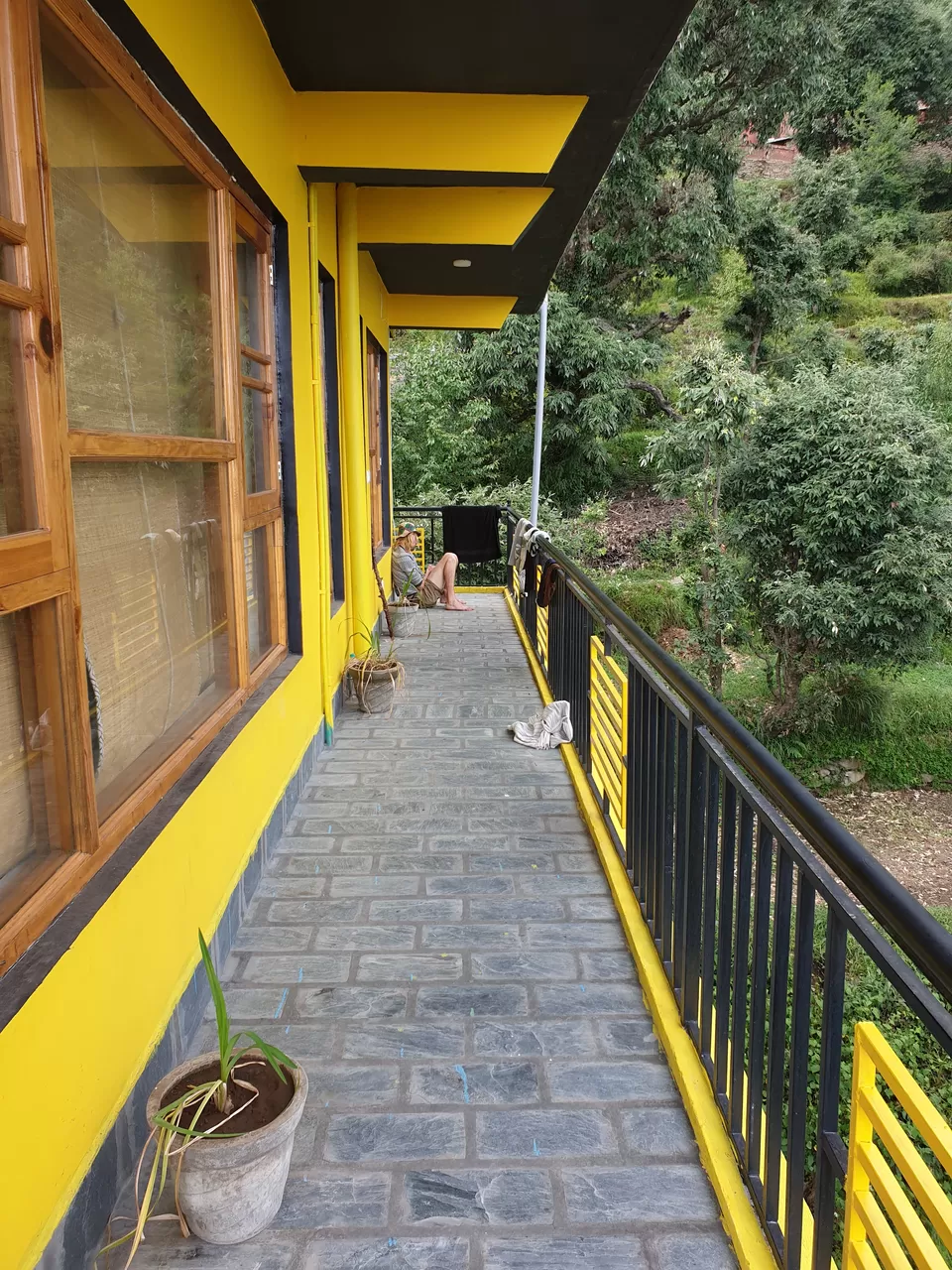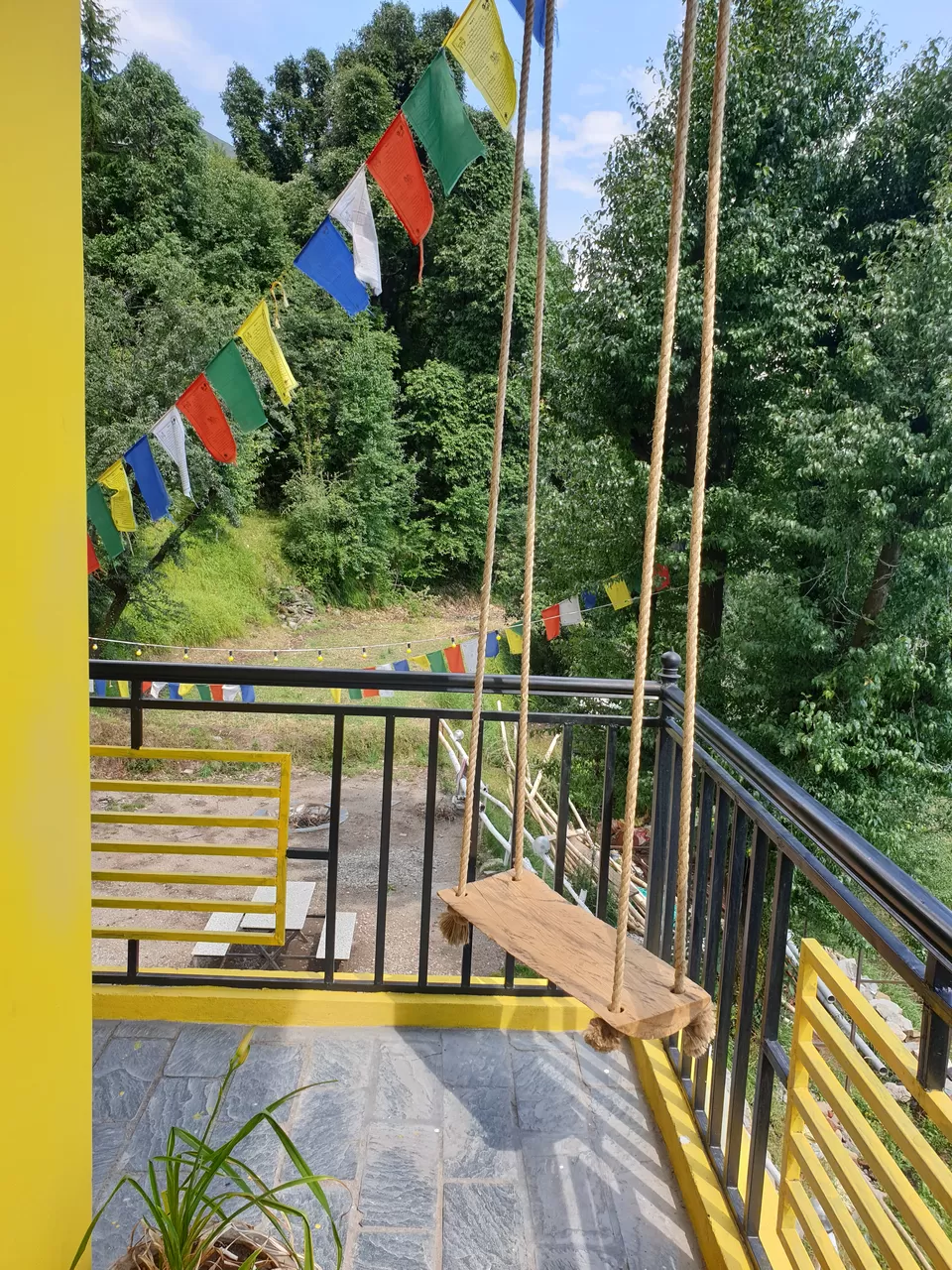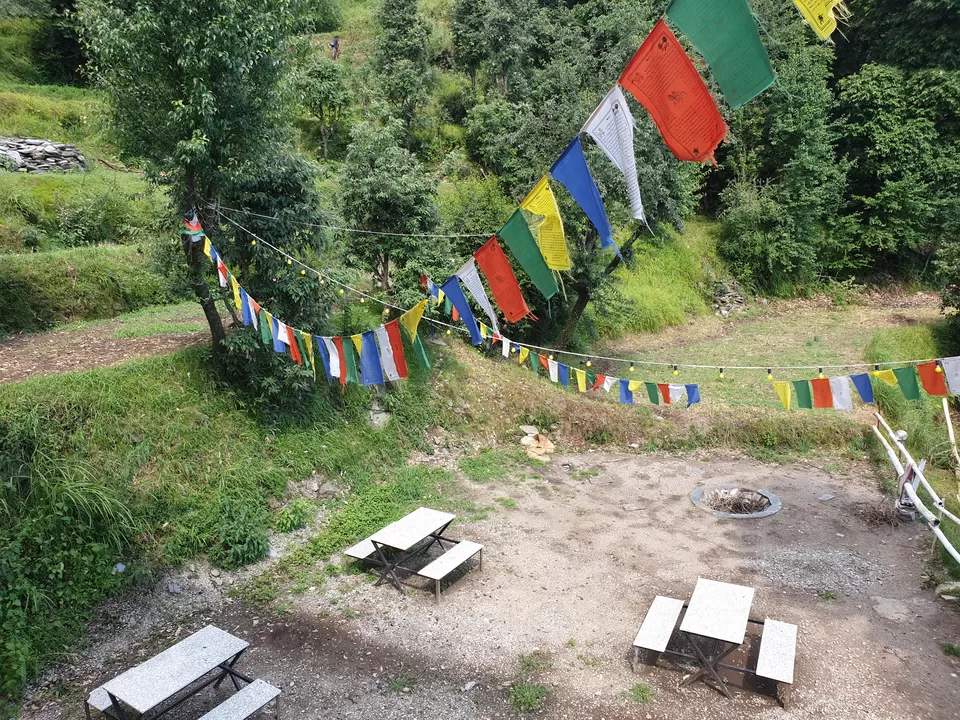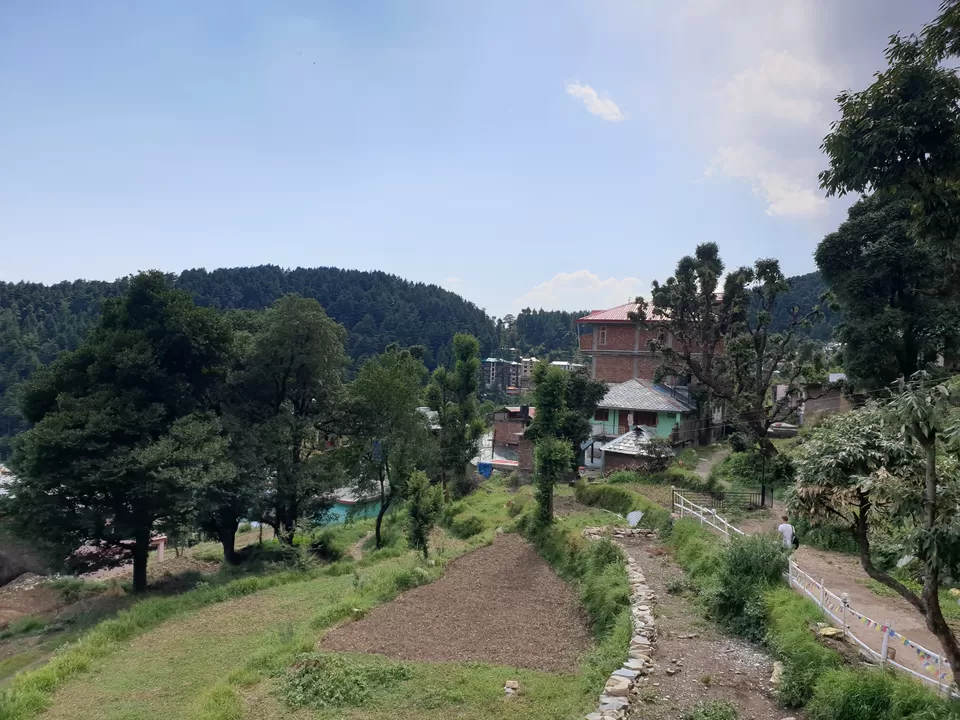 Evening brought the temperature further down, and there was decent nip in the air, enough to give you goose bumps on and off. I was now craving for mutton momos ????. The first cafe we hit was Meclo Momos which is located in a basement near main square. They were out of mutton momos, so I thought to might as well try chicken. Honestly, I've never had chicken momos tastier than ones at Meclo. Thin layer, fresh and filling (10/10). Next stop was at the famous, Tibet Kitchen. Finally, got mutton momos there. Not as tasty as the chicken ones, they still satisfied my craving.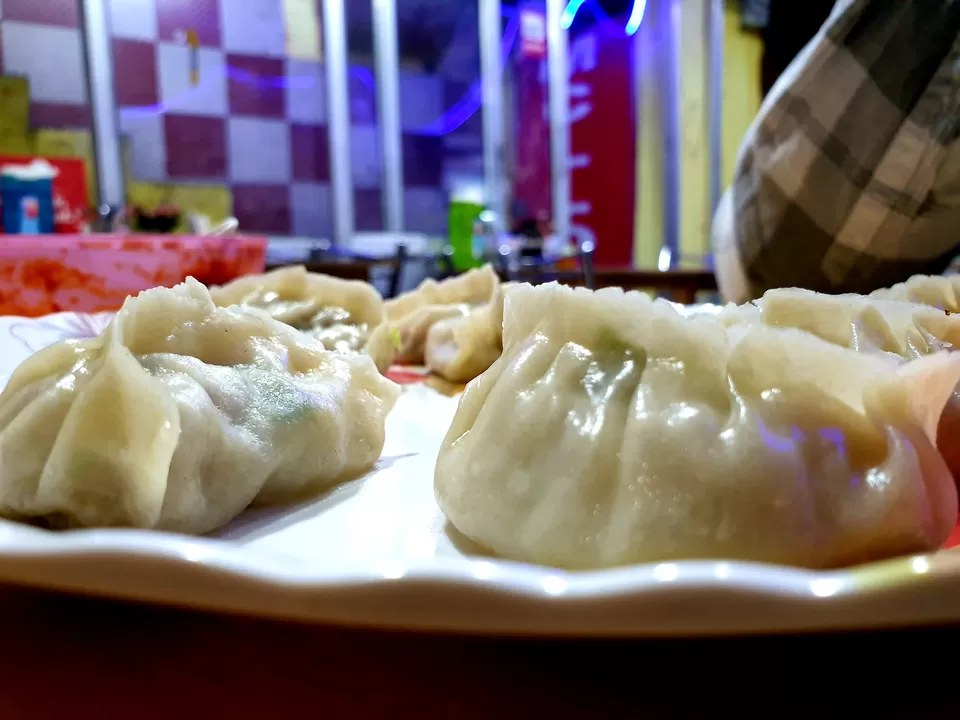 Evening was turning cold. It was time to pick up some grape juice to stay warm in the night ????. The walk from main square to the hotel was long. 2.2 kms till parking, and then that trek uphill. On the way back, we stopped for Chai S at a small tea stall run by an aged man. The stall is at almost at half distance while going from main square to bhagsunag. I didn't realize, while sipping on tea after tea, we ended up spending an hour there. Stories and conversations with the man, took us on a journey. He also suggested to take the trek route from where we were staying to bhagsunag waterfall, in case we planned a visit. Fantastic halt. Here's to the man... and view from there.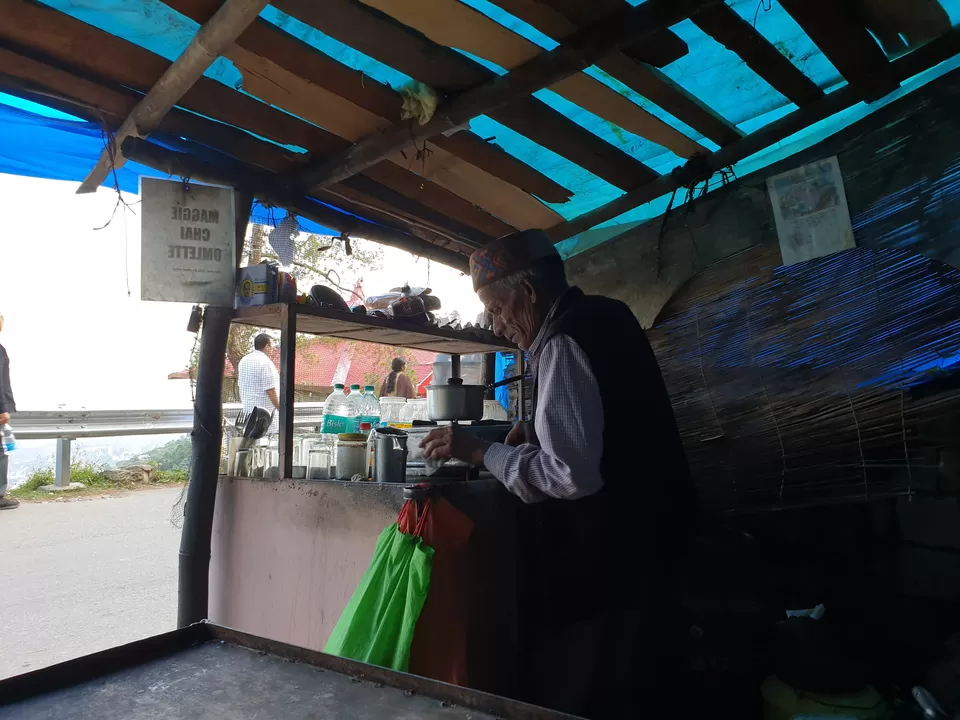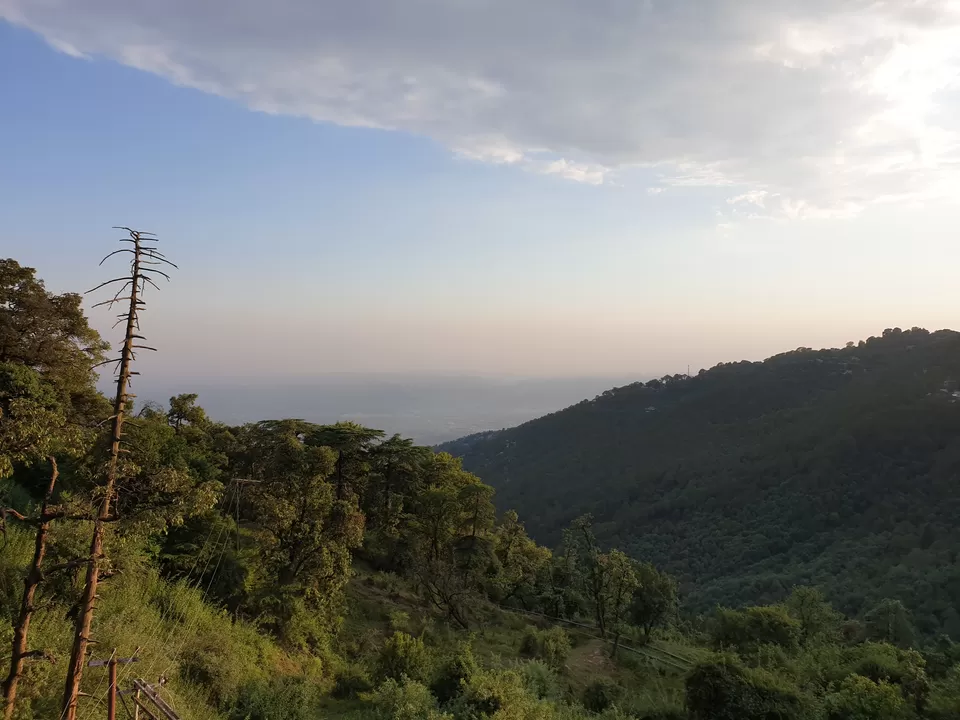 Final stairs leading from upper bhagsu to The Hosteller host an array of cafes. Most of them run by foreigners, with some local support. I was never a fan of sitting in a cafe for hours, doing nothing but chintan ????. A coffee break was still on, looking at how neatly everything was setup. PK wasn't keen on stopping again, but the feel of the cafe just enticed us to sit and relax.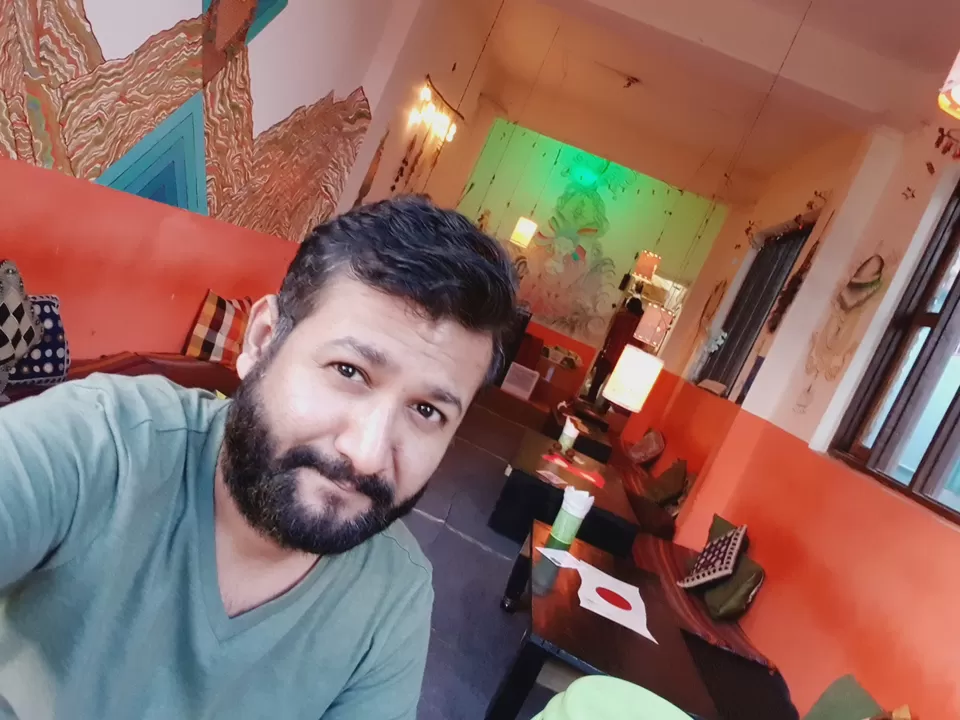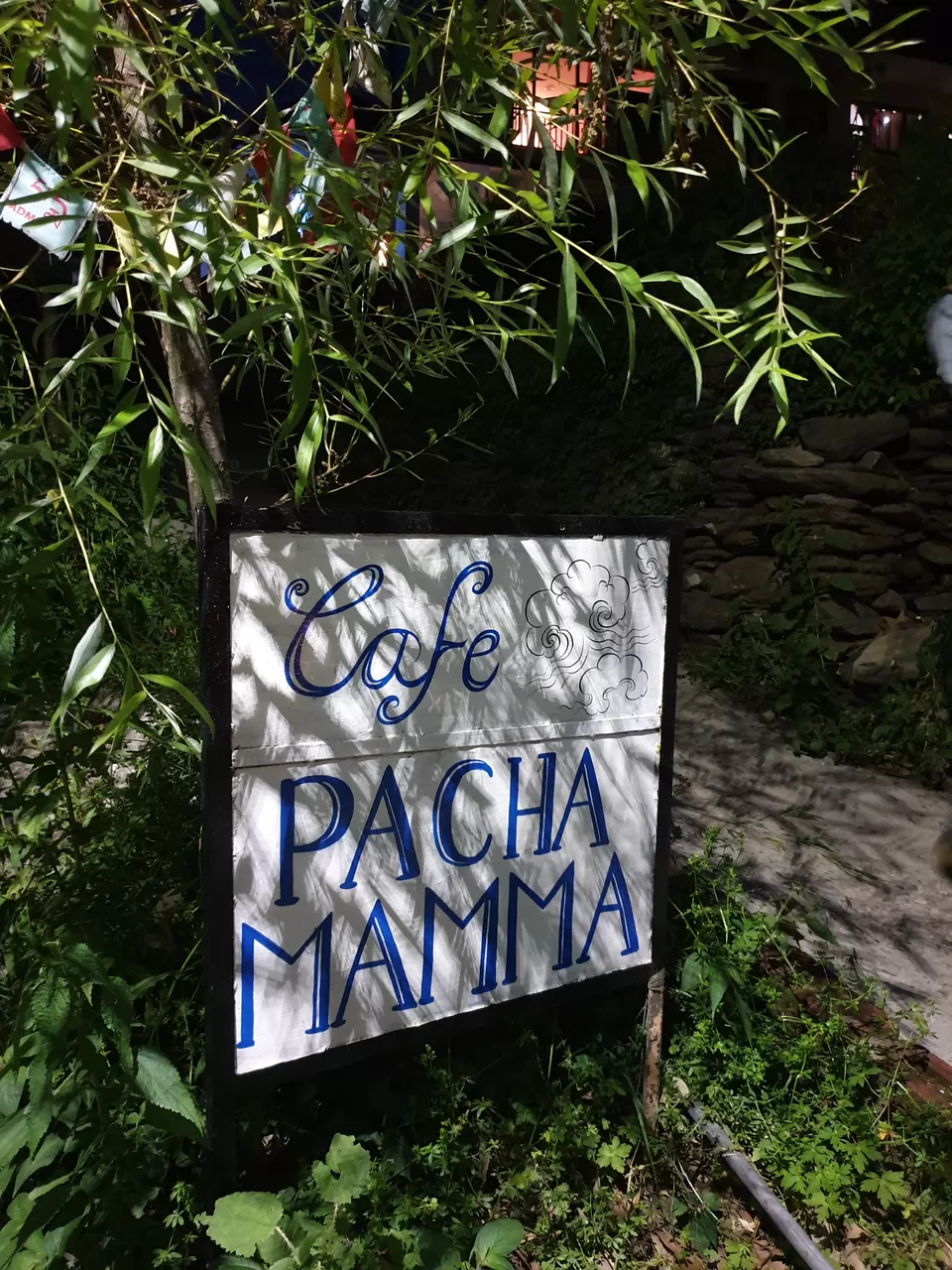 It was dark by the time we said goodbye to Pacha Mamma. The Hosteller folks did an amazing job in setting up the whole ambiance for the night. It just looked beautiful. We sat outside, had a good session and finally called it a night.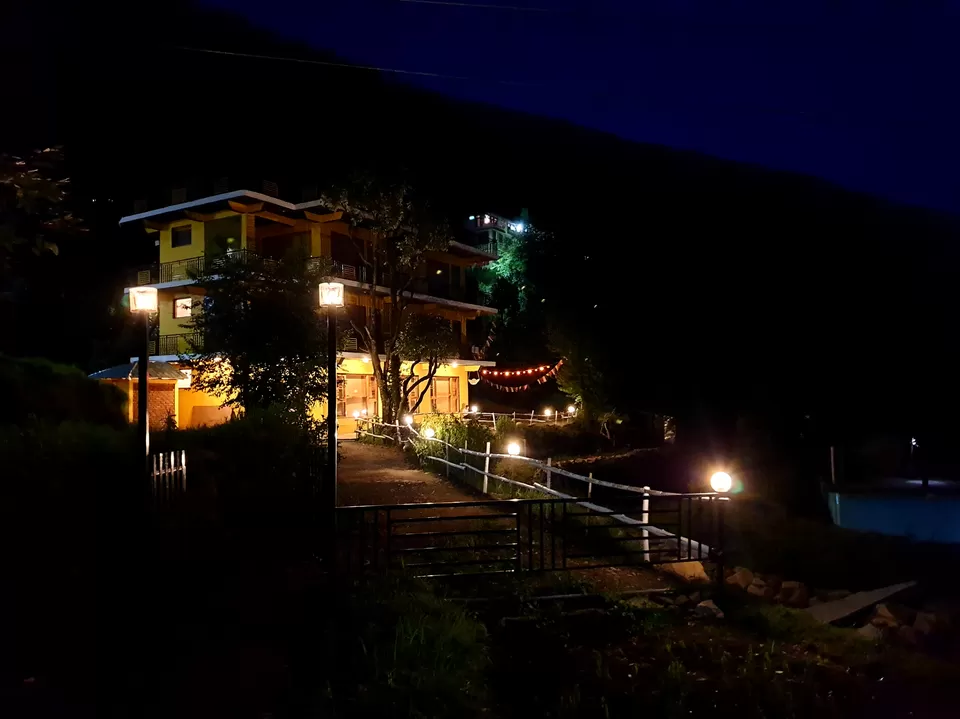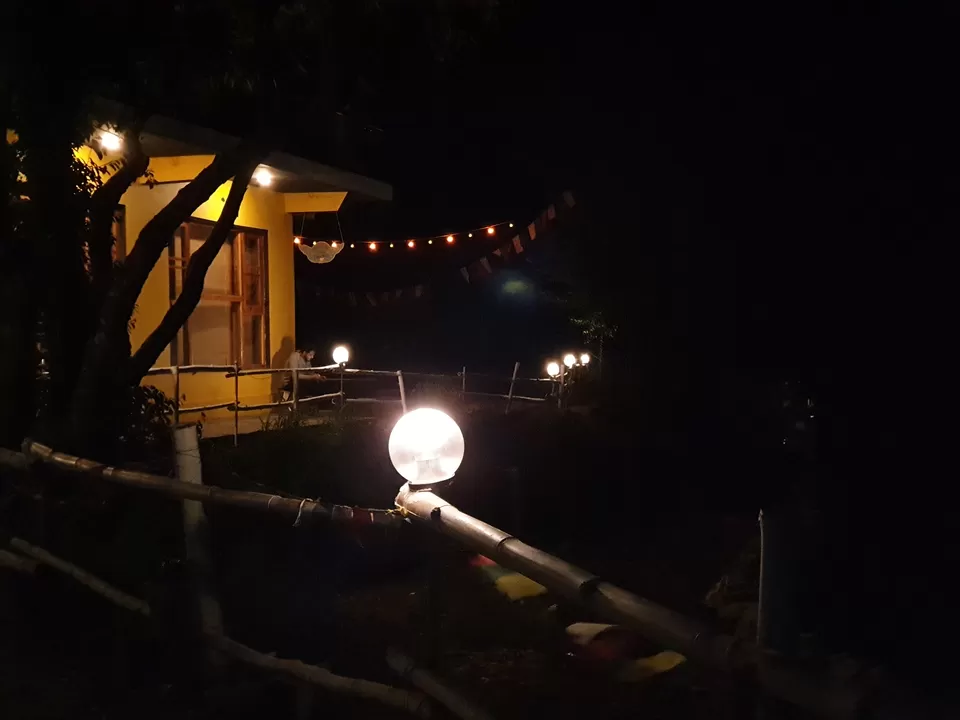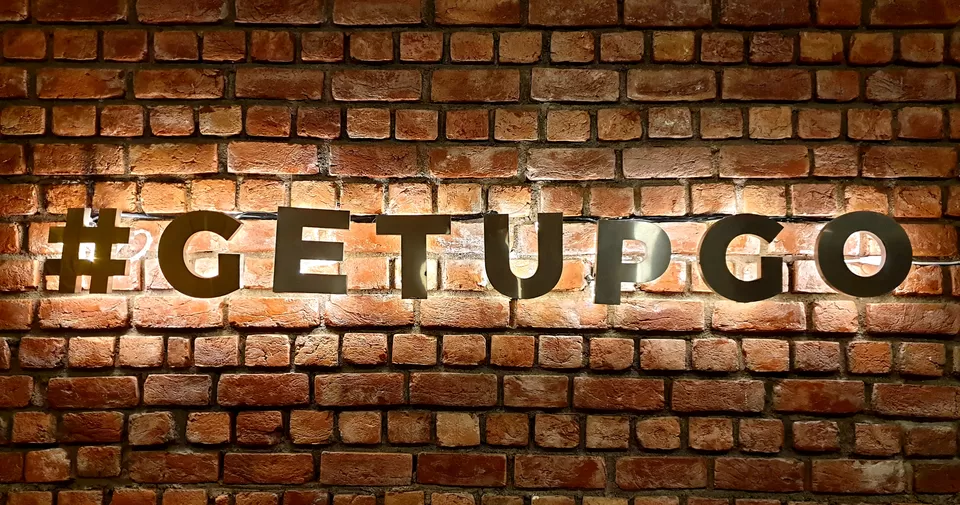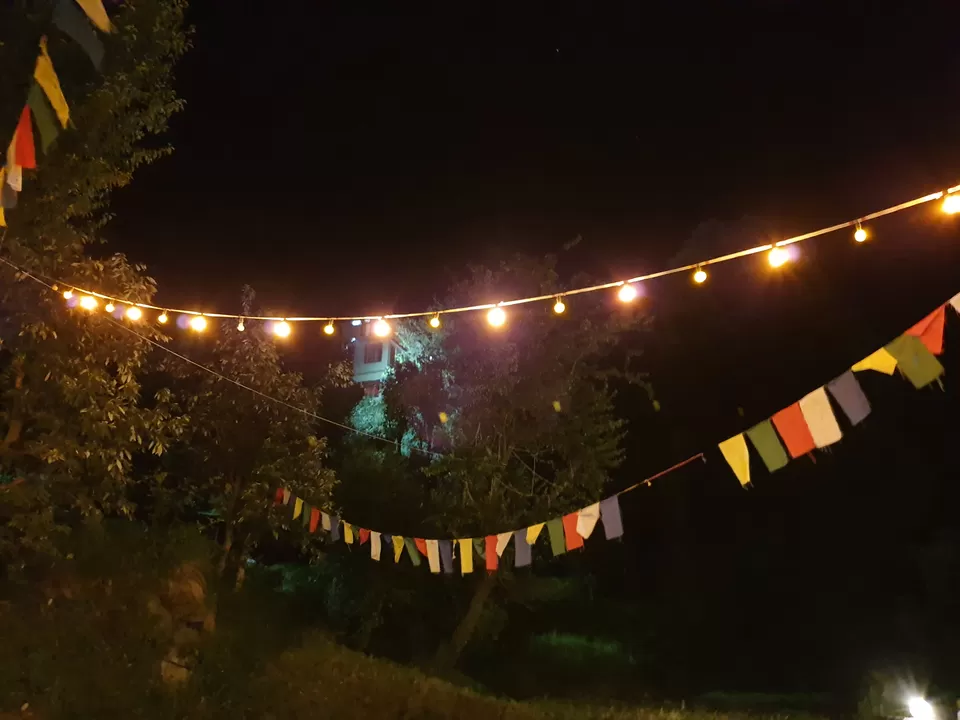 The sound of rain woke me up the next day. It was pouring, non-stop. At breakfast, I met few travelers from overseas. Most part of the day was spent chit-chatting with them, waiting for the rain to stop. Some of them who were carrying umbrellas and rain coats, carried on with their travel saga, leaving the rest with each others' company. To be honest, I didn't mind lazying around after previous day's heavy doze of driving and visit to McLoedganj town. PK too was enjoying the day while doing the best thing he ever wanted, nothing!
Nothing lasts forever. Neither did the rain. At around 4 PM, the sky started to clear up. To my surprise, it was PK who asked me to get ready this time so we could take a stroll. I wondered if it was because we were out of juice for the night. I was right. We had to keep it light today as we had to wake up early the next day, for Triund. Some time to visit The Dalai Lama Temple was always on the cards. Back on feet, we set off again to visit the town. First stop at the Kalachakra Buddhist Temple, and the next at The Dalai Lama Temple.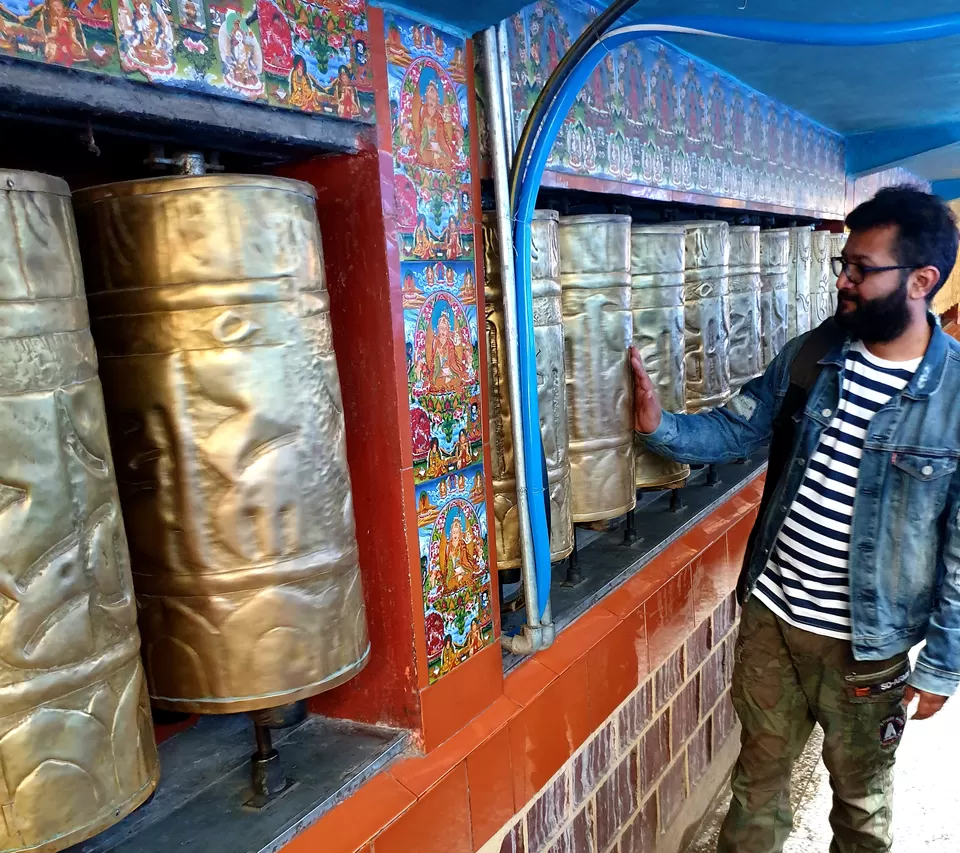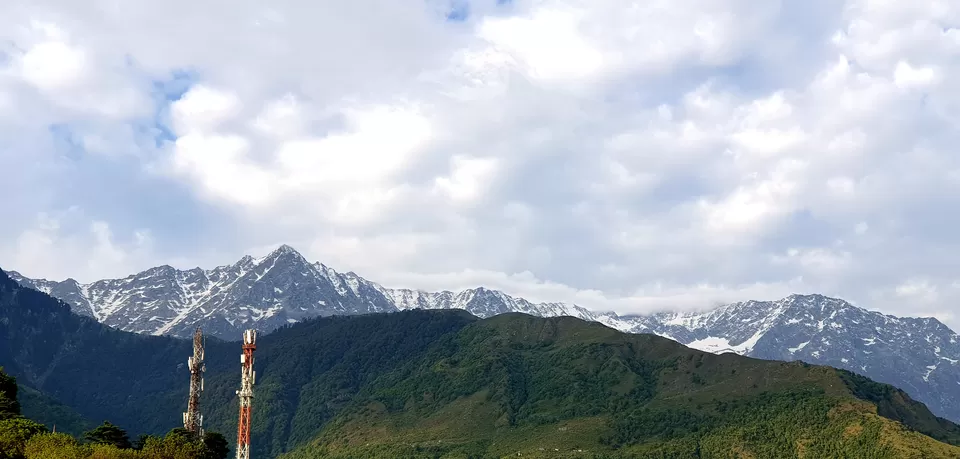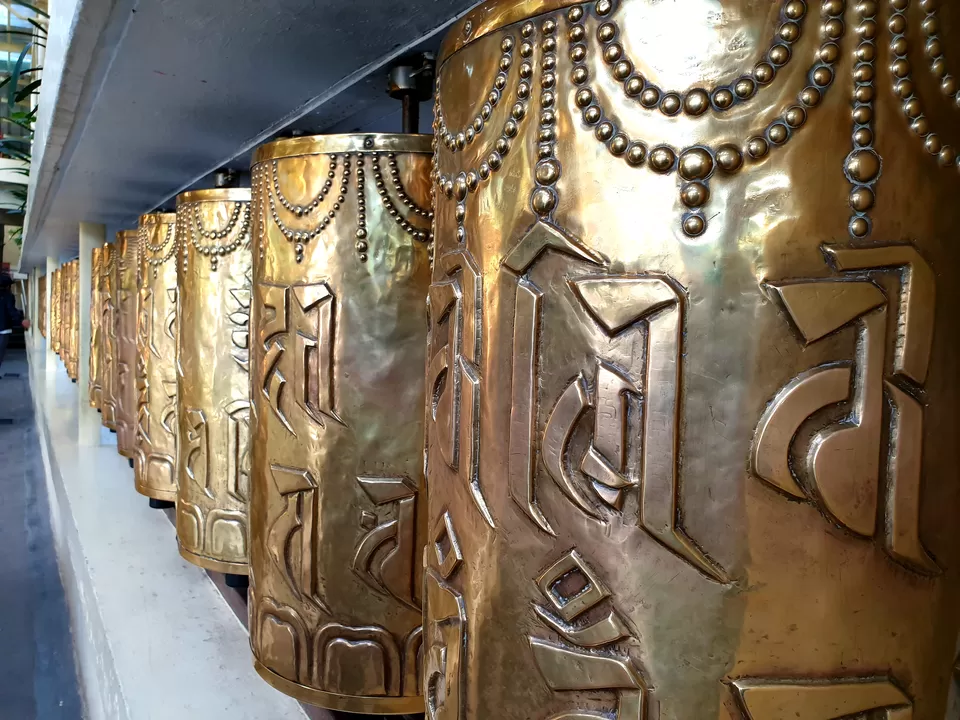 On the way back, we picked some essentials for the next day. Cookies, chocolates, gatorade, some dry fruits, basic OTC meds, etc.
The Big Day - Triund climb.
After the ban was imposed on staying for the night at Triund (that's what I heard from locals), I didn't approach anyone to arrange for a camp stay. The only option was to climb and come back the same day. This called for an early start. We woke up sharp at 5 AM, got ready, and set off. Now one option is to do a trek in itself till Gallu Devi Temple, which is the base for Triund, and then start the inevitable climb. Other option is to save the energy for final 6 Kms, and take taxi till Gallu Devi. It seemed wiser to chose the later, considering it was PK's first ever trek, and I too was still in "recovery mode".
We walked till Bagsunag parking, had tea and inquired for a taxi. No cabby was ready to drive till Gallu Devi. Apparently, previous day's heavy downpour further damaged the already damaged off road track to Gallu Devi. The option now was to go till Dharamkot, and look for further options from there. After reaching Dharamkot, we finally convinced a cabby to take us till Gallu Devi, condition was to get down and walk in case we got stuck. Well, we would have done that anyway. Taxi charges - Rs. 200 from bhagsunag to Dharamkot, and then Rs. 500 from Dharamkot to Gallu Devi.
We reached Gallu Devi Temple at 6:30 AM. A small dhaba was open at the base, and we took a doze of carbs - bread omelette.
Finally, it was time to keep calm, and climb. Period.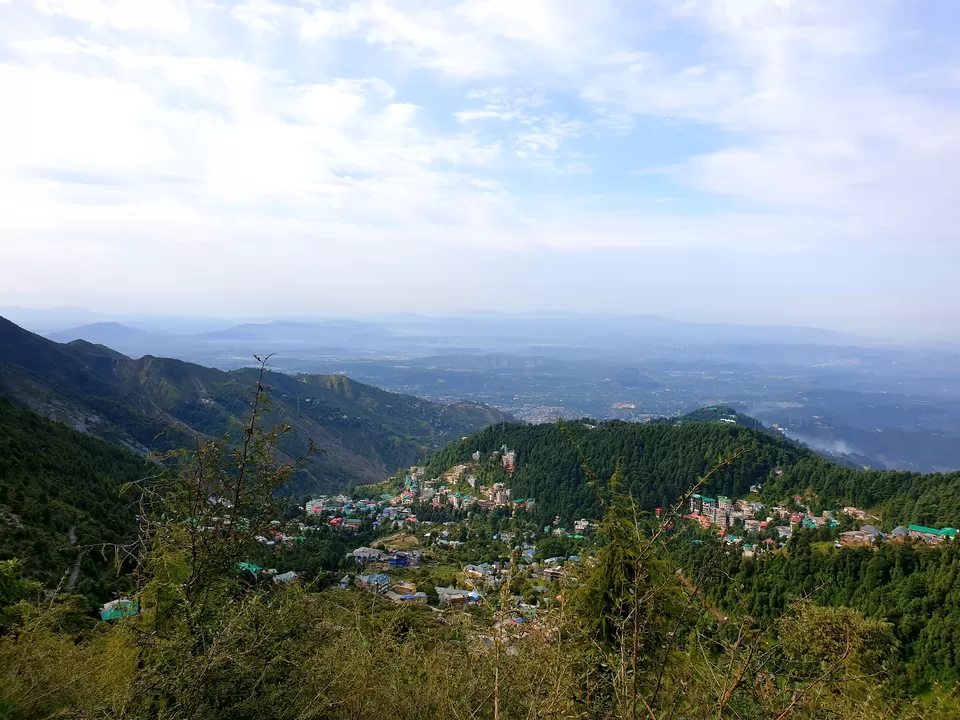 The body took it's own time to warm up to the idea of walking 6 km, in ☝ direction. Luckily, the weather was clear, and we started the climb early, while it was still cold. The first half an hour was a test for lungs.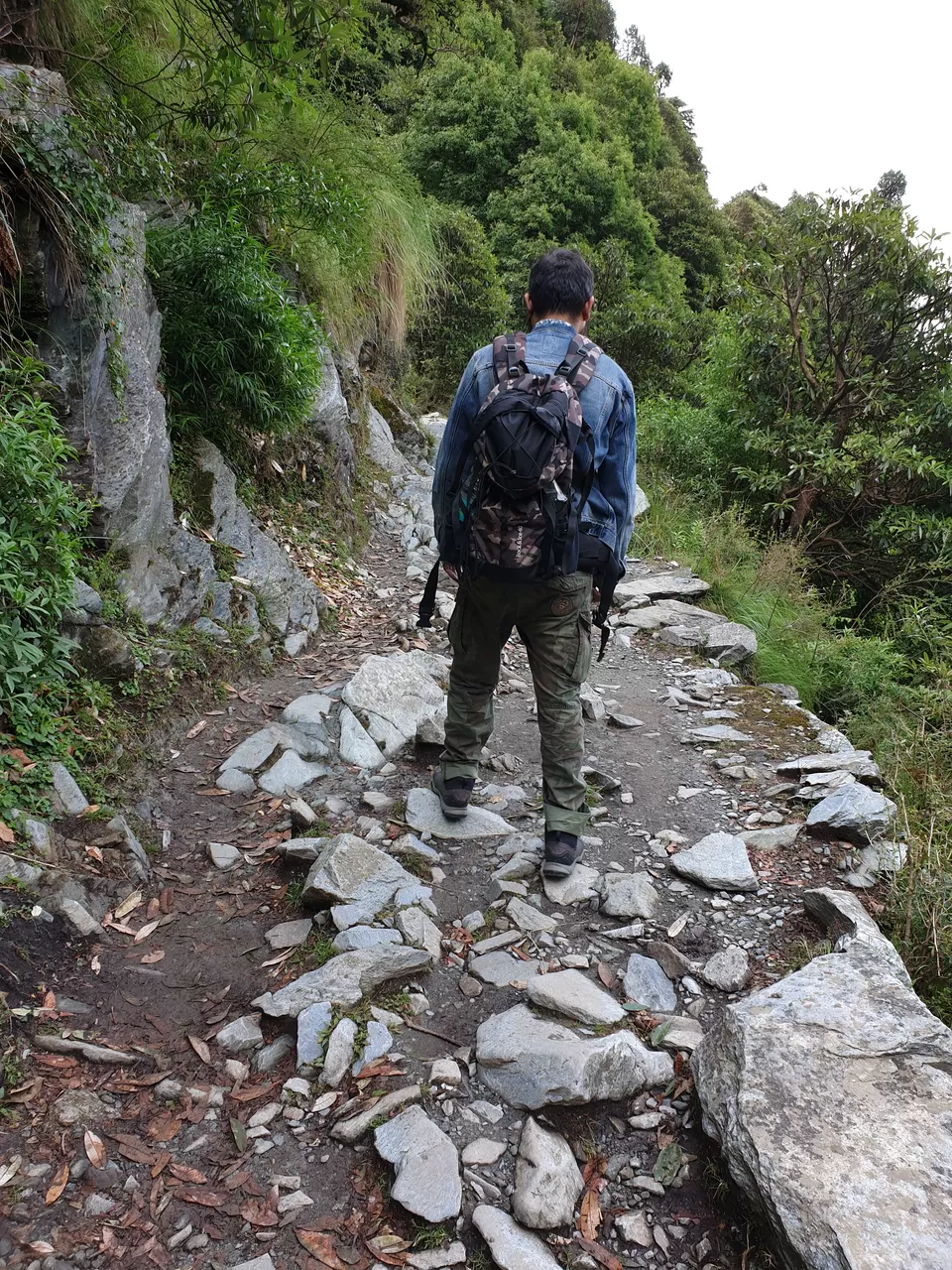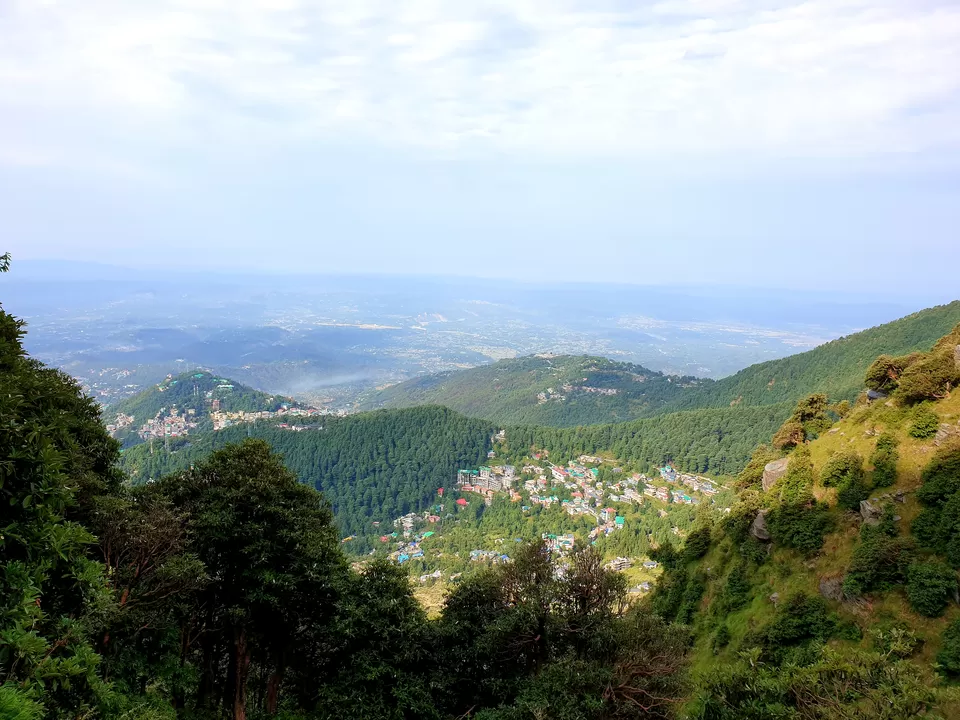 At mid way, there's a place to rest and grab a bite. A little hut, packed with high energy consumables. You name it, they have it. The hut is visible (only visible, still far to reach) after an hour's trek, with that, you get to view the motivation for the entire exercise.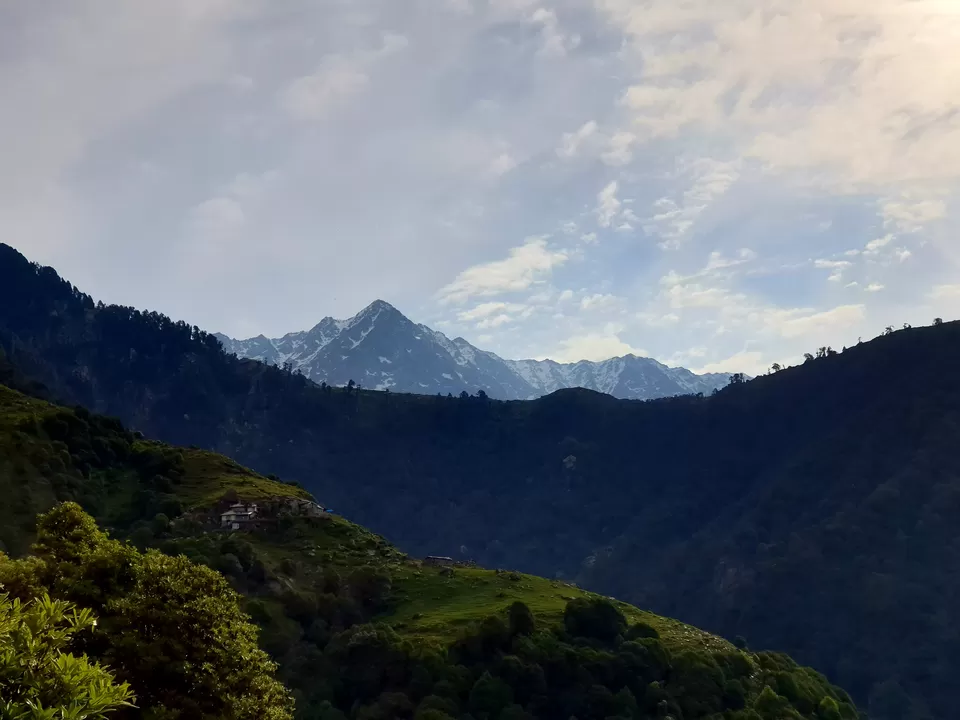 This view after 1 hour climb gives you an instant surge of energy. We didn't really have to stop there to eat, that part was taken care off at Gallu Devi. A halt to admire and take a picture of Kangra valley was enough.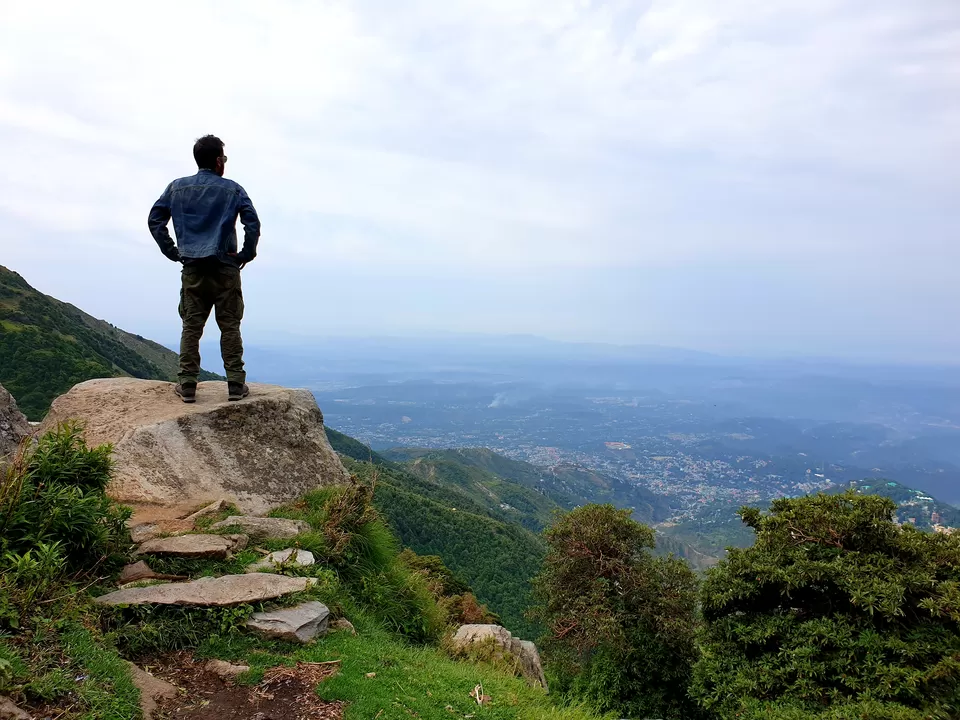 From here on, we had to surpass two mountains, and climb the final one - straight up. Dhauladhar Hills were now hidden behind the final summit. PK looked like he had been fighting a war with himself. I, literally was. Final 2 km - terrain changed, altitude changed, but thoughts, found their way back in to my head.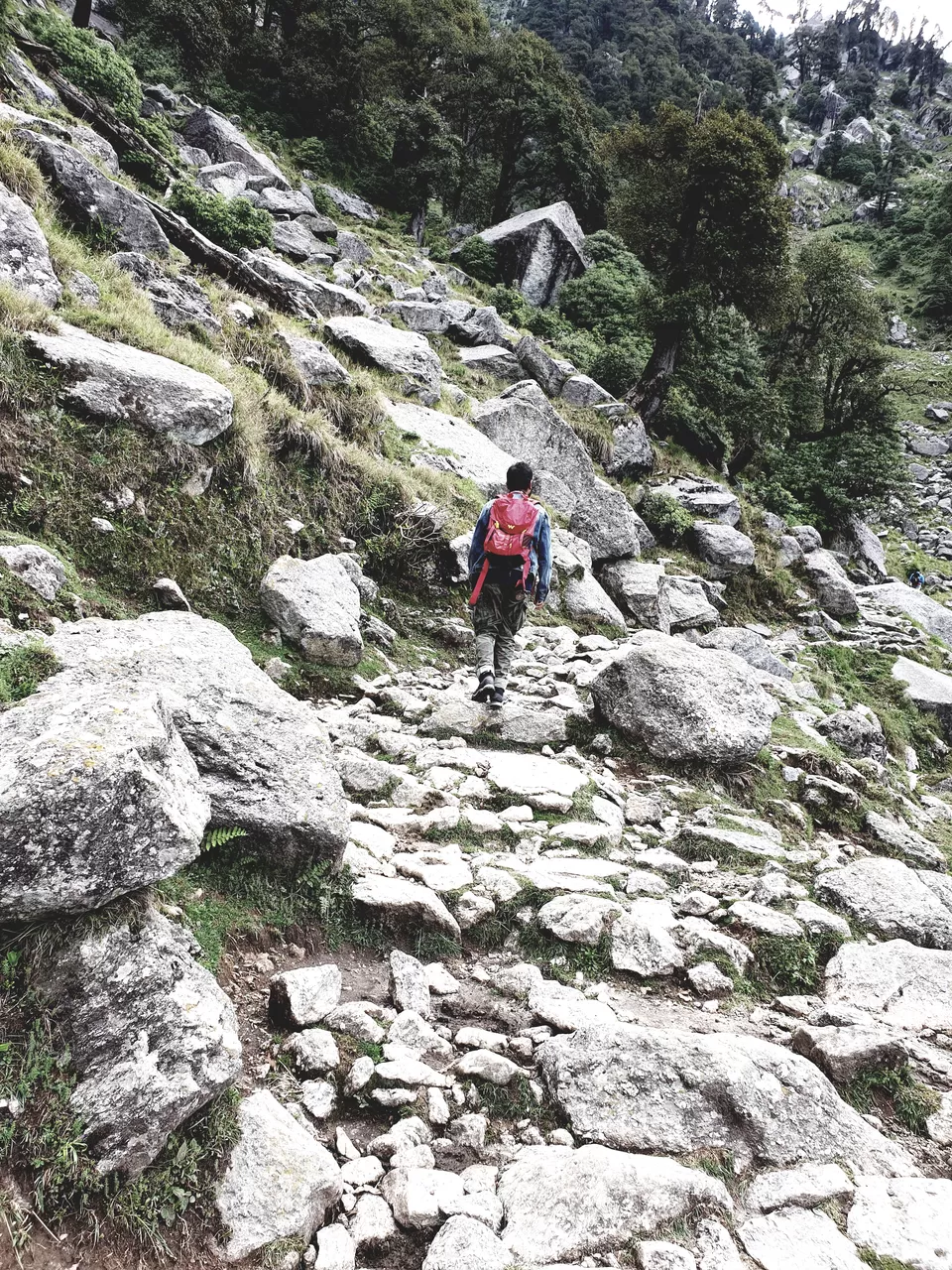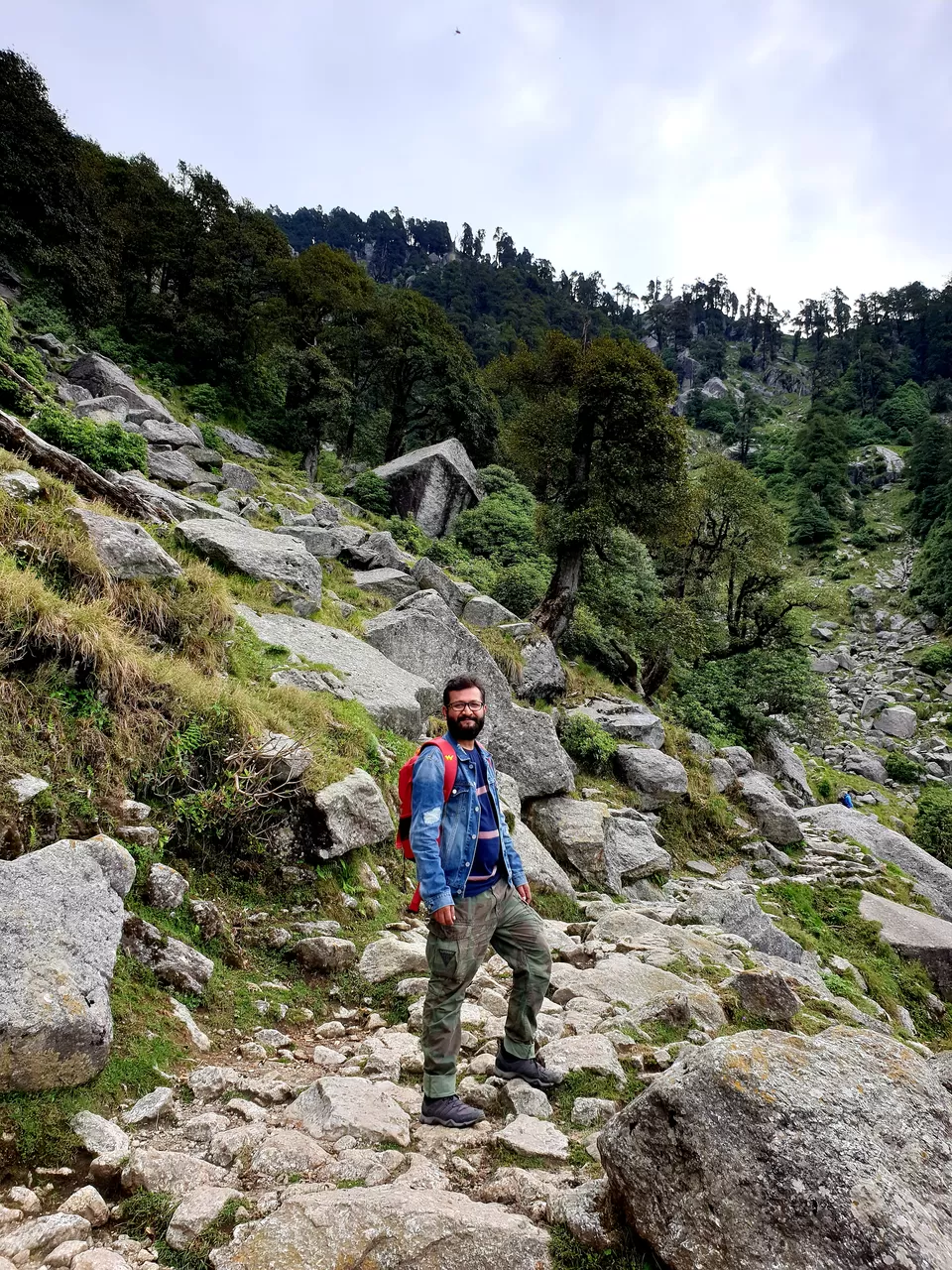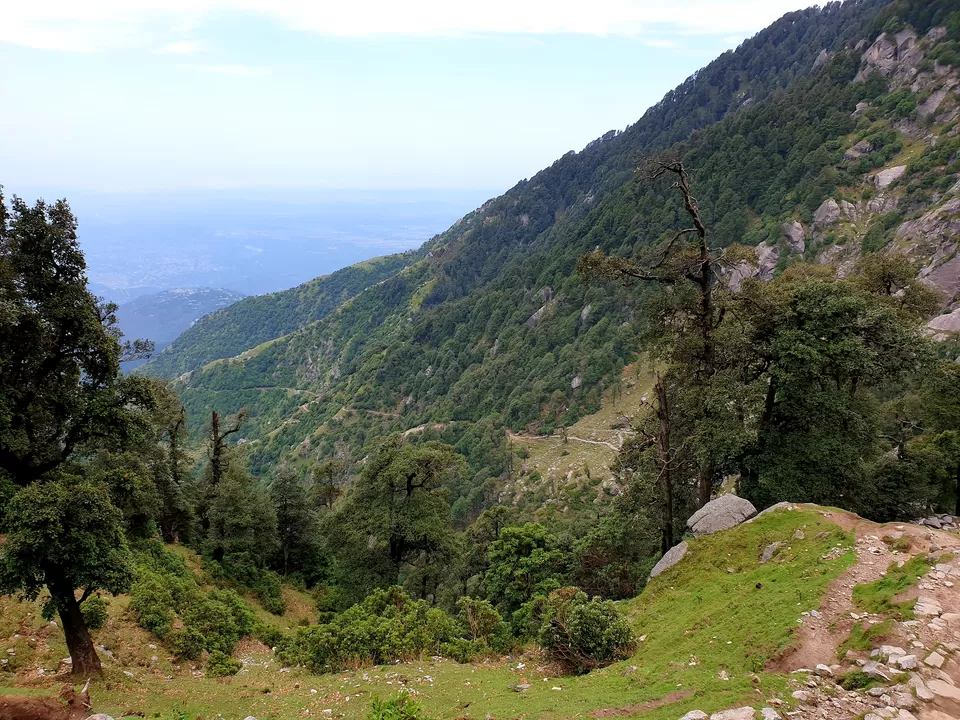 The voice in my head said, it's either you, or Bholenath.
Chanting Jai Bhole, i tried my best to keep moving. It was the last leg, I was guessing 500 meters more. Instead of reaching the top and falling on my face, I thought to energize. A 10 minute break - gatorade & chocolate!
10 AM - Final leg, final turn - and here it was. Triund Top! I'll shut up, and let the pics talk for now...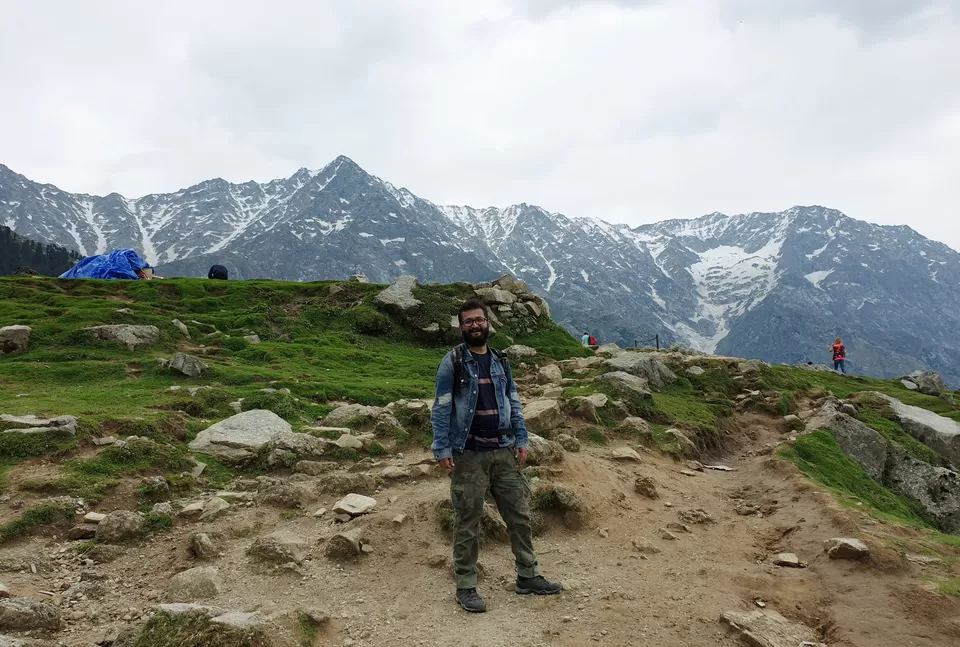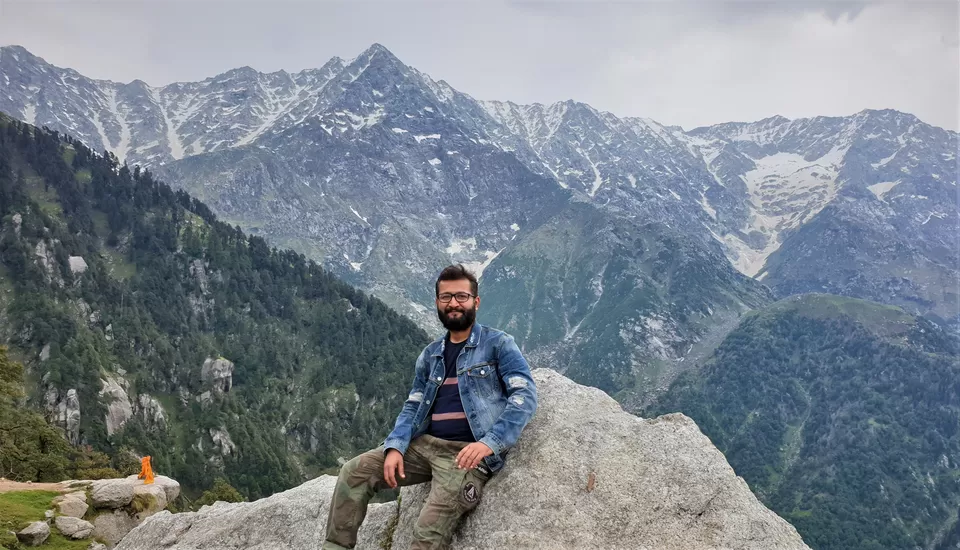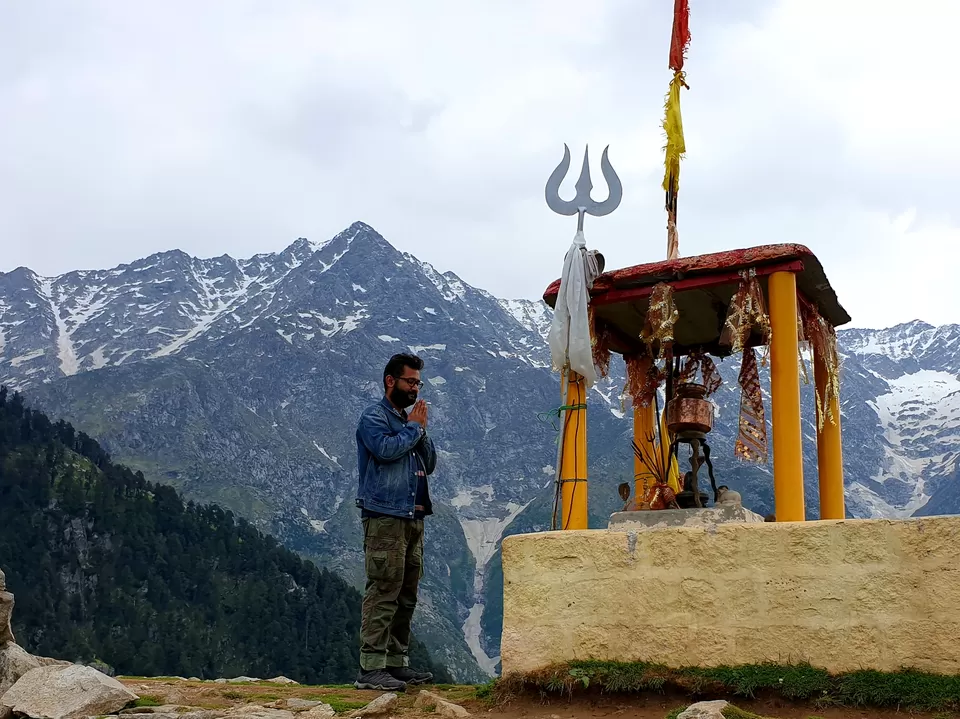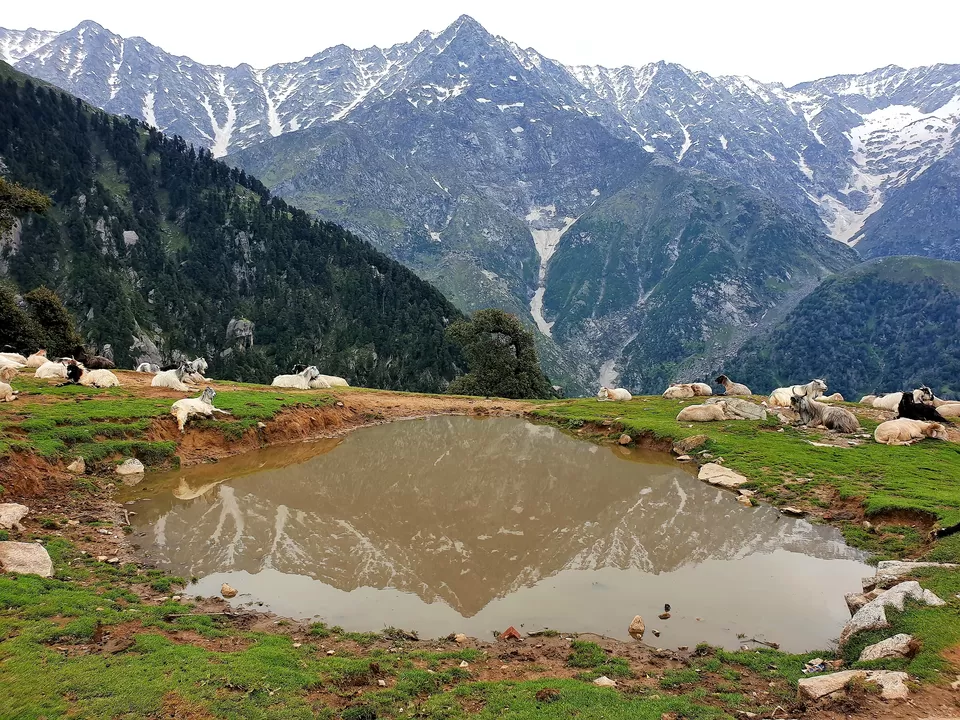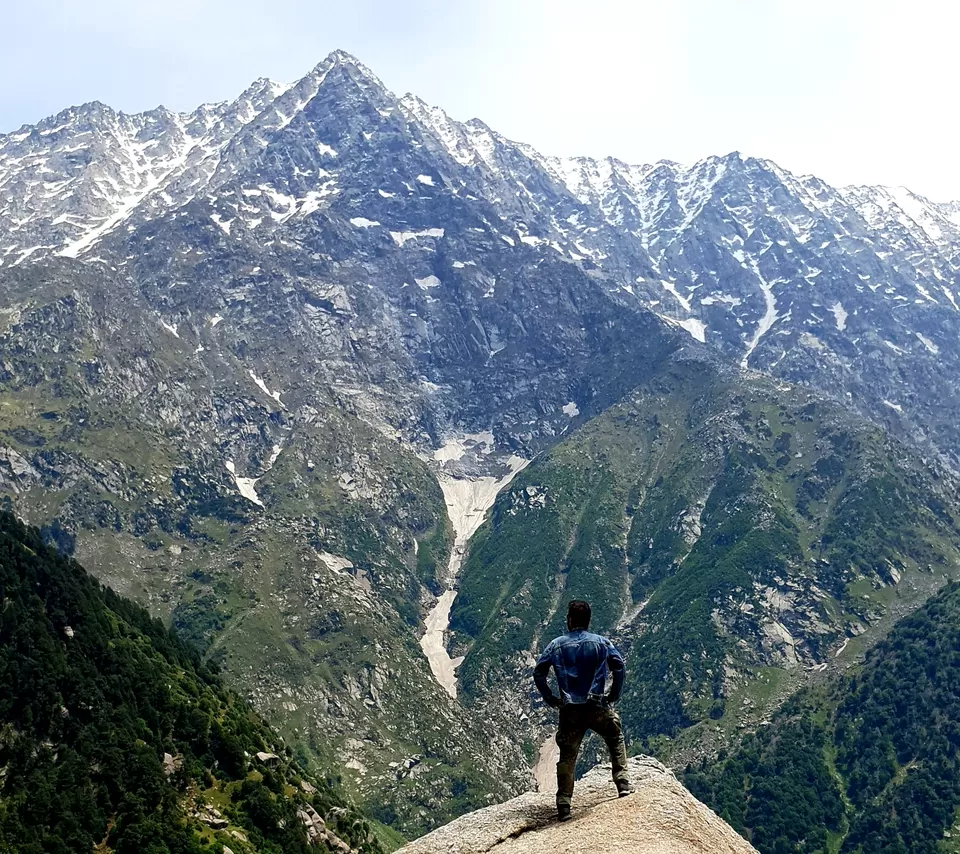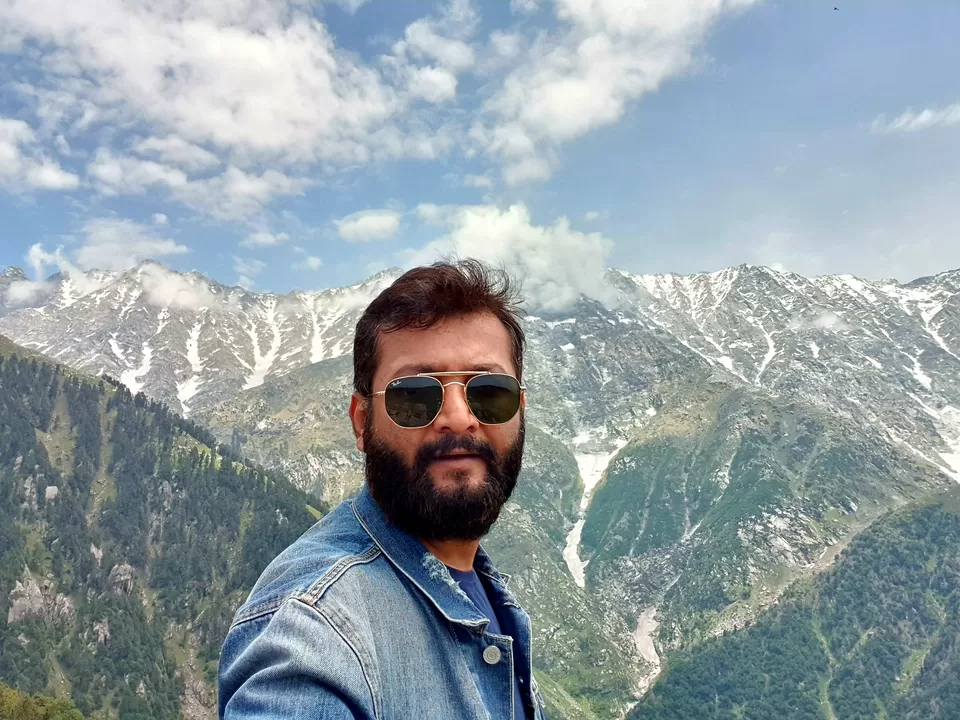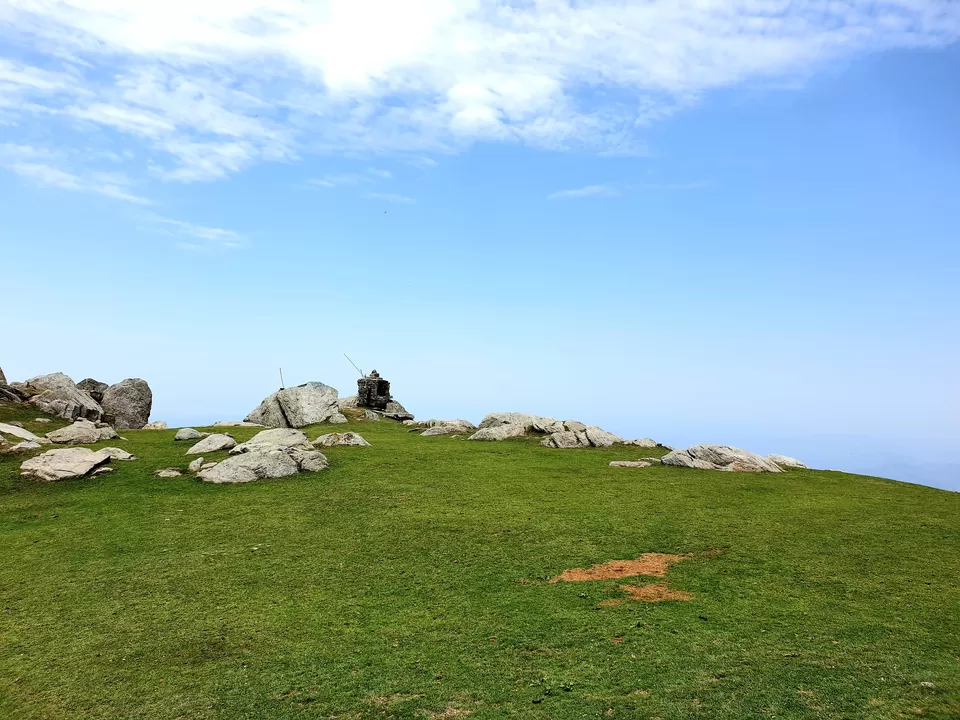 We spent 4 hours at the top, and came down the same day. Descent, was equally daunting. After a while, the leg muscles were numb. As soon as we reached The Hosteller, PK and I looked at each other, and then arrived the moment of jinx - "Beer bro?". Couple of pints each, and I fainted, literally.
Finally, the last day at McLeodganj. It was as if Somras was injected in my body, I woke up absolutely fresh. No pain, whatsoever. I went to PK's dorm room to wake him up. After taking couple of ummms and naays from him, I thought it was best to let him rest. After a hot shower, I went to grab a bite. PK joined me after half an hour. We were just talking about Triund, and thinking about how to spend the rest of the day. The penny dropped, and I knew what to do. On day 1, the aged man running the tea stall suggested to take the trek route to bhagsunag waterfalls. That was it, another trek. I was excited, a complete contrast to PK's emotions at that time. Nonetheless, we started, yet again.
There are lot of tourists visiting bhagsunag, but I didn't find another soul (except for few goats) on the trek route. Also, the trek route takes you a little ahead of the main, rather crowded waterfall.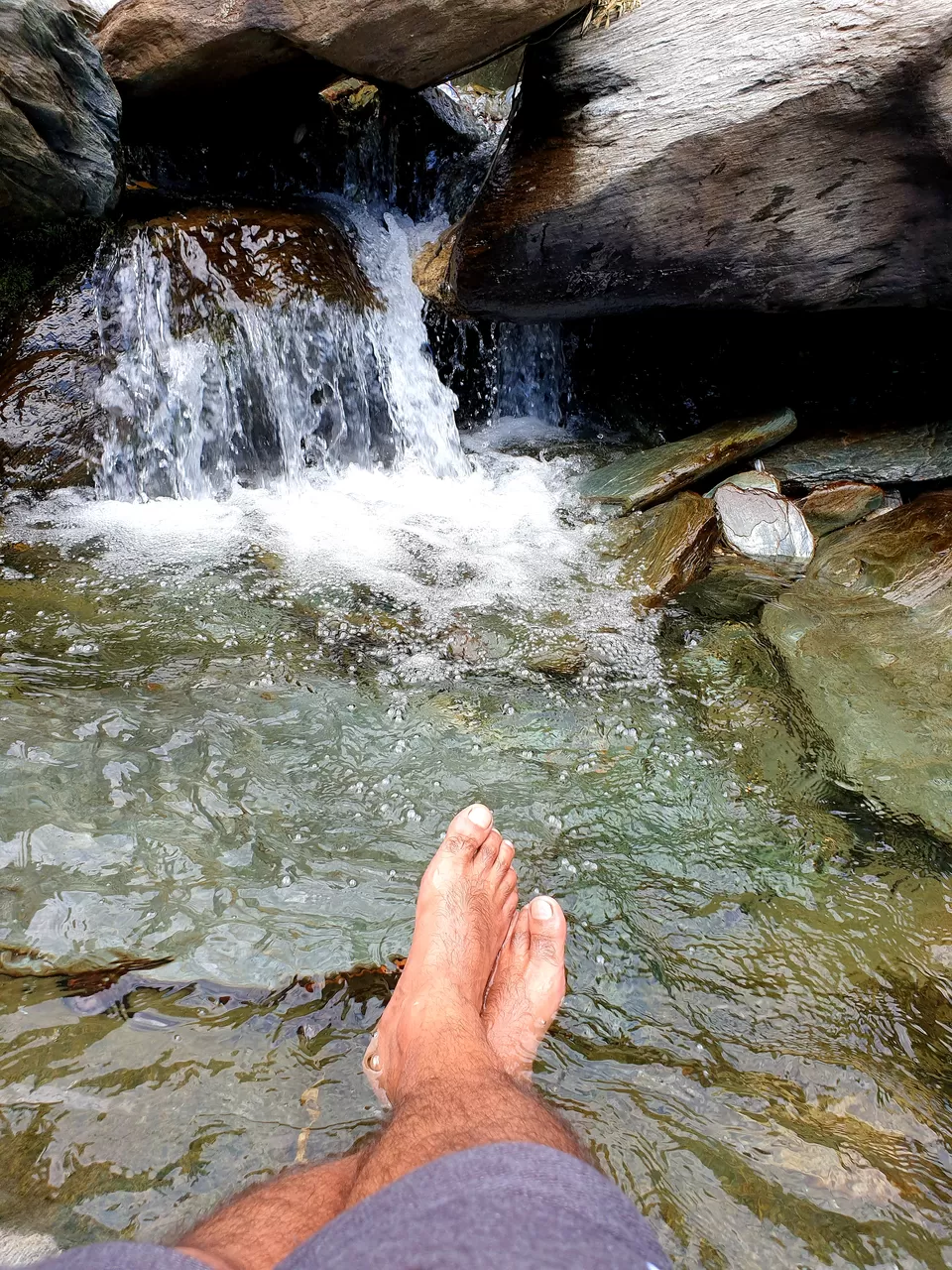 Shiva Cafe is a famous destination for folks visiting bhagsunag, and is a great place to chill.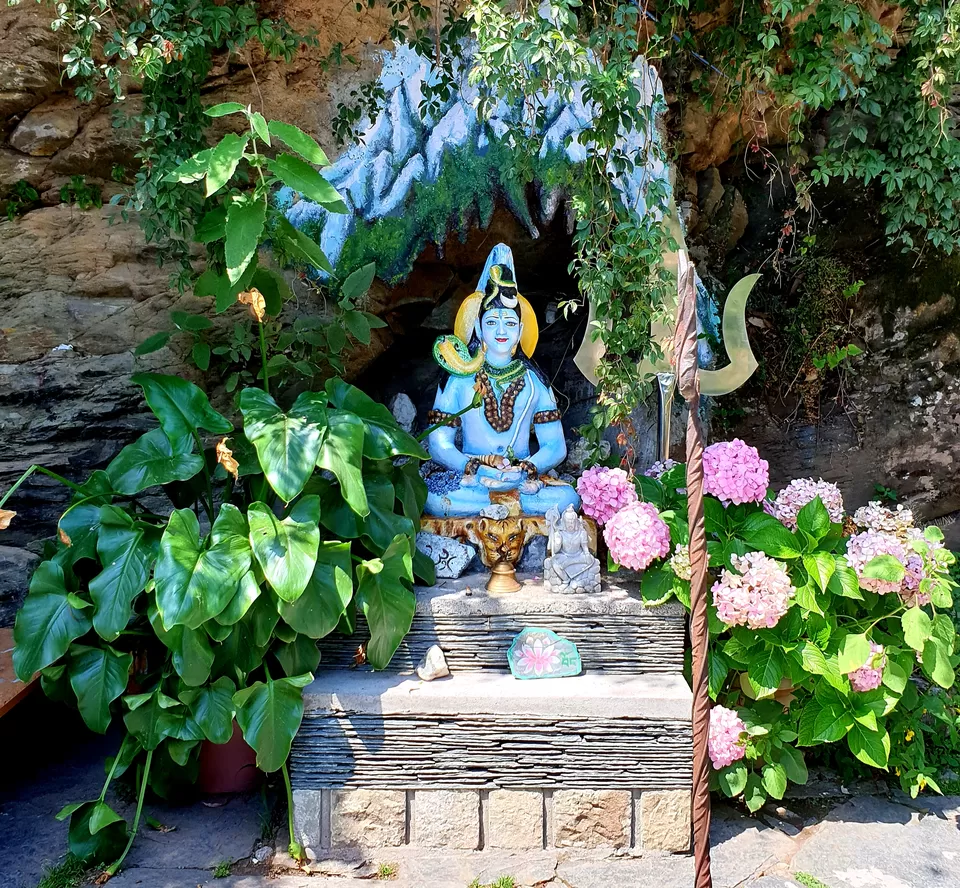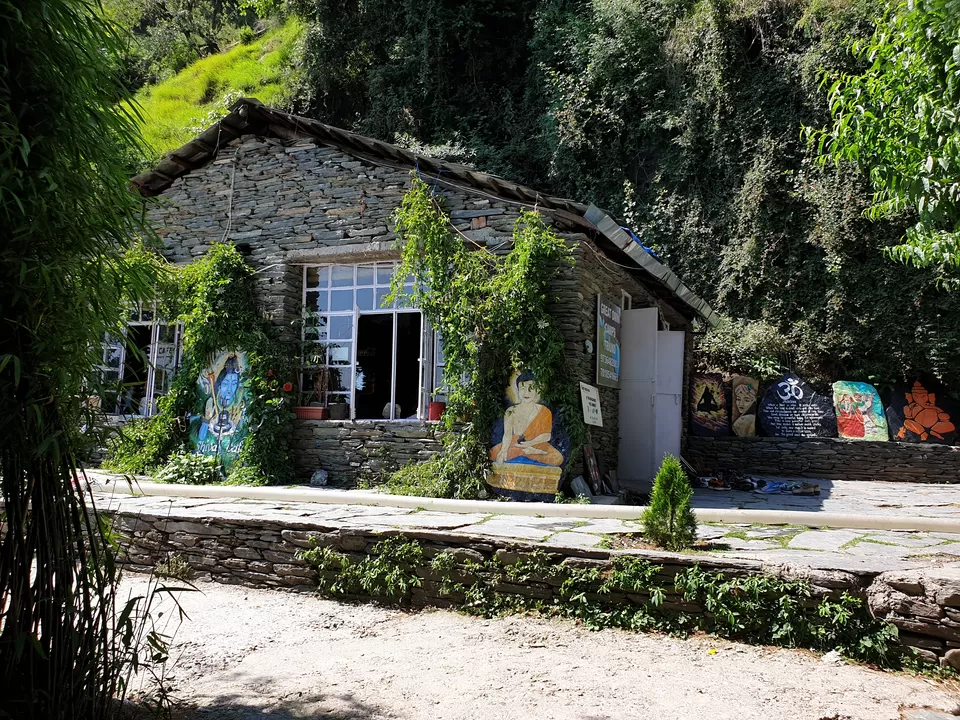 PK did a great job on this next one.
The last day was spent in Lord Shiva's abode.
I couldn't complete my last climb to Brahmasthali Temple in Pangot. Was weak & wounded back then. Not that I have transformed into Thanos in 6 months. In pursuit of finding myself at a stage, when it doesn't matter.
Om Namah Shivaay!
https://www.stagrides.com/p/mcleodganj-triund-trek.html