It was in the month of January when we decided to head to South India. Visit Kerela, Tamil Nadu and Kanyakumari. The most spectacular place in the whole of Kerala as per me was Munnar as I have a great ardency for Hilly places and I am a die hard mountain fan. Before we departed, there was a heated debate as to how shall we go there. I came to the conclusion of travelling to Munnar by bus. Yes, the local buses that run in the city. Not those fancy tourist buses with air conditioners and shielded windows, but the bus which has open windows. I didn't want to miss even an inch of the view which we were to witness from travelling from Thekaddy to Munnar. I already was craving for more and more of beauty in this picturesque place and at no cost was ready to miss the scenic beauty. Like a kid, I wanted to pop my head out of the window, feel the fresh air, breathe in. It was like meditation for me. I was adamant to travel by bus and therefore, packed my bags and left for the bus terminal at 5 in the morning. It was cold and dark. Luckily, bus terminal was only a few meters away from the lodge in which we stayed at. It was not crowded at the bus terminal but I hardly was able to understand what the people over there were speaking. Courtesy: Language difference. In no time, there was a rush there. Buses were about to leave. A bus conductor saw me struggling with language as I was questioning a local person about which bus to board. He came up to me and spoke English in South Indian accent. I was jumping from within! Finally, someone who will understand me! He was very polite and answered all my queries. I climbed the bus and there the conductor with a big smile folded his hands, bent and muttered a few words in Malayalam perhaps. I was not able to cognize what the gentleman spoke but was sure that he was greeting me and asked me to settle down comfortably with some gestures he made.

I settled near the window and was about to adjust my luggage underneath my seat. Again the conductor came up to me gave me that jolly smile again and asked me to hand over the luggage to him so that he can keep it near the driver's seat and the passengers can be at absolute comfort while travelling. I was hesitant to give him my luggage but then all the local people who were boarding the bus themselves kept their luggage there near the driver's. I, still unsure, handed him my luggage. There is an idiosyncrasy of people in South India. People are dead honest. Maybe this is the reason why they have a very less crime rate and 100% literacy rate. In no time, the bus was almost filled with passengers and we started. The journey from Thekaddy to Munnar was a Rollercoaster one. Anybody who has motion sickness should NEVER travel by bus to Munnar. Hire a taxi instead so that you can take stopovers as and when required because the buses do not stop at your will. Only they will stop when there are bus stops and start within no time. Roads are extremely tricky and dangerous and hence one more category added to who shall not travel by bus to Munnar; Those who are weak at heart. The bus was swirling! The person who was driving the bus was an ace driver. He was driving at a very high speed and my head was spinning and felt ticklish in my stomach. I was taking pleasure in everything at that moment.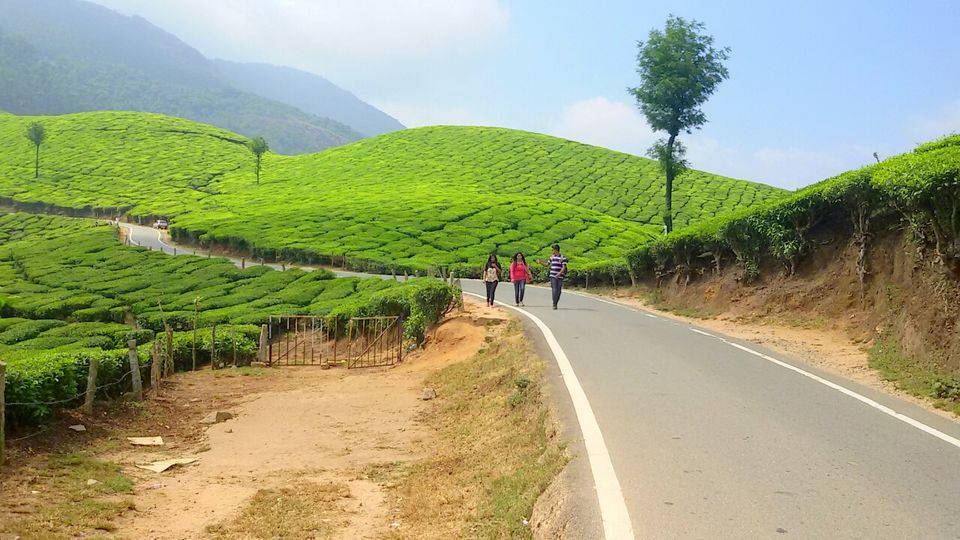 The bus stopped at a bus stop and then climbed in a couple from France, who were my partners for the remaining journey to Munnar. They sat near me and we gave each other quick glances and smiled. After few minutes, Emma asked me if I had some water with me. I gave them my water bottle and in next 30 minutes, we knew each other very well. We talked about our love for travelling and to see every bit of this universe. She told me that she and her husband are into business but they take out 30 days every year to travel one new country. And this year it was India. She was almost 7-8 years elder to me but I felt as if she is of my age and we bonded so well. There is a thing about travel enthusiasts. They gel along well with people of different origin, different language. It's the real wealth! To know the most amazing creation of God. Humans. Different Humans. There existed no linguistic barriers, regional barriers, cast barriers. We three were only humans madly in love with the universe including the humans. There was love in the true sense. No hatred, no jealousy nothing negative. Love knows no barriers and here we had a common love, Travelling. They both knew very less of English and I was awful with french, yet we discussed ideas and places and our experiences. In no time, we reached Munnar, heaven in disguise.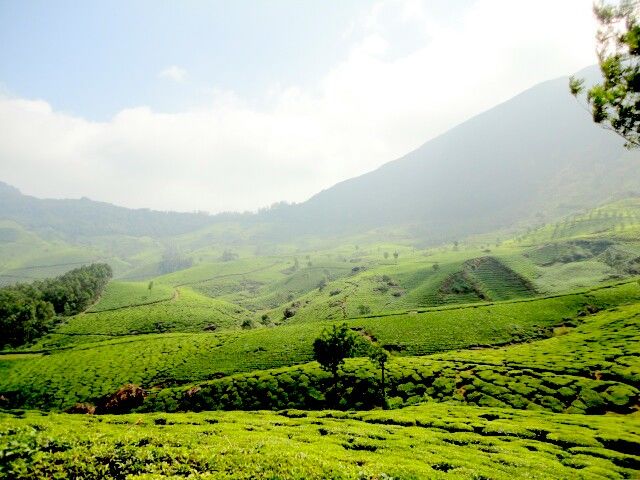 We bid farewell to each other and they invited me to their place in France. How badly I wanted to ask them if they can be kind enough to book my tickets to France as well. Haha! 
On my way to Munnar, I saw lush green tea gardens and only tea gardens. Like a green, velvet carpet spread all over the city. Small hills all around with only color green. And roads popping out of these hills. I was way too excited, kept my bags in the hotel room, and left. I had a map with me and no guide. As I stepped out of my hotel, auto drivers came running to me like bees to their hive. And the idea clicked. I hired an auto for the whole day only for a thousand bucks. We Delhi college girls have a certain kind of love for auto rides and it was a bonus for me. Whole day auto rides among the splendid green tea gardens. We went round and round among those vibrant gardens, clicked pictures, spent some time sitting there absorbing all the abundance the universe was showering on us. We sat, stared at the color of nature, felt closer to nature and subsequently felt closer to ourselves. To have a scenic view of the tea gardens, do go to the Lockhart Gap. It's a point where you will find the most beautiful scenery of tea gardens.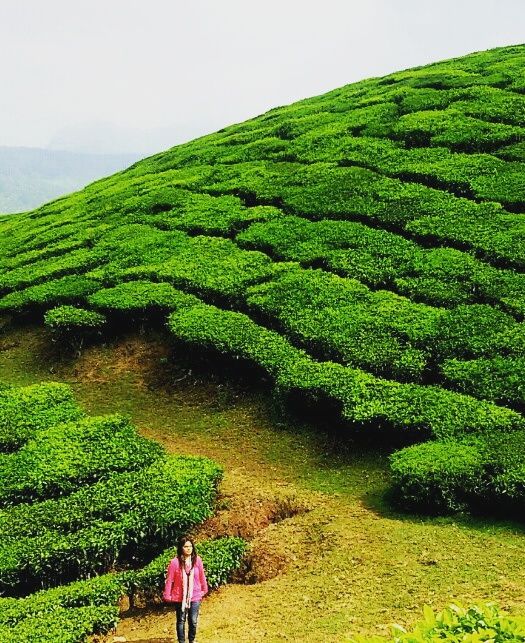 We went up and clearly saw the roads below and vehicles moving, felt dizzy and happier. How could India be so beautiful? we kept asking this to each other and felt proud to be the citizen of such a country. There was mind-boggling no. of foreigners in Munnar who were on bikes with their backpacks and were travelling all the way to the top and clicking pictures witnessing the divinity all around.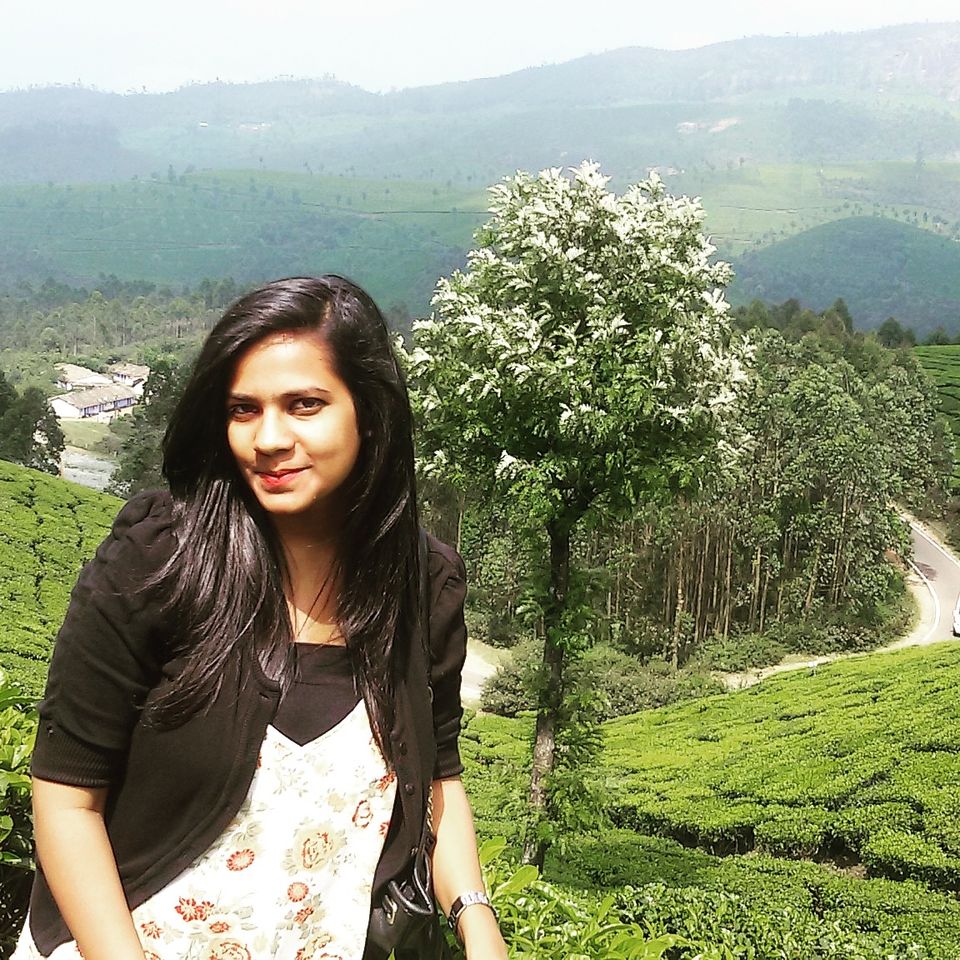 I was taken aback by the treasure this universe was holding in its arms. Ready to give us all. Asks for nothing but atom amount of care. After spending good 2-3 hours in the warm sun and amidst gardens we went back to our auto driver and asked him to take us back. He told us to wait, there was more! He then took us to the highest point that is 'Top Station' in Munnar. It was the on the border of Tamil Nadu. Half of Tamil Nadu was visible from that point. And it was really really very cold over there. Do wear warm clothes before you go to that point. It's VERY COLD there. The moment we stepped out of auto, it was all blurry. We asked the driver why is it so hazy here? He smiled and told us, "Ma'am, You are in clouds!"
And we actually were in clouds. We opened our eyes and looked around. We could see the clouds crossing us. This is the instance which will do full justice to the title of the story. Heaven in Disguise! There were numerous small stalls of tea and coffee which had almost all the flavours of tea which the conventional tea restaurants in metropolitan areas have. Be it vanilla, masala, lemon, ginger and list is endless! While others ran to those stalls for tea and coffee to beat the cold I ran to one of the gardens and danced! In the clouds! I felt like an angel! What good on Earth I did which made me experience this!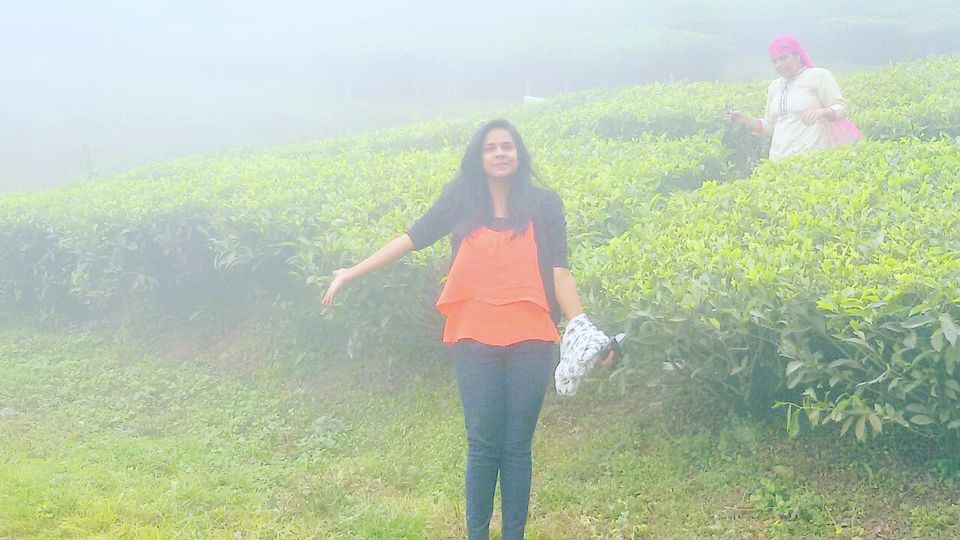 I jumped and ran here and there till my legs hurt. Then, sat down in a corner, satisfied my eyes and soul by taking in all the treasure falling from this place Munnar. Later, I went to one of the stalls and asked him to give me a glass of water. The water he gave me was warm and a bit reddish colored. It was my 8th day in Kerela and by this time I knew that people over here are conscious about the health. Not only people but the government as well. The water was lukewarm as the people there believed that its great for one's health and the substance they put in it was a herb having medicinal properties. The warm water was supplied by the Government itself. Kerala people are known to be closer to nature and maybe this is the reason why one will find very less of chemists in the whole of Kerala. People hardly have fallen ill and even if they fell ill, they treat it with ayurvedic or Unani medicines and home remedies. Then we sat on a rock lying nearby, sipping our tea and paying closer heed to the glorification of mother Earth. I was feeling sad when the sun was almost setting and we had to leave. But I took in almost every instance, every scene, every landscape in my head. Can recall it even in my sleep! 
There are quite a few places to visit in Munnar. Mattupetty Dam, Attukad waterfalls and Kundala lake are something one should not miss out. I personally had a great time on the Lockhart Gap and the Top Station. Next day was the shopping day. The only thing which will strike your head is Tea. Yes, we bought bag and bags and bags full of tea. Every flavor, catering to every taste bud, for every Chacha, Chachi, Mausa, Mausi in our family, we got tea! Munnar is also famous for its homemade chocolates. Every girl on the face of this planet is a die-hard chocolate lover. We got a bag full of those too. For every Chintu, for every Pinky, for every kid in the family we got these too. 
No matter how much material you collect, for me, greatest wealth is of experience which one can never find in malls and shops. Go out, travel, pick that wealth from different corners of the world. Know yourself, know the people, spread love and peace! 
Lockhart Gap is a spot amidst the tea gardens in Munnar which is famous for its scenic beauty. It is 13 km from Munnar and the place is ideal for trekking and it's best to visit Lockhart Gap in the evening.
Mattupetty Dam is famous for speed boating and its scenic beauty. Whole of Mattupetty dam is a visual treat. Visit Mattupetty Dam in the winter months as it gets way too hot in summers.