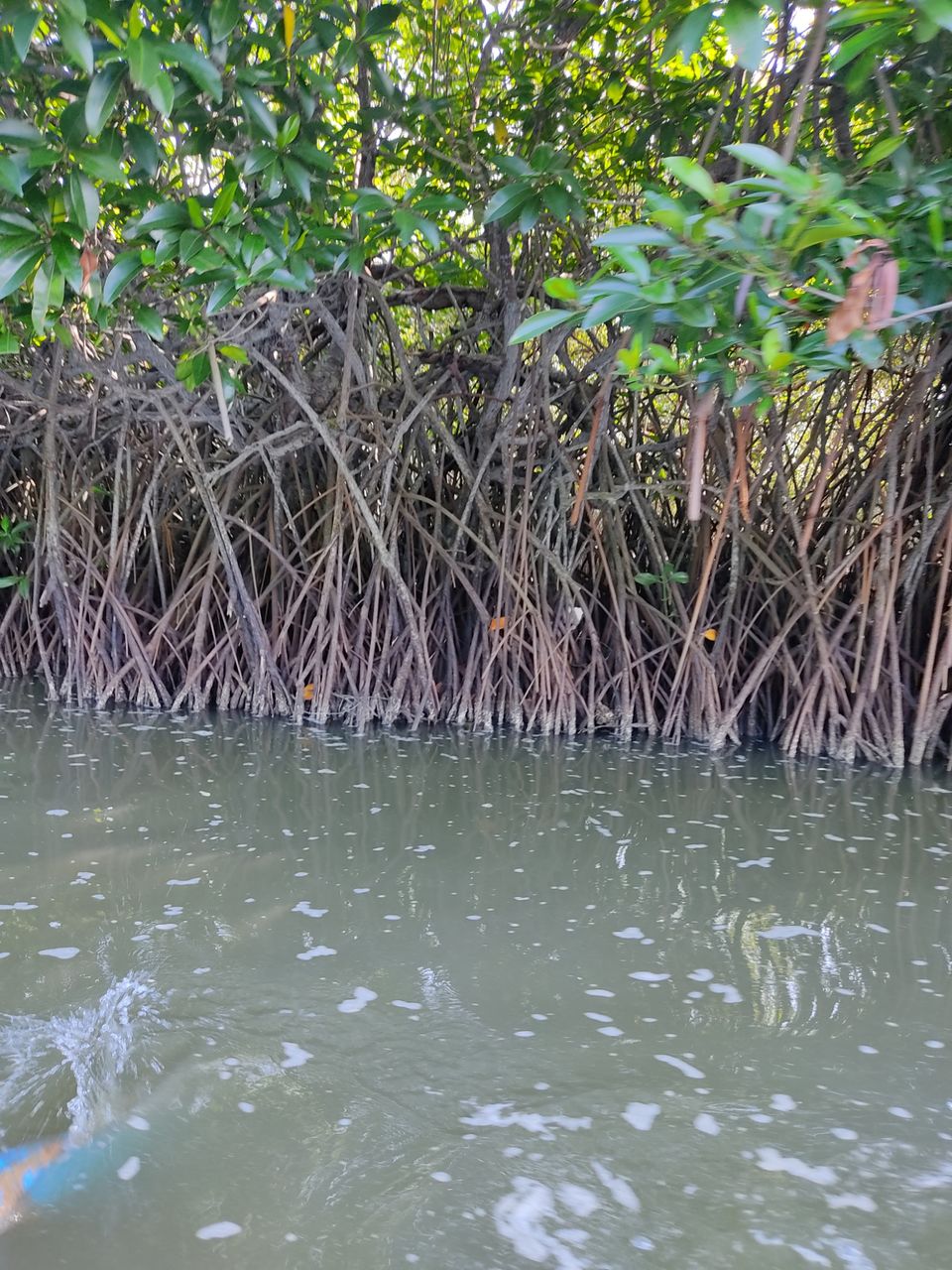 Pichavaram in Tamil Nadu is a small village near Chidambaram in Cuddalore district. It is located between the Vellar estuary in the north and the Coleroon estuary in the south. Together they combine to form the Killai backwaters. These mangroves are spread over 1100 hectares of area and are separated from the Bay of Bengal by a sand bar. They are home to 200 species of birds, prawns, oysters, turtles, fish and crabs.
Pichavaram mangrove is a vast expense of big and small canals and a few islands. Some of these islands used earlier by the forest department personnel have been damaged by the Tsunami. The backwaters offer abundant scope for waterscape and backwater cruises, rowing, kayaking and canoeing.
Silence pervades this region barring the sound of the oars of your boat, and gushing of the waves of the sea at some distance. If you are lucky and go around 4 in the evening, you might spot or hear the cuckoo in the distance. We visited end February, and were able to spot only a few exotic birds as the temperature was too high for them, and most had already left for coolers lands.
These natural mangroves are the second largest in the world, and permanently rooted in a few feet of water. We took the rowing boat, (although motor boats are also available) and went around in a slow relaxed pace inside some really narrow canals where the boat seemed to be engulfed by the mangroves, with them making a roof over our heads. These were the exotic sites which we had been looking forward to. Deep inside the mangrove forests, it gets a bit eerie and spooky as if someone is watching you from deep inside the vegetation. There are more than 400 water routes available for exploring these huge mangrove forests.
We drove here from Pondicherry that is around 80 kms and took us 2 hours. The roads are a breeze, absolute delight, not a single pothole on the way. There are paddy fields and a number of small and big water bodies on either sides of the road. We crossed a number of small towns also all bustling with a lot of commercial activities. So lots of places to stop for meals and snacks on the way.
One does not need to stay overnight in Pichavaram because any way the last boat that goes out is at 4 pm after which the forest department closes the gates. Otherwise Chidambaram town is close by and has comfortable stay options.
The best time to visit would be October to February I think although mid Feb when we went, it was getting rather hot and there weren't many birds left to watch.