Highlights
Attractions: Mangrove forests boat ride
Season: November to February for bird watching, September to April for normal visits.
Working hours: 8am to 5pm
Weather: 21°C – 30°C so mostly sunny
Details:
If pristine beaches, eloquent French cuisine and silent churches are too mainstream, Pichavaram is what gives you a feeling of "cherry on the cake".
Located in Chidambaram, closest village being Kille (you have to cross the railway track at Kille and that's how I could remember its name). Pichavaram is 70kms from Pondicherry (Puducherri) and is home to a different ecosystem.
We started at 8am from Pondicherry in a hotel-provided-Innova. We had had our breakfast hence we didn't look for hotels on the way to Pichavaram. The NH32 highway to Pichavaram is straight and in good condition.
With music on the radio being suppressed by the music from our own throats and the driver getting cranky at our voices, we reached Pichavaram after 2.5hrs.
We looked around on some guidance for the tour. The fascination about these dense and meandering mangrove forests canals grew as we saw the picturesque view of the Vellar backwaters.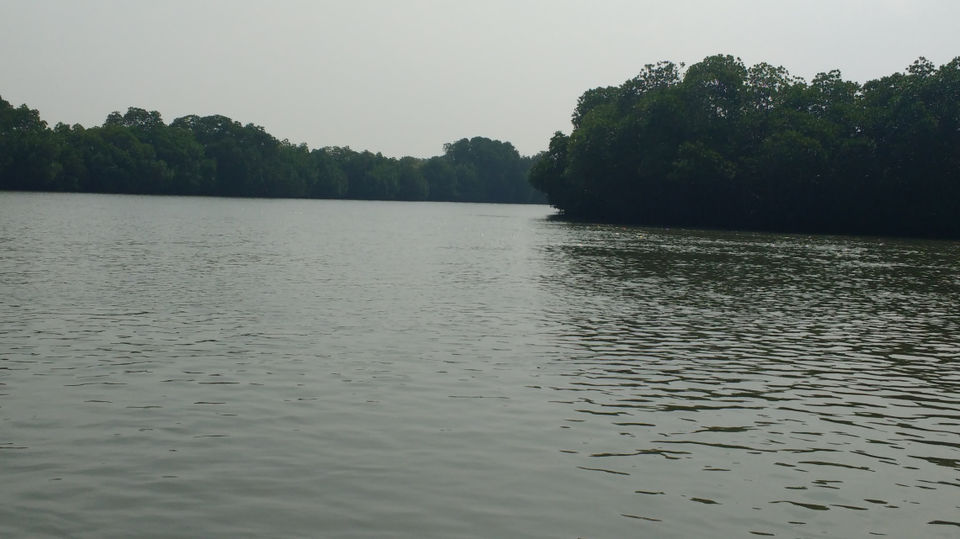 These canals are accessible by motor boats offered by the Tamil Nadu Tourism for enthusiastic tourists like us. These rides are paid as per the number of persons and the kilometers the group is interested in.
We then found the ticket counter with hardly any tourists lining up for paying their boat rides (nerve racking!!)
After few discussions with the locals and the boatmen, we booked a ride for 8 persons; duration of 1 hour and 3 kms in total, at a cost of Rs. 2250.
Audio-Video cameras are charged extra. Apart from the boat ride tickets, the forest entry is also charged at a minimal cost of Rs. 0.5 per person which is mandatory else no entry on the boats!!
We secured ourselves using life jackets and each of us settled for the best position on the boat. We were lucky to have an experienced hand at the paddle. Our Anna exactly knew what we were here for!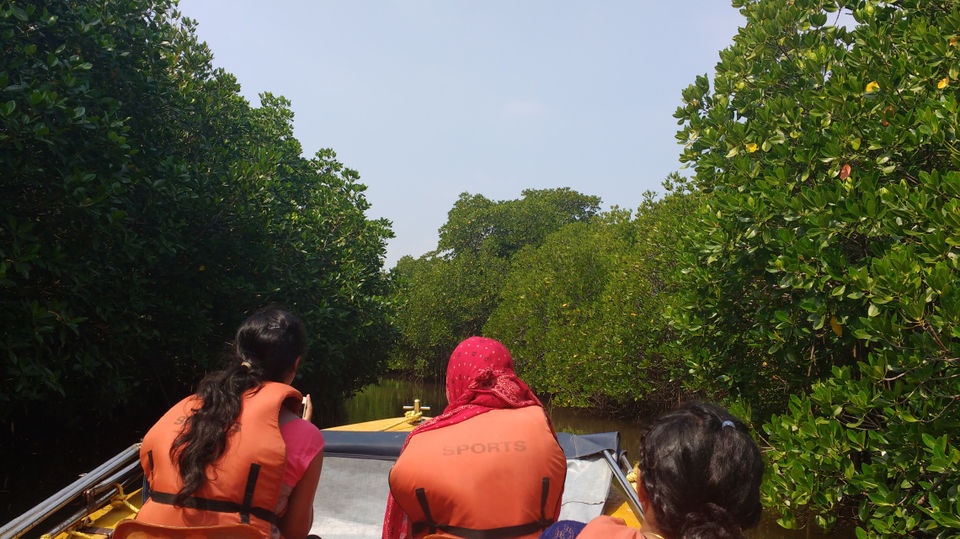 Boats are well equipped with safety jackets and foldable covers to protect from sunburns (these are normally folded back during narrow canal visits!)
Mangrove forest in Pichavaram is the second largest Mangroves after Sundarbans in West Bengal situated on the backwaters of Vellar and Coleroon rivers.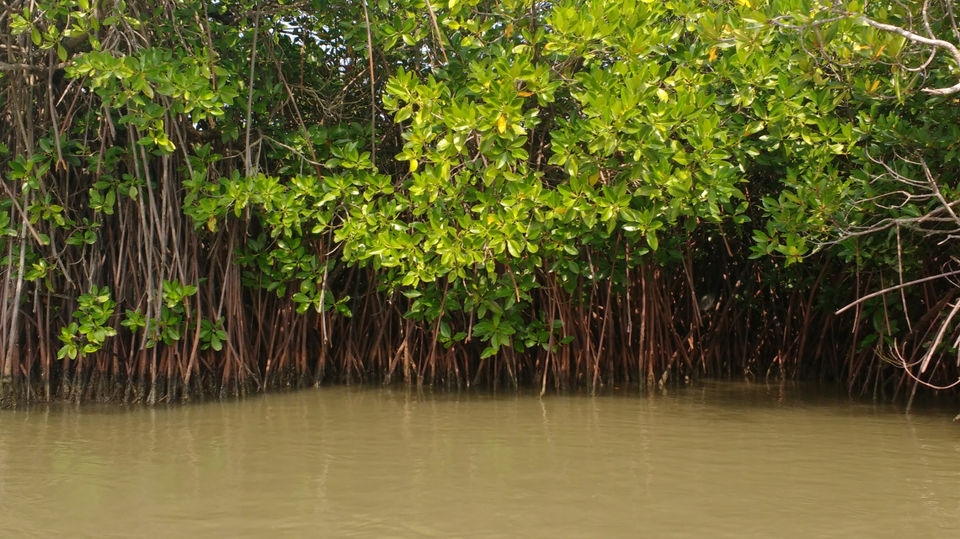 Anna then informed us that the water level here is just 3 feet deep but the mud is sludgy. It is not advisable to get off the boat in case you feel to have a short dive!!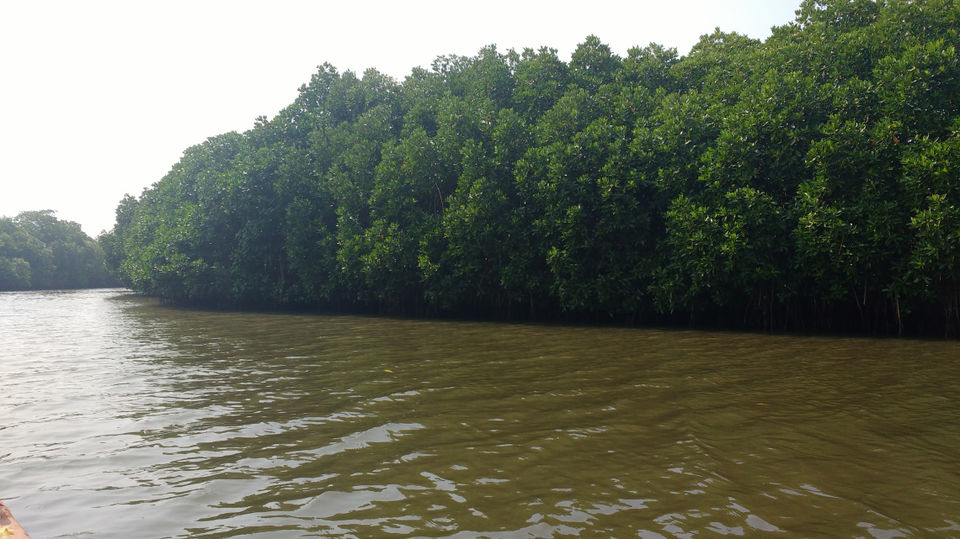 The swinging and swaying of our boat left us exhilarating. The backwaters were alluring and we immersed in its beauty in less than a minute after the ride started.
The backwaters not only give an opportunity to enjoy a pleasurable boat ride but a thrilling experience under the canopy of dense mangrove that form a canal. The canopy of the mangrove trees forms so thick that it is hardly possible for the sunlight to peep in.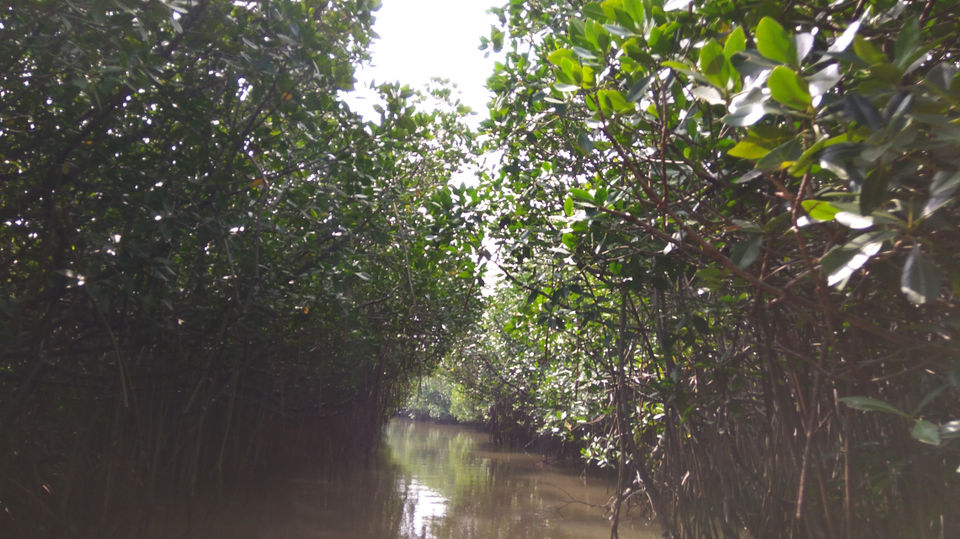 On our way to the canals, we saw fisherman with their nets; expecting a fresh catch for the day to be able to sell in the market.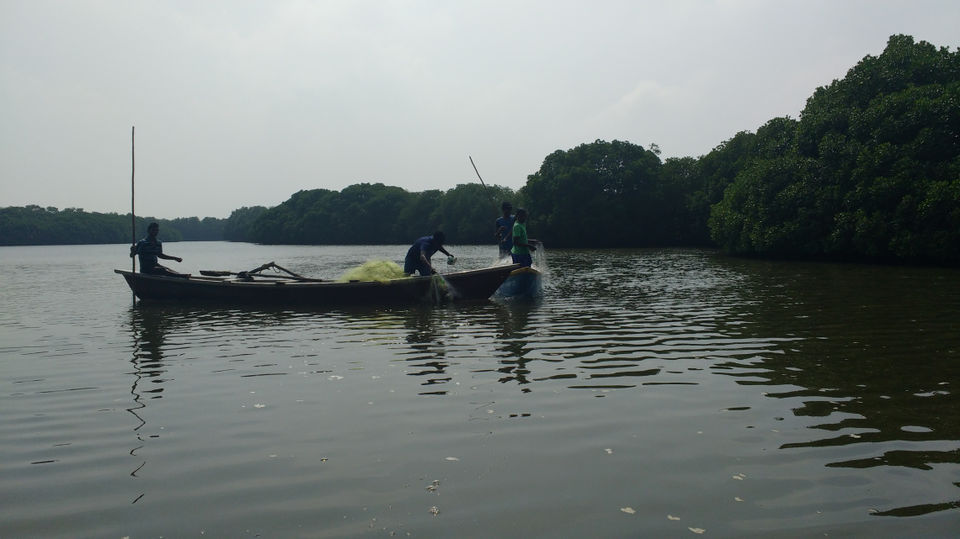 Finally the moment arrived when we were about to enter our first canal. As we entered, the light went dim and the creepy sounds hit our ears. Everything was quiet and surreal!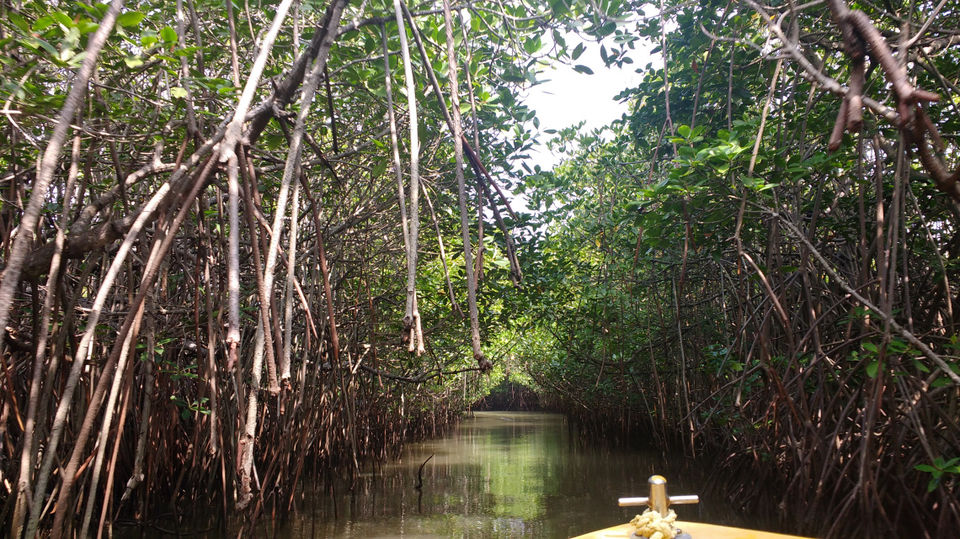 These canals are far more fascinating; stretch around 1 km in length and a width with just the right space for a boat to pass through.
Our boat could just find its way through the canal; it sometime bumped onto the strong roots of the mangroves or kissed the salt crystal covered trunks. Anna did instruct us to watch our heads when the branches were just at the level that they could hit us hard!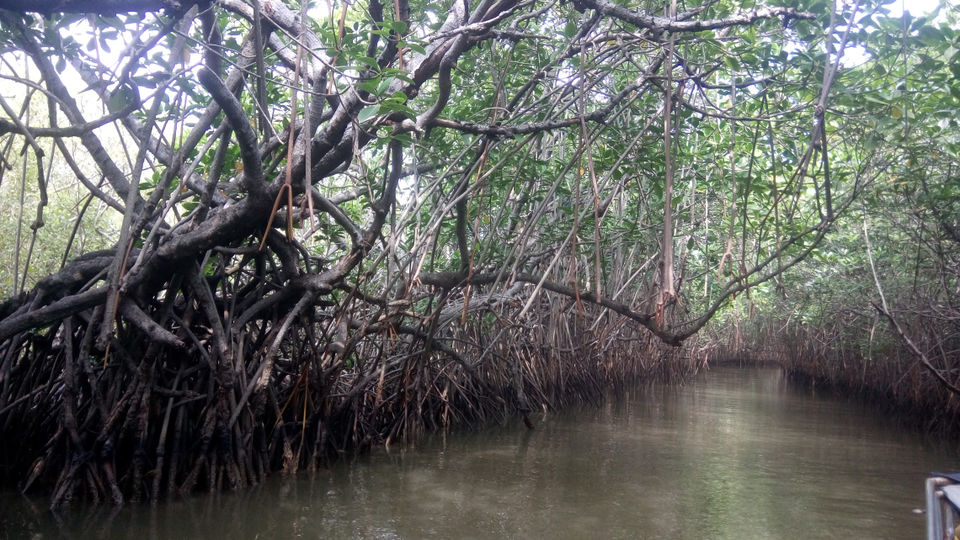 When everything was going just perfect, our boat suddenly refrained from moving ahead. Anna checked the motor if it had stopped unalarmed. It didn't! Then what would be the reason of such hesitation?
Anna rechecked what had come in between our way. With a pin drop silence spread across the boat, Anna managed to break it confirming that a large mangrove log had managed to block our way by residing just below the boat.
That moment seized for a while for us and we intuitively picked up our phones to see if our phones were hit too or could get us at least some signal to call for help! Sadly, they had refrained too. We finally decided to redirect our energies in pulling the boat backwards so as to return back to the backwaters and be safe.
Anna kept calm. He calmed us too. He then got down the boat on the log with his lungi half folded to his waist and instructed us to adjust ourselves. We obeyed .After a few hassles and instruction flows, finally one side of the boat had to bear a slight tilt and we could easily move ahead over the log.
With our accomplishment voices growing louder, Anna ensured he always knew how to direct the boat in such situations. When OMG! voices silenced, we continued our journey yet again hoping to see ourselves on the overland in the same state as we had entered the boat in!
We then crossed similar 4 canals each stretching 1 km in length. The experience grew more thrilling after we had passed these canals one after the other.
Anna boasted that he worked here from morning 8am to 5pm with 1 ride per day on the weekdays and 4-5 rides on weekends. In his free time, he would go fishing with the fisherman for fresh prawns.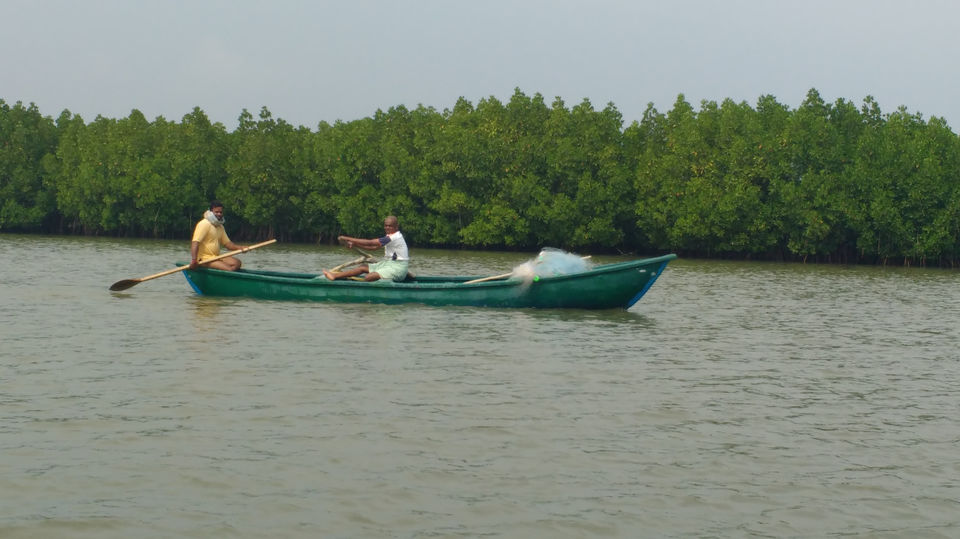 This area of overhanging branches, dark channels and sludgy backwater beds are a home to sea snakes, foxes, turtles and birds like egrets, kingfishers too.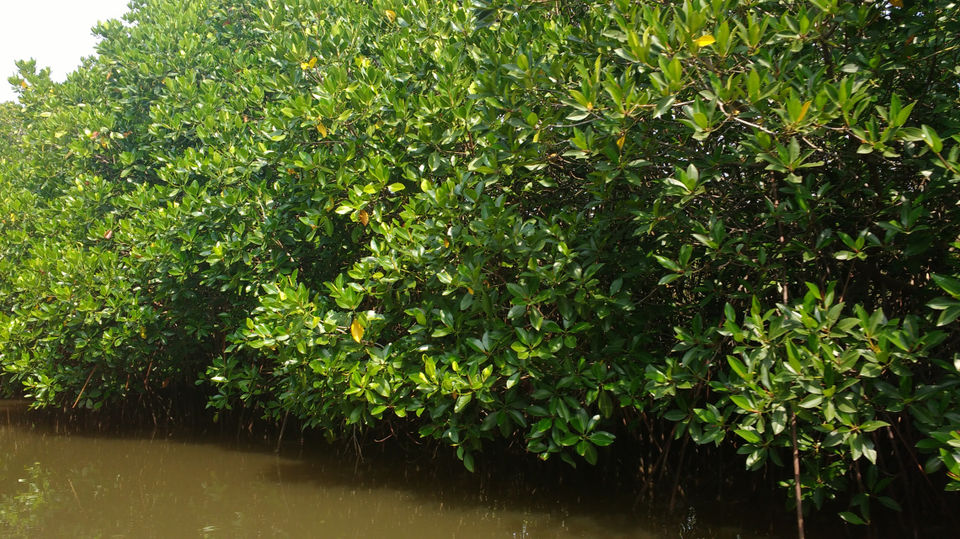 The experience at Pichavaram leaves you enthralled on how these forests adapt to grow in adverse soil conditions(water being salty and saline) stretching its emerald green beauty. They find out their own way of fighting the salts in the water they grow in. These trees secrete the excess salts on the leaves taken through the roots. This play of entangling-their-roots with one another is a must watch.
Species found
Rhizophora, Avicennia
Things to do
Drift along the waterways
Take picturesque photographs
Talk to the locals and the fisherman
Immerse in the beauty of this highly productive nature
Travel guide
How to reach Pichavaram
Nearest bus station
Chidambaram (5kms)
Nearest rail head
Chidambaram (5kms)
Nearest Airport
Chennai (226kms)
Car/Taxi
You can get rentals for a day to visit Chidambaram from Pondicherry.
Cost : 3000/- for 8 hours
Paradise Beach accessible by the Chunnambar Boat ride. This beach is on the way to Pichavaram from Chennai or Pondicherry.