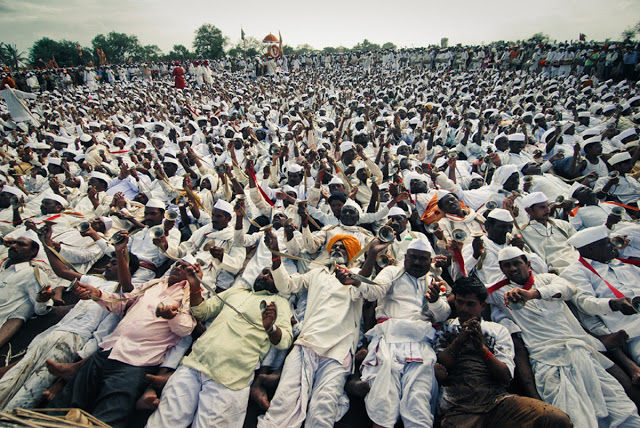 The law of diminishing marginal utility is a law of economics stating that as a person increases consumption of a product while keeping consumption of other products constant, there is a decline in the marginal utility that person derives from consuming each additional unit of that product. This universal law applies to travel as well. Having travelled to few European countries, staying in Dubai has made me yearn for something traditional and old skool. That's the reason I choose to join my parents for a pilgrimage to Pandharpur.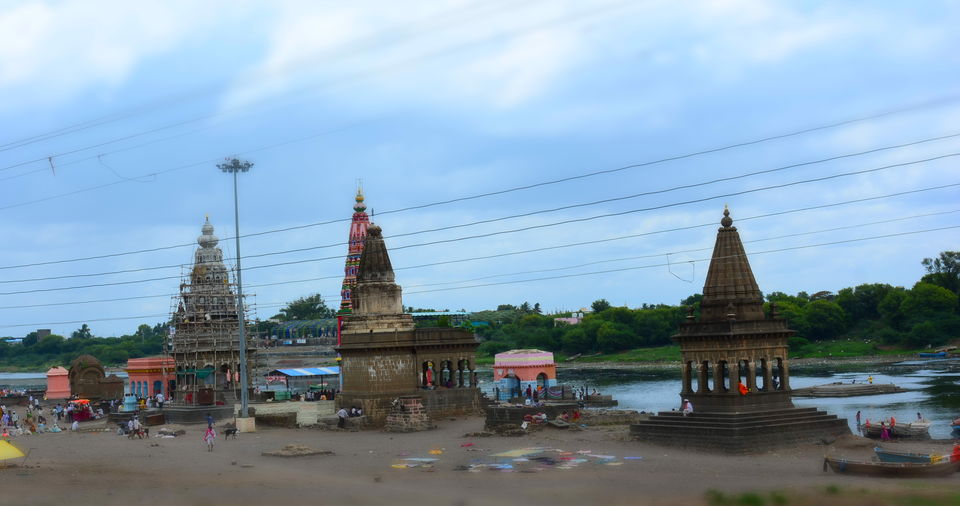 It was the occasion Nanaji's 74th Birthday, he is an ardent devotee of "Pandharinath Vithal", and has visited the temple 15 times before. Every year lakhs of farmers from across the villages of Maharashtra visit Padharpur in the month of Ashad (July-Aug) after sowing is done, to take a dip in holy river Chandrabhaga and touch the feet of their revered Lord Vithal. This procession is also called Dindi yatra, the great saints and poets of Maharashtra like Tukaram, Namdev etc. have all promoted these rituals and has remained still prevalent in the rural Maharashtra. Surprisingly it has not got the attention or in-flow of people from outside Maharashtra which has kept its sanctity as village temple intact as compared to Shirdi which has transformed into a metro and gets a huge influx of people from across the nation.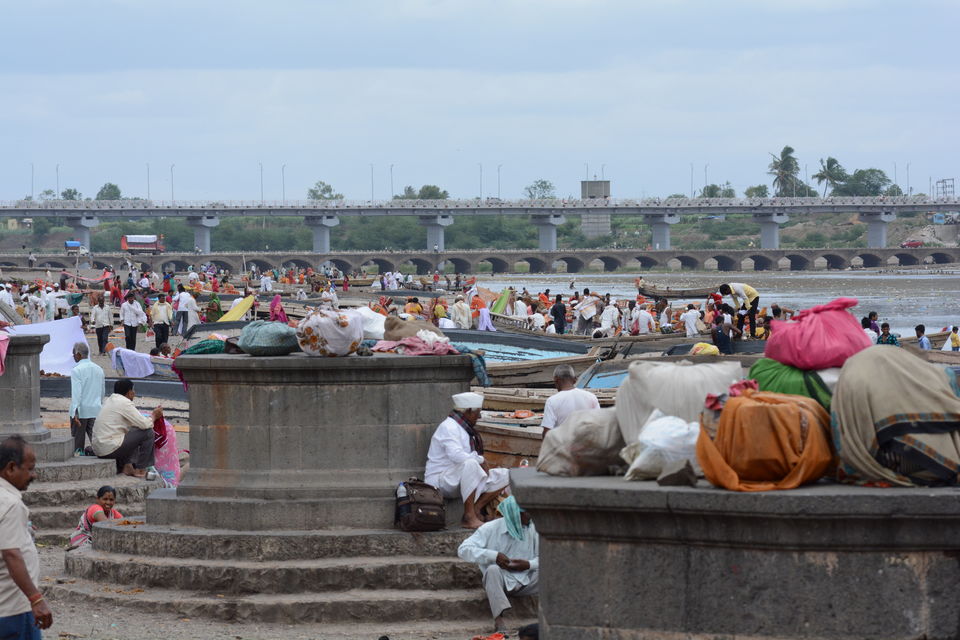 However because of the same reason mentioned above the infrastructure present in the city is abysmal. There is a dearth of parking lots, bathing areas/proper ghats, hotels, restaurants and a decent place to stay, not to mention hygienic toilets and drinking water supply. But as 95% of pilgrims are poor farmers no one complains.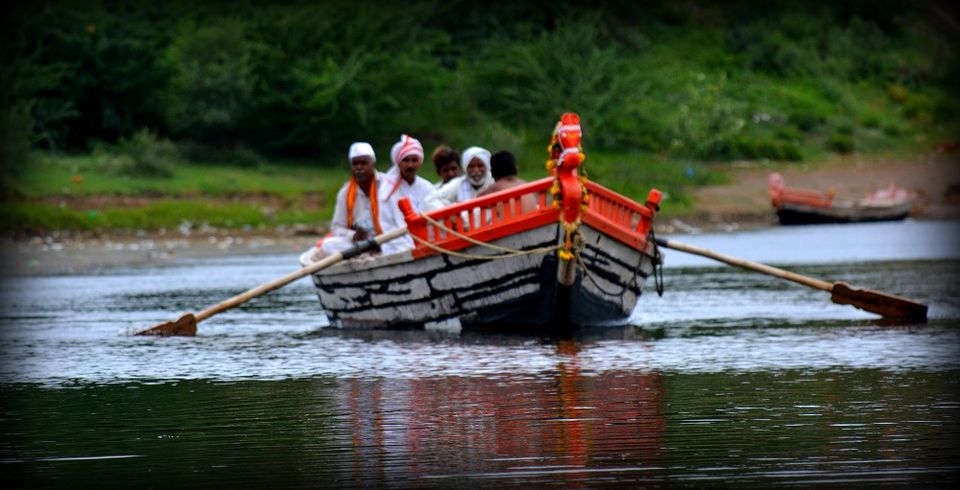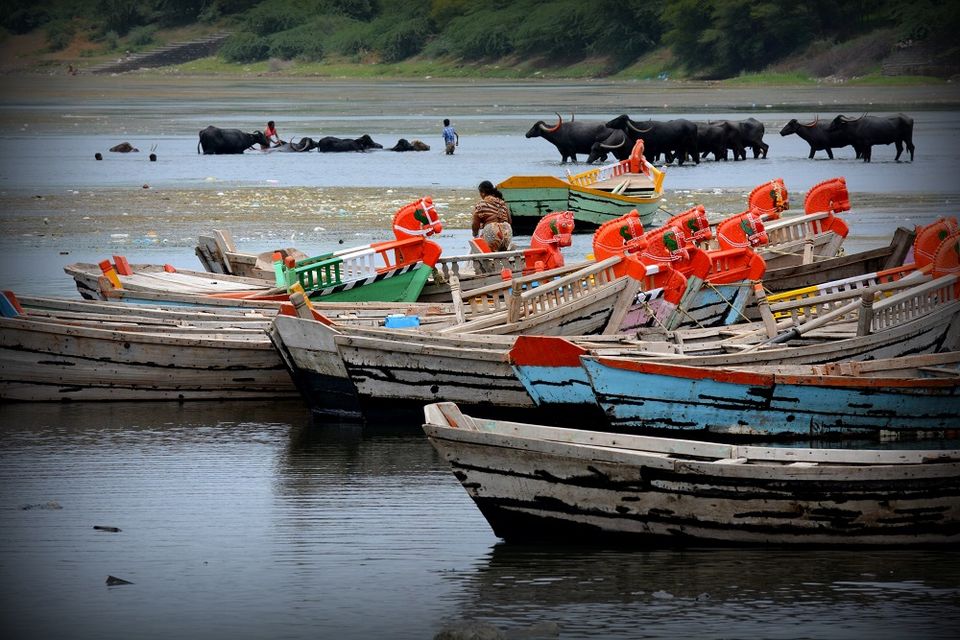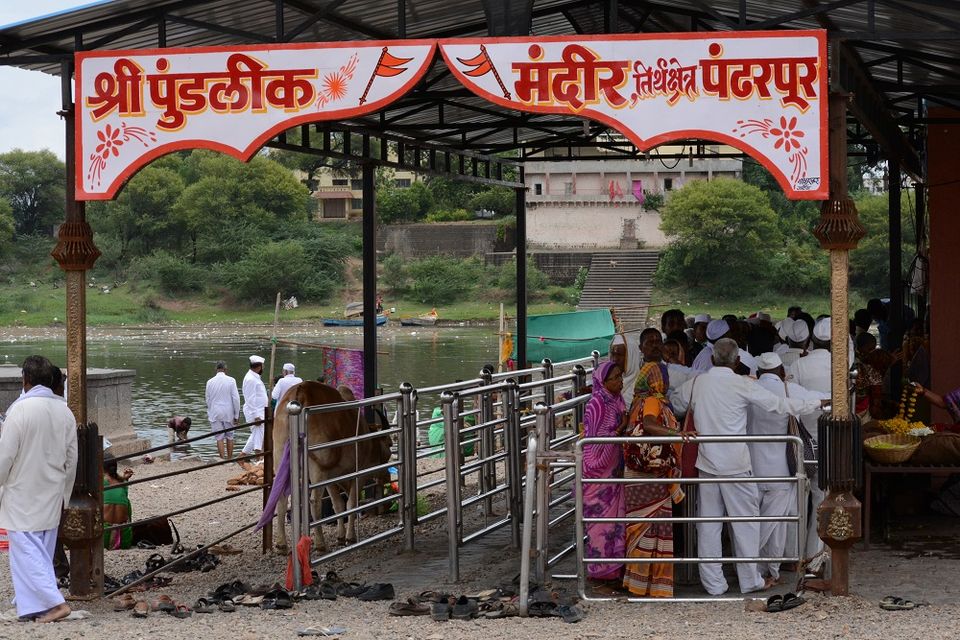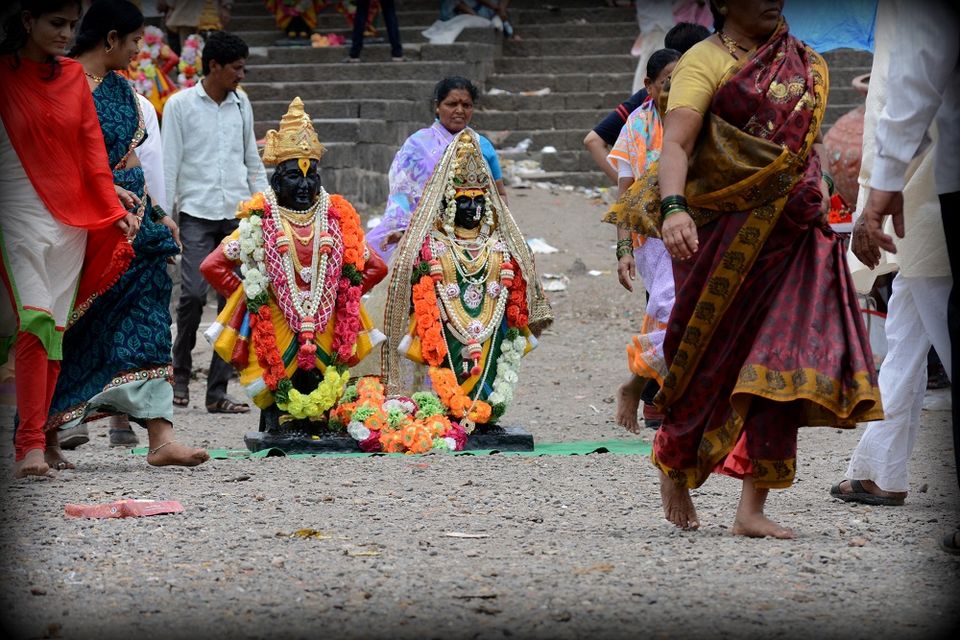 All though just like Haridwar and Varanasi, Pandharpur too has many ashrams, Dharamshala, and religious places but my visit was mainly focused to main temple Darshan and can be divided into 3 parts.
1. Holy dip in the river Chandrabhaga
I am not being cynical but you have to either possess huge faith in ritual or have to be completely tolerant to hygiene looking at the neighbourhood. I don't want to describe much but one can imagine how much mess for a village thriving on the banks of tiny rivers having 100 times more rural visitors without proper municipal amenities. We found an isolated place in the afternoon with the sun right above us, the water provided definite relief. After bathing and performing salutation to the river we went to the Pundhalik shrine on the river bank. It was a quick 30 min affairs and the place was not at all crowded as compared to what laid after it.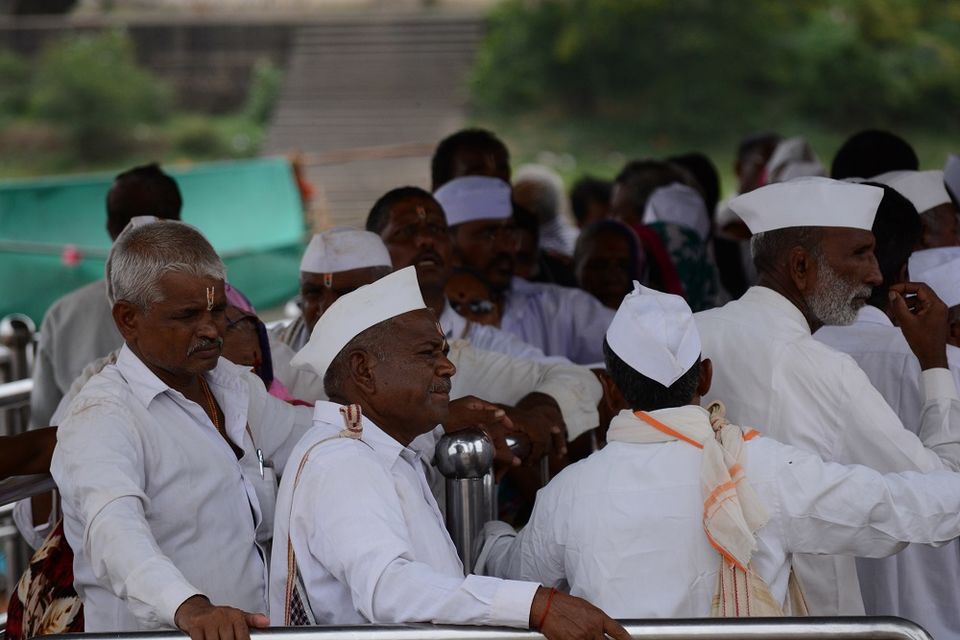 2. The Queue complex.
I myself being a Civil Engineer and an operation manager wants to comment on the engineering and brilliance of these complex. Nowhere in the world would I have seen such a cost effective of crowd management. The whole complex is 8-floor having duplex arrangement makes it 16 storied. Approximately carrying 15 thousand people at any given time, it feels like an endless maze of a 1-metre wide gully to which there is no escape. We spent six hours there and the worst part is that you have clueless till you actually exit that building as to when your wait will end. On a brighter side, you have sitting arrangements, toilets, drinking water, some dry snack stalls but all these are barely maintained and can be used only in case of emergency. The wait, however, doesn't affect the ardent, faithful devotees, who with their wounds and wands come singing dancing, clapping to the beats of their beloved Vithai's praises. Infectiously close, you are bound to get hypnotized and start enchanting and dancing to the tunes of it.
3. The Vithal- Rukmai temple:
The main temple of Lord Vithal is simple and homely. It's one of the few temples where you can touch the Idol. The darshan for me was peaceful and peace giving. It was indeed the culmination of wait and faith which pumped into me throughout the day. Having duly satisfied we came out of the shrine and went to eat in the Prasadalaya.
The town itself becomes a museum of Indian rural culture at dusk. I saw some of the antique musical instruments, religious books, paintings displayed for sale on the street. One can feel the density upwards of 50K per sqkm swarming the streets of Padharpur all dressed in white Dhoti, and Gandhi topi having a tilak on their forehead and welcoming innocent smile of an arduous farmer. I spotted few of the Maharashtrian delicacies like Jhunka Bhakar, Thal peet, Puran puri, Sheera Puri, Meesal Pav, Vada Pav, Dal Bhaji, Masala bhat etc. My parents took a book or two on Bhajans. The market is also famous for Kumkum, Bhukka and other such things.
Although we spent not more than a day there the depth of experience equals that of months. (As compared to Dubai lifestyle "Years"). As a photographer, I feel a person's face is dynamic infographic resume of his own personality and if you are curious and observant enough you will get the whole story within minutes from him. That's how you learn, that's how I explore. Having visited a truly valuable Human library, I feel I am a step closer to realize my passion.
For others, I would recommend this kind of places to evident the feeling that comes from the sense of reassurance that you are completely and fully taken care of, and that life is perfect with its imperfections.
Happy Ashadi Ekadashi!
Abhinav