Bungee Jumping was in the list since long and visit to Rishikesh was the only destination for it in India. Rishikesh has the highest bungee jumping spot in India, and is the only destination with a fixed platform to DIVE from. Long weekend was coming and it was a plan a week before we went. As usual few things to manage i.e Office leaves and Flight tickets. Got office leaves, flight ticket a bit costly.
Plan was as below -
Pune -> Delhi >>>>>>>>>>>> Flight
Delhi -> Rishikesh >>>>>>>> Bus
Rishikesh -> Haridwar >>>> Bus
Haridwar -> Delhi >>>>>>>> Bus
Delhi -> Pune >>>>>>>>>>>> Flight
Best way to travel any where in North India from Pune/Mumbai is to catch a flight between 3 pm to 6 pm so that you reach Delhi before 8 pm and catch a overnight bus to your destination. This time I did not get the flight with my timings so had to travel by bus in the morning.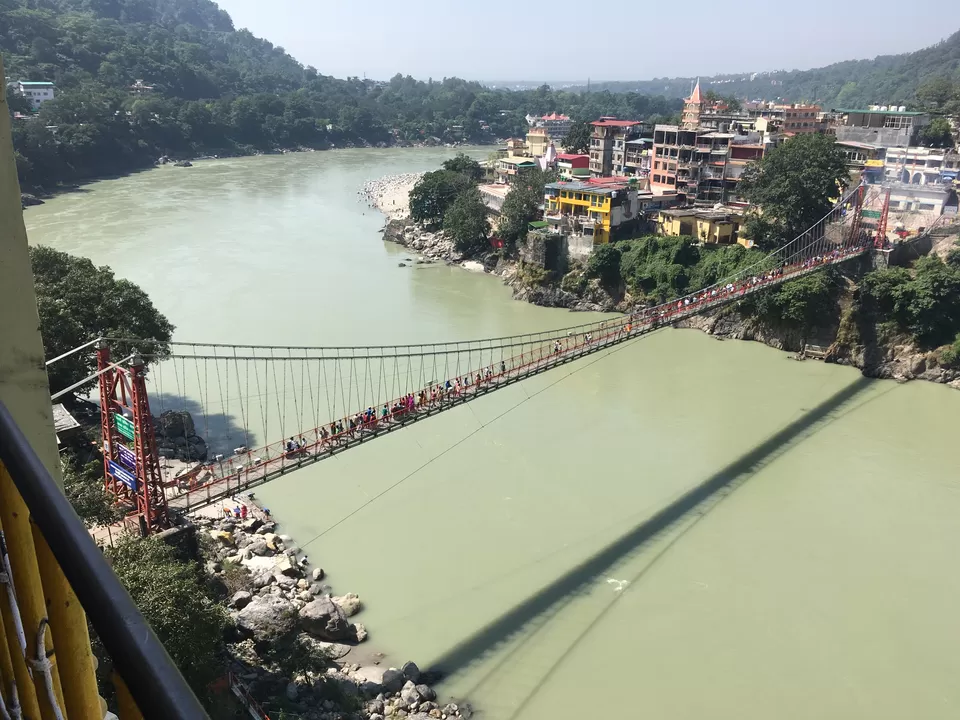 Bus Options : There are many bus that travel overnight to Rishikesh from Delhi. Morning AC buses start after 8 pm and the road to Rishikesh is very bad and there is too much of traffic which increases the travel time by 2-3 hours. So avoid morning travel.
There are 2 options to Stay -
1. Either stay in Hotel/Cottage (Near to Ram Jhula or Laxman Jhula)
2. Riverside camping and stay in Tents.
Local sightseeing : Get yourself a rented 2-wheeler any where near the Jhula's and you can explore nearby places on bike. Approx cost for 2-wheeler is 300 Rs per day.
Best Time to Visit: November - January
Bungee Jumping:
Bungee Jumping : 3550 Rs
Giant Swing : 3550 Rs
Fire Fox : 1800 Rs
Bus Cost : 400 Rs ( Rishikesh to Mohan Chatti/Jumping Heights)
The thrill comes from the free-falling and the rebound. INDIA'S HIGHEST BUNGY (jump height: 83 mtrs).
Jumping Heights office is located in Rishikesh from where you can travel by there bus to the jump location which is approx 20km. Bus cost is 400 Rs. One can go by personal/rented vehicle but the road is not good and takes more than 1 hour. So better option is spend 400 Rs. There are only 3 buses at 9am, 11am and 1pm. So better to pre-book.
The Ram and Laxman Jhula's are located at approx 1km from each other and once can cross the bridge on 2-wheeler. As there is no support from down the bridge moves slightly.
Ganga Aarti:
* Ganga Aarti, Haridwar - Starts around 5.30 pm
* Ganga Aarti, Rishikesh - Starts around 6 pm
* Ganga Aarti, Varanasi
Rishikesh to Haridwar : There are buses after every 30 min to reach Haridwar (Har ki Pauri). Takes approx 1 hour.
Haridwar to Delhi : Overnight buses are best option but you reach quit early to Delhi due to very less traffic on roads at night time.
Frequent Searches Leading To This Page:-
Pune to rishikesh uttarakhand tour, pune to rishikesh train ticket price, pune to rishikesh tour package, cheapest way to travel to uttarakhand, weekend getaways from pune, shopping pune