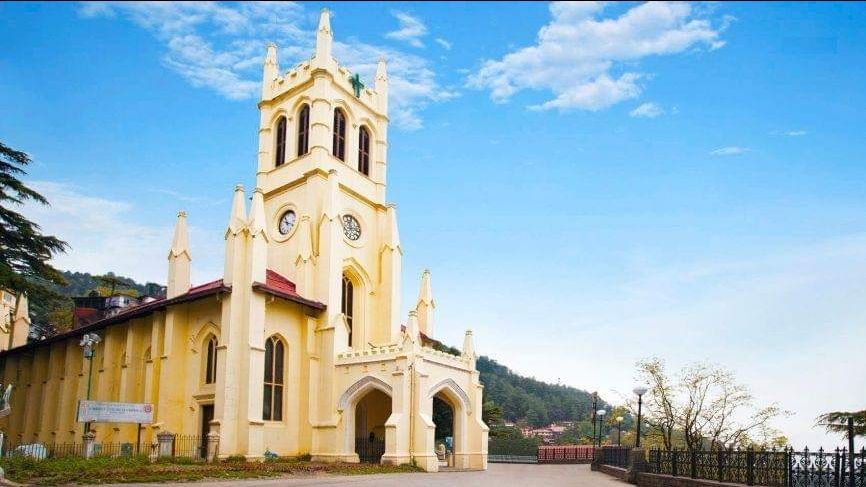 About Shimla: One of the most famous tourist destinations Shimla, located in Himachal Pradesh is beautiful hill station. Shimla abounds itself in natural beauty and is a picture perfect. This small hill station amidst the fluffy snow in Himalayan ranges, lush green pastures and surrounded by lakes. It seems to be like an art painting. You can visit Shimla anytime during the year and find it to be very cool and pleasant during summers, while winters are bone chilling and the temperatures can fall below zero. But this difference is what makes Shimla all the more special!
I started my journey to visit this lovely place. Right after crossing the Himalayan Expressway toll plaza, I felt the cold breeze of the mountains and started feeling the goose bumps. On the way there is a small city called Kalka. Kalka is famous for its narrow gauge railway line for Kalka-Shilma Toy train (UNESCO World Heritage Site), which covers small villages, tunnels, lush green mountains, bridges. There are few instances I found the train crossing my way to Shimla. There are few tunnels alongside the road and railway track that reminded me a very old song from Aradhana "Mere sapno ki Rani kab ayegi tu". There were few places on the way like Kasauli, Dharampur, Solan, Shoghi which are also famous for their scenic views. After crossing Shoghi it was almost 15 KM left. The route was really enjoyable and full of mesmerizing views and the street food. I decided to stay away from the city in the vicinity of the Himalayas. I checked into the Club Mahindra, Mashobra. Mashobra is on the way to Narkanda route. I had some rest and moved to visit nearby places in Mashobra to utilize my maximum time.
After such a drive and some rest I had my lunch in Club Mahindra, Mashobra. The food was really awesome but it's a bit expensive. I moved to explore the beauty outside and found it's really awesome to be here. I forgot all the things that were in my mind and was enjoying the peace, the jungle, waterfalls view. It is best if you explore the place by walking. There are many places where you can enjoy Maggi, tea, pakoras and some Himachali cuisines. Nature is really beautiful. In evening it was really cold outside so I came to the resort. It's really nice to involve yourself into activities. Keeping that in mind, there were some inhouse activities going so I enjoyed few along with the born fire and few drinks & snacks. After such a blissful day, I went to sleep and freshen myself for the next day.
In morning, I felt the breeze of fresh air that wake me, eyes soothing views and the presence of positivity all around. I got ready and decided to have breakfast outside. On Shimla Mall road you will find a lot of cafes and restaurants where freshly prepared recipes are available and had an amazing breakfast.
Jhaku Hill:
Jakhoo Hill is Shimla's highest point with Jakhu temple. This is Lord Hanuman temple with Statue height 100ft. The hill offers spectacular views of the town and its surroundings. The hillside and Jakhu Temple are populated with very aggressive and cunning monkeys. Be extremely careful with your camera, glasses, bag and especially food. Taxis are available to take you up the hill or you can drive yourself as the parking space is very limited here. The second option is the Jhaku ropeway situated near the Church.
The Ridge:
It is the center of attraction to explore Shimla's cultural and social life - an excellent place that gives an excellent view the surrounding mountains and Himalayas Range. You can dress up yourself in Himachali dresses and enjoy them. There are some vendors that provide the dresses on minimal charges.
Christ Church:
Opens every day, 08:00AM-11:00AM. Designed & constructed in 1846 and the second oldest church of the North India. The stain-glass windows, representing charity, faith, patience, hope, fortitude and humility, and 19th century organ are particularly impressive.
The Lakkad Bazaar:
This is market where you can shop a lot of things made of cheddar wood. There are numerous shops and handcrafted items from your daily household needs that are really impressive and beautifully handcrafted. Explore as much as you can.
The Mall:
The Mall is the main shopping hub of Shimla. The Mall has good number of branded showrooms, banks, restaurants, cafes, post offices, clubs, bars, handicrafts and tourists offices. There is a famous theatre of Shimla called Gaiety Theatre.
It's another day well spent exploring the local Shimla. I moved to towards the resort looking at the sky, the stars and moon looks so beautiful from the uphill. I had my dinner at restaurant in Club Mahindra, Mashobra and went to sleep.
I woke up early this morning. The early morning sunrise was so beautiful and the fresh air breeze kept me fresh. I got ready and left to explore the history, museums and art galleries in Shimla. You can visit these places.
State Museum & Library:
The Shimla State Museum and Library is a famous point of tourist's attraction that is located at a distance of around 2.5 kilometers from Shimla. The museum is famous for the collection of ancient sculptures, paintings, coins and photographs. The museum should be visited by anyone who is coming to Shimla.
Viceregal Lodge:
The Viceregal Lodge is constructed by the British and located at the top of Observatory Hills. This brilliant building old building constructed in 1888 served as the residence of the Viceroy, Lord Dufferin and is still well maintained. This Lodge has now been transformed into the famous Institute of Advanced Studies and the six storey building still stands in its entire splendor. The lodge has famous gardens and perfectly manicured lawns. The place is a very famous tourist attraction and must be visited.
After visiting such lovely places, I had my lunch and moved back to my hometown.
While leaving from Shimla there was a thought that keeps me reminding
"The most beautiful things in life are not things. They are people, places, memories and pictures - Varun Goel"