"But where is Shoghi!"- my husband quipped when I told him about Aamod Resort that is located in Shoghi, a hamlet close to tourist hotspot Shimla in Himachal Pradesh.
A smooth three hour uphill drive from Kalka took us to this boutique resort. Twenty cottages that offer unobtrusive view of the mountains and acres of forest make up what is christened as Aamod Resort and Spa, Shoghi.
Our cab from Chandigarh airport dropped us at the parking from where the hotel's car picked us up as the way leading to the resort is a serpentine muddy mountain road. We were welcomed by hospitable staff, refreshing drink and lots of fresh mountain air. Exhausted breathing Delhi's polluted air, my lungs were already thanking me.
Room With a View
We trekked up to our corner cottage which was comfortable with all amenities but minimalistic in its decor. Cottages have been deliberately kept basic considering its an eco-friendly resort.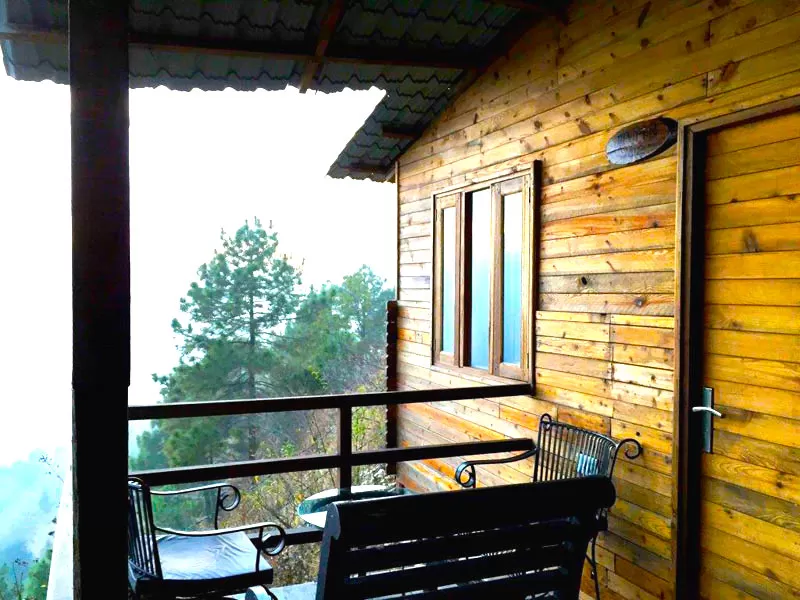 Our super deluxe cottage had a sit-out balcony that offered panoramic view of the mountains, living space, cosy bedroom and bath. The windows let ample sunlight in and far away we could see Shimla's famous toy train chugging, doing its everyday thing.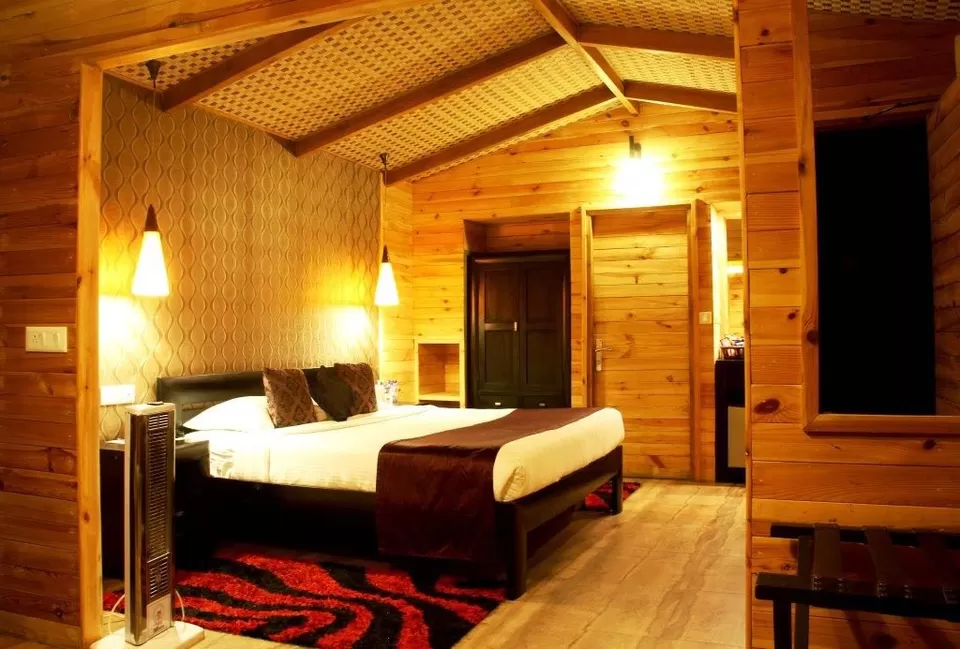 If you are traveling with family, you can choose the bigger family cottage or two cottages located next to each other (cottage cluster).
Food
You don't expect much, when it comes to food, from a hill resort cut from the civilization and city's humdrum. But Aamod Resort did throw up a surprise. We had a sumptuous Himachali meal, gorged on kebabs for sundowners and spoiled ourselves by ordering breakfast in bed. Each meal at Aamod Resort was memorable. The showstopper for our lunch and dinner meal was of course the Tandoori Trout that was done well. I can go back for this delish fish!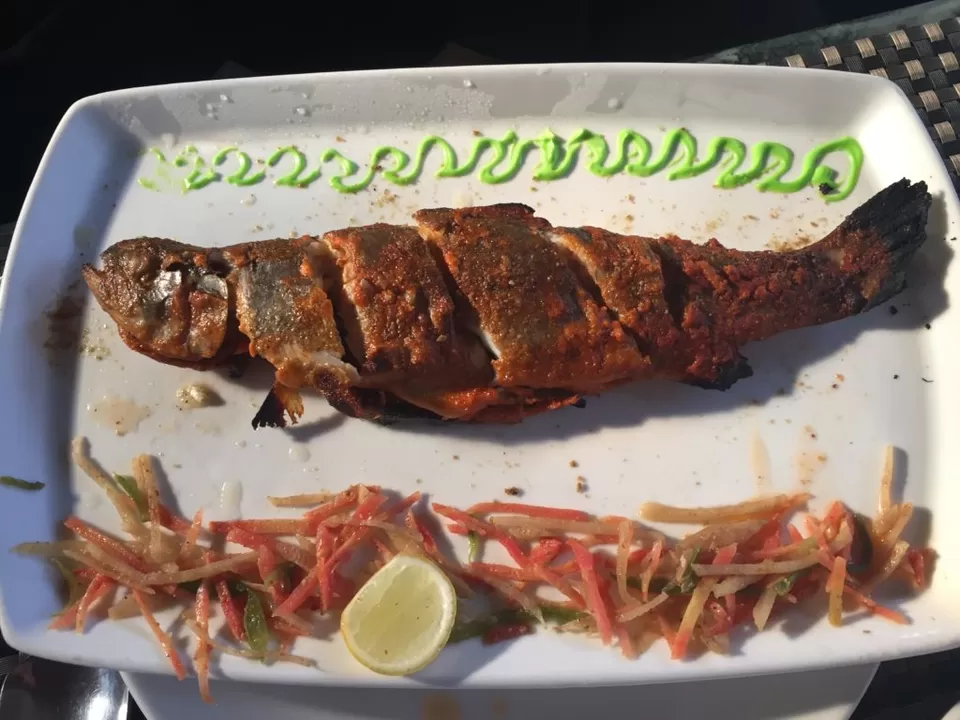 On a bright afternoon we had dinner at the Square Deck that offers a romantic setting. It was our wedding anniversary and the hotel arranged nice cake, there was a curated menu and the deck was adorned with balloons. The picturesque background for our quiet but complete celebration is stuff bucket list items are made of!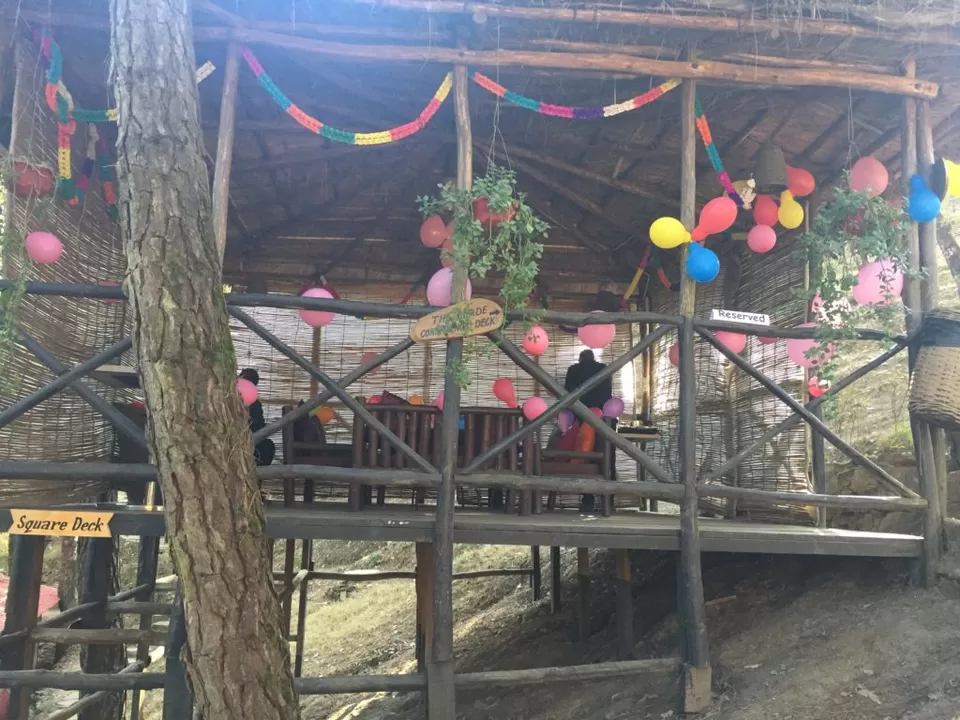 At Aamod Shoghi you can just point at place and order your dinner under the stars or brunch amid tall trees. The staff will be only happy to oblige.
The resort's multi-cuisine restaurant 'The Colonial' has an al fresco dining and its bar is well stocked. Since cottages are spread in acres and its a rocky path that leads to every cottage, room service is not a cake walk at this resort. But the staff is efficient and each time we ordered something in room it reached us in time. So an extra star there for the prompt service and efficient staff.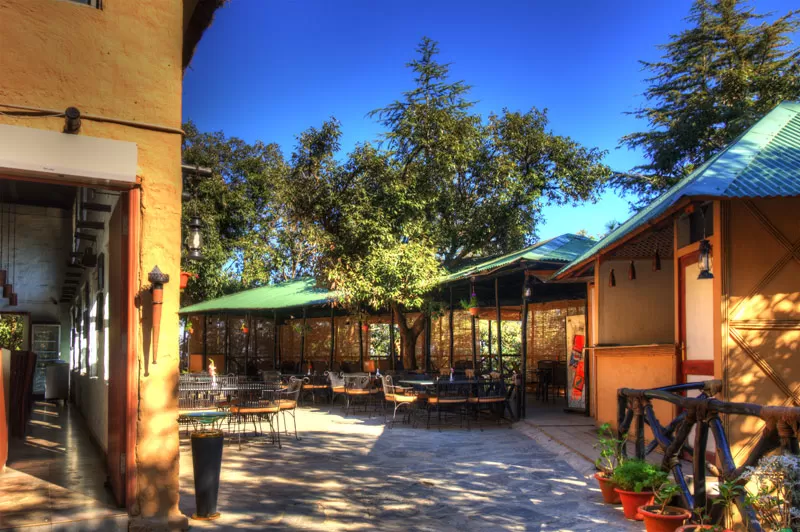 Beyond Rooms
You could choose to do nothing at Aamod Resort and just soak in the views. Or you could go for long jungle walks exploring new trails. But what will get you excited are the array of adventure activities that Aamod Resort offers like the zip lines, rock climbing and rappelling. The adventure course also features Burma Bridge, Rope Bridge Walk and Commando Net. Of course there are friendly local instructors to guide you during your thrills.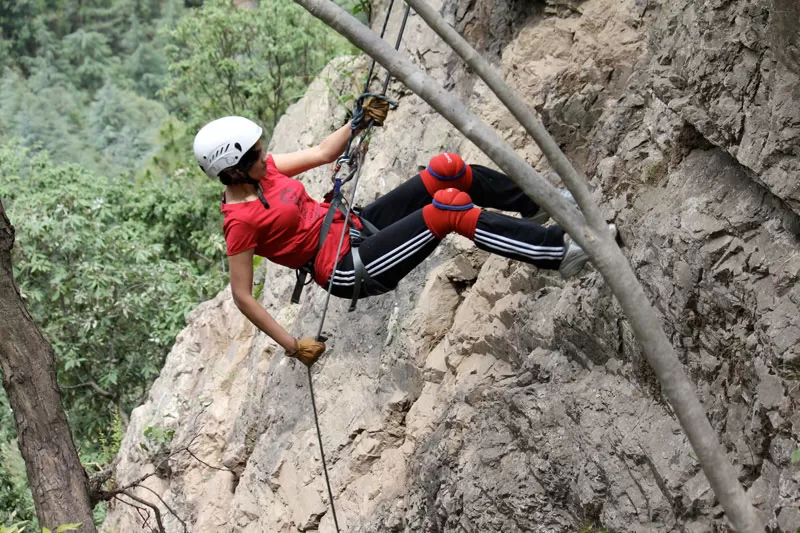 Aamod Shoghi is also an ideal option if you are looking for an offsite for your employees where they can engage in team building activities. The resort also offers a conference facility for about 60 people.
The spa Sublime, perched on the hill top, has two treatment rooms and an outdoor jacuzzi overlooking the majestic mountains of Himachal . The climb to the spa is a short trek in itself.
For day tours, you can head to the popular Mall Road in Shimla galavanting and spending time shopping for trinkets. You can go for sight seeing to Jakhu Hills, located at 8000 ft offering the view of snow covered Himalayas. Some of the other places near Shoghi, perfect for days tours are Mashobra, Fagu, Tattapani and Tara Devi.
THE Tip
Before you check-in do take a stock of your fitness. Each cottage requires walking uphill and negotiating mountain terrain, so carry your sports shoes. Also it might not be a good idea if you are travelling with kids or senior citizens. Though I must add that I travelled with my five month old and he completely loved the experience and the staff at the resort.
THE Verdict
"Shoghi is beautiful," my husband declared as we left Aamod, that was our abode for two days. Aamod has definitely highlighted this little hamlet of Shoghi on travellers map. If you are looking for a quaint holiday in the hills you must check-out this boutique property.
Fast Facts
- Shoghi is a small hamlet located on NH22, located 13 kms short of Shimla.
- Aamod at Shoghi is an Ecotourism resort set in pristine virgin forest, on a land provided by Himachal Pradesh Forest Department under its new Ecotourism policy.
- The resort has 20 cottages across categories, a multi-cuisine restaurant, spa and conference facility.
- The resort has an adventure course offering an array of activities, with onsite instructors.
- How To Reach: The nearest airport is in Shimla, but Chandigarh is a better choice if you are looking for regular flights. Nearest train station is Kalka, from where you can travel by road to Shoghi or take the toy train that drops you just five minutes away from the property.
AAMOD RESORT & SPA, SHOGHI: IDYLLIC HILL RESORT: OVERVIEW

LOCATION ☆☆☆☆☆
SERVICE ☆☆☆☆
FOOD ☆☆☆☆
BANG FOR THE BUCK ☆☆☆☆☆
Great! ☆☆☆☆

Summary:If you are looking for a quaint holiday in the hills you must check-out this boutique property.
This blog was originally published on The Hotel Explorer.