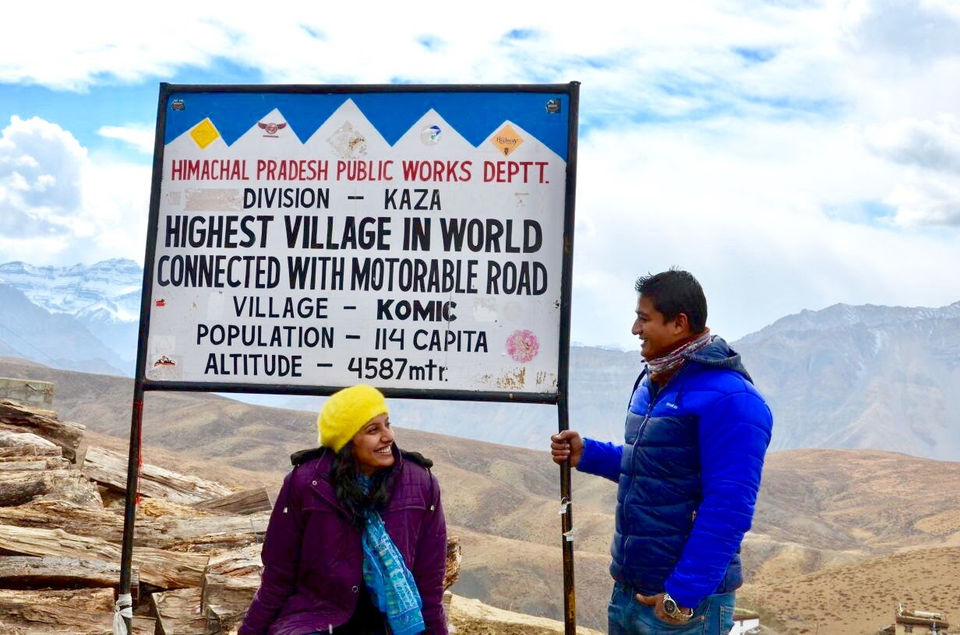 Would you in your wildest dream even think of 'planning' a road trip to one the most remote valleys of India on a Santro?
Me and my husband did, albeit any planning whatsoever!!
Day 1 (25 October 2017)
One fine day while staying at my in-laws house in Haldwani, a small town on the foothills of Nainital, a sudden wanderlust made us pack our bags and set out on the road without any destination in my mind. It was already late evening so we decided to settle for Shimla
Day 2 (26 October)
The idea of spending our holiday in civilisation didn't excite us much so after walking around Mall Road for a bit we decided to set course further north and landed in these beautiful camps called the Vanvaas camps in Narkanda which is just 3 hours away from the crowded streets of Shimla
Day 3 (27 October)
After a nice breakfast of aloo parathas (my favourite during travels) we set course for our next destination Kalpa. Driving on the winding roads through mountains and rivers and having the steering in my hand made it one blissful drive.
Just 20 km short of Kalpa, a right turn took us to the last village Chitkul through Sangla Valley.
The drive covered with apple orchard , the mix of orange, green, yellow colours, the view of snow covered mountains and the crystal clear water flowing through the mountains and the beautiful houses was nothing less than a fairytale.
The drive was bad for a 10km stretch, otherwise the road was newly constructed and was pretty smooth.
On the return trip from Chitkul we stopped at sangla for momos and tea and of course to decide our stay for the night, after calling up a few hotels and some online research we settled on Samaa resorts. It looked like a usual hotel at night but the morning took us by surprise.
Day 4 (28 October)
The view of mount Kinner Kailash staring at us from the window with the mountains scattering the light rays of the morning sun was a sight which I would never forget in my life.
After a nice heavy breakfast of my favourite aloo parathas ;) we set course for Kaza.
The route was a mix of some good and bad roads and some very bad road but the view of the desert mountains made up for the bumpy ride.
It was scary at times with single lane roads and deep endless cliffs on one side and rocky mountains on the other. It seemed like an endless climb through snaky roads and beautiful views.
Now some truth here, there are two roads for kaza. A snaky one with endless hairpin bends and a straight one next to the river, which of course takes lesser time.
Now the Nako lake required us to take the snaky one and trust me it was a disappointment. It's just an ordinary lake in the middle of a village.
By the time we reached Tabo it got dark but the drive through the darkness, under the stars next to the river and giant mountains on a single lane road and almost straight stretches had its own charm.
No traffic, no pollution, no blaring horns just pure blissful driving.
Since there was no network we didn't have the option of looking for hotels online. Our plan was to reach Kaza and see if they have any options.
As soon as we reached kaza, we stopped at this building which was looking like some big hotel and to our amazement, it turned out to be a circuit house. Although I had never stayed in a circuit house before but trust me if you ever find one, they are the best places to stay. They are cheap and are very clean, at least in Kaza. Luckily the place had rooms available and we got one for ourselves.
Day 5 (29 October)
Again with no plans for the day, we got our plan from this really amazing couple who were there for some research purpose who asked us to join them to Langza village. After a warm welcome by the locals, we headed to the highest village in the world the komic village.
With mild snowfall and the frozen lake enroute I could not stop but marvel at the sheer beauty of the place. This was followed by another beautiful drive to Hikkim, the Highest post office in the world. There we met the postmaster, got stamped postcards and sat on a yak.
After a fulfilling day we were back to langzah, and we had this amazing homemade lunch of dal, rice and mutton waiting for us. After that heavy meal, all I really wanted to do was just sleep in that cozy room.
But fomo took over and we decided to visit the Key Monastery first.
Day 6 (30 October)
Now being spontaneous requires money and with just 2000 bucks in our savings account, we were lucky that the circuit house asked for very little money, I guess some 1500 bucks including food for 2 days for 2 people.
For the return route we decided to take the Manali Route. We started at 0630 to reach Manali in time because we were warned that the roads would be really bad.
But fate had its way and we were stranded in the middle of nowhere when our precious 4 wheeler gave up and the front tyre went flat!!
To make things worse the reserve tyre was also flat!!!!
And then with no mobile network and not a single soul in sight, we were sitting on a huge boulder between the cold barren mountains in absolute silence.
It was 0745 which meant we were somewhere between Kaza and Losar. Losar being an unknown territory, Kaza seemed like a safer bet to get the tyre repaired, but the 5 vehicles that passed by were going to losar and none of them had a compressor or a hand pump.
And all of them said the same thing "Aadhe ghante mein losar se bus ayegi".
Even after 2 hours there was no bus in sight. At 0945 a traveler vehicle was coming from kaza and with no hopes i asked him as well.
And when he said " yes", it seemed like the best word I had ever heard in my life!
He seemed like a God to us, he was accompanied by an Innova vehicle which was following him on that route.
Within minutes they helped us change the tyre and the three vehicles started moving in a convoy on probably the most treacherous route in the world.
It was more like driving on a river bed than on a road, with no dhabas or hotels enroute we kept moving with hungry stomachs and punctured tyres.
The famous chacha chachi ka dhaba was also closed being off season.
The road only got better just before reaching Rohtang pass, which was also just in patches.
After Rohtang Pass the road was smooth and completely downhill.
Just when we were starting to think that the day couldn't get any worse and with 30 km to Manali we had already started thinking of a nice comfortable room and a hot meal.
But Mr Murphy was already standing there with open arms and the tyre got punctured again!!
It was 1845 and with darkness setting in and only a few vehicle going towards manali and that freezing cold we knew "We were screwed!!"
We literally Hitchhiked with 2 tyres in our hands. Got lift from a helpful passerby who dropped us at Manali town. It took us almost an hour to find a Tyre repair guy which was open at that hour. Gyani workshop, will never forget the name.
Being stranded like that with literally no money in our pockets we were just hoping he would not charge us some exponentially ridiculous amount.
Thankfully he did not, in fact Gyani ji also helped us find a taxi to take us back to our vehicle, the driver also helped us put the tyre back.
It was almost 2200 when we set course for Manali and all the eating places were already closing, thankfully Mall Road was open.
After eating to our hearts content we booked an oyo and finally crashed into our comfy room.
Day 7 (31 October)
Had it not been the last day of the month there was no way we could have gotten back. The salary never felt so important.
With brand new tyres we set course for our next destination Bir for paragliding, only to be informed that it was closed due to elections. Bad luck at its best, at least the Zostel where we stayed was nice.
Some things never happen before they are meant to happen. So maybe some other time, till then I have enough stories to share.