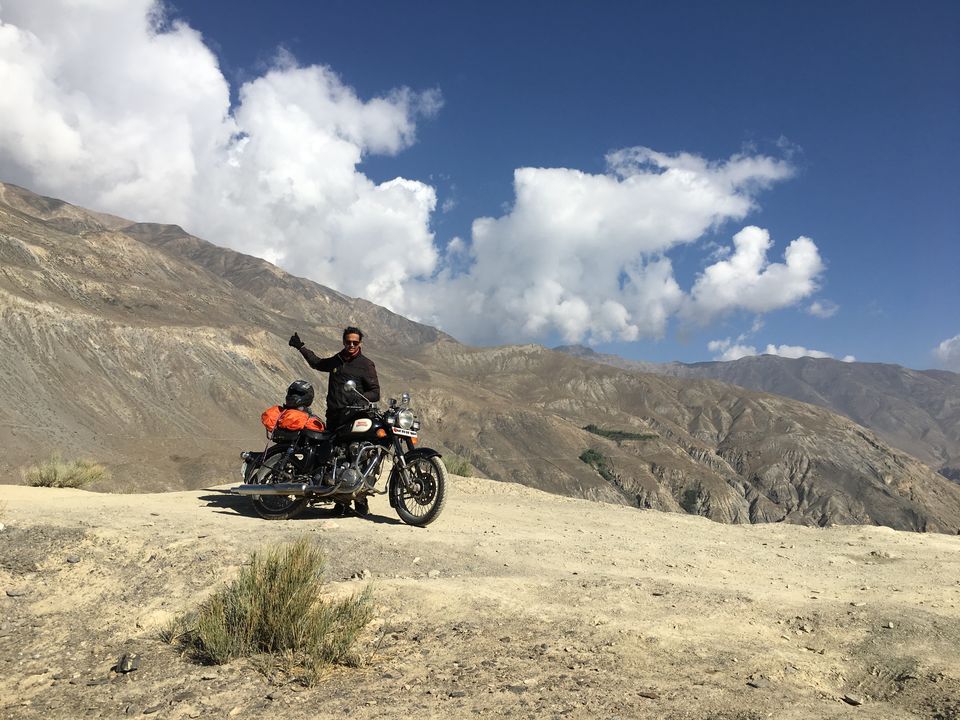 It is the destination which I had in my mind since I moved to Noida last year.
Asked few friends to come along for this ride, one was ready to explore the beautiful landscapes of Spiti valley. We fixed the dates from 9th June-17th June and collected much information about the routes, stay, petrol station and road condition.
I was taking my Classic 350 and my friend had Gixxer. We started on 9th June early morning by 5 a.m. with a plan to reach Narkanda(H.P.).
Day1: Noida --> Ambala --> Shimla --> Narkanda 460 km
After fueling up our machines in Delhi, we took the NH44 road towards Shimla via Karnal--Ambala-Panchkula-Solan valley. Till Solan valley, we were cruising at 90-100 kmph, after this the mountain road started and the good amount of traffic also accompanied us. Had our lunch at Shimla and continued our ride along with the traffic and reached Narkanda by 5 pm, got a hotel for 1200 Rs. in the main center of the town. We were delighted to see the sunset view of Hatu peak.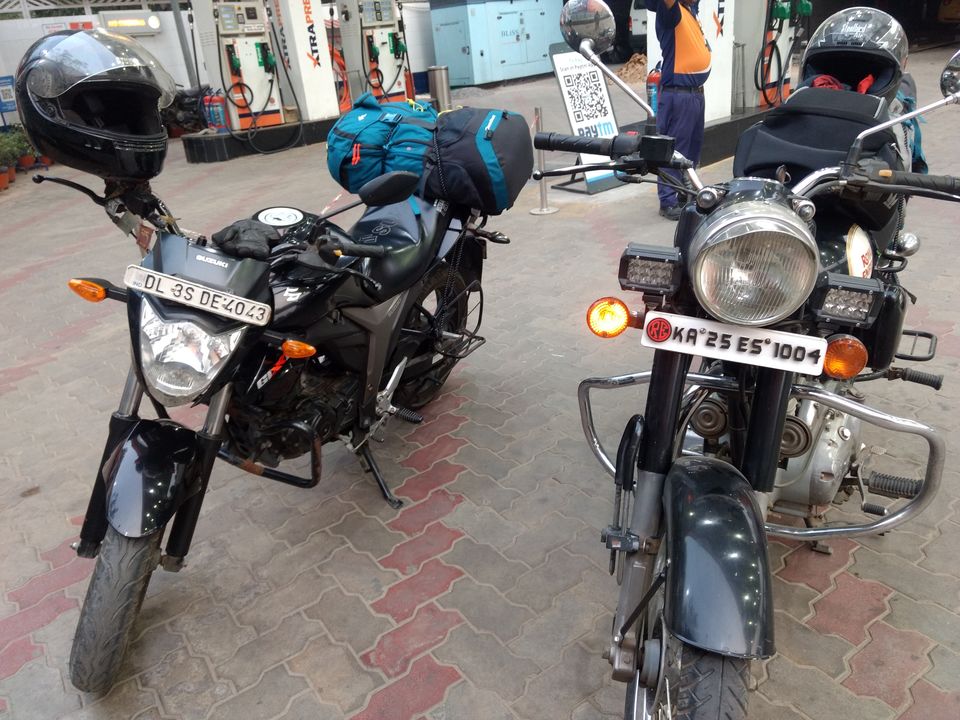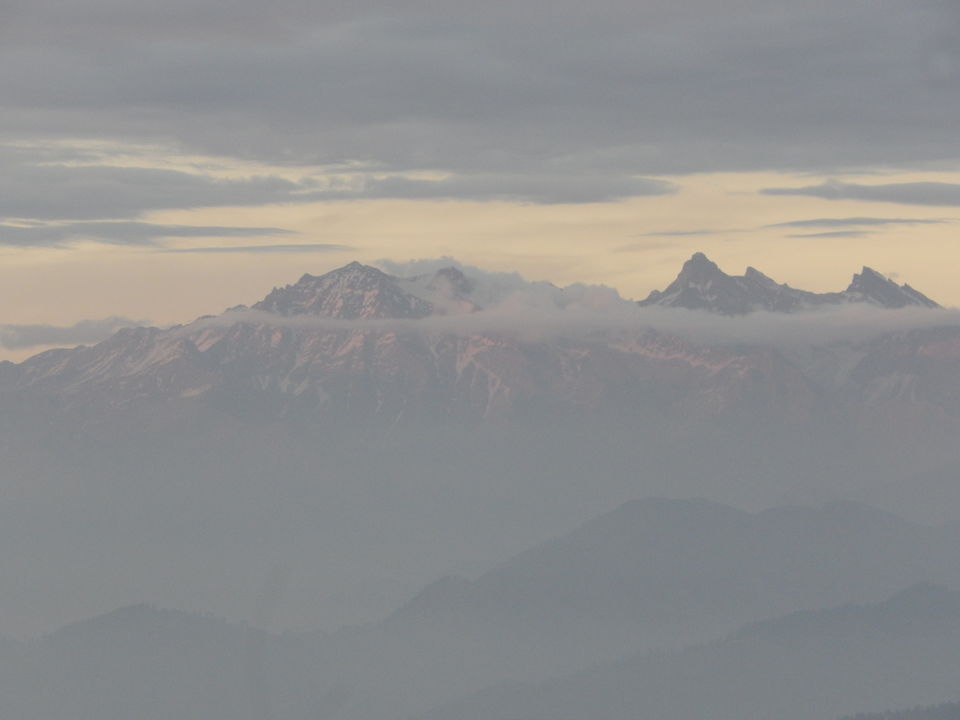 Day 2: Narkanda --> Rampur --> Sangla --> Chitkul 190 km
The plan was to start early by 6 am and ride till Chitkul and come back to Karcham/Kalpa. But a plan is just a plan, we started late by 8 am from Narkanda, the road is beautifully surrounded by apple plantation. The experience of riding beside the Sutlej river is just awesome. To reach Chitkul one need to enter Sangla valley after taking a diversion from Karcham. Chitkul is 42 km from Karcham and out of that 15 km is mostly off-road crossing mountains.
Chitkul is the last Indian village in this region welcoming you at 14900 ft., as we reached Chitkul, heavy rain started pouring in so took a hotel for 800 Rs. As the rain stopped, we saw a breathtaking, mesmerizing view of the rainbow across two mountains. It was worth riding this far to just see this beautiful sight.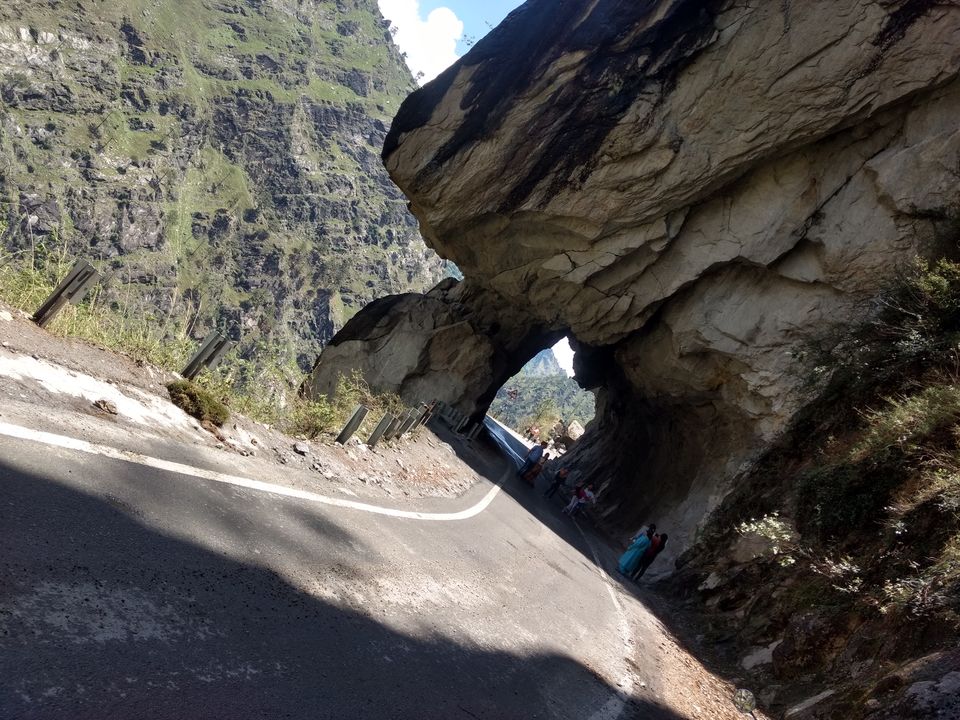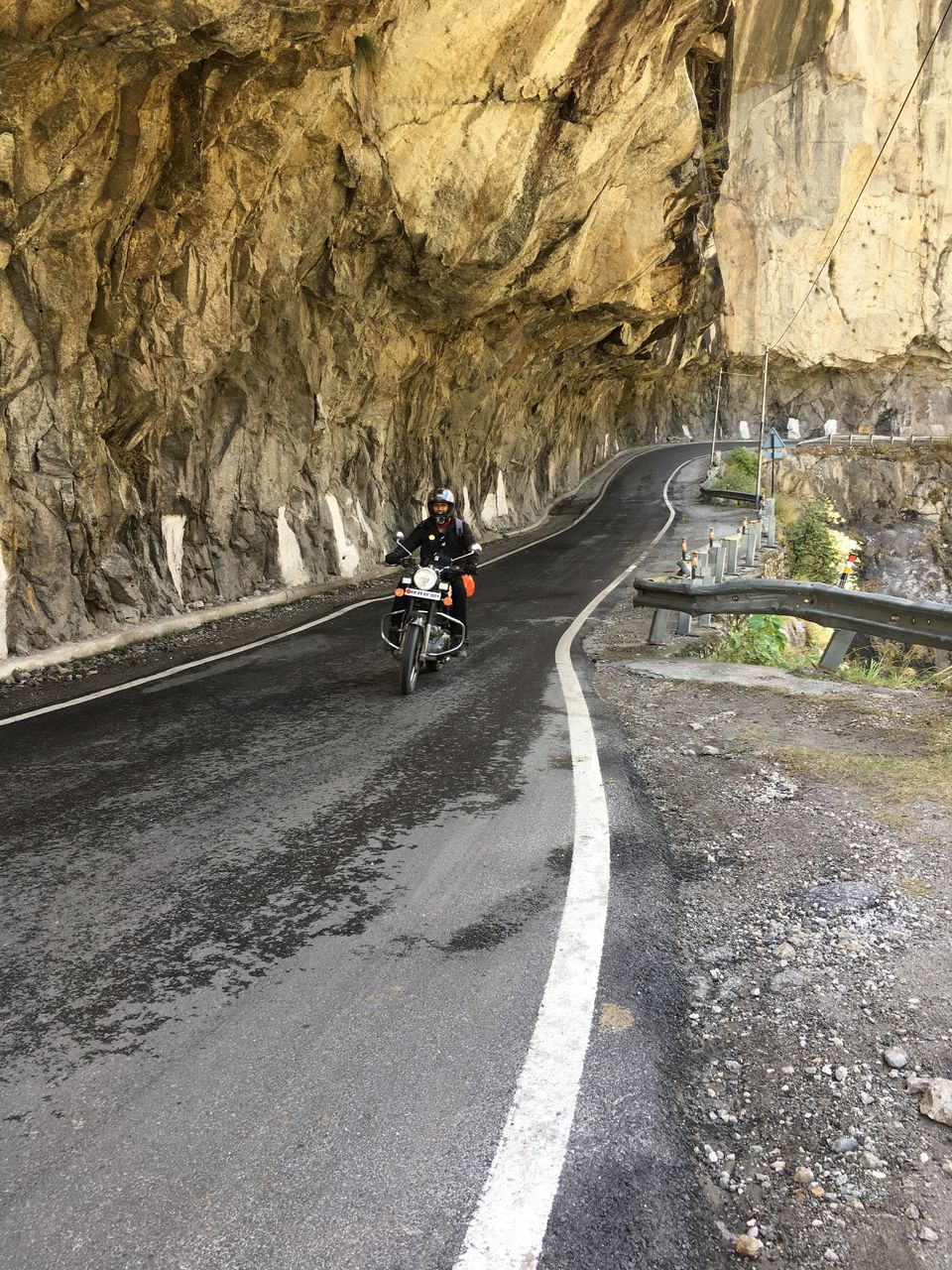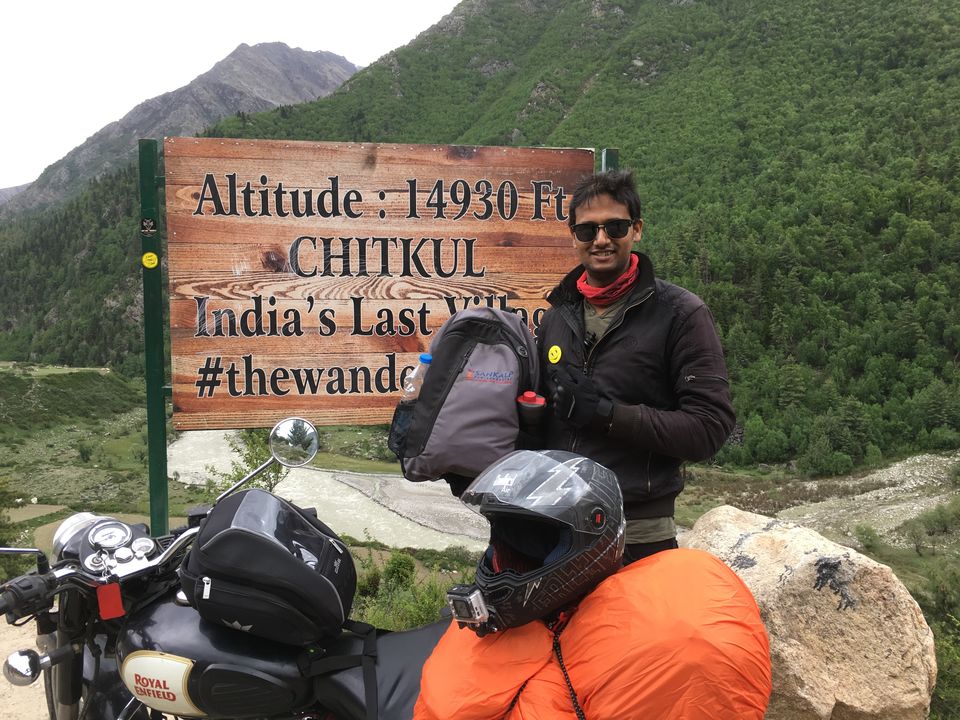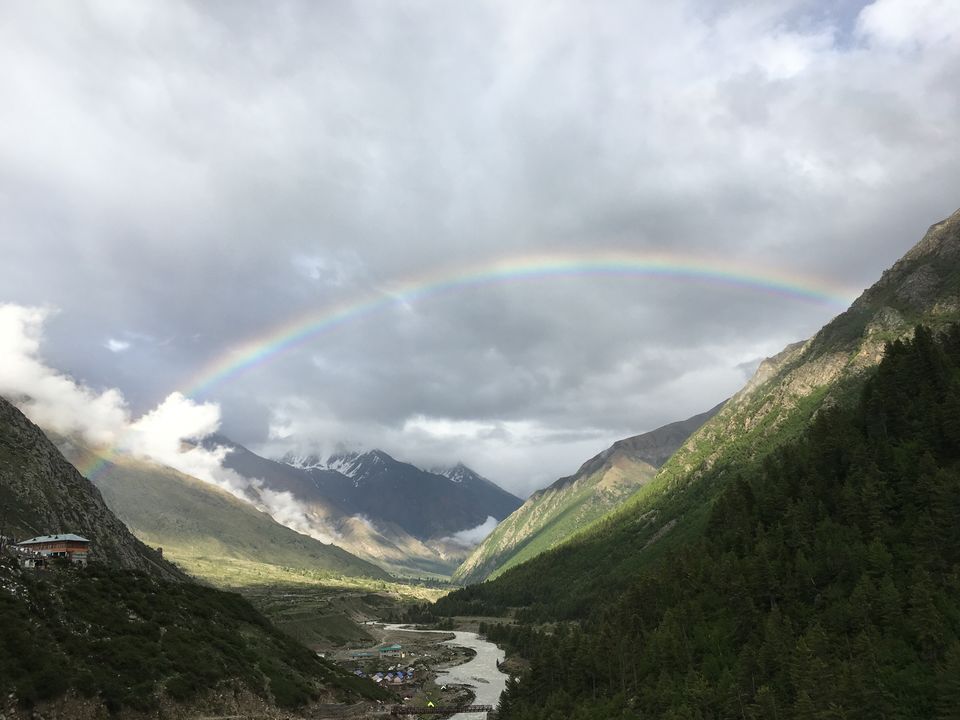 Day 3: Chitkul --> Pangi --> Nako 160 km
I left Chitkul with a promise to come back here one more time only for camping beside Baspa river. It is an amazing place to stay and enjoy the beautiful valley. There are two petrol stations, one at Reckong Peo and another at Powri after that there is no sign of petrol stations before Kaza. So, we top up the fuel tank at Powri, from there Kaza is 200 km.
The real offroad started from Pangi, a road infamous for landslides and falling stones with stones and gravel on the road. The ride was slow during this route, as we reached spello the road becomes more smooth and soon we were riding up in the mountains towards Nako village.
One of the most beautiful village to explore is Nako, sitting on the lap of the mountain with a panoramic view of Reo-purgyil peak (highest in Himachal). We got a homestay (Sonam guest house) for 500Rs, freshened up there and visited Nako monastery and Nako lake.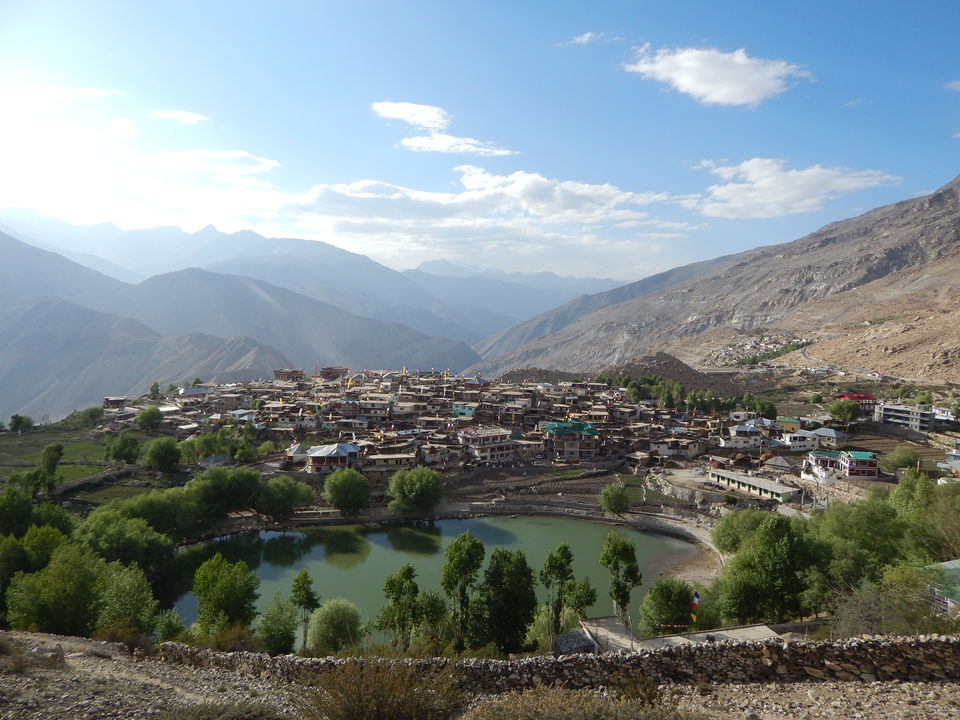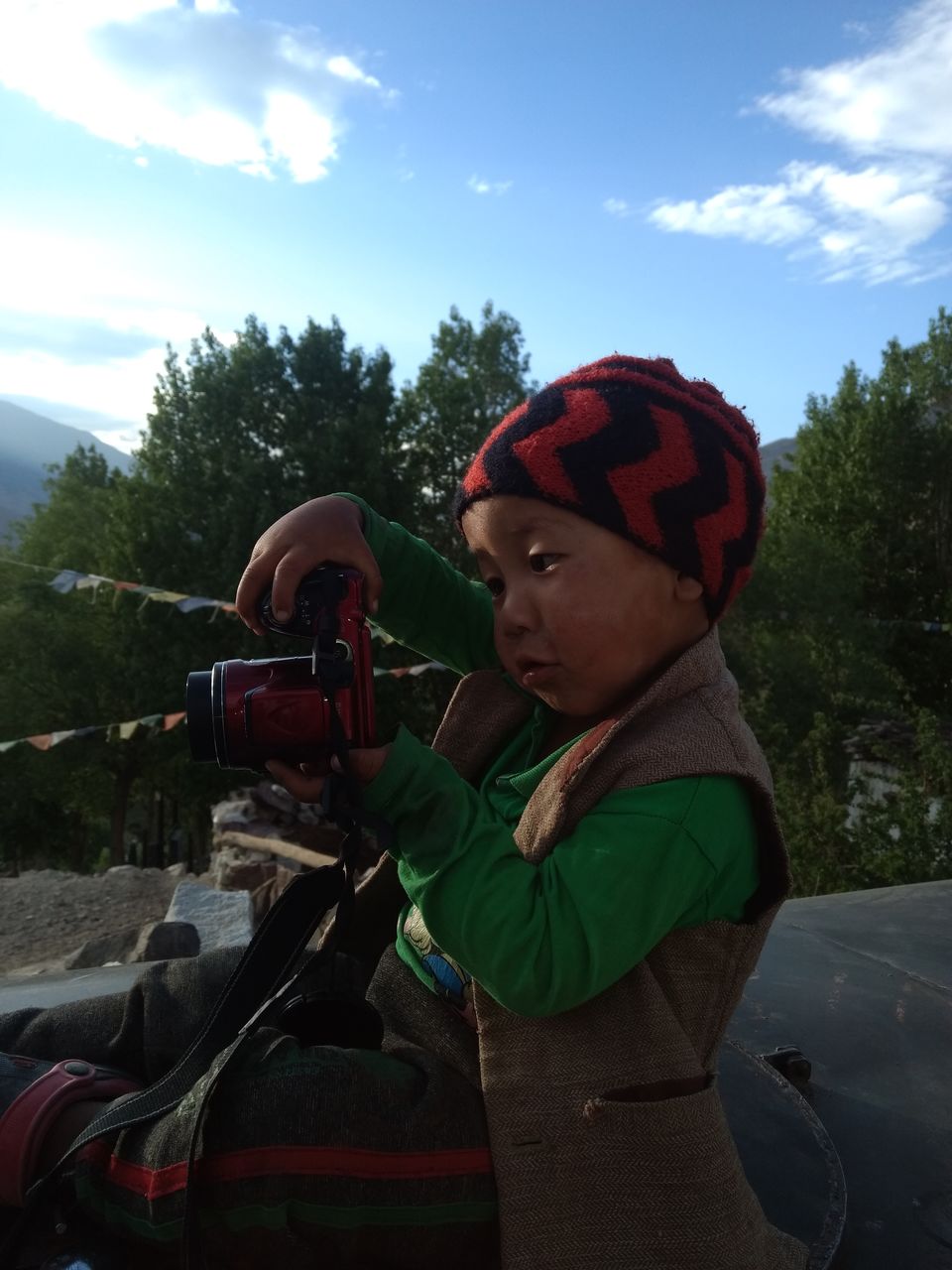 Day 4: Nako --> Tab0--> Dhankar --> Kaza 120km
The ride started early and just 4 km from Nako, there is Malling Nala first big water crossing, luckily the water was less which helped us in crossing. We ride down the mountain to reach Sumdo which is a check-point where we need to register our details. The road is very smooth, one will enjoy riding here thanks to BRO. Unfortunately, as we reached Tabo, my bullet got punctured and with the help of few local got a puncture shop but during this process and with some miscommunication my friend left Tabo before me. With no network accessibility, I was worried how will I contact him. Once the puncture got fixed I started my ride towards Kaza thinking that at least I can meet my friend in Kaza.
On the way to Kaza there is a diversion for Dhankar monastery which is around 10 km from there and luckily while riding up on the mountain I saw my friend adjusting his luggage in the Kaza route. There he turned back towards Dhankar after seeing me. We went to the Dhankar monastery and returned back soon and continued our ride towards Kaza. En-route, there is a diversion for Mud village (a wonderful place to be in). We reached Kaza at around 3.30 pm and got us a hotel for 1600 Rs., had some rest and explored the Kaza market.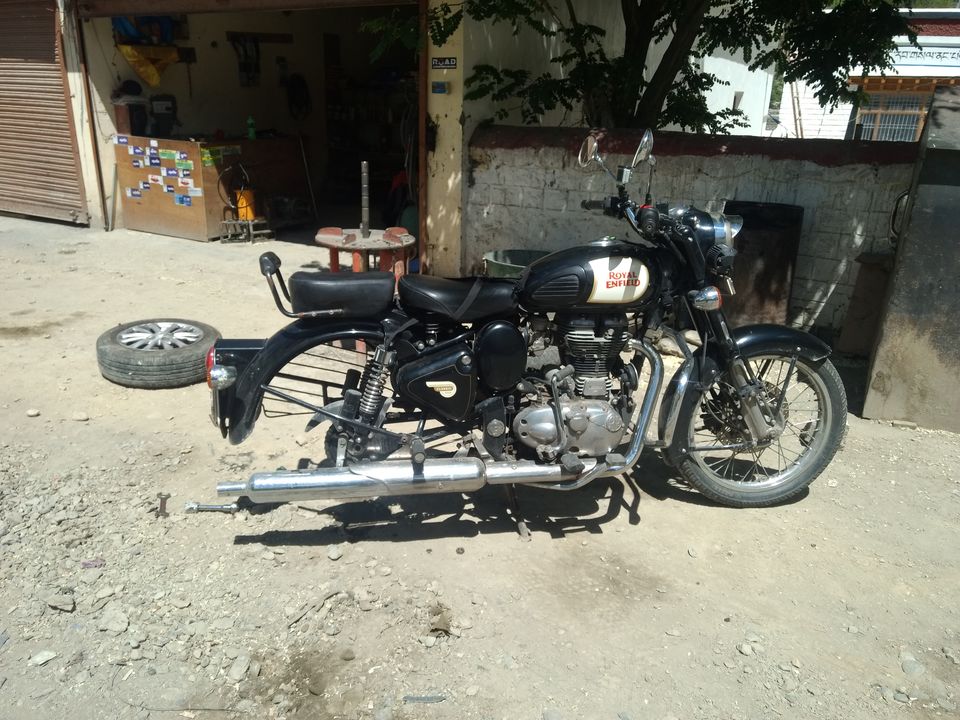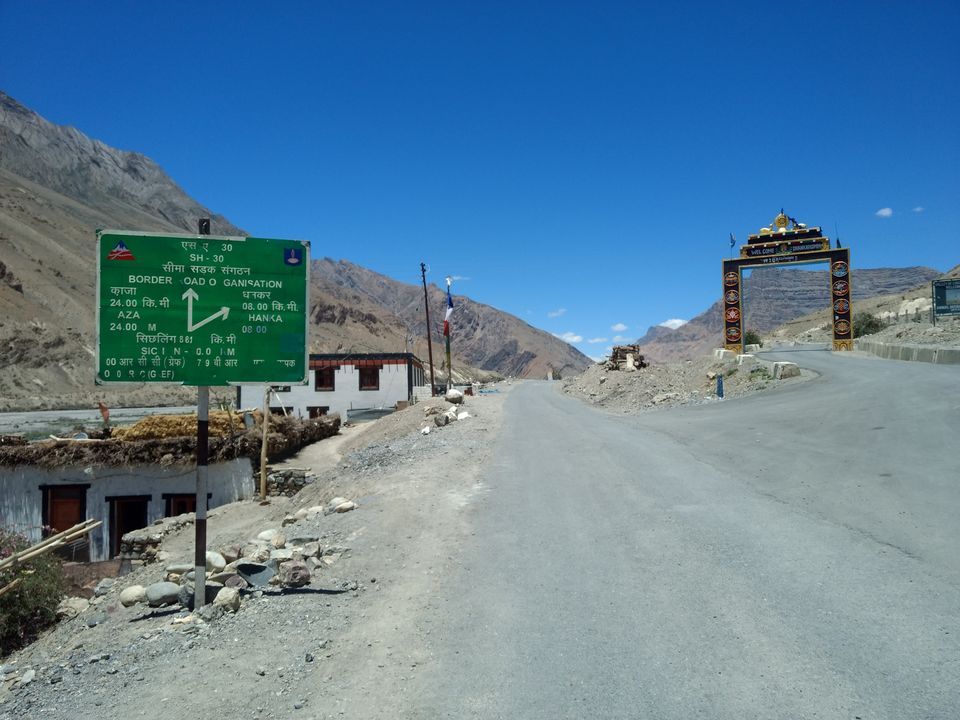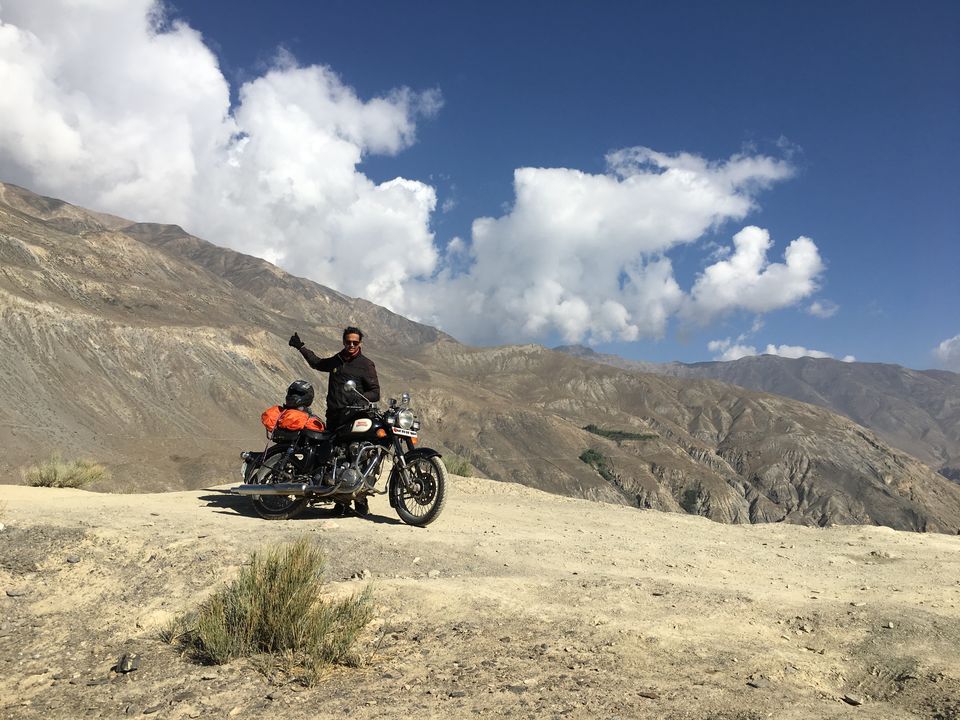 If you are in Kaza, do visit Zomsa cafe, a very nice place to dine with good live music and wonderful ambiance. And explore the local market, a lot of Buddhist art, handicrafts and souvenir one can look for.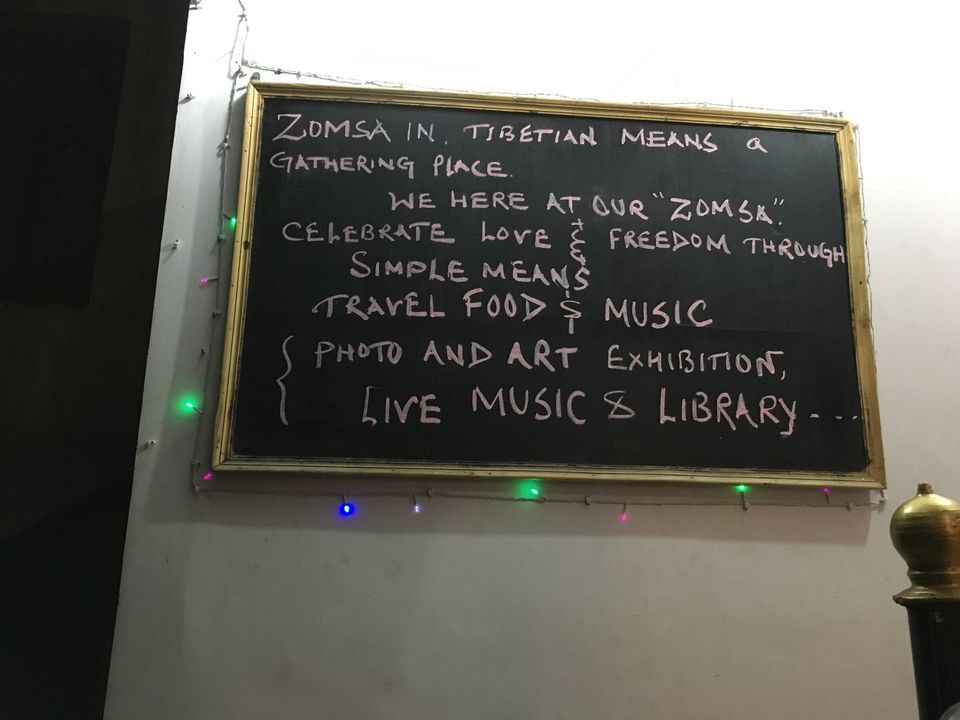 Day 5 : Kaza--> Hikkim--> Langza -->Chicham--> Key monastery
As it was a relaxed day, we started quite late by 9 am for Hikkim( World's highest post office), the place is around 15km from Kaza and route is mostly off-road. One can buy a postcard from here and send it to your dear ones. ear to Hikkim, Komic village and monastery is there which is around 4 km from Hikkim. Later, we visited Langza (a fossil village) stunningly surrounded by surreal landscapes. A huge Buddha statue overlooking the snow-clad mountains is the central place of this village.
Then, we continued our ride towards Kibber village, en-route there is a diversion for Chicham village connected through Chicham bridge(Asia's highest). All these small villages teach how hard is life in the mountains but one need to adapt and live happily. One can see this while interacting with the folks in these villages.
Then, we reached the world famous Key monastery located at 4166 m. It was so peaceful to be here and do meditation. Some monks helped us in explaining the history of this amazing architecture. If anyone needs to capture the bird-eye view of the Key monastery as seen on the internet, need to trek to the top which is quite close to the gompa.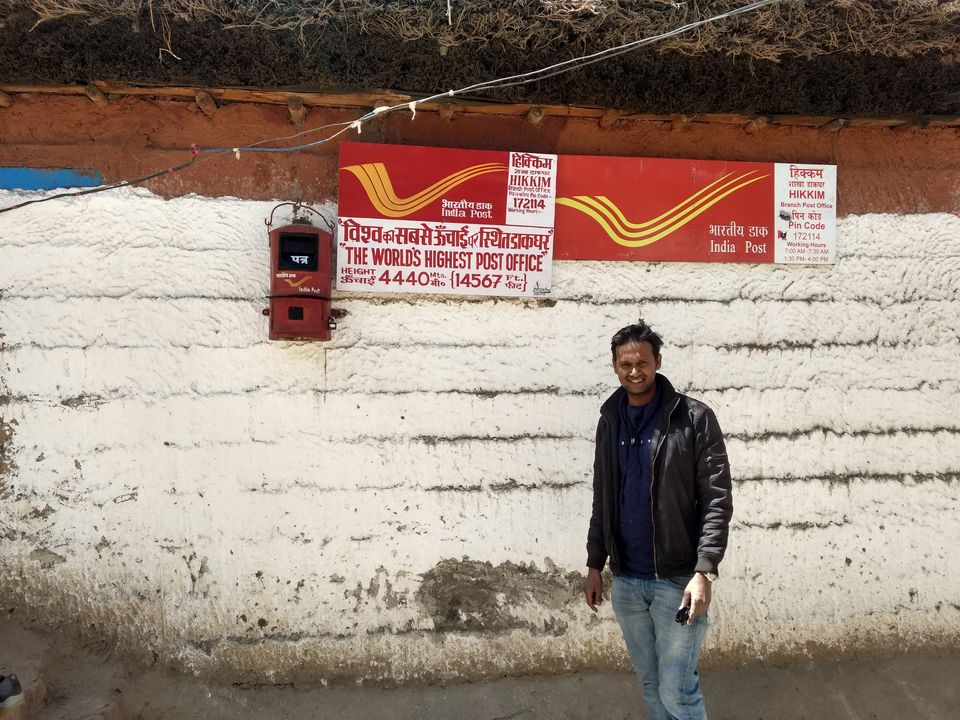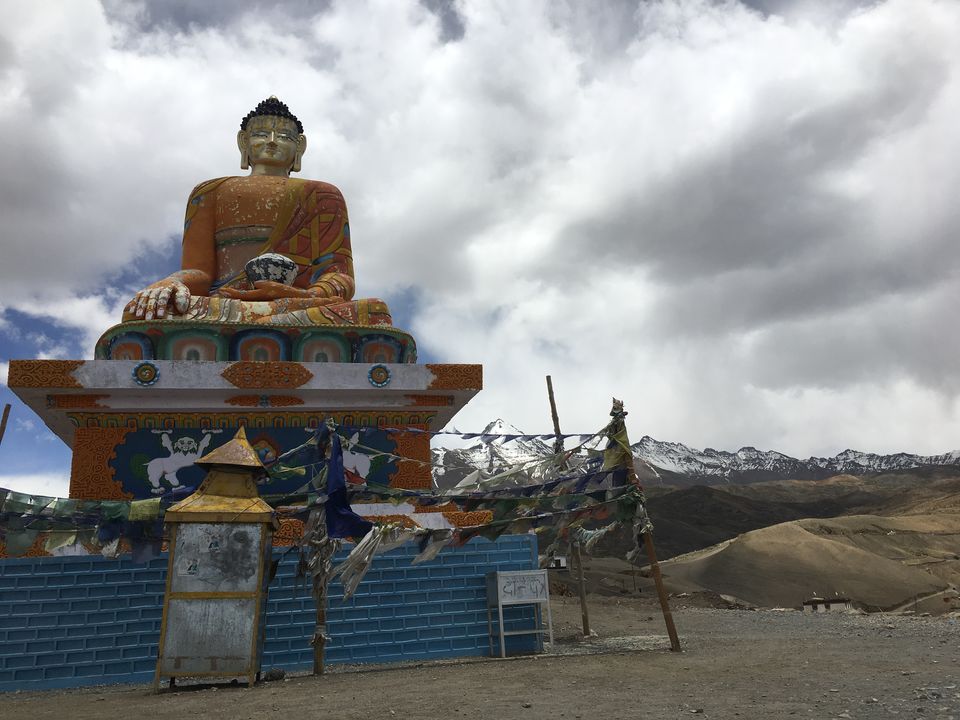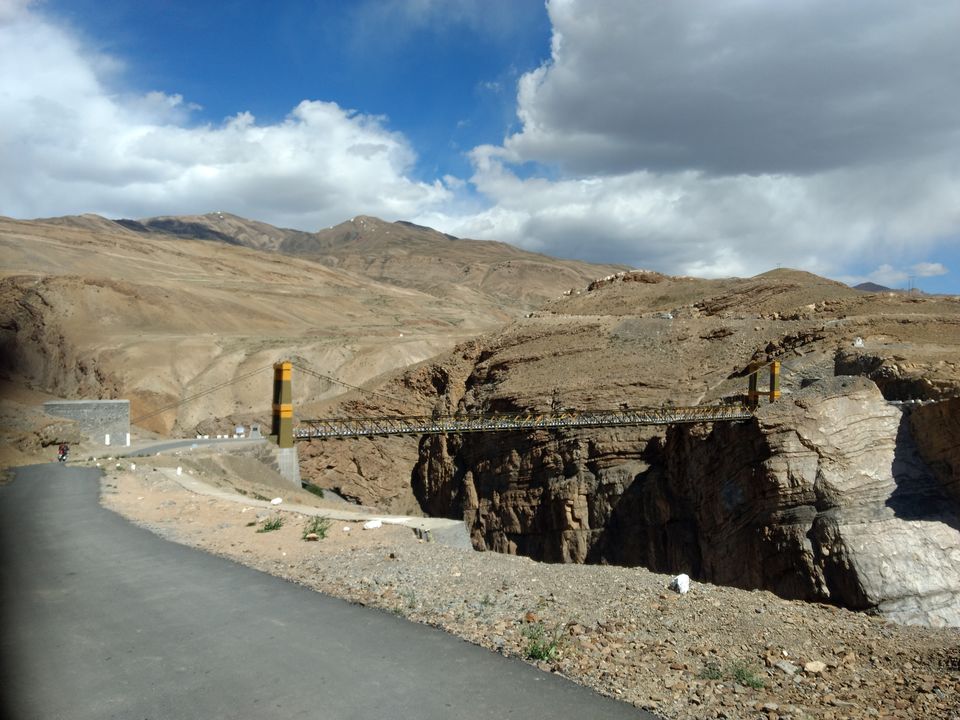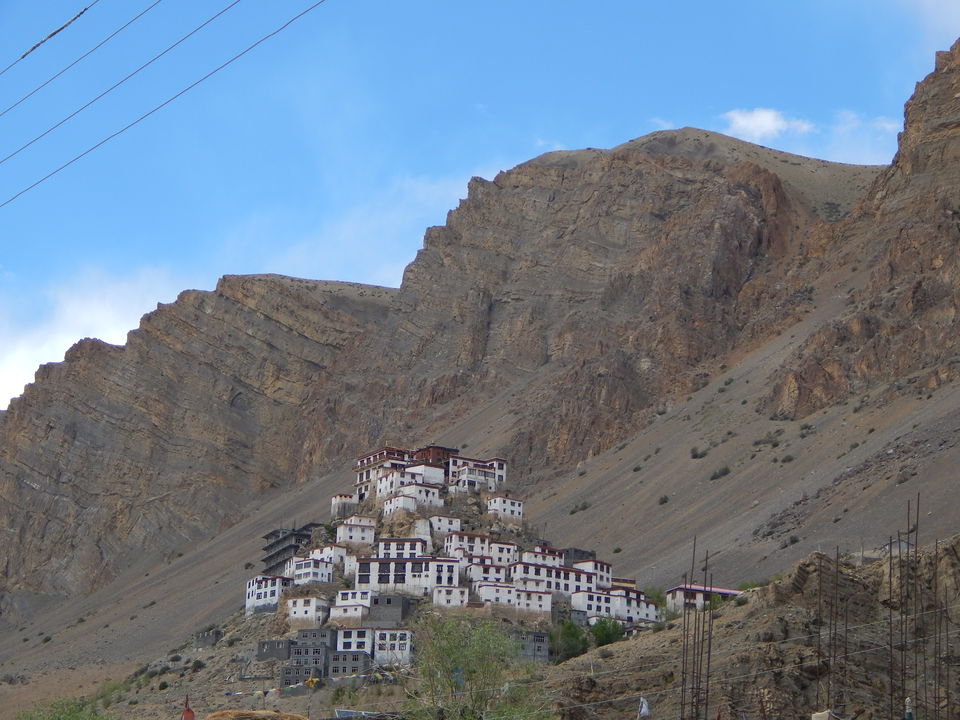 Do fill up your tank in Kaza as the next petrol station is in Manali and better will be to have some extra jerry cans for the hassle free ride.
Day 6: Kaza --> Losar --> Kunzum pass --> Chandratal lake
The picture of Chandratal lake on the internet is enough to bring you out here. Well, the road is expected to be good till Losar but after Hull village, the route is mostly off-road with very fewer tar roads. Just at the exit point of Losar, there is a checkpoint for all the vehicles. From Losar to Kunzum pass, the road is mostly broken, few slush and water crossings are very common. One will enjoy the landscapes while riding up to the Kunzum pass.
Kunzum pass is located at an altitude of 4590 m, try to cross the pass before 12 pm because the weather changes drastically in the mountain pass. Once you cross the Kunzum pass and get down towards Batal, there is a signboard for Chandratal lake route. The Chandratal camping site is 13 km from this point, and the road is very very bad with two major water crossings and narrow roads affecting vehicle movement.
It took one hour to cover 13 km and as we reached the campsite, got a tent in Samsung campsite for 1000 rs. per person which is the min. charge there on that day. We planned to visit the lake by trekking instead of riding as it was just a 3 km trek. The trek was quite easy, better to carry food and water. Once you reach the lake, you will admire how beautiful and picturesque is this. The sight of calm Chandra river, snow-clad peak, and the turquoise blue lake are just so soothing that all the efforts and pain to reach here become so fruitful.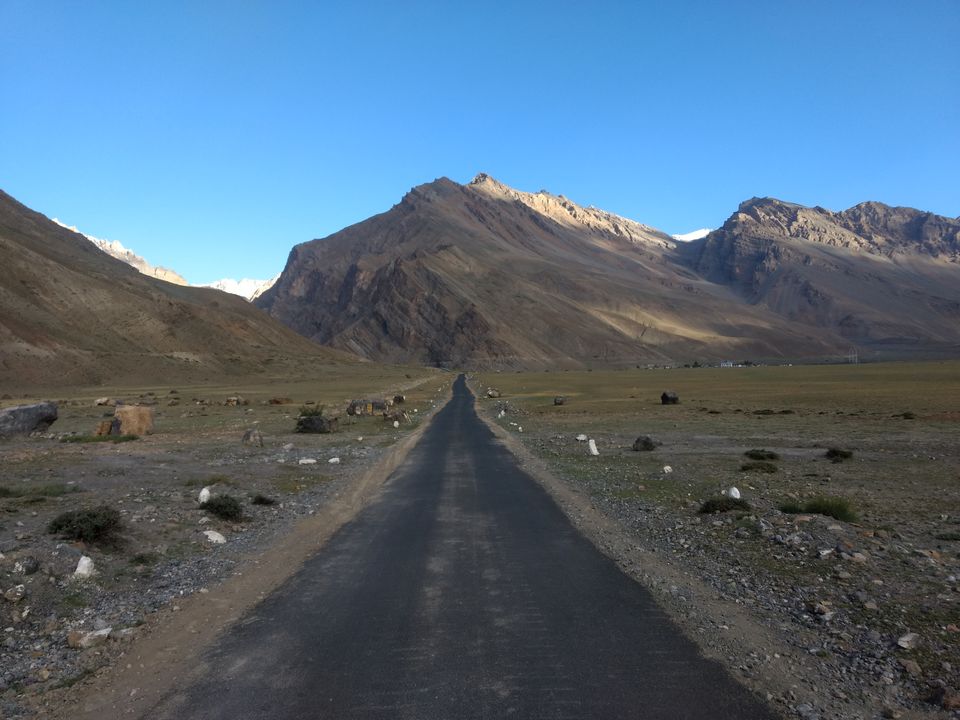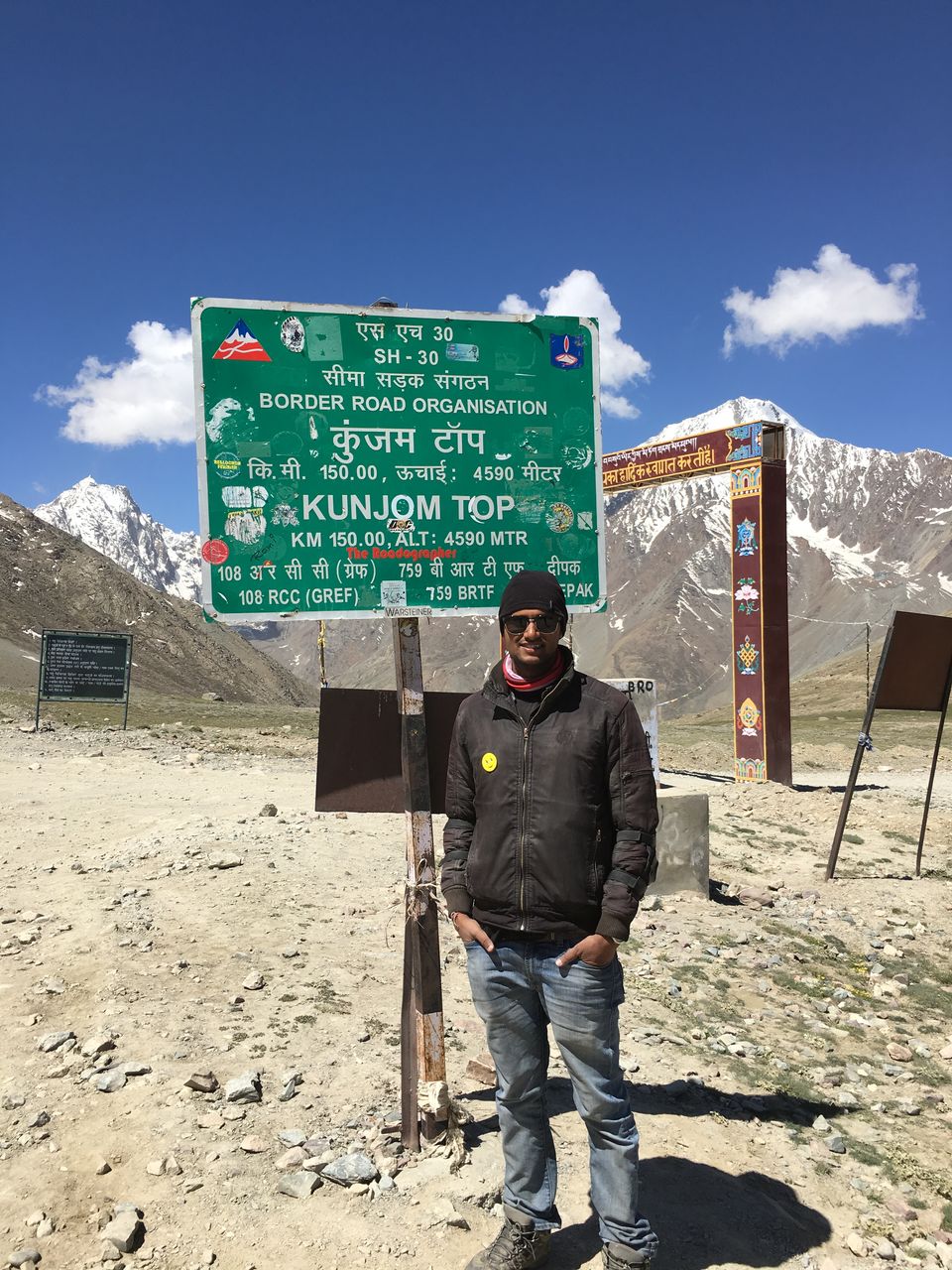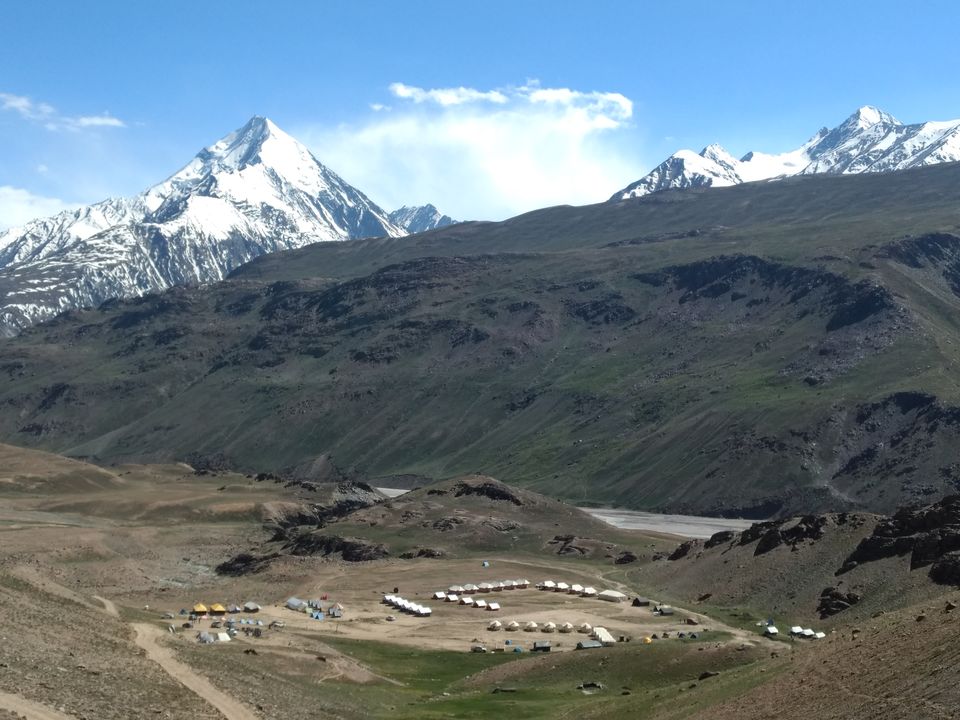 There is no network coverage at all, better to reach early to book the tent otherwise it will be very crowded and thereafter only Batal is a place where one can get a stay. The night in the campsite was too cold with chilly wind all over, everyone gathered around the cooking tent to get some warmth. The food was simple but it was delicious. The camp owner is a very good person, helped so many travelers to get a tent in urgency while all the tents were full.
Day 7: Chandratal lake -->Batal -->Chhatru -->Rohtang La-->Manali 130 km
This was the most treacherous and difficult road I have taken. Camp people advised us to leave early by 5 am so as to avoid big water crossings during the route. As we started with chandratal lake, saw an Innova got stuck in the first water crossing which created a big jam, as the Innova got cleared, we crossed first with cold water inside the shoes. Thereafter, we reached Batal by 6.30 am, had our breakfast at the famous Chacha-Chachi hotel and continued our ride from thereon.
Chhatru is just 17.5 km from Batal, but there is no road at all, it is full of big stones from the river, gravels, and sand. There are numerous water crossings in this route, one of them is Chota Dhara where we saw again one Innova stuck, as it cleared up we rode slowly on the dhara, avoiding any fall and crossed it successfully. It two around 2 hrs to reach Chhatru with an average speed of 10-20 kmph. Thereafter, the road was same till Gramphoo Nala, testing our patience and skills on water streams, narrow turns, and the road full of big of stones.
As we crossed Gramphoo, the road connects to the Manali-Leh highway, we took the left turn towards Rohtang pass cursing about our restricted leaves, but admiring our journey to one of the most marvelous landscapes, beautiful valleys in the world.
We crossed Rohtang La, had a plan to reach Mandi but due to heavy rain in Manali we decided to stay there, took a hotel for 1200 Rs. in old Manali, explored the local places and cafe.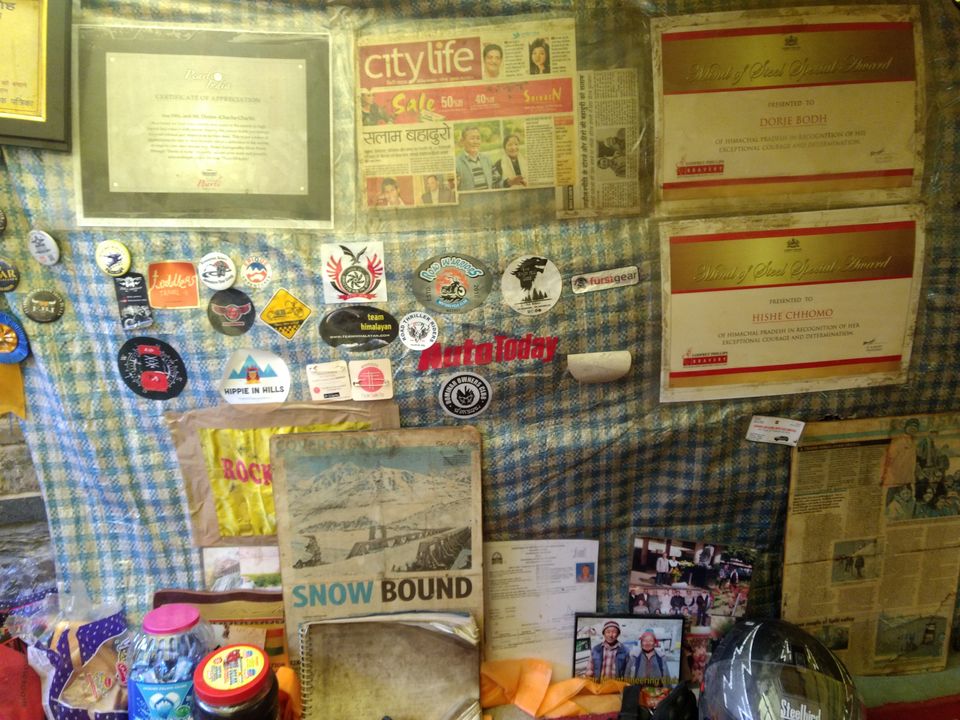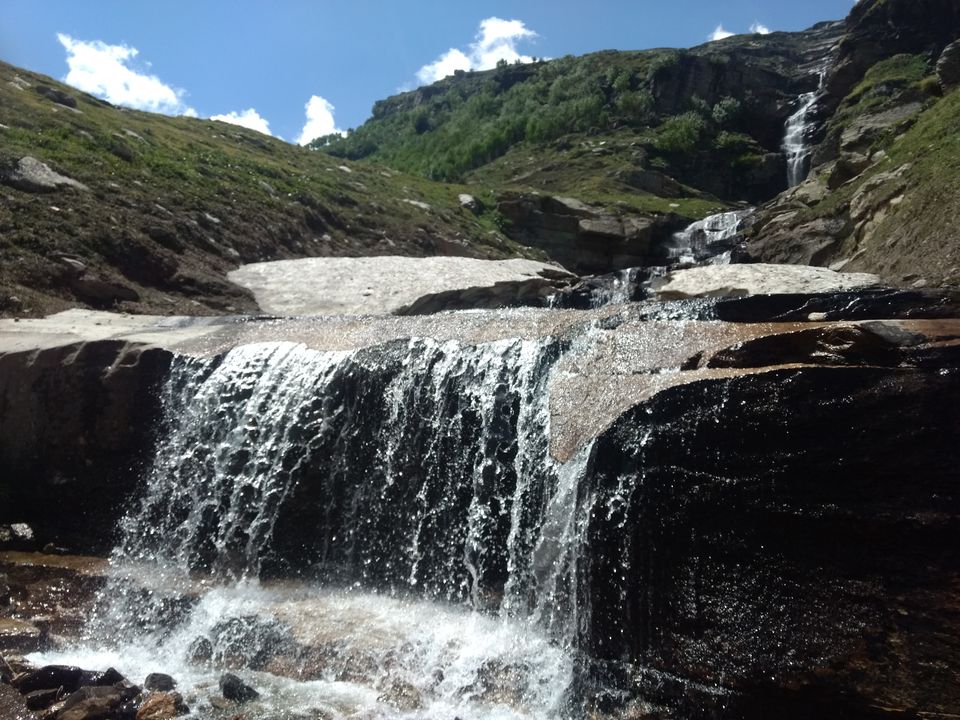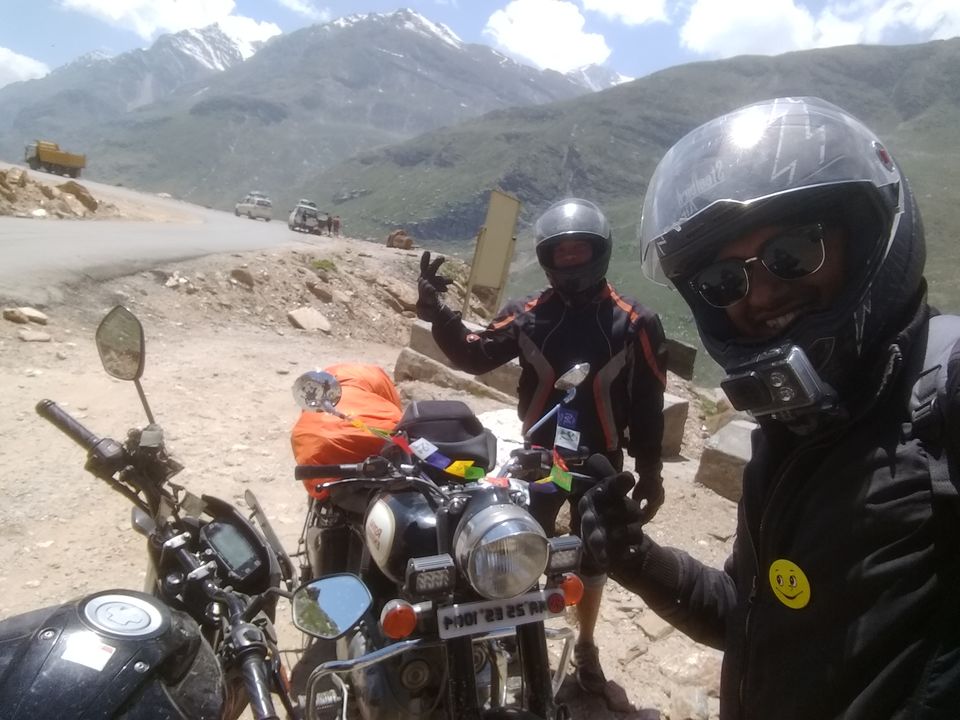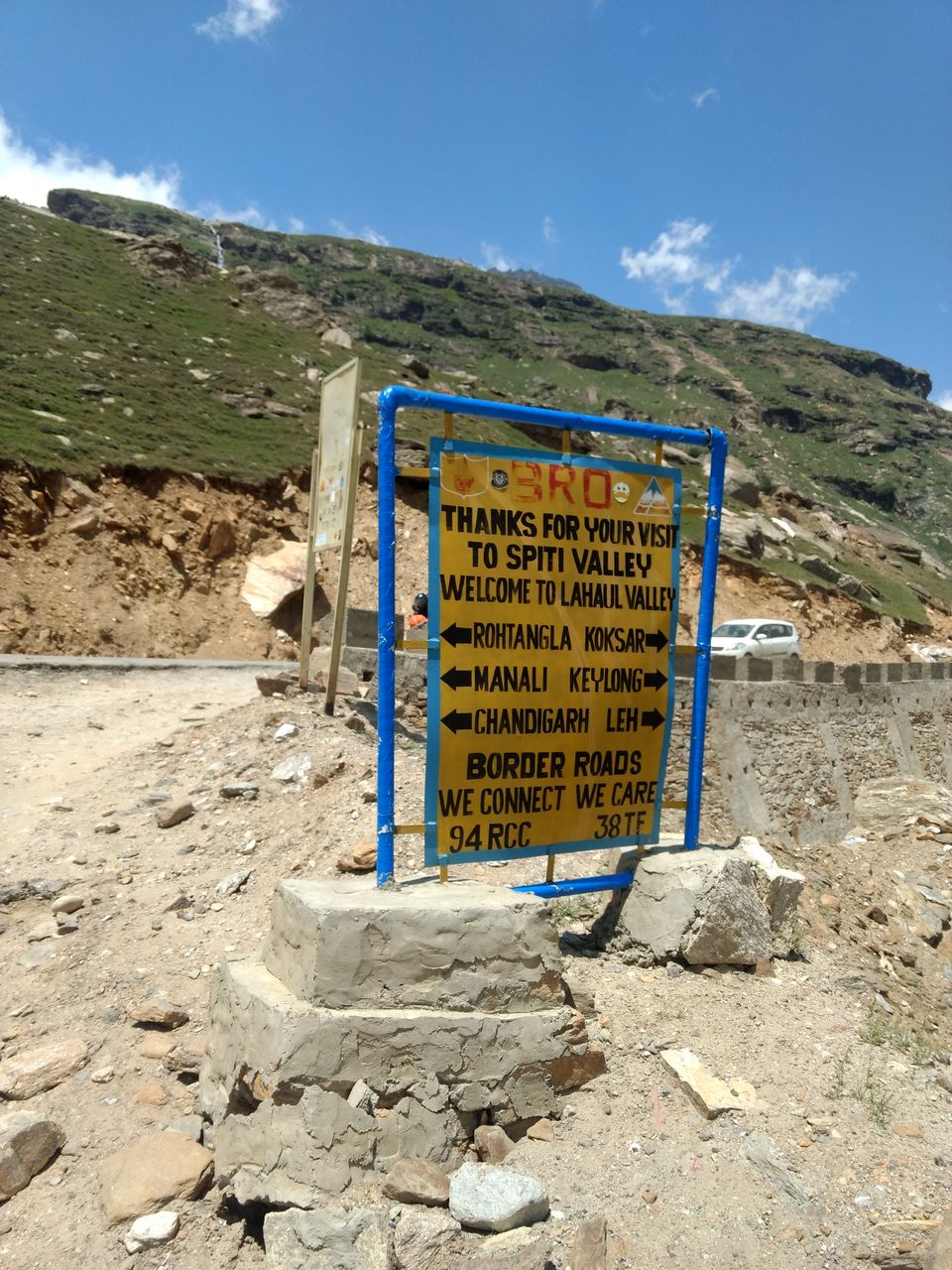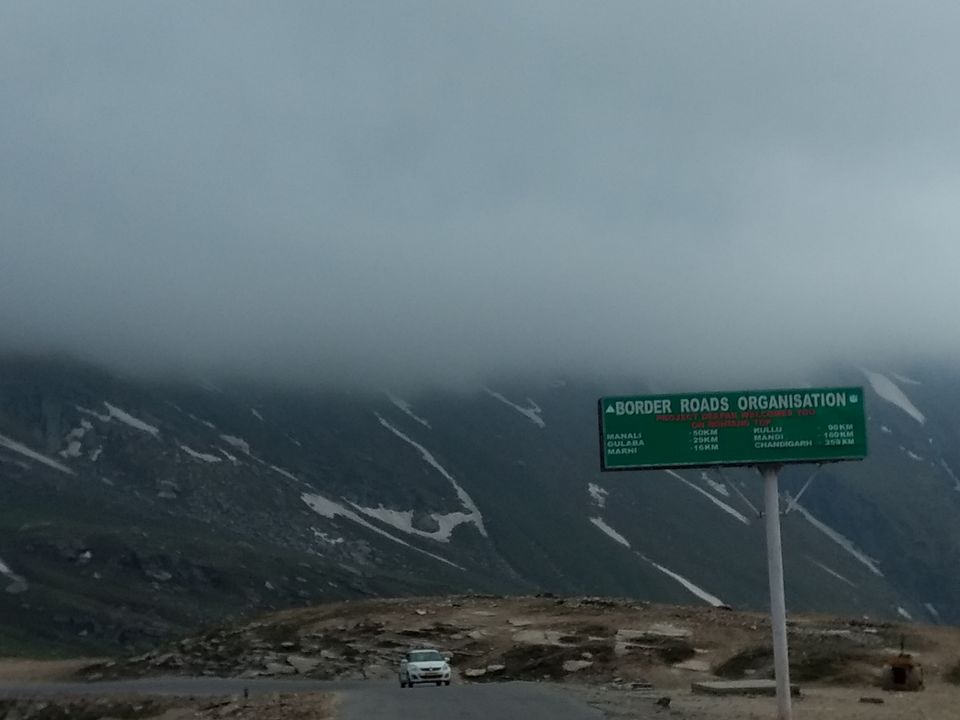 Day 8: Manali --> Mandi --> Ambala --> Noida 600 km
We started our journey back home at 6.30 am from Manali and had a plan to reach Noida by 8 pm. The route towards Mandi is known for good amount of traffic jams due to trucks and big vehicles. Had breakfast in Mandi, till Bilaspur the road is same full of trucks and jams. The biggest jam was in Swarga ghat, we need to squeeze our bikes in between to lanes to pass the jam, this was exhaustive and took almost 2 hrs just to cross the ghat.
After this, the highway welcomed us, crossed Ambala by 5 pm. It was kind of tiring ride as we were riding at the night against the high beams of cars and trucks. We reached Noida by 11 pm and the journey was completed.
I travel to explore the places, people, and culture. The Spiti valley is one of the best places to visit for the same, you can interact with the locals easily, very helpful and always showers great hospitality. The landscapes are barren but it is peaceful and mesmerizing. How much you read or see the videos about Spiti, the real experience will come when you be there.
It cost me 10K rs. for 8 days, 1800 km including fuel cost, hotel stay, food and some shopping. It is quite an economical place with a wonderful experience waiting for you.
Travel places, explore culture, discover yourself.
More clicks: